Publish-date: Dec 28 2018 Update-date: Aug 06 2019
Like and Share us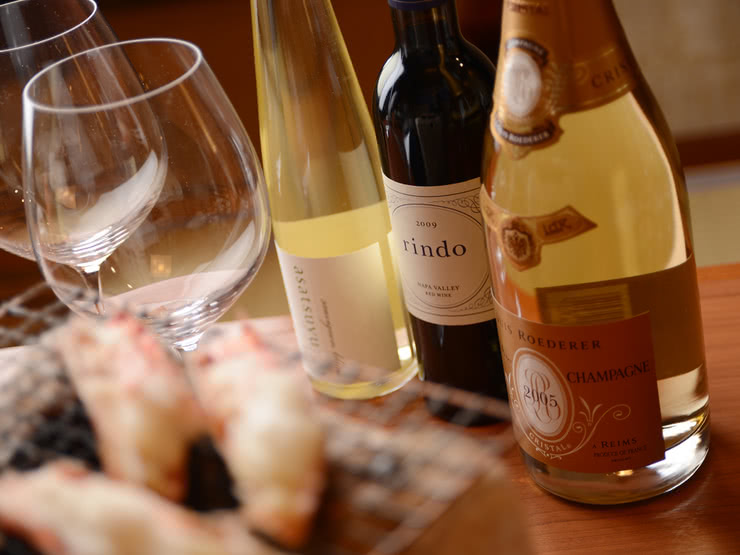 A glass of high-quality wine is one of the indispensable parts of enjoying delicious food. In Tokyo, the largest food mecca in all of Japan, there are just as many restaurants providing tasty wine as there are dishing out delicious food. Here are 30 discerningly selected restaurants among the many in Tokyo where you can enjoy some wine.
1. Restaurant Manoir d'Inno (Omotesando / French Cuisine)
This famous authentic French restaurant is located in a standalone building on a corner of Kotto Street (Kotto-dori) in the neighborhood of Aoyama. It has an atmosphere of a hideaway, as it is surrounded by a vast garden full of trees that are over 100 years old. Here, you can enjoy course meals (lunch courses from 4,200 JPY, dinner courses from 8,700 JPY) of authentic, traditional French cuisine prepared by the chef-owner Noboru Inoue, who is known as one of the leading figures of French cuisine in Japan. There are around 250 varieties of wine to choose from, consisting mostly of French products, including a wide range of well-aged wines that will bring out the flavors in the rich sauces used in their dishes.
Restaurant Manoir d'Inno
2. Le chene (Gaiemmae / French Cuisine)
You can casually savor wine along with small plates of seasonal cuisine at this French wine bar. The food menu consists mostly of a variety of French a-la-carte dishes that are meant to be shared among guests. Recommended is the dynamically presented and eye-catching [Beef Skirt Steak] (2,500 JPY). The spicy black pepper sauce in this dish brings out the umami (Japanese savory taste) of the juicy steak! Please enjoy it with a bottle of one of around 50 varieties of natural French wine (from 5,800 JPY) on offer. Of course, you can also order by the glass as well (from 900 JPY).
Le chene
3. Ristorante Honda (Gaiemmae / Italian Cuisine)
This restaurant has been covered as many as 10 times in a prestigious gourmet guide and is seen as one of the iconic Italian restaurants of Tokyo. In this restaurant of around 20 seats, the flavors of the food are further enhanced by the hospitality and interior design, which evoke a feeling of familial warmth amidst an urban setting. The course meals (lunch courses from 4,000 JPY, dinner courses from 8,500 JPY) are made with plenty of high-quality, seasonal ingredients, and display subtle flavors and beautiful colors that will remind you of washoku (traditional Japanese cuisine). Make sure to get the most out of your meal by pairing the food with a glass or two from a selection of around 200 wines, comprised mostly of those produced in Italy.
Ristorante Honda
4. Arcana Tokyo (Tokyo Station / French Cuisine)
Arcana Tokyo is located on the 6th floor of KITTE, a shopping complex directly connected to Tokyo Station. Here, they use as little cream and butter as possible. This is because they focus on healthy French dishes with the concept of "exquisite and refined vegetable cuisine." The popular Menu [Leger] (5,400 JPY) is a short course meal served at dinner time that comprises of six dishes where you can enjoy both meat and seafood. There is also a varied menu of wines available by the glass, including bottles from all around the world.
Arcana Tokyo
5. Akasaka Rikyu Ginza (Ginza / Cantonese Cuisine)
This famous Cantonese restaurant is located in an ideal spot just a minute's walk from Ginza Station. This restaurant operates under the concept of ishoku-dogen (healthy food both prevents and cures sickness), and they dish out delicious and healthy cuisine within a calm interior inspired by a traditional Chinese architectural style called "siheyuan." One dish you will definitely want to try is the [Shark Fin Simmered in Soy Sauce] (15,000 JPY). The richness and smooth texture of this dish will surely bring you supreme bliss! It is also recommend to pair your food with one of the variety of wines that are available, from new to vintage wines.
Akasaka Rikyu Ginza
6. W Omotesando (Omotesando / Western-style Izakaya)
You can savor grilled dishes along with a global selection of wines at W Omotesando. Here, carefully selected meat and vegetables delivered directly from the source are dynamically prepared on a grill to create a variety of dishes, all of which pair perfectly with wine! One dish that you will want to pair with some alcohol is the [Red Wine-Simmered Pork Belly with Balsamic Sauce] (1,580 JPY), a masterful and deeply flavored dish comprised of a slow-cooked chunk of pork belly. There are over 500 varieties of wine available at the wine store adjoined to the restaurant, and you can enjoy wines obtained from there while you eat.
W Omotesando
7. Antiqua Trattoria Trattoria (Gaiemmae / Italian Cuisine)
This is a trattoria (Italian-style restaurant) where you can enjoy regional Italian cuisine, mostly from Sicily. There are many flavorful and popular dishes available here, such as [Panelle] (600 JPY), a classic Sicilian dish comprised of fritters made from chickpea paste; [Sardine and Fennel Casarecce] (1,600 JPY), a pasta dish whose flavors are enhanced by the fragrance of fennel; [Strozzapreti with Lamb Ragu] (1,800 JPY), which lets you enjoy the flavor of homemade pasta, and more. Fruity Sicilian wine is also available, with 11 varieties each of red and white.
Antiqua Trattoria Trattoria
8. Enoteca Luisa (Morishita / Italian Cuisine)
This is an Italian wine bar with a hideaway atmosphere located just 3 minutes on foot from Morishita Station. The food here is comprised mostly of Italian home cooking that the chef-owner picked up while studying in Rome, and they all pair perfectly with wine! The signature dish is the [Stewed Beef Cheek Luisa-style] (2,000 JPY), a masterful dish of slow-cooked tender meat whose umami goes well with red wine. If you visit on a Friday or Saturday, you will be able to indulge in the [Wine Bar] (2,700 JPY), in which you can enjoy and compare unlimited wine from among 10 varieties.
Enoteca Luisa
9. AKANE IRO (Ueno / Yakiniku)
This is a popular yakiniku (Japanese BBQ) restaurant that prepares high-quality A5-rank Kuroge Wagyu (a type of high-quality beef) on a griddle made from lava rock from Mt. Fuji. The griddle made from lava rock releases very little smoke and melts away all unnecessary fat, taking the umami of the high-quality meat up another level. Please experience the deliciousness for yourself with choices such as the [Tongue Root with Salt] (2,880 JPY), made with high-quality beef tongue, which only comes in small amounts per head of cattle, and the [Deluxe A5 Wagyu Steak] (from 2,800 JPY). The wine selection, hand-picked by the owner who trained as a sommelier and learned all about wine, pairs perfectly with the yakiniku.
AKANE IRO
10. Etruschi (Omotesando / Italian Cuisine)
Though located on a street corner in the bustling Omotesando area, the standalone restaurant Etruschi is surrounded by flowers and offers a place where you can forget about the noise of the city. On the luxurious first floor, you can dine on course meals (from 8,000 JPY) of innovative Italian cuisine made with organic ingredients, and on the second floor, you can enjoy a-la-carte traditional Tuscan dishes in a more casual atmosphere. The underground wine cellar holds around 1,000 bottles of over 200 varieties of wine carefully chosen from all around the world. By all means, pair your food with a glass of wine from this huge selection!
Etruschi
11. PACE ITALIAN LOUNGE (Azabu-juban / Italian Cuisine)
PACE ITALIAN LOUNGE is an Italian restaurant where you can enjoy the flavors of meat and seafood enhanced by the ample use of organic vegetables. [Yamagata Beef Tagliata with Yamagata Dashi Sauce] (from 2,800 JPY) is their signature dish and comprises of sirloin steak covered with Yamagata's regional dashi (broth) imbued with the flavors of soy sauce and potherbs. In the [Freshwater Shrimp with Mascarpone Tomato Sauce] (1,800 JPY), the flavors of the tomato sauce and mascarpone cheese are simply exquisite! Of course, there is also a wide selection of wines from both Japan and abroad.
PACE ITALIAN LOUNGE
12. Sardegna Kateiryori Tharros (Shibuya / Italian Cuisine)
This rustic Italian restaurant is themed around the island of Sardinia, which is famous for its residents' long lifespans. Here, they offer Sardinian home-cooking, which developed with influences from Spain and Tunisia. Try out the rustic island dishes, such as [Seafood Fritto Misto with Semolina Flour] (1,800 JPY), which has gotten rave reviews from Italian customers, and the classic Sardinian dessert, [Seada] (1,000 JPY). The island of Sardinia has a burgeoning wine business, and the wine list here is comprised of Sardinian wines broken up into wines from 8 districts.
Sardegna Kateiryori Tharros
13. Sento Bene (Gaiemmae / Italian Cuisine)
Sento Bene is a popular restaurant committed to providing safe and wholesome cuisine, such as gluten-free pasta, organic vegetables directly delivered from partnered farms, and exclusive meat products. With the lunchtime [Corso A] (1,000 JPY), house-made focaccia and Rome-style vegetable soup accompany your choice from 5 types of pasta, such as carbonara and lasagna. Dinner courses are available from 3,000 JPY. The [Organic Wine (Red or White)] is 700 JPY per glass, and there are also a wide variety of other authentic Italian wines available.
Sento Bene
14. Bistro Le Nougat (Ginza / French Cuisine)
Bistro Le Nougat is a wine bar located in a back alley in the Ginza area. As an affiliate of the popular wine bar Chinois that has locations in Ginza and Shibuya, they have a selection of over 200 wines to choose from at all times, with most varieties coming from France. There are always six varieties each of red and white wine that can be ordered by the glass, making it easy to enjoy wine here. The [House-made Sausage] (1,890 JPY), with umami that deepens as you chew, is the recommended dish to enjoy with red wine. You should also try the [Lamb Roast] (4,600 JPY), which is grilled for a whole hour.
Bistro Le Nougat
15. L'Auberge de l'ill Tokyo (Roppongi / French Cuisine)
This is the Tokyo branch of L'Auberge de l'ill, a famous restaurant in Alsace, France, that is beloved by foodies all over the world. Tasting the traditional French fare served at this white-walled Western-style establishment is a first-rate dining experience. The recommended dish to order a-la-carte is the [Terrine of Goose Foie Gras - Auberge de l'Ill Style] (6,000 JPY). The goose foie gras has a richer flavor than that made with duck, and this masterful dish is flavored with spices directly delivered from the main restaurant in France. There are around 200 varieties of wine available, including a large number of white wines from the Alsace region, the home of the main restaurant.
L'Auberge de l'ill Tokyo
16. Patati-Patata (Asakusabashi / French Cuisine)
This French restaurant, located in the Asakusabashi area was noted in the 2014-15 edition of a prestigious gourmet guide. There are three floors on which to dine, each with its distinct style. The 1st floor has an open and inviting atmosphere; the 2nd floor is called the "chef's table," and its proximity to the kitchen enhances the flavors of the food; and the basement floor has a secret hideaway feeling. The dinner course starts at 3,800 JPY and includes dishes made with high-grade seasonal ingredients like [Roast Challans Duck with Fig and Truffle]. Bottled wine starts with 4,000 JPY per bottle.
Patati-Patata
17. Restaurant Aida (Ebisu / French Cuisine)
Restaurant Aida serves dishes that highlight the deliciousness of vegetables while earning rave reviews from diners with sophisticated palates. The dinner menu includes a course meal called [Orchestra of Vegetables] (4,250 JPY) that uses around 40 different types of seasonal vegetables across 7 courses, from appetizers to dessert. Their signature dish is the [Vegetable Parfait], which includes 15 types of vegetables piled inside! There are around 80 varieties of French wines available, with 3 reds and 3 whites available by the glass at reasonable prices.
Restaurant Aida
18. ARGO (Hanzomon / French Cuisine)
The celebrated restaurant ARGO serves innovative French cuisine founded in tradition, and is named after a giant ship that appears in Greek mythology. You can view the greenery of the Tokyo Imperial Palace and the bright nighttime cityscape from the restaurant's interiors, which were designed to evoke the feeling of a luxury cruise liner. The chef's specialty dishes are included in the dinner course, [Menu Degustation] (20,000 JPY). On the other hand, the lunch course is relatively affordable, at 2,800 JPY and up. There are 500 types of wine available, sourced from all over the globe, so you can enjoy pairing your food with some wine.
ARGO
19. Yakiniku & Wine WORLD DINER (Ginza-itchome / Yakiniku)
Located in the gourmet mecca of Ginza, this restaurant is renowned for its delicious yakiniku and wine. The specialty here is the [Stairway of Deluxe Wagyu] (a type of high-quality beef), in which as many as 10 varieties of meat are plated on a stair-shaped plate. This item only appears as part of a course meal, but it's so photogenic that you will want to snap a photo for social media! Popular a-la-carte menu items include the [Jar-pickled Kuroge Wagyu Rib] and the [Diced Kuroge Wagyu Steak], which are both available for 2,500 JPY. The wine selection includes bottles from France, Italy, and around the world, for as little as 3,800 JPY and up.
Yakiniku & Wine WORLD DINER
20. Maison de YULONG (Akasaka-mitsuke / Chinese Cuisine)
Maison de YULONG is known as the pioneer of "Nouvelle Chinois," a new type of Chinese cuisine that utilizes Western ingredients and techniques. You can savor cutting-edge Chinese dishes here within the refined orange-colored interiors of the restaurant. One dish you will absolutely want to try is the [YULONG Deluxe Simmered Shark Fin] (from 5,940 JPY). This masterful dish consists of shark fin simmered in aged Huangjiu (Chinese alcohol) and Chinese tamari (variety of rich soy sauce), and has a deep, luxurious flavor. Please enjoy this dish with one of the 180 - 200 varieties of carefully-selected wine that are stocked at all times.
Maison de YULONG
21. Arroceria Sal y Amor (Daikanyama / Spanish & Mediterranean Cuisine)
In Spanish, "arroceria" refers to restaurants specializing in dishes using rice, and Arroceria Sal y Amor is one of the few authentic arroceria in all of Japan. The soup in which the rice is cooked uses plenty of paprika, a luxury Spanish ingredient made from dried peppers. The food here earns rave reviews for its authentic simplicity, as it is made without any unnecessary additions. [Arroz Caldero] (from 3,300 JPY), the signature dish here, is sure to stoke your appetite with its deep umami packed into each and every grain of rice. Be sure to try it with one of over 50 types of Spanish wine that are available.
Arroceria Sal y Amor
22. Mar de Christiano's (Yoyogi-koen / Spanish & Mediterranean Cuisine)
Mar de Christiano's is a Portuguese restaurant that specializes in seafood dishes. The food prepared with seafood directly delivered from fishing ports is rustic and full of nostalgic flavors. The [Squid and House-made Bacon Simmered in Squid Ink] (900 JPY) is a dish that combines seafood and pork using a classic Portuguese cooking method. The combination of the rich squid ink with the umami of the pork is great as a side dish, and goes perfectly with wine! Try out the food here with some [Vinho Verde ("Green Wine")], an iconic variety of sparkling white wine from Portugal.
Mar de Christiano's
23. Akasaka Kitafuku (Akasaka / Japanese Cuisine & Kaiseki)
This is a crab specialty restaurant where you can enjoy the unity of food and wine to your heart's content within a quiet space that consists of just 3 private rooms. The popular [Live Red King Crab Course] (20,000 JPY) can be ordered year-round. They will prepare the live red king crab in the dining room, creating a variety of dishes such as sashimi and grilled crab. With a focus on pairing crab dishes with wine, they have a selection of wine that includes brands from mainly France, as well as California, Japan, and other places.
Akasaka Kitafuku
24. Azabu Shu (Azabu-juban / Japanese Cuisine)
[Oden] is a dish comprising of seasonal vegetables, nerimono (fish paste products), and more that have been slow-simmered in dashi. At Azabu Shu, you can enjoy this classic winter dish along with other Japanese dishes and wine. You can order individual oden items from 300 JPY per item, or get the [Oden Sara-mori] (2,000 JPY), an assortment for 2 to 3 people. There are always around 30 varieties of wine on offer that will pair well with the seasonal cuisine.
Azabu Shu
25. Ginza Rokkakutei Azabujuban (Azabu-juban / Japanese Cuisine)
Ginza Rokkakutei Asabujuban is a popular kushiage (fried skewered ingredients) specialty restaurant in the gourmet hotspot area of Azabu-juban. Their kushiage, which consists of fried skewers of seasonal seafood, vegetables, meat, and more, is perfect either as a full meal or for an appetizer to enjoy with alcohol. The menu here consists of only one option, the [Chef's Choice Course], which is a collection of seasonal items. The course comes with various types of freshly cooked kushiage, such as tender Japanese tiger prawn or fresh, seasonal vegetables that are to be enjoyed with 5 different dipping sauces. The many varieties of wine that are available all go perfectly with the skewers!
Ginza Rokkakutei Azabujuban
26. ICARO Miyamoto (Naka-meguro / Italian Cuisine)
This popular restaurant serves hearty Northern Italian dishes and has gathered support from gourmands. The menu is comprised mostly of a-la-carte dishes, so anyone can be satisfied, from those who want a light meal to enjoy with wine, to those who want to eat their fill. The must-try option for meal lovers is the [Wagyu Beef Cheek Goulash] (3,800 JPY), in which the red wine sauce with plenty of paprika really brings out the umami of the Wagyu. Italian wines make up over 90% of the wine selection, which is full of choices that pair well with the food.
ICARO Miyamoto
27. Les Copains de Dominique Bouchet (Ginza / French Cuisine)
This trendy bistro was developed by Dominique Bouchet, the chef of Dominique Bouchet Tokyo, which is an acclaimed restaurant with a central location in Paris. The [Chef's Tasting Menu] (6,000 JPY) is a relatively reasonably-priced dinner course. A recommended option from the a la carte menu is the [Steak Frites] (from 1,500 JPY for a half portion), which has a delicious red wine sauce. The wine list contains around 50 varieties of wines mostly from France, with approximately 30 varieties available by the glass each day.
Les Copains de Dominique Bouchet
28. Les enfants gates (Shibuya / French Cuisine)
This restaurant is centered around terrine, a classic French dish. There are 9 varieties of terrines available at all times, from luxurious meat ones that take over 2 weeks to prepare, to seafood terrines and seasonal vegetable terrines made with seasonal offerings. Occasionally, there are special terrines made with Japanese ingredients such as hamo (daggertooth pike conger) and ume (plum). You can try out the chef's specialties with the [Menu Terrine (6 Courses)] (4,700), a course meal that includes two kinds of chef's-choice terrines. You can also enjoy wine at the bar located in the restaurant's entrance.
Les enfants gates
29. Ristorante Il Bambinaccio (Omotesando / Italian Cuisine)
This is an Italian restaurant where you can savor safe and wholesome dishes made with carefully-selected, fresh domestic ingredients. The [Menu Entrada] (5,000 JPY) is a light course meal, centered around vegetable dishes, that lets you enjoy small portions of a variety of foods. You also can't miss out on the meaty main dishes, such as the slow-cooked [Miyazaki Kuroge Wagyu Beef Cheek Specialty]. Bottles of wine are available from 4,000 JPY. There is also the [Daily Glass Wine] (from 1,200 JPY), of which a variety of options are available each day.
Ristorante Il Bambinaccio
30.  L'OSIER (Ginza / French Cuisine) 
L'OSIER has been drawing attention as one of the most iconic French restaurants in Japan ever since it opened in 1973. Try out some top-class French cuisine to your heart's content within the imperial court-inspired interiors of this restaurant, located away from the hustle and bustle of Ginza. The famous dish here, which you will want to try at least once, is the [Poached Buttered Abalone with Bulgur Risotto and Fresh Uni Bouillon]. There is a wide selection of wines available, and you will be able to find the best pairing for your food by consulting with the sommelier.
L'OSIER
That wraps up this list of 30 restaurants around Tokyo to enjoy wine. From young wines to vintage bottles, there is an unlimited number of wines to pair with food. Please try your favorite wine along with a variety of cuisines, from traditional French to light Japanese fare. 
Disclaimer: All information is accurate at time of publication.