Publish-date: Mar 05 2018 Update-date: Jun 05 2020
Most establishments in Okinawa serve awamori (a type of Okinawan alcohol). This article will introduce several restaurants serving awamori that are suitable for beginners. These include bars serving a wide variety of products, those from specialized distilleries, and even places with aged awamori. Enjoy the smooth flavor of awamori, along with Okinawa cuisine, to your heart's content.
1. Mouasiby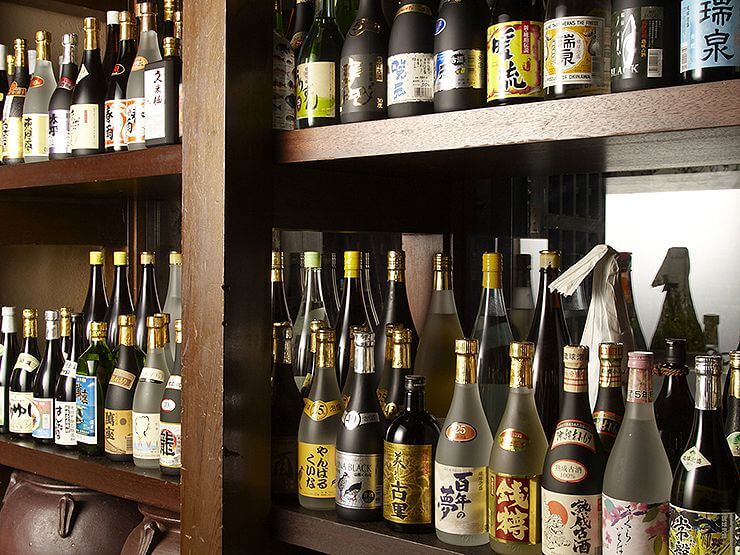 This restaurant has 190 brands of awamori from 47 distilleries in Okinawa! Their awamori meister can help you find your favorite awamori, as well as pick which would go well with specific dishes. They have an extensive menu that includes Okinawan and teppanyaki (ingredients grilled on an iron griddle) dishes, all of which are based on the idea of local production for local consumption.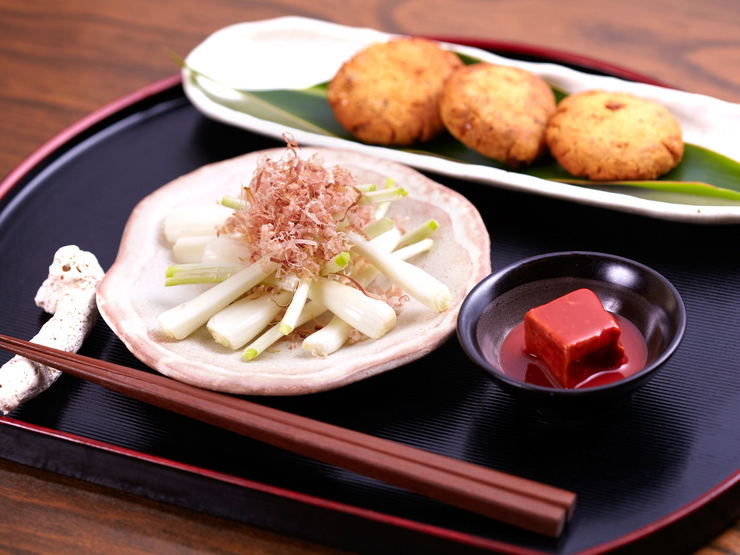 They are popular for Okinawan home cooking, such as their home-cooked okonomiyaki (Japanese savory pancake).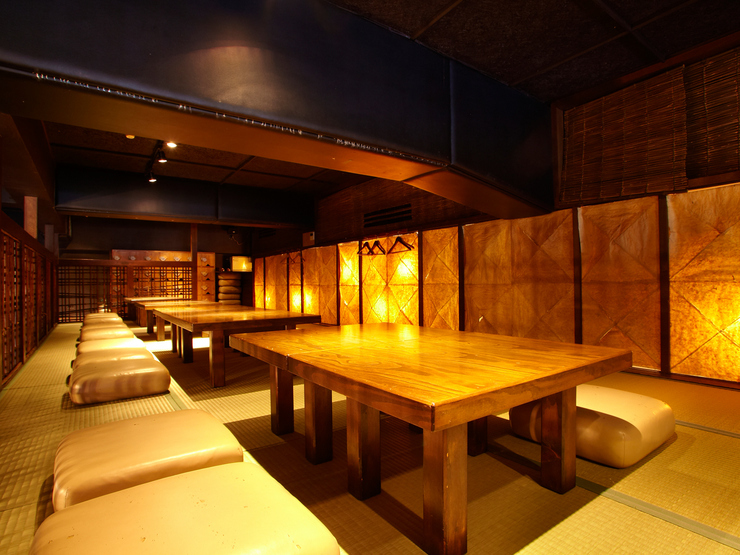 They can accommodate a large number of people. They have loft tatami seats, which can be used by a maximum of 30 people.
Mouasiby
Open: 5:00 pm - 12:00 am (Drinks L.O. 11:30 pm)
Closed: None 
Average price: 3,000 JPY *Food courses are available from 2,000 JPY - 3,500 JPY
Access: 3-minute walk from Miebashi Station towards Prefectural Office Station. Located along Kumoji River and beside Denpado Bldg.
Address: 1F, Space Art Bldg., 2-12-24, Kumoji, Naha-shi, Okinawa

2. Shimauta Live Juri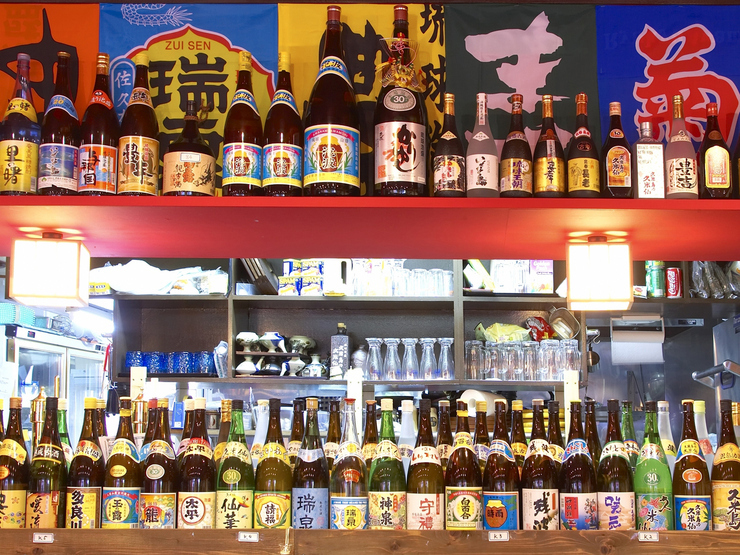 They have a wide selection of awamori, with 108 brands handpicked from 48 distilleries. The chef's specialty soba (noodles) includes [Okinawa Soba], [Paikomen] (noodles topped with fried pork ribs), [Shima Soba], and [Asa Soba] (noodles with seaweed). They highlight the uniqueness of each dish with the way they prepare the soup and seasonings. This restaurant is also well-loved by the locals.
Their [Ryukyu Herbs and Fresh Purple Yam Spring Rolls] (with Sea Grapes) is a healthy dish.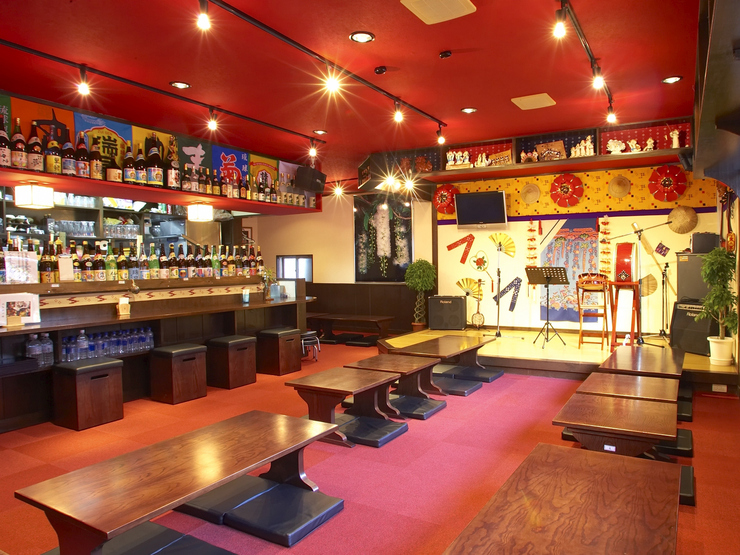 The interior of this restaurant can accommodate 50 people, and is based on the scarlet color of Shuri Castle.
Shimauta Live Juri
Open
:
6:00 pm - 12:00 am (Food L.O. 11:00 pm)
Closed
:
None
Average price
:
[Dinner] 3,500 JPY
Access
:
Through Kokusaidori Matsuo intersection (Kokusai Plaza Hotel corner) towards Matsuo Fire Station, about 1 minute. Opposite corner from the Naha Grand Hotel.
Address
:
2-2-29 Matsuo , Naha-shi, Okinawa
(
Map
)
More Details
 Reservation 
3. NAKAYA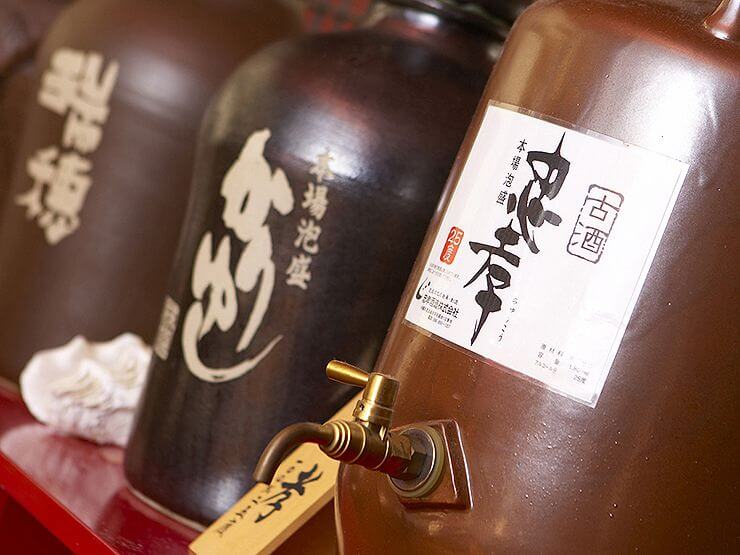 You'll never get enough of their creative cuisine made from fresh traditional Okinawan ingredients, paired with over 10 types of well-aged sake (Japanese alcohol). They also have live folk song performances (Friday and Saturday, 5:30 pm - 8:00 pm *Held every day from July to September), so you can enjoy a wonderful night in Okinawa.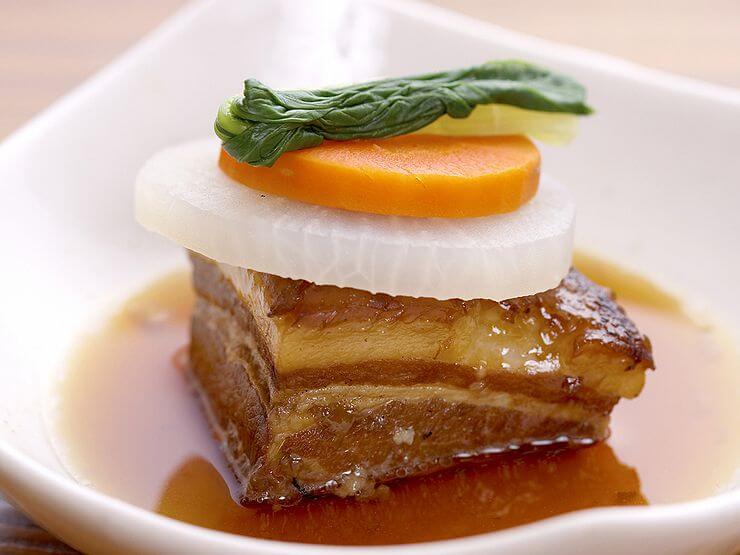 Pork belly meat is thoroughly stewed until it is tender.
Feel free to bring along your children! Drop by anytime.
NAKAYA
Open: 5:00 pm - 11:00 pm (Food L.O. 10:30 pm)
Closed: Irregular
Average price: 2,500 JPY *Their all-you-can-drink with 6 dishes (large servings) for 2 hours starts from 3,800 JPY. Inquire for more.
Access: Take National Road Route 58 towards Onna Village. It is opposite to the entrance to Hotel Moon Beach. Located at the Marineview Palace entrance.
Address: 523-2, Maeganeku, Onna-son, Kunigami-gun, Okinawa

4. Min-yo Izakaya Kanasando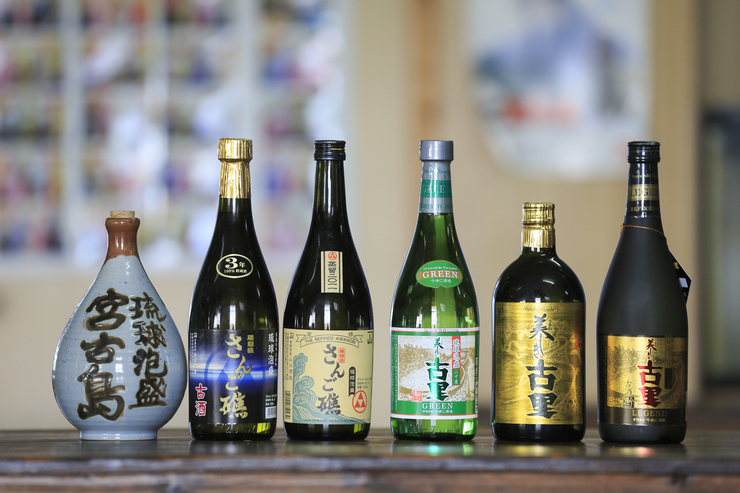 Enjoy a wonderful night here, as you enjoy their specialty dishes while drinking awamori. At this izakaya (Japanese pub), you can enjoy homemade Okinawan cuisine made from local ingredients. Their [Sea Grapes], eaten with a special sauce, and the [Tebichi] (pig's trotters) that has been thoroughly cooked for 5 hours, are recommended. This restaurant has a cozy vibe where diners can enjoy folk song performances with Okinawan dishes and awamori.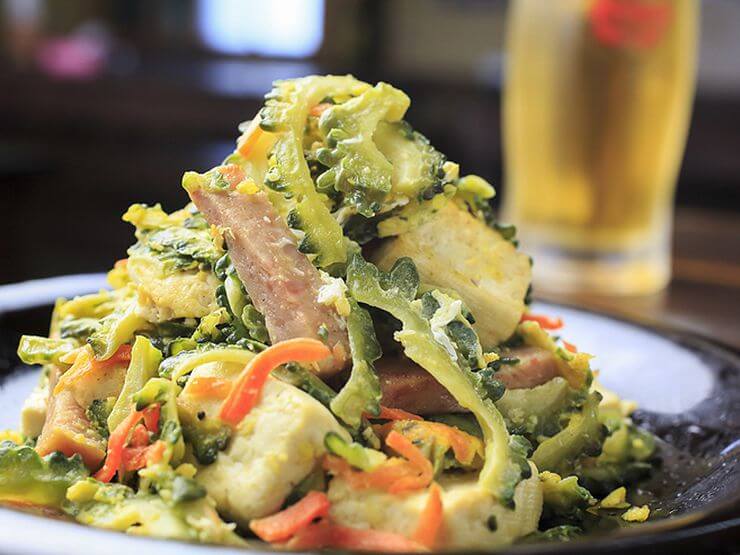 Take it easy and relax while savoring their dishes.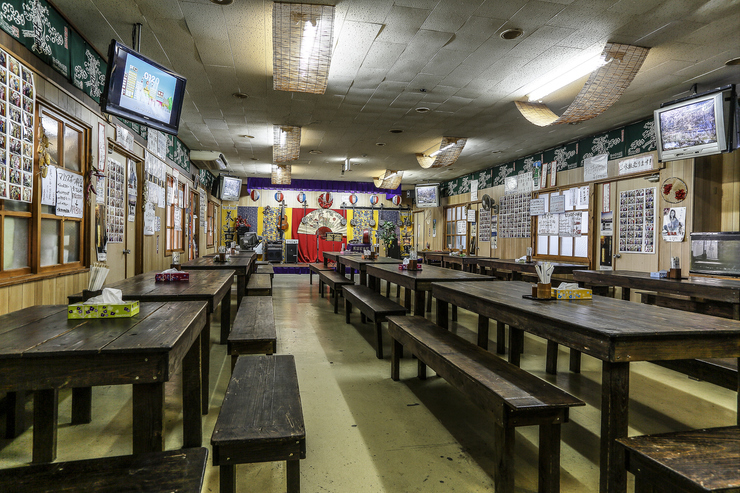 Sing and dance with everyone to the music from a live shamisen (three-stringed guitar).
Min-yo Izakaya Kanasando
Open
:
[Tuesday - Sunday/Public Holidays/Days Before Public Holidays] Normal hours: 5pm - 1am
Closed
:
None
Average price
:
[Dinner] 2,000 JPY
Access
:
On the other side of the Family Mart near the Urasaki intersection at the end of Route 114
Address
:
Urasaki Bldg. 2F, 176 Aza-Urasaki , Motobu-cho, Kunigami-gun, Okinawa
(
Map
)
More Details
 Reservation 
5. LIVE HOUSE Shimauta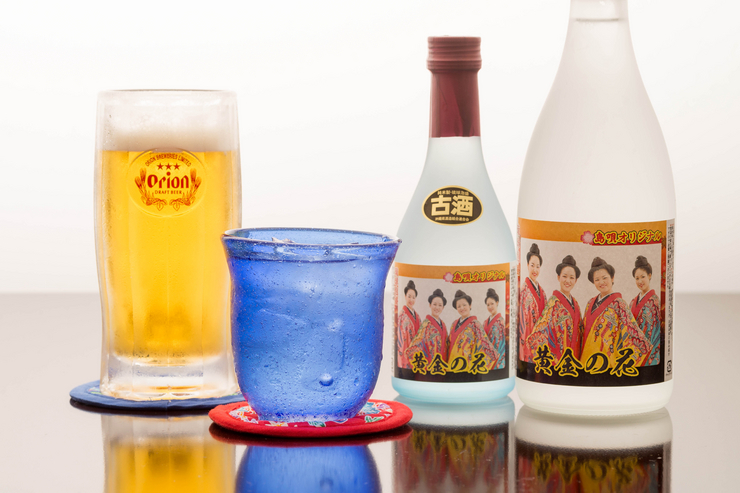 They serve a wide variety of local beers from Okinawa, as well as awamori. They have several kinds of awamori, including well-aged ones that were carefully selected by the owner. Here, you can try a little bit of each awamori to discover your favorite brand! You can also enjoy local Okinawan beers and awamori cocktails.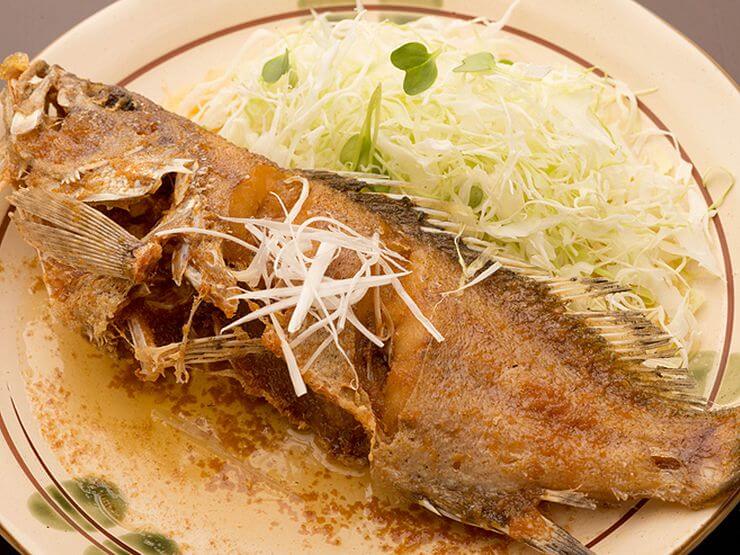 This is the [Coral Trout Sauteed in Butter]. The meat is plump, and it is a mild-tasting dish.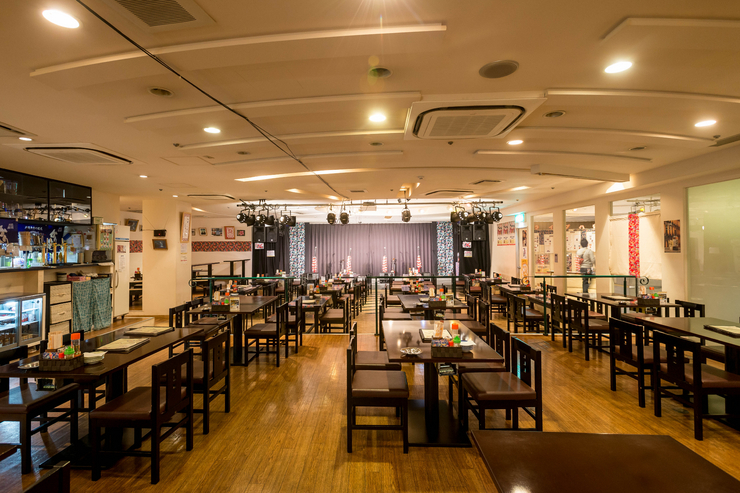 This restaurant lets you enjoy Okinawan cuisine while listening to live performances of Okinawa folk songs.
LIVE HOUSE Shimauta
Open: 6:00 pm - 11:00 pm
Closed: Irregular
Average price: [Dinner] 4,500 JPY
Access: 5-minute walk from the prefectural office. Head east on Kokusai Street, and you'll find it just before Hotel JAL City Naha. It is on the 3rd floor of Okinawaya Main Branch Bldg.
Address: 3F, Okinawaya Main Branch Bldg., 1-2-31, Makishi, Naha-shi, Okinawa


Disclaimer: All information is accurate at time of publication.