Publish-date: Aug 10 2018 Update-date: Aug 06 2019
Like and Share us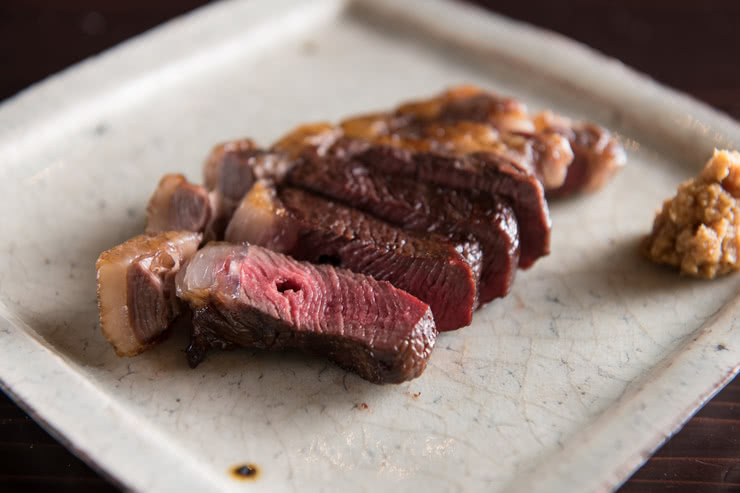 In Japan (with the exception of Hokkaido), the hunting ban is lifted from November 15 to February 15. Check out these 15 spots if you're looking for a restaurant where you can enjoy delicious wild game, referred to as the "gifts of fall and winter", in Tokyo!
1. Tade no Ha (Gaiemmae / Japanese Cuisine)
The owner of this popular restaurant dedicates his life to the wild game, and he owns a hunting license. His dishes, mainly cooked through charcoal grilling, bring out the true umami (Japanese savory taste) of the ingredients. Two examples are the [Charcoal-grilled Deer] that are served either with plain salt or horseradish mixed with shoyu (soy sauce) and the [Charcoal-grilled Northern Pintail], where the duck is caught with a net to preserve its umami. Another favorite dish is the [Boar Miso Nabe], which is a hot pot filled with plenty of vegetables that go divinely with the meat. In addition, starting in early summer, you'll get to taste delicious seasonal dishes made with sweetfish, which is an iconic summer ingredient in Japan.
Tade no Ha
2. La Boucherie du Buppa (Naka-meguro / French Cuisine)
This French restaurant draws in customers with their delicious dry-aged meat and wild game dishes. To stock their meat when it's at its most delicious, they make specific requests to the hunter that get as detailed as noting a particular hunting period, processing method, age, and gender! They then let the meat sit for days in a special dry-aging environment to remove any odor and moisture. This also condenses the incredible umami. As for the cooking method, they mainly go for simple charcoal grilling. A recommended item is the [Charcoal-grilled Niigata Mallard], where net-caught mallard is slowly grilled over charcoal and eaten whole, including the breast, wings, liver, and other entrails. Don't miss the popular [Today's Charcuterie Assortment], which comprises of around 10 items, such as deer and fig pate and smoked duck meat.
La Boucherie du Buppa
3. LATURE (Omote-sando / French Cuisine)
This famed restaurant is renowned for its chef, who is an expert in game meat. His cooking shows his respect for and gratitude to nature, which came about from his own hunting experiences. Their spectacularly arranged and thought-provoking course meals are based on traditional French cuisine, with a touch of innovation. For example, the [Grouse Roast], arranged to look like a hunting scene, includes salmis sauce, which is a stew of blood and entrails in red wine. This makes this dish quite impressive regarding both flavor and visual impact. They also make a dessert called [Chocolat Royale], which is centered around a chocolate gateau thickened by deer blood. It's a unique delicacy that takes its sophisticated flavor and aroma from a bit of foie gras and truffle.
LATURE
4. Restaurant Unique (Meguro / French Cuisine)
This restaurant is well-known as Tokyo's top game meat restaurant. Having trained at highly acclaimed restaurants in Paris and renowned eateries in Tokyo, the owner-chef offers an array of dishes based on traditional French cuisine, but with an additional original touch. Some examples include the [Baked Asian Black Bear and Turtledove Pie With Thick Red Wine Sauce], wherein different meats are combined to make a traditional stuffed pie, and the [Partridge Roti Stuffed With French Mushrooms] that has a delightful aroma of mushroom. Stuff your mouth with authentic dishes that gourmands come from everywhere to taste!
Restaurant Unique
5. Remerciements OKAMOTO (Omote-sando / French Cuisine)
Enjoy delicious French dishes in a comfortable atmosphere that combines luxury with coziness. All the ingredients used here are selected by the chef directly from his most trusted producers. They are mainly delivered straight from Hokkaido - his birthplace - alongside meat bought from hunters. They're then turned into sublime course meals that you can pair with one of their over 120 different wines. One great example of their game dishes is the [Yezo Deer Composition] that's served as part of their [Degustation Course]. A block of umami-rich lean meat is made into a roast, the neck and shank meat into sausage, and the belly into bacon. Everything is served with a full-bodied red wine sauce.
Remerciements OKAMOTO
6. Midoriyama Matsuda-ke (Tsurukawa / French Cuisine)
This restaurant is in a detached house on a corner of a quiet residential area. It's solely managed by the chef, who polished his skills at highly acclaimed restaurants in France and Spain. Reservations are required, and there is capacity for just 2 groups at lunch and 1 for dinner. You're going to love the warm hospitality he shows all the way down to the smallest detail. He serves traditional French dishes made with plenty of seasonal ingredients. Fragrant grilled partridge is coated in a thick sauce, made with cognac and other ingredients, in their highly recommended [Roast Partridge With Salmis Sauce]. Also, make sure you try something with fresh vegetables, which are grown not only by farmers, but also by the chef's family and relatives.
Midoriyama Matsuda-ke
7. Arakiyama (Shinsen / Japanese Cuisine)
This popular restaurant stands in a quiet area called "Ura-Shibuya" that's away from the hustle and bustle of Tokyo's foremost shopping district, Shibuya. Designed like the inside of a hunter's hut, this is a chic place where you can enjoy delicious game meat and yakitori (grilled chicken skewers). From the game meat menu, the best pick would be the [Grilled Negi Wrapped in Hokkaido Duck Skewer], wherein negi (welsh onion) is wrapped in duck meat and grilled on charcoal until crispy and fragrant. Another recommendation is the [Boar Skewer With Soba and Miso], which comes with extremely juicy, umami-rich boar meat. They both go wonderfully well with the many natural wines that the restaurant stocks!
Arakiyama
8. Restaurant Tani (Gaiemmae / French Cuisine)
This famous eatery is managed by a chef who trained in France and in well-known restaurants in Tokyo. Classy and cozy at the same time, the restaurant offers French cuisine with a menu that revolves around the seasons. They are particularly renowned for their delicious game dishes that have enhanced the umami and aroma of the ingredients. The [Roasted Dove With Salmis Sauce], wherein both the innards and meat are beautifully grilled and served with a sauce made from the extracted juices from the dove, is strongly recommended. You'll find this and plenty of other amazing dishes that incorporate delicate elements.
Restaurant Tani
9. Aladdin (Hiro-o / French Cuisine)
The chef of this restaurant is considered a leader in the world of French cuisine in Japan. He's been serving simple yet superb game dishes even before it became popular in Japan. His popular winter specialty, [Roasted Turtledove With Salmis Sauce], is a perfect example of this. Made with ingredients like turtledove's blood, the sauce has a rich, condensed umami. Another popular dish is the [Galantine Made With Guineafowl, Foie Gras, Taro, Mushrooms, and Great Burdock], which is served as terrine and made with the breast, legs, and other parts of Guineafowl. It allows you to enjoy different textures and flavors all at once!
Aladdin
10. Bistro Sentiment (Asagaya / French Cuisine)
Head to this bistro to enjoy a diverse menu, ranging from classy authentic French delicacies to simple French regional cuisine. Along with one of their delicious wines, you must try their game dishes. For example, the [Hokkaido Yezo Deer Roast] is made with juicy grilled rump (the thigh part), which is considered to be the most tender cut of venison. Another recommendation would be the raw ham, made from the same type of duck that's used to make magret de canard. Enjoy delicious rustic flavors in a relaxing atmosphere here!
Bistro Sentiment
11. Kitajimatei (Yotsuya / French Cuisine)
Loved by many gourmands, this well-known French restaurant has been in business for nearly 30 years. The chef makes traditional French dishes based on the experience he gained in France. Through the food he creates, the chef aims to convey the charm of traditional recipes that are the essence of French food culture. His most appreciated dishes are terrines made with seasonal products, such as the [Pheasant From Shinshu, Nagano, and Foie Gras Terrine With A Truffle Aroma]. It combines the wild flavor of pheasant with the mellow aroma of truffle.
Kitajimatei
12. SOHOLM Tennozu Branch (Tennozu Isle / French Cuisine)
This restaurant is managed by a popular interior store that offers a "conscientious lifestyle". All the furniture you'll find inside, such as the tables and chairs, have a sophisticated design. Despite being so stylish, it actually feels quite cozy. Their signature dishes are game meat delicacies, made with top-quality domestic products. The [Honshu Deer Roast], made with grilled venison procured from hunters in various areas, is especially recommended. They alter the flavor of the sauce to match the taste of the meat, which changes depending on elements like the season. Another dish to try is the [Boar Frikadeller], which consists of traditional Danish meatballs made with wild boar instead of pork.
SOHOLM Tennozu Branch
13. Restaurant FEU (Nogizaka / French Cuisine)
*Pictures are for illustration purposes only
The chef of this modern French restaurant has experienced 10 years of training in France. They are highly appreciated by both locals and foreigners. While respecting traditions, his dishes are made to meet the needs of today, resulting in an innovative and flexible cooking style. As the cold season approaches, hunting bans are lifted, meaning that you can start savoring the flavors of game meat. The menu changes according to what they have stocked that day, but some examples of ingredients used include mallard, partridge, dove, and Yezo deer. Thanks to inventive techniques like a dry-aging method that prevents oxidation, their meats are prepared so that they're tasty and tender, without the distinctive odor of game. Definitely give their dishes a try!
Restaurant FEU
14. A ta gueule (Kiba / French Cuisine)
*Pictures are for illustration purposes only
You'll easily recognize this French restaurant thanks to its unique design. It is housed in an Orient Express coach in front of a building that resembles an actual train station! Formerly the official chef of an embassy, the owner is known as the only Japanese chef who worked on the Orient Express. He's now gained popularity by serving the same flavors as what you'd get on the Orient Express. The meat and seafood are all directly delivered from their respective production areas, while the vegetables are the freshest products that Kamakura has to offer. Aside from their traditional French dishes, they have a great reputation for their seasonal game delicacies. Creative in terms of both flavors and arrangements, these dishes are not to be missed.
A ta gueule
15. Tateru Yoshino (Ginza / French Cuisine)
*Pictures are for illustration purposes only
"Terre (earth) cuisine" is the concept of this popular French restaurant that aims to serve the gifts from the land as they are, without interfering with nature. Well-known among gourmands of Paris and every other part of the world, the chef puts all his efforts into preparing delicacies that are not only delicious, but also beautifully arranged. Among the many options available, you have to try his game dishes at least once. Whether it's grilled, simmered, or in a pie, their simple recipes will fully enhance the unique umami of the meat. You'll find different ingredients depending on the season, such as Asian black bear. Perfectly smooth and fatty, the bear meat is simmered with a mixture of red wine and honey, resulting in a brilliant dish that will keep your body warm during the cold winter.
Tateru Yoshino
Don't miss this chance to savor the strong flavors of wild game!
Disclaimer: All information is accurate at time of publication.