Publish-date: Jan 18 2019 Update-date: May 30 2019
Like and Share us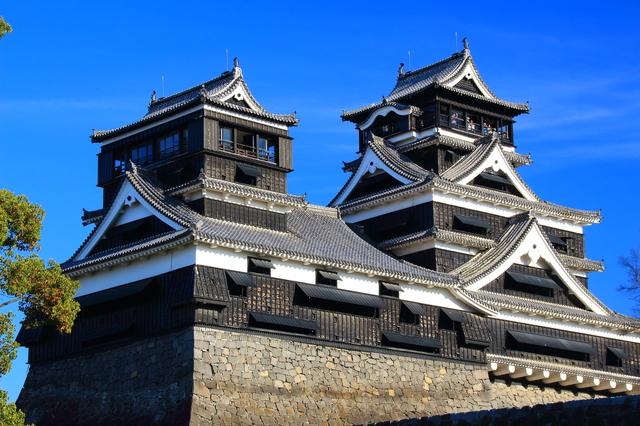 Kumamoto is a popular tourist destination even within Kyushu. While it's well-known for its famous Kumamoto ramen, that's not the only thing this prefecture has to offer. There are so many other delicious foods, as well as a plethora of sightseeing spots to experience Japanese culture and nature. There's more to Kumamoto than just Kumamoto ramen - read more to learn about its food and sightseeing spots!

Visit Kumamoto Castle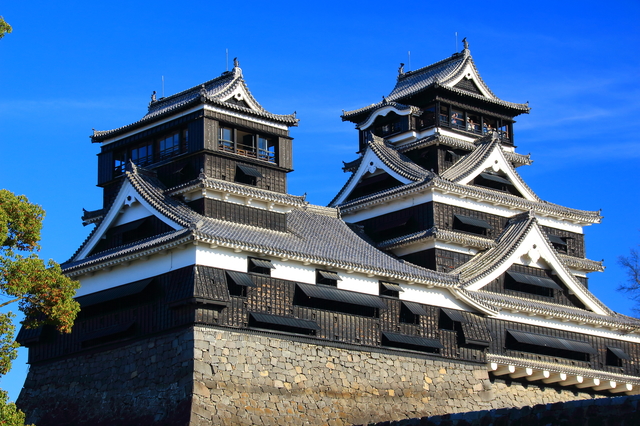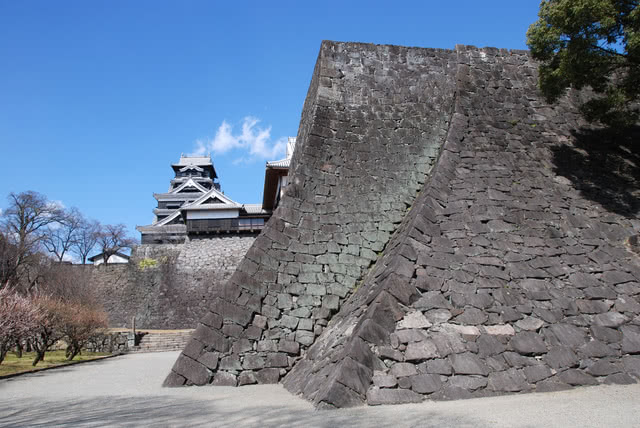 Kumamoto Castle is famous for being one of Japan's three greatest castles. It placed 1st three years in a row on Trip Advisor's "I'm Glad I Went! Japan's Castle Rankings" list. The Honmaru Goten Palace, which was restored in 2008 to commemorate 400 years since its construction, depicts the refined and brilliant atmosphere of the period in which it was built. There are also many other highlights to see, such as the unique stone walls, known as "musha-gaeshi," and the architectural style of that time, which stretches over the vast premises of the castle. Currently, entry to the castle is restricted as it is undergoing reconstruction from the damage it took from an earthquake, but you can see the whole castle if you go up to the observation deck on the 14th floor of Kumamoto City Hall.

Eat and Walk Around Sakura no Baba Jousaien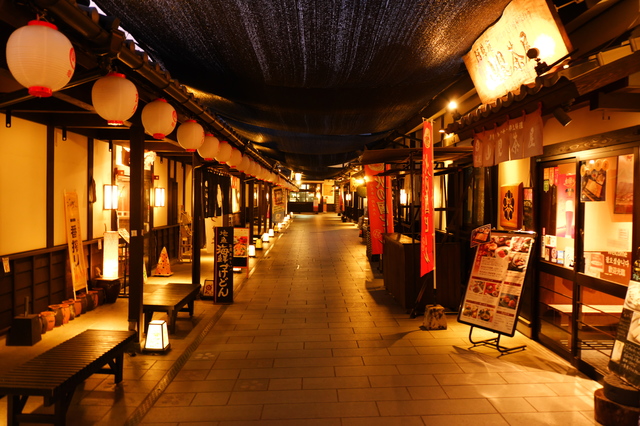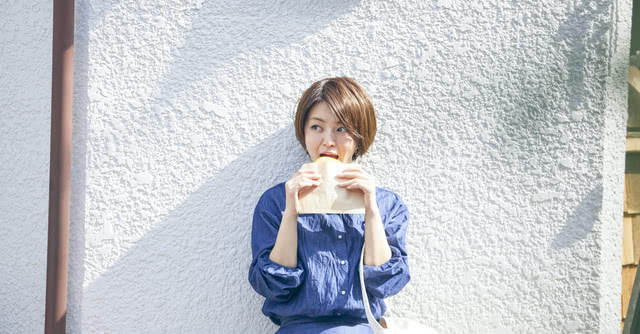 In Sakura no Baba Jousaien, there is the Kumamoto Museum Wakuwakuza, where you can learn about Kumamoto's history and culture, and Sakuranokoji, a shopping street lined with 23 small shops selling Kumamoto goods and restaurants. This area is brimming with shops perfect for walking around while eating various treats, like Amakusa Kaishoku Maruken's [Sea Urchin Croquette], a crispy deep-fried croquette stuffed with uni (sea urchin), and Ikinariya Watanabe's [Ikinari Dango], sweet rice cakes made with sweet potatoes from Kumamoto and azuki beans from Hokkaido.

Gaze at the Majestic Mt. Aso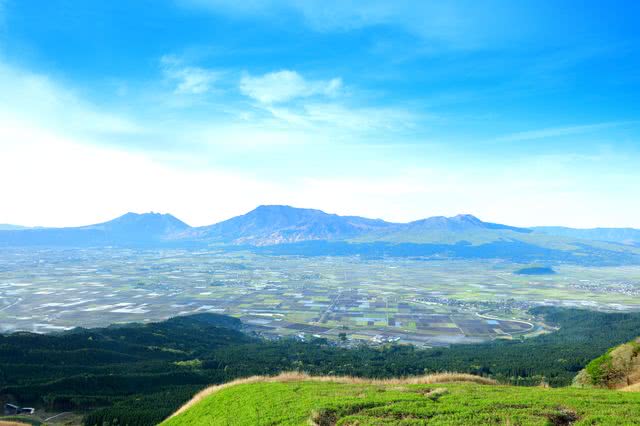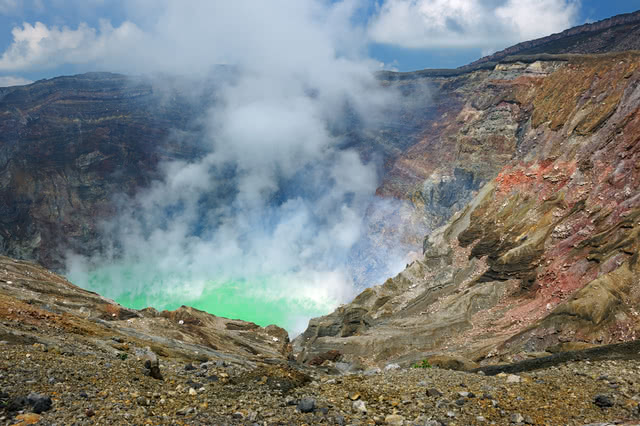 Mt. Aso, the symbol of the "fire country of Kumamoto," is often the name used to refer to the Aso Gogaku mountain range's many mountains, but it also includes the outer rim of the crater and the crater basin, making it the world's largest volcano. Viewing the caldera of Mt. Nakadake, one of the mountains of Aso Gogaku, is a widely recognized tourism activity, and those who see the smoke boiling up with the rumbling will feel a great natural energy. Anyone can get to the caldera as it is accessible by car, and there is even a saying that "you can see the caldera in your high heels."

Refresh Yourself at Kusasenri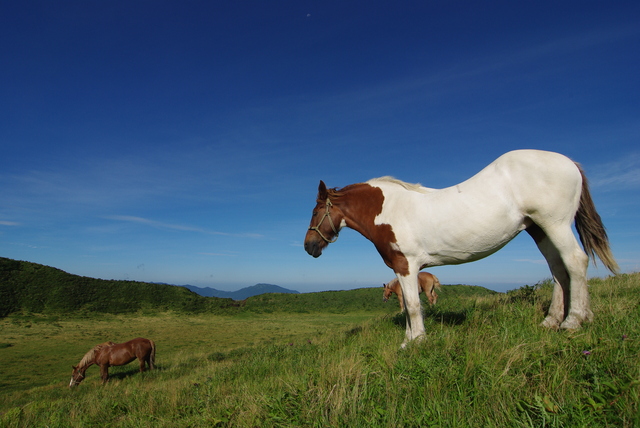 Kusasenri Plateau is a scenic spot to view Mt. Nakadake. Stretching widely across the land, it heals the soul with its scenery of rainwater accumulated in the basin, and cows and horses are grazing in the field. The vast grasslands extend to a diameter of 1 km. In winter, you have a view of the mysterious frost-covered trees. You'll be able to enjoy a wide variety of views depending on the season. It's highly recommended to drive on the road running alongside Kusasenri to get a panoramic view. There's also a horse riding facility, so it's a great spot to relax in nature with family and friends!

Dolphin Watching in Amakusa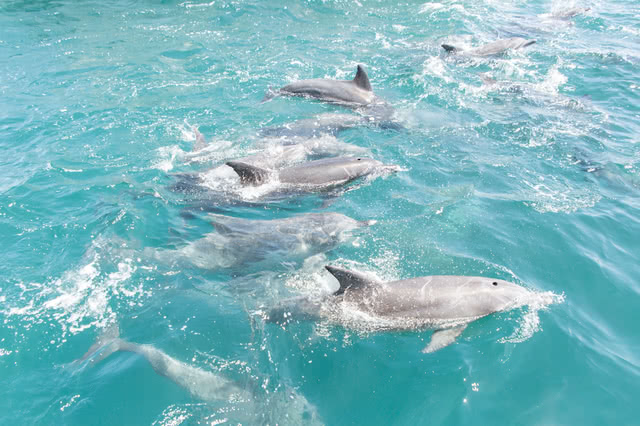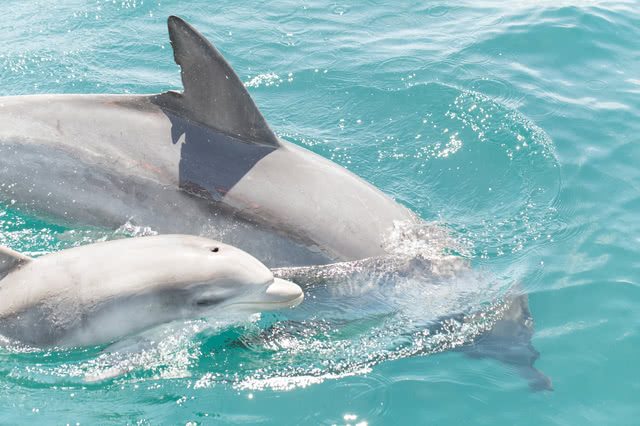 Off the coast of the town of Itsuwa in Amakusa, there live over 200 rare, wild bottlenose dolphins. In this warmer climate, there's an abundance of the dolphins' favorite treats like horse mackerel and squid, so you'll be able to see large groups of dolphins in the area all throughout the year. There's no doubt that your encounter with these dolphins, who rush over as if the sound of the boat engine calls to them, will be an amazing and unforgettable experience. Even without a reservation, you'll be able to see dolphins at 2,500 JPY for adults, 1,500 JPY for elementary school students, and 500 JPY for children (over 2 years old).

Kumamoto Ramen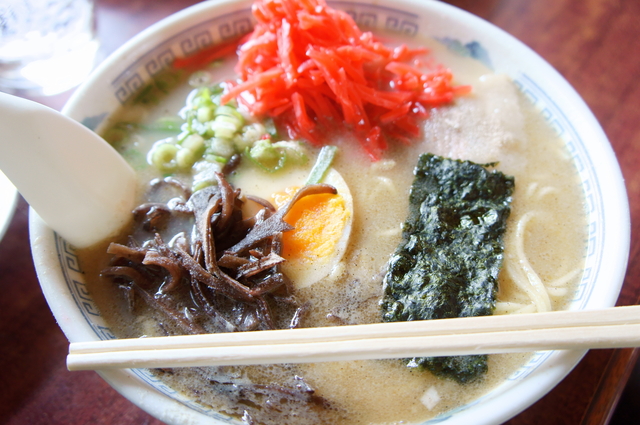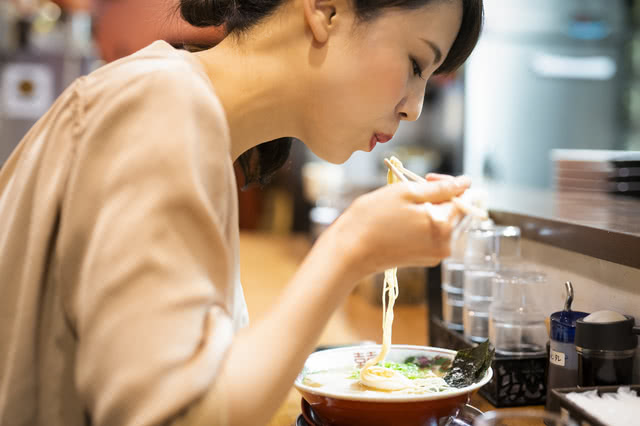 Kumamoto ramen - thick noodles in a mild broth made from a tonkotsu (pork bone) base with chicken bones. In addition to the typical char siu (braised pork belly) and seaweed toppings, it is known for its addition of wood ear mushrooms. Garlic chips and garlic-infused oil combine with the soup for a perfectly harmonious combination of flavors.

Kokuryuko JR Kumamoto Eki-mae Branch (Kumamoto / Ramen)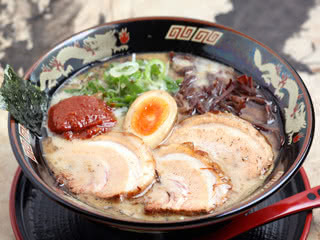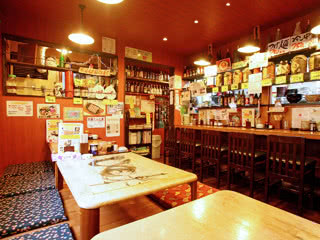 If you're looking for somewhere to eat Kumamoto ramen, this is the place to go! The locals have adored this favorite restaurant for many years. The soup has a tonkotsu base with a blend of 10 kinds of vegetables and seafood. It has a thick, rich flavor, but the aftertaste is light and refreshing! One bowl of ramen costs from 700 JPY and up. The [Ryu Char Siu Men (Spicy)] is very popular, and you can change the spiciness of the tonkotsu soup to your preference, from spicy to extremely spicy. Try pairing some sizzling [Homemade Stick Gyoza] with your ramen, too!

Kokuryuko JR Kumamoto Eki-mae Branch
Open
: 11:00 am - 12:00 am (L.O. 11:30 pm)
Lunch 11:00 am - 3:00 pm (L.O.)
Closed
: Irregular
Average price
: [Dinner] 1,000 JPY / [Lunch] 750 JPY
Address
: 2-5-7, Kazuga, Nishi-ku, Kumamoto-shi, Kumamoto (
Map
)
More Details
Basashi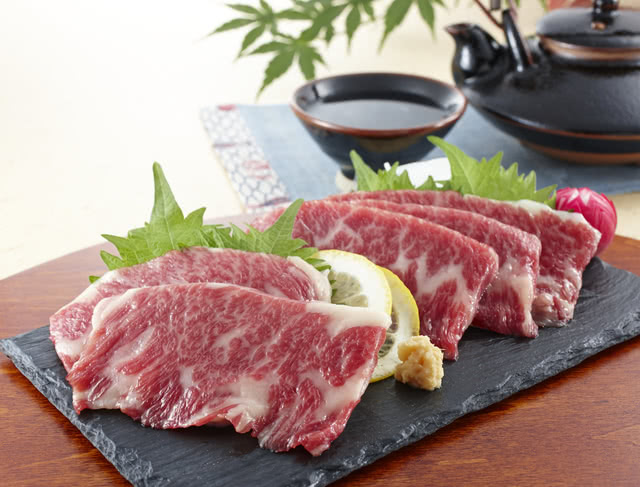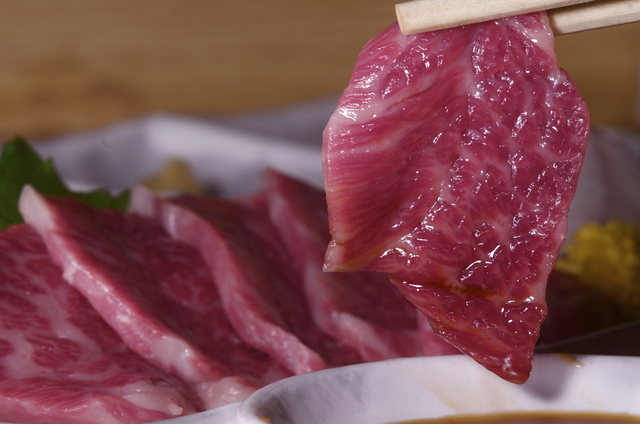 Basashi is the term for horse meat that is cut thinly and eaten raw as sashimi. Only meat that passes the extremely strict regulations set for horse meat is allowed to be served as basashi, so don't worry about eating it raw! Try the loin cut for a lean and refreshing taste, or the rare mane cut!

Tanuki (Kengunmachi / Japanese Cuisine)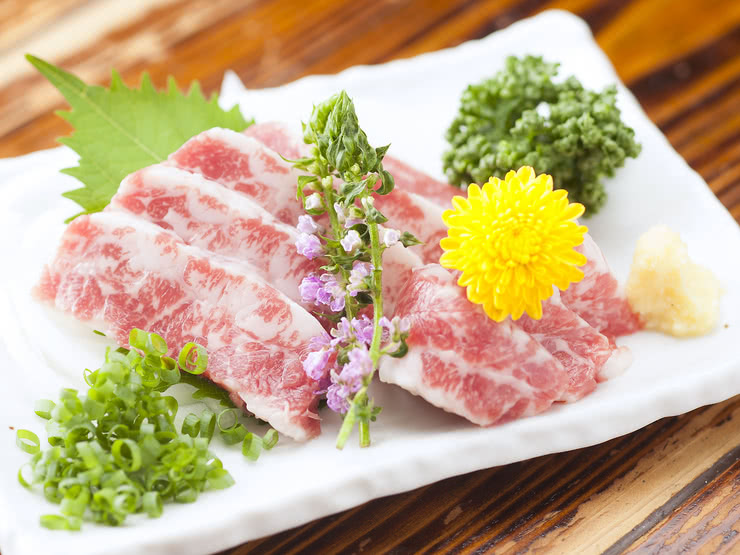 At Tanuki, you'll be able to taste fresh horse meat in the perfect condition. The subdued, black color-themed restaurant has both cozy seatings at the counter as well as table seating over tatami mats. The owner is directly involved with horse shipments at farms, so you can rest assured that the quality is top notch! The most delicious parts of the horses are used to serve as basashi on the same day they are received. The sweet taste spreads throughout your mouth in this delicacy that you'll want to eat again and again. It's super popular, as it's lower in calories and fat, but higher in protein than beef and pork.

Tanuki
Open
: [Weekdays, Saturday, National Holidays, Day before National Holidays] Dinner 6:00 pm - 11:00 pm (L.O. 10:30 pm)
Closed
: Sunday
Average price
: 3,500 JPY
Address
: 1-4-2, Wakaba, Higashi-ku, Kumamoto-shi, Kumamoto (
Map
)
More Details
Karashi Renkon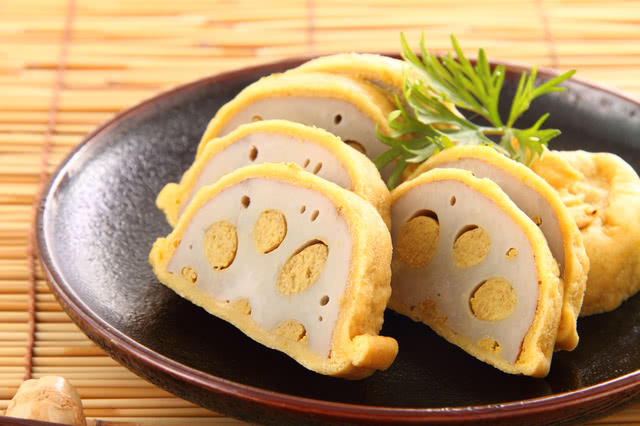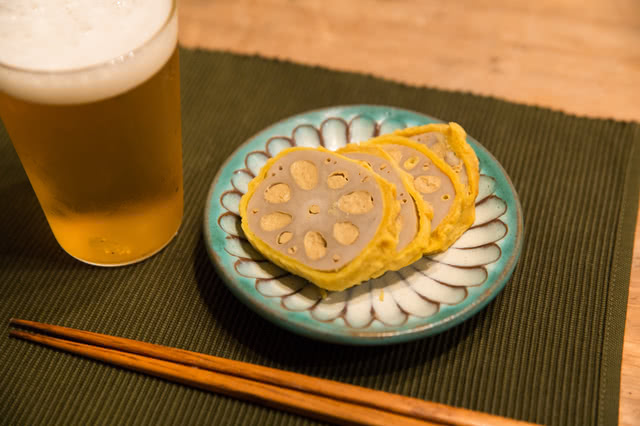 Karashi renkon is a dish where karashi miso (Japanese mustard powder mixed into barley miso) is stuffed into the holes in lotus roots. The origins of this local specialty date back to over 370 years ago, when a feudal lord fell into a state of weak health and lost his appetite. As they help increase blood circulation, there was an idea to feed him lotus roots, where it was then coated in egg yolk and fried in oil. The crispy texture of the lotus roots and the flavor of the mustard as the spice hits your nose make this food the perfect accompaniment to sake (Japanese alcohol).

Ekubo Kumamoto Shimotori Branch (Torichosuji / Japanese Izakaya)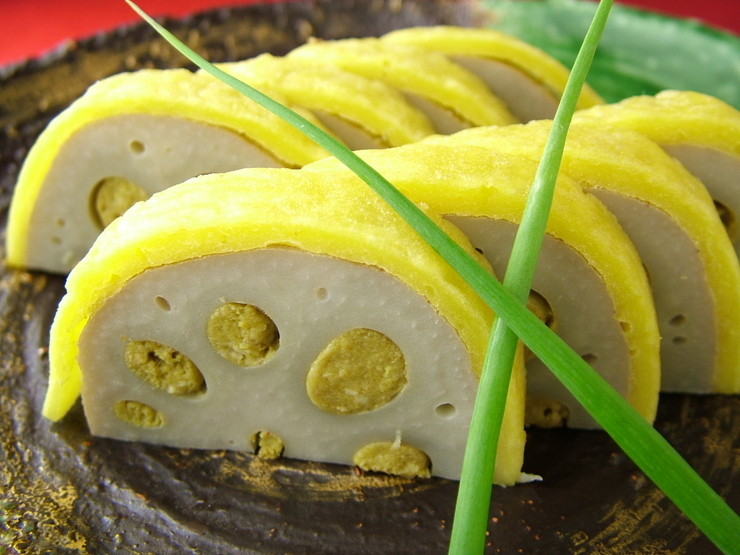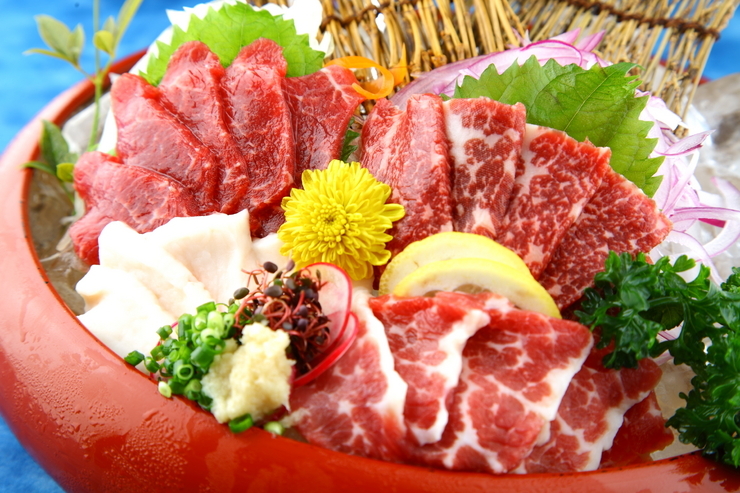 Located in Shimotori, a shopping street in Kumamoto, Ekubo is a place where you can taste local traditional specialties. The restaurant is dimly lit, and the seating is mainly horigotatsu (sunken kotatsu table) for a relaxing experience. The menu has over 120 dishes to choose from, including [Karashi Renkon] (600 JPY) and the [Basashi Platter] at 2,550 JPY, which comes with an assortment of marbled basashi, lean meat, mane, and back ribs.

Ekubo Kumamoto Shimotori Branch
Open
: 5:00 pm - 2:00 am
Closed
: Irregular
Average price
: 3,500 JPY
Address
: 2F, NADEL Bldg., 1-3-1, Shimotori, Chuo-ku, Kumamoto-shi, Kumamoto (
Map
)
More Details
Kan (Hanabata / Izakaya)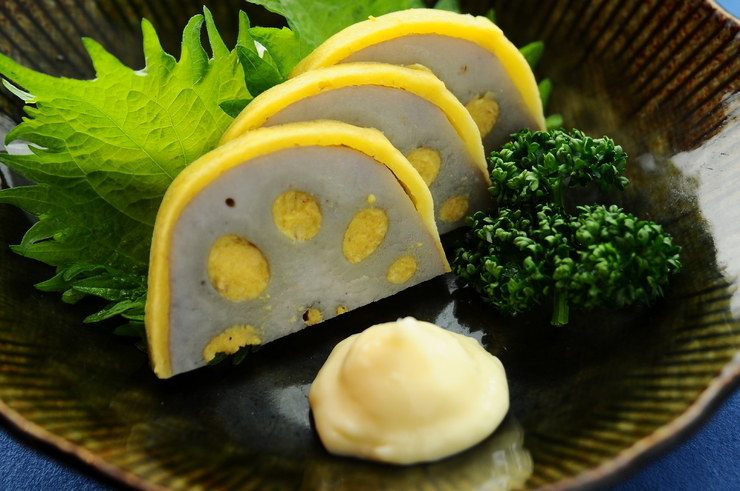 This is an izakaya (Japanese pub) located in Kumamoto's downtown area of Nishi Ginza Street that uses local ingredients. The shop has a wooden interior that soothes the soul. You can sit at the counter or a table, or even in a private horigotatsu-style room where you can look over the shopping street. They make an effort to use ingredients grown locally in Kumamoto, and also use ingredients that are difficult to come by. Kumamoto's local specialty [Karashi Renkon] is 750 JPY, and the [Premium Basashi 4-Kind Assortment Platter], which comes with specially selected cuts of marbled meat, back ribs, lean meat, and mane, is 2,800 JPY.

Kan
Open
: From 6:00 pm
[Weekends and National Holidays] From 5:00 pm
*Please make reservation enquiries after noon
Closed
: None
Average price
: 4,000 JPY
*There is an additional 300 JPY service charge (comes with small appetizer)
Address
: 1F, Nishi-Ginza Chohan Bldg., 1-11-20, Shimotori, Chuo-ku, Kumamoto-shi, Kumamoto (
Map
)
More Details
Akagyu Beef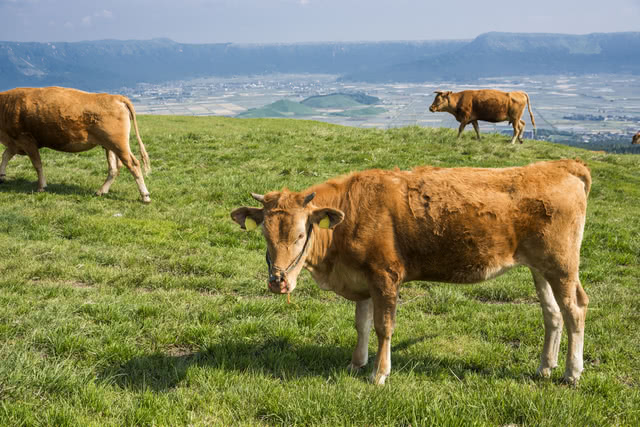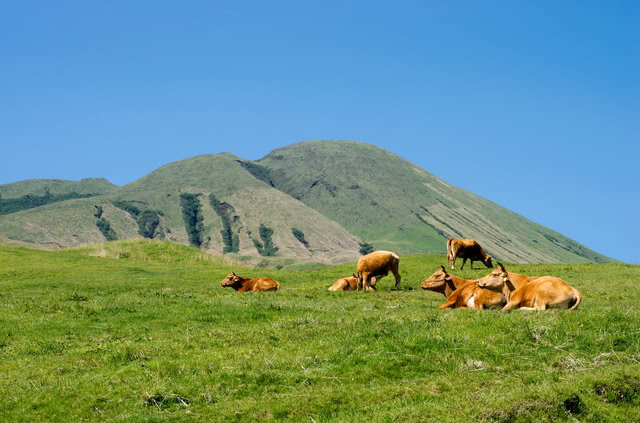 The local Kumamoto wagyu (a type of high-quality beef) is called "Akagyu." There is a high amount of lean meat condensed with umami (Japanese savory taste), as well as the right amount of fat, making it a very sweet and easy-to-eat type of meat. Compared to your average cut of beef, Akagyu has many components that can improve liver damage from alcohol and lower blood pressure too, so it's popular for being an extremely healthy type of beef.

Okagesan (Karashimacho / Izakaya)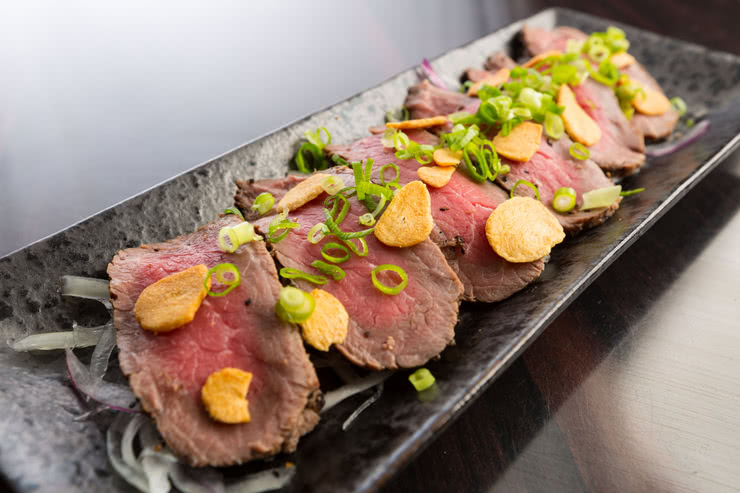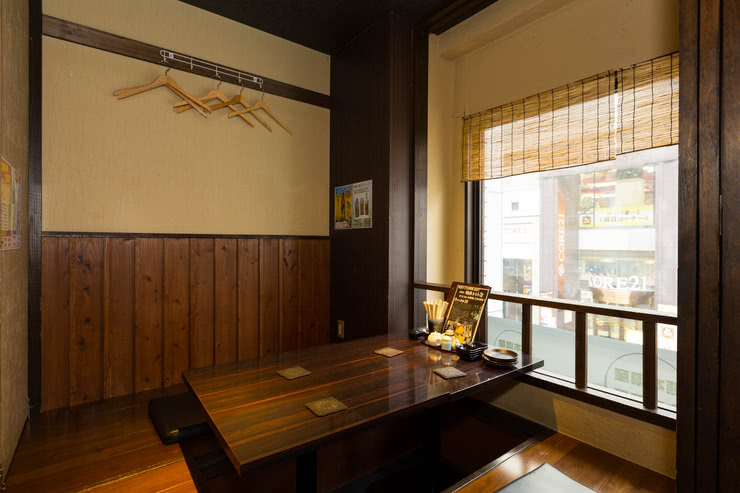 A part of this restaurant's profits is donated to fund restoration efforts from the earthquake that hit Kumamoto. The shop has a warm atmosphere with a wooden interior, and you can choose between seats at the counter, which is lined with sake, or one of the horigotatsu-style private rooms, the size of which can be adjusted depending on how many people are in your party. [Broiled Akagyu] (449 JPY), a type of meat sushi, uses meat from akagyu cattle that were raised in Aso's spacious grasslands. The umami of this treat is brought out by broiling it. Another recommended dish is the [Akagyu Ribeye] (1,899 JPY) which is grilled on a lava stone.

Okagesan
Open
: [Weekdays, Sunday, National Holidays] 5:00 pm - 2:00 am (L.O. 1:30 am)
[Friday, Saturday, Day before National Holidays] 5:00 pm - 6:00 am (L.O. 5:30 am)
Closed
: Irregular
Average price
: 3,500 JPY
Address
: 2F, Harusamedo Bldg., 1-11-15, Shimotori, Chuo-ku, Kumamoto-shi, Kumamoto (
Map
)
More Details
Besides ramen, Kumamoto has an abundance of local foods like basashi and karashi renkon, as well as sightseeing spots to enjoy nature, like Mt. Aso and dolphin watching! Go explore this part of Kumamoto for yourself!

Disclaimer: All information is accurate at time of publication.