Publish-date: Feb 08 2018 Update-date: Aug 06 2019
Like and Share us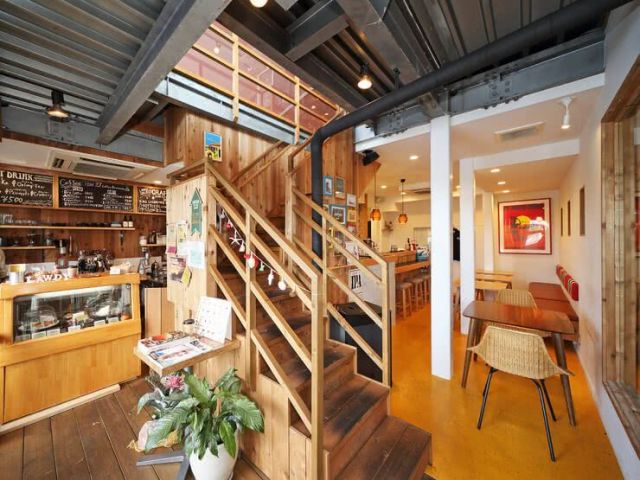 Kamakura is well-loved as a sightseeing spot, but it's actually also full of great cafes. Being able to enjoy the lovely scenery in this easily accessible location is a great plus. You'll be able to find many unique cafes here, from those that offer standard pancakes and French toast, to ones that serve interesting curries and have a huge menu. There are restaurants where you can relax and enjoy a beautiful sea view, as well as popular places where you'll have to line up for a while. Pick one that suits your mood for the day!
1. bills Sichirigahama
Bills Sichirigahama is a cafe facing Shichiriga Beach (Shichiriga-hama). The cafe is open from morning until night, serving breakfast, lunch, and dinner. While enjoying the fare served at this American cafe, you can gaze upon the beach as it changes according to the time of the day. While this is the first overseas branch of the cafe, bills, from Sydney, it's actually the place where the [Ricotta Pancake] originated from! Be sure to try this pancake that they're proud of. They also serve many other great dishes besides pancakes. The [Fish Curry] that brings out the sweet taste of the coconut in the curry, as well as the [Sweet Corn Fritter] that's stuffed with battered fried vegetables and topped with bacon, tomatoes, and avocado, are also worth trying!
bills Sichirigahama
2. Kamakura bowls
Open the door of Kamakura bowls and you'll be greeted by a tower of cute little donburi (rice bowl dish). Located along the road leading to Tsurugaoka Hachimangu Shrine, Kamakura bowls is an unusual cafe that focuses on donburi. Their extensive menu of donburi dishes consist of items that use fresh vegetables from Kamakura (their hometown) or Miura, as well as freshly caught fish from nearby fishing ports. Their [Shonan Kama-age Shirasu Don] (whitebait rice bowl) and [Misaki Tuna Throat Yukke] are particularly popular. The rice bowls served at lunch come in 3 sizes: S, M, and L. You can pick the right size for you. Purchasing one of the cute little rice bowls that are stacked up in the donburi tower at the entrance and then bringing it with you will actually give you a discount! This is a cafe that has a sense of playfulness!
Kamakura bowls
3. LAWDY BREW
LAWDY BREW is an American cafe and bar where you can experience the best of both worlds. The carefully selected coffee goes very well with their handmade sweets. What's even better is that they come in huge servings! The flavor of the muffins is different every day, but the [Oreo Cream Cheese Muffin] is one of the most popular ones. Their [Apple Bourbon Pie] is said to go well with alcohol, so it is available when the bar is open. At night, one of the star items on the menu is the [Chicken Legs] that uses Lagunitas IPA, a craft beer from California. The chicken is smoked in-house! They also serve a wide variety of alcohol like fragrant American gins and wines. Order sweets to share in the day or relax over a few drinks in the evening when you come here!
LAWDY BREW
4. OXYMORON komachi
OXYMORON komachi is a popular cafe located on the 2nd floor of a building in Kamakura's Komachi Street (Komachi-dori), just above an accessory store. Whether it's a weekday or weekend, this place is always teeming with people. Inside this cafe with wooden tables and trendy decor, you will be able to enjoy unique curries with Japanese or ethnic flavors. The herby [Ethnic Soboro Curry] that uses coriander, mitsuba (Japanese parsley), green onion, shiso (perilla leaves), and ginger as spices appears to be the most popular. There are many others to try, including the [Chicken Curry], [Japanese Style Keema Curry] with an on-tama (soft-cooked egg) and mild spiciness, [Sri Lankan Mutton Curry], and the [Curry of the Day] that is made with seasonal ingredients. The pickles and other side menu items are also great!
OXYMORON komachi
5. LONCAFE Kamakura Komachi Street Branch
Located within a mere 3-minute walk from Kamakura Station, LONCAFE is a restaurant that is famous for their French Toast. The white decor makes the premises bright, creating an atmosphere that reminds one of a seaside resort. Originally, the [Thick Creme Brulee French Toast] was available only at the Shonan Enoshima main branch, but it became such a hit that it's now available at all of LONCAFE's branches. Besides that, the [French Toast Topped with Apple Pie Filling] is also worth trying. The apples taste like spices and red wine, and are used to top the toast. It's a French Toast that is like a rich dessert. For those who prefer something simple, go for the [Choco Cinnamon French Toast]. From the plethora of dishes available, you'll definitely be able to find something that suits your taste here.
LONCAFE Kamakura Komachi Street Branch
6. vuori
Vuori is a cafe and lifestyle goods store that's located in what used to be a warehouse. This calm cafe is tastefully decorated in the style of an old-fashioned house. Enjoy the galettes that star in their lunch menu, as well as the handmade cakes that they serve here! Their galettes are made with buckwheat flour. Try the [Raw Ham and Seasonal Vegetable Buckwheat Galette], [Bacon and Potato Buckwheat Galette], and other galettes with different toppings. After your meal, be sure to try the nel drip coffee or tea. On hot days, they also serve shaved ice. You can enjoy [Strawberry and Milk], [Hoji Tea with Milk], [White Kidney Bean with Milk], [Burnt Black Sugar Wheat], [Vinegar Berry], and other delicious and unique shaved ice flavors with a hot cup of tea!
vuori
7. Biscuit
Biscuit is a cafe that has an air of trendiness, just like the hip cafes of Paris. Located within just a 5-minute walk from the West Exit of Kamakura Station, this cafe includes a lovely and relaxing courtyard area. Come here to enjoy healthy lunches and simple desserts while seated amongst antique furniture. Popular items include their quiches, which are made with generous helpings of fresh vegetables, and the [Shirasu Bowl] that is filled with herby flavors. For dessert, the [Handmade Large Pudding] is a perfect mix of eggy and caramel flavors, and has a lot of fans. There is also the [Baked Cheesecake] that will make you come back for more, and the [Matcha Gateau Chocolat] that combines chocolate and green tea perfectly. There are private rooms available for reservation, so it's a great option for special occasions, too.
Biscuit
8. Iwata Coffee
Iwata Coffee, established in 1948 (Showa 23), is Kamakura's oldest coffee shop. This coffee shop was popular with the literati of the day, and also with world-renowned musicians. It's full of history, and well-loved by locals, even today. The interior is old-school, and the cafe has a calm atmosphere. The hotcakes served here are their pride, and can be said to be one of Kamakura's famous foods! Using carefully selected premium ingredients, the hotcakes take around 30 minutes to prepare. Two 7cm-thick hotcakes are piled on top of each other, making this a very generous serving. The outside of the hotcakes are deliciously golden-brown, with the insides nice and crunchy. It's a traditional taste that everyone loves. The [Iwata Blend] coffee is made using the "nel drip" method. Its unique and rich flavor makes it a good match for the hotcakes.
Iwata Coffee
9. Cafe Saka no Shita
Cafe Saka no Shita is a 5-minute walk from Hase Station. The cafe is located in an old residence that has been renovated, so you'll feel as if you're visiting a friend's home. Their lunch sets that have dishes like curry as the main dish are popular, but the real star is their pancakes. The most popular item is the [Pancake with Vanilla Ice Cream]. 3 fluffy pancakes are stacked, and then topped with syrup and so much whipped cream that you'll barely be able to see the pancakes! Another popular item that is actually on their secret menu is their [Matcha Pancake], which is topped with green tea powder and soy bean powder, and then served with black sugar syrup. There are also savory pancakes like their cheese pancakes that are also worth a try.
Cafe Saka no Shita
10. La Maison Ancienne
La Maison Ancienne is a 5-minute walk from Gokurakuji Station. Climbing the stone steps to get to this cafe makes it feel like an old private residence. On the first floor, there is a shop where you can buy freshly baked bread, miscellaneous goods, and clothes. Head up the old-fashioned stairs to get to the cafe space. Dried hydrangea flowers and baskets hanging from the ceiling with the well-used furniture makes the space feel like a country home in Europe. Pick from risottos, hot sandwiches, focaccia, pasta, and other items for lunch. For dessert, there is French toast, scones, and banana bread that's full of the sweetness of bananas, among many other items. There is a huge variety to choose from! You can add a drink to make it a set as well.
La Maison Ancienne
11. GARDEN HOUSE Restaurant
GARDEN HOUSE Restaurant is located around a 3-minute walk from the West Exit of Kamakura Station. The restaurant's entrance is overflowing with greenery, much like an English courtyard. Together with the bright terrace area, this cafe leaves quite an impression. You'll be able to taste the ham, sausages, and bacon from the well-established ham brand, Kamakura Ham Sujioka Shokai, at this place. Check out the bread, toast, and scones made with natural yeast that are served for breakfast. All breakfast items come with a drink! The [Sausages and Egg], available only at breakfast, includes 2 fluffy pancakes, a fried egg, and sausages, making this an extremely satisfying meal. You can also try their pizzas and soups, made with local ingredients, as well as a la carte items like steak. There are many desserts to choose from, too, such as ice cream!
GARDEN HOUSE Restaurant
12. Café Recette Kamakura
Café Recette Kamakura specializes in breads and sweets. Café Recette was opened by a premium bread specialist shop called "resset" to create new possibilities with bread. The cafe is housed in a renovated old private residence that has an extremely modern feel. The menu features breads that are available only through online orders or at the cafe itself. The [Ultimate French Toast] is made by soaking their premium bread in milk and eggs overnight before cooking. It's a favorite of many customers. Be sure to check out the [Shonan Lunch Made with Special Premium Kamakura Bread] that's only available during lunch. It's a popular place, so be sure to make reservations on weekends. It's a little less crowded in the morning, so that's a good time to visit.
Café Recette Kamakura
13. Taro's
Taro's is a cafe that's located just in front of the coast of Inamuragasaki. Located within a 2-minute walk from Inamuragasaki Station, the cafe sports blue paint on its exterior, leaving an impression on visitors. It has a different vibe from the typical hip cafe of today, but continues to be loved by locals. They serve their amazingly delicious coffee in large mugs here, where you can enjoy them over a chat or while reading a book. It's relaxing, even if you're just enjoying coffee while looking out to the sea, watching the unique sight of surfers passing by the cafe. You'll be able to see Enoshima, and on clear days, you can even see Mt. Fuji or the lovely sunset! Switch to drinks like whiskey and gin at night, and sip while you enjoy the night view.
Taro's
14. Cotty Cotty
Located within a 5-minute walk from Hase Station, Cotty Cotty has a distinctively Japanese exterior. Apart from indoor seating, you can also choose to settle down in the small terrace area of the cafe. Make your order at the counter near the entrance, and you'll get a ticket with your order number. You can then enjoy your shirasu-don (whitebait rice bowl), which they will bring to you. You can also try the [Nama Shirasu-don] (raw whitebait rice bowl) that is made with fresh, locally-caught whitebait, the [Kama-age Shirasu-don] (whitebait rice bowl cooked from an iron pot), or the [Nama Shirasu and Salmon Ikura-don] (raw whitebait and salmon roe rice bowl). The menu items with whitebait are very popular. Their [Akamoku Shirasu-don] (seaweed and whitebait rice bowl) is made with local seaweed, an ingredient that's fast becoming another one of Kamakura's famous food items. There are also many drinks to pick from.
Cotty Cotty
15. Colorful Cafe
Colorful Cafe art cafe is a cafe that operates only in summer. Located just about a minute away from the Ichinose Coast (Ichinose Kaigan) in Hayama-machi, Kanagawa, it's a cafe where you can enjoy natural sunlight and natural breezes. Apart from the Colorful Cafe art cafe, there is also the Colorful Cafe on the beach that's set up on Ichinose Coast itself. The cafe is an interesting place that aims to be a place for people to mix and mingle, regardless of age, nationality, or sexuality. Inside the cafe, there is a unisex changing room that was built through crowd-funding. The cafe is open only during summer, at the weekends in July and August. The cafe also holds art exhibitions, gigs, and other events.
Colorful Cafe
16. Gyusha North Plain Farm Kamakura
Gyusha North Plain Farm Kamakura is a small cafe along Wakamiya Oji Street. It's popular for their soft-serve ice cream made using milk from cows reared in the North Plain Farm at Okoppe-machi, Hokkaido. The milk from cows reared in spacious Hokkaido pastures is processed using non-homogenized methods and put through low-temperature sterilization that make sure nutrients aren't lost. Enjoy the [Milk Soft Serve] that's made from fresh raw milk or the [Azuki San Soft Serve] that's a mix of milky ice cream and soft stewed red beans. They have other fresh flavors available too, like the seasonal [Strawberry Soft Serve]. Enjoy them with [Okoppe Milk] and [Drinking Yogurt] that's delivered fresh from Hokkaido!
Gyusha North Plain Farm Kamakura
17. SONG BE CAFE
SONG BE CAFE is located along the train tracks, from which you can see the platform of Kamakura Station. It's a cafe that leaves an impression with its Asian-style interior. There are many seating options that you can choose from depending on your mood or purpose, from the wide terrace area, to tatami rooms and sofa seats. The menu features dishes from various Asian countries like Vietnam, Thailand, and Indonesia. [Vegetable Green Curry], [Pho with Pork Belly], [Pho with Chicken], [Pad Thai], and [Nasi Goreng] are just some of the options available. Desserts made with tapioca and other items like the [Asian-style Banana Cake] completes the lineup of Asian-style dishes on the menu. The Asian theme applies to their drinks as well, so you can choose from Asian beers and wines to complete the experience. You might even feel like you are in Asia!
SONG BE CAFE
Disclaimer: All information is accurate at time of publication.