Publish-date: Jan 15 2018 Update-date: May 31 2019
Like and Share us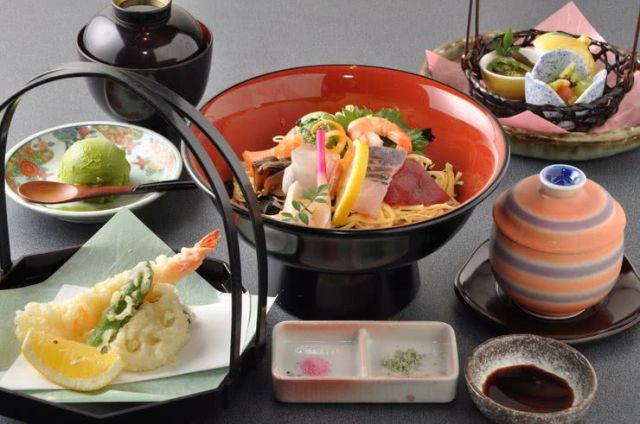 Namba is one of Osaka's two largest shopping districts. Its location makes it a gateway to the bustling downtown of Osaka for most people who live in the city. In contrast to the long-standing and high-class establishments of the nearby Shinsaibashi, Namba has a wide variety of eating places. One of the trademarks of Namba is a large moving crab signboard that belongs to the restaurant, Kani Doraku. This article introduces the top 16 places to eat lunch in Namba. Please find your favorite!

1. Chikuchikuya Namba Branch
This restaurant is located inside a building that closely resembles a Kyo-machiya (traditional wooden townhouse in Kyoto). It is such a relaxing and calming place, despite being only a minute's walk away from the hustle and bustle of Namba Station. The restaurant offers seats for a variety of occasions, such as counter seats along a wooden counter or private rooms with a view of the garden. Recommended items on the menu include the [Luxury Sashimi Assortment], which consists of fresh seasonal seafood purchased by the head chef at Kizu Market every day. The ingredients are prepared in a way that ensures the utmost deliciousness of each ingredient. It is open for lunch from 11:30 am - 2:00 pm.
Chikuchikuya Namba Branch
2. Gochiso Marche
This restaurant is only a 3-minute walk away from Namba Station. "Marche" means "market", and refers to various colors, tastes, aromas, conversations, and seasons that can be encountered at a market. Recommended items on the menu include [Margherita] - a Neapolitan pizza that's cooked in the locally-made stone oven. The [TEPPAN Niku Zanmai!!] is another highly recommended dish that includes the finest, slowly-aged Italian ham called [Culatello], beef sirloin, mochi-buta (pork), and chicken. It is open for lunch from 12:00 pm - 3:00 pm.
Gochiso Marche
3. #702 CAFE & DINER Namba
This cafe and diner aims to have a down-to-earth, friendly atmosphere, similar to what you may find at a shared house. Lunch is served from 11:00 am - 5:00 pm, making it possible to have a late lunch, which is perfect for those who are busy at work or for groups of mothers who wish to slowly enjoy their meal while they chat. It is recommended to try their [Lamb Chop Grill]. The main ingredient in this dish is the top-quality, succulent, and mild lamb chop that's carefully grilled to perfection. It is accompanied with a choice between 2 seasonings. Another highly popular dish is their hearty [Colorful Vegetable Cheese Fondue].
#702 CAFE & DINER Namba
4. Buon'Agio
Buon'Agio is a homely teppanyaki (ingredients grilled on an iron griddle) restaurant with 7 counter seats and a private room, which can cater for 2 - 6 people. Quality Kyushu [Kuroge Wagyu] (Japanese branded beef) beef or seafood, such as abalone or lobster procured from the local market, are grilled on the griddle by a brilliant chef. Their [Teppanyaki Curry], made from vegetables and meat that have been simmered for 10 days, is a highly recommended item on the menu. It is open for lunch from 11:30 am - 2:00 pm. Their lunchtime [Aged Outside Skirt Steak], which is served in an iron pot, offers pretty good value for its cost.
Buon'Agio
5. Jinsen
This restaurant is only a 2-minute walk away from Namba Station. The food that the head chef, who trained for over 20 years at well-established restaurants, makes using seasonal ingredients is considered fantastic. The wooden interior of the restaurant is bright yet relaxing. The colorful and luxurious [Makuma Bento], intended for people going to the theater, is so popular that it is often sold out within minutes! The restaurant gathers a crowd daily, charming people with the magnificent taste of its delicious box lunch. It is open for lunch from 11:30 am - 2:30 pm, which is also the only time when you'll get to taste its seasonal mini Kaiseki (traditional Japanese course) dish, the [Jinsen Gozen].
Jinsen
6. Roman-tei Villa Namba CITY Branch
This fun-looking steakhouse is located inside Namba CITY Mall, which is near Namba Station. As it is directly managed by a meat wholesaler, customers can enjoy aged meat at reasonable prices. The showcase at the entrance, which displays a variety of meat awaiting cooking, will undoubtedly set your appetite ablaze upon arrival. It is recommended to try their [Generously Sliced Aged Satsuma Chamiton Bone-in Pork Loin Steak Cutlet], which consists of over 10-day-old dry-aged pork loin steak on the bone. It is open for lunch at 11:00 am - 4:00 pm.
Roman-tei Villa Namba CITY Branch
7. Wa Dining Hotaru 
Established 70 years ago, this restaurant is not only proudly particular about the seasonal ingredients used in its dishes, but is also very faithful to Japanese cooking methods. Inheriting traditional Japanese flavors, this restaurant combines a Japanese atmosphere with a modern interior in order to allow the customer to further enjoy its authentic Japanese cuisine. To ensure that both the minds and stomachs of their customers are fully satisfied, the restaurant also has a number of first-class goods positioned all over the place for the purpose of aesthetic enjoyment. It is open for lunch from 11:00 am - 3:00 pm. This is a very relaxing place that's located right in the busy heart of Osaka.
Wa Dining Hotaru 
8. Taj Mahal Everest - Namaste Tajmahal - Namba Branch
This authentic Indian and Nepalese restaurant is decorated with Indian tapestries, enveloping its customers in the atmosphere of Central Asia. The chef studied in India to be able to create exquisite [Curry] with just the right balance of spices. Recommended items on the menu include the [Butter Chicken Curry] with its slowly cooked, mild and soft chicken, as well as the [Tandoori Chicken] and [Cheese Naan].
Taj Mahal Everest - Namaste Tajmahal - Namba Branch
9. Curry & Cafe - Karma Namba Parks -
Catering to Japanese tastes, this cafe offers an abundance of Indian curries and ethnic cuisine, as well as original naan desserts and a wide range of drinks. Spacious rooms with comfortable bench sofas and stylish lighting create a relaxing, enjoyable environment. The [All-you-can-eat Naan] set, available for both lunch and dinner, is especially popular. Customers can choose the spiciness of their curry, making it ideal for little kids who usually can't handle spice well, as well as for those who wish to make their dish a little bit spicier than normal. This is a down-to-earth cafe that is great to visit whenever you wish.
Curry & Cafe - Karma Namba Parks -
10. Japanese Cuisine Kisui
This restaurant serves up rare and stylish cuisine that cannot be experienced anywhere else. They aim to keep traditions alive while also having an inquisitive mind. The majority of seats in this restaurant are wooden counter seats in the horigotatsu (sunken kotatsu table) style. They only offer course meals, which are available via reservation only. An abundance of seasonal ingredients are used in all 14 dishes on the menu, from the appetizer to the dessert. Even a gourmet TV show acknowledged that the chef of the restaurant was a genius! The chef goes to the market every morning in order to find the ingredients needed for the day.
Japanese Cuisine Kisui
11. Sennichimae Hatsuse
Established in 1945, this long-standing okonomiyaki (Japanese savory pancake) restaurant is located right in the heart of the okonomiyaki grounds of Namba. All the tables are located in private rooms, which can cater for 2 - 35 people. Since customers can cook their own okonomiyaki here, the restaurant is very particular about their dashi (stock) and flour to ensure that the pancake is delicious, regardless of how skilled the person making it is. The [Buta Tama] with shoulder loin and the [Hatsuse Original Mix] are very popular items on the menu, as is their [Beef Teppan Nabe], which is covered in a sweet and spicy sauce. 3 types of [Banquet Course] are also available.
Sennichimae Hatsuse
12. Hotel Monterey Grasmere Osaka Zuientei
Located on the 22nd floor of the hotel, this restaurant offers amazing views of Osaka in addition to amazingly delicious, authentic Japanese cuisine. Its prix-fixe menu changes each month to ensure that only the finest seasonal ingredients are used. On clear days, Akashi Bridge (Akashi O-hashi) and Mt. Rokko (Rokko-san) can be seen from the restaurant. Both private rooms and horigotatsu are available, making it ideal for important situations, such as business or engagement meals. Enjoy a luxurious time with fantastic Japanese cuisine here.
Hotel Monterey Grasmere Osaka Zuientei
13. Naniwa Kappo Kigawa
This long-standing Osaka cuisine restaurant keeps evolving, incorporating even French cooking techniques into its processes. There is a common saying in Japan, "Kyo no Mochi-aji, Naniwa no Kui-aji". It means that Kyoto's cuisine aims to bring out the natural flavors of seasonal ingredients, whereas Osaka's cuisine is flexible and can be adjusted according to the diner. This very well-known and beloved restaurant is a prime example of the latter. Adhering to the principles of economics, the restaurant strives to use its stock of ingredients to the fullest without forgetting to bring out the subtle charms of each and every one of them. Recommended dishes include the aromatic [Abalone with Ginger and Liver Sauce - Wild Watercress Choi-saute].
Naniwa Kappo Kigawa
14. Kappa Ramen Honpo Sennichimae Branch
Although all 7 of Kappa Ramen's branches are fundamentally the same, they actually slightly differ in their ramen (noodles) menu. Kappa Ramen Honpo Sennichimae Branch offers crispy yet succulent [Kappa no Gyoza] (rich meat dumplings) and [Kappa Ramen], which is so delicious that customers can't get enough of it! The umami-packed (Japanese savory taste) and spicy [Red Kappa Ramen] is also highly recommended by both men and women due to its rich yet mild flavor. All the noodles are produced at a branch with noodle-making equipment, so the restaurant gets homemade straight noodles without additives or preservatives every day.
Kappa Ramen Honpo Sennichimae Branch
15. Tempura-ya-san
The chef stocks up on the freshest seasonal ingredients at the market every morning, often also picking up rare items. The menu at this homely restaurant consists of over 100 different items. The restaurant boasts of a large number of regular customers, thanks to its delicious cuisine and the proprietress' friendly personality. Regardless of how large the portions actually are, the average price for most tempura starts from 100 JPY, which is roughly the same price as kushikatsu (deep-fried ingredients on skewers). The items are served as soon as they are fried, and can be enjoyed with 8 homemade salt selections, which include an egg salt that uses Hakata Salt Coarse Salt as a base. Tartar sauce and dashi for the tempura are also available to season the dishes to your liking. The chef inquires about any allergies before preparing the [Recommended Chef's Choice] course, in which the chef will fry up 3 ingredients of their choosing.
Tempura-ya-san
16. Ristorante Giardino Gamo
This restaurant is located inside a 100-year-old detached rice granary in a residential area of Osaka. Despite undergoing a renovation, the restaurant has made the most of its old appearance, with the pillars and beams still in the same place as many years ago. The interior is very stylish, with a mix of both modern and historical features. The only food they offer here is a single fixed price set consisting of the finest vegetables and fresh fish available. The goal is to let every customer enjoy the best quality cuisine to their heart's content, no matter the season. The chef applies their refined sense to determine whether to use Japanese or French cooking techniques to ensure that all the dishes are delicious and comforting.  
Ristorante Giardino Gamo
Disclaimer: All information is accurate at time of publication.