Publish-date: Aug 30 2023 Update-date: Aug 31 2023
The official name for "manjushage" (red spider lilies), which often feature in Japanese anime, is actually "higanbana". With delicate petals and vivid colors, they create a mystical, out-of-this-world scene when blooming in clusters. This article introduces Kinchakuda in Saitama Prefecture, the place to go to enjoy views of Manjushage, and restaurants near major stations to enjoy when visiting Kinchakuda by train.
What Are Manjushage?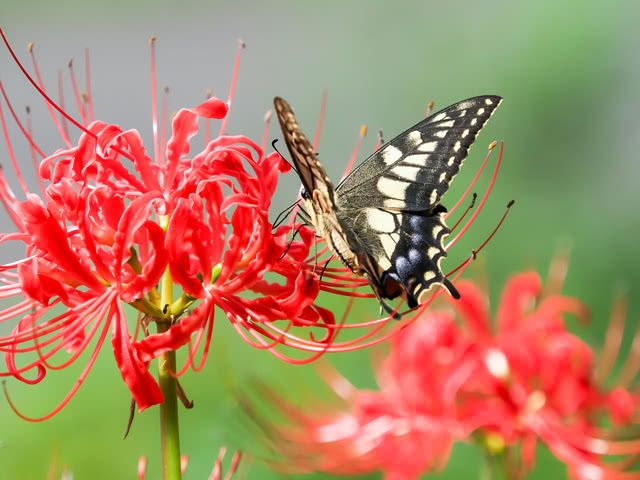 Manjushage are flowers that are distinguished by straight stems and long, narrow petals. They usually flower between mid-September and early October. They are known for having vibrant, bright red flowers, but there are also white, orange, and yellow varieties.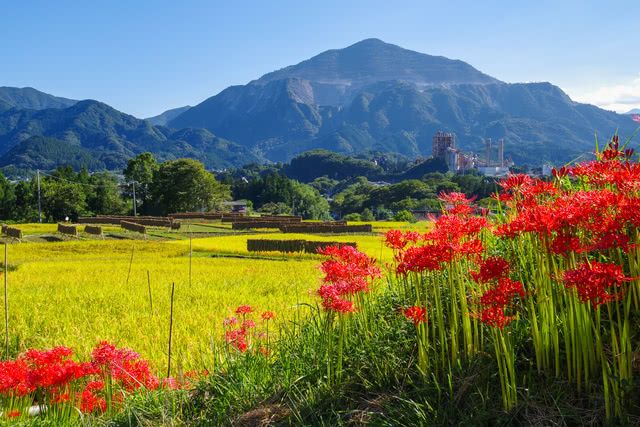 In Japan, manjushage are frequently seen growing along footpaths around the perimeters of rice fields and are a colorful feature of the fall countryside. They are planted near rice fields and on river banks not only for their beauty but also for their roots that keep the soil packed together and their poisonous bulbs that are thought to keep unwanted mice, moles, and other critters away.
Breathtaking Views at Kinchakuda - A Popular Spot for Manjushage
Visitors wanting to admire manjushage should go to Kinchakuda in Hidaka City, Saitama Prefecture, famous for its clusters of red spider lilies!

Kinchakuda Manjushage Park, which is located along the banks of the Koma River, boasts 5 million manjushage flowers that cover an area of about 3 hectares in a blanket of red, creating an otherworldly scenery.

Every year, when the flowers are in bloom, the Kinchakuda Manjushage Festival is also held.

[Festival Information]
Dates and Time: September 16–October 1, 2023, 9:00 am - 4:30 pm
Entrance Fee: 500 JPY (during the Manjushage season only)
Access: approx. 45 minutes from Ikebukuro Station to Hanno Station on the Seibu Ikebukuro Line Limited Express and approx. 7 minutes from Hanno Station to Koma Station on the Seibu Ikebukuro/Chichibu Line. Alternatively, at Hanno Station, visitors can take the Kokusai Kogyo Bus bound for Komagawa Station and Saitama Medical University International Medical Center, alight at Kinchakuda, and walk 3 minutes.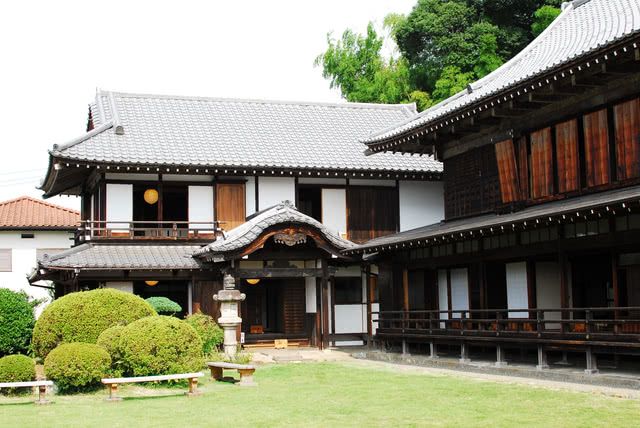 When visiting Kinchakuda Manjushage Park, travelers shouldn't miss the chance to stop by the Komago Old Traditional House, about 5 minutes from the park.

It is a beautiful Japanese-style structure built during the latter half of the 19th century and has beautiful white walls that create a lovely scene together with the surrounding stone walls.

Instagrammable Location Near Kinchakuda - Tove Jansson Akebono Children's Forest Park
Tove Jansson Akebono Children's Forest Park, which is about a 30-minute drive from Kinchakuda, was created based on correspondence with Tove Jansson, the author of the beloved Moomin series of children's books. The park is designed to recreate the world of Scandinavian fairy tales.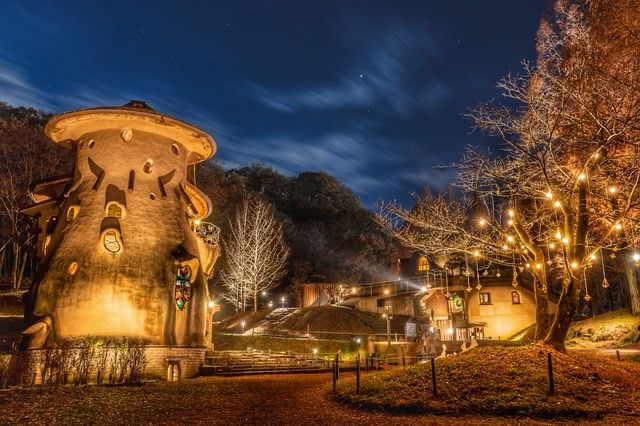 The verdant park is dotted with quirky buildings that were built with attention to detail so that visitors can explore the interiors and immerse themselves in the world of the Moomin.

The park is lit up from sunset to 9:00 pm on Saturdays, Sundays, and national holidays, creating a mystical evening landscape that differs from the daytime.

Recommended Restaurants Near Major Transit Stations
Ikebukuro is a major station to change trains at when going to Koma Station near Kinchakuda Manjushage Park from central Tokyo. Shinjuku Station, which is in one of Tokyo's most popular commercial areas, is just five minutes by JR train from Ikebukuro Station.

Here are some recommended restaurants near Ikebukuro Station and Shinjuku Station that are convenient to stop by when visiting Kinchakuda Manjushage Park.

Ampuku Ikebukuro (Ikebukuro / Izakaya)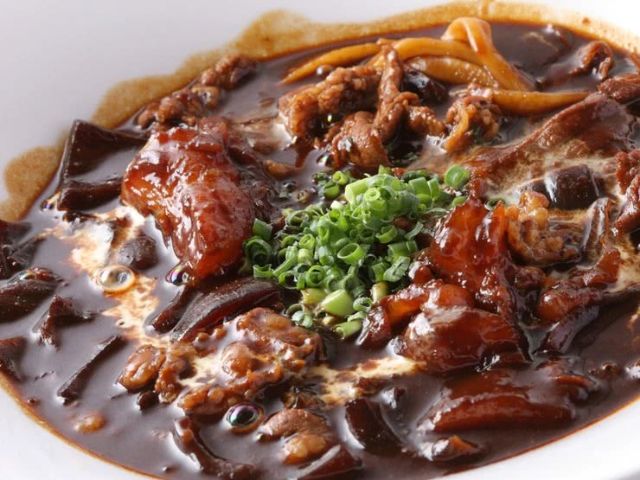 Ampuku Ikebukuro is the place to try a wide range of unique udon noodles created by an imaginative mind. There are about 30 different types of udon prepared using ingredients procured from across the country.

Of them, the curry idon and Signature Carbonara Udon (1,400 JPY) are highly recommended. There are a variety of curry udon with rich flavors, including the Three Cheese Beef Curry Udon and Beef Sinew Black Curry Udon.

The popular Signature Carbonara Udon features a lavish carbonara sauce that is prepared with a Japanese dashi stock base with the added richness of cheese and cream. It is a lovely dish to discover the flavors of carbonara in a style different from Italian pasta.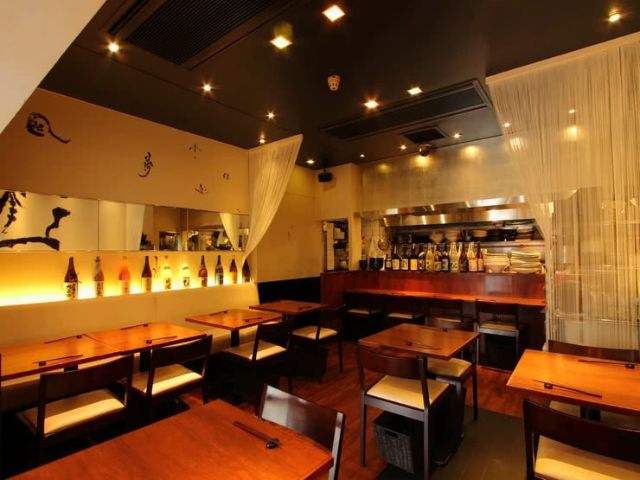 The restaurant interior features dynamic artworks by famous calligraphers.

The warm lighting and monotone interior together create a comfortable space.

Ampuku Ikebukuro
Open
:
[Weekdays] Lunch: 11:00 - 15:00 (Last order: 14:30) / Dinner: 17:00 - 00:00 (Last order: 23:00)[Saturday, Sunday, National Holidays] Lunch: 11:00 - 16:00 (Last order: 15:30) / Dinner: 17:00 - 00:00 (Last order: 23:00)
Closed
:
Irregular
Average price
:
[Dinner] 1,800 JPY / [Lunch] 1,000 JPY
Access
:
Five minute walk from JR, Tokyo Metro, Seibu Ikebukuro Line, & Tobu-Tojo Line Ikebukuro Station West Exit
Address
:
JP Bldg. 1F, 1-37-8 Nishi Ikebukuro , Toshima-ku, Tokyo
Map
More Details
   Reservation   
KIBORI Hokkaido Restaurant UMI (Shinjuku / Izakaya)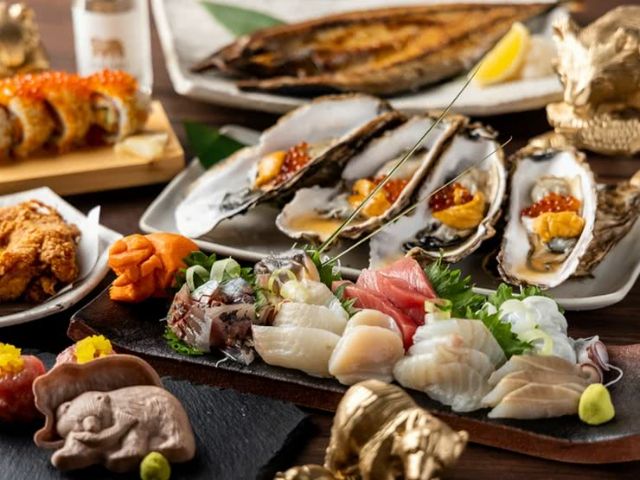 Hokkaido, the northernmost of Japan's main islands, is known for its grand nature and beautiful sea, and KIBORI Hokkaido Restaurant UMI is a restaurant that is built around the fabulous seafood that Hokkaido has to offer.

Carefully selected seafood such as sea urchins, oysters, scallops, and "ikura" (salmon roe) are procured directly from the morning market in Hakodate, Hokkaido, to ensure freshness.

They can be enjoyed in a variety of different ways, such as the Hakodate Morning Market Fresh Fish of the Day Sashimi Platter (5 pieces for 1,880 JPY) and the Whole Grilled Squid (500 JPY).

The Seafood Oyako Roll (800 JPY) is a rolled sushi of salmon topped with vibrant ikura. It's a beautiful dish that can be enjoyed by the eyes as well!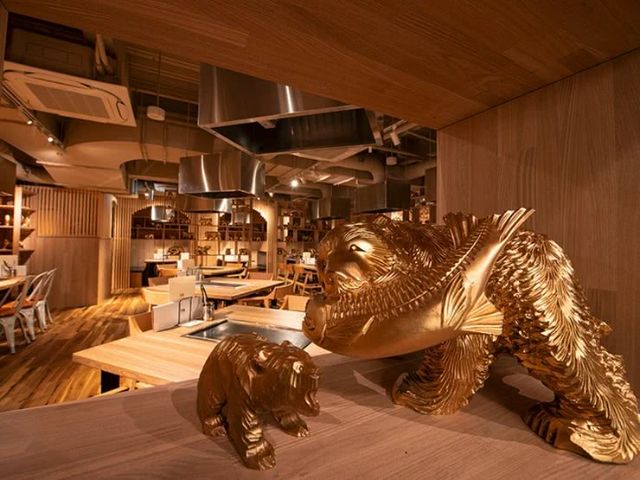 The restaurant is decorated to evoke the grand nature of Hokkaido and has 1,000 bear carvings, including ones featuring bears with salmon.

It is filled with the warmth of wood despite being in the center of a city.

KIBORI Hokkaido Restaurant
Open
:
Breakfast 8:00 am - 11:00 am (Closed from December 31 to January 5) / Lunch 11:30 am - 1:30 pm (Closed from December 31 to January 5) / Dinner 5:00 pm - 11:00 pm
Closed
:
None
Average price
:
[Dinner] 5,500 JPY / [Lunch] 2,500 JPY
Access
:
Next to Don Quixote, located in the building which has Komeda Coffee in its 2nd floor
Address
:
6/7F, Ceresa Yoei Shinjuku Bldg., 1-16-3, Kabuki-cho, Shinjuku-ku, Tokyo
Map
More Details
   Reservation   
Kushikatsu and Wine Restaurant Tou (Shinjuku / Japanese)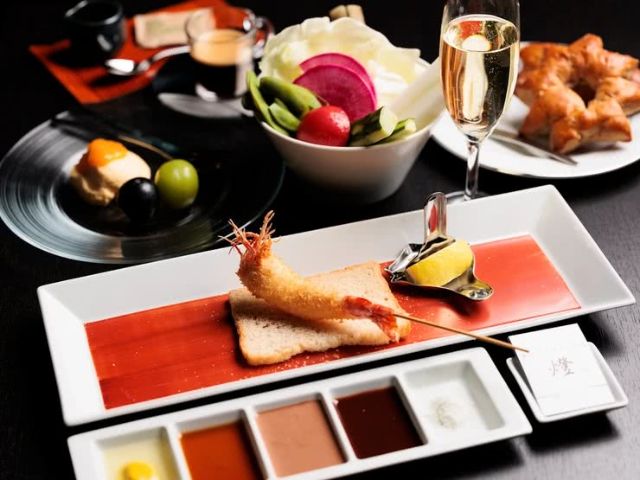 "Kushikatsu" are popular casual dishes in Japan consisting of skewers of a variety of ingredients, such as beef, vegetables, and seafood, encased in batter and deep fried. However, the kushikatsu served at Kushikatsu and Wine Restaurant Tou is a notch above the ordinary. The restaurant serves sophisticated kushikatsu created by the veteran owner-chef to be enjoyed together with wine.

The extensive wine menu is also popular. Guests can taste rare wines at reasonable prices as they are imported by the restaurant itself.

There is a wide selection of kushikatsu available, and the best way to try the creative kushikatsu made with carefully selected seafood and vegetables is to order one of the courses, such as the Assorted 15 Skewers Course (9,916 JPY).
The restaurant decor is stylish and luxurious.

There is table seating, but when sitting at the large counter, guests can have views of the chef frying the kushikatsu.

Kushikatsu and Wine Restaurant Tou
Open
:
[Monday, Tuesday, Thursday-Sunday, National Holidays, Day before National Holidays] Lunch 12:00 pm - 3:00 pm (L.O. 2:30) Last Entry 2:00 pm. / Dinner 5:00 pm - 11:00 pm (L.O. 10:30 pm) Last Entry 10:00 pm.
Closed
:
Wednesday
Average price
:
[Dinner] 13,000 JPY / [Lunch] 5,000 JPY
Access
:
More 5th Avenue, 3 minutes walk from East Exit Plaza of Shinjuku Station on JR Yamanote Line 
Address
:
2F, Shimada Bldg., 3-20-1, Shinjuku, Shinjuku-ku, Tokyo
Map
More Details
   Reservation   
The sight of 5 million manjushage in bloom is truly magical. Visitors to Kinchakuda Manjushage Park can stroll around at leisure and thoroughly take in the beautiful manjushage, then head to a restaurant to enjoy a relaxing meal and nourish both their bodies and souls.
Disclaimer: All information is accurate at time of publication.