Publish-date: May 12 2018 Update-date: Jun 01 2019
Like and Share us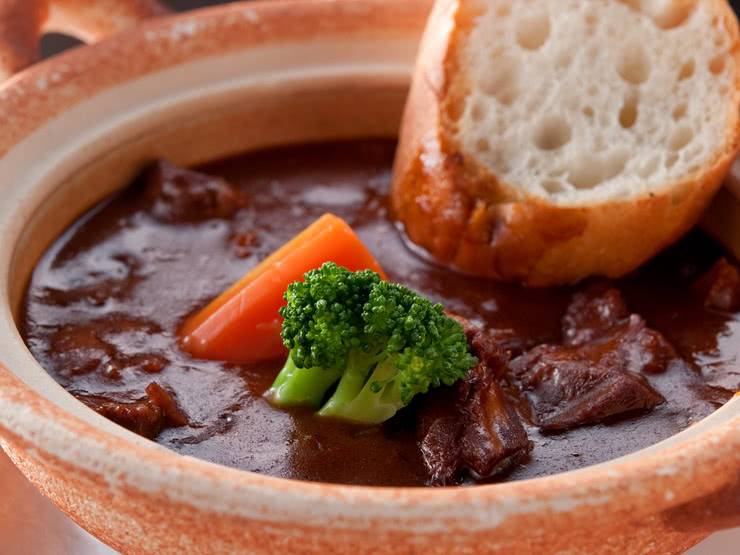 Discover Oishii's Taiwanese staff have got some great restaurants to introduce in this article! Popular with Taiwanese tourists, these restaurants are not only easily accessible but are also solid choices for even first-time visitors to Japan.
1. Rikyu Shibuya Hikarie Branch (Shibuya, Japanese Cuisine)
Here, you can enjoy gyu-tan (beef tongue), which is a famous dish from Sendai in the Tohoku region. This restaurant chain is mainly found in Sendai, but it does have branches all over Japan like this one in Shibuya Hikarie. The restaurant operates without breaks from 11:00 am - 11:00 pm, so you can enjoy gyu-tan-yaki (grilled beef tongue) at almost any time. Try the [Gyu-tan Goku Set] (2,310 JPY plus tax) that features thickly-sliced gyu-tan that's incredibly juicy and tender. The set comes with barley rice and oxtail soup to complete your meal. You can also enjoy gyu-tan like a steak, slow-cooked in demi-glace sauce when you order their [Luxurious Stew Set] (2,050 JPY plus tax).
Rikyu Shibuya Hikarie Branch
2. Miyazaki-ken Nichinan-shi Tsukada Nojyo Shibuya Miyamasuzaka Branch (Shibuya, Japanese Cuisine, Izakaya, Motsunabe)
This popular izakaya (Japanese pub) makes use of ingredients from Miyazaki Prefecture in Kyushu, which is blessed with bountiful seas and mountains. Known for its fertile land and mild weather, Miyazaki is a treasure trove of delicious ingredients. The menu here is filled with Miyazaki dishes made with vegetables from contracted farmers, tropical fruits, and fresh seafood from the Sea of Hyuga (Hyuga-nada). All of these ingredients are directly delivered from where they are produced. Their chicken dishes that use Miyazaki Jitokko - a brand of chicken from Miyazaki - are a big hit. They are reared with care for over 120 days in the vast outdoors, giving them a rich flavor. Their popular [Miyazaki Jitokko Momo-yaki] (Medium) (1,220 JPY plus tax) - a local specialty of Miyazaki - is cooked over a simple charcoal fire. It is also recommended to try the [Ji-dori Zanmai Yakisuki Set] (by reservation only, 2,500 JPY plus tax per person, minimum order for 2 people) where you can enjoy a variety of different cuts of chicken.
Miyazaki-ken Nichinan-shi Tsukada Nojyo Shibuya Miyamasuzaka Branch
3. Jojoen Tokyo Skytree Town Solamachi Branch (Oshiage, Korean Cuisine, Yakiniku)
This yakiniku (Japanese BBQ) chain restaurant is incredibly famous. The Tokyo Skytree Town Solamachi Branch is located on level 30 of TOKYO Solamachi, an annex of TOKYO SKYTREE - a popular sightseeing spot in downtown Tokyo. The view from the restaurant is beautiful and there are panorama seats available. Apart from the amazing view, you can also enjoy delicious and tender yakiniku here!
Jojoen Tokyo Skytree Town Solamachi Branch
4. Gyukatsu Motomura (Shibuya, Japanese Cuisine)
Branches of this popular chain can be found across Tokyo, as well as the rest of the country. Their signature dish is their medium-rare gyu-katsu (fried beef cutlet). The beef is coated with a thin layer of fine bread crumbs and fried to perfection in 60 seconds. Another recommended dish is the [Beef Loin Katsu Barley Rice Set]. The beef is served with wasabi shoyu (soy sauce), grated radish and wasabi sauce, and rock salt. It's a perfect match with the healthy barley rice. Cook the beef on the hot stone to your liking and dig in!
Gyukatsu Motomura
5. Negishi Dogenzaka Branch (Shibuya, Japanese Cuisine)
Open since 1981, this is a popular restaurant chain with branches in numerous locations. This particular branch is conveniently located in Shibuya, one of the leading shopping areas of Tokyo. Check out their gyu-tan dishes that are high in protein and iron, but low in calories. Cooked with a fire that reaches 1,000°C, the gyu-tan is crisp on the outside but juicy on the inside. It is evenly heated and cooked to perfection. Most of the menu is made up of grilled gyu-tan dishes, but a healthy set meal is also available. It comes with grated yam, barley rice, and oxtail soup.
Negishi Dogenzaka Branch
6. AFURI Harajuku (Harajuku, Ramen)
This popular ramen (noodles) restaurant is located in trendy Harajuku. It is named after O-yama Mountain (commonly known as Afuri-yama) in Kanagawa Prefecture, as the soup is made from the pure, natural water that springs from the foot of the mountain. Chicken, seafood, and fragrant vegetables are carefully cooked to create the soup. The [Yuzu Shio Ramen] (980 JPY) (yuzu and salt ramen) is a must-try! The refreshing taste and fragrance of the yuzu (citrus fruit) in the sparkling golden soup, plus the smell of the thin wheat noodles, are a perfect match.
AFURI Harajuku
7. Mutekiya (Ikebukuro, Ramen)
There's almost always a queue here, so you know the food is good, and it's even famous among foreign visitors. Lots of top-quality pork bones are slow-cooked to create the delicious soup here. The smooth, rich, and sweet soup will leave you wanting more! The noodles are made with wheat grown under the snow in Hokkaido - an incredibly cold and snowy part of Japan. They have a strong flavor and chewy texture. Add them together with toppings such as tender chashu (braised pork slices), flavored boiled eggs that melt in your mouth, and fried garlic to end up with a perfect bowl of noodles.
Mutekiya
8. Tori Kizoku Shibuya Mark City-Mae Branch (Shibuya, Izakaya, Japanese Cuisine)
This yakitori (grilled chicken skewer) restaurant is reasonably priced, with items costing an average of just 298 JPY each. It's a famous chain with branches located all over the country. They specialize on using only Japanese ingredients. While they mainly serve yakitori, there are other a la carte items like karaage (deep-fried chicken) and salad. They even have around 70 different drinks for you to choose from! The standout yakitori dishes are the simple and healthy [Mune Kizoku-yaki (salt)] (grilled chicken breast with salt), as well as the [Momo Kizoku-yaki (salt)] (grilled chicken thigh) that combines tender thigh meat with the sweet flavor of spring onions, which match perfectly.
Tori Kizoku Shibuya Mark City-Mae Branch
9. Kaneko-Hannosuke (Mitsukoshimae, Japanese Cuisine)
This place is so popular that you'll usually see a queue when you get there. Their signature dish, named after the restaurant, is the ten-don (rice bowl dish with tempura). From lunchtime till closing, only the [Edo-mae Ten-don] is served. This rice bowl is topped with tempura of conger eel, shrimp, peppers, and squid. The sesame oil in the dish serves to stimulate appetite, and the portion is so big that the crispy tempura actually overflows from the bowl. This is one place that is worth queueing for!
Kaneko-Hannosuke
10. Guenpin Fugu Shinjuku Kabuki-cho no Seki (Shinjuku, Japanese Cuisine)
Just a 5-minute walk from Shinjuku Station, this restaurant specializes in fugu (blowfish) dishes. They have over 90 branches around Japan. One of the recommended dishes is [Tessa] (fugu sashimi), where the fugu is thickly sliced to allow the natural sweetness of the fish to spread in the mouth. Their homemade ponzu (citrus-seasoned soy sauce) is made with ingredients from Tokushima like sudachi (a type of citrus fruit) and yuzu. Free from chemical flavorings, it has a very refreshing taste. You should also sample menu items like the [Hire-zake] (fin sake), which has a deep flavor.
Guenpin Fugu Shinjuku Kabuki-cho no Seki
11. Kani Doraku Ueno Branch (Ueno, Japanese Cuisine, Kaiseki)
Kani Doraku is the most famous crab restaurant chain. The Ueno branch is in a great location, within walking distance from Ueno Station, which is near many sightseeing spots. A variety of crab dishes are available at the restaurant, such as a course that focuses on hot pot dishes, crab sushi, and more. It's recommended to try their [Tasting Kaiseki Takumi] course meal that includes a lot of items, such as tempura, charcoal-grilled dishes, and 3 different types of crabs, including snow crab. This is definitely a great place to savor wonderful crab dishes!
Kani Doraku Ueno Branch
12. Isomaru Suisan Shibuya Dogenzaka Branch (Shibuya, Japanese Cuisine)
Only the freshest seafood procured from various markets and fishermen from across the country are used in this restaurant. There are even items that were freshly caught that morning or delivered directly from fishing ports. You can enjoy dishes made from seafood like tuna, crab, squid, and shrimp here. Among them, the [Isomaru no Hama-yaki] is particularly recommended. A table grill is brought to your table so that you can grill the fresh shellfish to perfection before eating them. Another recommended dish is the [Assortment of Fresh Shellfish] that includes delicious scallop and horned turban. This is a restaurant where one can enjoy the bounties of the sea!
Isomaru Suisan Shibuya Dogenzaka Branch
13. Tempura Daikokuya (Asakusa, Japanese Cuisine)
Established in 1887, this is a restaurant located in Asakusa - a downtown area of Tokyo - that's been long loved for its tempura. They only fry their tempura in sesame oil, giving them a rich fragrance. Their thick sauce is slightly sweet and spicy; a well-loved taste that has remained the same since they first opened. A must-try dish is the [Ten-don], which comes with 2 pieces of crispy shrimp and other tempura placed on fluffy, hot rice. The generous serving makes for a fulfilling meal, and they also serve many a la carte dishes that go well with alcoholic drinks.
Tempura Daikokuya
14. Rokkasen (Shinjuku, Yakiniku)
Just a 2-minute walk from Shinjuku Station, this popular yakiniku restaurant serves premium beef like Matsusaka beef, which is a type of Wagyu (a type of high-quality beef). They pay close attention to bringing out the natural flavors of the different types of beef, so they're particular about how thick they cut each type of beef, right down to the millimeter. They only serve condiments that bring out the natural umami (Japanese savory taste) of the beef, such as a dipping sauce that's made with shoyu that's been aged for 2 years - procured from a 160-year-old shoyu maker from Niigata - and salt that's packed with natural minerals.
Rokkasen
15. Ichiran Asakusa Branch (Asakusa, Ramen)
Ichiran is a famous ramen restaurant hailing from Hakata in Kyushu, which is a place that's almost like the holy ground for tonkotsu (pork bone broth) ramen. Their Asakusa branch is conveniently located within walking distance from the busy Asakusa Station. The flavorful soup is made using only pork bones. The scum from the soup is carefully filtered away, which removes any unpleasant odors and leaves only the delicious flavor of pork. Additionally, the characteristic red sauce that's added on top of the noodles is made from their special blend of chili and 30 or so ingredients and then left to mature. It's not just spicy but filled with a variety of different flavors, adding to the already delicious ramen soup. You can also customize a whopping 7 different aspects of the ramen. Pick the strength of the flavor, the hardness of the noodles, whether you want garlic, and more! Just indicate your preferences on the order sheet (in English, Korean, and Chinese). Extra services such as this are the secret to their success.
Ichiran Asakusa Branch
Next time you visit Tokyo, remember to use this guide to give these izakaya a try!
Disclaimer: All information is accurate at time of publication.