Publish-date: Mar 05 2018 Update-date: Jun 11 2020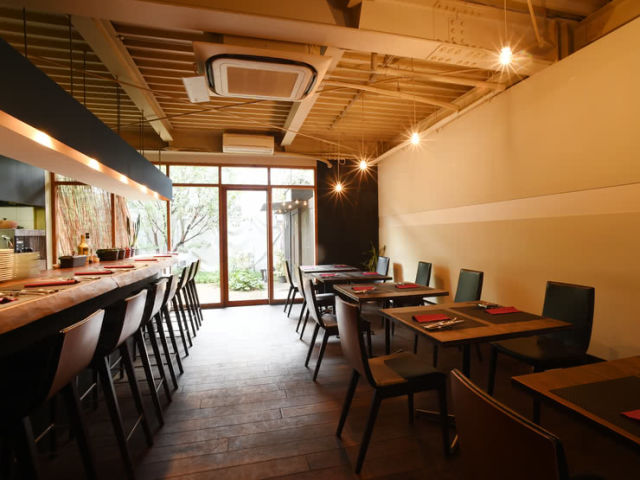 It's finally cherry blossom viewing season! Here are some restaurants in Osaka and Kyoto where you can take in the view of cherry blossoms. These restaurants were chosen specifically as places where you can enjoy delicious food and sake (Japanese alcohol) while gazing at cherry blossoms. Be sure to reserve early, since every restaurant in this list is popular!

Click here for trivia regarding cherry blossom viewing.
1. Ristorante RinascereDojima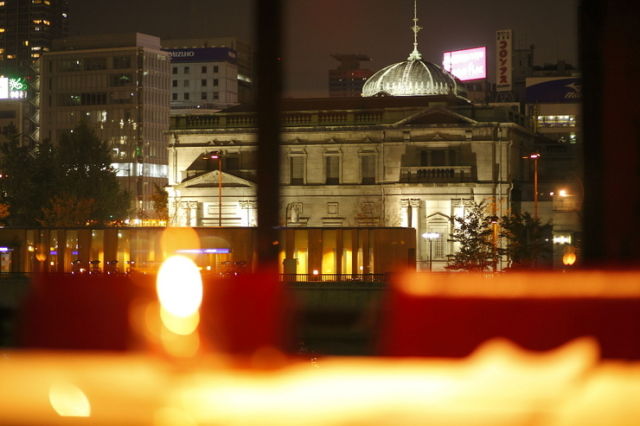 Enjoy unique Italian cuisine in this stand-alone house by Dojima River. It is located in a renovated Japanese-style home that's approximately 100 years old. Their visually vibrant courses are perfect for people who like beautiful food. You can see cherry blossoms beyond their windows.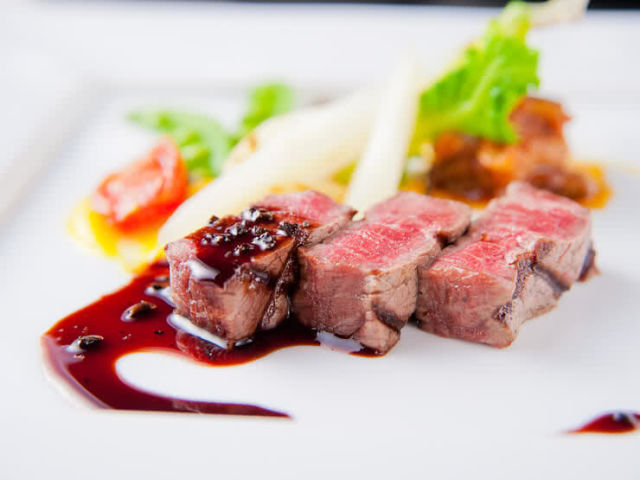 Enjoy the natural smell and tender texture of beef with [Grilled A5-Grade Wagyu Fillet].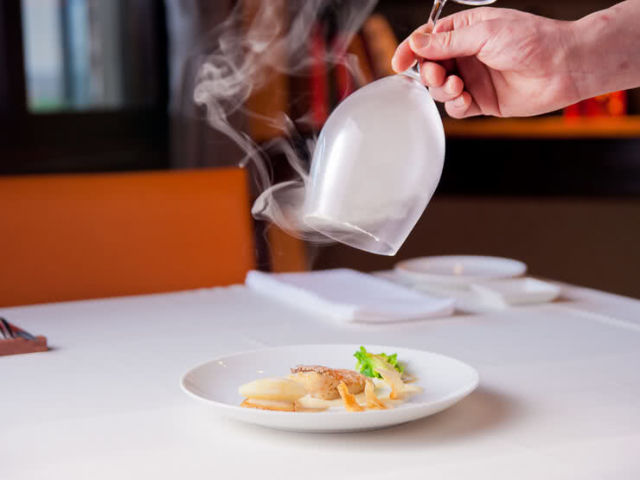 The scales of fish are grilled until crispy, and then the dish is smoked momentarily in front of the customer before being served.
Ristorante RinascereDojima
Open
:
Lunch 11:30 am - 3:00 pm (last order 1:30 pm) / Dinner 5:30 pm - 11:00 pm (last order 9:00 pm)
Closed
:
Mondays
Average price
:
[Dinner] 6,500 JPY / [Lunch] 1,500 JPY
Access
:
A five minute walk from Kitashinchi Station Exit 11-4/ Yodoyabashi Station Exit 7.
Address
:
1-1-8 Dojimahama, Kita-ku, Osaka-shi, Osaka
(
Map
)
More Details
 Reservation 
2. Casual Americal Restaurant BB'S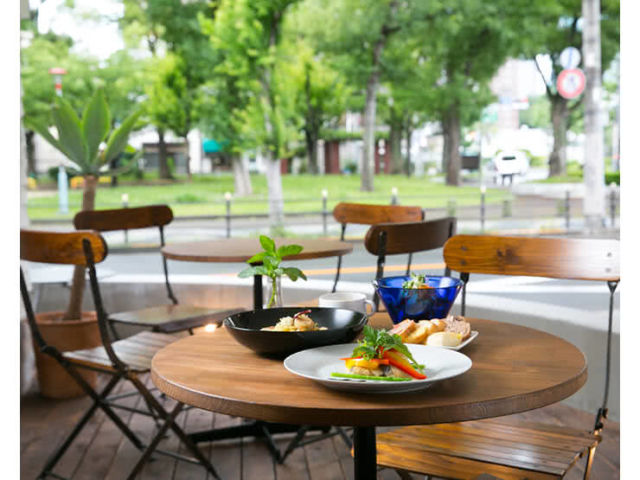 This restaurant serves standard yoshoku (Western-style Japanese cuisine) dishes, such as [American Rice], as well as a Western-style bistro izakaya (Japanese pub) menu. Eat barbeque any time of the year on their open terrace, where you can enjoy a panoramic view of the beautiful park filled with cherry blossoms in the spring and changing colors of leaves in the fall.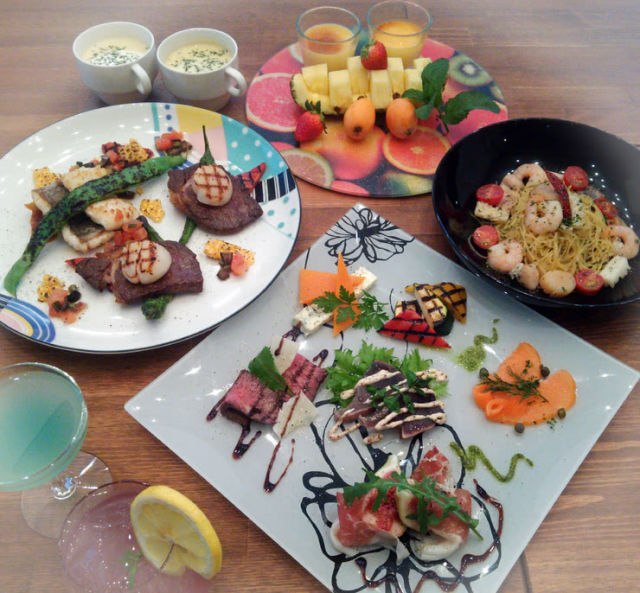 They offer course meals for every occasion, such as the Welcome Party Plan and Girl's Night Plan.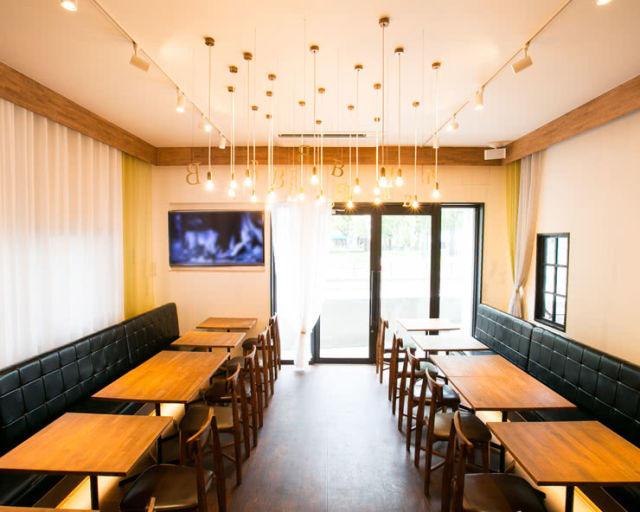 This restaurant is perfect for small dinner parties, as well as for private parties with 20 - 30 people.
Casual Americal Restaurant BB'S
Open: Lunch 11:30 am - 2:00 pm (L.O. 2:00 pm), Dinner 5:00 pm - 11:00 pm (L.O. 10 pm) *Business hours are around 5:00 pm - around 11:00 pm
Closed: Irregular
*They can reserve the floor for private parties with more than 20 people, so please feel free to inquire.
Average price: [Dinner] 2,000 JPY *Girl's Party Plan costs 2,000 JPY and BBQ Party Plan costs 2,500 JPY / [Lunch] 850 JPY *Pasta of the Day costs 850 JPY (with all-you-can-eat salad, soup, bread, and coffee)
Access: 6-minute walk from Grand Front Osaka or a 3-minute walk from The Symphony Hall. You will arrive at this restaurant if you head north on Naniwa Road.
Address: 1-11-6, Oyodo-naka, Kita-ku, Osaka-shi, Osaka

3. blanc pierre
Casually enjoy classic French cuisine in a restaurant surrounded by a small cherry blossom garden. This relaxing restaurant serves dishes based on the concept of casual French cuisine, prepared with reliable skills learned from working in hotels. You will certainly feel the seasons from gazing at the cherry blossoms in the small garden at the back, which exudes an atmosphere of a townhouse in Kyoto.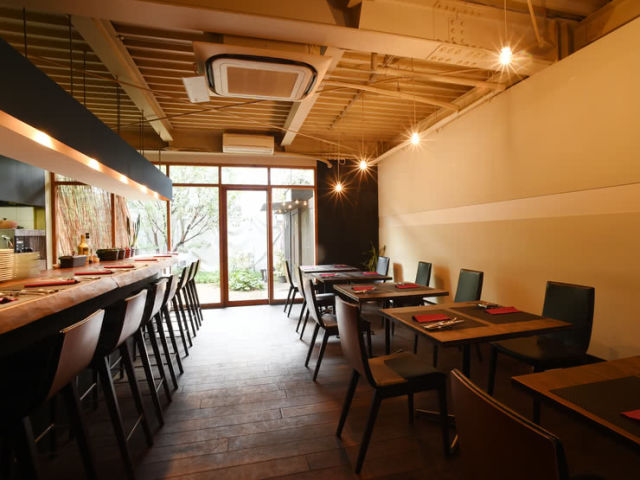 Spend your special moments in this warm space created by using wood from Oriental elm.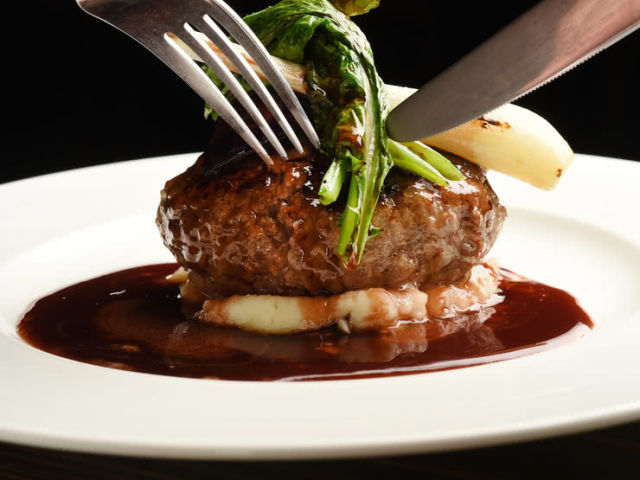 They serve classic French cuisine without showing off the unconventional.
blanc pierre
Open
: [Monday, Wednesday - Sunday, National Holidays, Day before National Holidays] Lunch 11:30 am - 2:00 pm (L.O. 1:30 pm), Dinner 5:30 pm - 11:00 pm (L.O. 9:30 pm)
Closed
: Tuesday
Average price
: [Dinner] 5,500 JPY / [Lunch] 2,500 JPY *Credit cards are not accepted for lunch
Access
: 7-minute walk from the Kyoto Shiyakusho-mae Station
Address
: 577, Matsumoto-cho, Gokomachi-dori Ebisugawa-agaru, Nakagyo-ku, Kyoto-shi, Kyoto
Map
More Details
Disclaimer: All information is accurate at time of publication.