Publish-date: Dec 28 2017 Update-date: May 30 2019
Like and Share us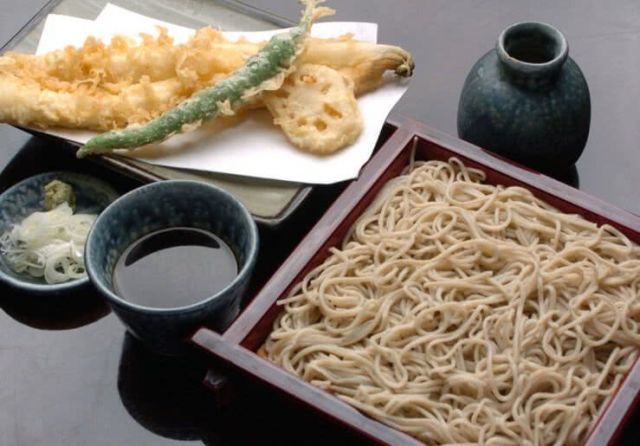 The world's leading electric town, Akihabara, not only attracts a lot of tourists from Japan, but also from around the world. It is a shopping haven with stores selling electrical appliances, as well as craft goods and so on. It definitely is a place that most people want to visit at least once in their lives. However the fact that Akihabara also has an abundance of amazing eateries often gets forgotten. This list introduces 18 of the top places to eat in Akihabara. Why not drop by one of these places if you are in Akihabara for some shopping? 

1.Uogashi Nihon-Ichi Asakusabashi Branch
This particular sushi restaurant holds special rights to participate in the bidding at Tsukiji Market. The result is amazing, low-cost, extremely fresh, and quality dishes. The restaurant sometimes even manages to stock rare fish for their menu. All ingredients are carefully chosen and delivered directly from the market and farms. To top it off, the experienced sushi chef takes pride in all of the food served at his restaurant, so there's absolutely no doubt that all customers leave very satisfied! The atmosphere of the restaurant is very laid-back and casual – perfect for parties! Although a sushi restaurant, the most recommended dish on the menu is the [Dashimaki Tamago] (rolled omelette cooked with dashi (broth)). The experienced master chef takes special care in preparing this subtly flavored dish which is just the thing to end a fantastic meal.
Uogashi Nihon-Ichi Asakusabashi Branch
2.Bankoden Akihabara UDX Branch
Located only a 2-minute walk away from Akihabara Station, this restaurant has great access and a welcoming, friendly atmosphere. The food at this restaurant is also so delicious and authentic that the chefs were awarded a gold medal in the Chinese Cuisine International Competition. The charming interior is sophisticated, laid-back and modern, yet also clearly inspired by traditional Chinese style. The most popular item on the menu also happens to be the signature dish of the restaurant – the exquisite [Home-made Peking Duck]. Order a whole duck and you'll be happy to hear that it will be cut up and served to you at your table. A colorful and varied course menu is also available. This really is the ideal restaurant for a variety of occasions, from dates to business meetings.
Bankoden Akihabara UDX Branch
3.Portal Cafe AKIBA TOLIM Branch
This surfing cafe, which serves colorful and cute cuisine all prepared by a genuine French chef, takes pride in its comfortable and relaxing atmosphere. Counter seats are available for those visiting alone, and there are tables available on the terrace as well. Not only great for relaxing alone, the restaurant is also ideal for lively events such as girl's parties, matchmaking parties. With prior consultation, customers can also rent the entire cafe for after-parties or anniversary parties. The [Various Dips with Burdigala Bread], [Various Vegetables Concealed in Sakurahime Roast Chicken] and the [4-hour Stewed Sardines Bagna Càuda] all come very highly recommended. Come on over and experience first-hand the great food and the stylish French-American style interior design.
Portal Cafe AKIBA TOLIM Branch
4.Akihabara Garden Farm Akihabara Branch
This restaurant works directly with a number of farms that produce a range of delicious and interesting vegetables across Japan. Based on the supervision of the Japan Cheese Fondue Association, these vegetables are then accompanied with Hokkaido-produced cheese. The restaurants cooking method brings out the delicious natural flavors of the ingredients to make the final dish something very special indeed. The restaurant has a casual atmosphere, but also has private rooms (reservation required), thus making a variety of events possible – such as matchmaking parties, girl's parties and drinking parties. Why not come and enjoy some delicious food in the private rooms without having to be overly concerned about other customers?
Akihabara Garden Farm Akihabara Branch
5. Fine's Bar
Fine's Bar
6.Gyu no Tatsujin Akihabara Branch
This classy restaurant, which only offers private rooms, opened as recently as February 18th, 2016. Customers can enjoy prime cuts of Japanese wagyu beef here – so amazingly fresh that it is delicious eaten without sauce – try it with plain rock salt! This level of delicious, gourmet cuisine in a warm and relaxing, first-class ambiance is truly second-to-none. The recommended items on the menu include the [A5 Wagyu Kiwami Kohaku Aburi Yukhoe] (seasoned raw beef), the [Assortment of Black Angus Steak], and the [A5 Wagyu Premium Course].
Gyu no Tatsujin Akihabara Branch
7.Towa Sakaba
The chef of this restaurant once worked as the leading Chinese cuisine chef at a famous hotel in Beijing. Because of his abundance of experience and skill, all of the Chinese cuisine served at Towa Sakaba is authentic and extremely delicious! Their Sichuan dishes that use traditional Chinese spices, such as Huajiaoyan pepper, are highly recommended. Also popular is the spicy and aromatic [Towa Mapo]. Each dish is reasonably priced, enabling the customer to try many different delicious Chinese dishes.
Towa Sakaba
8.GUNDAM Cafe
The official GUNDAM Cafe is located right in front of JR Akihabara Station! The curvy, neo-futuristic interior design sets it apart from the rest. It really does feel like you have entered into the GUNDAM world due to the fantastic atmosphere and the fact that all the staff emebers wear uniforms based on the characters of GUNDAM. The menu is highly influenced by the GUNDAM world, including drinks such as [Jaburo Coffee], and cuisine such as [Red Comet], a pasta dish inspired by Char's counterattack. The [Gunpla-yaki] and the [GUNDAM Cafe Ha-roll] Swiss roll are all available for take away and make great souvenirs!
GUNDAM Cafe
9.Shuzenya Moon
The chef at this restaurant has honed his French and Japanese cuisine skills to produce the kind of original cuisine that he can be proud of. All of the items on the menu are like a special gem – each made before your very eyes by the skilled chef. Dishes using Niigata Echigo Asadori Chicken and the luxurious banquet plan in particular come highly recommended. This restaurant not only has entertaining chefs but also a wide range of alcohol from sake and shochu (both Japanese alcohol) to quality wine. Drink as much as you like of the beverage of your choosing.
Shuzenya Moon
10.Wineshop&Diner FUJIMARU
FUJIMARU has finally opened a branch in Tokyo after the successful opening of various urban wineries and wine shops and restaurants in the Osaka area. Themed "Bringing Wine to the Everyday", customers can enjoy wine from various different viewpoints. Takeshi Yamada, with an abundance of experience working for famous restaurants such as "ne Quittez pas" and "Grape Gumbo", is running the kitchen at FUJIMARU Tokyo. Recommended dishes on the menu include [Charcuterie Assortment – Erezo – Toyokoro-cho, Hokkaido], [Rare Grill of Horohoro-cho from Ishikuro Farm], and [Owase Seafood Salad]. Customers will find it easy to relax and enjoy the wine and food in the restaurant's stylish interior.
Wineshop&Diner FUJIMARU
11.Patati-Patata
This is a famous French restaurant located in Asakusabashi. The highlight of this restaurant is the daily special course, tailored according to the seasonal ingredients at the time. The restaurant was featured in the 2014 - 2015 edition of a world famous gourmet guide. Recommended dishes include [Provence Style Golden Threadfin Bream Poele], [Terrine of Duck Foie Gras] and [Meli-Melo Salad]. The basement has an exclusive air and is recommended for special dates.
Patati-Patata
12.Haruyo
This restaurant, only a 2-minute walk from Akihabara Station, serves seasonal and hard-to-find seafood, all carefully selected by the fastidious chef. The wide variety of seafood on offer is what makes this restaurant stand out from the rest. Fresh fish is brought in and served on the same day and prepared in such a way as to take advantage of and bring out the natural flavors. Customers can easily relax in Haruyo's rustic, warm atmosphere. Recommended menu items include the [Shima Sushi], the [Kama-age Shirasu Salad], and the [Boso Kinme-dai Aburi Sashimi].
Haruyo
13.Niku No Mansei Akihabara Branch Chiyoda
Enjoy your fill of top-class Kuroge Wagyu steak at this teppanyaki (grilled on iron griddle) steak and seafood restaurant. The creative cuisine at this restaurant is magnificently prepared and cooked before your very eyes by the chef with his amazing knife skills and flambé techniques. The seating overlooking Akihabara will surely put you in a great mood and enable you to slowly enjoy the refined cuisine. The gorgeous atmosphere is relaxing and ideal for a date or a party. A lunch menu which includes a dessert and a drink is also available.
Niku No Mansei Akihabara Branch Chiyoda
14.Edo Soba Teuchidokoro Asada
Edo Soba Teuchidokoro Asada, founded in 1854, prides itself on its 100% domestically made Juwari Soba. The soba (buckwheat noodles) is made entirely by hand. They also use "Yaki-bushi", which has been made to go perfectly with the flavor of soba. Kasuya is the 8th generation chef at the restaurant. The [Soba Shunzen Course] is highly recommended and consists of soba, seasonal ingredients, and sake.
Edo Soba Teuchidokoro Asada
15.Niku no Mansei Main Branch Western Cuisine
Niku no Mansei serves western cuisine such as meat patties, steak, sukiyaki (hot pot stew) and shabu-shabu (sliced meat parboiled with vegetables). Recommended dishes include [Steak and Jumbo Lobster], [Avocado and Meat Patty], and [70g Marbled Steak & Meat Patty]. A striking view of the JR Chuo Line is available from the 3F window seats of the restaurant! A perfect restaurant to bring the family and enjoy exclusive cuisine for all ages.
Niku no Mansei Main Branch Western Cuisine
16. Mansei Bokujo
Mansei Bokujo specializes in delicious Japanese Kuroge Wagyu beef. The great texture of the special salted gyutan (beef tongue) and the delicious and succulent galbi (Korean-style marinated barbecued ribs) are very popular items on the menu, as is the [Assortment of Meat] plate. Both the sauce used for marinating and the sauce used for dipping are refreshing and seasoned to perfection. While they go amazingly well with the rich and sweet taste of the Kuroge Wagyu beef, simple rock salt seasoning tastes amazing too! There are some private rooms, making it the ideal place to relax with family. There are also specials for anniversary and birthday celebrations! Visit Mansei Bokujo and enjoy the spirit of marbled Wagyu Beef yakiniku (Japanese BBQ)!
Mansei Bokujo
17.Satomi Akihabara Main Branch
The reasonably priced yet delicious cuisine at this restaurant really does make it feel like a hidden gem. They stock an abundance of organic, seasonal vegetables as well as wild fish transported by air from the Goto Islands. A wide variety of sake is also available to choose from in the all-you-can-drink course. Recommended dishes include [Steamed Seasonal Vegetables with Kurobuta (pork)], [Wild Fish Sashimi] and [Cured and Broiled Mackerel]. Make yourself at home at this restaurant – perfect for a variety of occasions such as parties, business lunches, and business meetings. Drop by and enjoy some fish and local sake to your heart's content.
Satomi Akihabara Main Branch
18. Trattoria Italian SATOMI Fooding
Trattoria Italian SATOMI Fooding serves hearty meals at reasonable prices. Everything at this restaurant is handmade – from the sauces and dressings to the main dishes and desserts. The dough for the pizza is also handmade from an original recipe and is left to rise for 2 hours. All of the vegetables are organic and shipped directly from the farms. They are served with an original dressing, and the result is a simple yet amazing salad. Recommended dishes include the [Porcini and Mushroom Cheese Risotto], [Assorted Meat Plate] and [Chef's Specially Handmade Pizza], to name a few.
Trattoria Italian SATOMI Fooding
Disclaimer: All information is accurate at time of publication.