Publish-date: Jun 14 2018 Update-date: May 20 2019
Like and Share us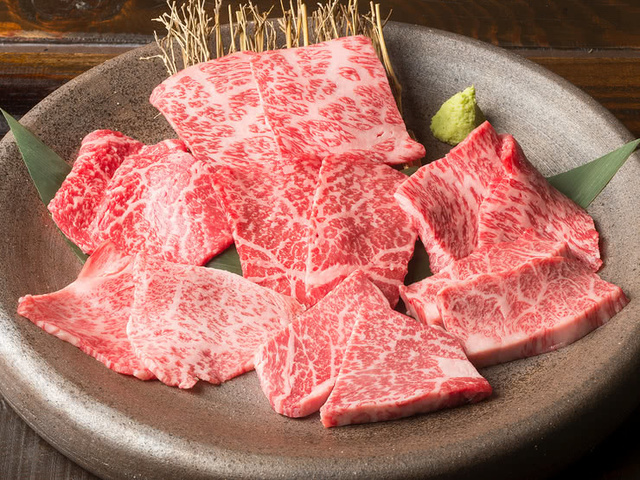 Wagyu (a type of high-quality beef) is renowned for its fine texture and tenderness. Those who wish to enjoy delicious Wagyu to the fullest should head to a yakiniku (Japanese BBQ) restaurant. This article introduces the top 30 yakiniku restaurants in the capital of Tokyo.
1. NIKUSHO Nakata (Omote-sando)
This luxurious yakiniku restaurant, decorated in a classic modern style, stocks over 40 types of salt from all over the world. They'll serve 7 of the most suitable types of salt to accompany the meat of the day. Using different salts depending on the cut of meat allows you to fully experience the difference in taste between each cut. The uniquely cut Kuroge Wagyu [Toro Tan] (fatty tongue) is a very popular item on the menu. It combines the unique texture of the crispy parts where the tongue was sliced into with the firm inner meat. It has plenty of other Wagyu dishes, such as the [Premium 35-Day Aged Kuroge Wagyu Sirloin Steak], which is made from Daikokusen beef. Elegant delicacies will decorate your table here!
NIKUSHO Nakata
2. Kami no Akaniku Hanare Roppongi Branch (Roppongi)
Top-quality, lean Kuroge Wagyu from Kagoshima and Miyazaki can be enjoyed at affordable prices in this popular yakiniku restaurant. Every single piece of meat served here has the owner's seal of approval, such as the [Premium Kuro Tongue] - a rare cut of which only a limited number are available - and the [Chateaubriand], which is taken from a first-class bull. If you don't know what to order, why not opt for the [Chef's Platter], consisting of around 7 of the day's recommended cuts of meat? A variety of seating choices are available here, including private rooms with a giant sofa!
Kami no Akaniku Hanare Roppongi Branch
3. Sumibi Yakiniku KOMA GINZA (Ginza)
This sumibiyaki (charcoal-grill) yakiniku restaurant is primely located in Ginza. The interior, created by an interior designer, consists of open deck seating surrounded by glass walls. Within its relaxing compounds, customers can enjoy Matsusaka beef and Miyazaki beef. The menu consists of items that have been cooked simply to bring out the deliciousness of each ingredient, such as [Kuroge Wagyu Salty Tongue] and [Matsusaka Beef Tenderloin]. Each cut of meat is sliced in a different way to draw out the flavor. An abundance of house wines and bottled wines that go with their meat dishes are also available.
Sumibi Yakiniku KOMA GINZA
4. Heiwajima Heiichiro Yakiniku (Heiwajima)
This restaurant offers top-quality, yet also reasonably-priced, A5-ranked Kuroge Wagyu. Why not make a visit to this casual restaurant and enjoy delicious Japanese dishes created by their skillful chef, such as their signature [Premium Galbi]? The most recommended item is the [Kainomi] (Flap Meat), which combines the goodness of premium rib and premium galbi. It has a deliciously light umami (Japanese savory taste). Note that only a limited number of servings of this dish are served each day. If you are on a budget, why not try the [Nakaochi Galbi]? This delicious dish is cram-packed full of succulent meat juices!
Heiwajima Heiichiro Yakiniku
5. yakiniku byakutan (Roppongi)
This restaurant opened in January 2018. It has a clean, white interior and only has sofa seating for customers to relax in. Their pride and joy are the [Premium Galbi], which is made A5-ranked Kuroge Wagyu ribeye. It is grilled over charcoal to let the excess fat drip-free, allowing customers to take in the aromatic deliciousness of the meat. The air inlets on the ceiling enhance this experience. They have other superb dishes like the beautifully marbled pink [Premium Loin], as well as a range of wines carefully selected by their sommelier.
yakiniku byakutan
6. Azabu Kannichikan (Azabu-juban)
Customers here can enjoy Korean royal court cuisine in an interior modeled on a Korean kominka (traditional home). They have smokeless roasters installed, allowing you to enjoy your meal at ease. They serve Korean cuisine like [Galbi-jjim], as well as yakiniku dishes mainly made with top-quality Saga beef. The [Premium Whole Wagyu Selection] - consisting of various cuts of a whole Saga cow like sirloin steak, galbi, and loin - is particularly recommended. All the cuts on this luxurious platter are melt-in-the-mouth delicious!
Azabu Kannichikan
7. Meigara Kokyu Yakiniku MASU (Roppongi)
Extremely fresh branded beef, such as Kobe beef, can be enjoyed at this yakiniku restaurant that is directly managed by a meat wholesaler. The reputedly skillful chef carefully slices and beautifully arranges the meat every day before they hit the market. Recommended items on the menu include the [Assortment of 3 Rare Cuts], consisting of the best Wagyu of the day, such as sirloin, top blade (taken from the shoulder), and chuck flap. An abundance of wine is also available here. Though most of them are from France, they also stock wines from Italy, the U.S., and even Japan!
Meigara Kokyu Yakiniku MASU
8. Roppongi Yakiniku 433 (Roppongi)
This welcoming restaurant has a modern and stylish wooden interior, along with private rooms that come with sofas to help you fully relax while eating your meal. No part of the domestic Kuroge Wagyu they use is wasted - even rarer cuts can be enjoyed here! Popular choices on the menu include [Ichibo Tariata] - consisting of top sirloin cap, which is both lean and marbled - as well as the [Lean Meat Assortment], in which a wide variety of cuts can be easily enjoyed in a single order. This restaurant pays attention to calorie balancing, stocking organic wines to help customers savor yakiniku in a more healthy manner.
Roppongi Yakiniku 433
9. Yoroniku (Omote-sando)
Yoroniku is located down a quiet backstreet of Minami Aoyama. This famous and well-established restaurant specializes in top-quality Wagyu. Their ingredients, procured from Hiyama, are carefully prepared in ways that aren't too heavy-handed or light-handed. Their signature [Silk Loin], consisting of rice wrapped in grilled sirloin, is highly praised. There's also the [Cold Platter], which is an appetizer that goes well with wine or sake (Japanese alcohol). End your meal with their famous dessert, the [Hojicha Shaved Ice].
Yoroniku
10. Yakiniku Stadium Jan (Otsuka)
Enjoy yakiniku without hurting the purse strings at this popular restaurant! This stylishly decorated restaurant not only has a wide variety of yakiniku dishes but also has a homely atmosphere. The [Wagyu Buri-suki] comes highly recommended. This sukiyaki-style dish consists of thinly-sliced A5-ranked Kuroge Wagyu rib meat. The melt-in-the-mouth [Premium Skirt] and [Premium Salty Tongue Trimmings] are also very popular. If you wish to enjoy yakiniku to your heart's content, why not try one of the all-you-can-eat and all-you-can-drink courses?
Yakiniku Stadium Jan
11. Zassoya (Gaiemmae)
This restaurant is popular for its Kuroge Wagyu yakiniku and grilled offal. All the meat served is freshly stocked on a daily basis by the owner, who also runs a butcher store. Their rare specialty, [Maboroshi no Kuro Tongue], which can only be taken from Kuroge Wagyu cattle, is a dish that you can't miss out on! Eat it simply with some salt, pepper, or lemon juice to bring out its umami. They offer other menu options that bring out each cut of meat's characteristics, such as shabu-shabu nabe (hot pot of sliced meat parboiled with vegetables) and sashimi. Another highly reviewed dish is the [Yakuzen Nabe], which is created under the supervision of staff members with yakuzen (Chinese medicinal cuisine) qualifications.
Zassoya
12. Niku-no-Art (Ikebukuro)
This lovely little retreat serving meat kappo cuisine (traditional yet casual multi-course cuisine) has only 8 counter seats and a single private room. Its parent organization is a Kuroge Wagyu specialty store, which is why it is able to offer Wagyu - carefully selected based on when it's most delicious - at affordable prices. Besides the à la carte menu, the [Niku-no-Art Course] also comes highly recommended! It consists of a variety of extravagant dishes, including sumibiyaki eaten with rock salt, wasabi, or a fruity homemade sauce, sashimi made with rare cuts of fish, yukhoe (Korean dish of seasoned raw beef topped with an egg yolk) prepared with high-class ingredients like foie gras, and tongue stew.
Niku-no-Art
13. Sumiyaki Hormone Ikedaya (Ayase)
This restaurant serves up innards grilled on a shichirin (portable clay cooking stove). Their innards are marinated in a homemade miso sauce that has an exquisite balance of sweetness and spiciness. The more you chew, the more you'll be able to taste the deep flavor. In particular, the [Beef Small Intestines] - an offal dish where the umami from the fat spreads through the mouth - is a dish that even regulars love. Their menu also includes a variety of other cuts from highly-ranked Kuroge Wagyu, including rare cuts like the [Geta Galbi]. Flavorful and tender, only a small amount of this meat can be taken from a single cow.
Sumiyaki Hormone Ikedaya
14. Yakiniku Yumeichi (Osaki)
Here, customers can savor wine and Kuroge Wagyu dishes. Their wine cellar stocks over 40 varieties of high-quality wine. A sommelier will carefully select the wine that will suit whichever cut of meat you order. They mainly serve up Kuro Hana beef, which is a variety of Kuroge Wagyu that's both silky smooth and fatty. Besides course cuisine, you can enjoy yakiniku through à la carte dishes like the [Dream Assortment of 5 Premium Cuts], which consists of premium sirloin and a selection of the best 4 cuts available that day.
Yakiniku Yumeichi
15. Yakiniku Kobo Yamago (Seijogakuen-mae)
Located in a quiet residential area, this restaurant is filled with Japanese atmosphere. Come here to enjoy high-quality Kuroge Wagyu, mainly from Kyushu, at a price that doesn't upset the bank. The most popular items from their extensive menu are the [Ribeye] - a popular, classic, and high-class cut - as well as the rare [Top Blade], of which the only 3kg can be taken per cow. The owner has carefully selected the alcohol line-up, ensuring that it appropriately accentuates the cuisine served. You'll find wine, beer, shochu (another type of Japanese alcohol), and even sake here!
Yakiniku Kobo Yamago
16. Yakiniku 291 Nikuichi (Shin-Okubo)
Top-ranking Wagyu from across Japan can be enjoyed at Yakiniku 291 Nikuichi. The meat can be enjoyed here at a price which won't break the bank, as they are not particular about brands and they have their own route for procuring it. If you aren't sure what to order, then why not opt for the [3-Kind Assortment] or the [Premium Assortment]? Even a single slice can be ordered, making it ideal for those who are dining alone but still wish to try a variety of cuts. They also have a popular side dish menu that includes the extremely spicy [Short Rib Warm Noodles] that contains udon (thick noodles).
Yakiniku 291 Nikuichi
17. Niku no Wana (Jimbocho)
This izakaya (Japanese pub) specialized in Wagyu is run by a popular yakiniku restaurant. Instead of just serving grilled meat, they offer a variety of meat dishes that are all prepared by carefully adjusting the heat. The [Kuroge Wagyu Rare Salt Hamburg Steak] is one dish that can't be missed out! The fact that the meat is accompanied by salt rather than a sauce allows customers to fully enjoy the actual umami of the meat. All their alcoholic drinks - such as Corona beer, Cava, and gin and tonic that's beautifully blended with pepper - go amazingly well with meat cuisine.
Niku no Wana
18. Gazan Garden (Kamiyacho)
There isn't a Tokyo foodie or meat lover out there who doesn't know of Gazan Garden! Famous people and VIPs regularly visit this restaurant due to its delicious food, outstanding hospitality, tranquil environment, and care over every customer's privacy. They serve Yonezawa beef - a brand of beef that's deliciously sweet and especially marbled - here. Though their [Shio Sukiyaki] (salty hot pot stew), eaten with a hen's egg, is especially famous, they also have an extensive yakiniku menu. Visit to enjoy dishes like nigiri-zushi (hand-formed sushi) made with sliced raw beef or other types of meat!
Gazan Garden
19. Hang Dong (Tsukishima)
Hang Dong is located right in the heart of the yakiniku haven, Tsukishima. While lots of similar restaurants are lined up around the area, this particular restaurant is unshakable. Their yakiniku menu consists of dishes made with only the best Wagyu, as expertly selected by the owner. The [Whole Cow] consists of 1 slice of 10 types of meat and innards and is ideal for those who wish to taste and compare a wide range of cuts. Another reason behind this restaurant's popularity is the Korean cuisine that has been passed down by the owner's mother, who manages a restaurant in Kokura, Kyushu. They are also well-known for their flavorsome homemade kimchi.
Hang Dong
20. Yakiniku Nabedonya Shikata (Nakameguro)
This yakiniku restaurant is directly managed by a Wagyu wholesaler. They only serve the best meat of that day, carefully determined based on characteristics like the meat's freshness, umami, and marbling. Only domestically-raised meat is used to ensure quality. A recommended dish from their menu is the [Premium Loin], where the sweetness of the fat will spread through the mouth. They have other offerings like the classic top sirloin butt steak and rare cuts of innards, each with their own characteristics and taste. The must-try dish is the [Shikata Premium Roast Beef], which is packed with the condensed umami of Wagyu!
Yakiniku Nabedonya Shikata
21. Sumibi-Yakiniku Shinjuku Ryuen (Shinjuku)
Though this yakiniku restaurant specializing in Kuroge Wagyu is located in the leading entertainment area of Kabuki-cho in Shinjuku, it has a relaxing and calm atmosphere, which is the reason behind its popularity. Only top-quality Kuroge Wagyu - stocked from trusted butcher stores without any prejudice regarding titles like the place of production or brand - is used here. One recommended dish is the flavorsome and tender [Specially Selected Assortment], which has an array of classic cuts like short rib, as well as rarer cuts like the top blade.
Sumibi-Yakiniku Shinjuku Ryuen
22. Gyugyu Nishiazabu Main Store (Roppongi)
Enjoy yakiniku at this stylish, high-class restaurant. Not only does their yakiniku taste delicious, but you can also thoroughly enjoy how it's presented, as they've added an element of entertainment to the presentation of their dishes. For example, the [World's Longest Deluxe Tongue], consisting of thinly-sliced Kuroge Wagyu tongue, will no doubt make an impression! The meat for this dish is cut horizontally instead of the more common vertical cut, allowing customers to have an even larger portion compared to other restaurants. Both the elasticity of the tip of the tongue, as well as the tender root, can be enjoyed in this delicious dish. Another recommendation is their most popular dish, the [Uni-gyu], consisting of fresh, raw Hokkaido sea urchin wrapped in delicious Kuroge Wagyu thigh meat.
Gyugyu Nishiazabu Main Store
23. Yakiniku Okuu Shinbashi Branch (Shimbashi)
Using methods like purchasing whole Yamagata cattle, this restaurant lets customers enjoy a wide range of carefully selected Wagyu. One recommendation is the [Yamagata Whole Beef Plate], which is filled with tons of rare cuts that only restaurants who purchase whole cattle can avail of. Examples of these rare cuts include [Enpitsu] (complexus muscle) - of which only a small amount can be taken from near the ribeye, [Kurimi] (chuck eye) - lean meat taken from the forelegs, and [Togarashi] (chuck tender) - taken from the area from the shoulders to the forelegs. Even cuts which aren't available on the menu itself can be ordered via this dish. An extensive course menu is also available, ensuring that they can cater to everyone's needs.
Yakiniku Okuu Shinbashi Branch
24. Yakiniku Motoyama Shinjuku Branch (Shinjuku)
Having opened in 2010, this is the Shinjuku branch of Yakiniku Motoyama - a restaurant established in 1975 that has been devotedly serving high-quality yakiniku made with Wagyu. Many of their dishes are made with Kobe beef, but they do use other A5-ranked Kuroge Wagyu brands. The recommended dish is one that's exclusive to the Shinjuku branch, [3 Types of Wagyu of the Night]. It consists of 3 cuts of Kuroge Wagyu stocked that day, allowing you to experience a variety of flavors. They use Kobe beef for their rib meat unless otherwise stated, such as for their delicious short ribs. They offer rare cuts as well, such as the [Top Blade 2/600]. The only 2kg of this delicious, rare meat can be obtained from a single cow!
Yakiniku Motoyama Shinjuku Branch
25. Kobe Yakiniku Kanteki (Shibuya)
This popular yakiniku restaurant from Kobe prides itself on serving only the best quality Kuroge Wagyu from across the country. The fresh, succulent beef here comes from Kuroge Wagyu cows and are stocked directly from meat markets. Recommended dishes include the [Thickly-sliced Kuroge Wagyu Double Skirt Steak]. This is a rare cut of meat from the muscle part of the diaphragm. It has a rich umami and great texture, which is further enhanced by the thickness of the slices! Their assortment dishes, such as the [Premium Assortment – 5 Kinds of Red Meat and Every Kind of Offal], also come highly recommended.
Kobe Yakiniku Kanteki
26. Yakiniku & Seafood Kaen Shinjuku East Exit Branch (Shinjuku)
Conveniently located at only a minute's walk away from Shinjuku Station, this popular restaurant not only serves A5-ranked Kuroge Wagyu with an abundance of umami and perfect sweetness to the fat, but it also serves deliciously fresh seafood. While a wide range of cuts can be enjoyed here, it is the [Zabuton] (chuck flap) that's the most highly recommended. This tender cut is nicely marbled to give a delicious, melt-in-the-mouth sensation. Other rare cuts are also available through their extensive menu.
Yakiniku & Seafood Kaen Shinjuku East Exit Branch
27. Matsunaga Bokujo Ginza Main Branch (Ginza-itchome)
This popular restaurant is in a great location with easy access, as it is only a minute's walk from Ginza-itchome Station, which is a great place for shopping. Only top-quality, A4 rank or higher Shimane Wagyu and Matsunaga Wagyu - procured whole from Matsunaga Farm in Masuda, Shimane Prefecture - are served here. Their [Matsunaga Farm Assortment (for 2 - 3 people)] is a highly ordered dish consisting of popular cuts like premium Wagyu skirt steak, premium short rib, and premium loin. It comes accompanied with grilled vegetables.
Matsunaga Bokujo Ginza Main Branch
28. Yakiniku Satsuki Asakusa Branch (Asakusa)
Enjoy carefully aged Kuroge Wagyu at this popular restaurant! You can try meat like Akita Yuri beef, which is a type of Wagyu from Akita that's raised on rice. This restaurant is highly reputed for its raw meat dishes like yukhoe and meat sashimi, which can only be eaten at certain restaurants in Japan, as they are formally certified by the Taito Ward Health Center. It is also recommended to give their luxurious [Thicky-sliced Meat] a try.
Yakiniku Satsuki Asakusa Branch
29. Yakiniku no Meimon Tendan Akasaka Branch (Akasaka)
This popular restaurant has its main branch in Kyoto. Their distinctive sauce is sweet and sour, and it is m
Disclaimer: All information is accurate at time of publication.