Publish-date: Jun 11 2020 Update-date: Jun 12 2020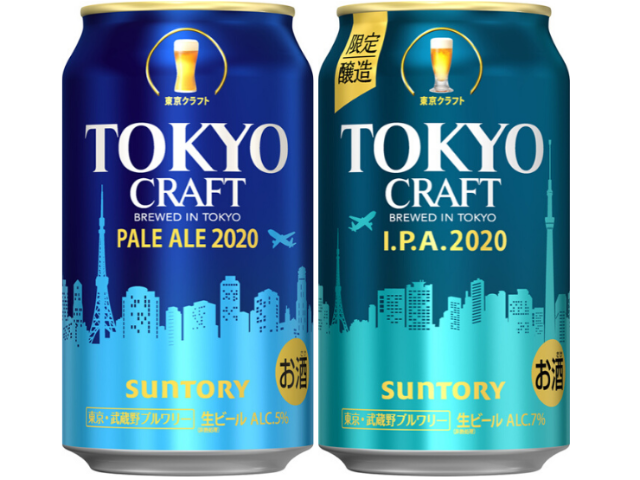 Beer is widely consumed in Japan. People drink beer at bars and restaurants when hanging out with friends and coworkers, at home with families, or even alone, no matter weekdays or weekends. It has become an important part of Japanese people's everyday lives. Most of the major breweries in Japan mainly focus on pilsner-style lager. However, in recent years, the craft beer boom has influenced the way people drink beer. Although microbreweries had its dark business days due to the tight regulations back in the 1990s, now you can find craft beer easily at bars, restaurants, or even in supermarkets and convenience stores.
Introducing: TOKYO CRAFT
When it comes to the key players in Tokyo's emerging craft beer scene,
Suntory
is no exception. The renowned Japanese beer and whiskey brand has been active in beer manufacturing for over 50 years. Tokyo Craft is associated with Tokyo, the city of tradition and innovation. Brewed in Musashino brewery in western Tokyo, with product lines featuring a wide range of distinct flavors, Tokyo Craft is proud to be the craft beer brewed in Tokyo.
TOKYO CRAFT Series: Pale Ale 2020 and I.P.A. 2020
Tokyo Craft Pale Ale 2020
was released in March 2020 as an all-year product. While maintaining the refreshing scent of Cascade hop, the flavors are balanced well with a pleasant bitterness as the characteristic of a pale ale. The canned Tokyo Craft is 350 ml with 5% alcohol content. The packaging comes in a sophisticated dark blue, highlighting the cityscapes of Tokyo. 

Tokyo Craft I.P.A 2020 was released at the beginning of April 2020 as a seasonal product. It is characterized by its enhanced bitterness balanced with the vivid scent of Citra hop. The canned Tokyo Craft is 350 ml with 7% alcohol content. The teal-colored packaging is eye-catchy, and its dark background reminds you of a drinking night out in Tokyo.

What to Love About TOKYO CRAFT
One of our editors who live in a Tokyo sharehouse (Japanese term for shared flat or apartment) asked her housemates to see what they think of Tokyo Craft beers. Let's see what they said!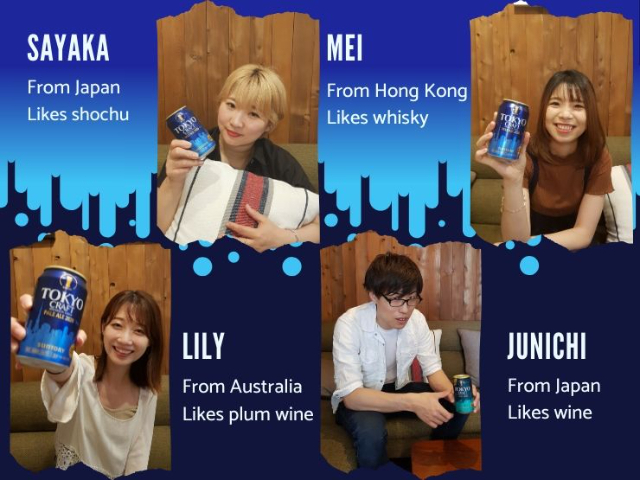 ーCan you describe Tokyo Craft beers? How do you like them?
Sayaka: "Tokyo Craft pours a strong and clear orangish dark gold color with enough foamy head. I.P.A. 2020 has a slightly darker color than Pale Ale 2020. I like how it tastesーlight and sweet. It also has a fruity aroma. It is definitely something different than other Japanese beer."

Mei: "They are sweet and not very bitter like other beer. I actually do not like beer very much, but I like Tokyo Craft beers. I think it is good for people who want to try beer but do not like the really bitter one. After drinking it I feel like eating some yakitori or takoyaki."

Lily: "The first sip tastes light and then it finishes off with pleasant bitterness. 'Refreshing' is a word that comes to mind. I think it is good for relaxing after a long day of work. It's a beer you drink when you just want to relax and enjoy yourself without thinking too much."

Junichi: "Both beers have a nice balance of mild and malty taste. I.P.A. 2020 tastes fruitier and sweeter than Pale Ale 2020. The bitterness is there, enough but not too much. What I like most is the citrus-like aroma, it is very refreshing. I think it is an enjoyable craft beer and I would definitely drink more."

---------------------
See, everyone likes Tokyo Craft! Whether you are a beer expert or a beer beginner, make sure to give Tokyo Craft beers a try when you are in Tokyo.
(
The interviews were conducted separately at the sharehouse where everyone resides, while maintaining the safe distance as advised by the Tokyo Government as of May 2020)
Disclaimer: All information is accurate at time of publication.