Publish-date: Jun 30 2020 Update-date: Jul 01 2020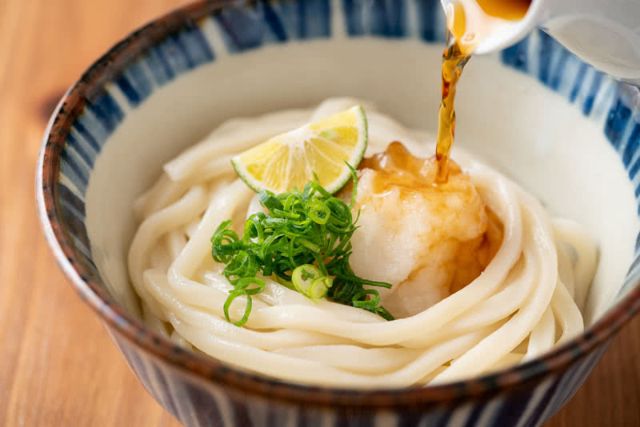 Are you losing appetite because of the rising temperatures? In times like this, have something cold to eat! Restaurants in Japan have begun adding cold foods to their menus as summer approaches. Many of these foods are noodle dishes, such as somen, udon, and hiyashi chuka. Keep reading to learn more about these yummy and popular Japanese summer foods!

Japanese Dishes to Beat the Heat
During summertime, noodles are a common item on the menu of many Japanese restaurants; even ramen places will start selling cold ramen for a limited time! It is unclear when the Japanese developed the habit of eating chilled noodles under hot weather, but among all the varieties of cold noodle dishes, hiyashi chuka, nagashi somen, and cold udon are the most popular.

Hiyashi Chuka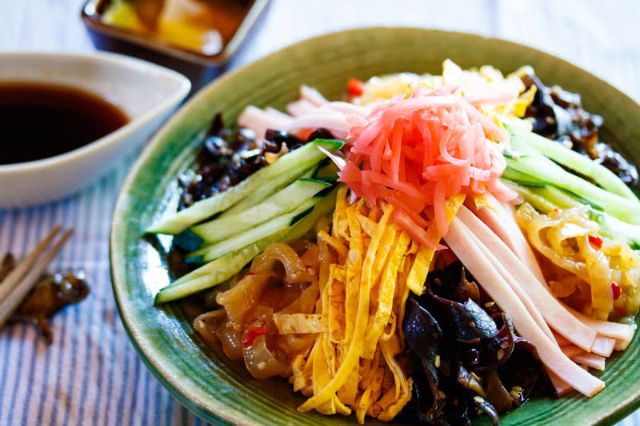 Hiyashi chuka is a common dish in Japanese restaurants and homes, prepared by putting toppings like finely chopped egg, cucumber, and ham on ramen noodles, and then drizzling on a special dressing. Not only is it delicious, it is also easy to prepare and rich in taste, thus earning favor with many people. Fun fact: though the name literally means "chilled Chinese noodles", it is 100% developed in Japan!

Nagashi Somen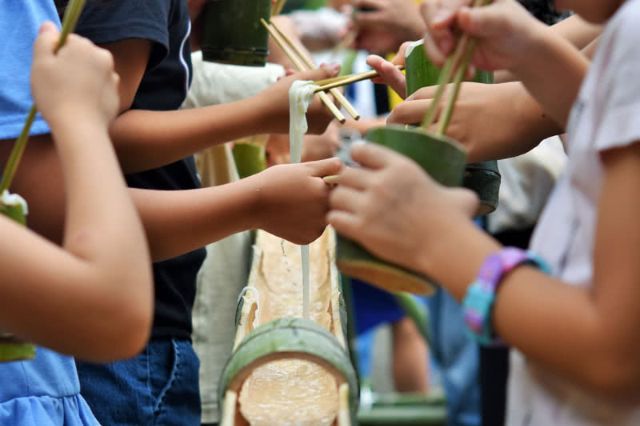 Originating in the Takachiho region of Miyazaki, nagashi somen is a fun dish where you have to try catching somen noodles flowing down a current of water with chopsticks. It is both tasty and fun to eat, which was why it quickly spread to other parts of Japan as a summer activity. Nowadays, even though the authentic version with a bamboo chute is hard to come by, nagashi somen machines are just as entertaining and much favored by families.

Cold Udon
Cold udon, a simple Japanese summer delicacy, is prepared by cooling down cooked udon noodles with iced water, and then serving them with dipping sauce or a special soy sauce. It can be traced back to the Muromachi period, roughly 500 - 600 years ago. The ingredients and way of eating vary from region to region, and some types of udon are more suitable for making cold udon than the others. Read on for more details!

Common Udon Types and Recommended Eating Methods
Japanese people's love of udon noodles can be seen from the diversity of udon developed in different regions, and they all come with their own characteristics, preparation methods, and thicknesses. While all udon noodles can be made into cold udon, the following three are most commonly used.

Sanuki Udon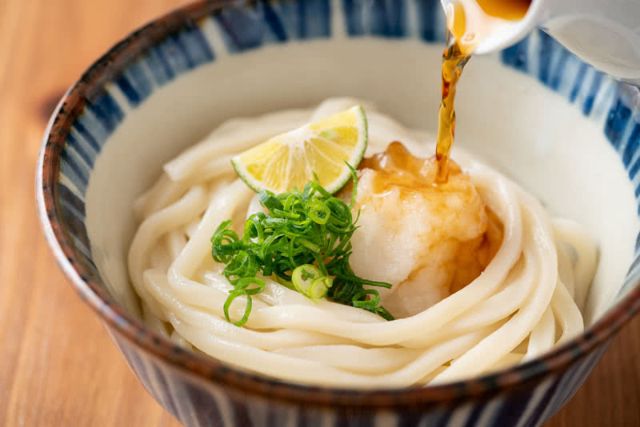 Sanuki udon, a specialty of Kagawa Prefecture, is immensely popular in Japan and listed as one of the three major Japanese udon types. It is characterized by its thickness and chewiness. Sanuki udon tastes great no matter served hot or cold.

Inaniwa Udon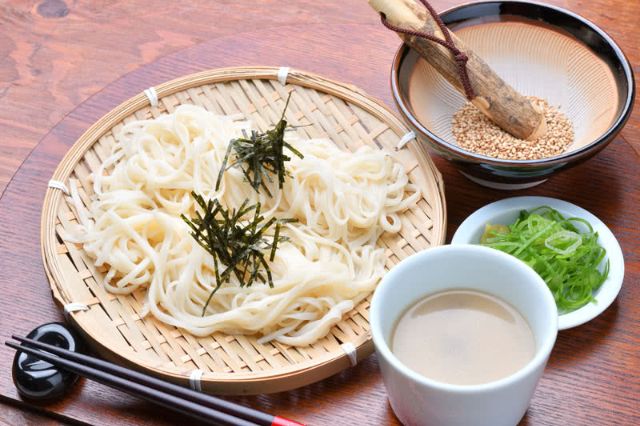 Inaniwa udon is one of the top three udon noodles as well. It is thin and flat, and contrary to Sanuki udon, it is much more favored by common households than restaurants. Interestingly, it is hand-pulled like regular noodles—unlike other udon noodles—and the smooth texture makes it especially suitable to be served cold.

Himi Udon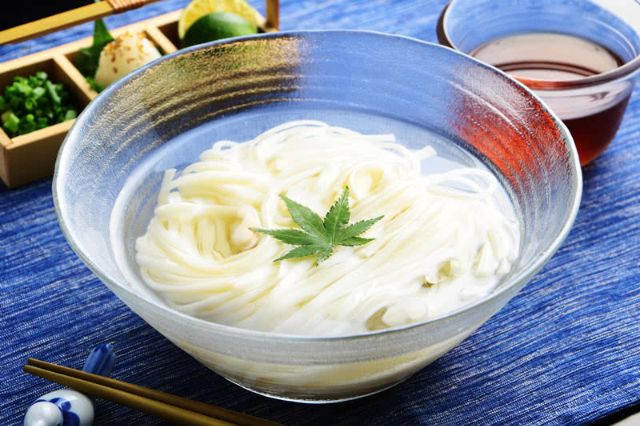 Himi udon from Toyama was once called "string udon". It resembles somen, but instead of being hand-pulled, it is kneaded and cut into thin strands. It is more chewy than Inaniwa udon. Due to its thinness, Himi udon is usually eaten as dipping noodles, even though it tastes just as good in soup!

Cold Udon Restaurant Recommendations
All things said, where exactly are Japan's delicious chilled noodles at? Let's take a look at the restaurants serving cold udon listed below!

Ampuku Ikebukuro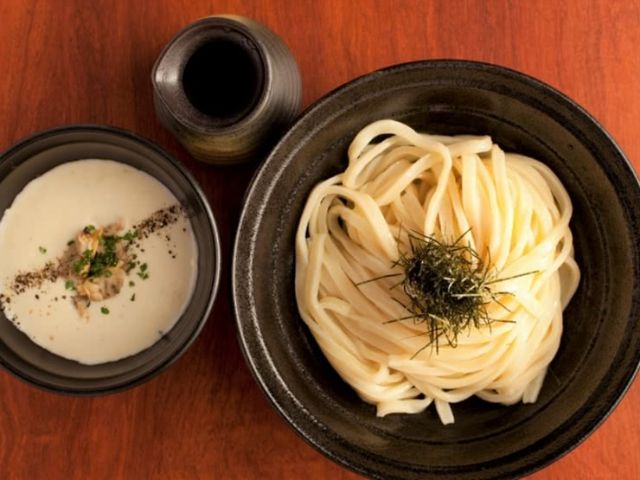 Ampuku Ikebukuro's chef knows just what the locals like, and is able to create a Japanese broth that captures their hearts and stomachs. The broth and the springy udon together make a perfect combination with an unforgettably amazing taste. All their ingredients are carefully sourced and prepared, and much effort is put into each and every bowl of cold udon before it is served on the table.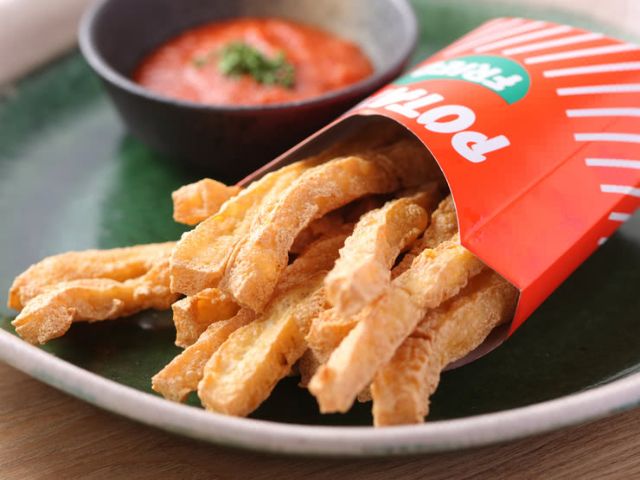 The restaurant offers more than just udon – there are other creative delicacies on the menu waiting to be paired with fine wine. We suggest you to start with their unique and popular Tofu French Fries, which are healthy and go particularly well with ketchup.

Ampuku Ikebukuro
Open
:
Lunch 11:00 am - 3:00 pm (L.O. 2:30 pm), Dinner 5:00 pm - 11:00 pm (L.O. 10:30 pm)
Closed
:
Open all year except the beginning and end of the year
Average price
:
[Dinner] 1,800 JPY / [Lunch] 1,000 JPY
Access
:
Five minute walk from JR, Tokyo Metro, Seibu Ikebukuro Line, & Tobu-Tojo Line Ikebukuro Station West Exit
Address
:
JP Bldg. 1F, 1-37-8 Nishi Ikebukuro , Toshima-ku, Tokyo
Map
More Details
   Reservation   
Udon Soumaya Ekimae Branch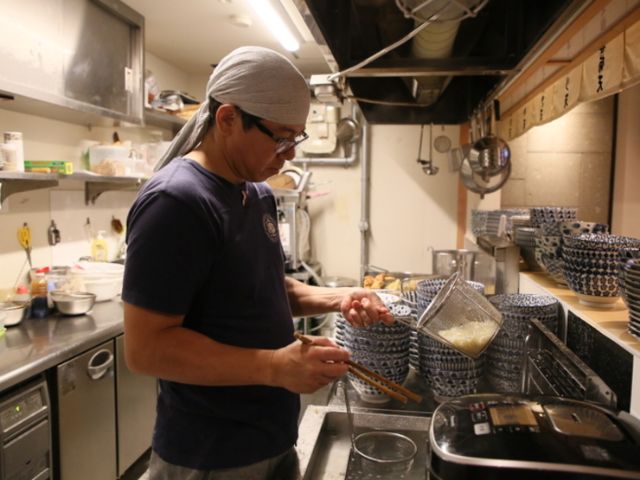 Udon Soumaya Ekimae Branch's udon is served in their delicious golden broth, slowly cooked with Rausu seaweed from Hokkaido. The soft and tender udon noodles used are from Kyushu, the owner's place of birth. He pours his heart into every dish he makes – you can almost taste his love for udon!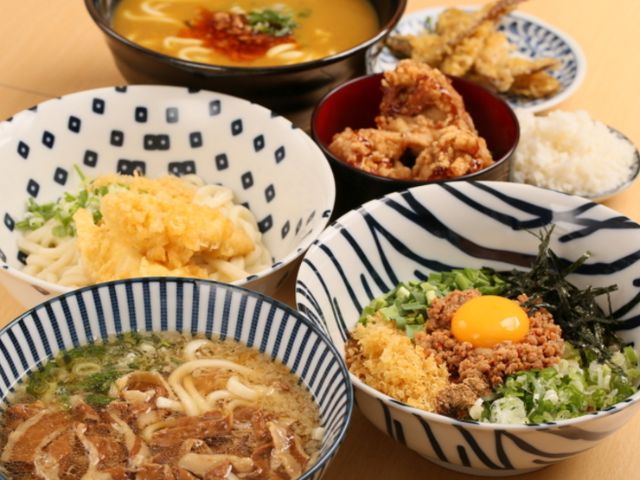 They offer cold or hot choices for most udon dishes, and you can even sample the interesting fusion of cold udon noodles in hot soup! It is recommended to order a bowl of freshly deep-fried tempura along with your udon to experience the contrast between chewy udon noodles and crispy tempura.

Udon Soumaya Ekimae branch
Open
: [Weekdays] 11:00 am - 9:00 pm (L.O. 8:30 pm)
[Saturday] 11:00 am - 5:00 pm (L.O. 4:30 pm)
*Closes once the broth is sold out
Closed
:
Sunday, National Holidays
Average price
:
[Dinner] 900 JPY / [Lunch] 700 JPY
Access
:
4-minute walk from the No.23 exit of Sapporo station on Subway Namboku Line or the south exit of JR Sapporo station. In the first basement of Hokuren Bldg
Address
:
B1F, Hokuren Bldg., 1-1, Kita 4-jo Nishi, Chuo-ku, Sapporo-shi, Hokkaido 
Map
More Details
   Reservation   
Teuchi Udon Kotobukian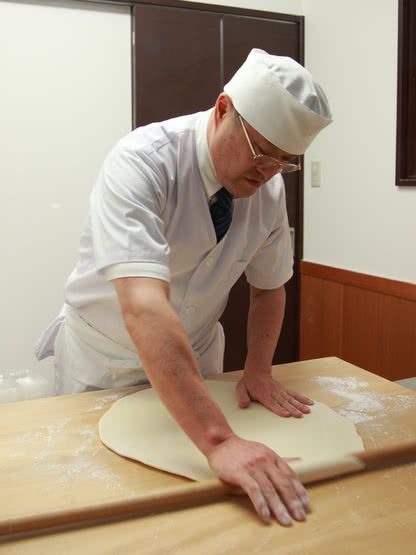 Located in Saitama, Teuchi Udon Kotobukian is a restaurant established by udon expert Hisashi Hasumi. He uses only the best flour and natural salt, and kneads them into udon noodles on the spot. You are unlikely to find another place with udon that has such a chewy texture and strong wheat flour aroma.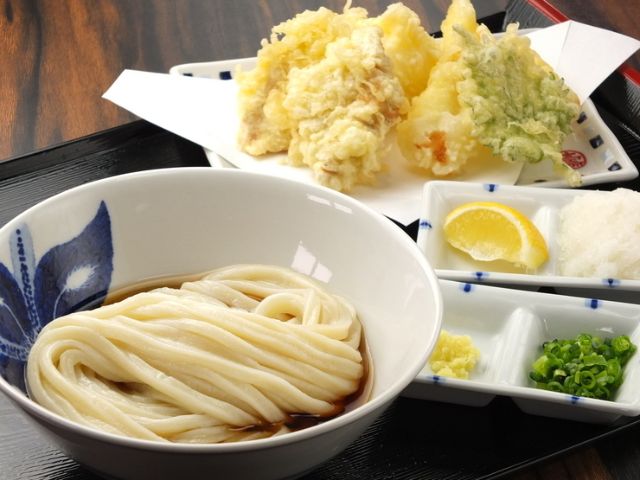 Their udon noodles are made on the same day as they are served, so you can always enjoy them at their best. Their signature item is the Tempura Trio Bukkake Udon, a testimony to their skills and the quality ingredients. Another recommended item would be the Nikuziru Udon, overflowing with toppings, which can be eaten hot or cold.

Teuchi Udon Kotobukian
Open
: [Tuesday - Sunday, National Holidays] Dinner 6:00 pm - 9:00 pm (L.O. 8:30 pm)
*Open if it coincides with a public holiday
[Saturday, Sunday, National Holidays] Lunch 11:00 am - 3:00 pm (L.O. 2:30 pm)
[Tuesday - Friday] Lunch 11:30 am - 3:00 pm (L.O. 2:30 pm)
Closed
:
Monday, Third Tuesday of every month *Closed the next day instead if these days coincide with a national holiday
Average price
:
[Dinner] 2,000 JPY / [Lunch] 1,000 JPY
Access
:
Exit through the West Gate of Toro Station and turn right at Saitama Resona Bank. Walk past Osato Elementary School, and then turn right again at the 5-road intersection at the end of the road. The restaurant is next to a FamilyMart.
Address
:
1F, Grand Premier, 167-1, Hongo-cho, Kita-ku, Saitama-shi, Saitama 
Map
More Details
   Reservation   
Sato Yosuke Honten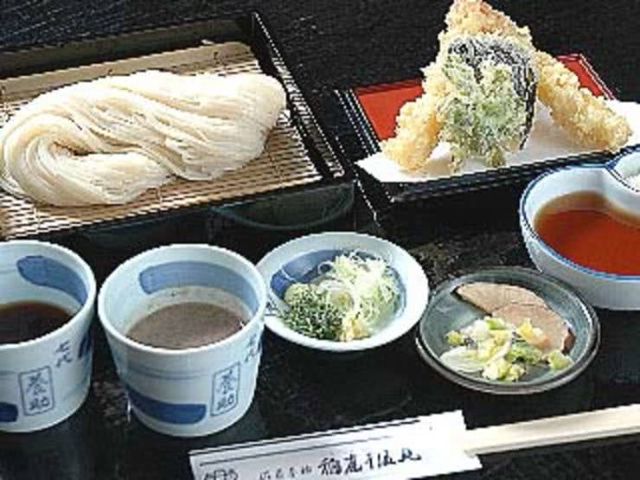 Sato Yosuke Honten is managed by the long-standing and famous Inaniwa udon noodle manufacturer Sato Yosuke Shoten. Their delicious and authentic Inaniwa udon has been attracting a lot of udon lovers from all over the world.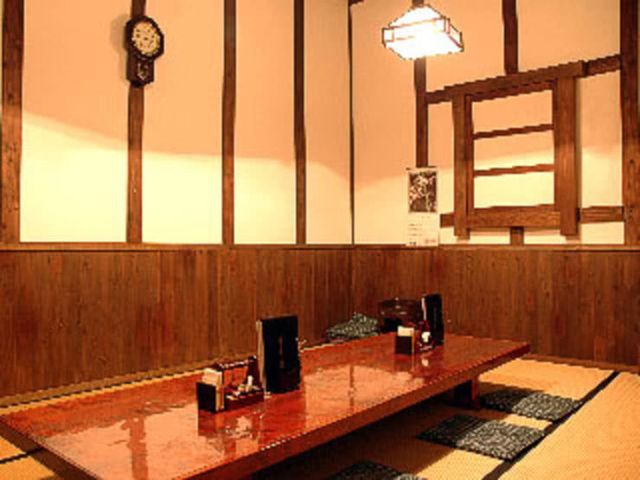 The restaurant is located inside a renovated traditional Japanese warehouse, so traces of history can be seen everywhere. Part of the building is dedicated as a museum and a noodle-making classroom, so customers can glimpse into the long history of Inaniwa udon and even try making some themselves.

Sato Yosuke Honten
Open
: 
11:00 am - 5:00 pm
*Souvenir shop opens at 9:00 am
Closed
: Open all year
*Closed on Monday during December - March
Average price
:
-
Access
: Take the Ugo Kotsu bus (Oyasu route) from Yuzawa Station to the Shinjo bus stop and walk for 2 minutes.
A 20-minute ride from Yuzawa IC towards Oyasukyo via National Route 398.
Address
: 20, Inaniwa, Inaniwa-cho, Yuzawa-shi, Akita 
Map
More Details
Our cold udon guide has come to an end. Are you interested in having some yourself? Have a bowl of chilled noodles this summer to beat the heat!

Disclaimer: All information is accurate at time of publication.