Noodles are an undeniably delectable staple the Japanese culinary repertoire. From temptingly thick udon noodles to tantalizingly thin buckwheat soba noodles, to wavy or long and straight ramen noodles, noodles come in every shape and texture in Japan and are enjoyed year-round. However, when temperature heats up and the days become languid with humidity, it is not a steaming bowl of noodles and hot soup, but rather a bowl of Japanese cold noodles, often chilled to perfection, that provides a refreshing respite from the sultry summer weather. Here are four essential Japanese noodle dishes for summer and some of the best places to enjoy them across the country.


Four Japanese Noodle Dishes and Where to Eat Them
Zaru Soba
Soba is a thin noodle made from buckwheat prized not only for its flavor but also for its high protein and fiber content. During the summer, many people in Japan enjoy eating chilled soba noodles with dipping sauce, known as zaru soba. The chilled noodles are served in a zaru, or traditional bamboo basket, and they're dipped in a strongly flavored soy and fish-based sauce called tsuyu. The dipping sauce may be garnished with a bevy of condiments and seasonings including grated daikon radish, wasabi, and green onion to cool the body and refresh the palate. Among the choices of available Japanese cold noodles, zaru soba is undoubtedly one of the most popular.
Soba Dokoro Monogusa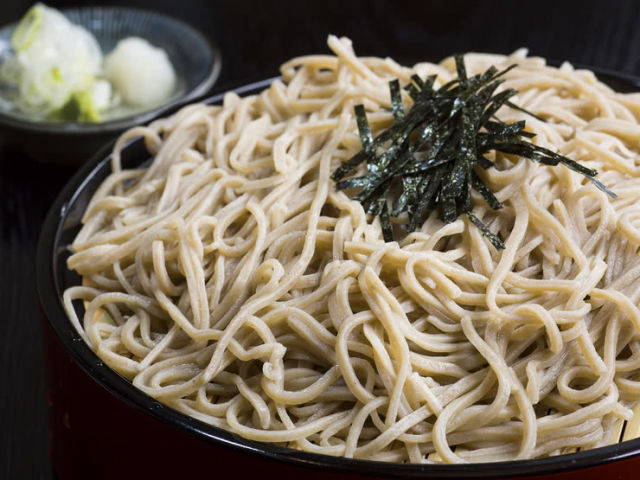 The Matsumoto area of Nagano prefecture is known historically as the Shinshu region, a moniker that brings with it great pride in long-standing agricultural and culinary traditions. It should come as little surprise, then, that the area is renowned for its Shinshu soba. At
in Matsumoto, the house specialty "
Kyuwari zarusoba
noodles" is made using locally-grown buckwheat flour with the chef giving great care and attention to the day's temperature and humidity. Savor these cold Japanese noodles with grated mountain yam and pickled vegetables for a truly invigorating meal.
Nonohana
For another authentic taste of Japanese cold noodles, adventurous souls should travel to
in the town of Takayama, located high in the majestic mountains of Gifu prefecture. Here, the soba is made from a blend of four carefully selected varieties of buckwheat flour, combined expertly with pure spring water flowing from the Okuhida Fukuji hot springs. This abundant natural bounty is only enhanced at Nonohana, where the serving bowls are all handmade to symbolize the warm hospitality of the chef and restaurant staff.
Zaru Udon
Udon is a thick white noodle made from wheat flour and has a dense, chewy texture. Most are familiar with hot udon dishes, but like its buckwheat counterpart soba, eating udon cold actually enhances the subtle flavors of the noodles. The thick chewy noodles offer plenty of sustenance. Zaru udon is the perfect restorative meal amid the humidity of the Japanese summer, especially when paired with cold tsuyu dipping sauce.
Self Udon Tanukiya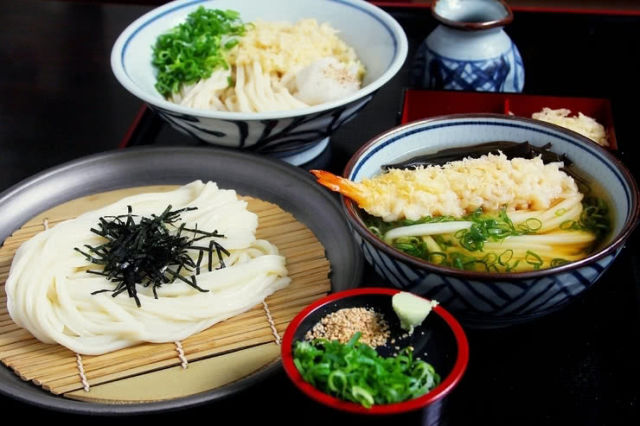 As the name implies,
Self Udon Tanukiya
in Okayama is a self-service restaurant specializing in udon. However, despite the restaurant's casual format, the quality of the food at Self Udon Tanukiya never suffers. The dashi stock, crafted with premium grade kombu kelp harvested close to Rebun Island off the northern tip of Hokkaido, serves as a base for all of their dishes. Paired with their zaru udon noodles, the chilled dashi broth provides the slightest hint of sweetness. Pair these cold Japanese noodles with essential condiments such as wasabi, toasted sesame seeds, and green onions.
Teuchi Udon Kotobukian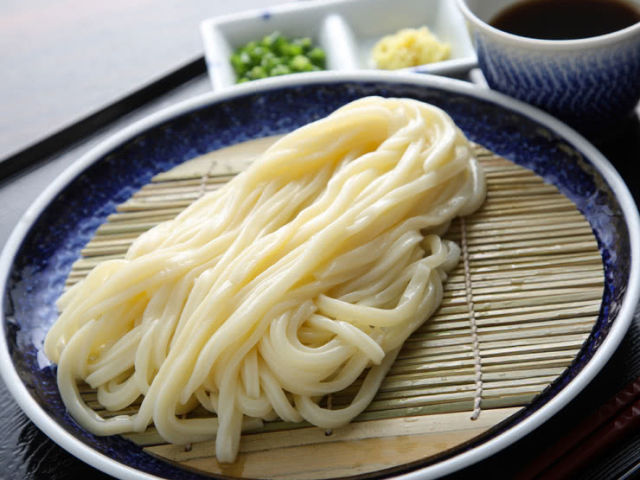 For zaru udon with an artisanal touch, be sure to visit
Teuchi Udon Kotobukian
, a restaurant in Saitama prefecture just outside of Tokyo. Their fresh handmade udon noodles are well textured with a glossy sheen due to the unique blend of flour used by the chef, and each are available in only limited quantities each day. The "Matsu Set," a delicious combination of zaru udon with a
donburi
rice bowl on the side, comes highly recommended.
Hiyashi Chuka
For those who love Japanese noodle dishes in general and ramen in particular, hiyashi chuka is the perfect summer meal. Made with chilled ramen noodles, hiyashi chuka achieves epicurean synergy between a soupless ramen and a salad. The noodles are served in a shallow bowl topped with a variety of ingredients, including julienned cucumber, sliced tomato, and shredded omelet, as well as cold ham or Chinese-style barbecued pork. Hiyashi chuka is typically served with a vinaigrette dressing—usually soy sauce, citrus, or sesame based, which is poured over the dish with everything tossed together just before eating.
Yamagata Soba no Enzo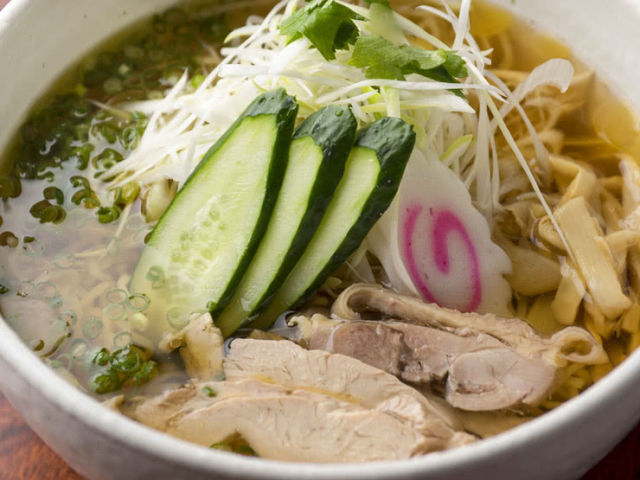 While Yamagata Soba no Enzo in Yamagata prefecture primarily specializes in soba noodles, during the warm summer months this restaurant also offers a unique take on hiyashi chuka. The soup broth eschews the typical fish or pork base in favor of a special chicken-based variety made from local chickens raised in the nearby town of Kahoku. Tender cuts of said chicken, paired as well with a delectable soy sauce broth culled from a secret original recipe, together create a culinary experience unique among the variety of Japanese noodle dishes.
Somen / Hiyashi Somen
Likely the most bracing of all Japanese summer noodles is somen, also called hiyashi somen (chilled somen), a thin noodle made from white flour that shares a similarity with angel hair pasta. Unlike soba and udon noodles, somen is chilled in an ice bath, making it the very epitome of a refreshing summertime snack.
Tenshukaku
While somen is typically served in the familiar zaru basket, it can also be enjoyed in a unique dish called "tai somen," or "sea bream and somen noodles." These cold Japanese noodles are best experienced at Tenshukaku in Hiroshima prefecture, where they are a beloved trademark of the local cuisine from around the Seto Inland Sea. At Tenshukaku, simmered head of sea bream is served with chilled somen noodles and shredded omelet, and the stock from the sea bream is used to make a sweet and sour dipping sauce for the noodles.
Cold Japanese Noodles the Pinnacle of Summertime Refreshment
In a country renowned for its humid summer season, Japanese cold noodles of every variety provide a delicious reprieve. Discerning epicureans who yearn for noodles no matter the season may want to make the journey to
Fukuoka, where one renowned type of ramen
is now taking the country by storm. Wherever your Japanese culinary adventure may lead, be sure to visit Savor Japan—come for the news and the reviews, and stay for the food.
Disclaimer: All information is accurate at time of publication.
Publish-date: Aug 09 2017 Update-date: Aug 06 2019