Publish-date: Apr 27 2018 Update-date: Aug 06 2019
Like and Share us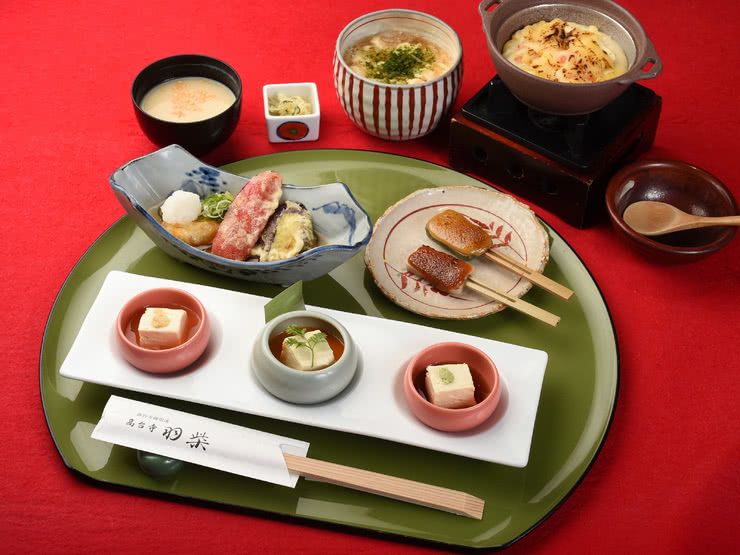 Kiyomizu Temple (Kiyomizu-dera) is famous as the temple built overlooking a cliff. Visitors flock to the temple to see the panoramic view of Kyoto area from its platform. This article focuses on the top 15 famous restaurants, mostly serving Japanese seasonal cuisine that you can go to when visiting Kiyomizu Temple.
1. Mamehachi (Gion-shijo)
Mamehachi serves up cuisine made with tofu and "Obanzai", a style of traditional, Kyoto-style home cooking. Tofu made with soybeans is an important source of protein for practicing monks who follow the rules of Ahimsa (no meat or fish). Shojin ryori (cuisine derived from Buddhist monks where no meat or fish is used) and tofu-based cuisine have flourished in Kyoto, an area with an abundance of temples, since olden times. Due to this, a lot of dishes which use tofu have been created. The recommended dish at this particular restaurant is the [Mamehachi Lunch] (2,300 JPY), consisting of 6 original tofu cuisine and obanzai dishes.
Mamehachi
2. Kodaiji Hashiba (Gion-shijo)
"Nene-no-michi" is a beautiful cobbled path lined with cherry blossoms in spring and colorful autumn leaves in the fall. Kodaiji Hashiba is located along this pathway, within the grounds of a temple. Dishes made with yuba (tofu skin) is highly recommended at this restaurant. Customers can enjoy simply dipping it into shoyu (soy sauce) before eating, or try one of the many dishes made with this special ingredient. The signature dish of the restaurant is the [Kyo Yuba Zen] (2,160 JPY), with its abundance of delicious and homemade raw yuba. Other items on the menu which are also popular include [Yuba Gratin] and [Rice Topped with Yuba].
Kodaiji Hashiba
3. Kakou Okamoto (Kiyomizu-gojo)
With only 8 counter seats, Kakou Okamoto is a modest but relaxing Japanese cuisine restaurant. Customers to this restaurant do not choose what they wish to eat – rather the chef and owner serve up the best 10 or so dishes of both traditional Japanese cuisine and original, creative items. The kitchen counter and dining counter are around the same height, allowing customers to get a glimpse of the chef's magnificent skills. It almost feels like a live performance!
Kakou Okamoto
4. Kodaiji Toyokawa (Gion-shijo)
This restaurant serves Kaiseki cuisine (traditional Japanese course cuisine with tea) of different prices for both lunch and dinner. The [Goma Tofu] is not only an indispensable dish for Shojin ryori but also something that really shouldn't be missed out on! Although not made from processed soybeans like tofu, this is still a time-consuming dish which is seen as training for monks. Once the skins have been removed, the white sesame seeds in this dish are ground, mixed with water, and then kneaded with kudzu flour before being chilled and hardened. It is well known for its slight sweetness and smooth texture. Customers can also enjoy a Shojin ryori course, where no animal products are used if reserved in advance.
Kodaiji Toyokawa
5. Kappo Chihiro (Gion-shijo)
This restaurant is a little hard to find, located along a narrow street off the main shopping arcade. Private rooms with horigotatsu (sunken kotatsu table) are available for customers to stretch their legs, but it is the counter seats which are the most sought after due to the fact that customers sitting there can watch the owner at work. Rather than ordering dishes a la carte, opt for one of the 3 courses (12,000 JPY, 15,000 JPY, or 18,000 JPY). Their specialty dish is the [Grilled Eggplant]. While it's just a simple dish of grilled and peeled eggplant, its delicious aroma and sweet taste will melt in your mouth.
Kappo Chihiro
6. Aji Fukushima (Gion-shijo)
An abundance of Kyoto atmosphere and hospitality greet customers to this restaurant, run in a teahouse with geishas. The only things that they serve are courses where the chefs select the items. The [Lunch Course] (4,320 JPY) consists of 6 different dishes, and the [Dinner Course] (12,300 JPY) consists of 12 different dishes. The head chef and owner have the aim of "confidently serving only the most delicious ingredients, without doing too much to them". Everything is delicately seasoned to bring out the original flavors of the ingredients.
Aji Fukushima
7. Kyoboshi (Gion-shijo)
This small tempura restaurant with only 10 counter seats has been in business for 3 generations. The menu only consists of the 12,000 JPY course consisting of 17-18 items. While tempura is normally made with flour, eggs, and water, this restaurant only uses flour and water to thinly coat the ingredients before frying them to perfection. This restaurant also offers a sweet homemade salt to accompany the tempura, rather than the conventional "tentsuyu" dashi (broth). The wakasagi (pond smelt) tempura is a must see – the shape they get served in almost looks like they were swimming around as they got fried!
Kyoboshi
8. Sushi Matsumoto (Gion, Sushi)
While this small sushi restaurant has only 7 counter seats and 1 table, it prides itself on being able to provide every single customer with top quality service. Nigiri zushi (hand-formed sushi) of vinegar rice topped with fresh raw fish is commonplace in Kansai, so this restaurant likes to show off its craftsmanship and serve Tokyo-style sushi with toppings simmered or pickled in soy sauce. There is no menu at this restaurant - the chef serves customers his best quality items for both lunch and dinner. The [Chef's Special Course] consists of approximately 17 pieces of nigiri zushi, while the [Tsumami Nigiri zushi Course] consists of an assortment of both nigiri zushi and sashimi.
Sushi Matsumoto
9. Wabiya Korekidou Gion Hanami-koji Main Branch (Gion-shijo)
This chicken specialty restaurant not only serves up Wabiya-Dori (Wabiya chicken), their original brand of chicken but also high-grade chicken handpicked from across the country. The [Wabiya Specialty Stone-roasted Oyako-don Set] (1,500 JPY) is a highly recommended lunch dish consisting of sweet and salty simmered chicken and egg served in a piping hot stone bowl. The [3 Handpicked Chicken Legs] (1,350 JPY) is a dish unique to Wabiya Korekidou, consisting of Wabiya chicken and 2 other types of chicken. Also popular is the [Truffle Tsuke Soba] (1,400 JPY), buckwheat noodles are enjoyed with tori chintan (clear chicken soup). The beautiful umami (Japanese savory taste) and flavor of the chicken fill your mouth with delight.
Wabiya Korekidou Gion Hanami-koji Main Branch
10. Gion Nishi (Gion-shijo)
Reservations are essential to dine in at Gion Nishi, a restaurant offering both traditional Japanese cuisine and modern original Kaiseki cuisine (Japanese banquet cuisine with alcohol). Customers can enjoy the chef's selection of 8-9 quality dishes, all are made with seasonal ingredients, for both lunch and dinner.  As the owner of Gion Nishi acquired a training in Italy and has sommelier license and sake (Japanese alcohol) trading and serving qualifications, he can also skilfully recommend which wine or sake will go best with your food. The meal is brought to an end perfectly, with coffee served in a magnificent demitasse cup selected by the proprietress.
Gion Nishi
11. Roji Nakano (Gion-shijo)
Customers to Roji Nakano are greeted by two chefs - one specializing in nigiri zushi and the other in Japanese cuisine. The owner of the restaurant is very particular about only adding the vinegar and salt to the rice just before the sushi is prepared. The mild sourness of the vinegar and the delicate saltiness of the seaweed salt go well with Kyoto cuisine, and effectively bring out the flavors of the ingredients. The [Steamed Copper Pot] is a highly recommended item on the menu. This condensed soft-shelled tortoise soup is combined with the umami of charcoal-grilled ji-dori (local chicken) and the aroma of green onions to create a deliciously rich dish.
Roji Nakano
12. Kyoto Gion Tempura Yasaka Endo (Gion-shijo)
This tempura restaurant is located on Yasaka street (Yasaka-dori), which faces the front of Hokan Temple's (Hokan-ji) 5-story pagoda (Goju no Toh). As, in the past, it was a teahouse where geishas were called to, the building retains some of the appearances from those days. They only serve courses where the chefs select the contents, such as the lunchtime tempura courses [Kamogawa Course] (4,000 JPY plus tax) with 10 tempura items, and the [Aoi Course] (5,500 JPY plus tax) with 13 items. The [Rokuhara Course] (10,000 JPY plus tax) is served at dinner time and consists of 12 tempura items. Other non-tempura items are also available during both lunch and dinner times with the [Tempura Kaiseki] course.
Kyoto Gion Tempura Yasaka Endo
13. Kyotomi (Gion-shijo)
This well-known kaiseki cuisine restaurant is located along a narrow street off a bustling main road. Only 5 courses are available in the evenings, with the price ranging from 5,000 JPY to 15,000 JPY. A recommended item on the lunch menu is the [Flower Basket Bento] (3,500 JPY plus tax), which consists of a basket brimming with seasonal flavors. While private rooms are available, it is the counter seats which are highly recommended. The facade of the restaurant is entirely glass, allowing customers to look out and enjoy the charm of a Kyoto-style inner garden.
Kyotomi
14. Kyoto Gion Kawamura Ryori Hei (Gion-shijo)
This kaiseki restaurant is located inside a renovated kominka (Japanese traditional house), and is filled with everything Kyoto! The menu consists solely of reasonably-priced course cuisine, with lunch courses of 8 dishes costing 2,950 JPY. There are 6 courses available in the evening, including 5 courses ranging from 6 items for 4,000 JPY to 11 items for 8,000 JPY, and another course, which comes with all-you-can-drink for 10,000 JPY. The menu changes every month to ensure the usage of top quality, seasonal ingredients. A dessert menu is also available, consisting of an assortment of seasonal Japanese and Western confectionary served with coffee.
Kyoto Gion Kawamura Ryori Hei
15. Gion Bansan Kyoshoku (Gion-shijo)
Gion Bansan Kyoshoku serves tempura of seasonal ingredients and chicken cuisine. The interior makes good use of a Kyo-machiya (Kyoto's old merchant's house) with an abundance of Japanese-ness to help customers relax and enjoy their food. One of the specialties of the restaurant is the [Iroiro Tempura Platter] (1,400 JPY), served with 3 different varieties of salt. Also highly recommended is the [Nanatani Aka Jidori Yakitori Platter] (4 items from 1,100 JPY), where chicken is grilled with salt. Customers can choose to put some yuzu (citrus fruit) pepper on their yakitori before eating it. The [Nanatani Aka Jidori Sashimi Platter] (2,000 JPY) contains a range of rare cuts of chicken for comparison.
Gion Bansan Kyoshoku
Please make good use of this article when looking for something good to eat while sightseeing around Kiyomizu Temple!
Disclaimer: All information is accurate at time of publication.