Publish-date: Nov 24 2017 Update-date: Jun 27 2019
Like and Share us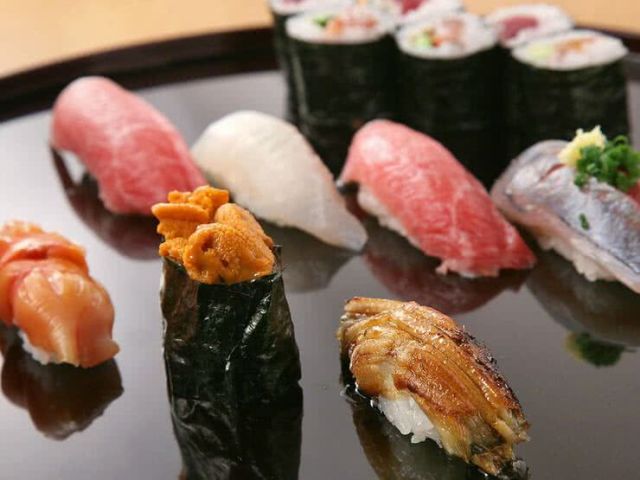 Ueno, which has been continually developing ever since Ueno Station opened as a terminal in 1883, has now started to take on the characteristics of a tourist spot, with the increasing number of visitors to Ueno Zoological Gardens and Ueno Onshi Park. Since the National Museum of Western Art has been registered as a World Heritage Site, Ueno is now becoming the center focus of attention. Whether you are sightseeing, shopping, or simply want to enjoy some sushi after work - here are 15 sushi restaurants for you to try. Good food, good atmosphere, and good service are guaranteed. Which one will be your new favorite restaurant?
1. Maguro Basara Ueno Branch
Maguro Basara Ueno Branch is a restaurant that specializes in tuna. There are all types of other dishes as well, from sashimi prepared with fresh tuna delivered directly from Misaki Port to tuna hot pots, broiled tuna on skewers, and grilled tuna. There are many popular dishes for tuna fans, such as [Maguro Zen Mori] in which you can compare various kinds of tuna in a single dish, and the special [Basara Yaki]. There are private rooms, semi-private rooms, and stylish rooms, all with a Japanese aesthetic and ambiance. It has great accessibility, and is only a 1 minute walk from Ueno Station. These conveniences all contribute to the attractiveness of this restaurant.
Maguro Basara Ueno Branch
2. Ikina Sushi Hyakumangoku
Why don't you have some luxurious sushi at an elegant curved wooden counter? The master of Ikina Sushi Hyakumangoku puts all his energy into preparing sushi, with the hope that even more people will enjoy the taste of this traditional type of food. They also strive to preserve the fish in perfect condition, with the use of a specially ordered ice refrigerator. The master's day starts at 5:00 am, with the challenge of making the best sushi they can serve for that particular day. After preparing the ingredients thoroughly, the master puts all their heart into preparing the typical Edo-style sushi. You don't want to miss out on the master's choice of sushi!
Ikina Sushi Hyakumangoku
3. Banyayoichi Ueno Branch
In a restaurant bustling with Ueno Ameyoko's lively energy, you can find a variety of dishes, such as Shichirinyaki Grill, Nigiri Zushi, and colorful assorted sashimi dishes prepared from seasonal seafood purchased from Tsukiji Market every day. The [Nigiri Zushi], prepared with plenty of seasonal ingredients, are highly recommended and quite reasonably priced. Since the restaurant is open until 2:00 am from Monday - Saturday, it's also a great place to stop by and relax. The lunch menu also contains dishes that are full to the brim, such as the Extra Large Kakiage-don. You should definitely give them a go!
Banyayoichi Ueno Branch
4. Kamadoya
Kamadaya, only 3 minutes away from Ueno Station by foot, serves Japanese food using only ingredients that are directly shipped from farms. [Honjitu no Oke Mori Shun Zakana] is a highly recommended dish where you buy a whole fish and choose how you'd like it to be prepared. This dish is a delicacy made from 300g of seasonal fish. You get to choose two cooking methods: Sashimi, grilled, boiled, deep-fried, Namerou (finely chopped with miso), or nigiri zushi. Enjoy the fish with your preferred combination of cooking styles! The interior, with its warm sand walls and woodwork, has authentic Japanese decor. The result is a mature atmosphere that's suitable for dates, as well as for business appointments.
Kamadoya
5. Uogashi Nihon-Ichi Okachimachi Branch
Uogashi Nihon-Ichi Okachimachi Branch is one of the few sushi restaurants which has Baisenken (the right to participate in auctions) at Tsukiji Market. Taking advantage of this, they purchase the freshest fish at the best prices. Occasionally, they will get their hands on really rare fish that you have probably never heard of or seen before. You'll enjoy each piece of sushi created by the skilled sushi chefs, who use all their skills in order to prepare and make the sushi. These skilled chefs include Wakatabe, who has dedicated 35 years of his life to perfecting his technique.
Uogashi Nihon-Ichi Okachimachi Branch
6. Kouya Ueno Ekimae Branch
This restaurant is located 3 minutes away from Ueno Station on foot. When you arrive, you will be guided into one of many spacious and relaxing private rooms through a fascinating hallway with a musical atmosphere. Kouya Ueno Ekimae Branch has many recommended dishes, including the assorted fresh seafood sashimi with carefully selected live crabs. These crabs have a fresh meaty texture, and come directly from the fish market. Other amazing dishes include the [Nagasaki-Kensan Masaba no Kabosushime Hyoketsu Plate Mori]. The restaurant is suitable for parties in private rooms that can seat up to 80 people, as well as business meetings and dates!
Kouya Ueno Ekimae Branch
7. Sushi Shunsai Takanoha Ueno 2-Go Branch
Sushi Shunsai Takanoha Ueno 2-Go Branch is a stylish sushi restaurant that's located one street away from Chuo Street, which is in front of Ueno Station. It is known for its elegant atmosphere that's suitable for business meetings. The seafood delivered daily from Tsukiji Market is full of flavor and great for sushi and sashimi, or even grilled or boiled. There are some rare dishes that you don't see often, such as tuna tail roasted on a hot plate, or stew cooked with tuna eyeballs! Seafood and tuna lovers must come to this restaurant to enjoy the various tuna dishes that the restaurant is so proud of.
Sushi Shunsai Takanoha Ueno 2-Go Branch
8. Miura Misaki Kou Ueno Branch
The famous [Yamamori Gunkan] in Miura Misaki Kou Ueno Branch has been a hot topic among various media outlets. The high-quality tuna that they purchased at Misaki Port is served at a reasonable price. The [Misaki Maguro Nakaochi] is an especially popular dish, with the tuna almost pouring out of the seaweed. Since a wholesaler runs this Kaitenzushi (rotating sushi restaurant), they can offer good tuna, as well as other fresh ingredients from Tsukiji Market, at lower prices. It's a sushi restaurant that people of all ages can enjoy. The warm customer service combined with the intimacy created by the limited available seating, contributes to its popularity.
Miura Misaki Kou Ueno Branch
9. Sushi Takanoha
This restaurant is only a 2-minute walk from Ueno-hirokoji Station's A3 Exit. At Sushi Takanoha, you can enjoy Edo-style sushi made with fresh ingredients purchased daily from Tsukiji Market. Seasonal ingredients meant to be cooked and served are carefully selected here. It's a good idea to ask about and order the friendly chef's recommended dish of the day. The restaurant has a lively yet luxurious atmosphere. Private rooms with sunken kotatsu tables are available for business meetings and dinner parties. There is also counter seating for couples or solo diners.
Sushi Takanoha
10. Isshin
Yoshifumi Watanabe, the last apprentice of the 4th Master of Yanagibashi: "Miyako Zushi", is the manager of Isshin. As you go through the heavy door of this luxurious-looking building, you will see an elegant white wooden counter which spreads across the restaurant. The [Omakase Menu] prepared by the talented young master is highly recommended. There are various sashimi and grilled dishes, as well as Edo-style sushi, which is made after preparing the fresh ingredients that are purchased on the very same day. This is the best possible way to help diners appreciate the flavor of the ingredients properly.
Isshin
11. Yoshi Zushi Ueno Branch
Yoshi Zushi Ueno Branch only offers sushi that has been skillfully prepared using seasonal fresh fish that they purchase every morning at Tsukiji Uogashi. They only choose the fish after examining the actual produce in order to determine if they were grown wild and seasonal. This is so that their customers can fully enjoy the fatty and tasty ingredients. They have attractive and reasonable prices because they purchase only what they need on that day. The chef's recommendation, [Sashimi Mori Awase] (assorted sashimi), is a true work of art!
Yoshi Zushi Ueno Branch
12. Kameshichizushi
Close to Naka-okachimachi Station, you can see a well-aged, prestigious sign on the traditional downtown street. In Kameshichizushi, the cheerful master cooks a fresh Kaisendon (salmon roe, scallops, eel, tuna, white fish, tentacles, octopus, egg, cucumbers, and pickles that are all packed tightly into a sushi tub). It is accompanied with miso soup. The restaurant is very popular, so it's common for there to be no vacant seats during lunch hours. Enjoy Kaisendon in a cozy and somewhat nostalgic restaurant.
Kameshichizushi
13. Kaisendokoro Sushitsune Atré Ueno Branch
Kaisendokoro Sushitsune is inside the Atré Ueno shopping mall, which is just outside of Ueno Station's Central Gate. You can enjoy reasonably priced traditional sushi that the sushi chefs put their hearts into preparing, right at the counter. On top of the fresh seafood, the recommended seasonal dishes are a sumptuous treat. There is an exciting tuna filleting event that is held every Saturday and Sunday, starting from 5:20 pm. Rest assured that you will enjoy the show. This restaurant is suitable for all occasions, regardless if you are dining alone or with your family.
Kaisendokoro Sushitsune Atré Ueno Branch
14. Tsukiji Sushisay Ueno Branch
Tsukiji Sushisay Ueno Branch opened at Tsukiji in 1889, and now operates on the 2nd floor of a building in front of Ueno Station. This popular restaurant has branches not only in Japan, but also overseas, including a branch in New York. The bright and clean interior, good atmosphere, and customer service have helped earn its good reputation. Some set meals for lunch that you can enjoy are the [Nigiri] or [Chirashi]. For dinner, popular options are [Nigiri Mori Awase] (assorted sushi) and [Omakase Nigiri] (recommended sushi). Soup, chawanmushi (steamed egg hotchpotch), and bracken-starch dumplings come with all set dishes. Be sure to try them out!
Tsukiji Sushisay Ueno Branch
15. Kanpachi Main Branch
Surrounded by bamboo plants, the restaurant Kanpachi Main Branch is cozy and relaxing. It was established in the 39th year of Showa (1964) and the master, Hiroshi Yamada, has been preparing sushi for 65 years now. This experienced and talented sushi chef has served his sushi to important people in business world, including a former French president. Frequent media attention praising the customer service and describing the ingredients in detail has made this a very popular restaurant, which is why it is full of customers every day. When you visit Ueno or Yushima, be sure to experience sushi that the chefs put their heart and soul into.
Kanpachi Main Branch
Disclaimer: All information is accurate at time of publication.