Publish-date: Nov 22 2018 Update-date: Feb 14 2019
Like and Share us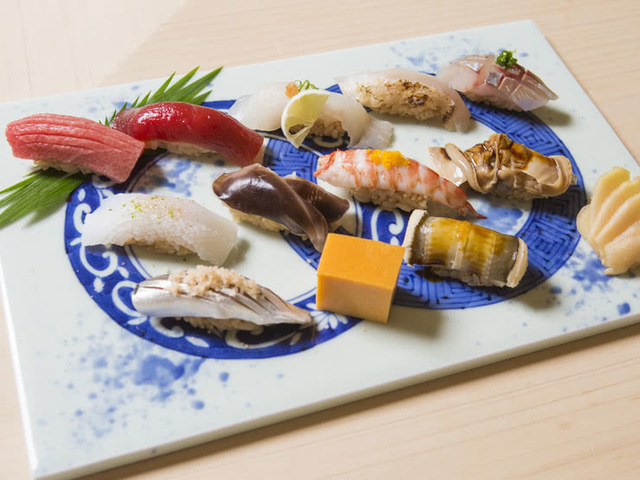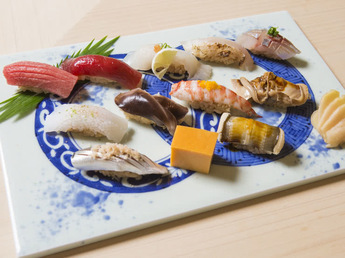 In Osaka, you can dine on sushi with super fresh toppings, consisting mostly of seafood caught in the Seto Inland Sea, known for its fast tides. You can enjoy the unique sushi culture of Osaka, such as oshizushi (sushi pressed in a mould). This article will introduce 15 recommended spots to get sushi in the city of Osaka.
1. Sushi Monji (Kitashinchi)
A sushi restaurant where you can taste exquisite sushi dishes made with fresh, seasonal seafood. The master chef puts the customers' satisfaction first, so every piece of sushi is carefully prepared, creating the perfect balance of fresh seafood and shari (seasoned rice). Aside from the nigirizushi (hand-formed sushi), try their futomaki sushi (thick rolled sushi) that is very appetizing with its colorful appearance. The generous filling of luxurious ingredients like eggs, eel, herring roe, and shrimp makes it a winner. Sushi Monji also offers new-age cuisine and meat dishes so that guests can enjoy a diversity of flavors.
Sushi Monji
2. Sushi-Cho HARU (Osaka Tenmangu)
At Sushi-Cho Haru, you can fully enjoy seasonal sushi and finely selected sake at a leisurely pace. When selecting the ingredients, the master chef makes sure to get the most in-season and freshest seafood of the day. The sushi is simply seasoned with salt, so the umami (Japanese savory taste) of the toppings and the sweetness of the rice stand out. Diners will surely be spellbound by the flavor. The super-mini rice bowls are popular dishes that will make you crave for more and more. Another favorite is the anago nigiri (conger eel sushi). The anago is procured from a well-known shop in the Osaka-Sakai area and grilled until tender.
Sushi-Cho HARU
3. Edomae Sushi Shionigiri Matsugen (Sakai)
In one corner of Sakai Ward stands this classic sushi restaurant. As you open the door, you will be welcomed to a relaxing, Japanese-style space. From the counter seats, you will see the row of sushi toppings that are prepared while still very fresh. The signature dish, [Omakase Nigiri Course], is a platter of Edo-style sushi and nigirizushi. The sushi has been seasoned with kombu (kelp) and salt, so you can eat them as it is without dipping them in soy sauce, savoring the inherent flavor of the ingredients. Try also their temari sushi with ochazuke (round sushi over green tea broth), and you'll get a happy feeling of satisfaction.
Edomae Sushi Shionigiri Matsugen
4. Sushi-Dokoro Kurosugi (Kitashinchi)
Going to a place that has no menu may be intimidating, but in this high-class restaurant you will feel welcomed by its friendly staff and its comfortable atmosphere. The fresh seafood they use are directly sent from various parts of the country and ensured to be safe and free of chemicals. Have a try of their [12-Piece Nigiri], which you can enjoy with the restaurant's suggested toppings. The shari has a refreshing taste, as it is uniquely seasoned not with sugar, but with akazu (red vinegar made from fermented sake lees) and salt. They have an abundant selection of sake and wines, with the latter carefully selected by a certified sommelier.
Sushi-Dokoro Kurosugi
5. Sushi Hoshiyama (Kitashinchi)
This sushi spot, frequented mostly by its regular patrons, has a secluded feel amid the downtown area of Kitashinchi. All their dishes are multi-course meals during which each individual item is served at the perfect timing. As for the toppings, they pay particular attention to where they come from. Their octopus and amadai (tilefish) are procured from Akashi, while the kohada (gizzard shad) is from Amakusa. They put a special touch in preparing the ingredients, like parboiling or wrapping them with kombu, to bring out their flavors to the fullest without ruining the original flavors. Aside from the food, their special tableware, such as the Imari ware and antique glasses, are worth your attention.
Sushi Hoshiyama
6. INASE zushi (Osaka)
For over 50 years, INASE zushi has pursued authenticity in serving sushi that is prepared by a hospitable master chef at reasonable prices. This popular restaurant draws a lot of travelers from abroad, as diners love the amicable personality of its master chef. INASE zushi makes sure that they procure each morning only locally produced seafood, varying according to the season. They use alkaline ionized water for cooking, while the tea served is organic. They thoroughly check and assure the quality of their ingredients. A recommended dish is the [Nigiri Set], which features a generous serving of nigirizushi, skillfully made and showcasing flavors that will captivate its diners.
INASE zushi
7. Sushi Hiromi Kitashinchi branch (Kitashinchi)
This sushi spot is on the first basement floor of a building in the Kitashinchi area. The wide array of nigirizushi are prepared by the proprietor himself, who professes a deep fascination with sushi. Their sushi are prepared using a unique blend of akazu and rice vinegar, without any sugar so that you can enjoy the natural sweetness and delicious taste of the toppings. The toppings used are natural ingredients and the best seafood the season has to offer. Besides the sushi, they have plenty of dishes that present seasonal seafood, like sashimi and yakimono (grilled dishes). The warm Japanese-themed space, with its impressive hinoki (cypress) counters, allows you to spend time leisurely.
Sushi Hiromi Kitashinchi branch
8. Sushi Suzume (Nipponbashi)
This dining spot uses all-natural and unprocessed ingredients purchased at the Kuromon Market, also called "Osaka's Kitchen." Here, sushi can be ordered one at a time to cater to different kinds of customers who wish to taste delicious seafood. They also consider their guests' budget and preferences. One dish you should try is their [Matsumae Sushi], a traditional oshizushi commonly eaten in Osaka. This dish is made with mackerel and kelp. You can even take some home as a souvenir. Along with their delicious food, you will love the kind reception of the couple who own this well-known place.
Sushi Suzume
9. Sushiman (Osaka Abenobashi)
Established in 1653, this long-standing restaurant has continued to preserve the food culture of Osaka. Here, you can delight in a variety of sushi, from the classic ones to the spectacular and creative kinds. [Osaka Sushi] is their signature dish consisting of oshizushi and makizushi (rolled sushi), which are both Osaka specialties. It's a recommended treat packed with all the elements of kaiseki cuisine (traditional Japanese multi-course meals). They also have [Hannuki Nigiri Sushi], in which the sushi is presented at half the average size so that they are easy to eat. The dishes are served with thoughtful attention, as expected from a well-established restaurant.
Sushiman
10. Sushi MISUJI (Watanabebashi)
At Sushi MISUJI, you can experience authentic Edo-style sushi, a rare offering in Kansai. The chef carefully selects the rice for making the shari, and the vinegar is akazu, a traditional kind used since the Edo period (1603 - 1867). The toppings are fresh seafood sent directly every day from the markets in Tokyo and the fishing port in Akashi. They have a rich lineup of wines and sake. Their resident sommelier will be delighted to suggest the best wine to pair with your sushi. Its clean and calm ambience lets you completely enjoy the elegance of Edo-style sushi.
Sushi MISUJI
11. Champagne & Wine Jukuseizushi Rikyu (Fukushima)
This restaurant is overthrowing the fixed concept that the delicious quality of sushi lies with freshly caught produce. Their "aged sushi" is characterized by the increased umami and sweetness of aged fish, which melts in your mouth while entwined in the sticky shari. For instance, when tuna is aged, the flavor of its lean meat becomes stronger, while the change in its toro (fatty part) makes it easier to eat. The restaurant lets you enjoy a deep flavor achieved by expanding the possibilities of sushi. They also have excellent wines that go together with the sushi perfectly and are also slowly aged. The place looks like a private residence at first glance, but once you open the door, you will be welcomed by an extraordinarily sophistic
Champagne & Wine Jukuseizushi Rikyu
12. Kitashinchi Sushi Shirakawa (Kitashinchi)
Found away from the main roads, this sushi hideaway imbues an elegance based on the Japanese concept of harmony. The restaurant offers sushi prepared with fresh seafood that is procured and selected from the market by the owner himself. One dish you should try is their [Okonomi Nigiri], a sumptuous platter that contains recommended in-season toppings. For the rice, they use the Koshihikari variety. Meanwhile, they use akazu in creating their blend of sushi vinegar. They also have a great selection of sake they pair with the sushi. Since sake is to be consumed in a short period of time after opening, the varieties on offer here are carefully considered.
Kitashinchi Sushi Shirakawa
13. Sushihan Karamori (Hineno)
A Japanese-style restaurant where you can enjoy a variety of dishes that feature only top-quality seafood. Their sushi gives an immediate impression of the flavors of the ingredients. Among their best sellers are their [Chirashi] (sushi rice in a bowl with various ingredients on top), loaded with fresh seafood, and their [Extra Special Nigiri], a vibrant and flavorful dish. The bright and relaxing place is furnished with counter seats where you can see the chef preparing the sushi right in front of you. There are also calm and relaxing private rooms. Their good-value prices are also a plus.
Sushihan Karamori
14. Yataizushi (Sakai)
A sushi izakaya (Japanese pub) where you can taste fresh and delicious sushi skillfully made and offered at reasonable prices. You can have sushi at an amazing price of 59 JPY (plus tax), the most affordable in the list, with taste, size, and freshness guaranteed. In addition to their seasonal nigirizushi, they also have many dishes with creative twists like the izakaya staple, fried chicken wings. The design of the place makes you feel like you're eating at a yatai (Japanese food cart). The calm lighting provides a soothing atmosphere, so you will have an enjoyable time eating their delicious food.
Yataizushi
15. Yutaro Sushi (Izumisano)
Yutaro Sushi takes pride in procuring the best catch at the Izumisano Fisheries Cooperative Open-Air Fish Market. This restaurant is in the inside of this thriving market, which is also visited by travelers. The best feature of this restaurant is that it provides their customers the freshest toppings at an affordable price. Their menu items are all photogenic fare, like their [Large Kaisen-don] (rice bowl dish with seafood) that contains 12 kinds of toppings, and their extra special nigiri set meal (sold only on weekdays) that features a tempting anago tempura (battered and deep-fried conger eel). Their hearty course meals will fill you after doing your shopping at a nearby outlet mall.
Yutaro Sushi
This list just shows that Osaka houses a great selection of distinctive sushi restaurants ranging from affordable to luxurious. Make sure to drop by at one of these restaurants when you visit the city.
Disclaimer: All information is accurate at time of publication.