Publish-date: Jan 17 2018 Update-date: Aug 06 2019
Like and Share us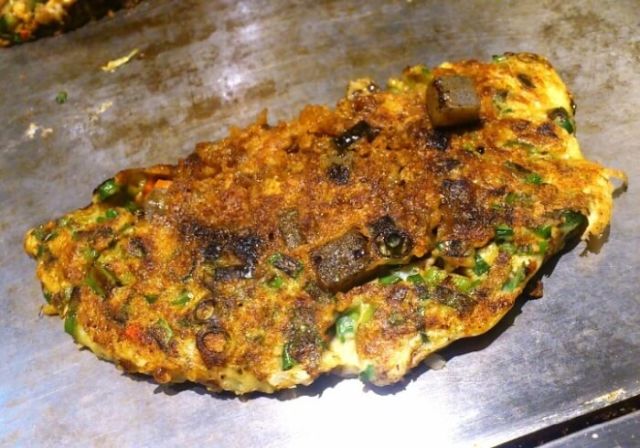 Umeda, which was recently redeveloped, is a part of Osaka that has both vestiges of the good old days and aspects that look like the near future. It is a fun area to stroll around in, and it's where you'll find many visitors from abroad. When you get hungry from walking around, what better dish to fill your tummy with than okonomiyaki (Japanese savory pancake)? Umeda's famous for it! This article introduces some of the top okonomiyaki restaurants, including some that are particular about their ingredients and others that place special emphasis on their batter.
1. Negiyaki Yamamoto Umeda Est Branch
Negiyaki Yamamoto, which has its main restaurant in Juso, is an extremely famous restaurant that everyone in Osaka knows. [Negi-yaki] (a type of Japanese savory pancake made with negi (welsh onions) instead of cabbage) originated at this restaurant, so you'll want to visit it at least once if you are in Osaka. Osaka is also famous for beef tendon, so a dish that you'll definitely want to try here is the [Suji Negi-yaki]. It is a simple negi-yaki with simmered [Suji-kon] (tendons and konnyaku (konjac jelly)). It is served with plenty of negi and a choice of ponzu (citrus seasoned soy sauce) or okonomiyaki sauce. The recommended sauce for this dish is the ponzu, as its acidity goes so well with the sweetness of the suji-kon, making it almost addictive. Try the [Maze-yaki], which is this restaurant's name for okonomiyaki, so that you can compare the flavors. The restaurant often has lines at lunchtime and at night, but you may be able to get in easily if you go early in the evening.
Negiyaki Yamamoto Umeda Est Branch
2. Kiji Main Branch
If Yamamoto is known for its [Negi-yaki], then Kiji is known for its [Modern-yaki]. Kiji has many branches, but the flavors are said to be the best at the main branch. Modern-yaki usually has a flour-based batter, yakisoba (fried noodles), and eggs as the ingredients, but the modern-yaki at Kiji is made just with eggs and yakisoba. Their yakisoba with just sweet and sour sauce added to the ingredients tastes wonderful. Beaten eggs are added to the yakisoba to create something that is almost like an omelet-noodle dish, but the sweet sauce and aonori (powdered dry seaweed) that is served on it makes it look like an okonomiyaki. This is a dish that you have to try for yourself to understand its strange yet fantastic appeal. The modern-yaki at Kiji will fall apart into noodles if eaten with chopsticks, so it is eaten with a small spatula that allows you to better enjoy the flavors. This is a dish that is definitely worth trying.
Kiji Main Branch
3. President Chibo Kita Branch
Chibo runs 2 types of okonomiyaki restaurants: the regular Chibo and President Chibo. This is President Chibo. There are many questions, such as: What is the difference? What kind of okonomiyaki is served? It can be summed up as: President Chibo serves "beautiful okonomiyaki". Not only do they look beautiful, but with choice ingredients like wagyu (Japanese beef) and Japanese tiger prawns​, they are truly "presidential" okonomiyaki. The recommended dish is the [President-yaki]. This is a restaurant that's definitely worth trying for those who want to enjoy both okonomiyaki and teppanyaki (ingredients grilled on an iron griddle).
President Chibo Kita Branch
4. Yukari Whity Umeda Branch
Yukari is known as the representative okonomiyaki restaurant of Osaka. It serves the rare [Okonomiyaki Teishoku], which combines [Okonomiyaki, Rice, and Miso Soup] into a set meal. This is something that you rarely see in the Kanto region - in fact, it might exist only in Osaka! This restaurant has a varied offering, which includes [Negi-yaki]. Within its offerings, people say that you must try the [Negi-yaki] topped with kimchi and karashi (Japanese mustard sauce), as it'll give you a punch of flavor with the original taste of the negi-yaki, the spiciness and acidity of the kimchi, and the spiciness of the karashi. Though there are places that serve it with karashi mayonnaise, there aren't many that serve it with karashi sauce.
Yukari Whity Umeda Branch
5. Tsuruhashi Fugetsu Yodobashi Umeda Branch
Tsuruhashi Fugetsu is famous for its [Modern-yaki] and [Fugetsu-yaki]. The [Modern-yaki] is an okonomiyaki with pork and other ingredients, such as shrimp and noodles, along with a batter that is fluffy thanks to a higher percentage of Japanese yam in it. It is a voluminous dish that will fill you up on its own. The sauces at Fugetsu are on the sweet side, and it is favored by those who prefer rich sauces. The sweetness is not clawing, but it is more fruity, so if you like a sweet sauce, be sure to try it! The restaurant also has a wide selection of side dishes, such as [Tonpei-yaki], which can be made into a [Cheese Tonpei-yaki] by ordering cheese as a topping.
Tsuruhashi Fugetsu Yodobashi Umeda Branch
6. Dontaku Doyama Branch
Dontaku in Doyama has a famous proprietress, and is also known for okonomiyaki that is outstanding both in its taste and volume. The recommended dish for when you want volume is the [Modern-yaki]. It has just the right amount of noodles, shrimp, and pork in it, and the batter is nice and fluffy. The regular [Okonomiyaki] has a fluffy and melty texture, which Dontaku is said to have created. Dontaku is the place to visit if you want fluffy and melty okonomiyaki. The side dish, [Sunazuri] (chicken gizzard), is also recommended. Why not order it to accompany your okonomiyaki?
Dontaku Doyama Branch
7. Pasania
Although okonomiyaki is often accompanied by fizzy drinks such as shochu (Japanese alcohol), beer, and hoppy, at Pasania, it is accompanied by wine. Wines go surprisingly well with okonomiyaki. In particular, the acidity of red wines goes particularly well with the sweetness of the okonomiyaki sauce. This restaurant serves mainly course meals, but you can order okonomiyaki as an a la carte dish to add to them. Why not order [Modern-yaki] and experience the pairing of okonomiyaki and wine?
Pasania
8. Messe Kuma
Messe Kuma is said to have the most well-rounded flavors among the many okonomiyaki restaurants in Umeda. Its okonomiyaki has balanced flavors, so people can enjoy it to the last bite without getting tired of it. This is a restaurant that's recommended for anyone who wants to enjoy their dish to the very end. The restaurant offers a choice of 3 sauces: [Hermes Sauce], [Carp Sauce], and [Tartar Mayonnaise Sauce], all of which are well worth trying!
Messe Kuma
9. Momotaro Lucua Osaka Branch
Momotaro Lucua Osaka Branch
10. Mifune
Mifune is a long-established okonomiyaki restaurant. Nowadays, more restaurants are cooking the okonomiyaki for you before serving them, but at Mifune, you get to cook it yourself! You're free to cook it any way you like. They have simple ingredients like [Pork, Squid, Shrimps] that'll allow you to taste simple flavors. It's possible to overcook and burn your okonomiyaki, but listening to the advice of the proprietress while cooking is apparently a good strategy to avoid that. It's fluffy and stretchy, and will definitely make you exceptionally satisfied. Their [Yakisoba] uses extremely thick noodles, and is cooked by the restaurant. The best way to eat them is by dipping them into some raw egg!
Mifune
11. Onomichi Murakami
This is a restaurant serving Hiroshima-style okonomiyaki that's called [Onomichi-yaki]. It is located in Osaka. It is a type of okonomiyaki that consists primarily of cabbage and noodles, and it is popular among those familiar with Osaka-style okonomiyaki. Though it is an okonomiyaki with noodles, it is different from modern-yaki, which has a sweet sauce. The [Tonpei-yaki], which is a side dish, is also outstanding, so be sure to try both the [Onomichi-yaki] and [Osaka Tonpei-yaki]! At this restaurant, you'll be able to enjoy Osaka and Hiroshima flavors all at once. The fact that Hiroshima-style okonomiyaki is becoming so popular in Osaka is a testament to its fantastic flavor!
Onomichi Murakami
12. Ikayaki
In addition to okonomiyaki that's served at a table and those that are grilled on an iron griddle, there are restaurants that serve okonomiyaki as snacks. Ikayaki in Hanshin Department Store is so famous that it is considered to be a Hanshin specialty! Customers at the department store are tempted by the [Ika-yaki], which has a simple flavor, chewy batter, and firm pieces of squid. It is perfect for enjoying while shopping. The sauce is more similar to Worcestershire sauce than okonomiyaki sauce. The prices are reasonable, so you can even pick up 2 of them! In addition to the simple [Ika-yaki], there are variations like the [Negi-ika] and [Deluxe], so many try several of them in order to figure out which one their favorite is. If you are at Hanshin Department Store, be sure to give it a try!
Ikayaki
13. Sakura
Sakura is a popular restaurant for [Modern-yaki]. Not only is it tasty, but it is also served swiftly after ordering. The restaurant is famous for bringing out the drinks within 15 seconds of the order being placed. The flavors are created with standard okonomiyaki sauce, mayonnaise, and aonori, and the ingredients are plentiful. The batter is springy, as is expected of Osaka-style okonomiyaki. This restaurant also serves [Tamago Bukkake Yakisoba], which is similar to the [Modern-yaki] at Kiji. This is another outstanding dish, so be sure to try it as well. This is a restaurant that you can't miss if you are in Shin-Umeda Shokudogai.
Sakura
14. Omoni
This is a branch of the popular okonomiyaki restaurant in Tsuruhashi called "Omoni". The restaurant is famous for its [Kimchi-iri Okonomiyaki]. It reflects the restaurant's name, which means "mother" in Korean. Some may wonder how it is different from buchimgae (Korean savory pancake)​, but it is truly an okonomiyaki. The okonomiyaki at Omoni has a lot of ingredients in comparison to the batter, such as tendons, konnyaku, kimchi, negi, cabbage, and a relatively large amount of eggs. The sweetness of the tendons, the acidity of the kimchi, and the texture of the vegetables are all fabulous. The flavors can be adjusted by the customer by changing the combination of sauce and mayonnaise. The main restaurant in Tsuruhashi is popular, but the branch offers flavors that are just as good.
Omoni
15. Fukutaro Umeda Branch
This is a branch of Fukutaro, whose main restaurant is in Sennichimae. Fukutaro has branches around the country, and it is known for its voluminous okonomiyaki. They say that if you want to get full on okonomiyaki, then go to Fukutaro! The okonomiyaki is fabulous, with large chunks of ingredients, a fluffy batter, and sweet sauce. There are various mixtures of ingredients, such as [Butaniku/Ika/Ebi] (pork, squid, shrimp). The [Triple Tama-yaki] is a highly recommended menu item. The [Tonpei-yaki], which is a side dish, is also tasty, and it is worth ordering along with the okonomiyaki.
Fukutaro Umeda Branch
Disclaimer: All information is accurate at time of publication.