Publish-date: Nov 23 2018 Update-date: May 30 2019
Like and Share us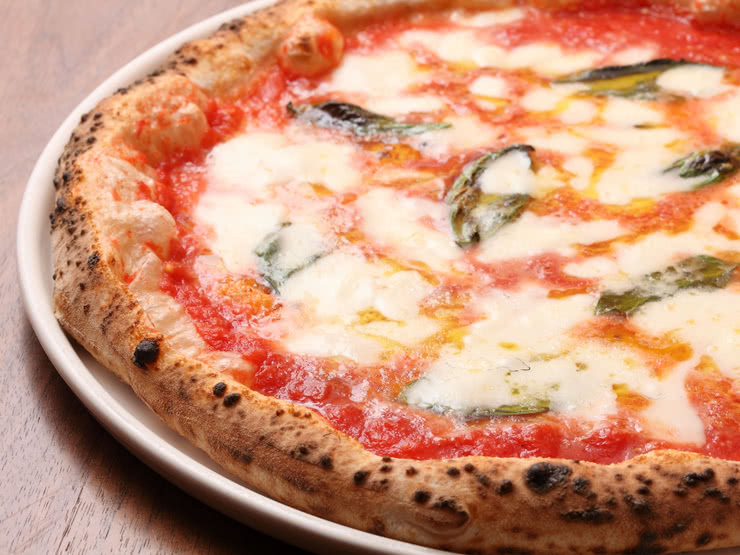 There are many Italian restaurants and pizzerias in Tokyo. Here are 15 recommended spots in this city where you can enjoy excellent pizza.
1. Italian and Bar, Aqua uenokoen-mae Branch (Keisei Ueno)
Italian and Bar, Aqua uenokoen-mae Branch is very popular for its Neapolitan pizza, a dish that conjures the authentic flavors of its home and is made by a chef whose training focused on pizza. Recommended choices are the [Margherita Pizza], whose combination of mozzarella cheese and basil will only make you want more, as well as the [Marinara Pizza] with its addicting flavors of oregano and garlic. And then there are the buffet lunches and dinner courses, featuring all-you-can-eat pizza! Relax in this restaurant's warm, comfortable interior and try the large selection of wine while you enjoy the authentic flavors on offer.
Italian and Bar, Aqua uenokoen-mae Branch
2. Ventuno Tokyo (Shibuya)
A casual atmosphere permeates the wide, open interior of Ventuno Tokyo, a reasonably-priced natural wine bar located in Center Gai, the heart of Shibuya. Enjoy natural wines, mainly from Italy, along with the [Cheese Lover's Cheese Mix] and [Ventuno's Pepperoni Sausage and Spinach Pizza]! Wine can be ordered by the glass as well, so why not try pairing various options with your pizza?
Ventuno Tokyo
3. De Niro (Jimbocho)
De Niro is a reasonably-priced Italian restaurant located in the retro downtown area of Kanda in Tokyo. The chef personally visits the market every day to select ingredients that are in season, providing diners with a chance to sample authentic flavors at a decent price. The [Vegetariana Pizza], [Tons of Seafood Pizza], and [4 Cheese Pizza] are just some of the many pizzas offered here, all of which are made using carefully selected ingredients. It is also recommended that, along with your pizza, you try the most popular dish, the [Capriccio Salad], made with seasonal vegetables and fruits!
De Niro
4. Ginza ZION (Ginza)
Ginza ZION is located in front of the new and popular Ginza Six, which is a convenient 1 minute walk from Ginza Station and Higashi-ginza Station. The interior is based on cafes found abroad, with rows of cute cushions that create a comfortable atmosphere, and the pie pizza, a house creation, comes highly recommended here. The [Quattro Formaggio Pizza] with its crunchy crust covered in 4 kinds of rich cheese sauce and the [Bismark-Style Meat Pie Pizza], featuring house Bolognese sauce and a soft-boiled egg, are both highly popular menu options!
Ginza ZION
5. La Coccola (Gaiemmae)
La Coccola, tucked away on a second floor, offers house takes on Italian cuisine. The understated wood interior adds to the hidden feeling and is overflowing with a comfortable warmth. Fresh vegetables, seafood, and meat, brought in through private connections, are used here. While technically the same dish, no two of these superb plates look quite the same, thanks to the chef's spur-of-the-moment inspirations. The window seats, lit by natural sunlight, are the perfect place to enjoy the pizza, pasta, and other Italian cuisine brimming with originality.
La Coccola
6. Pizzeria Fantasista due (Azabu-juban)
Pizzeria Fantasista due has received lots of media attention and is a mere 30-second walk from Azabujuban Station. The chef at this casual Italian spot is a pizza specialist who trained at a famous Italian restaurant. Savor the creamy flavor of the excellent [Carbonara Pizza], covered by media outlets, as you break open the soft-boiled egg on top. You are also sure to enjoy the classic [Margherita Pizza], with its texture that is both light and springy. There is also a large wine selection here that pairs well with Italian cuisine!
Pizzeria Fantasista due
7. HALAL Pizzeria Santa Fe (Iriya)
HALAL Pizzeria Santa Fe uses only halal-certified ingredients, which is quite rare for a restaurant in Japan. This restaurant's cute exterior is notable for its tile art that evokes Italy. The pizza, cooked in a specially made stone oven, is a popular choice here. Italian wheat flour, fresh yeast, salt, and water are mixed using the golden ratio to create a springy texture. The recommended dishes here are the classic Neapolitan [Margherita Pizza], as well as the [Avocado and Fermented Squid Paste Pizza] - a surprisingly good combination.
HALAL Pizzeria Santa Fe
8. Pizzeria da Granza Senzoku Main Branch (Senzoku)
Pizzeria da Granza Senzoku Main Branch is owned by the 2012 winner of the Neapolitan Pizza Artisan Contest. The pizza master from Azabu Juban opened this restaurant in Senzoku, where authentic Neapolitan pizza is cooked in a wood-fired oven. A deep green palette and warm wooden interior work well together here, creating a calm, refined atmosphere, and you can sample many kinds of pizza at this famous restaurant, from the [Pizza Margherita] that took first place in the contest to the [Pizza Bismark] with its melty soft-boiled egg!
Pizzeria da Granza Senzoku Main Branch
9. Pizzeria Ciro Higashi Nakano Branch (Higashi-nakano)
The pizza at Pizzeria Ciro Higashi Nakano Branch is made with Italian ingredients and cooked in an Italian-made wood fire oven. Restaurant decorations here consist of paintings and photos of Naples, making for a chic atmosphere, which, combined with the excellent service, creates a feeling of being Italy. People from around the world frequently visit this famous restaurant which offers no less than 31 different kinds of pizza! Popular items include the [Margherita Pizza], which showcases the flavors of its ingredients - pizza dough, tomato sauce, mozzarella cheese, and basil - as well as the [Pizza Fritter], a pizza wrapped in dough and deep-fried, that was featured on TV.
Pizzeria Ciro Higashi Nakano Branch
10. Pizzeria Bar Fantasista (Okachimachi)
The pizza at Pizzeria Bar Fantasista is made by the highly-ranked winner of the Japanese National Neapolitan Pizza Artisan Championship. This hidden-away spot has a casual bar atmosphere, and a large wood-fired oven greets you as you enter. You are sure to enjoy the delightfully chewy Neapolitan-style [Margherita Pizza] and [Carbonara Pizza] cooked inside this oven here. There is a large selection of bottled wines as well! This eatery is mainly for just enjoying a glass of wine at the bar, but there are course options for hearty eaters as well.
Pizzeria Bar Fantasista
11. Organico (Jiyugaoka)
Organico offers original takes on Neapolitan pizza, featuring their own unique arrangements. The owner and chef call on many years of experience when creating the dough by combining three different flours in specific amounts and then leaving it to rise for over one night, resulting in pizza with a light texture. Furthermore, the fresh vegetables used here are organic, provided by contracted farmers in the prefectures of Yamanashi and Chiba! Choose from a total of 18 kinds of pizza, such as the cheese-free [Cicinielli Pizza], perfect for savoring the taste of the wheat!
Organico
12. Trattoria e Pizzeria De Salita Akasaka (Akasaka-mitsuke)
This antique Italian bar is a 2-minute walk from Akasaka-mitsuke Station, and the tiled walls and glass chandelier create the feeling that you're in a completely different country. There are over 20 kinds of pizza offered here, from the [Margherita Pizza] and [Quattro Formaggi Pizza] to the [De Salita Pizza], featuring Italian prosciutto! The freshly made pizza's shape also changes depending on the chef's mood - one more fun thing to look forward to!
Trattoria e Pizzeria De Salita Akasaka
13. Pizzeria YUICIRO&A (Tachikawa)
This authentic stand-alone pizzeria has a homey feel, and the pizza is cooked at an optimal 400 - 500 degrees using a wood-fired oven produced by the venerable Neapolitan pizza oven manufacturer "Acunto Napoli," resulting in a crisp crust and chewy interior. The [D.O.C. Pizza] features the refreshing sweetness of mozzarella cheese made from Italian buffalo milk, while the [Biancanella Pizza] uses Grana Padano cheese and fresh shirasu (whitebait). Both are popular options!
Pizzeria YUICIRO&A
14. Pizzeria Imola (Jiyugaoka)
Pizzeria Imola has a connection to the Italian city of Imola. The driver suits and many other F1 items used at the race circuit in Imola decolate the stylish concrete interior with conjuring images of this Italian city. The original [Extra Meaty Pizza], previously featured on TV, and the [Bismark Pizza] are both popular choices! What's more, there is a 70-minute, all-you-can-eat Neapolitan pizza offer every Thursday!
Pizzeria Imola
15. Pizzeria Bar Napoli Kichijoji Main Branch (Kichijoji)
Enjoy high-level Italian cuisine created from select ingredients for a reasonable price at Pizzeria Bar Napoli Kichijoji Main Branch. The restaurant stretches over 3 stories, and each floor has a different feeling, so there is a perfect option for any occasion. There are over 10 kinds of authentic pizza here that are only prepared to order using a 500-degree oven. The [Premium Margherita Pizza], not on the regular menu, is only offered when Italian buffalo milk mozzarella is available and is very popular!
Pizzeria Bar Napoli Kichijoji Main Branch
You can sample a wide variety of authentic pizza in Tokyo - from the classic Margherita to carbonara, which is currently garnering attention on TV - so you are sure to find one that you like amongst all the options available!
Disclaimer: All information is accurate at time of publication.