Publish-date: Dec 19 2018 Update-date: Dec 31 2018
Like and Share us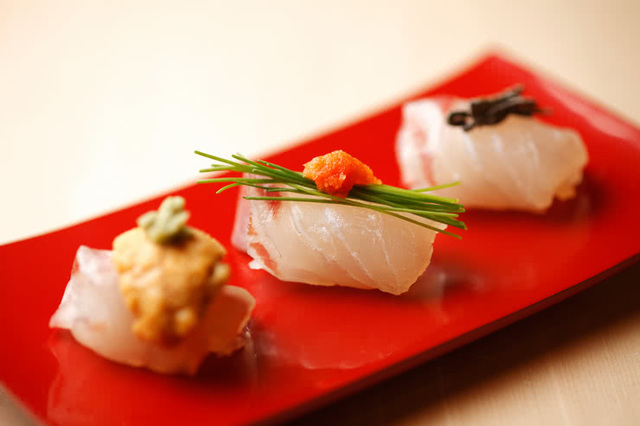 Ginza is a place where you can find fantastic food from around the country. It is a district with a sophisticated atmosphere filled with outstanding restaurants. This article introduces 15 noteworthy restaurants in Ginza for sushi.
1. Ginza Sushi Aoki Ginza Main Store (Ginza)
Ginza Sushi Aoki
2. Sushi Fujita (Higashi Ginza)
This is a sushi restaurant near Kabukiza Theater with counter seating only. The menu consists of two [Omakase Course] (12,000 JPY and 15,000 JPY), through which you can have your fill of sushi and other dishes made with seasonal ingredients, as well as a-la-carte [Nigiri Zushi] of your favorite toppings. The plump and soft anago (conger eel) with light fat is outstanding! The sweet sauce with the aroma of soy sauce enhances the flavors of the anago. The restaurant has eight seats positioned with plenty of room for each customer along with a white wooden counter and is a comfortable space with simple furnishings and warm wood tones.
Sushi Fujita
3. Sushi Kanesaka (Shimbashi)
Sushi Kanesaka
4. Ginza Sushi Dokoro Shin (Ginza)
Ginza Sushi Dokoro Shin
5. Otaru Masazushi Ginza (Ginza-itchome)
The port city of Otaru in Hokkaido is popular as a place to enjoy sushi made with fresh seafood. Otaru Masazushi Ginza originated in Otaru, so you can expect to have a variety of excellent seafood! The specialty [Chef's Special Sashimi Course] (10,000 JPY) is an eight-course dinner that starts with appetizers and includes both sashimi and sushi of fresh seafood procured directly from Hokkaido. There are lovely courses with attractive prices for both lunch and dinner so you can enjoy yourself without worrying about money.
Otaru Masazushi Ginza
6. Ginza Fujita (Shimbashi)
Ginza Fujita
7. Ginza Genkai Sushi (Ginza)
Ginza Genkai Sushi
8. Ginza Koshitsu Koya Ginza Branch (Ginza-itchome)
This is not a sushi restaurant but an all-private room izakaya (Japanese pub) that specializes in creative Japanese cuisine with courses that include sushi. The [Special Selection Tsubaki Course] that includes three hours of bottomless drinks is reasonably priced at 7,500 JPY, and, if there is availability, you can get a private room for groups of two people and up. This is the perfect restaurant to enjoy reasonably priced Japanese cuisine in big groups.
Ginza Koshitsu Koya Ginza
9. Sushi Makoto (Shimbashi)
When you enter this fifth-floor restaurant, you will first see the Japanese cypress counter with the chef standing behind it. The sushi made by the owner who trained at a famous restaurant in Akasaka is traditional Edo-style sushi that shows off his careful work. The recommended sushi to order from the chefs who have supremely reliable skills on preparing kohada (konoshiro gizzard shad). The kohada is flavored differently depending on the weather and temperature, and it is a tricky ingredient to handle that clearly shows the skill level of the chef. At this restaurant, the kohada is chosen for the fat content and size each season and is carefully marinated in vinegar then left to rest before making it into sushi. Also, slightly sweet minced shrimp is layered in between the kohada and sushi rice to soften the tartness. It will fill your mouth with a bright, tart flavor as well as the umami of the tender fat!
Sushi Makoto
10. Sushi Tajima (Ginza)
Sushi Tajima, known as a restaurant where you can enjoy fresh seasonal ingredients at reasonable prices, is located just 4 minutes on foot from Ginza Station. Its primary appeal is the high-end ingredients that can be enjoyed at reasonable prices. For example, the standard dinner course, [Seven Items Including Domestic Wagyu and Nodoguro (blackthroat seaperch) Grilled with Seaweed and Salt] (9,500 JPY (plus tax)) is a substantial course that includes seasonal sashimi, kushiyaki (grilled skewered ingredients) of soft and juicy domestic Wagyu (a type of high-quality beef), items such as crab chawanmushi (savory steamed egg custard), and five pieces of Edo-style sushi. It is a course with a concentration of wonderful Japanese flavors perfect for a memorable night in Ginza.
Sushi Tajima
11. Ginza Sushi Watanabe (Ginza)
Ginza Sushi Watanabe
12. Sushi Uoyu Ginza Branch (Ginza)
This is a sushi restaurant in a convenient location, just 1 minute from Ginza Station. It has the atmosphere of a high-end Ginza restaurant but serves fresh ingredients at reasonable prices. The seafood procured from around the country are swimming in a tank in the restaurant, so they are super fresh. The [Premium Sushi] (2,500 JPY (plus tax) per person) in the photograph includes 14 pieces of sushi with such luxurious toppings as otoro (fatty tuna), chutoro (medium fatty tuna), botan shrimp, and sea urchin, which are all amazing for this price! The [Squid Sashimi] (from 3,800 JPY (plus tax)) has the beautiful translucence appearance attesting its freshness and is also a popular item not to be missed.
Sushi Uoyu Ginza Branch
13. Banya Ginza Branch (Shimbashi)
This is a popular sushi izakaya where you can enjoy Japanese dishes made with fresh seafood, such as sashimi and sushi, together with famous alcohol from around Japan. If you think it's just a chain, you are sure to be wowed by the freshness of the seafood! The sushi can be ordered individually, starting at 200 JPY a piece, but the most cost efficient way of ordering is the [Chef's Recommendation Course] (6,000 JPY). It is a satisfying course that includes six pieces of sushi and another six items, such as sashimi and a small side dish. Be sure to enjoy it with the local sake (Japanese alcohol) from around Japan.
Banya Ginza Branch
14. Sushi Takahashi (Ginza-itchome)
Sushi Takahashi
15. Harutaka (Ginza)
This is an outstanding restaurant that has the policy of procuring the highest quality ingredients with no compromises and optimally utilizing them. Its commitment to quality is seen in the sushi rice as well. The sushi rice here is a slightly firm vinegared rice with clear flavors of rice vinegar and salt. It can be considered to be unusual, but is carefully considered in relation to the flavors when combined with the toppings, and enhances the excellence of the sushi. The standard menu is the [Omakase], the chef's selection that includes sushi, such as kohada marinated in vinegar, [Maguro] (tuna) with great fat and amazingly soft [Anago], and other dishes, but it is possible to get just the nigirizushi.
Harutaka
There is a variety of different sushi restaurants in Ginza, ranging from famous high-end restaurants to little known gems with reasonable prices. Be sure to refer to this article to find the one that is just right for you!
Disclaimer: All information is accurate at time of publication.