Publish-date: Feb 01 2018 Update-date: Jun 27 2019
Like and Share us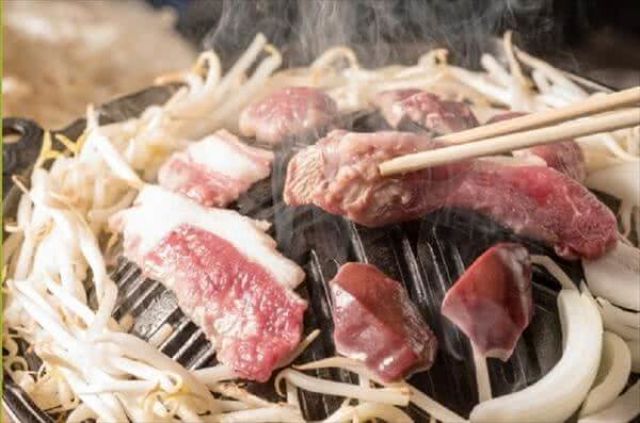 One of Hokkaido's most famous regional dishes is Genghis Khan - lamb meat cooked on a special pan. There are many Genghis Khan restaurants in Sapporo that serve different types of Genghis Khan, including flavored meats and raw lamb.
1. Yakiniku LABO.
This restaurant in the center of Sapporo's commercial Susukino district is conveniently located just three minutes on foot from Hosui Susukino Station. The owner opened this restaurant as a place to "casually enjoy quality meat without having to wait for a special occasion". At this restaurant, which is run as a casual yakiniku (Japanese BBQ) restaurant, the owner hand-picks quality meats such as brand-name beef from Hokkaido and dry-aged meats to serve them at reasonable prices in an informal setting. The most popular item is the [Uma Sagari] hanging tender, maintaining its position as the number one item on the menu above other famous items, such as [Hamidesouna Loin] and [Dry-Aged Lean Thigh].
Yakiniku LABO.
2. Kirin Beer Garden Shinkan Urban Branch
Kirin Beer Garden Shinkan Urban Branch is dedicated to serving locally produced food. All meats - not just for the Genghis Khan, but also the beef, pork, and chicken - are procured from within Hokkaido. The menu is an array of luxurious items: from all-you-can-eat Genghis Khan courses to grain-fed lamb and sirloin steaks of Shiraoi Kuroge Wagyu (a type of high-quality beef). In addition to the meats, the restaurant serves fresh seafood and draft beer delivered straight from the brewery. The restaurant is divided into four general sections, including the atrium-style main hall and private table rooms, so that the customers can choose the space suiting their purposes and the number of guests.
Kirin Beer Garden Shinkan Urban Branch
3. Genghis Khan Hitsujikai no Mise "Itadakimasu"
"Itadakimasu" is a restaurant that serves rare, high-grade sheep meat at reasonable prices. It is able to keep the prices down because it raises sheep (of the Suffolk breed) at its own farms. Because the meat is procured directly from the in-house farms, rare parts such as hanging tender and liver are available. The restaurant has tables that seat up to eight persons, as well as a counter, so it is convenient both for small parties and big groups. The beer served here is the [Classic], available only in Hokkaido.
Genghis Khan Hitsujikai no Mise "Itadakimasu"

4. Genghis Khan Daruma 4.4 Branch
This is the third restaurant in the "Genghis Khan Daruma" chain, popular for the perfect balance between hand-cut lamb that is delivered every day just before the place opens and their secret sauce. This famous chain has been beloved by customers since its establishment more than 60 years ago. They have both draft and bottled beer, so you can choose your preferred type. The menu includes Daruma's famous kimchi that the proprietress, who has roots in Korea, prepares on a regular basis, as well as [Chanjya] (salted fermented Korean food, made from codfish). The restaurant offers a variety of measures to prevent the smell of meat from sticking to your belongings, such as storing your jackets in a locker, lending bags to put items in, and offering the use of deodorizers for your clothing. The restaurant is kept meticulously clean and is appropriate for couples and groups of women.
Genghis Khan Daruma 4.4 Branch
5. Genghis Khan Daruma 4.4 Nikaitei
Genghis Khan Daruma 4.4 Nikaitei is equipped with the latest smoke dispersal devices and dedicated, personal lockers for those customers who are particularly concerned about smoke and odor. This way the customers can thoroughly enjoy their Genghis Khan without having to worry about the smoke. All seating is around the horseshoe-shaped counter. There is one shichirin (portable clay cooking stove) for every two people, so customers can easily drop in on their own. Daruma is famous for their secret sauce that has been served since the time the first restaurant of the chain was established, and for their kimchi, both of which can be enjoyed at each one of its branches. The restaurant also serves gelato made with milk from long-established farms, as well as Hokkaido wines.
Genghis Khan Daruma 4.4 Nikaitei

6. Genghis Khan Daruma 6.4 Branch
Genghis Khan Daruma 6.4 Branch is a restaurant where you can enjoy outstanding char-grilled Genghis Khan at the counter. The seating is designed specifically for people coming in on their own, so there are many single clients who are tourists or on their way home from work. Among the many Daruma branches, this is the best restaurant for eating on your own. The carefully selected meat, the proprietress' secret sauce, and the kimchi and chanjya made by the owner are all things that make Daruma what it is. Be sure to enjoy a meal at this restaurant that is full of smiles, consideration, hospitality, and energy.
Genghis Khan Daruma 6.4 Branch
7. Genghis Khan Daruma Main Branch
The main branch of Genghis Khan Daruma is a restaurant with a 60-year history that has retained the principle of "never changing" since the time of its establishment. It is not a large restaurant, so everyone who visits can enjoy Genghis Khan together like a family. There are bottles of sodas and juices which may make you feel nostalgic, and in addition to soft drinks, the restaurant now serves draft beer in response to the requests of customers. Experience for yourself the appeal of Daruma, a restaurant that some people visit every time they have a business trip to Hokkaido.
Genghis Khan Daruma Main Branch
8. Sumibi de Genghis Khan Shimadaya
Sumibi de Genghis Khan Shimadaya is a restaurant that, in addition to charcoal-grilled Genghis Khan, serves an extensive selection of drinks and food. Besides the classic [Shimadaya Genghis Khan], they also offer Genghis Khan with exceptionally high-grade lamb. Genghis Khan is not the only dish that is served here; you can also eat pork, chicken and beef, as well as a range of side dishes. With its course options, the restaurant is appropriate for a variety of occasions: from a girls' party to holiday parties. There is also a wide selection of alcoholic beverages, the most recommended ones being shochu (Japanese alcohol) and beer. Although it was founded almost 50 years ago, the interior is stylish and appropriate even for couples.
Sumibi de Genghis Khan Shimadaya
9. Sapporo Genghis Khan Main Branch
The main branch of Sapporo Genghis Khan specializes in Genghis Khan, unsurprisingly. Watching as the fresh raw lamb is cut right before your eyes is entertainment in itself. The umami (Japanese savory taste) is maximized with the skills of the master chef who has a vast experience of dealing with meat, and the lamb that is cooked on high-grade bincho-tan (Japanese charcoal) is reputed to be mild and juicy. The restaurant is also known for its all-you-can-eat onions option, a condiment that goes well with Genghis Khan. They have many seats at the counter, so you can freely come to enjoy Genghis Khan on your own.
Sapporo Genghis Khan Main Branch
10. Sapporo Genghis Khan Shirokuma Sapporo Main Branch
The main branch of Shirokuma Sapporo is a restaurant where you can enjoy carefully selected raw Australian lamb, Austrian mutton, and Irish lamb in addition to Hokkaido sheep procured directly from the local farms. The meat is cut only after the order is placed to ensure freshness. The restaurant is dedicated to serving vegetables and rice exclusively from the trusted local farmers, so you can enjoy vegetables that have been grown with limited use of pesticides and a brand of rice called [Fukkurinko], which is plump, shiny, and sweet, and is only distributed on a limited basis.
Sapporo Genghis Khan Shirokuma Sapporo Main Branch
11. Ajino Hitsujigaoka
Ajino Hitsujigaoka is a restaurant where you can enjoy Genghis Khan made with ingredients that have been carefully selected by the owner, together with a special aged sauce. They use high-grade raw lamb that doesn't smell much yet has lots of juices. The sauce is the owner's pride. It's made by adding ten different vegetables and fruits to a shoyu (soy sauce)-based sauce, aging them for one month, and leaving them to ferment until the owner is satisfied. If something prevents you from going to the restaurant directly, its Genghis Khan can be delivered to any location in Japan. With the owner's special sauce included in the delivery, of course.
Ajino Hitsujigaoka
12. Sumibiyaki Genghis Khan Pokke
Sumibiyaki Genghis Khan Pokke is a cozy, homely restaurant dedicated to serving food with no additives. It has a wide selection of dishes other than raw lamb, including, but not limited to, its most popular menu item, [Salted Genghis Khan], as well as a special kind of lamb for those who don't like the smell of sheep meat, and items made with a special sauce prepared by the owner. There is also a wide range of side dishes to supplement the Genghis Khan. This restaurant has the atmosphere of a cabin in the woods with a friendly and smiling host that is sure to make anyone relax.
12. Sumibiyaki Genghis Khan Pokke
13. Hige-no-Ushi Main Branch
The main branch of Hige-no-Ushi, a restaurant chain that strives to achieve perfect harmony between the food and dining space, has counter seating for customers who come alone on the first floor and tables appropriate for groups, from families to large groups, on the second floor. The premium grain-fed lamb served here is amazingly soft, and lamb chuck eye roll, which is the pride of the restaurant, is the second most popular item on the menu. The restaurant offers a variety of Genghis Khan dishes, including lamb prosciutto and lamb meatballs. Besides the conventional Genghis Khan, the meat can also be grilled on wire mesh in the style of yakiniku.
Hige-no-Ushi Main Branch
14. Ram
Ram is a restaurant that has delighted Hokkaido locals for over 20 years with lamb procured from Iceland. Icelandic lamb is not as readily available as lamb from New Zealand, but it is significantly softer and has hardly any odor. Perhaps because they are fed with moss in the extreme north, Icelandic sheep are unable to put too much weight on, so their meat is low in fat content and cholesterol yet high in vitamins and iron. Naturally, Genghis Khan made with Icelandic lamb offers a completely different experience from your typical Genghis Khan. Yet, it retains the umami of Genghis Khan that goes well with vegetables and rice and will stimulate your appetite.
Ram
15. Sapporo Genghis Khan Yukidaruma Gojo Branch
Here you can savor carefully selected lamb, charcoal-grilled on a shichirin. It is not a stylish, modern restaurant, being rather old school, but that just adds to the atmosphere. Here you will be served thick cuts of high-grade lamb with very little odor and clear umami of the fat. The sauce is slightly both sweet and acidic, resulting in a mild flavor. The perfect match of meat and sauce melts together in the mouth as you chew, stimulating your appetite. And for only 3,680 JPY you can have an all-you-can-eat and drink course of meat, vegetables, rice, and miso soup.
Sapporo Genghis Khan Yukidaruma Gojo Branch
16. Genghis Khan Kita Ebisu
Genghis Khan Kita Ebisu is a Genghis Khan restaurant just a minute away from the nearest station. It is operated by Mikakuen, a chain that specializes in aged Wagyu (a type of high-quality beef), so their staff is very knowledgeable about "how to serve meat best". Their [Shio-jime Jukusei Genghis Khan], which is the restaurant's number one recommended dish, is prepared with utmost care and dedication by meat experts. The meat is salted raw and aged at a low temperature for 4 days. This way excess moisture is eliminated and the meat remains perfectly moist and soft. It is served with a sauce made by mixing ara-nanban, grated garlic, and special fresh vegetable condiments. The fantastic flavors are sure to whet your appetite. The restaurant is decorated in a traditional Japanese style, with 26 seats at the counter, and the atmosphere is as appealing as the food.
Genghis Khan Kita Ebisu
17. Nozawa
At Nozawa, the shoulder meat of a less-than-one-year-old lamb is grilled in a special, original pot. Genghis Khan dishes can generally be divided into those with meat that has been marinated in a sauce and those with meat that is dipped in the sauce after grilling - and the Genghis Khan served here is the latter. The only meat that's served here is raw lamb, and its exquisite lean meat is thick and cut beautifully. While many Genghis Khan sauces are fruity with clearly defined either sweet or acidic flavors, the sauce at this restaurant is shoyu-based, which gives it a flavor of Japanese dashi (broth) that lacks any sweetness. The sauce itself has an almost indistinctive taste, but when the mild-flavored lamb meat is dipped in it, it clearly enhances the taste of the meat. Although raw lamb is the only meat on the standard menu, a steak of Yezo sika (Yezo deer) that the owner hunts himself may be available if you are lucky.
Nozawa
18. Sapporo Kuitei
The Genghis Khan served here is distinguished by the light aroma of lamb that gently fills your mouth, the sweetness of its fat that can be savored at the same time, and just the right softness of flesh. The restaurant offers an extensive menu including popular items such as Genghis Khan with raw lamb loin, offal dishes, grilled jidori (local chicken), and grilled seafood. They also have ji-zake (Japanese local alcohol), so you can enjoy a fantastic time with Genghis Khan and great alcoholic beverages. Their homemade [Lamb Sausage] made by mincing and stuffing lamb meat in an intestine is also very popular.
Sapporo Kuitei
19. Susukino Sennari
Susukino Sennari is a yakiniku restaurant, with salted Genghis Khan being its specialty dish. The meat of Suffolk sheep used for this dish has no odor, and their special salt sauce is thoroughly rubbed into it as part of the preparation process. The sauce has a hint of garlic in it that whets your appetite. The grilled meat is served with negi (scallions), and the recommended way to eat it is to you put the negi on the meat. Another specialty of theirs, fatty beef rice, is recommended to close off the meal. This rice dish with a shoyu-based sauce is a perfect match for the sweetness of beef fat, making it irresistible even when your stomach is full.
Susukino Sennari
20. Yozora no Genghis Khan Susukino Crossing-mae
Yozora no Genghis Khan Susukino Crossing-mae serves sheep meat purchased as whole animals from farmers of Hokkaido in their pursuit of taste that will satisfy the Hokkaido locals who are particular about their Genghis Khan. Their Genghis Khan of Yezo sika, which is famed as a healthy meat on par with lamb, is also popular. The restaurant is also dedicated to serving quality vegetables, so they procure safe and tasty vegetables from a contracted farm in the town of Naganuma-cho. The meat is served to customers after being marinated in a secret sauce. Once the meat is grilled, you can dip in the sauce again before eating it. The resulting dish that maximizes the umami of the meat by both marinating and dipping it in sauce is outstanding. The Susukino Crossing-mae is in a fantastic location where you can enjoy lamb meat while looking at the iconic Nikka billboard, a symbol of Hokkaido.
Yozora no Genghis Khan Susukino Crossing-mae
21. Juttetsu
Juttetsu serves a variety of carefully selected good meats, such as raw lamb chuck eye roll, lamb sausage, lamb tongue, and Genghis Khan from Yezo sika. There are several Genghis Khan options, including the [Traveler's Trial] set for beginners and tourists, and the [All-you-can-eat-and-drink Plan] option for those who want volume. This spacious restaurant that has preserved the nostalgic feel of the Showa Period (1926 - 1989) has large tables and counter seating that allow for large groups. There is a cloakroom, so you need not worry about the smell sticking to your jacket.
Juttetsu
Disclaimer: All information is accurate at time of publication.