Publish-date: Feb 08 2018 Update-date: Aug 06 2019
Like and Share us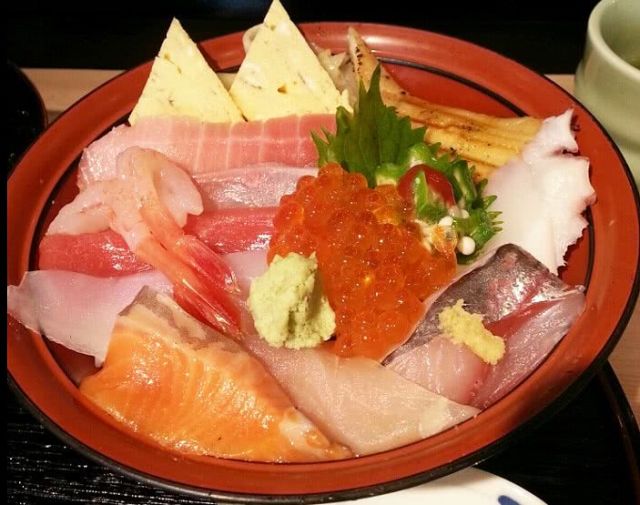 A popular tourist destination, this area is known for Tsukiji Market - the world's largest wholesale market. Ginza, the shopping district, is right around the corner, so there are plenty of attractions nearby. The area is full of tourists who come here specifically to have sushi made with seafood procured from the market. In order to fill the high demand for fresh seafood, there are numerous restaurants in the area. This list of 24 amazing restaurants in the Tsukiji area should help you make a well-informed decision!
1. Sushi Dai
Queuing outside a restaurant can be considered as necessary preparation for enjoying delicious food. After waiting in line, the food is so tasty and rewarding! Sushi Dai brings this feeling to a whole new level. Located inside Tsukiji Market, Sushi Dai offers delicious Edo-style sushi made with the freshest fish at incredibly attractive prices. You can have a filling [Omakase] (chef-recommended) course that includes 10 nigiri pieces, a few maki-zushi (rolled sushi), an omelet, and an extra nigiri piece to finish the meal for as little as 4,000 JPY. Sushi Dai is known for serving their sushi with impeccable timing that's based on your eating speed.
Sushi Dai
2. Edomae Sushi Takewaka Annex
Tsukiji Honganji Temple has a colorful Indian-style construction, and that's the view you get from Edomae Sushi Takewaka Annex. Not only do they serve sushi made with fresh seasonal seafood procured every morning from Tsukiji Market, but also other elaborate à la carte dishes. Some examples are the [Hon-maguro Toro Steak] where you can taste the true umami (Japanese savory taste) of maguro fat, the luxurious [Kara-tsuki Uni Meshi-yaki] that's served in the uni (sea urchin) shell, and the [Edomae Tamago-yaki] that's often ordered for dessert because of its sponge cake-like texture. It's not rare to see solo female diners at the restaurant's counter seats, showing that it truly offers a homely space for everyone.
Edomae Sushi Takewaka Annex
3. Daiwa Sushi
It's been over half a century since Daiwa Sushi opened in Tsukiji, making this restaurant a renowned historical landmark. Appreciated even by the staff of the market, its chefs are considered extremely skillful. In fact, they handle the fish as little as possible, quickly molding it into nigiri-zushi to preserve its freshness. Their slicing technique is also splendid, and watching them slice fish is a huge part of the charm of this restaurant. Despite being busy and attending to each detail, they're all very friendly. The sound of them clashing their knives while chatting makes a perfect backdrop for an exquisite meal.
Daiwa Sushi
4. Tsukiji Itadori Bekkan
One of the best things about sushi is that you get to enjoy a variety of fish each season. If you think so too, you should try Tsukiji Itadori Bekkan. Once you enter the restaurant, the chaos of Tsukiji Market is quickly forgotten. Tsukiji Itadori is calm and quiet, making it a great place to relax. Here, you can have some seasonal dishes bursting with freshness that can only be found in ingredients that are restocked daily. An absolute must-try is the hearty [Hanayaka Kisetsu no Omakase 9-kan, Edomae Tamago-yaki, Mini Ikura-don, Miso-shiru]. Just as the name suggests, this dish is chock full of seasonal ingredients and a variety of flavors. Another great thing about Tsukiji Itadori is that it opens early!
Tsukiji Itadori Bekkan
5. Tsukiji Tama Sushi Tsukiji Main Branch
Founded in 1924 (Taisho 13), this is the Tsukiji main branch of the Tsukiji Tama Sushi restaurant chain. Other than meeting all 3 essential conditions for perfect sushi (freshness, flavor, and volume) with their nigiri-zushi, their menu is quite popular among ladies as well for its soups and desserts. There are lots of party courses, like the 6,000 JPY course that includes an all-you-can-drink, the [Yose-nabe Course], the [Sakura Course], the [Kiku Course], and the recently popular [Private Counter Course]. The latter is served in a private tatami room, where your very own chef will prepare sushi exclusively for you and your fellow diners. Alternatively, if you're in the mood for a drink, they have [Tsumami] that start from 300 JPY. If you want to have [O-sushi] with all your favorite ingredients, the prices start from 98 JPY. Tsukiji Tama Sushi is the ideal restaurant for all occasions!
Tsukiji Tama Sushi Tsukiji Main Branch
6. Tsukiji Kiyomura Sushizanmai Main Branch
Tsukiji Kiyomura Sushizanmai Main Branch was the first sushi restaurant in Japan to offer 24/7 service, and it's located in Tsukiji Market. The chain's owner is famous for sparing no expense when bidding at the auction for hon-maguro (bluefin tuna) from Oma in Aomori Prefecture. He is known for breaking the record by bidding over 150,000,000 JPY in 2013! The restaurant also serves fresh seafood delivered directly from all over the country - from Hokkaido in the north to Fukuoka in the south. You name it, they have it! This restaurant is recommended for those who want to have their fill of delicious sushi.
Tsukiji Kiyomura Sushizanmai Main Branch
7. Sushi Kuni
This restaurant is famous for its luxurious [Kobore Uni-don], which, as the name suggests ("koboreru" means overflow), consists of a donburi (rice bowl) that's literally overflowing with premium uni that's carefully picked out each season. It is so delicious that you won't even need to season it with shoyu! While the bowl itself seems a little small, there is so much uni that you can't even see the rice! As you dig in, you'll realize that the bowl is actually deeper than you thought, and that the serving is definitely enough. If you're into uni, you must come to this uni mecca!
Sushi Kuni
8. Tsukiji Kagura Sushi
Sushi rice made with Hitomebore (rice brand from Yamagata) and mild yet fragrant natural akazu (red vinegar) is Tsukiji Kagura Sushi's specialty. Their fresh fish, directly delivered from the market and scorched over a grill instead of a burner (traditional way), is equally exquisite. Tsukiji Kagura Sushi is a restaurant that still sticks to Edo-style traditions while continuing to experiment with unique concepts. Seafood like [Nodokuro] (rockfish) and [Kinki] (broadfin thornyhead) are scorched with various unique techniques to enhance the aroma, limit the bitterness, and deepen their umami. The [Kohada] (gizzard shad)'s cooking process takes 1 week, and the [Anago] (conger eel)'s cooking process is equally as long. Kagura's dishes are truly made with exceptional care, and will give you a real taste of Japanese traditions.
Tsukiji Kagura Sushi
9. Bentomi Zushi
Edo-style sushi is one of the most popular Japanese dishes. The historical Bentomi Zushi has been offering authentic Edo-style sushi for over 50 years. Needless to say, they use seafood stocked daily from Tsukiji Market, so both their quality and freshness are incomparable. They always acquire seafood that's in season and most suitable for Edo-style sushi. Of course, they pay equal attention to the sushi rice, using Koshihikari (rice brand) rice from Koshiji in Niigata Prefecture that's seasoned with their original akazu. Its flavor pairs so well with the sweetness of the lean fish meat that it doesn't even need shoyu! There are only 12 counter seats inside, so you get to chat with the chef in a warm and cozy atmosphere.
Bentomi Zushi
10. Sushizanmai Bekkan
The main branch of this chain was mentioned above, but Sushizanmai Bekkan - an annex located in the 2nd alley of Shin Ohashi Street (Shin Ohashi-dori) - deserves recognition as well. They have their own original menu, but the price and volume of their dishes are the same as the main branch. Their top ingredient is maguro. They have daily specials, so make sure to check them out before you order! On the 1st floor, you can choose between 20 counter seats and 26 table seats. The 2nd floor seats 18 people at the counter and 26 people at horigotatsu (sunken kotatsu tables) tables, making them ideal for your next visit with friends.
Sushizanmai Bekkan
11. Tsukiji Sushi Ichiban Tsukiji Jogai Shijo Chuo Branch
Tsukiji Sushi Ichiban Tsukiji Jogai Shijo Chuo Branch is popular for the maguro filleting show that it periodically holds inside the restaurant. Keep in mind that they purchase over 200 whole maguro each year! The filleting show's schedule is displayed on their official website, so you can have a look beforehand. Another good thing is that this restaurant is open 24 hours a day, so there is no time limit here. Their prices may sound a little too expensive for lunch, but for dinner, they are definitely reasonable.
Tsukiji Sushi Ichiban Tsukiji Jogai Shijo Chuo Branch
12. Chiyoda Sushi Tsukiji Branch
Chiyoda Sushi serves Edo-style sushi, starting from 80 JPY each. Chiyoda Sushi Tsukiji Branch uses fundamental techniques as a base to replicate the original principles and form of a sushi restaurant. Though it is stand-up style, it is still chic and sophisticated. It's distinguished by the big lantern out front. Here, you get way more than what you pay for. They purchase seasonal products not only from Tsukiji Market, but also from famous fishing ports around the country. Freshness is guaranteed! They serve standard sushi toppings, like [Saba] (mackerel), [Kohada], and [Iwashi] (sardines), but somehow manage to boost the flavor of each one. Apparently, even Tsukiji locals are patrons!
Chiyoda Sushi Tsukiji Branch
13. Tsukijiitadori Uogashi Senryo
Exactly halfway between Exit A1 of Tsukijishijo Station and Exit 1 of Tsukiji Station (3-minute walk from both stations), Tsukijiitadori Uogashi Senryo is a hot topic, thanks to their [Kaisen Hitsumabushi]. It is basically a kaisen-don (rice bowl dish with seafood) that's loaded with uni. First, eat it like a regular kaisen-don (without uni). Then add plenty of the uni, mix, and eat. Lastly, pour the dashi (broth) in! This is an extremely popular menu item that people can't stop eating after they've eaten it once. Their menu is also filled with surprisingly affordable, luxurious dishes that use carefully selected fresh seafood. If you've never tried [Kaisen Hitsumabushi], go for it! It's one of those delicacies that everyone should have on their bucket list.
Tsukijiitadori Uogashi Senryo
14. Sakae Zushi
Take Exit A1 of Tsukijishijo Station, and then proceed for a while towards Tsukiji Honganji Temple. At the Market Bridge Crossing (Ichiba-bashi Kosaten), turn towards Kachidoki Bridge (Kachidoki-bashi) and you'll find the alley where Sakae Zushi lies hidden. Sushi restaurants in Tsukiji are generally flashy and lively, but this place has no big signs and doesn't really stand out. It has the atmosphere of an old sushi restaurant. Their Edo-style sushi is characterized by their thick and luxurious ingredients, as well as their accuracy in matching each fish to the right seasoning, like salt or shoyu. The [Omakase-don], made with fresh seafood that's restocked daily, is a must-eat. Anyone who has tried it likes it so much that they'd rather not tell anyone else about it! What about you? Would you keep this delicious secret all to yourself?
Sakae Zushi
15. Tsukiji Sushi Sen Yonchome Jogai Ichiba Branch
Tsukiji Sushi Sen Yonchome Jogai Ichiba Branch
16. Tsukiji Kagura Sushi New Wing
Located right past Exit A1 of Tsukijishijo Station, Tsukiji Kagura Sushi New Wing is a popular restaurant that offers unconventional sushi. Their sushi rice is seasoned with akazu. Akazu is a reddish vinegar that gives rice a pink tint and a little stronger acidity, similar to the flavor of sakekasu (sake lees), resulting in a unique sushi. Since they use this special sushi rice, many of the ingredients are scorched to best match its sour flavor. The restaurant is also popular for other rare à-la-carte dishes like [Fujitsubo], [Kame-no-te no Shio Yude], and [Shijimi no Shoyu-zuke]. Be sure to drop by if you're looking for a different take on sushi.
Tsukiji Kagura Sushi New Wing
17. Sushizanmai Tsukiji Eki-mae Branch
Since Sushizanmai is located right outside Exit 1 of Tsukiji Station, this restaurant is recommended for when you're short on time. As you probably guessed, Sushizanmai Tsukiji Eki-mae Branch is part of the Sushizanmai empire. The owner, Kimura, is renowned for his extreme bidding at maguro auctions. This branch offers the same good taste and quality as the main branch. Apart from the convenience of their 24-hour service and location, what makes this restaurant a must-visit is their reasonable prices of their extremely fresh and delicious sushi. Be sure to pay them a visit!
Sushizanmai Tsukiji Eki-mae Branch
18. Tsukiji Sushidai Bekkan
You can have delicious sushi made with seasonal, premium products at Tsukiji Sushidai Bekkan, which is just a 7 minute walk from Tsukiji Station. Among the many Sushidai branches in Tsukiji, this branch is the coziest, and somehow seems to attract many sushi experts. The chef and staff are friendly and patient, and you'll get to enjoy your Edo-style sushi in a casual atmosphere. In addition, lunch meals are affordable, and include nigiri-zushi and chirashi-zushi (scattered sushi). Keep this place in mind the next time you're in the mood for some sushi.
Tsukiji Sushidai Bekkan
19. Sushizanmai Shinkan
Sushizanmai Shinkan is another annex restaurant of the Sushizanmai chain. Located a 4-minute walk from Tsukijishijo Station, this branch is particularly popular because you can choose exactly which types of sushi you want, piece by piece. Of course, the chef's skills and the flavor are just as good as the other branches. There are several Sushizanmai branches in Tsukiji, but that's good news, because having sushi inside the lively Tsukiji is truly an exceptional experience, isn't it? Don't miss this branch the next time you're in the area!
Sushizanmai Shinkan
20. Tsukiji Sushi Ichiban Yonchome Jogai Ichiba Branch
Only a 2 minute walk from Tsukiji Station lies Tsukiji Sushi Ichiban Yonchome Jogai Ichiba Branch. Tsukiji Sushi Ichiban is a famous sushi chain that buys whole maguro and holds filleting shows with them regularly. It's not every day that you get to have nigiri-zushi made with freshly cut maguro, but here, as long as you come on a day when a show is scheduled, you'll get to eat it whenever you like! Of course, they also offer a variety of other dishes, like soups and à-la-carte dishes. It is open 24 hours a day, so feel free to drop by at any time!
Tsukiji Sushi Ichiban Yonchome Jogai Ichiba Branch
21. Ryu Zushi
This hidden restaurant is located a 6-minute walk from Tsukijishijo Station. In this old sushi restaurant that was founded about half a century ago, they continue to use Edo-style sushi-making techniques. They only have counter seats, which helps to shorten the line outside. All of their sushi is fresh and delicious, but order the daily special to send your tastebuds to heaven. Only ingredients caught in the wild are used, and the rice is seasoned with akazu to enhance each flavor with its light sourness. Although the style is pretty simple, you'll be pleasantly surprised by just how amazing their sushi is.
Ryu Zushi
22. Shutoku 2nd Branch
Shutoku boasts of a rich array of premium ingredients gathered from all over the country. The chef purchases the ingredients every day at Tsukiji Market, and prepares them in a way that enhances their flavor and freshness. He even presses white fish by piercing them with needles to obtain fantastically firm meat! Their dishes are bursting with personality. They have a couple of chef's choice sushi courses that are suitable even for those who are not used to sushi restaurants. The akazu rice portions are smaller than usual, which makes it the perfect option for when you want plenty of space to try a variety of dishes. There's also a wide selection of sake (Japanese alcohol), so be careful not to drink too much!
Shutoku 2nd Branch
Disclaimer: All information is accurate at time of publication.