Publish-date: Dec 28 2018 Update-date: Aug 06 2019
Like and Share us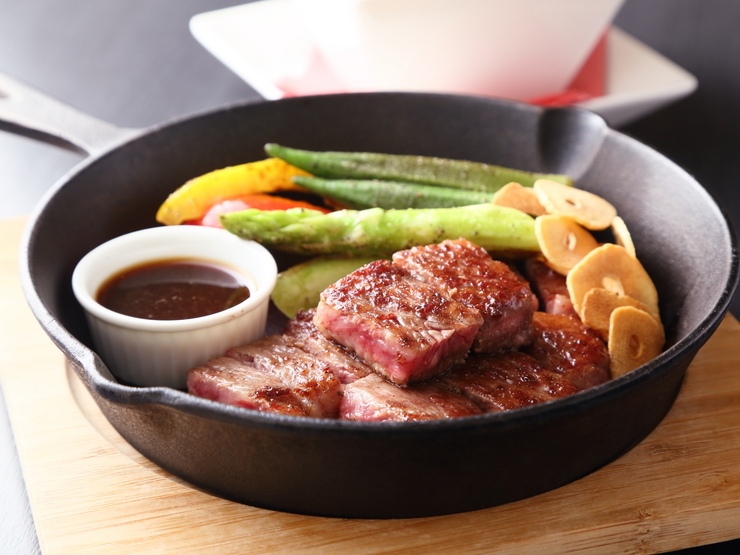 There are many sights to see in Osaka's Shinsaibashi, Nanba, and Dotonbori areas, not to mention many restaurants as well! Here are 30 spots in these areas that are perfect for taking a break from sightseeing or getting lunch.
1. Miyazaki Beef Teppanyaki Steak Miyazaki-kan (Shinsaibashi / Teppanyaki)
Diners here can sample the flavors of Miyazaki beef, the very pinnacle of Wagyu (a type of high-quality beef) brands! Miyazaki beef has been victorious 2 times running in the "Wagyu Olympics" (Japanese National Wagyu Beef Competition), held every 5 years. This restaurant offers a [Lunchtime Special Course] (from 3,800 JPY) that allows diners to experience Miyazaki beef's signature melt-in-your-mouth quality and superior umami (Japanese savory taste) for a reasonable price! The 3 varieties of steak included are lean beef, loin, and tenderloin, and diners may also choose from sizes of 100g, 150g, or 200g, making this dish customizable depending on what and how much an individual wants to eat.
Miyazaki Beef Teppanyaki Steak Miyazaki-kan
2. Lumiere (Shinsaibashi / French Cuisine)
Lumiere
3. Tabiji Kitchen (Yotsubashi / Cafe)
The weekday lunch menu changes every week at this cafe-style restaurant where diners can sample cuisine from 5 different countries! You will feel like you are taking a trip and sampling the local cuisine when trying dishes like the Portuguese [Spicy Chicken] (1,200 JPY) or Brazilian [Feijoada] (980 JPY), a stew of pork, beef, sausage, bacon, and beans. Of course, prices do vary depending on the dish, but generally, options start at an inexpensive 880 JPY.
Tabiji Kitchen
4. Hormone Yakiniku Shichifuku Namba Branch (Namba / Yakiniku)
Just looking at the picture tells you how hearty and impressive the meals are here! This restaurant's most famous dish is the [Harami-don] (890 JPY), a donburi (rice bowl dish) heaped with tender outside skirt steak. You are guaranteed to be satisfied by this option, which comes with meat coated in delicious tare (sauce), egg, and a large helping of vegetables. Furthermore, there is a [Large Rice + Double Meat Mega-mori] (1,650 JPY), especially for hungry diners!
Hormone Yakiniku Shichifuku Namba branch
5. Teppan Steak Atout (Shinsaibashi / Teppanyaki)
This high-end restaurant specializes in teppanyaki (ingredients grilled on iron griddle) dishes using primarily Kuroge Wagyu beef from Kyushu and offers mainly course options in the evening. You can also enjoy teppanyaki at lunchtime here, though, which includes a performance by the chef as they cut up the meat! The [Yanbaru Agu Pork Steak Lunch] (1,100 JPY) is highly recommended, and features deliciously smooth, rich, and fatty Agu pork! This meat is cooked just right, resulting in a piece of pork that is both tender and juicy while also boasting the wonderful seared exterior that is signature of teppanyaki. Soup, salad, and rice come with this set.
Teppan Steak Atout
6. Meijiken (Shinsaibashi / Western Cuisine)
Meijiken has been in business for 92 years, and its unchanging flavors have won it a loyal fan base. The [Skewer Set with Soup and Rice] (930 JPY) includes a fried skewer made with round steak, as well as a cream croquette skewer containing shrimp and macaroni. The crisply-fried batter is a pleasure to bite into, and the beef skewer is full of meaty umami. The cream croquette has a deep, rich flavor, and its soft, creamy interior forms a pleasant contrast with the crisp exterior.
Meijiken
7. fine diner & salon bar 7-NANA- (Shinsaibashi / Italian Cuisine)
fine diner & salon bar 7-NANA-
8. Naniwa Kappo Kigawa (Namba / Japanese Cuisine)
Naniwa Kappo Kigawa
9. Trattoria ALBERO (Sakuragawa / Italian Cuisine)
Trattoria ALBERO is popular for its lunchtime pasta and pizza, as well as its salad bar! If you order the [Pasta Set] (1,000 JPY) or [Pizza Set] (1,200 JPY), you can also help yourself to the salad bar, offering over 10 varieties of vegetables! The colorful pasta and pizza are both delicious. The artfully-arranged dishes here display the chef's distinct cooking sense, as this chef is versed in both French and Italian cuisines. There is terrace seating here as well, ideal for families.
Trattoria ALBERO
10. Fukushige Horumon Osaka-shinmachi Branch (Yotsubashi / Yakiniku)
This restaurant, located in a remodeled old house, has a bright, stylish atmosphere and is lively all day long. A popular dinner choice here is the [Outside Skirt Steak] (750 JPY), made using excellent A4-ranked Kuroge Wagyu beef from Kagoshima topped with a house-made tare - a simply irresistible combination! The meat is first marinated in a sweet tare and then cooked, after which it is dipped into a spicier variant that is sure to make your mouth water. If you would like to experience these flavors at lunchtime, try the [Steak Harami-don] (850 JPY). The outside skirt steak's umami will burst inside your mouth from the very first bite. The taste is so delicious that you will break into a smile without knowing it!
Fukushige Horumon Osaka-shinmachi Branch
11. Kappa Ramen Honpo America Mura Branch (Shinsaibashi / Ramen)
There is only one kind of soup used in the ramen here, which is lovingly stewed from pork bones and other ingredients for 8 hours. This lard-based tonkotsu shoyu (pork bone and soy sauce) ramen is rich in flavor, yet has no unpleasant odors, making it a hit with customers. Furthermore, the straight noodles, made in-house and containing no additives or preservatives, are a good match for the soup. When ordering, diners can specify both noodle softness and soup richness to create their personalized bowl of ramen. If it's your first time eating here, then you should definitely order the [Kappa Ramen] (750 JPY).
Kappa Ramen Honpo America Mura Branch
12. Shinise Shabu-Shabu Senmonten Shabutei Shinsaibashi Branch (Shinsaibashi / Shabu-shabu & Sukiyaki)
Shinise Shabu-Shabu Senmonten Shabutei Shinsaibashi branch
13. trattria e bar Buono ! (Nagahoribashi / Italian Cuisine)
trattria e bar Buono!
14. BAMBOO CAFE (Namba / Asian Cuisine)
BAMBOO CAFE
15. Curry & Café Karma - Karma Namba Parks - (Namba / Indian Cuisine)
Curry & Café Karma - Karma Namba Parks -
16. Buon'Agio (Namba / Teppanyaki)
Buon'Agio offers diners top-tier Kuroge Wagyu beef served in a casual atmosphere. Be sure to order the lunchtime [150g Aged Outside Skirt Steak] (1,500 JPY (plus tax)), a great option to sample this meat's flavor that also includes salad, rice, and soup. This outside skirt steak has just the right amount of fat to make it tender and juicy, and there is a 300g option (2,700 JPY) for hearty eaters as well. This is the same deliciously-prepared steak that you would get for dinner, but offered at a very reasonable price!
Buon'Agio
17. SH'UN (Namba / Wine Bar)
SH'UN
18. Ikariya Shokudo Osaka (Namba / French Cuisine)
This popular French and Italian spot is a self-styled "herb bistro", an entirely new genre! The herbs used to season the fresh vegetables, fish, and meat here include not only Western options such as thyme and rosemary, but also incorporate traditional Japanese flavors like shiso (perilla), sansho (strong Japanese pepper), and wasabi, imparting the food with new flavors and aromas. Lunchtime diners have a variety of main dishes to choose from, all of which come with bistro appetizers and access to the salad bar. One recommended choice is the [Rosemary Chicken] (1,980 JPY (plus tax)).
Ikariya Shokudo Osaka
19. J'adore Shinsaibashi (Namba / Italian Cuisine)
J'adore Shinsaibashi
20. Dining&Bar BLEU (Namba / Chinese Cuisine)
Dining&Bar BLEU
21. Tavola36 (Namba / Spanish & Mediterranean Cuisine)
Tavola36
22. Chikuchikuya Namba Branch (Namba / Japanese Cuisine)
Chikuchikuya Namba Branch
23. Hotaru (Namba / Japanese Cuisine)
Hotaru, a Japanese restaurant located on the 8th floor of Hotel Ichie, which is directly connected to Namba Station, boasts both great views and a 70-year history. There are many lunch options available here, allowing diners to match their meal to their mood and budget. The top recommended choice is the [Hotaru Bento] (1,360 JPY), a favorite ever since the restaurant opened. Fried shrimp and sashimi are inside the black bento box, along with grilled items and many other beautifully-arranged morsels! Stop by and enjoy authentic Japanese cuisine for a reasonable price at lunchtime.
Hotaru
24. Bistro Mauvais Garçons (Shinsaibashi / French Cuisine)
Go up this restaurant's stairs, facing the bustling street of Shinsaibashi, and you will find yourself in a cute, Western-style spot. The chef here has experience cooking for many esteemed individuals thanks to working as the state chef for Syria, and the comfortable bistro atmosphere and reasonable prices allow diners to experience authentic French cuisine in a pleasant and relaxing environment. The [Chef's Choice Lunch] (850 JPY), offered here on weekdays, comes recommended. Furthermore, the [Chef's Choice Course B] (2,980 JPY) is another highly recommended option, beginning with 4 varieties of tapas, then proceeding with an appetizer, soup, seafood dish, granita, a meat dish, and dessert! This is the perfect choice for anyone looking to sample a variety of tasty tidbits one after another.
Bistro Mauvais Garçons
25. Horai Honkan (Namba / Chinese Cuisine)
This spot is renowned for its delicious pork buns. There is also an all-you-can-eat option offered at lunchtime that allows diners to order the same dishes available in the a-la-carte section! This deal offered from 11:30 am to 3:00 pm, presents diners with choices of over 30 dishes and lasts 120 minutes (last order is 30 minutes before the end). It is 2,700 JPY for adults, 1,350 JPY for elementary school-age children, and 750 JPY for children aged 3 - 5 years old. This option is good for people who prefer to avoid buffet-style dining, and it offers access to the menu's single-item choices for a really great price! The 1st floor here is the store area, so why not pick up some of their famous pork buns on your way home?
Horai Honkan
26. Antica Osteria Dal Spello (Namba / Italian Cuisine)
Diners here can enjoy wine from Italy along with authentic Italian cooking! Great attention is paid to detail here, from the olive oil, exactingly chosen for its flavors, to the pasta and focaccia, hand-made daily at the restaurant. The [Pranzo Pasta Lunch] (1,000 JPY) is a great way to experience these authentic flavors at an inexpensive price. Everything great about this spot is on display in this course, as it includes an appetizer sampler, a choice of one of the three pasta varieties of the day, and bread baked right at the restaurant.
Antica Osteria Dal Spello
27. Tempurayasan (Namba / Japanese Cuisine)
This specialty tempura restaurant usually has around 100 varieties of tempura on offer, including many rare choices. These tempura feature the seasonal ingredients purchased by the head of the restaurant every morning. Dishes here are reasonably priced even in the evening, but there are better deals to be had at lunchtime, such as the [Shrimp Ten-don], which goes for only 600 JPY! You will love the crisp batter, as well as the soft, fresh, umami-laden shrimp inside! The personable staff and homey atmosphere are other attractive features of this spot.
Tempurayasan
28. Ceppo (Shinsaibashi / Italian Cuisine)
If you come here for lunch, starting from 11:30 am, you can try the [Premium Kuroge Wagyu Handmade Hamburg Steak with Special Demi-glace Sauce] (1,050 JPY), limited to just 10 servings per day. In this dish, a rich demi-glace sauce covers an extravagant hamburg steak, made with Kuroge Wagyu beef! Forming this beef into a hamburg steak seals all of the meat's delicious fat and umami in for a juicy final result. And for an extra 50 JPY, you can add a topping of sunny-side-up egg or cheese!
Ceppo
29. Check Room Service (Shinsaibashi / Italian Cuisine)
Check Room Service is located inside the OPA shopping complex, directly connected to Shinsaibashi, making it convenient for taking a break when shopping or on rainy days. The [Pasta Lunch] (1,480 JPY) here includes access to the drink bar, a green salad, the soup of the day, the pasta of the day, and sourdough bread! The chef at Check Room Service has experience working as the head of a hotel kitchen, and their culinary creations help the ingredients realize their full potential. There are also 18 private rooms of varying sizes available so that groups of customers can be easily accommodated.
Check Room Service
30. Restaurant en vue (Yotsubashi / Italian Cuisine)
Restaurant en vue is a stylish, tucked-away spot decorated in a classic-modern style with chandeliers and a fireplace. The [Andouille Lunch] (2,800 JPY, must be ordered in advance on Saturday, Sunday, and national holidays) includes an appetizer sampler plate, pasta, stewed seafood and tomatoes, bread, a specially-made dolce, and a drink! The chef's time spent training in a number of areas across Europe has resulted in authentically-flavored Italian courses that are sure to delight diners!
Restaurant en vue
Restaurants that may be out of reach for dinner are often much more affordable at lunchtime, so keep these spots in mind when you are looking to take a break from sightseeing and enjoy a relaxing lunch!
Disclaimer: All information is accurate at time of publication.