Publish-date: Apr 30 2020 Update-date: Jun 20 2020
Tempura is one of the most popular Japanese food, most probably because despite being fried food, it does not taste heavy or oily at all. In general, tempura is made of seafood and vegetables, coated in a flour-based batter and then deep-fried. However, there are other variations of tempura. We have summarized the 7 kinds of tempura that you can easily find anywhere in Japan, and 7 different ways to eat tempura.
7 Kinds of Tempura
1. Shrimp, Prawn, and Squid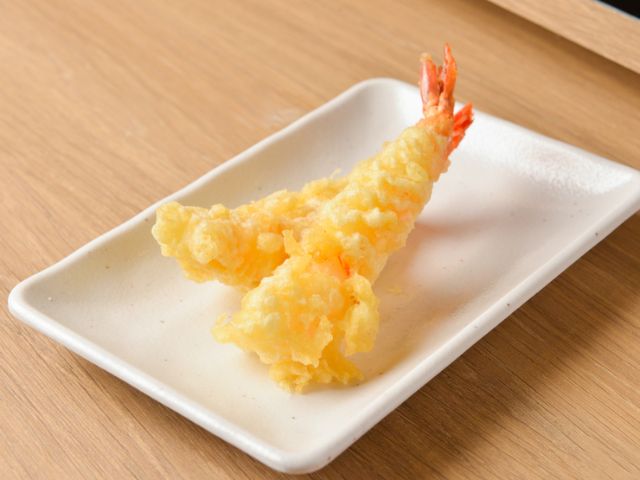 Also called as "ebi" in Japanese, shrimp and prawn are the most common seafood ingredient for tempura. The shrimp is always cooked in a way that keeps its straight form and prevents it from curling up. Shrimp or prawn of large size are good for tempura, including Japanese tiger prawn (kuruma ebi), black tiger prawn (ushiebi), and Whiteleg shrimp (baname ebi).
Squid or "ika" in Japanese, is also a popular tempura ingredient, and both squid and shrimp tempura are often served together. It tastes lighter compared to shrimp tempura.
2. Vegetables
There are many variations of vegetables for tempura, and some of the most popular are: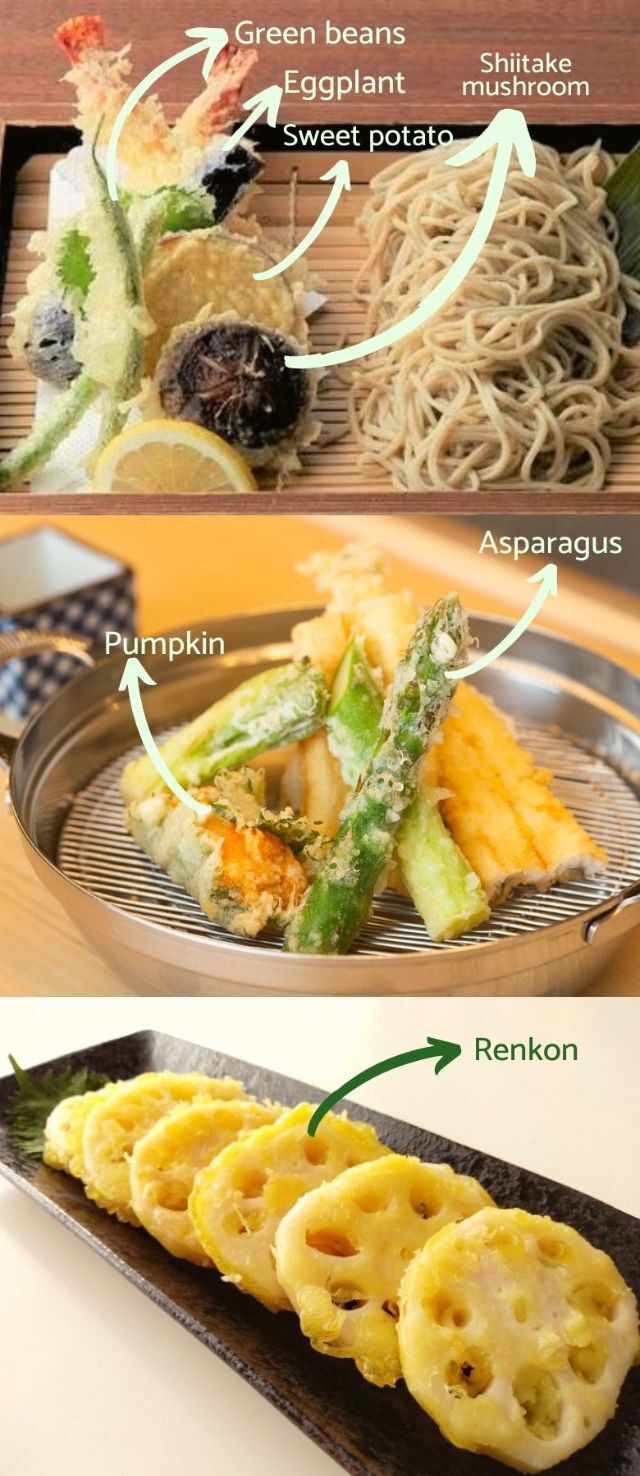 Renkon is a lotus root, but probably more known as "that round veggie with holes in it." Not just for tempura, renkon is often used for homemade Japanese meals, especially simmered dish.


3. Kakiage
Kakiage is a mix of carrot, onion, burdock, and small shrimp in a disc-like shape, deep-fried together. You may have difficulty finding kakiage outside Japan, but it is surprisingly easy to make at home.
4. White Fish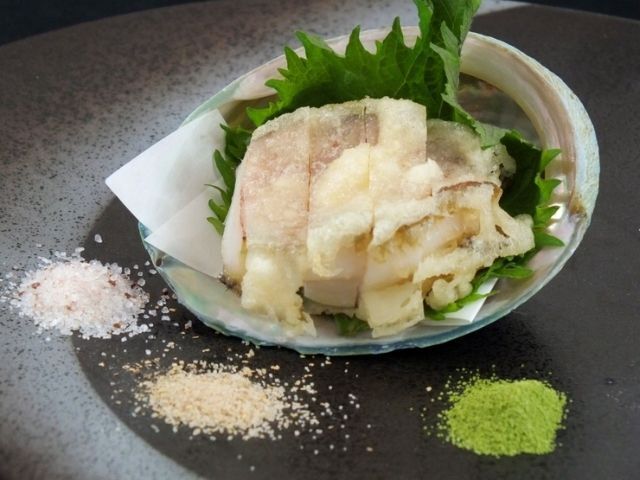 Not just any fish, it has to be white fish. The bland flavor of white fish is the perfect base for the mild-flavored tempura.
5. Chikuwa
A lovely snack it is, chikuwa is made of fish, has a shape similar to a tube, and has texture like jelly, except that it is salty. Chikuwa is also often used in broth meals like
oden
.
6. Egg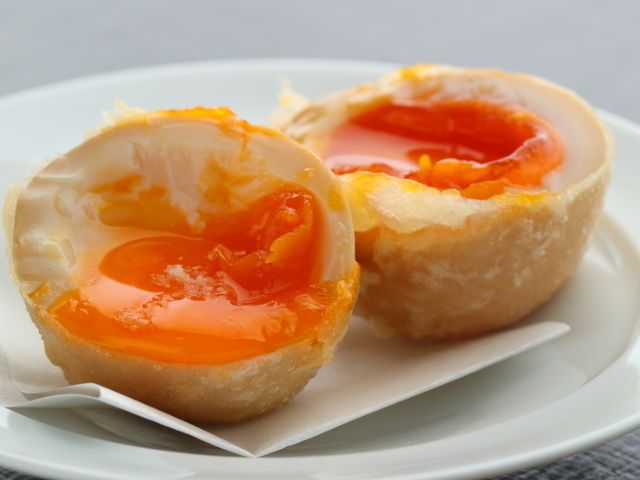 Imagine an egg crispy on the outside and runny on the inside. You can have egg tempura at any tempura restaurant, or you can try leveling up your egg game by making one at home.
7. Chicken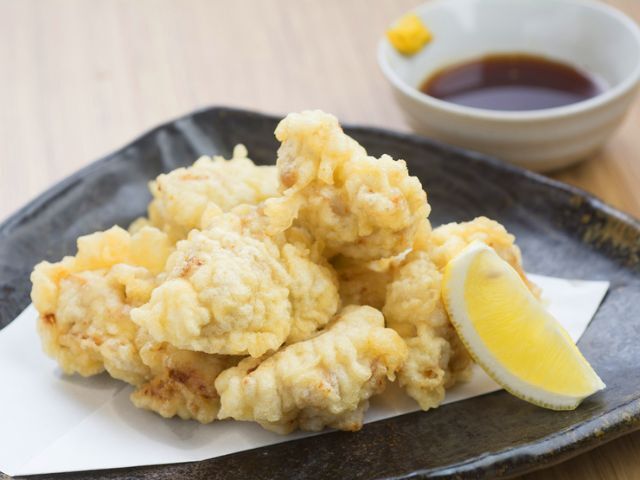 Chicken tempura is called toriten, and is the specialty of Oita Prefecture in the southern part of Japan. What makes toriten different from karaage, the more common Japanese deep-fried chicken? The chicken used for toriten is covered in batter prior to deep frying, meanwhile for karaage the chicken is marinated with flour before deep frying.
7 Ways to Eat Tempura
1. Basic style: Tentsuyu dipping sauce
Going basic can never go wrong. Tsuyu is a thin fish-based sauce, and tentsuyu is tsuyu especially served with tempura. Dip your tempura lightly into a bowl of tentsuyu before eating. Try this classic style at Kisetsu Ryouri Nemoto in Ichigaya, Tokyo.
Kisetsu Ryouri Nemoto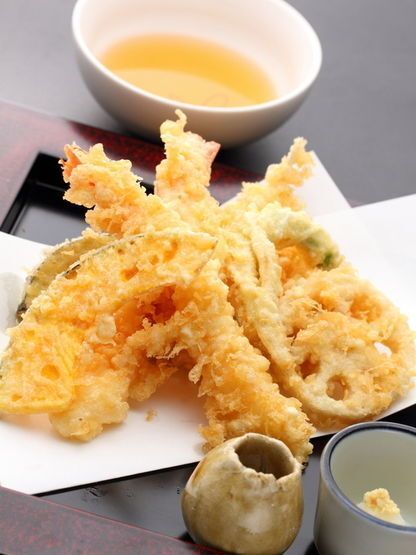 Open
:
[Monday - Saturday] Lunch 11:30 am - 2:00 pm (L.O. 1:30pm) / [Weekday] Dinner 5:30 pm - 11:00 pm (L.O. 10:00 pm) [Saturday] Dinner 5:30 pm - 9:00 pm (L.O. 8:00 pm)
Closed
:
None
Average price
:
[Dinner] 6,500 JPY / [Lunch] 950 JPY
Access
:
From either Kojimachi station/Ichigaya staion, go towards "Nihon TV." It is near the beginning of Nihon TV street.
Address
:
2F Mitsui Building, 1-2 Rokuban-cho, Chiyoda-ku, Tokyo
Map
More Details
   Reservation   
2. With salt
Instead of sauce, dip your tempura in a little bit of salt. Be careful though, put too much and the taste of tempura will be overshadowed by the saltiness.Try this style at the long-established tempura restaurant in Kyoto, Mutsunoya.
Mutsunoya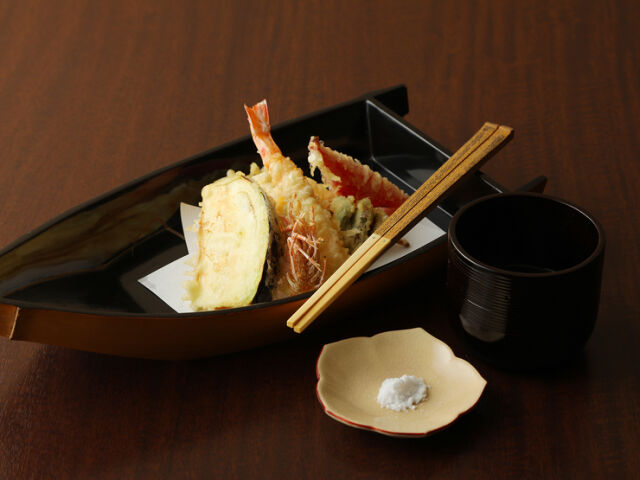 Open
:
5:00 pm - 10:00 pm 
Closed
:
Irregular
Average price
:
[Dinner] 15,000 JPY
Access
:
5 minutes walk from Kawaramachi Station 1B exit on Hankyu Kyoto Main line 
Address
:
146, Tenno-cho, Bukkoji-agaru, Kiyamachi-dori, Shimigyo-ku, Kyoto-shi, Kyoto 
Map
More Details
   Reservation   
3. Donburi or Tendon style
Served on top of rice, or also called 
donburi 
style. Tempura eaten in 
donburi 
style is called 
tendon
, which comes from both words mixed together. If you are visiting Tokyo, try tendon at Yamanoue near Akihabara area.
Tempura & Japanese Cuisine Yamanoue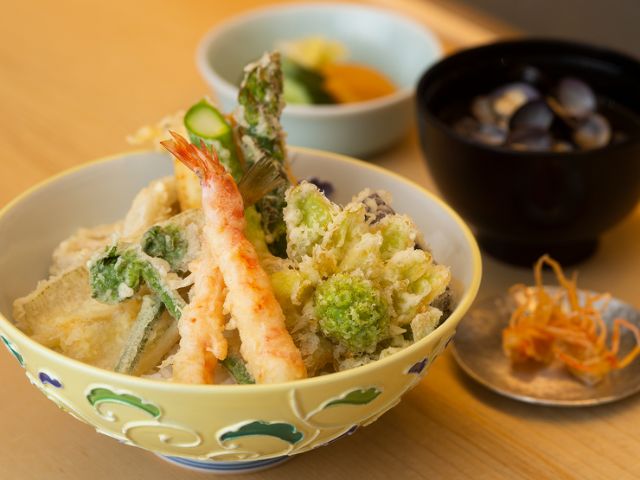 Open
:
Dinner 17:00 - (last order 19:00) / Lunch 11:30 - (last order 14:30)
Closed
:
None
Average price
:
-
Access
: 
4-minute walk from JR Ochanomizu Station
Address
: Ochanomizu, Tokyo 
Map
More Details
4. With udon
If you do not like rice, noodles are your best friend. Tempura can be eaten together with udon or soba. Udon soup which is made of dashi or fish stock, goes very well with the crispy tempura. Here is where you can get udon with tempura.
Uchoten Udon
Open
:
[Weekday,Saturday] 11:00 - 20:00
Closed
:
Sunday,Holidays
Average price
:
[Dinner] 600 JPY
Access
: 
3-minute walk from Jimbocho Station exit 5 on Metro Hanzomon Line
Address
: 
Kanda, Jimbocho, Tokyo 
Map
More Details
5. With soba
Also try 
soba 
or buckwheat noodles. When eaten together with tempura, 
soba 
brings out the mild taste of the tempura. Have tempura with soba at Tsuzurao in Shinjuku, Tokyo.
Tsuzurao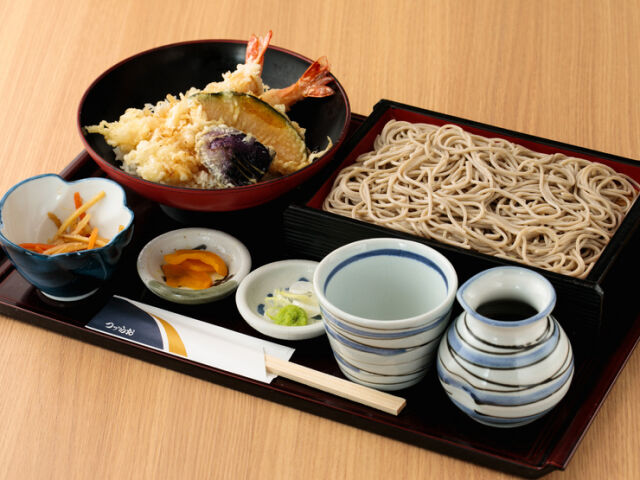 Open
:
11:00 am - 10:00 pm (L.O. 9:15 pm)
Closed
:
Irregular
Average price
:
[Dinner] 3,500 JPY / [Lunch] 1,500 JPY
Access
:
0 minute walk from West gate of JR Shinjuku station, it is located on the 12th floor of Manhattan Hills, the restaurant district of Odakyu department store
Address
:
12F, Main bldg. Odakyu department store, 1-1-3 Nishishinjuku, Shinjuku-ku, Tokyo
Map
More Details
   Reservation   
6. No sauce
Sometimes less is more. Eating tempura without any sauce or topping actually lets you appreciate the crisp and the freshness of it. If you like this unconventional way, head straight to Okubo Zero near Shinjuku, Tokyo.
Okubo Zero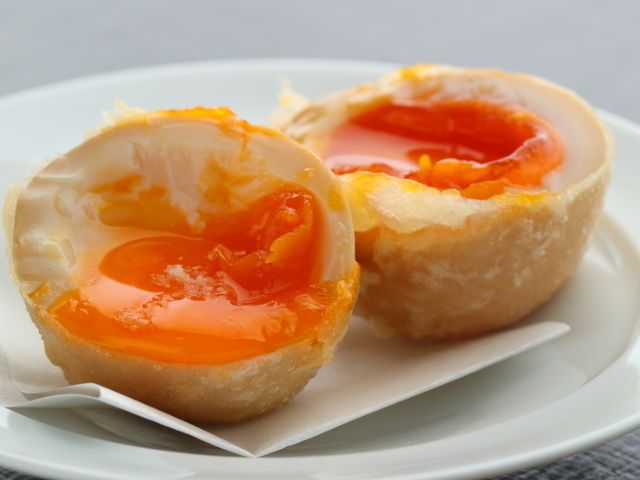 Open
:
Dinner 5:00 pm - 10:00 pm (L.O. 9:30 pm)
Closed
:
None
Average price
:
[Dinner] 4,000 JPY
Access
:
A 1-minute walk from the South Exit of [Okubo Station]
Address
:
105, Shou Yuwang Bldg., 1-23-22 Hyakunin-cho, Shinjuku-ku, Tokyo
7. With green tea poured over
Yes you read that right. Tempura is served on top of a bowl of rice, and then warm green tea is poured over it until the rice is partially submerged in tea. This method of pouring green tea over rice is called ochazuke. Although not a very common way to eat tempura, you can try it at Tempura Kappo Takano when you are in Osaka.  
Tempura Kappo Takano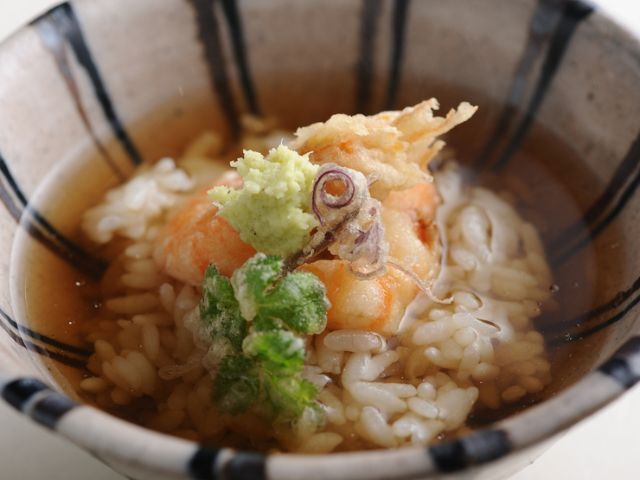 Open
:
[Sunday,Tuesday - Saturday,Holidays] 17:30 - 22:30 (last order 21:30) / Lunch 11:30 - 14:00 (last order 13:30)
Closed
:
In addition to Monday the first Tuesday will be a regular holiday. ※ If it is a holiday the next day is closed
Average price
:
[Dinner] 8,000 JPY / [Lunch] 3,500 JPY
Access
: 
1-minute walk from Okamachi Station on Hankyu Takarazuka Line
Address
: 
1-1-20 Okamachi-minami, Toyonaka, Osaka 
Map
More Details
Disclaimer: All information is accurate at time of publication.