Publish-date: Apr 26 2019 Update-date: Jan 30 2020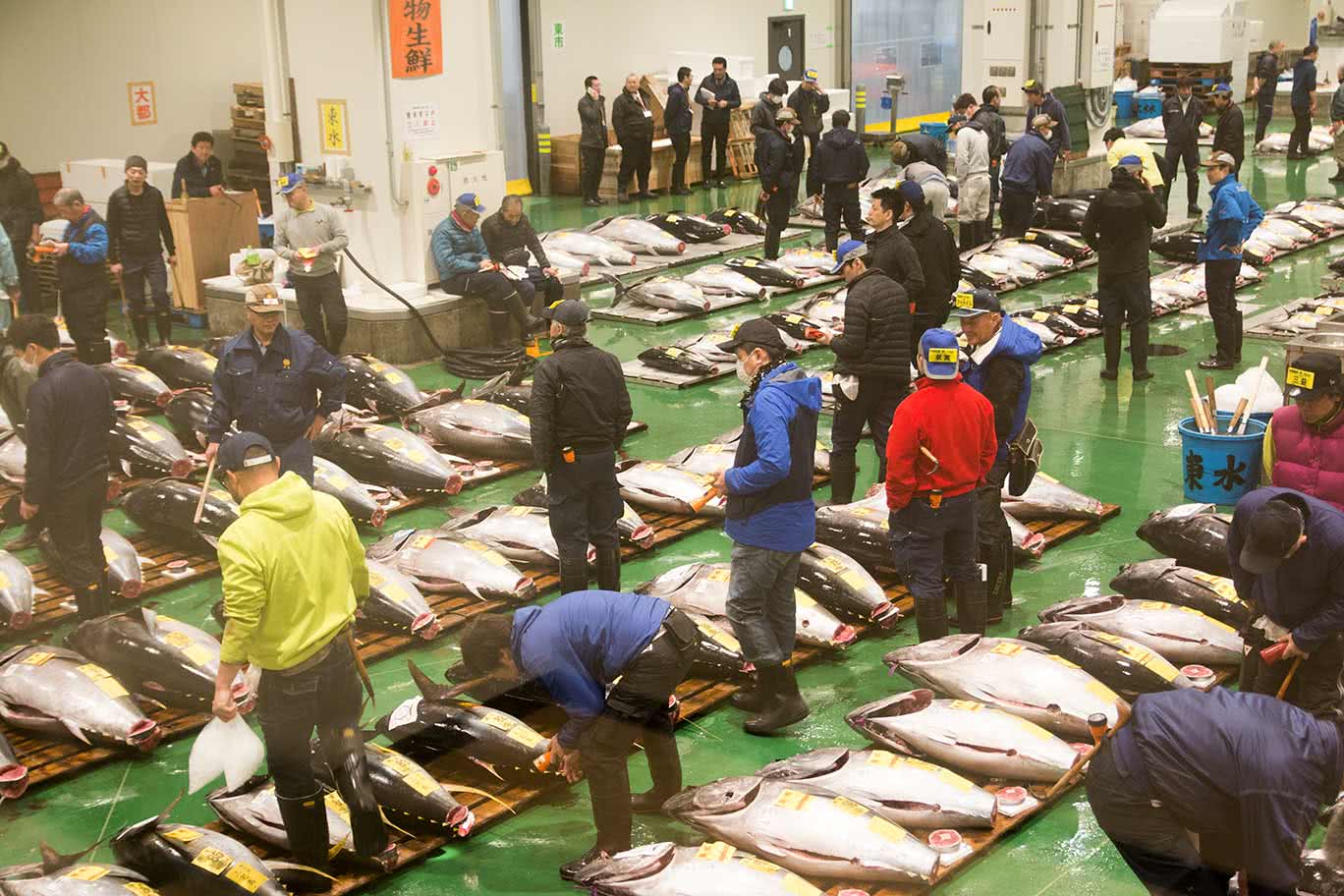 The famous Tsukiji Fish Market closed its doors in October of 2018, and most of its operations moved to the new Toyosu Market. This article, based on careful research at the market itself, will introduce the best ways to enjoy this new market for those who haven't been yet! Starting with the famous tuna auctions that can only be seen here, there are several highlights to visiting Toyosu Fish Market, so keep reading to find out more.

1. What Kind of Place Is Toyosu Market?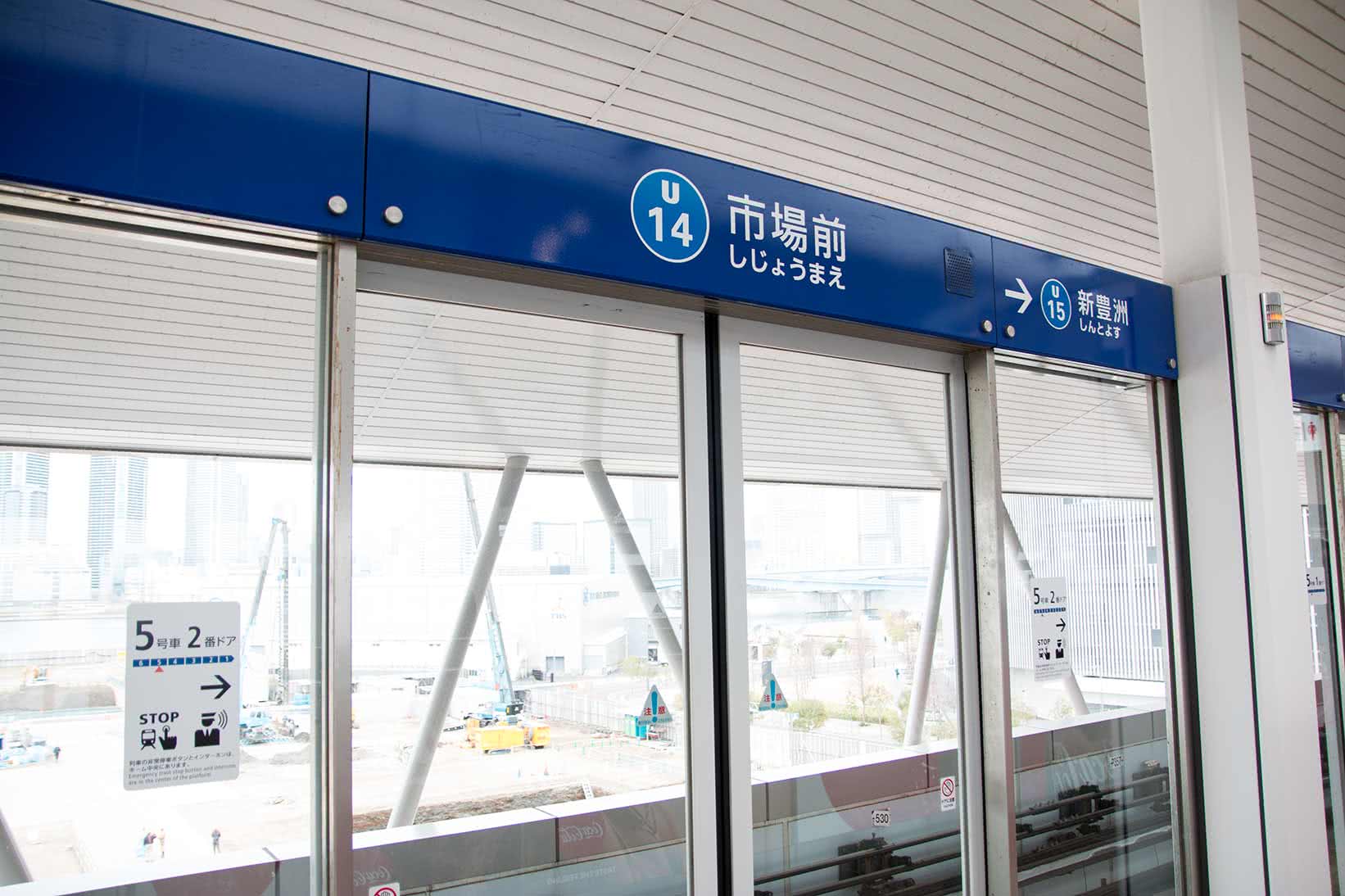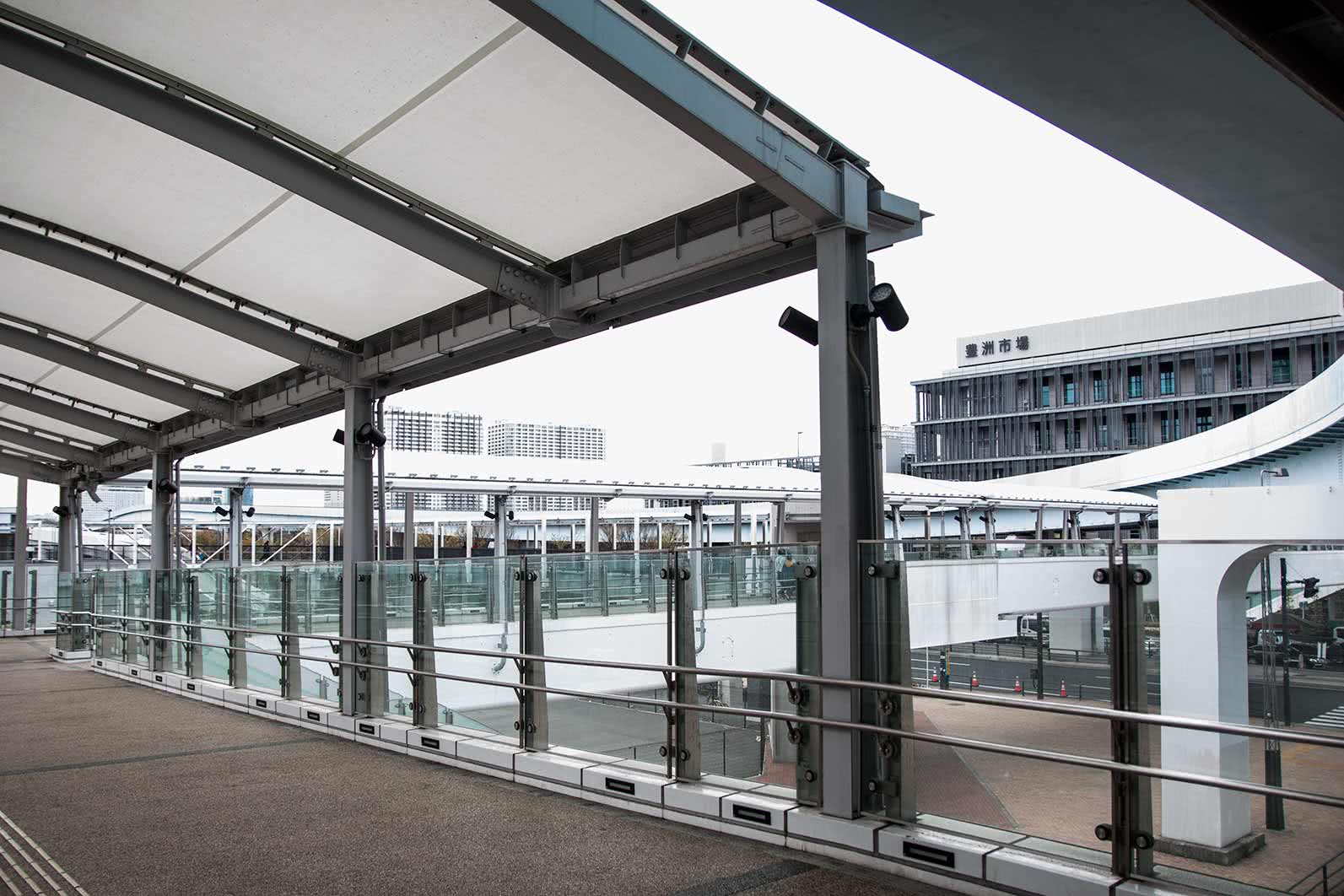 Located in the area of Toyosu, Toyosu Market is the leading wholesale fish market within the Tokyo metropolitan area. It is comprised of 4 facilities: the Fish Wholesale Market Building, where the famous tuna auctions are held; the Fish Intermediate Wholesale Market Building, home to the largest restaurant area within the vast market; the Fruit and Vegetable Market Building, located right next to the station; and the Management Office. The closest station to the market is Shijo-mae Station on the New Transit Yurikamome Line, located around 40 minutes from Shinjuku Station or 30 minutes on a direct train from Shimbashi Station. The station and all the buildings of the market are connected by elevated roofed walkways, so there is no need to worry about getting lost. The market is quite large, though, so be sure to wear comfortable shoes that can handle a lot of walking.

2. Highlight #1: Tuna Auctions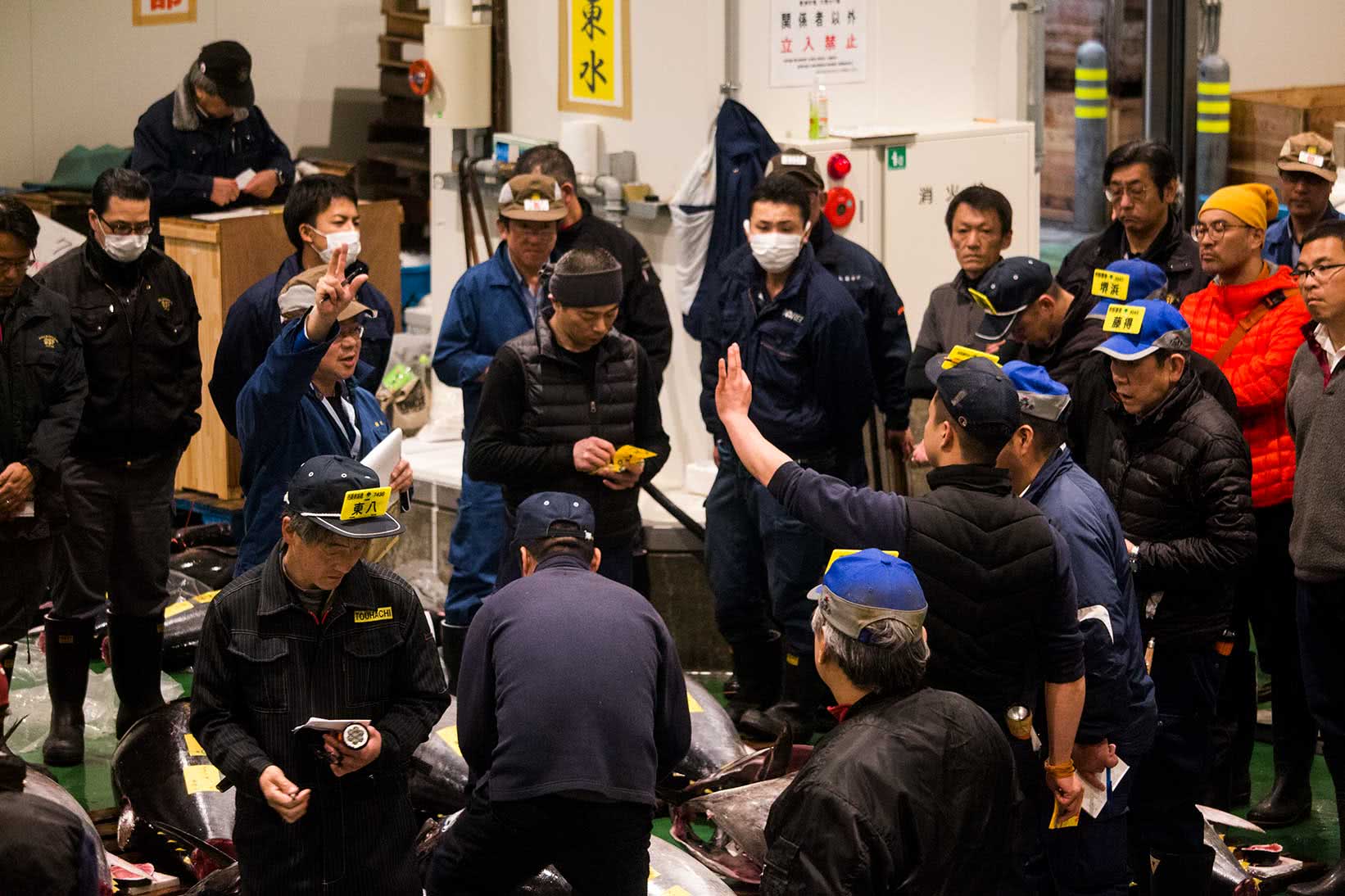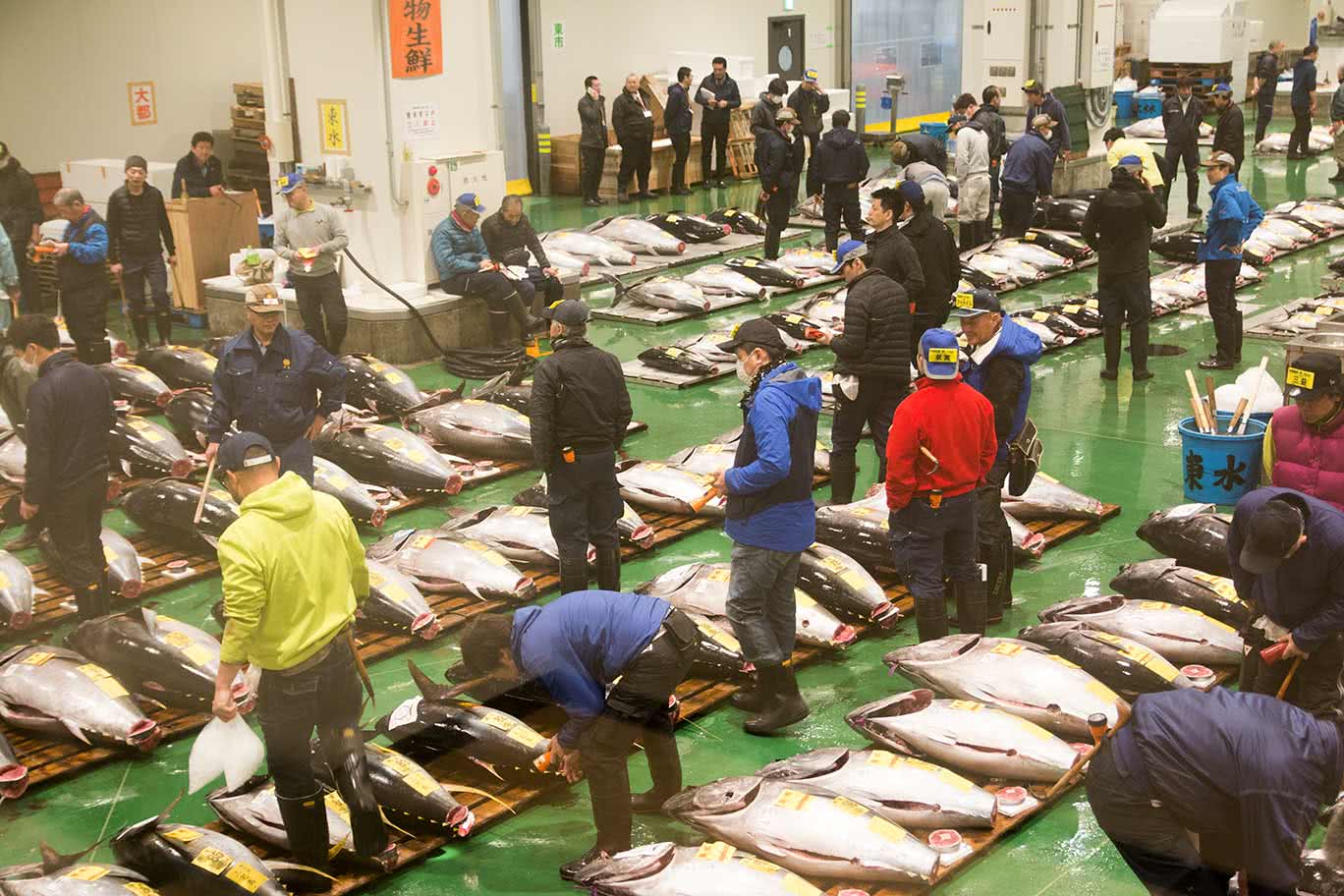 Tuna auctions are held in the Fish Wholesale Market Building. They can be viewed for free, so they are a huge hit with tourists. Tuna auctions are events overseen by auctioneers (wholesalers) in which several bidders (intermediaries or buyers) gather and compete by offering increasingly high bids to get their hands on the best tuna each day. Toyosu Market employs an auction style called "ido-seri" (moving auction), in which the auctioneer walks around the laid-out tuna and assigns prices as he goes. Starting from one end, the bidding process for each tuna is done one-by-one, and the crowd of bidders moves to surround the next fish after the current one has been bought. In addition to shouting out their bids verbally, the bidders also use specific hand signals called "teyari" to raise their bids. It is an incredibly quick process, and it can take only 3 to 5 seconds per fish, such that around 100 tuna can be sold all within 10 minutes! For the bidders, it becomes a race against time as soon as the auction starts, so apparently many come as early as 4 am to look at the tuna in order not to let a good one pass them by. The tuna fish are judged by observing a cross-section cut out by the seller as well as by physically feeling the fish to judge its texture.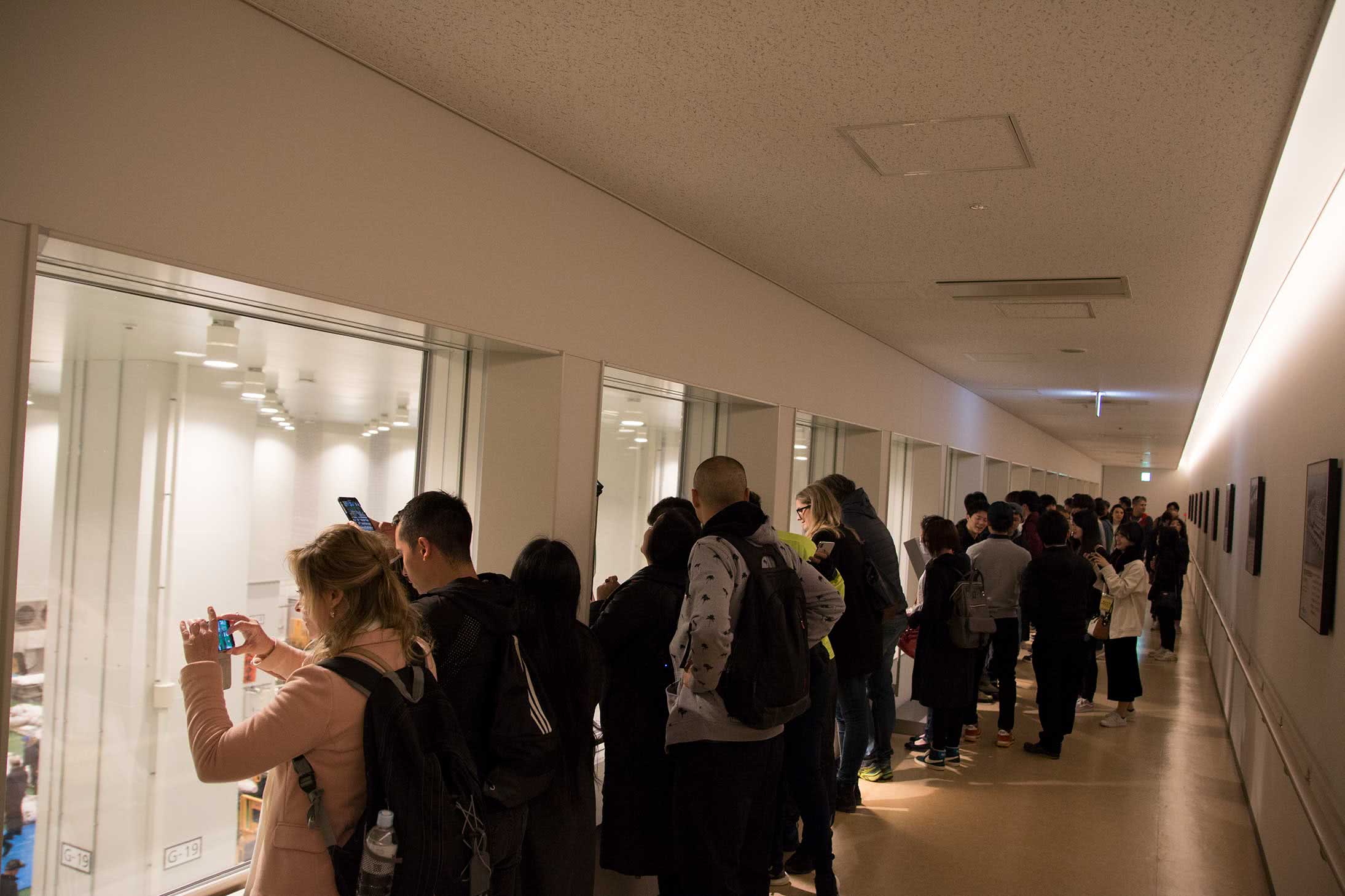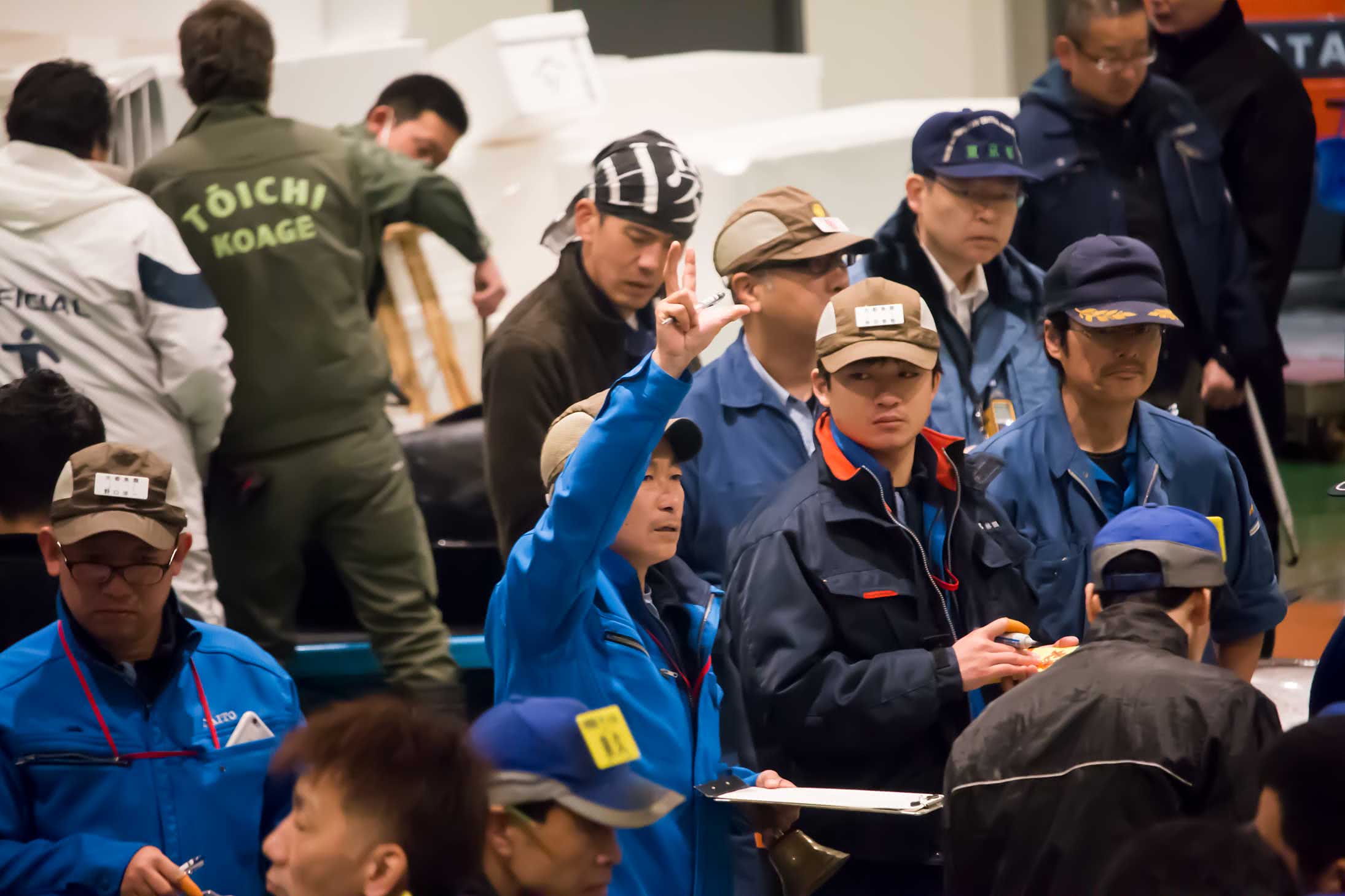 The tuna auctions can be viewed from the 2nd floor observation windows of the Fish Wholesale Market Building from around 5:45 to 6:15 am on Monday - Saturday. While you cannot hear the bids from this observation area, you will be able to appreciate the warm temperatures and the impressive view of all the tuna laid out in the huge space. Those who wish to view the auction up-close and feel the excitement for themselves can make a request online or by telephone to be entered into a lottery to watch from the 1st floor viewing deck (100 people per day). It is a thrilling experience where you can inhale the scents of the market and hear the shouts of the enthusiastic bidders that you won't want to miss! However, don't forget to dress appropriately as the auction area is kept cold to preserve the quality of the fish. You will have to arrive quite early in the morning, so be sure to confirm how to get there ahead of your visit.
Read about the application process here
>>
3. Highlight #2: Uogashi Yokocho Market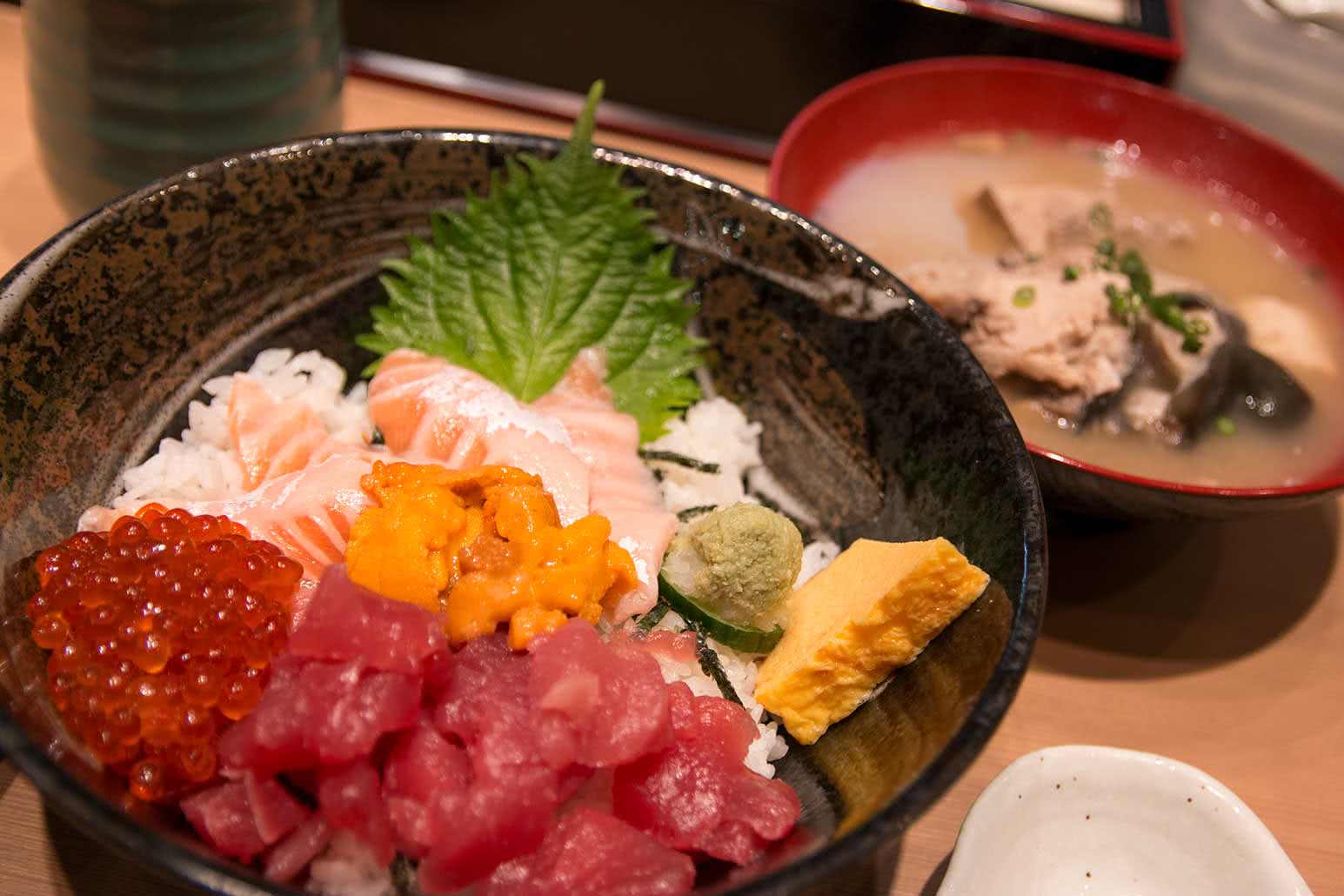 After watching the tuna auction, you'll probably want to grab some breakfast and pick up some souvenirs. Just head to the Fish Intermediate Wholesale Market Building to find Uogashi Yokocho Market as well as the largest collection of restaurants and specialty stores within Toyosu Market. This area is packed full of restaurants dishing out delicious meals such as kaisen-don (seafood rice bowl), tonkatsu, and gyu-don (beef rice bowl). It's a great place to visit in the morning to get the energy you'll need for the rest of your day!

After eating a filling meal in the restaurant area, you can head to Uogashi Yokocho Market to check out the wares of the many specialty shops. Just follow the walkway along the Fish Intermediate Wholesale Market Building to the very end. Make sure to pick up a Guest Card at the entrance. The market area is home to around 70 shops, including Marutake, famous for its tamagoyaki (rolled egg omelet); Aritsugu, a purveyor of cooking knives and cutlery; and Ito Uroko, where you can buy work boots as well as official Toyosu Market goods. Among them, you'll want to pay a visit to Ito Uroko. In addition to purchasing the same work boots that are used by the actual workers at Toyosu Market, you can buy exclusive market goods such as T-shirts and badges emblazoned with the Toyosu Market mascot. Many visitors also pick up several pairs of socks with cute fish designs before making their way home as well! Why not stop by for some souvenir shopping?

4. Highlight #3: Toyosu Market Rooftop Garden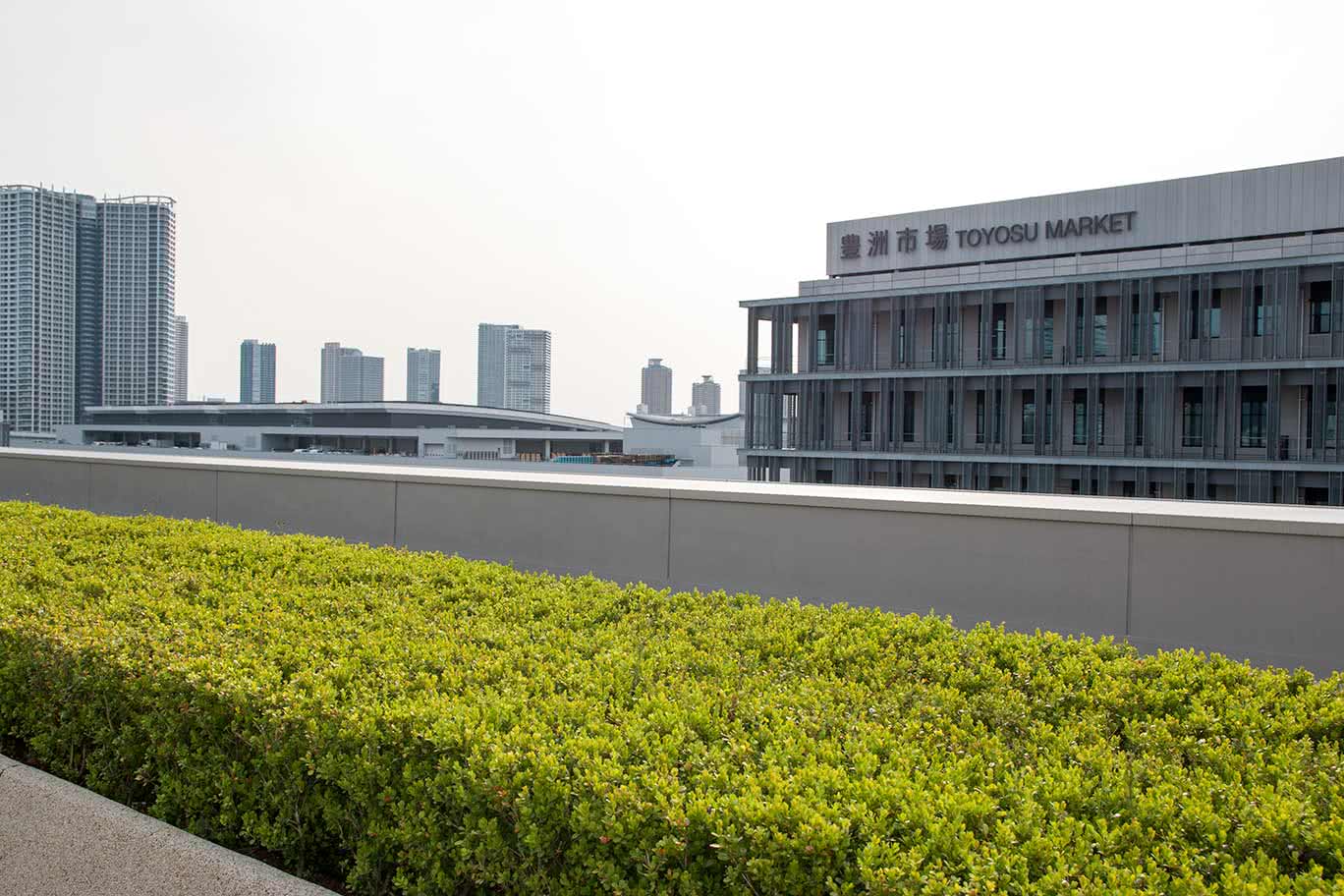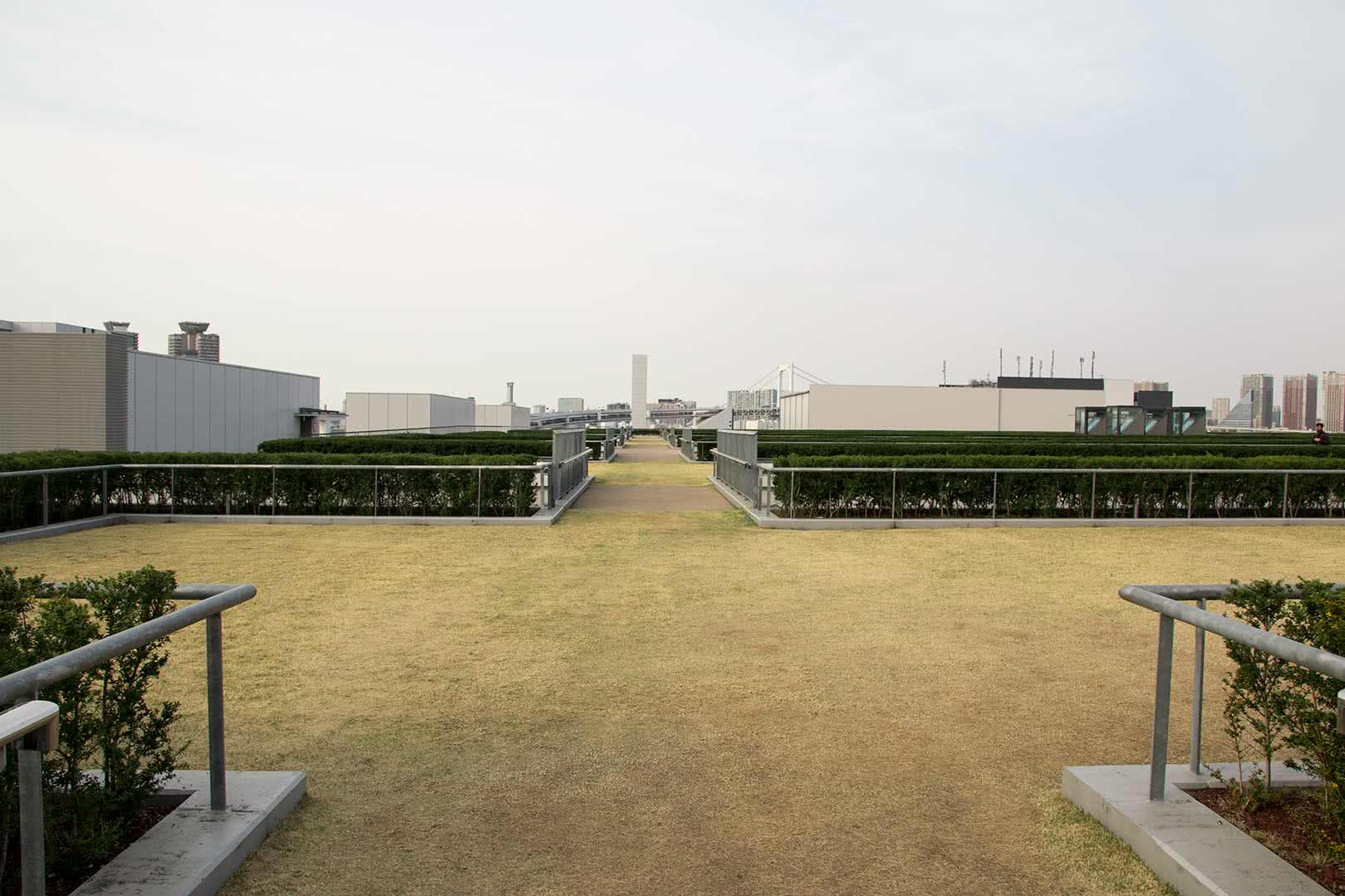 The last place that you'll want to visit is the Toyosu Market Rooftop Garden, where you can feel a refreshing breeze.  From there, you can see a wide view that includes the structure that's currently under construction for the upcoming Tokyo Olympics, the Rainbow Bridge, TOKYO SKYTREE, and more.

5. Things to Keep in Mind When Visiting Toyosu Market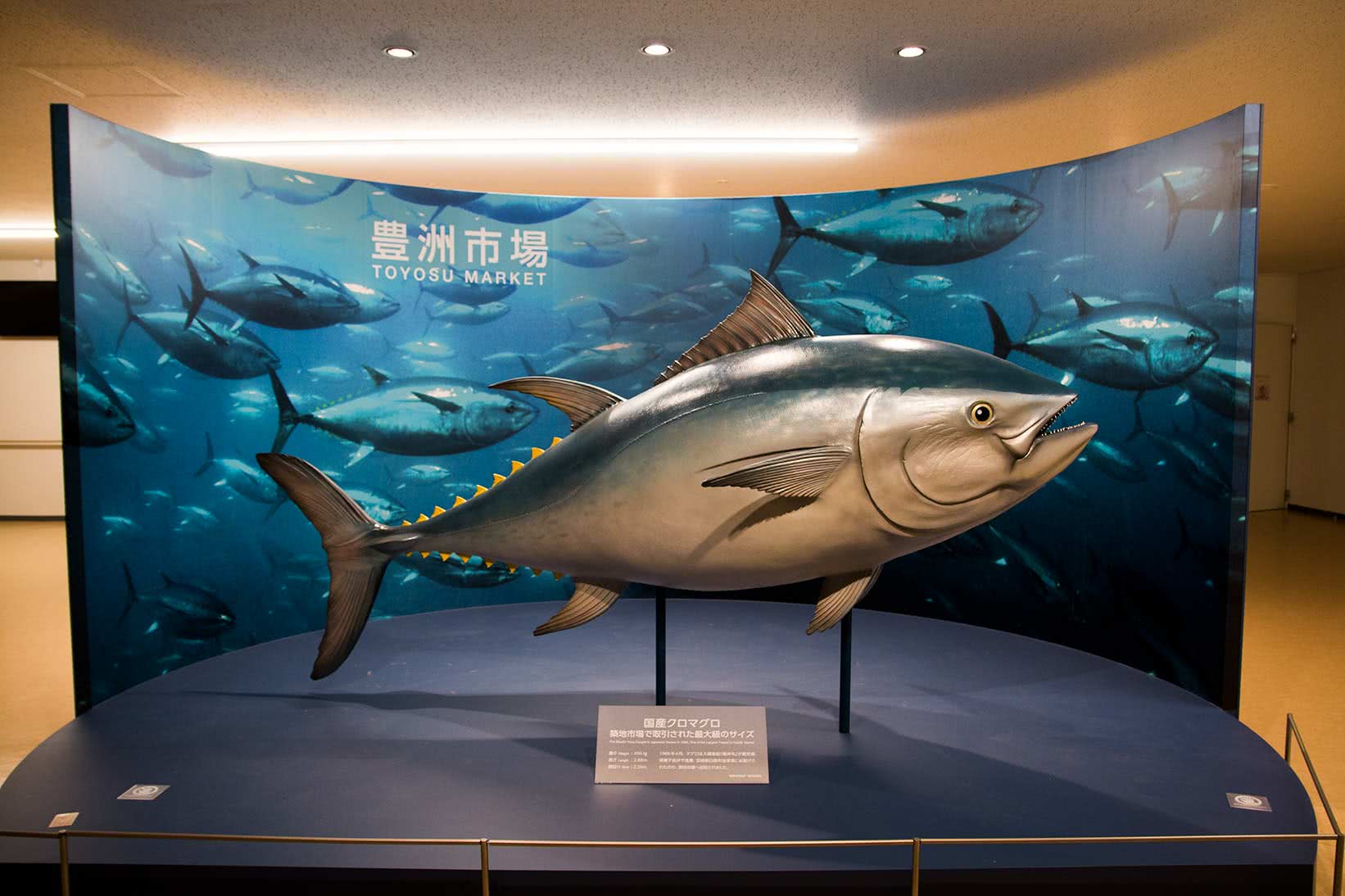 Toyosu Market is fundamentally a place where people are working. While inside the market, make sure not to stand in the way of workers pushing carts and traveling via vehicles called "turrets." Keep the following points in mind during your visit so that you can have the best time possible.

・Do not bring large luggage with you
The shops within Toyosu Market are quite narrow, so you will cause a nuisance if you try to enter with large bags or luggage. There are also a large number of counter-only restaurants with limited space. Visitors are urged to store their belongings in a locker or other safe location before entering the market.
・Research the closing days before you visit
Toyosu Market is closed on Sundays, national holidays, and other days throughout the year. On these days, the shops and restaurants are also closed in addition to the market. Therefore, it is recommended to confirm the market's closing days before making plans to visit.
・Pay attention to opening and closing times
While the market area of Toyosu Market is open from 5:00 am - 5:00 pm, the opening and closing times for the restaurants and shops vary. There are many restaurants that open early and close before noon, so take that into consideration when making your plans.
・Take cash with you
Many shops within the market do not accept credit cards, so you should make sure to transfer your currency into Japanese yen and bring cash just in case. If you already know what you want to buy, you can also check beforehand to confirm whether that shop accepts credit cards.

Recommended Restaurants in the Toyosu Area
After having a great time at Toyosu Market during the morning, why not jump on the New Transit Yurikamome line and head to the Toyosu area? You will have access to a large number of dining options for lunch or dinner within just 30 minutes by bus or train.

 1. Sushi Mukai (Katsudoki / Japanese Cuisine)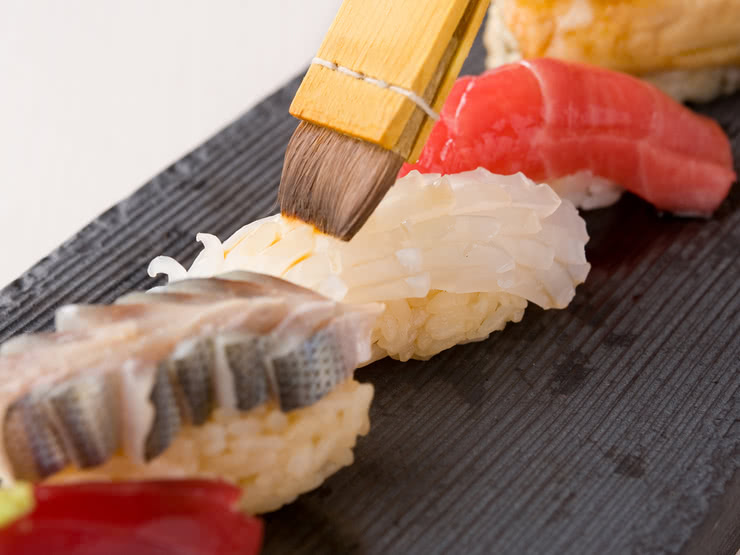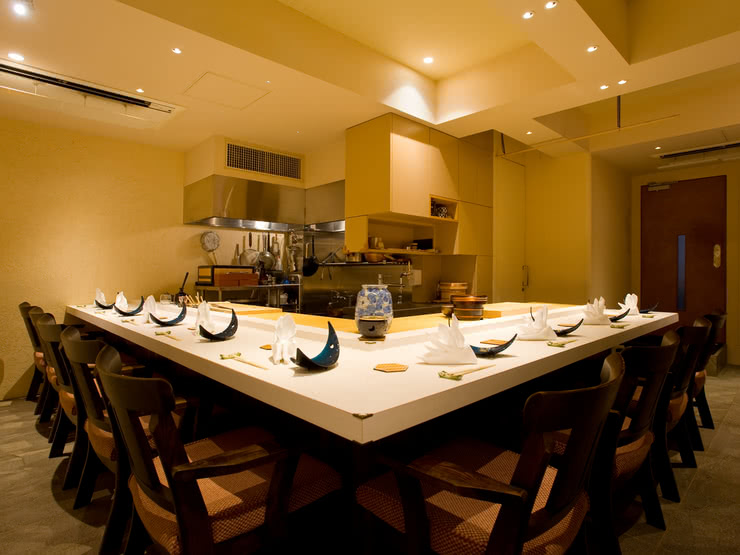 Sushi Mukai is a Japanese restaurant that is particular about serving Edo-mae (Tokyo-style) sushi. Here, you can enjoy with all five senses delicate and comforting cuisine that matches perfectly with wine as well as sake (a type of Japanese alcohol). Most recommended here is the [Seafood "Nigiri" with Red Vinegar], which uses seasonal toppings hand-picked by the professional chef. This is the place to go to spend an unforgettable time like no other!

Sushi Mukai
Open
: 11:30 am - 10:00 pm (L.O. 9:00 pm)
Closed
: None
Average price
: [Dinner] 30,000 JPY / [Lunch] 5,000 JPY
Address
: 3-5-9, Kachidoki, Chuo-ku, Tokyo
Map
More Details
 2. Omitama (Kiba / Japanese Cuisine & Kaiseki)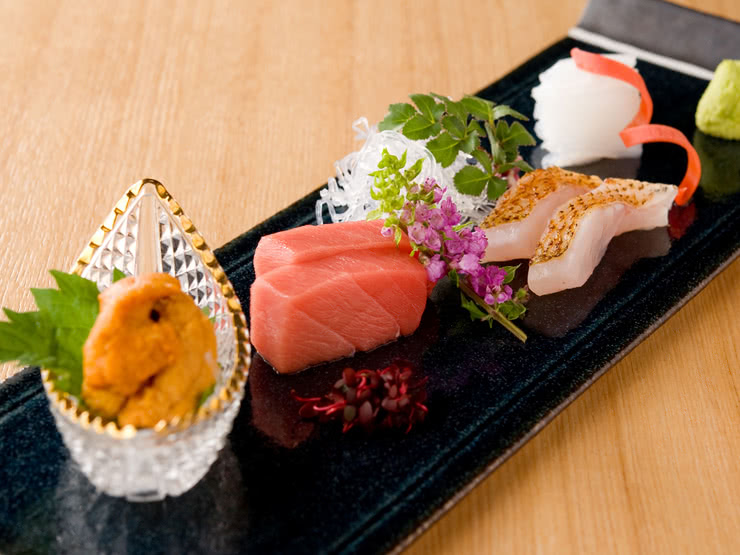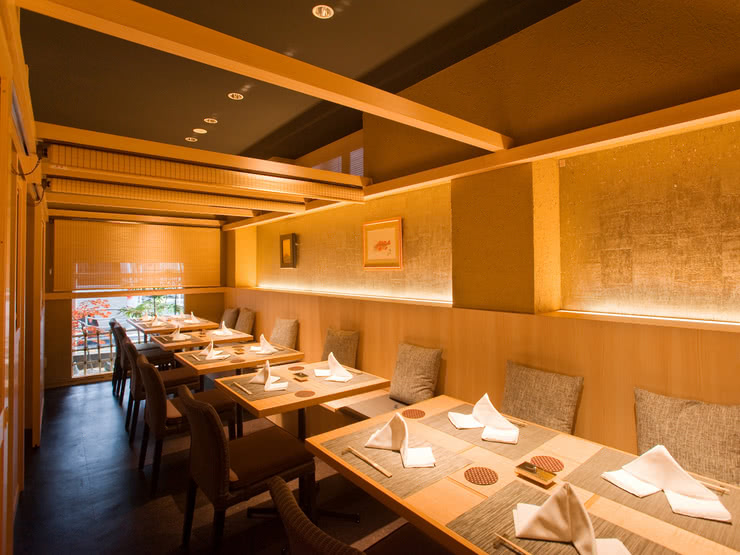 Omitama serves up authentic Japanese cuisine in a relaxed and easy-to-visit atmosphere. The most recommended dish here is the [Sashimi] (1,200 JPY and up (excl. tax)), made with fresh seafood from all over Japan. The staff goes to Toyosu Market each morning and picks up the freshest and most in season seafood to use for this dish. You can also taste and compare a huge variety of sake!

Omitama
Open
: [Weekdays, Saturday, Day before National Holidays] Lunch 11:30 am - 2:30 pm (L.O. 2:00 pm), Dinner 5:00 pm - 11:00 pm (L.O. 9:30 pm)
Closed
: Sunday, National Holidays
Average price
: [Dinner] 8,000 JPY / [Lunch] 1,500 JPY
Address
: 3-18-9, Toyo, Koto-ku, Tokyo
Map
More Details
That wraps up this guide to the new Toyosu Market. When you're in Japan, by all means visit Toyosu Market and the Toyosu area to get a good taste of Japanese culture!

Disclaimer: All information is accurate at time of publication.