Publish-date: Dec 19 2017 Update-date: Aug 06 2019
Like and Share us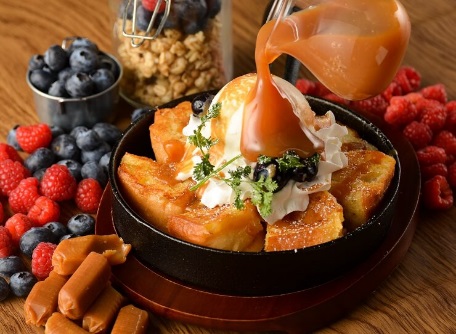 Around Shinjuku Station, there are a lot of places to shop and enjoy great food at. Why not take a break from shopping to enjoy lunch or dinner at one of the area's unique cafes? Choose how much you wish to eat at the numerous Italian restaurants that serve ideal dishes for a light lunch, such as French toast, pancakes, ethnic cuisine, steak, or even snacks like top quality desserts! All the places introduced are near the station, so they are very easy to get to.
1. Cheese Fondue & Italian Bal Shinjuku Terrace East Gate Eki-mae Branch
This cafe, located only 1 minute's walk from Shinjuku Station, serves various grilled dishes like raclette cheese fondue, which is perfectly reminiscent of Swiss home cuisine. The [Meat Fondue] (succulent meat and cheese fondue) is the most ordered item on the menu. Hokkaido-produced raclette cheese from Hanabatake Farm is used in the filling for the cheese fondue dish, [Contracted Farmers' Vegetable Bouquet Parfait in Raclette Cheese Fondue in a Bucket]. The sophisticated interior has a number of private rooms that can cater to groups of up to 30 people. If you want to enjoy night views of Shinjuku while attending a girls' night out or a birthday party in a private room, this is the place to visit. Some private rooms even have sofas!
Cheese Fondue & Italian Bal Shinjuku Terrace East Gate Eki-mae Branch
2. HIKARI Cafe & Dining Shinjuku East Gate
HIKARI Cafe & Dining, located only a 2 minute walk from Shinjuku Station, has a menu that ranges from light cafe cuisine to hearty meat meals. A wide variety of cuisine can be enjoyed at this cafe, which has a stylish, designer-directed interior. For example, the [Cheese Parfait], as introduced on television, includes various types of cheese, such as mozzarella, cream cheese, camembert, and cheddar, and is arranged into a parfait-style dish. The creamy melted raclette cheese in the cheese fondue is highly recommended, and very popular among women. There are romantic tables for 2 people that overlook a night view, private rooms that can serve up to 15 people, and tables with sofas that are ideal for matchmaking parties or girl's parties. Customers can choose the table of their choice depending on the purpose of their visit.
HIKARI Cafe & Dining Shinjuku East Gate
3. Kawara CAFE & DINING Shinjuku Main Branch
Kawara CAFE & DINING feels like a secret hideaway cafe with a stylish atmosphere. The [Tuna and Cream Cheese Raw Yuba Roll], where yuba (tofu skin) is wrapped around vegetables and salmon roe, is a taste that's unique to Japan. There are numerous creative Japanese-style dishes on the menu that are very healthy and look amazing, such as the luxurious [Half-Half: Herb Breadcrumbs and Cheese Grilled Angus Beef Steak and Chicken] dish, where beef and chicken can be enjoyed all in one dish! This cafe is very convenient due to its location, which is only 1 minute's walk away from Shinjuku-sanchome Station – ideal for a girl's or matchmaking party! The 2-hour all-you-can-drink course option is also a great deal and highly recommended. Don't be concerned about what time it is when you visit, as it is open for business continuously from lunchtime until late at night.
Kawara CAFE & DINING Shinjuku Main Branch
4. Manna (Shinjuku Nakamura-ya Manna)
This restaurant, located on B2F of Shinjuku Nakamura-ya Bldg., is popular across generations. Customers can enjoy Western cuisine, such as the long-selling [Napolitano], [Ifumen Noodles], [Borscht], [Omuraisu with Beef Stew Sauce], and [Beef Patty with Demi-glace Sauce]. The most recommended dish on their popular menu has to be the Nakamura-ya-style Indian curry, [Genuine Indian-style Curry]. This dish has been the restaurant's best seller since as far back as 1927, and has become their signature dish. The [Coleman Curry] with chicken on-the-bone is also very popular. There are half-and-half menu options, as well as seafood or vegetable curries available. Trimmings include shallots, cheese, pickles, onions, and bottomless chutney.
Manna (Shinjuku Nakamura-ya Manna)
5. Paul Bassett Shinjuku
This espresso cafe is based on the ideology of Paul Bassett, a World Champion Barista. It stands out well in the cafe-heavy Nishi Shinjuku area due to its exceptional atmosphere. Various types of coffees can be enjoyed here, and all made with home-roasted beans via the in-store coffee roaster. The menu includes full-bodied, mellow coffees brewed in either a French Press or Aeropress, such as the cafe's signature [Espresso] or [Lungo], which is a black coffee with a strong flavor of coffee beans. Why not also order the popular [Ricotta Cheese Pancake] or [Croissant Sandwich] to go with your coffee? All food and drinks are meticulously prepared, and come with affordable price tags.
Paul Bassett Shinjuku
6. La Maison Ensoleille Table Lumine Shinjuku Branch
You have to try the fruit tart filled with fruits carefully selected by the patissier! This welcoming cafe, modelled on a tropical island house, is always full of customers due to its storefront display, which has showcases more than 10 of its limited edition, colorful, seasonal tarts. Provence-style cuisine, such as the [Oven-baked Beef Stroganoff] and [Oven-baked Beef Patty and Purple Sweet Potato Simmered in Tomato Sauce], is available on the menu, as well as French toast, herb tea, coffee, and wine – making it an ideal location for a break during shopping or for a relaxing sit-down meal. The cafe is also often used as a meeting spot due to its location inside Lumine Shinjuku.
La Maison Ensoleille Table Lumine Shinjuku Branch
7. Bistro Cafe LADIES & GENTLEMEN
The French bistro chef, Takemasa Kinoshita, and the world-famous patisserie, Sadaharu Aoki, are in charge of producing the confectionery at Bistro Cafe LADIES & GENTLEMEN. This cafe has an impressive, chic interior, with Western books lining the shelves and impressive pieces of art covering the walls. The cafe's popular, juicy, and rich [Dry-aged Salty Beef Patty] can be topped with either demi-glace or truffle salt sauce. Other dishes with fantastic reviews fill out the menu, such as the [Tomato and Onion Spicy Curry] or the [Ricotta Cheese and Black Pepper Carbonara]. Sadaharu Aoki's [Chocolate Bamboo Cheesecake] is also popular, alongside the [Degustation (6 Cake Set)].
Bistro Cafe LADIES & GENTLEMEN 
8. CONTAINER Cafe & Bar
With its large windows and antique furniture, CONTAINER Cafe & Bar feels like a hidden getaway. The menu doesn't appear to belong to any particular genre, with tapas dishes such as [Chicken Liver Pâté Bucket] and [Scallop and Mushroom Ajillo] sitting alongside other dishes like [Pork Loin Cutlet with Tomato Sauce], [4 Cheese Pizza Topped with Honey], [Cheese Taco Rice Topped with a Fried Egg], and [Chicken Green Curry]. The rich [Bacon and Spinach Cream Risotto] is made with fresh cream and has fantastic reviews. The chef's signature dishes are the French toast soaked in homemade caramel and the bitter Gateaux Chocolat. A unique daily menu is also available until 4:00 pm.
CONTAINER Cafe & Bar
9. Salo Café
With its calming wooden interior and abundance of plants, the name Salo, which means "a dense forest" in Finnish, is more than appropriate. On weekdays, the [Salo no Kikori Plate] set is available. It includes the daily meat special (like meatloaf or pork piccata) with salad or aemono (ingredients with a Japanese dressing), rice, and soup. The [Large Salad Plate] and the [Dry Curry], as well as the [Kimagure Pasta] (only available on Saturday, Sunday, and National Holidays) are other extremely popular menu items. A drink set is also available during lunchtime. Popular confectionery dishes include the [Caramel Banana Parfait] and [Strawberry Salty Tart]. An all-you-can-drink set menu is available in the evenings to go alongside any ordered cuisine.
Salo Café
10. J. S. BURGERS CAFE Shinjuku Branch
Located on the 3rd floor of Journal Standard, this burger cafe has a simple yet stylish interior. Customers can order the signature hamburger as a set with a salad, soup, and a soft drink. Many people order the J. S. BURGERS due to the luxurious amount of pate and vegetable filling, combined with creamy avocado and cheddar cheese. There are over 20 different burgers available, all with delicious, succulent meat – for example, why not try the [Dry-aged Beef Pate Burger] or the [5-grain Chili Cheese Burger]? A dessert menu is also available, which includes items such as the [Caramel Nut Cheesecake] and [Cherry Cream Chocolate Cake].
J. S. BURGERS CAFE Shinjuku Branch
11. Moana Kitchen Cafe Shinjuku Takashimaya Times Square Branch
This pancake and Hawaiian cuisine cafe plays Hawaiian background music in its welcoming and relaxing interior. The [Hawaiian Plate] consists of a main dish of either a tofu patty, tomato chicken, or roasted salmon, alongside ginger quinoa soup, a 7-vegetable salad, 15-grain rice, and a mini cheesecake. The menu also includes Hawaiian main dishes like beef steak and loco moco, as well as smaller dishes such as [Spam Omusubi] and [Ahi Poke]. The dessert menu is also quite large and includes the popular [Mixed Fruits Pancake], [Mango and Kiwi], and [Haupia Macadamia Nut].
Moana Kitchen Cafe Shinjuku Takashimaya Times Square Branch
12. CAFE AALIYA
Thick and fluffy French toast is recommended at this cafe, which has a relaxing atmosphere and a mature brown and white interior design. Not only is the French toast here larger than normal, but it is set apart from the crowd thanks to having just the right amount of sweetness, being very thickly sliced, and having a deliciously soft and fluffy texture. Customers can enjoy the French toast as it is for breakfast or lunch, or eat it as a dessert with various toppings. The [French Plate Set] includes a piece of classic French toast with fresh cream and cinnamon powder, alongside a drink. This cafe's French toast has a  simple, golden brown color.  It comes with no excess toppings or decorations, and is very popular among both male and female customers. A wide variety of toppings are also available, making it a great deal!
CAFE AALIYA
13. AVOCADO
Just as the name suggests, the menu of this restaurant focuses on the very nutritious avocado. This is a bright and cheerful Mexican restaurant with lots of variation on the menu, from classic avocado dishes to unique dishes with meat or seafood. The lunch set uses whole avocados provided by farmers in Mexico, and includes a main dish of either the [Grilled Chicken Fajita] or the [Shrimp and Avocado Marinated Dish], alongside a salad, drink, and dessert. Apart from avocado, succulent, thickly-sliced grilled steaks like the [300g Mexican Beef Rib Roast Steak] are also available on the menu. It comes with 4 types of sauces. This is a perfect restaurant to share a dinner with friends, as they also serve alcohol like Mexican beer.
AVOCADO
14. Caffice
Caffice is popular among students and business folk due to the fact that all tables come with a power supply and Wi-Fi. This expansive cafe has large windows and is divided into different areas – a business area, a lounge area, and a cafe area. Some tables even have desk lamps ideal for studying, reading, or working! There is also a special weekly menu and drinks like freshly ground original coffee. Popular items include the [Roast Beef Sandwich], [Kanazawa Curry], and [Loco Moco Rice Bowl], as well as pasta lunch sets like the [Affogato] and the [Special Smoothie of the Week]. All drinks come in a large cup, allowing all customers to sit back and make good use of their time.
Caffice 
15. Eat More Soup & Bread
Eat More Soup & Bread offers stews, soups, and stew omuraisu dishes all made with carefully selected ingredients. The menu includes 7 classic dishes, such as the [Delicious Pumpkin Potage] and [Tender Beef Stew], all of which come with salad and bread. The [Salad and Tomato Sauce Omuraisu] or the [Grilled Chicken Sandwich] are ideal for those very hungry moments! The beef, chicken, and cmar lobster in stew omuraisu are served piping hot in small Le Creuset kitchenware. There is also a bread buffet available for an additional fee. Their breads are delicious both by themselves or accompanied with soup.
Eat More Soup & Bread
16. Latte Chano-mama Isetan Shinjuku Branch
At this cafe located on the same floor as the children's clothes department in Isetan Shinjuku, strollers are welcome inside, and baby chairs are also readily available. Raised, U-shaped sofa tables are available at this cafe (customers must take off their shoes) – ideal for mothers with small children or babies. Both children and adults alike can lie down and enjoy the soft and fluffy cushions at the raised seating area! Breastfeeding is also possible here. The food is well thought out, with an age-orientated, nutritional children's menu, as well as baby food options and adult dishes, such as risotto, pasta, and desserts. The staff will also gladly warm up any baby food not bought within the cafe itself.
Latte Chano-mama Isetan Shinjuku Branch
17. Alice's Fantasy Restaurant 
Based on the British fairy tale, Alice in Wonderland, this restaurant is located on B3F of Odakyu Halc. With the interior design featuring heart-shaped tables, playing card displays, and staff costumes, customers can truly immerse themselves in the world of Wonderland. Just looking around is fun in itself! Various lunch sets are available on the menu, such as the [Mentaiko Carbonara] and the [Shrimp and Spinach Tomato Cream Spaghetti], all of which come with a salad and drinks from the drink bar. The [Imomushi Ojisan Roll Cake and Shrunken Alice Cake Set] perfectly reproduces the world on a plate. This is a great place to escape reality and eat delicious food in a fantasy environment.
Alice's Fantasy Restaurant 
18. Cafe By The Sea
With a southern Californian seaside theme, this expansive cafe is brightly lit and serves items such as unique seafood stews, paella, and original vegetable French toast. Perfect for casual situations, popular items on the menu include the [Seafood and Tomato Risotto with 10-grain rice], [Hand-kneaded Beef Patty with Melted Cheese], and [Thai-style Chicken Gapao Rice], all of which are made with carefully selected, flavorsome ingredients. The [Savory French Toast with Smoked Salmon and Vegetable Ratatouille] is ideal for a light lunch. The menu also includes original drip coffee and an abundance of confectionery dishes, such as the [Nut Tart] and [Adult Strawberry Waffle and Milk Gelato with Balsamic Sauce].
Cafe By The Sea
19. JEAN-PAUL HEVIN Isetan Shinjuku Branch
Customers are able to enjoy cuisine made by the world famous chocolatier, Jean-Paul Hevin, at this cafe. There are always people lining up outside this elegant cafe! A take-out menu is available, but people who eat in can enjoy the [Chocolat Parisian], a lightly-sweetened dish with a rich and refined cacao aroma. Many people order this hot chocolate to go with their cake. The rich yet not too sweet [Chocolat Framboise] is the most popular item on the menu among women, along with classics like the [Guayaquil Chocolate Cake] and [Mont Blanc].
JEAN-PAUL HEVIN Isetan Shinjuku Branch
Disclaimer: All information is accurate at time of publication.