Publish-date: Dec 21 2017 Update-date: Aug 06 2019
Like and Share us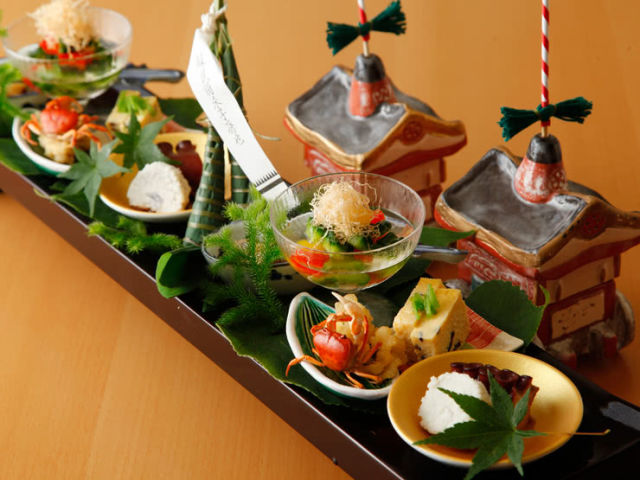 Bustling with tourists, Kyoto Station is the gateway to Kyoto City, and boasts of several fantastic restaurants. This article introduces 15 of the top Japanese restaurants around the Kyoto Station area, as chosen by the popular Japanese gourmet website, Hitosara.

1. Eijuan
Eijuan is located on the 1F of Hatoya Zuihokaku Hotel, which is only a 5-minute walk from Kyoto Station. The sophisticated interior gives it a traditional yet modern Japanese atmosphere, and they offer dishes using seasonal vegetables that you can only find in Kyoto. The [Head Chef's Omakase Course] (from 10,800 JPY) and [Omi Beef & Kamonasu Eggplant Rikyu-yaki] are highly recommended. Seasonal local vegetables with Omi beef is an exquisite combination that really shouldn't be missed! This restaurant also offers a luxurious hot spring deal, so why not warm up in the hotel's hot spring before enjoying some delicious food?
2. Ginnan
Ginnan serves a wide variety of original Japanese cuisine made from fresh local ingredients, such as fresh fish, shellfish, yuba (tofu skin), tofu, and Kyo-Yasai (specialty vegetables from Kyoto). There are a variety of table options at this restaurant, which make it ideal for every situation. For example, the black color-schemed 1F has counter seats that are ideal for couples or solo diners. The white color-schemed 2F has table seats, which are ideal for larger groups and those visiting with close friends. Recommended items on the menu include the [Kyoto-style Teriyaki Pizza with Soy Milk Sauce] and [Ginnan Course] (4,000 JPY) with its [Kumiage Yuba] (tofu skin skimmed from hot soy milk).
Ginnan
3. Shizen Sakana no Mise Ichishun
This restaurant has a relaxing atmosphere, and a menu full of seasonal fish, shellfish, and vegetable dishes. The fish and shellfish are all freshly caught from the nearby Wakasa Bay or Awaji Fishing Port. The vegetables are completely organic, and shipped directly from farmers in Yawata, Kyoto. On some occasions, the shop's master adds the fish that they caught into the [Sashimi Assortment] dish (from 980 JPY). You can't get fresher than that!
Shizen Sakana no Mise Ichishun
4. Kappo Chirori
Visitors to this restaurant can enjoy fresh fugu (blowfish) all year round from the restaurant's very own fish tank. The most popular item on the menu has to be the [Fugu Course] (from 4,000 JPY), where [Tecchiri] (fugu stew) and [Tessa] (fugu sashimi) can be enjoyed together. The nice thing about this restaurant is that both solo diners and groups are welcome. There is also a seasonal menu available offering raw sea urchin, pike conger, and oysters. Their [Suppon Ryori] (soft-shelled turtle cuisine) also comes highly recommended.
Kappo Chirori
5. Masoho Kyoto Branch
This hidden gem of a restaurant has the atmosphere of a traditional Kyoto townhouse, and is located down a cobbled road on the backstreets of Kyoto. It is only a 5-minute walk from Kyoto Station. The [Hamamine Shoten no Ichiyaboshi] (from 440 JPY) consists of a wide variety of seafood that has been carefully grilled on high-grade Binchotan (Ubame oak charcoal). Upon ordering, the [Ginshari] (clay pot rice) (1,000 JPY) is prepared one pot at a time! The traditional [Obanzai] (from 390 JPY) contains only the freshest Kyo-Yasai, resulting in an extremely fresh and delicious dish. Why not treat yourself and have some local shochu (Japanese alcohol) (from 470 JPY) with your food? Make memories while sitting around the stove, enjoying some authentic Kyoto fare and drinks.
Masoho Kyoto Branch
6. Okinawa Cuisine Adan Kyoto Station Branch 
Although only counter seats are available in this compact restaurant, the wide variety of delicious Okinawan cuisine, made with the freshest of Okinawan ingredients, makes up for that. The [Shabu-shabu Nabe] (from 1,580 JPY) - a combination of Agu pork, Yanbaru Shimabuta pork, and Benibuta pork that are all handpicked from Okinawa - is highly recommended. Okinawan food is also known for being rich in Vitamin B1, so it's perfect for diets, or if you're feeling a little fatigued or stressed.
Okinawa Cuisine Adan Kyoto Station Branch 
7. Shikisai Dining Hitotose
Visitors to this izakaya can enjoy the finest selection of meats and seasonal vegetables. Hitotose's sophisticated modern Japanese interior with lighting reminiscent of when Kyoto was the old capital makes it an ideal location for a date with that special someone. The [Shunyasai to Meigara-buta no Seiro-mushi] (steamed seasonal vegetables and pork) (1,480 JPY) is very popular for its healthy, delicious, and refreshing soy sauce-based soup.
Shikisai Dining Hitotose
8. Uguisu
All the seating at Uguisu is in private rooms, which cater anywhere from 2 – 40 guests. A wide range of Kyoto cuisine can be enjoyed here - from traditional Kyoto cuisine to more creative adaptations. The locally grown, fresh Kamo eggplant dishes are particularly popular. Be sure to try the [Kamonasu Dengaku] (fried Kamo eggplant that's been brushed with a mixture of miso, sake, sugar, mirin) (780 JPY) and [Nasu no Nikuzume] (Kamo eggplant stuffed with minced meat) (780 JPY), which are both quintessential Kyoto dishes.
Uguisu
9. Japanese Restaurant Mai
Famed for the freshness of its ingredients, as well as for its wide variety of authentic Japanese cuisine, Mai is located on the 1F of El Inn Kyoto, which is only a minute's walk away from Kyoto Station. The [Sushi Assortment] (1,670 JPY) is an especially popular item. The fresh, seasonal fish is shipped directly from Oita in Kyushu Prefecture. The top-quality [Sekisaba Mackerel] sushi (380 JPY) is another fine gem of a dish. Please try it if you are lucky enough to visit when they have it in stock!
Japanese Restaurant Mai
10. Oryori Iharada
Not only does this restaurant use exceptional ingredients like aged Tajima beef, but all the vegetables that it uses are also fresh, organic, and seasonal – grown in the restaurant's very own garden! Using these very fresh ingredients, the chef skillfully creates charming cuisine for all to enjoy. The [Hassun] in the Iharada Course (from 10,000 JPY) contains all of the shop master's finest seasonings, colors, and dishes. You won't find soy sauce on the tables at this restaurant! This is the chef's secret to allowing the original flavor of each ingredient to be fully enjoyed in the [O-sashimi] dish. You are sure to appreciate the depth of Kyoto cuisine after visiting this lovely restaurant.
Oryori Iharada
11. Sosaku-cha Dining Iiemon
Green tea has long been established as a speciality of Uji, Kyoto. Iiemon, a specialist in green tea, now has its very own restaurant serving food and drinks all made with green tea! The [Matcha Beer] (650 JPY) made with Uji green tea is highly recommended. The vivid color, matcha aroma, and refreshing bitterness of this beverage makes it an ideal accompaniment to food. Another highly recommended dish is the [Seiro no Ryoku-cha Mushi] (1,480 JPY), which is a dish of Kyoto Mochi pork steamed in green tea with vegetables.
Sosaku-cha Dining Iiemon
12. Souan
Located inside Kyoto Tower and only a 2-minute walk from Kyoto Station, Souan serves Japanese sake (Japanese alcohol) and tempura. Their soba (buckwheat noodles) made with 100% buckwheat flour are also handmade at the restaurant. The buckwheat is ground in a stone mortar, kneaded, and then boiled to perfection. Hearty dishes such as the [Niku Seiro Soba] (850 JPY) and [Tori Seiro Soba] (850 JPY) are very popular items on the lunch menu. These dishes can also be enjoyed with tempura and Japanese sake in the evenings. Why not have some delicious [Tempura Seiro Soba] (900 JPY) before making your way home?
Souan
13. Kyo-oden Daisuke
Kyo-oden is known for their dishes made with grilled and sundried sardines, kelp, seaweed, and bonito. These ingredients are slowly cooked to extract the utmost flavor from them, and then made into delicious refined dashi (stock). These fantastic flavors can be enjoyed at an affordable price at Kyo-oden Daisuke. Visitors cannot get enough of the collagen-rich [Suji-niku] (350 JPY) and the melt-in-the-mouth [Sanriku Sticky Wakame] (300 JPY). The oden at this restaurant also goes very well with Japanese sake. Sake lovers will be pleased by the wide variety of Japanese sake available at this restaurant (from 500 JPY).
Kyo-oden Daisuke
14. Kyo-gochiso Ishimaru
If you want to enjoy delicious Japanese sake in a relaxed environment near Kyoto Station, this is definitely the place to go! Visitors can not only enjoy local Kyoto sake in the colorful, Japanese-themed private rooms, but also a wide selection of regional sake from places like Akita or Niigata Prefecture. The pleasant flavor of the [Goma-dofu] (sesame tofu) and [Botan Hamo] (peony-shaped conger pike) in the [Owan] dish of the highly recommended [Ishimaru no Kyo-Ryori 10,800 JPY Course] pairs perfectly with Japanese sake!
Kyo-gochiso Ishimaru
15. Juju
Meat-lovers will surely love this restaurant for the high-quality meat that they offer! The beauty of the succulent, carefully carved, grilled [Ribs] (1,030 JPY) is captivating. The hearty [Juju Set] is highly recommended for its great value for money, as it costs only 2,560 JPY! This set not only comes with 5 types of meat (rib, loin steak, skirt steak, tripe, and Tecchan's finest meat available), but also includes kimchi, namul, soup, and rice. Why not add beer to the set too? Both table and counter seats are available at this restaurant, so solo visitors and those travelling in groups are both warmly welcomed.
Juju
The restaurants introduced above are all located right next to Kyoto Station, making them very convenient to access. Why not drop by one or more of them before or after sightseeing in Kyoto?
Disclaimer: All information is accurate at time of publication.