Publish-date: Mar 30 2018 Update-date: Aug 06 2019
Like and Share us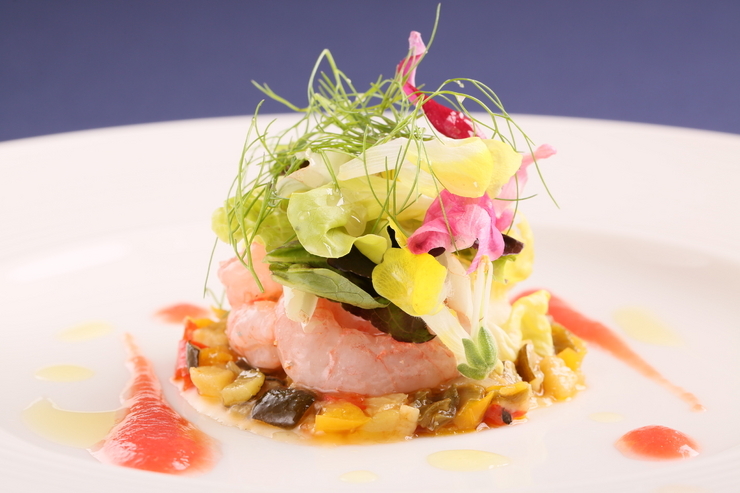 Otaru is one of Hokkaido's popular tourist spots. It is overflowing with numerous sightseeing spots, such as the canal that's one of the most picture-worthy spots around. This article features 15 restaurants around this city.
1. La Cheminee (French Cuisine)
Located in a discreet corner of the city, La Cheminee is a French restaurant whose menu changes depending on what ingredients are available that season. Sometimes, they offer innovative dishes made with, for example, Hokkaido ingredients for tourists or Honshu (main island of Japan) ingredients for locals. Though they constantly change their menu, some of their dishes that are both delicious and stunning are: the [Appetizer of Inshore Ama-ebi and Ratatouille], which has the concentrated umami (Japanese savory taste) of vegetables, and the [Yume no Corn Soup with Milk Foam] that tastes light due to the milk foam.
La Cheminee
2. Rakuten (Izakaya)
This is an izakaya (Japanese pub) where you can savor dishes made using carefully selected ingredients from local farmers and producers that they're close with. They have a varied menu, with their specialty being their original oden (winter hot pot) dishes. Some of their must-try oden are the [Unprocessed Seaweed Oden (210 JPY)] for those who like the taste of the sea, and the [Tofu Oden (250 JPY)] that consists of soft boiled abalone and octopus on top of tofu soaked in dashi (broth). Their [Yakitori], made from rare chicken cuts, are also popular. Their alcohol menu consists mainly of wines and sake (Japanese alcohol) that go well with oden and yakitori.
Rakuten
3. Sushi Washoku Shikama (Sushi, Japanese Cuisine)
This 60-year-old veteran sushi restaurant is popular with locals and tourists alike. While they definitely use seafood acquired from nearby Hokkaido waters, they also use plenty of fresh seasonal seafood caught from Maehama, Otaru. Some of their recommended dishes are the [Shikama Chirashi (3,200 JPY)], which is a luxurious rice bowl topped with generous amounts of seafood, and the [Otaru Nigiri (3,200 JPY)] - a set meal that'll let you eat 2 pieces of hand-formed uni (sea urchin) and ikura (salmon roe) sushi.
Sushi Washoku Shikama
4. Otaru Orizushi (Japanese Cuisine)
Otaru Orizushi is a restaurant that's well-known for serving dishes made with fresh seafood taken from nearby waters. Enjoy savoring their dishes in its old stone interior, which gives it a retro yet modern feel. It is also popular with families, as they have a kids' space on the 2nd floor. The [Special Seafood Rice Bowl (3,200 JPY)] packed with 12 kinds of seasonal seafood is a particular must-try, and so is their [12-Piece Hanabusa Nigiri (4,500 JPY)] that serves 12 pieces of in-season seafood that were chosen by the chef.
Otaru Orizushi
5. Kita no Donburiya Takinami Shokudo (Japanese Cuisine, Sushi, Seafood Izakaya)
This restaurant is directly managed by a seafood shop within Triangle Market (Sankaku Ichiba), which is close to Otaru Station. It is extremely popular for serving generous portions of fresh seafood. One of their highly recommended dishes is the luxurious and hearty [Wagamama-don (from 1,800 JPY plus tax)], in which you can choose 3 - 4 ingredients out of the 10 popular ones to top your rice bowl dish. Enjoy Hokkaido's delicacies, which will be nearly pouring out of the bowl! They are also popular for their variety of uni-don (rice bowl dish with sea urchin), using different types of uni, such as the heavily sweet Ezobafun uni and the refreshingly sweet Kitamurasaki uni.
Kita no Donburiya Takinami Shokudo
6. Sizzle (Japanese Cuisine, Western Cuisine, Sushi)
Located on the 2nd floor of Hotel Nord Otaru is Sizzle - a buffet restaurant that offers a view of the Otaru Canal (Otaru-unga). The restaurant's main attraction is their lunch buffet, featuring around 70 different Japanese and Western dishes, made mainly using Hokkaido-produced seasonal ingredients. Diners can also enjoy their wine buffet, featuring wines made from the world's major grape varieties. Some of their must-try items are the [Tokachi Raclette Cheese Moor Wash] - in which you can add melted raclette on top of a variety of things like vegetables, bread, and soup curry - as well as the [3-Kind Small BBQ], where you can enjoy several ingredients grilled on a skewer, such as seasonal vegetables, Hokkaido-produced seafood like hotate (scallops), beef, and lamb.
Sizzle
7. Dining Sora (Izakaya, Japanese Cuisine)
This is an izakaya where you can taste plenty of local ingredients like beef and vegetables. They specialize in fresh seafood dishes, using ingredients from all over Hokkaido, such as seafood taken from the foreshores of Otaru and Sapporo, where you'll find some of the best tuna. Try their extremely fresh [Sashimi], as well as their [Stewed Fish] that's made by stewing the day's best fish, carefully chosen by the owner, for a long time.
Dining Sora
8. Marukatsu Otaru Suisan (Izakaya, Seafood Izakaya, Japanese Cuisine)
This is another izakaya where diners can enjoy plenty of fresh, seasonal fish and shellfish from nearby waters and Otaru's foreshores that were carefully picked by the owner. The izakaya prepares them in whatever style brings out their best taste, such as sashimi and robatayaki (grilled over charcoal). Some recommendations are the [Bukkake Afure-zushi (980 JPY)] that's overflowing with ikura (salmon roe) and salmon, as well as the [Kaiyaki Set (1,980 JPY)] that consists of grilled hamaguri (common clams), hokki (surf clams), hotate, and shirogai (white clams). Satisfy yourself with some extremely fresh seafood here!
Marukatsu Otaru Suisan
9. Sushi Ko (Sushi)
Relax and enjoy the food in this sushi restaurant's old stone interior. Well-known for its flavor, price, and ease of entry, Sushi Ko offers a varied menu consisting of anything from nigiri-zushi (hand-formed sushi) to rice bowl dishes. Their best-selling dish is the [Hokkai-don (2,700 JPY)], which has plenty of fresh salmon, hotate, uni, and ikura on top.
Sushi Ko
10. Toriya Otori (Izakaya)
This izakaya is popular with both locals and tourists alike. Their signature dish is the [Mizutaki (1,680 JPY plus tax)]. It consists of juicy ji-dori (local chicken) boiled in a collagen-rich soup, which is made by stewing ji-dori bones and several kinds of vegetables for over 10 hours. Their [Sasami-zuke with Egg Yolk] that's eaten by dipping marinated chicken tenders - known for their low-calorie count - into egg yolk is also popular.
Toriya Otori
11. Mariner Bar (Sushi bar) Grand Park Otaru (Italian Cuisine)
This Italian bar/restaurant offers a modern dining atmosphere with a beautiful view of Ishikari Bay (Ishikari-wan) and Otaru Port Marina. Enjoy authentic Italian dishes, including appetizers made of seafood caught from the waters of Hokkaido and local wild vegetables. If you want to taste delicious spaghetti made from local ingredients, try their [Nuka Herring and Herring Roe Spaghetti Aglio e Olio (1,400 JPY)]. Another popular dish is the voluminous [Special Beef Stew Made With Hokkaido Red Wine (2,000 JPY for 2 people)].
Mariner Bar (Sushi bar) Grand Park Otaru
12. Sushi Yoshi (Sushi)
Enjoy kaisen-don (rice bowl dish with seafood) and sushi here! You can taste plenty of high-quality seafood caught from the waters of Hokkaido at Sushi Yoshi, such as top-class hon-maguro (bluefin tuna) from Oma, Aomori Prefecture. Their wide variety of course meals and best-selling [Omakase Nigiri (4,500 JPY plus tax)], which consists of 12 pieces of nigiri-zushi topped with in-season fish, are highly recommended. Savor their freshness!
Sushi Yoshi
13. Kaisenya Yoshidon (Japanese Cuisine)
Kaisenya Yoshidon is directly managed by Sushi Yoshi, which was introduced earlier. Their main offering is kaisen-don, made using the same ingredients as the main branch, but sold at a more affordable price. Some highly recommended dishes from their menu are the voluminous and luxurious [Hokkai-don (3,500 JPY plus tax)], as well as the [Yoshi Special Kaisen-don (2,500 JPY plus tax)], of which only 15 servings are made per day. Enjoy as much fresh Hokkaido seafood as you want here!
Kaisenya Yoshidon
14. Otaru Masazushi Main Branch (Sushi)
Otaru Masazushi is a veteran sushi restaurant with a history of over 70 years. It takes pride in preparing food made with only the freshest carefully-selected ingredients. For example, they get a steady supply of their popular tuna by ordering at least 300 kg from Canada. This tuna, which comes from the Atlantic Ocean, is considered one of the world's best for being so sweet and tender that it almost melts in your mouth! Their best-seller is the [Famous Original Squid Somen (1,300 JPY)], which was inspired by a fisherman's recipe wherein squid meat is finely sliced to mimic the form of noodles. Another great dish is the [Masazushi Takumi (5,500 JPY)] that consists of 12 pieces of nigiri-zushi topped with Hokkaido's delicacies.
Otaru Masazushi Main Branch
15. Sushi Hanayoshi (Sushi)
Sushi Hanayoshi uses only the best seafood from all over Hokkaido, with a focus on ones from Iwanai Port (Iwanai-ko) and Suttsu Fishing Port (Suttsu-gyoko). Their [Seasonal Choice Nigiri (3,700 JPY)] that's full of Hokkaido delicacies like uni(sea urchin), ikura(salmon roe), and botan shrimp is highly recommended. Another featured dish is the [Hokke no Hiraki-boshi (1,500 JPY)], which goes well with sake. It consists of a meaty and plump atka mackerel - one of Hokkaido's representative fish varieties - that's been grilled. They even have English-speaking staff for catering to foreign tourists!
Sushi Hanayoshi
Otaru offers relaxing sightseeing in the midst of magnificent nature and clean air. Why not pair it with good food from any of the featured restaurants?
Disclaimer: All information is accurate at time of publication.