Publish-date: Apr 19 2018 Update-date: May 31 2019
Like and Share us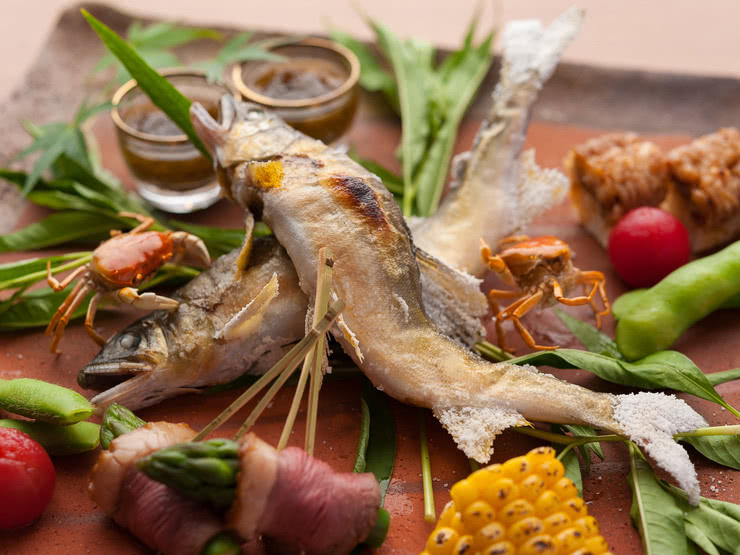 In Japan, there are lots of delicious foods that you can enjoy year-round, but it's the season-limited dishes that are truly special. During the summer, cold dishes, as well as dishes made with highly nutritious ingredients that beat the summer heat, are among the top picks. Be sure to take notes on these top 15 restaurants!
1. Soba Dokoro Toki (Kitashinchi - Udon, Soba)
At Toki, you can enjoy a variety of soba (buckwheat noodles) dishes that use noodles handmade from scratch with stone-milled, homemade buckwheat flour by skilled noodle makers. Their [Ju-wari Soba] (100% buckwheat) has a great rustic flavor, while their [Ni-hachi Soba] (at least 80% buckwheat flour) - made from peeled buckwheat flour mixed with wheat flour - is very refreshing. The [Curry Soba], which combines the warm and delicious taste of curry with the chewy texture of soba, is also popular. During the summer, do not miss their [Cold Curry Soba (1,300 JPY)] that's generously topped with fresh summer vegetables (available from May to mid-September).
Soba Dokoro Toki
2. Naniwa Soba Abeno Harukas Dining Branch (Tennoji - Udon, Soba, Shabu-Shabu, Sukiyaki)
Enjoy freshly kneaded, cut, and then boiled soba made from homemade stone-milled buckwheat flour here! This restaurant is known for their savory dashi (broth), made from a blend of 3 kinds of dried fish shavings. Their original [Soba Shabu (3,680 JPY plus tax)] is a hot pot dish made with high-quality ingredients that are briefly cooked in the dashi, such as Kuroge Wagyu (a type of high-quality beef), Okinawan pork, and soba. On hot summer days, you may want to try their [Sudachi Soba (1,080 JPY plus tax)]. This exquisite dish with many slices of sudachi (a type of Japanese citrus fruit) has a unique aroma and refreshing taste.
Naniwa Soba Abeno Harukas Dining Branch
3. Arataya (Yotsubashi - Udon, Soba, Izakaya)
This restaurant is best known for their tsuke soba, which is another type of soba dish where the noodles and soup are kept in different serving bowls. It is eaten by dipping the noodles into the soup, mouthful by mouthful. The restaurant takes pride in their dashi, which uses a blend of dried bonito and kaeshi (condiment made from soy sauce) as the base, making it perfect served either hot or cold. Their best-seller is the [Beef Tsuke Soba (850 JPY)] - a delicious dish served with plenty of beef, leeks, sesame, and nori (seaweed), as well as soba coated in rayu (chili oil). The combination of the soup and chili oil is perfect even if the soba is served cold, making it a tasty way to beat the heat!
Arataya
4. Fujino (Shin-Fukushima - Udon, Soba, Creative Cuisine)
This Japanese restaurant is known for their dishes incorporating Kawachi duck, which is known for being so fresh that it can be eaten raw. This breed was made by crossbreeding a mallard and domestic duck, resulting in good quality meat that many professional chefs love. It is a summer tradition in Osaka to eat duck meat cooked sukiyaki-style (hot pot stew) on the day of the Tenjin Festival (July 24 - 25). Follow the locals by ordering their [Kawachi Duck Sukiyaki (4,100 JPY)] or [Kawachi Duck Hot Pot (4,100 JPY)], where you can enjoy Kawachi duck breast meat in a delicious homemade dashi with fresh vegetables like burdock root and Japanese parsley.
Fujino
5. Wadatsumi (Hankyu Ibaraki-shi - Udon, Soba, Kaiseki, Seafood Izakaya)
Wadatsumi offers Japanese cuisine and creative dishes using handmade soba, as well as seasonal seafood and vegetables. One of the best-selling dishes is the [Wadatsumi Gozen] (2,160 JPY), which is a set meal served in small dishes. They only have 15 servings of this each day, so you have to be quick if you want to try one! They also have a summer-only menu that includes [Hamo-ten Seiro] (1,700 JPY), where you can enjoy soba with hamo (daggertooth pike conger) tempura. This fish has both a similar texture and taste to unagi (eel). As it has a lot of fine bones, it takes skill to completely debone it. It's a Kansai summer essential that can't be missed!
Wadatsumi
6. Udon Sakaba Hachiman (Morinomiya - Udon, Soba, Izakaya)
Udon Sakaba Hachiman offers delicious udon (thick noodles) dishes at reasonable prices. Their firm yet smooth homemade noodles are made using ingredients such as wheat flour and salt, with the blend changing according to the weather. The dashi is freshly made using carefully-selected ingredients every morning. The restaurant's specialty is the [Curry Udon (from 649 JPY)]. A popular summer dish in Japan, it's said that the spices helped relieve the various discomforts brought on by the summer heat, as well as prevented heat fatigue. When dining here on a bright, scorching day, the [Katsu Curry Udon (1,019 JPY)] (curry udon with fried pork cutlet) is highly recommended.
Udon Sakaba Hachiman
7. Unagi Jinta (Temma - Kaiseki)
Another Japanese food tradition is to eat nutritious eel dishes in the summer, as it helps provide the stamina to overcome the heat and humidity. Their classic menu includes [Una-ju] (1,830 JPY - 4,800 JPY), which is a dish made of high-grade broiled unagi topped on rice and served in a lacquer box. Enjoy the aroma of domestically-raised unagi in this positively luxurious dish. Another must-try is their [Ohitsuma-mushi] (chopped broiled eel on rice), which can be enjoyed in 3 different ways. First, mix the chopped eel into the rice and eat it as it is, then with spring onions and other toppings, and then finally with dashi.
Unagi Jinta
8. Osaka Chikuyo-tei (Osaka-Abenobashi - Japanese Cuisine)
Osaka Chikuyo-tei is a well-established unagi restaurant found in Tokyo in the mid-19th century. The sauce used for cooking their unagi remains the same as the one that has been used since it was first established. Their Osaka branch is located in Abeno Harukas, a famous landmark in Osaka. However, the taste and cooking style still follows the Kanto style, where the eel remains tender and juicy after grilling. During the summer, try one of their best-sellers, the [Takeba Bento] (3,995 JPY), which includes items such as the [Unagi no Kabayaki] (skewered unagi covered in sauce and grilled), sashimi, and tempura.
Osaka Chikuyo-tei
9. Edogawa (Osaka-Abenobashi - Japanese Cuisine)
Edogawa is another unagi restaurant that adopts the Kanto cooking style, where the unagi is cut open and steamed before grilling. Although kabayaki is a classic, this restaurant is famous for their [Unagi Kushizen (3,100 JPY)] (multi-course meal with grilled eel on skewers). It consists of 5 kinds of skewers as the main dish, and comes with mini una-ju, hone-senbei (crackers made of unagi bones), sumashi-jiru (clear soup) made with unagi liver, and other dishes that make use of other parts of unagi (except the head), ensuring that nothing goes to waste.
Edogawa
10. Kuturogi (Shinsaibashi - Japanese Cuisine, Seafood Izakaya)
Kuturogi is a restaurant that offers creative dishes made with fresh seafood and vegetables. The restaurant serves high-quality seafood at a price that's on par with izakaya (Japanese pubs). Allowing diners to enjoy the best taste of each dish, the restaurant only uses seasonal ingredients that are ripe or ready for cooking and eating. Kansai's summer season is synonymous with hamo. According to legend, they become tasty by drinking the rainwater during the rainy season, which is around June - July. Hence, it is known as an indispensable ingredient for summer dishes in Kansai, as well as for dishes served at Osaka's many summer festivals. If you're heading to Osaka for a summer getaway, feast on their hamo dishes at Kuturogi!
Kuturogi
11. Japanese Cuisine Kawakyu (Kitashinchi - Kaiseki, Creative Cuisine)
Kawakyu is located on the highest (33rd) floor of Osaka Station 3 Building, which rises up from Umeda, Osaka's business center. Standing at about 142m above the ground, the restaurant offers fantastic city views, especially at night when the entire city lights up. They exclusively use fresh, seasonal ingredients to ensure that diners are being served dishes with the highest quality. They also have some exclusive summer menu that includes dishes made with hamo (a sea eel.) This kind of eel has a lot of fine bones, which are left in when the meat is cut up and dipped in boiling water. This is then used in a wide variety of hot pot dishes like shabu-shabu (sliced meat parboiled with vegetables) and sukiyaki, as well as other dishes like teriyaki and tempura.
Japanese Cuisine Kawakyu
12. Ryoriya Honori (Hommachi - Japanese Cuisine, Seafood Izakaya)
Honori is a relaxing restaurant that offers Japanese cuisine made with the freshest seasonal ingredients. If you want to try the best of the season, try their [Seasonal Course] (4,800 JPY or 6,800 JPY) in which the items served differ based on the available ingredients. For example, during the summer, the [Hassun] (a tray of various delicacies) is composed of seasonal fish and seafood, including grilled river fish ayu (sweetfish). When cooked, it gives off a pleasant aroma, tempered with a slightly bitter taste. Enjoy it with vinegar mixed with mashed tade (knotweed) leaves and dashi.
Ryoriya Honori
13. Tofu and Osaka Cuisine Noritake Sheraton Miyako Hotel Osaka (Osaka-Uehommachi - Kaiseki)
The tofu used in this restaurant's dishes is sourced from a famous shop in Kyoto, with each piece carefully made by hand, resulting in that oh-so-soft and smooth texture. You can really taste the soybeans, which is the main ingredient. The seasonal ingredients that they use are locally sourced from Osaka and other parts of Japan. If you want to enjoy the taste of fresh tofu, try their silky and delicious [Yudofu (1,200 JPY plus tax)] (tofu simmered in dashi). During the summer, do not miss their [Ayu no Shioyaki (1,200 JPY plus tax)] (grilled sweetfish seasoned with salt)!
Tofu and Osaka Cuisine Noritake Sheraton Miyako Hotel Osaka
14. Ippo (Namba - Kaiseki, Creative Cuisine)
Ippo offers delectable dishes made with seasonal fish and vegetables. Their flagship dish is the [Homemade Tofu (400 JPY)], which is made from 100% soybean milk sourced from Hokkaido and coagulant nigari (magnesium chloride) from the Seto Inland Sea. It tastes best when eaten with freshly grated wasabi and rock salt. If you want to enjoy a variety of small dishes all at once, try their [Osara Kaiseki (6,000 JPY, available to order for 2 people for more)] (traditional Japanese course cuisine with tea), which can be shared with family or friends. One of their must-try summer dishes is the [5-Kind Hamo-zukushi (1,800 JPY, available to order for 2 people for more)] that consists of hamo prepared in a variety of different ways.
Ippo
15. Suigetsu (Hirakatashi - Kaiseki)
Suigetsu is known for its stylish interior and authentic Japanese dishes. Their a la carte menu of the day is creatively prepared using seasonal ingredients that are acquired fresh that day. These dishes can be ordered on their own, but it is recommended that you order the [Kuzushi Kaiseki (5,800)] (Japanese banquet cuisine with alcohol) as another must-try. It features a total of 12 carefully-prepared Japanese and Western dishes, and makes for an amazing feast!
Suigetsu
If you're planning to go to Osaka for a summer getaway, then be sure to use this article to choose the best dining destination for you!
Disclaimer: All information is accurate at time of publication.