Publish-date: Jan 29 2020 Update-date: Mar 06 2020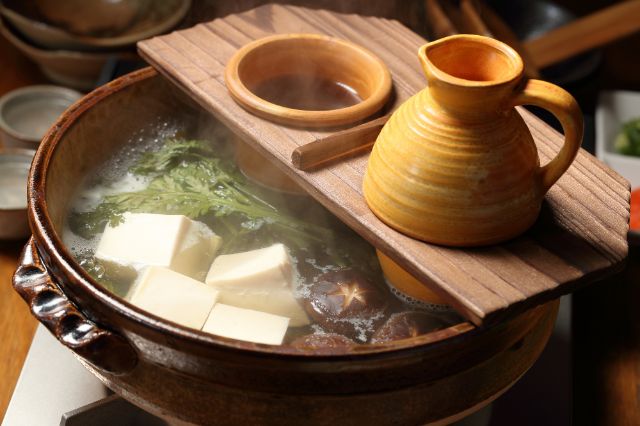 An important part of Japan's rich food culture is taking advantage of the season's fresh ingredients, so it's a great idea to be aware of what's in season when you visit. Eating seasonally is also a way to immerse yourself more deeply in a sense of Japan's nature and culture while you travel. From warm, home-style cooking, street foods, and seasonal fruits and vegetables, here are my picks for the foods to try during winter in Japan.

Hot pot dishes: Nabe, sukiyaki, shabu shabu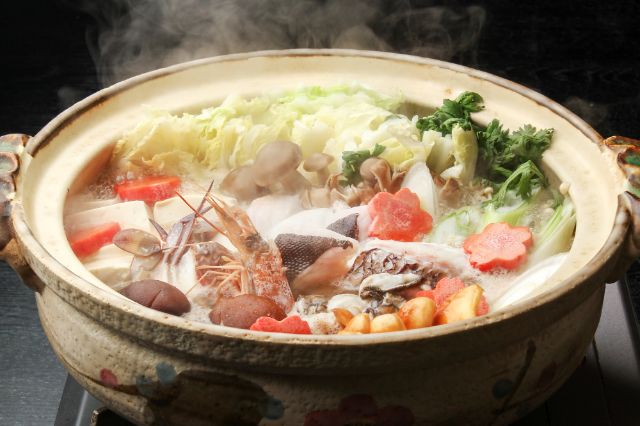 Warm bowls of soups and stews are a wintertime staple all over the world. In Japan, nabemono, or hot pot dishes like stews called nabe, sukiyaki, and shabu-shabu are popular choices when the temperature drops.

Nabe hot pot is typically made by creating a base stock with flavorings like miso, soy sauce, and fish or seaweed stock called dashi. The dish's ingredients can include meat or seafood, hearty vegetables like cabbage, mushrooms, and carrots, as well as items like fish cakes, konjac, or tofu. When cooking nabe at home, many households use a portable gas stove to keep it warm at the table, where people typically share the dish straight from the pot.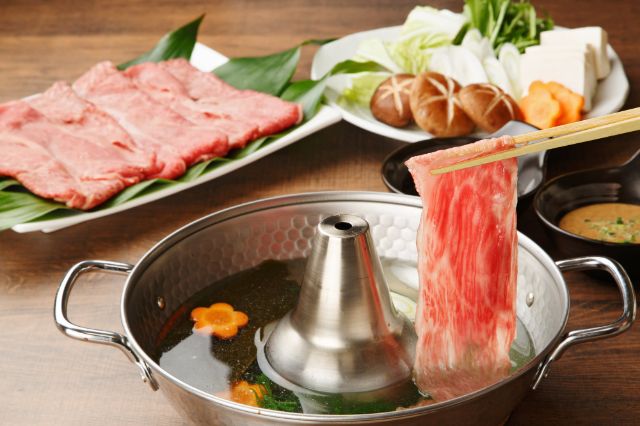 Some popular nabemono include sukiyaki, which is made with thinly sliced beef and ingredients like vegetables and tofu that are cooked together in a lightly sweetened soup made of soy sauce, sugar, and mirin (sweet rice cooking wine). The ingredients are then dipped in a dipping sauce made of beaten eggs before eating. Shabu-shabu is another popular dish that involves quickly cooking paper thin slices of meat in a hot pot, then eating with a dipping sauce like ponzu (citrus and soy sauce) or sesame sauce.

Yakiimo: Baked sweet potato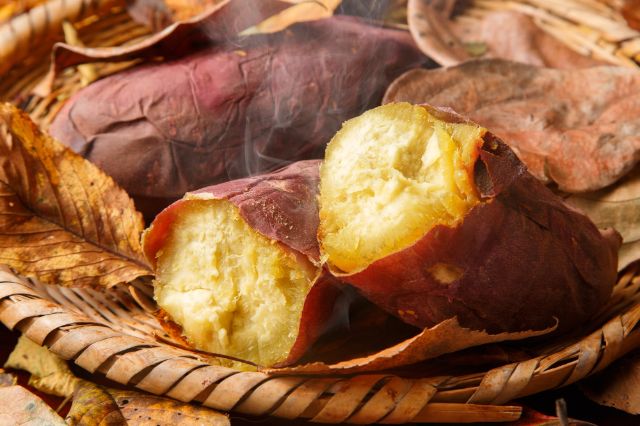 Where I live, the sound of the sweet potato truck signals the official start of the cold season for me. Just like ice cream trucks in other parts of the world, street vendors in Japan play a distinctive song from their trucks as they drive around neighborhoods selling hot, stone-baked sweet potatoes called ishi yakiimo.

These sweet potatoes are a little different to the orange-fleshed variety you often see in other parts of the world. With a purple skin and golden, slightly creamy flesh, the texture of Japanese yakiimo is sweet and delicious on its own without any additional toppings. You'll often spot these trucks parked around sightseeing spots around Japan, so keep your eye and ears peeled for them. They're a nutritious snack, and when served in a paper bag, they have the added bonus of warming up your hands as well. You can also buy them pre-cooked at many supermarkets: look for them cooking on stones in ovens or grills in the produce section.

Oden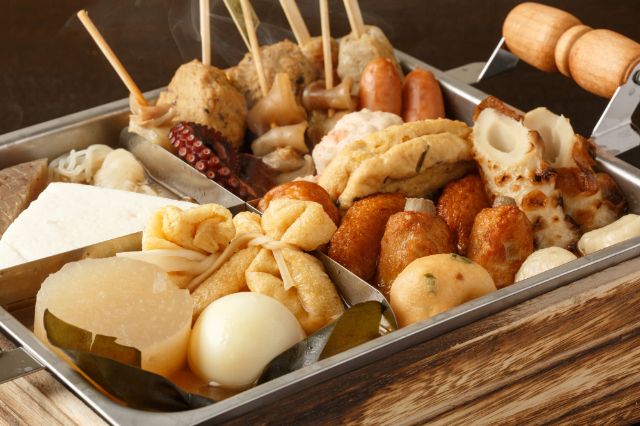 Oden is a quintessential winter dish in Japan. This type of stewed dish is made by slow-cooking ingredients like eggs, daikon radish, tofu, and fishcakes a broth made with soy sauce and dashi stock. A Japanese type of mustard called karashi is often served with oden: the spiciness of this condiment really pairs well with the mellow flavor lent by the broth.

Oden is typically considered a winter food, but you'll find it year round at certain izakaya pubs, food carts, and restaurants. If you've ever come to Japan in the cooler months, you'll also likely spot self-serve trays of oden for sale at the counter of most convenience stores, too.

Mochi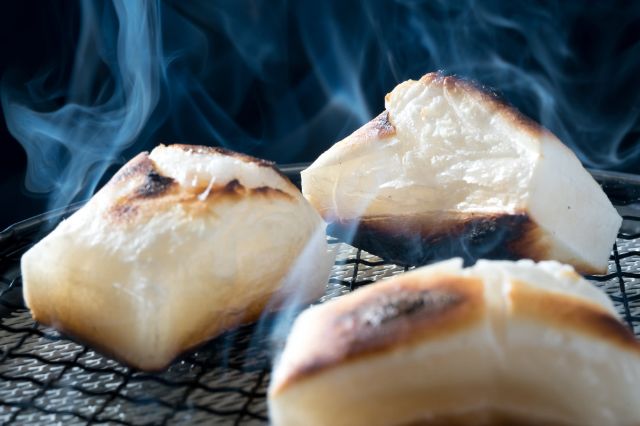 Mochi is a type of rice cake that has a special place in Japanese culture during the New Year period, where it has been a part of New Years celebrations since at least the Heian period (794 - 1192). It is traditionally made by pounding steamed rice with wooden mallets in a large mortar called an usu, which can be up to a meter high and often made from a hollowed tree trunk or stone. Teams of two or more use this usu and mallet to pound and knead the rice until it forms a shiny, elastic texture.

Mochi itself is delicious simply grilled and eaten with soy sauce, but other uses include savory dishes like the traditional New Year's soup called zoni, or filled with red bean paste to create a sweet called daifuku. Mochi is also commonly used as a Shinto New Year's decoration called kagami mochi, which is usually displayed through the holiday season and eaten on the second weekend of January 11th.
Oysters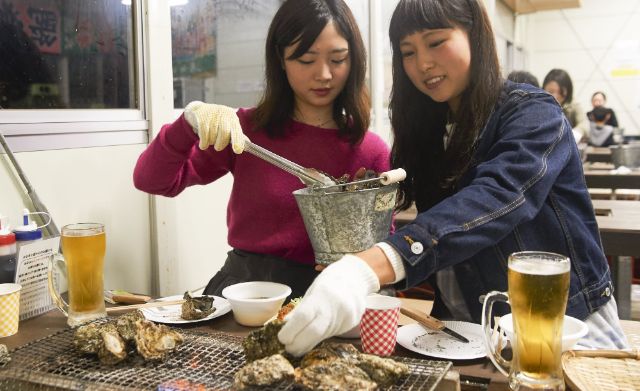 In my home country of Australia, we tend to associate seafood like oysters with the warmer months, but Pacific oysters are in season in the winter in Japan. In Japan, oysters can be eaten raw with vinegar or other acidic condiments, as well as added to winter hot pots, steamed, or made into a mixed rice dish called takikomi gohan. Breaded and deep-fried oyster dish called oyster fry is also very popular as a winter dish all throughout Japan.

If you're visiting an oyster-catching region of Japan like Hiroshima or Fukuoka, consider visiting a kakigoya, or "oyster hut". In the winter oyster season, you can buy freshly caught oysters by the kilo, often directly from local fishers, then grill them in-shell yourself over a barbeque. While you may need to get a little off the beaten track to find these seaside huts, oyster lovers should definitely try seeking the experience out.

Festive foods: Christmas Cake and New Years Soba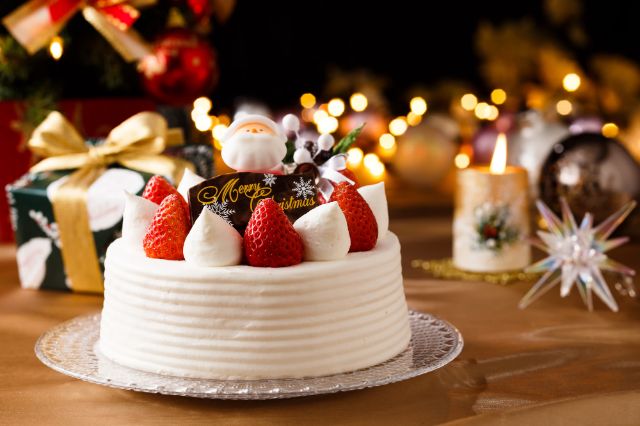 While Christmas in Japan is not as important a holiday as it is in the West, there's still plenty of festive atmosphere here. One essential part of Christmas in Japan is Christmas cake. Japanese-style Christmas cake is typically a sponge cake made with cream and strawberries, a style that was said to have been first popularized by the Japanese confectioner Fujiya in 1910. Today, these cakes are so ubiquitous here, I've had Japanese friends who were shocked to hear these aren't also traditional in the West.

Other flavors and styles of Christmas cakes are available, but they're without fail festive and gorgeous to look at. In fact, I think there are plenty of people in the West who would happily substitute these for the more traditional fruit cake. Families in Japan often reserve a Christmas cake in advance, but if you're in Japan and want to try it for yourself, you can usually find slices or smaller cakes in bakeries and convenience stores around the holidays.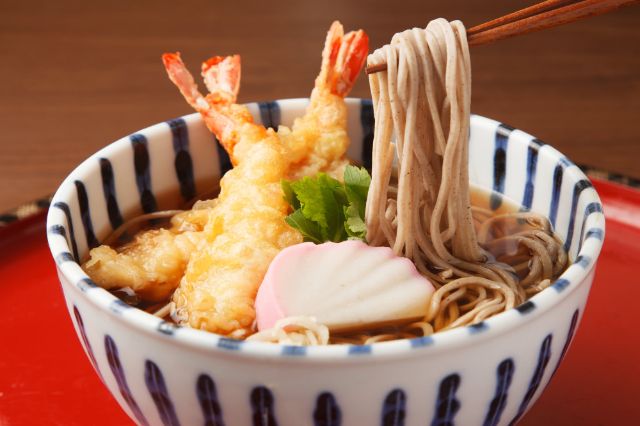 Another holiday food tradition that's easy to enjoy while you're traveling is New Years soba. These buckwheat noodles are commonly eaten on New Years Eve, and are traditionally associated with fresh starts and good luck for the coming year. Soba noodles can be eaten hot or cold, but in the winter, I highly recommend a warm bowl to ring in the new year!

Seasonal Fruits
Japanese fruits are a joy to eat year round. The local demand for high quality, domestic fruits means, while the prices can sometimes be surprisingly high, you'll rarely be disappointed by the flavor. Some of my personal favorites, such as persimmon, Fuji apples, nashi pears, and strawberries are in season in the late autumn and winter months. Local citrus such as mikan and yuzu are also delicious and very popular all through the winter.

A local tradition that I'm particularly fond of is yuzu baths, where whole yuzu fruits are added to public baths and hot springs on the winter solstice. This highly aromatic citrus fruit releases a refreshing aroma and natural oils into the water. These baths are said to help with relaxation, immunity, and to soften and moisturize the skin. If you're in Japan for the winter solstice, I highly recommend seeking a yuzu bath out! You can easily try a yuzu foot bath or DIY your own at home if you're not up for public bathing, too.

Recommended Restaurants for Winter Foods in the Shinjuku Area of Tokyo
Recommended Restaurants for Winter Foods in the Roppongi and Akasaka Areas of Tokyo
Delicious winter foods is definitely a highlight of the colder months in Japan. With important holidays falling on the end of the year, seasonal foods take on a special cultural importance as well. There are plenty of other tasty Japanese winter foods I haven't been able to cover in this article, but I hope you'll try some of my picks during your next winter trip to Japan!

Disclaimer: All information is accurate at time of publication.