>Shabu-shabu is the Japanese epitome of self-cooked gourmet dining. Much like fondue, shabu-shabu is a social meal best enjoyed in the company of friends and family. While many do choose to indulge at home, by far the best shabu-shabu can be found in fine restaurants throughout Tokyo as well as the rest of Japan. The primary difference lies not only in unparalleled service and hospitality, but also in the use of stellar ingredients, often rare and always delicious.
9 Best Shabu-Shabu Restaurants in Tokyo
Asakusa Wakashika - Kaiseki Ryori Gyuniku Shabu-Shabu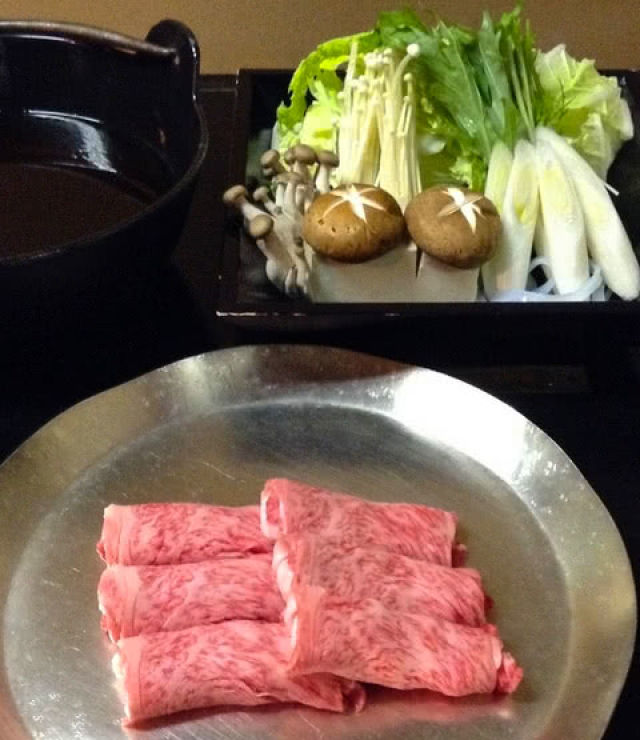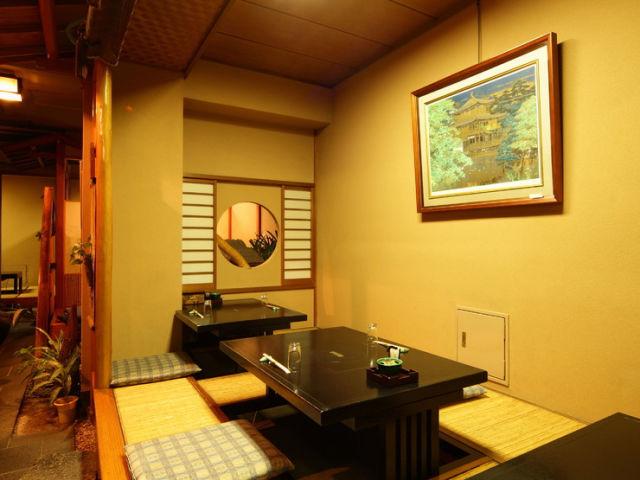 One of the most longstanding shabu-shabu restaurants in Tokyo, this storied establishment has been serving up some of the finest hot pot fare in the Asakusa area for more than 200 years. In addition to the staple beef, they offer an excellent venison, coupled with a flavorful dashi broth that draws out the natural savoriness of the meat as it simmers. Wakashika also offers a carefully curated selection of hard-to-find sake varieties that best match the food and individual preferences of each guest.
Dinner: 5,400 JPY / Lunch: 5,400 JPY
Gazan Garden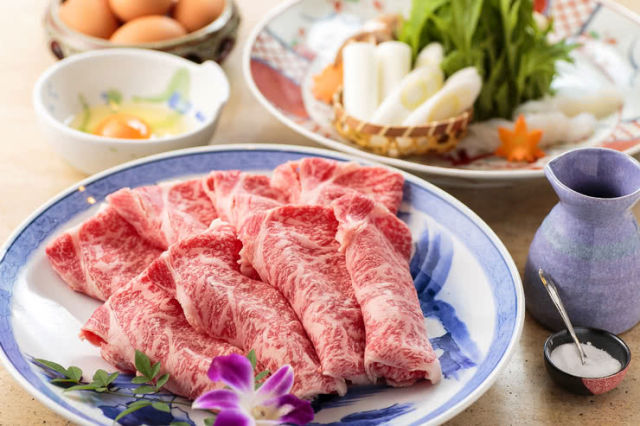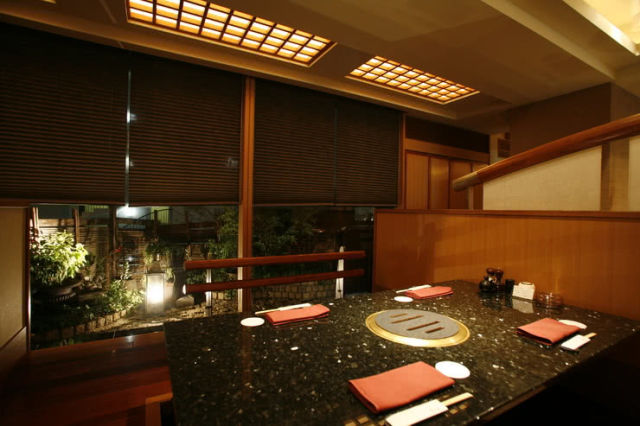 Located in Azabu Juban, one of Tokyo's most elite neighborhoods, Gazan Garden specializes in Yonezawa beef from Yamagata prefecture. Slow-raised over 32 months and fed a diet of special Yonezawa straw, Yonezawa beef is known for its exquisite balance of lean and marbled meat. In addition to its high-end shabu-shabu, Gazan Garden also offers sukiyaki, another hot pot delicacy also featuring tender beef that is simmered in a sweetened soy sauce broth and dipped in raw egg before eating.
Dinner: 12,000 JPY / Lunch: 1,000 JPY
Moritaya Tokyo Marunouchi Branch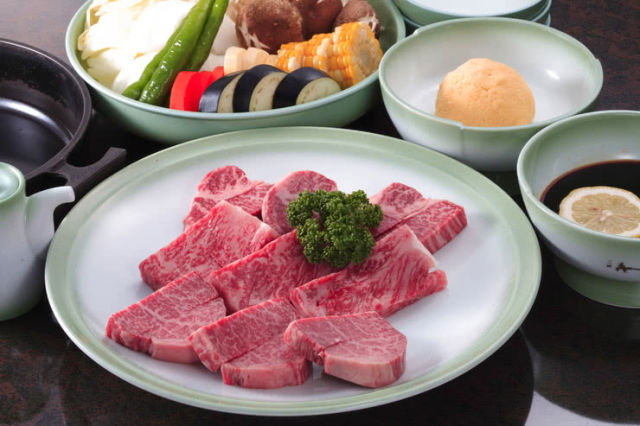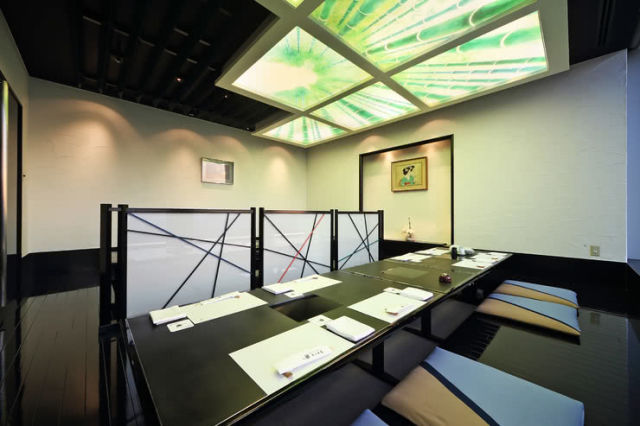 Moritaya, found on the 35th floor of the Marunouchi building, offers impeccable shabu-shabu together with an unparalleled city view. Savor 75 grams of select A5-grade black wagyu beef, Kyoto-grown Kujo scallions and sweet onions from Awaji Island while taking in the Tokyo skyline. There are several courses to choose from, including shabu-shabu, yakiniku (Japanese barbecue), and sukiyaki, prepared tableside. No matter the chosen dinner course, the service at Moritaya is always exemplary.
Kadoya Kasumitei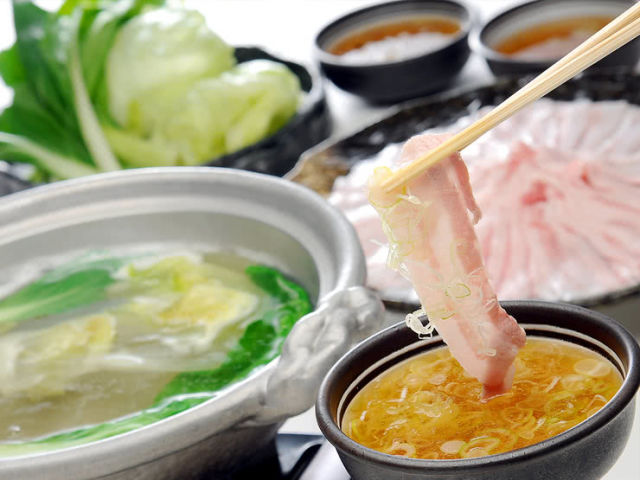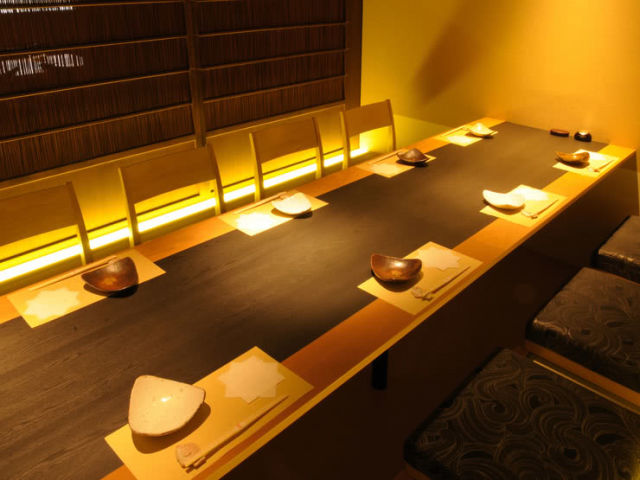 Comfortably situated in the posh neighborhood of Nishi-Azabu, Kadoya Kasumitei airlifts their seafood fresh from the best markets in Ehime to bring a true hometown taste to Tokyo each day. Their signature shabu-shabu dish includes coveted Amatoro pork from Ehime and juicy chicken meatballs made from Ehime's local Himekko-brand jidori chicken. Simmered in a light dashi broth with an abundance of seasonal vegetables delivered farm-direct, their ingredients are both delectable as well as healthy.
Dinner: 6,000 JPY
Roppongi Onohan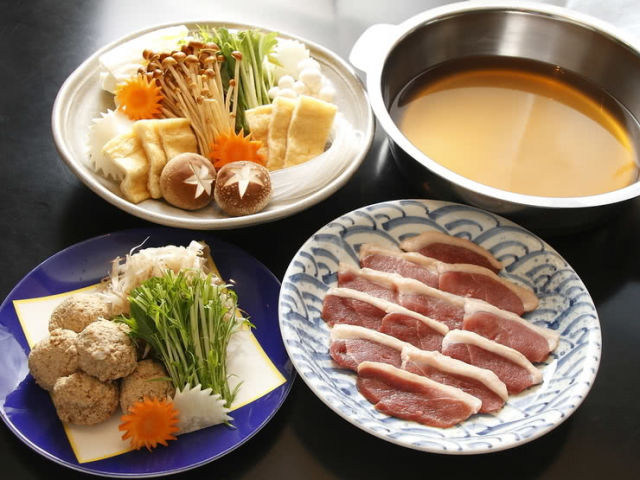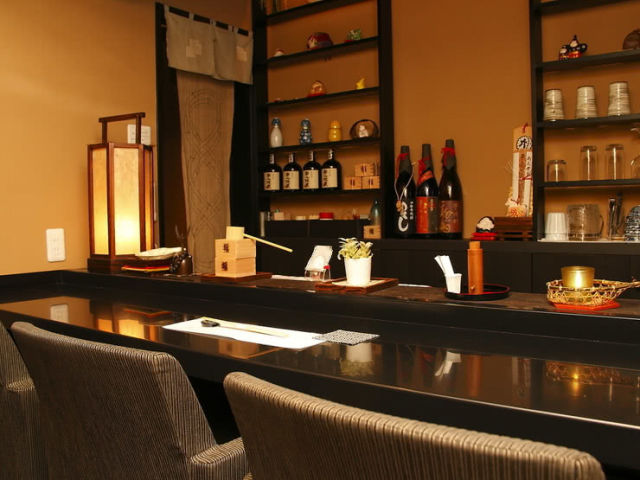 Tucked away in a quiet section of the upscale Roppongi area, Onohan specializes in shabu-shabu made with Kagoshima-produced black Berkshire pork, the most widely esteemed variety in Japan. Renowned for its rich, sweet flavor, this high-end pork is prized both within Japan and worldwide. Enjoy Onohan's soy milk-based hot pot, which makes an excellent duet with the rich sweet flavor of the tender, marbled pork. This establishment also offers traditional Japanese kaiseki banquet dining, each course changing monthly in time with the varying seasons.
Dinner: 15,000 JPY / Lunch: 6,000 JPY
Echikatsu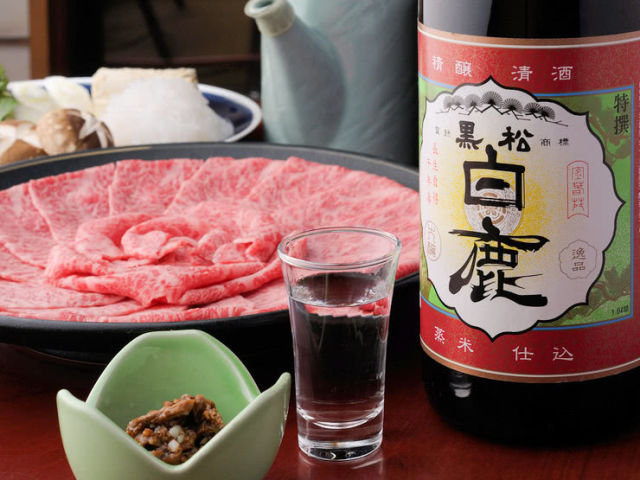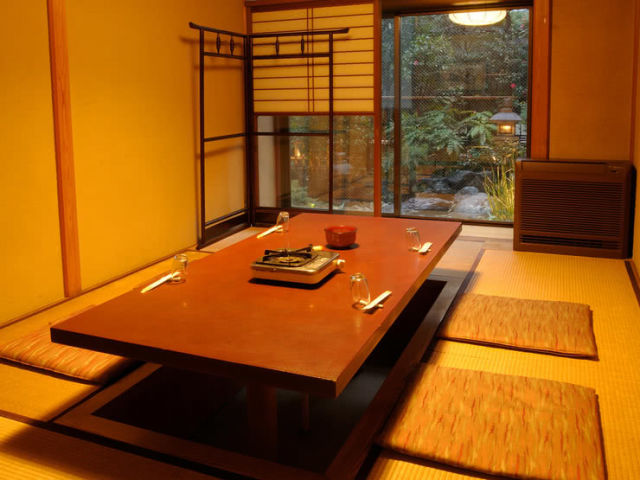 Echikatsu opened for business during the early years of the Meiji period. As one of the oldest shabu-shabu restaurants in Tokyo, it is no surprise then that this historic establishment is unrivaled when it comes to top-quality beef and exceptional dining. Revel in a peaceful view of the Japanese garden inside the inner courtyard while enjoying a hearty 180 gram serving of premium A5 black wagyu beef. For those who prize history, tradition, and gourmet flavor to match the atmosphere, Echikatsu is a highlight in a city of peerless restaurants.
Dinner: 12,000 JPY
Shibuya Hatake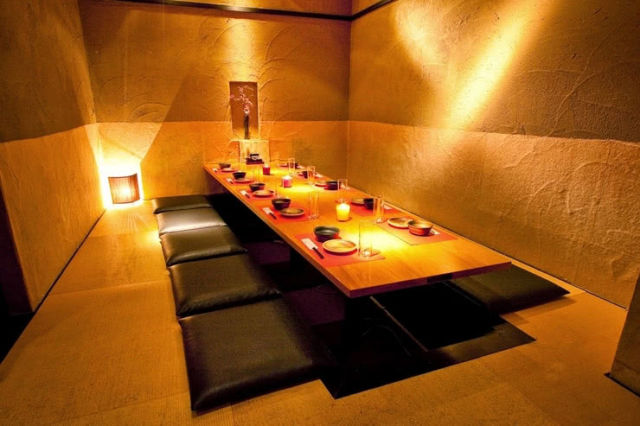 In Tokyo's Shibuya district, a popular tourist destination brimming with culinary possibilities for every taste, Shibuya Hatake is considered the place to go for delicious shabu-shabu. Their inventive dishes—including tsuyu soup shabu-shabu served with wagyu beef or kirishima pork, a sweet and well-marbled black pork from Miyazaki prefecture—reflect the area's trendy atmosphere. Savor the broth, prepared fresh daily with bonito flakes, dried sardines, mackerel flakes, and konbu kelp, each ingredient imbuing it with a distinctively rich yet refined flavor.
Dinner: 3,500 JPY
Butaniku Sosaku Ryori Yamato Minami-Aoyama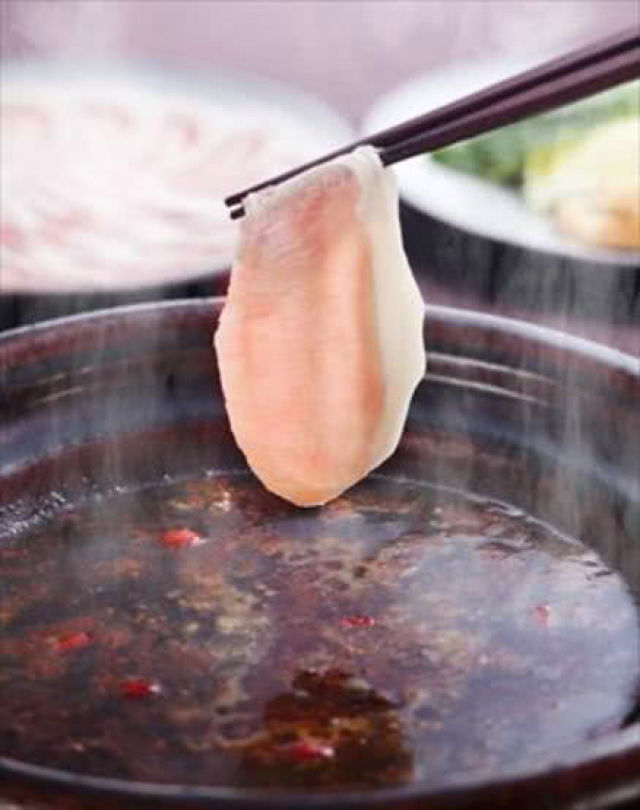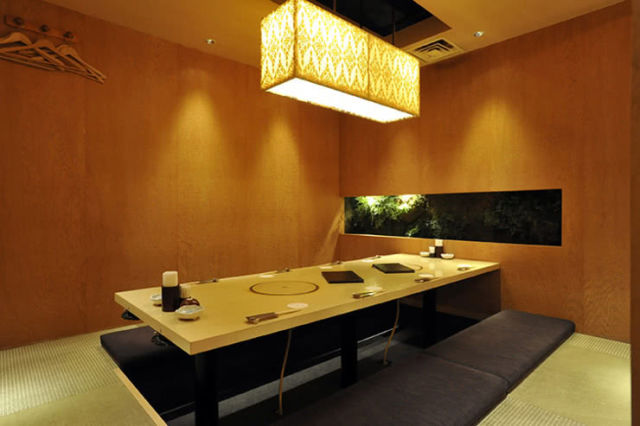 As the name indicates, the specialty dish of this restaurant in the chic Minami-Aoyama district is Yamato pork, a brand of Japanese pork prized for its careful breeding and exquisite marbling that is always smooth and never greasy. Their two-color "Potion for Perpetual Youth" hot pot, a sweet and salty red soy sauce broth paired with a white collagen-rich soy milk based broth, comes highly recommended. Loaded with tender slices of pork loin and belly along with an assortment of seasonal vegetables, this hot pot is rumored to have restorative properties perhaps befitting its name.
Dinner: 5,000 JPY / Lunch: 1,000 JPY
Shabu-Shabu Ginsato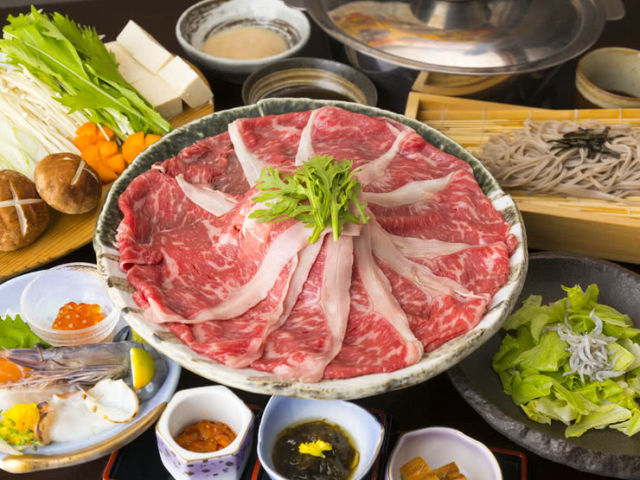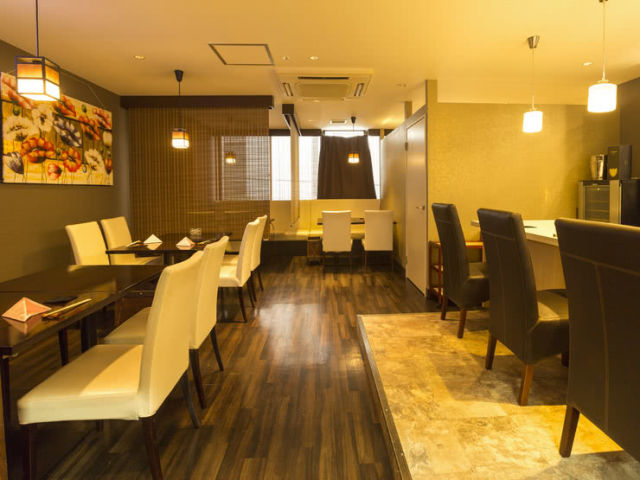 Shabu-Shabu Ginsato stands proudly among the renowned, high-end sukiyaki and shabu-shabu restaurants in Tokyo and the Ginza area, serving top-of-the-line A4 and A5 wagyu beef from Yamagata prefecture as well as exclusive Omi beef from Shiga prefecture that is coveted for its exquisite marbling and rich, earthy flavor. Try the traditional shabu-shabu or Ginsato's unique mushi-shabu, prepared in a wooden steamer, which imparts a subtle cypress aroma that goes excellently with their house-made ponzu and sesame sauces.
Dinner: 7,000 JPY
Japanese Shabu-Shabu Ingredients
The centerpieces of the Japanese shabu-shabu meal is a plate of tender, paper-thin slices of marbled beef or pork. Thin cuts of meat allow for quick cooking in the broth, typically a simple mix of pure water and kombu seasoning. A variety of choice Asian vegetables, including napa cabbage, chrysanthemum greens, and shiitake and enoki mushrooms, are then added into this basic broth and topped off by velvety cuts of tofu.
After cooking in the broth, the ingredients can be dipped piping hot into two tantalizing sauces: a citrusy ponzu sauce or a creamy sesame sauce. The abundance of vegetables ensures that the appeal of shabu-shabu extends far beyond pork and beef connoisseurs, as omitting the meat makes it an excellent choice for both vegetarians and vegans as well.
Japanese Shabu-Shabu in Tokyo Means the Best of Self-Cooked Gourmet
With its high-quality ingredients and uniquely social preparation technique, shabu-shabu offers a truly authentic Japanese dining experience. While browsing the finest and most extensive selection of gourmet shabu-shabu restaurants in Tokyo and across Japan, learn more about the trademark Japanese meats that make shabu-shabu truly great and yet more luxurious ways to eat them. At Savor Japan, come for the news and the reviews—and stay for the food.
Disclaimer: All information is accurate at time of publication.
Publish-date: Aug 09 2017 Update-date: Jun 05 2020