Steeped in rich history, delicious cuisine, and incredible views of the flowering cherry blossoms, West Japan is also a region that features around two dozen historic castles, many of which are surrounded by picturesque sakura-filled gardens that are perfect for a day of leisurely relaxation. Furthermore, these famous attractions, when paired with the beautiful weather of March and April, can make for an amazing springtime sojourn from the city din of Tokyo and Osaka. If you would like to include hanami, history, and haute cuisine on your itinerary, then be sure to visit these five West Japan restaurants—each offering seating with lush views of sakura as well as nearby proximities to popular castles and sakura groves.


Izakaya Furiko (Tenjin, Fukuoka)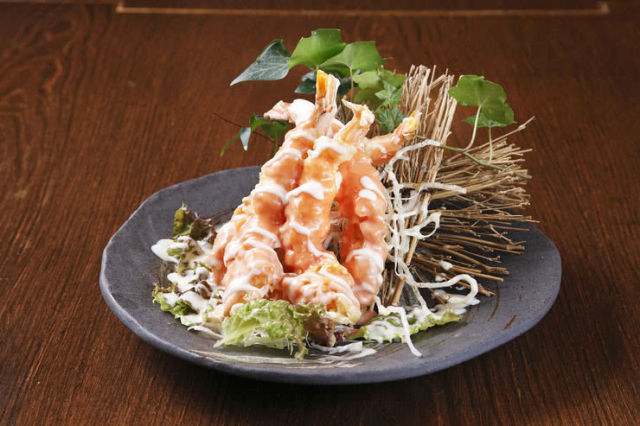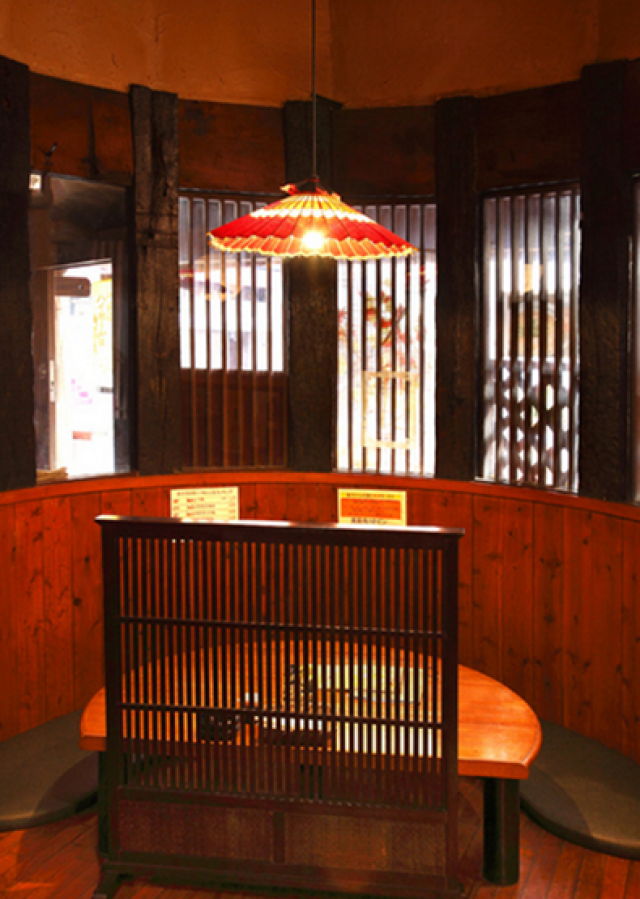 Travel back in time to the Showa era at Izakaya Furiko, where one stepp through the doors transports guests to old Hakata, the traditional name for this region of Fukuoka. Izakaya Furiko offers a variety of Hakata staples, including hearty motsu nabe and Hakata chicken mizutaki, two hot pot delicacies that originated in Fukuoka. Be sure to also try the house special, tender shrimp with mayonnaise, featuring crisp pieces of deep-fried jumbo shrimp delectably drizzled in a French sauce aurore. Offering an extensive collection of sake, shochu and cocktails, Izakaya Furiko is an excellent location for groups large and small.
Dinner: 2,800 JPY
Nearby Sakura at the Fukuoka Castle Ruins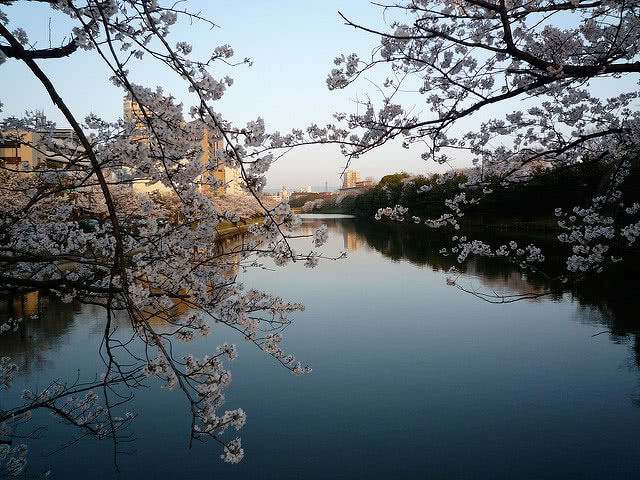 A leisurely 25-minute walk from Izakaya Furiko are the Fukuoka Castle Ruins, located in Maizuru Park. Built in the early 17th century, Fukuoka Castle was torn down in the backlash against Japanese feudalism when the Japanese emperor returned to power during the Meiji Restoration. A few gates, turret points, and part of the old castle moat still remain, all surrounded by nearly a thousand cherry blossom trees. Enjoy walking paths through tunnels of flowers as well as spacious lawns for picnicking.
Jion Shoja (Tamano, Okayama)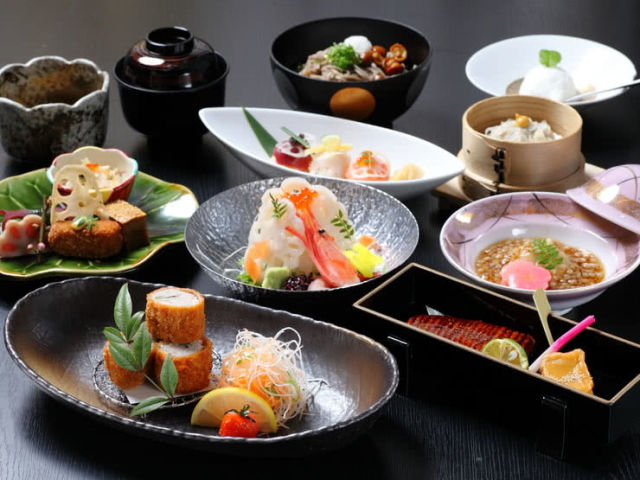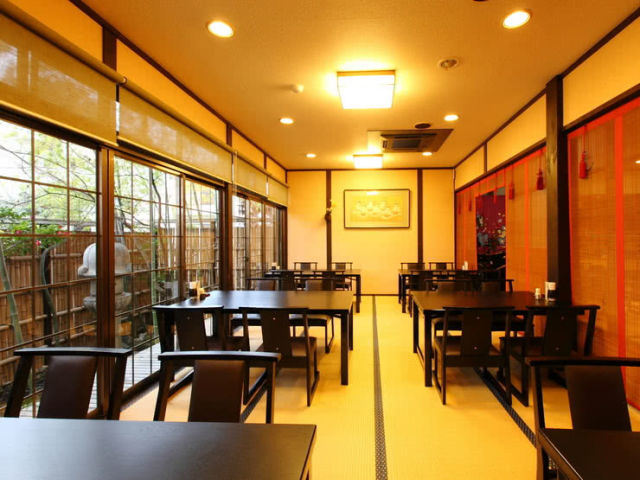 In a quiet area of Tamano, Okayama, near the eastern banks of the Hyoken River, is Jion Shoja, a traditional restaurant specializing in the lotus root as a delicacy. The lotus flower is a popular symbol in Buddhism, and the lotus root is said to be a lucky food as the holes in the root represent a mind open to new ideas and an unobstructed view of the future. The kaiseki banquet course, just one of many ways the lotus root is offered at Jion Shoja, is made with fresh, seasonal ingredients and is served in an elegant atmosphere that leaves guests feeling at peace.
Dinner: 4,000 JPY / Lunch: 2,100 JPY
Nearby Sakura at Korakuen Garden and Okayama Castle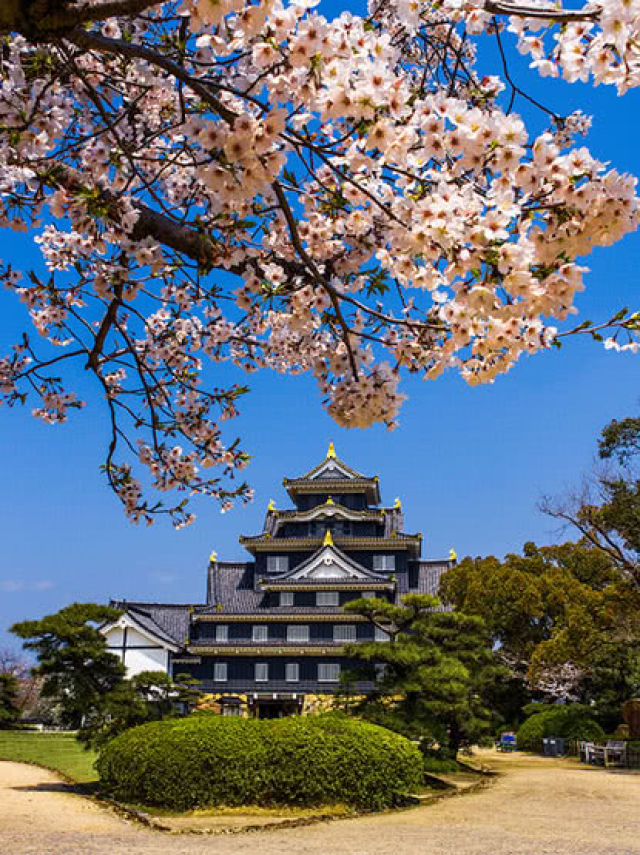 Twenty minutes from Jion Shoja by taxi are Korakuen Garden and Okayama Castle. A main attraction of Okayama region, Korakuen is one of the top three landscape gardens of Japan. Three hundred cherry blossom trees can be found in the orchards of Korakuen with even more cherry blossoms located alongside the river path that flows northeast around the park, called the Asahi River Sakura Road. Another 200 trees can be found adjacent to Korakuen Garden at Okayama Castle. Originally built in 1597, the castle was destroyed at the end of World War II but was faithfully reconstructed using extensive historical records.
Izakaya Itsuraku (Gion, Kyoto)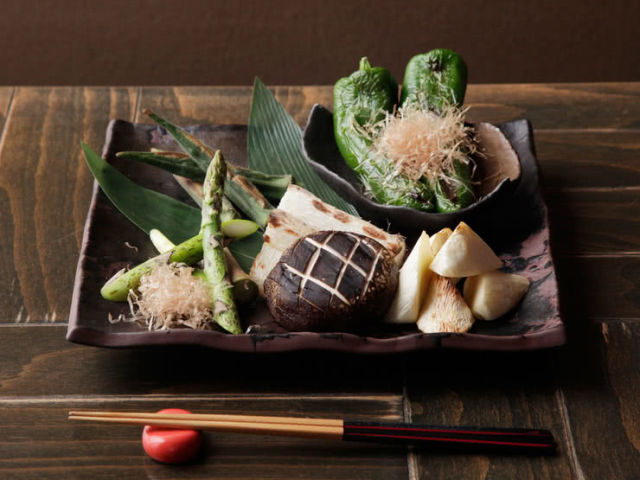 With their motto of "Eat, drink, and laugh!" the cheerful atmosphere at Izakaya Itsuraku is sure to lift even the weariest traveler's spirits. Located in Gion, the traditional arts district of Kyoto, Itsuraku captures the true essence of the area, while serving up the finest sashimi and Kyoto vegetables to be found. Savor excellent fish delivered fresh every morning from the top fish markets in Japan, garnished with delicious Kyoto vegetables culled directly from the establishment's own private farm plot. While laughter may be in the air, at Itsuraku the pursuit of freshness is a serious virtue.
Dinner: 4,000 JPY
Nearby Sakura at Nijo Castle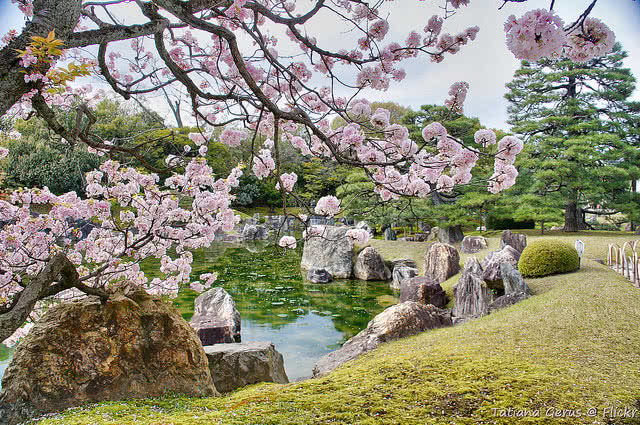 From Izakaya Itsuraku, it's an easy-to-navigate 35-minute walk to Nijo Castle, where a wide variety of cherry blossom trees create a long blooming season from early March to late April. Declared a UNESCO World Heritage site in 1994, Nijo Castle has a long, auspicious history. It was built in 1603 as the Kyoto residence of famed Shogun Ieyasu Tokugawa and later became the property of the Imperial family before being gifted to the city of Kyoto. There are over 400 cherry blossom trees to enjoy in this incredible historical setting.
Ristorante Rinascere Dojima (Kitashinchi, Osaka)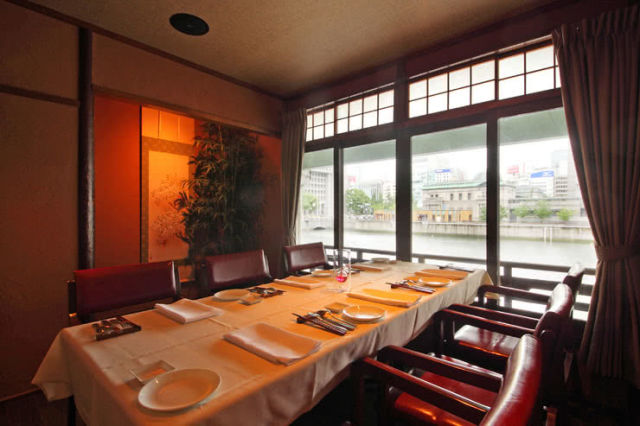 Ristorante Rinascere Dojima in Osaka has built their reputation on unique Italian flavors cooked with a French spirit. Pastas and breads are made fresh in house using wheat flour imported from Italy, and they source only the finest A5 wagyu beef from Tottori prefecture. Other highlights include the elegantly prepared sole fish, poached slowly in a rich broth, and the flambé prepared tableside, which never fails to impress.
Dinner: 6,500 JPY / Lunch: 1,500 JPY
Nearby Sakura at Osaka Castle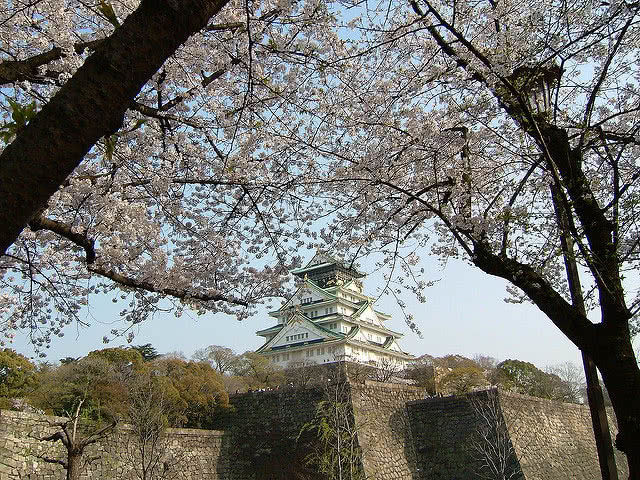 Just 30 minutes by train from Ristorante Rinascere Dojima is Osaka Castle, where a stunning 4,000 cherry blossom trees have been planted across the castle grounds. Nishinomaru Park, located in the western citadel of the castle, is highly recommended for picnicking with its wide lawns and clear views of the castle tower. In the evening, the castle grounds are illuminated, making Osaka Castle an excellent spot to enjoy the sakura day or night.
For History, Hanami, and Haute Cuisine, Explore West Japan
Disclaimer: All information is accurate at time of publication.
Publish-date: Aug 09 2017 Update-date: Jun 10 2020