Publish-date: May 30 2023 Update-date: May 31 2023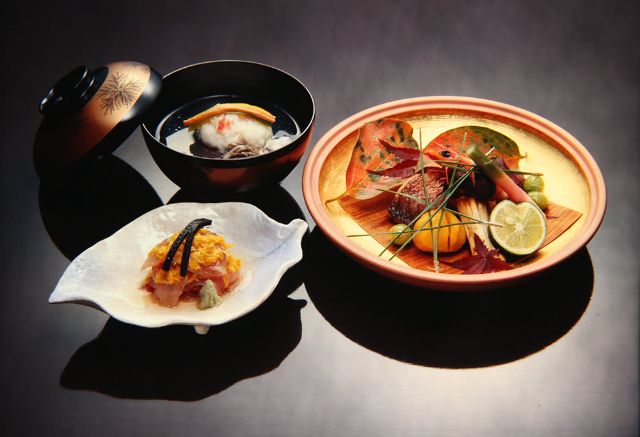 With the global rise in health consciousness, Japanese cuisine has garnered significant attention in recent years. Japanese cuisine can be broken down into three distinct categories: traditional "honzen" cuisine, "kaiseki" cuisine served at tea ceremonies, and "kaiseki" (spelled with different kanji characters) cuisine served at banquets. This article focuses on the kaiseki cuisine that is served at tea ceremonies and introduces its characteristics and table manners, as well as restaurants where you can casually enjoy modern kaiseki cuisine. Immerse yourself in the essence of Japanese "omotenashi" hospitality as you delve into the depths of kaiseki cuisine!
What Is Kaiseki Cuisine?
The Origins of Kaiseki Cuisine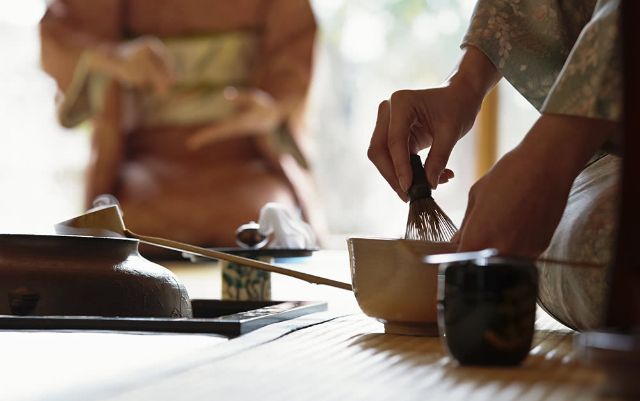 Kaiseki cuisine is believed to have its roots in a modest meal created by Sen no Rikyu, a renowned 16th-century tea master, as a way to provide for guests during tea ceremonies—an event where guests are invited and tea is meticulously prepared and served.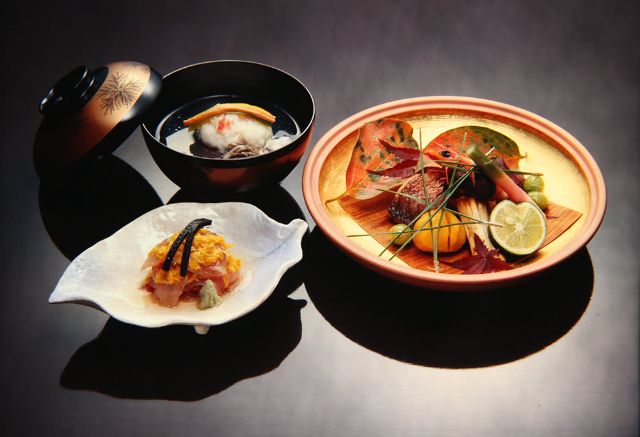 Japanese cuisine can be broken down into three distinct categories: traditional "honzen" cuisine, "kaiseki" cuisine served at tea ceremonies, and "kaiseki" cuisine served at banquets. Although the two variations of kaiseki cuisine are represented by different kanji characters, their identical pronunciation often leads to confusion. One form is a culinary experience served during tea ceremonies, designed to satisfy hunger and enhance the enjoyment of tea. The other form is served at restaurants, inns, wedding receptions, and various other special occasions, aiming to elevate the enjoyment of alcoholic beverages.
Characteristics of Kaiseki Cuisine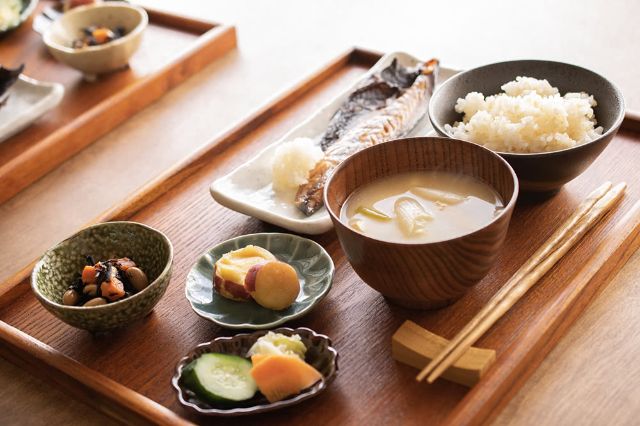 This form of kaiseki cuisine is distinguished by its pre-tea ceremony serving tradition.

The roots of seasonal kaiseki cuisine lie in a simple menu known as "ichiju sansai," which consists of rice as the mainstay, soup, and three side dishes. This ichiju sansai has also served as the foundation for modern Japanese cuisine.

Kaiseki Cuisine and the Essence of Japanese Hospitality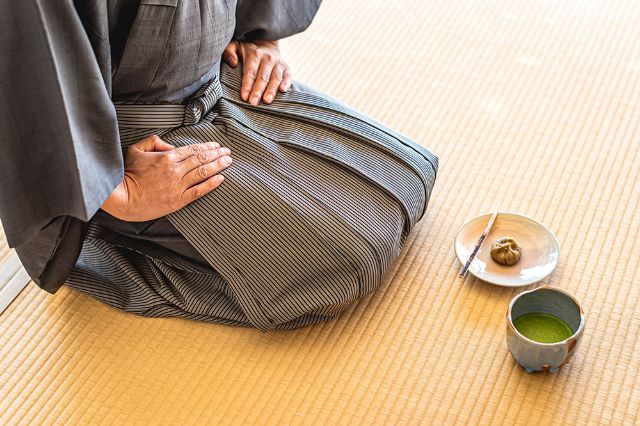 Kaiseki cuisine embodies the spirit of Japanese "omotenashi" hospitality.

The tea served during the tea ceremony is strong and can burden the stomach if consumed on an empty one. Kaiseki cuisine was devised to address this concern and enable guests to fully relish the tea.

The spirit of "ichigo ichie," which emphasizes treasuring each encounter as a once-in-a-lifetime experience, permeates both the tea ceremony and kaiseki cuisine.

Every aspect of kaiseki cuisine reflects the essence of Japanese hospitality: utilizing the most delectable seasonal ingredients available to delight the gathered guests, meticulous attention to the colors and presentation of tableware, and even the timing of serving the food.

Guide to Enjoying Kaiseki Dining and Etiquette
How to Enjoy Kaiseki Cuisine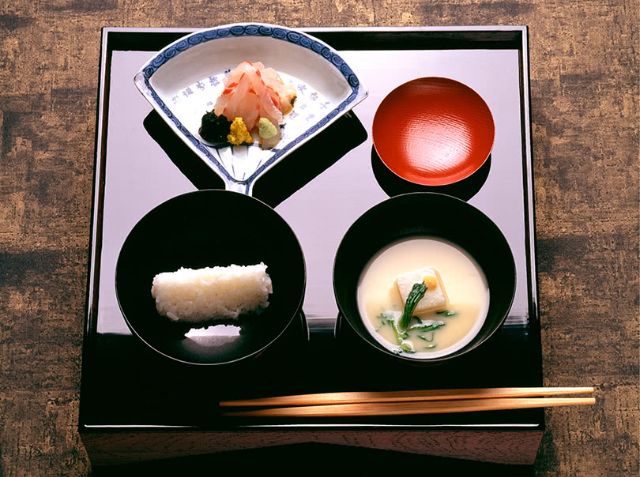 Below is a guide on how to eat kaiseki cuisine. Similar to the order of dishes in a Western dinner course, the sequence of dishes in kaiseki cuisine is also predetermined.

First, a low serving tray called an "oshiki" is brought by the host (the organizer of the tea ceremony) to the guests, with a rice bowl, a soup bowl, and a dish called a "mukozuke" placed on it. The order of eating is to start with the rice, followed by the soup, and then the mukozuke.

Next, "nimono" and "yakimono" dishes are brought in that order. As soon as you finish one dish, the freshly prepared next dish is promptly served.

Then, "kozui" and "hassun" dishes are presented, followed by "yuto" and "koumono." While enjoying the koumono, it is customary to use it wipe the inside of the rice bowl clean.

Once the meal is finished, everyone simultaneously drops their chopsticks onto the oshiki. This sound signals to the host that the meal is concluded.

- Soup: Miso soup with vegetables, tofu, and other ingredients
- Rice: Freshly cooked rice
- Mukozuke: Sashimi or "namasu" (thinly sliced ingredients dressed with vinegar and other seasonings)
- Nimono: A clear soup of fish, poultry, and vegetables
- Yakimono: Grilled fish filets, etc
- Kozui: Lightly seasoned, refreshing soup
- Hassun: Seafood and mountain delicacies that complement alcoholic beverages
- Yuto: An aromatic dish of roasted rice and hot water
- Koumono: Pickled vegetables

General Etiquette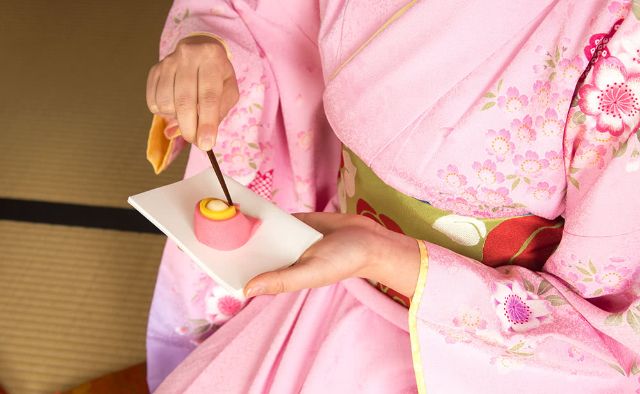 Here are some essential etiquette guidelines to follow when enjoying Japanese cuisine, applicable not only to kaiseki dining but to Japanese food in general.

- When entering a Japanese-style room, it is customary to remove your shoes; however, going barefoot is not allowed. Always remember to wear socks or stockings.
- When using a wet towel, it is considered impolite to wipe anything other than your hands (such as your face, neck area, or tables).
- When splitting disposable chopsticks, hold them horizontally above your knees and split them by pulling up and down. Avoid splitting them left to right, as it may result in unintentionally bumping elbows with the person next to you.
- It is considered inappropriate to stick chopsticks into food, hold them in a clenched fist, or put the tips in your mouth and lick them.
- When bringing food to your mouth while the dish is still on the table, it is customary to place a small paper napkin called "kaishi" (a folded traditional Japanese paper carried in one's pocket) underneath to prevent any spills or dropping of the food.

Recommended Restaurants to Indulge in Kaiseki Cuisine
Kaiseki cuisine, originating as a modest fare, has evolved over time, distancing itself from its tea ceremony origins to embrace a more opulent presentation and ingredient selection. As a result, in modern times, there has been a diminishing distinction between the kaiseki served at tea ceremonies and the kaiseki served at banquets, and the original kaiseki cuisine for enjoying tea is sometimes referred to as "chakaiseki" (tea kaiseki) to differentiate it.

In recent times, a growing number of ryotei (traditional high-end Japanese restaurants) and ryokan (Japanese-style inns) have started offering kaiseki cuisine that can be relished without the need to adhere strictly to the rules of the traditional kaiseki (chakaiseki). Here are two recommended restaurants, perfect for those seeking a casual yet authentic kaiseki dining experience in Japan.

Hanasakitei (Kishi)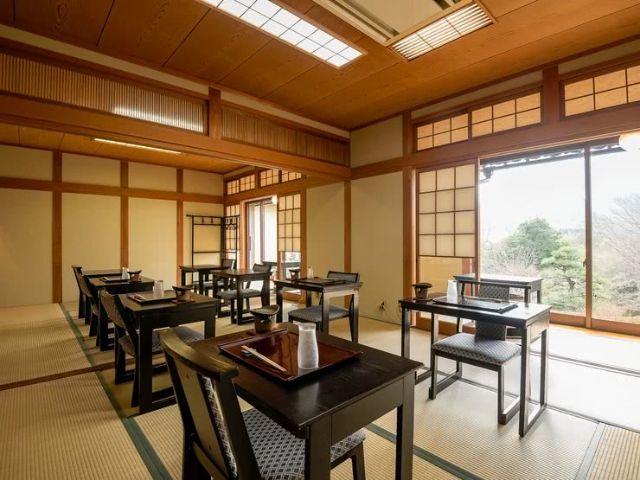 Established in 1989, [Hanasakitei] is nestled in the picturesque Taishi area of Osaka Prefecture, renowned for its abundant nature and historical sites. One of the appealing aspects of this restaurant, located within a vast 1.7-hectare property featuring a beautiful rhododendron garden, is the opportunity to savor modern kaiseki cuisine that incorporates elements of French cuisine while respecting the traditions of Japanese cuisine.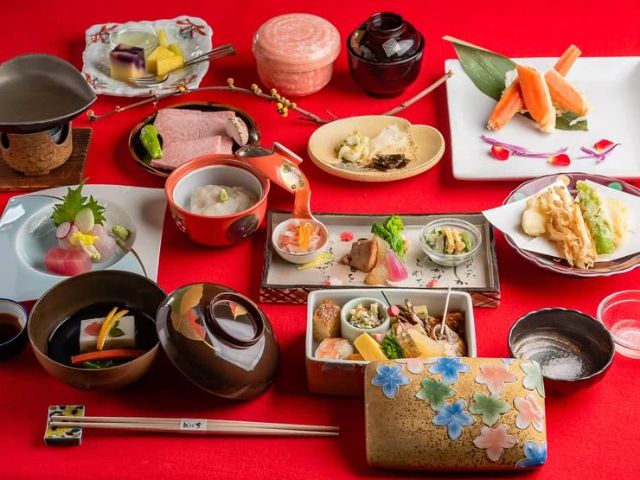 The menu features two meticulously crafted Kaiseki Cuisine Course (11,550 JPY/9,350 JPY) and Omakase-zen (7,040 JPY/4,950 JPY) options, both exclusively available by reservation. The first part of the kaiseki course features a Hassun Tray, a culinary masterpiece showcasing the finest seasonal treasures from both the land and sea. With its exquisite presentation and vibrant colors, this dish is a visual delight. Noteworthy is the exceptional Soup, prepared by combining seasonal ingredients with a broth crafted from premium dried bonito flakes and kelp, imparting a fragrant and richly flavored essence.

Savor the seasonal flavors for a truly once-in-a-lifetime encounter.

Hanasakitei
Open
:
11:30 am - 10:00 pm (L.O. 7:00 pm) By reservation only
Closed
:
Irregular
Average price
:
[Dinner] 7,000 JPY
Access
:
About 10 minutes by car from Kishi Station on the Kintetsu Nagano Line or from Kaminotaishi Station on the Kintetsu Minami Osaka Line
Address
:
1238, Hamuro, Taishi-cho, Minamikawachi-gun, Osaka
Map
More Details
   Reservation   
Kyobashi Basara (Kyobashi)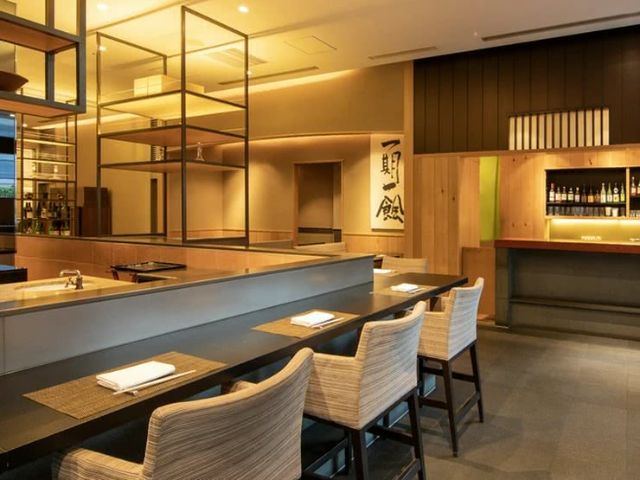 Situated just a 7-minute stroll away from Tokyo Station, [Kyobashi Basara] presents delightful traditional Japanese cuisine with a modern twist, perfectly representing its name "Basara," which means "as you like it." This restaurant offers a serene ambiance, featuring private rooms that are ideal for intimate family gatherings and celebrations, or various business occasions such as entertaining clients and hosting dinners.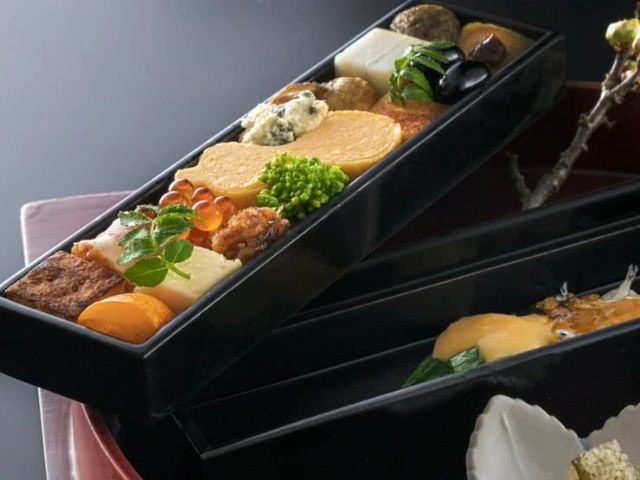 One of the standout dishes at [Kyobashi Basara] is the Fubako Hassun (2,800 JPY) that resembles a splendid jewel box. This culinary masterpiece showcases fifteen seasonal delicacies, each artfully arranged. Additionally, the lunch course is also highly recommended. It begins with exquisitely presented appetizers and offers a choice of five main dishes, including the renowned specialty, Tomato Sukiyaki, a kind of hot pot stew. Experience the essence of tradition and innovation in Kyobashi Basara's kaiseki cuisine alongside your loved ones.
Kyobashi Basara
Open
:
[Weekdays, Saturday] Lunch 11:00 am - 3:00 pm (L.O. 2:00 pm) [Weekdays] Dinner 5:30 pm - 10:00 pm (L.O. 8:30 pm) [Saturday] Dinner 5:30 pm - 9:30 pm (L.O. 8:00 pm)
Closed
:
Sunday, National Holidays
Average price
:
[Dinner] 10,000 JPY / [Lunch] 2,000 JPY
Access
:
Directly connected to the building (Kyobashi Station on the Tokyo Metro Line, Exit 3 of the ticket gate toward Meijiya), 7 minutes walk from Yaesu South Exit of Tokyo Station on each line
Address
:
1F, Tokyo Square Garden, 3-1, Kyobashi, Chuo-ku, Tokyo
Map
More Details
   Reservation   
Kaiseki cuisine embodies the spirit of Japanese hospitality, cherishing every encounter with the people around you. When you visit Japan, immerse yourself in this essence of hospitality and indulge in the delights of kaiseki cuisine to your heart's content!
Disclaimer: All information is accurate at time of publication.