Publish-date: Dec 25 2019 Update-date: Jan 31 2020
When it comes to Japanese food, the first thing that comes to mind for many people is ramen or sushi, but soba, a popular buckwheat noodle dish that has been enjoyed by the Japanese since long ago, shouldn't be overlooked! As an Australian expat in Japan, I didn't have too many opportunities to eat soba back in my home country, so I wanted to look for a good spot in Tokyo. I'd only ever been to the Tsukiji area to eat sushi, and it's famed as a former fish market and its generous offerings of high-quality sushi. However, I recently learned that Tsukiji is also a great place to go to for an absolutely delicious bowl of soba. I visited the well-established soba restaurant Tsukiji Sarashina no Sato to get a taste of one of the country's most versatile and inspiring dishes. Keep reading more to learn about soba and my experience at this soba spot!

An Introduction to Soba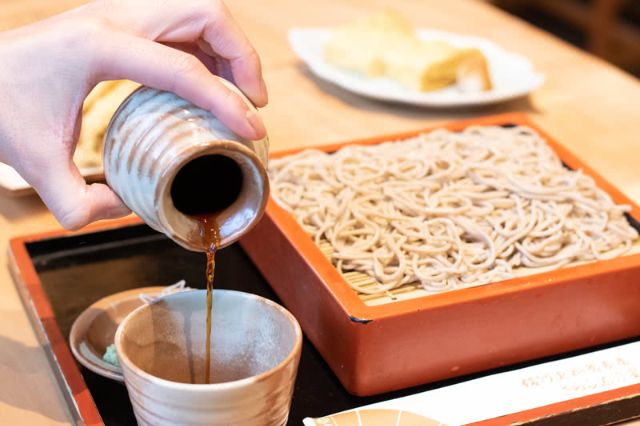 While soba is not touted as a major figure in Japanese food, if you dig a bit deeper, you'll soon realize that these thin, buckwheat flour noodles are actually one of Japan's most iconic dishes. It dates all the way back to the Edo period (1603 - 1868), and was widely popularized as a healthy alternative to plain white rice among all of the different classes, both rich and poor alike. Buckwheat is an excellent source of protein, fiber, and energy, and it is said to promote weight loss, too! As long as you don't overeat, of course. It's considered to be far healthier than, say, your regular ramen or udon noodles, and it's much lighter on the stomach as well.

In addition to its bevy of health benefits, it also has a unique charm in that the noodles can be prepared and eaten in so many different ways. The most authentic way to make these noodles is to solely use just buckwheat flour and water (making it gluten-free!), which is referred to as "juwari", but many times they are made with salt and varying proportions of buckwheat flour and wheat flour to combat the brittle texture that comes about with the pure usage of gluten-free buckwheat.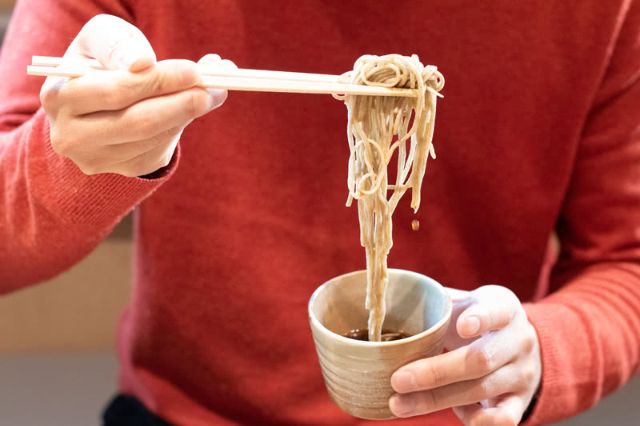 Soba is most typically enjoyed in two ways: as mori/zaru soba and kake soba. Mori soba is served chilled on a tray with tsuyu (a soy sauce-based broth for dipping) served on the side. Kake soba, on the other hand, is soba served swimming in a warm, delicate soup. While these two dominate many soba restaurant menus, in reality, there are countless variations on the dish, many as unique as the individual restaurants that serve them. For example, in Iwate Prefecture, wanko soba, soba served in small bite-sized portions, is a popular dish that's also part eating challenge, while the islands of Okinawa have their own thicker variety of soba noodles.

There are also many deeply ingrained cultural meanings tied to the noodles, which can be seen in the Japanese custom of enjoying soba during New Year's Eve. This is called toshikoshi soba (literally "new year soba"), and the long noodles symbolize prosperity and longevity. There's also another custom in which you send hikkoshi soba ("moving soba") to your neighbors as a greeting after you've moved into a new place. Just from this, you can tell that soba holds a deep historical and cultural meaning for the Japanese, so if you really want to get a taste of the local culture, soba should definitely be included in the list!

Personally, I like how there are no strict rules about how to eat and enjoy soba. You can slurp it down as a healthy fast food alternative, or take your time savoring the unique flavors and textures of this delicious dish. One little tip, however, is that if you order soba with tsuyu, then at the end of your meal, you'll receive a small teapot-like container filled with soba-yu, the milky white water in which the soba was cooked. This water is to be poured into your leftover broth and enjoyed as a post-meal soup!

The History and Culture of Tsukiji Sarashina no Sato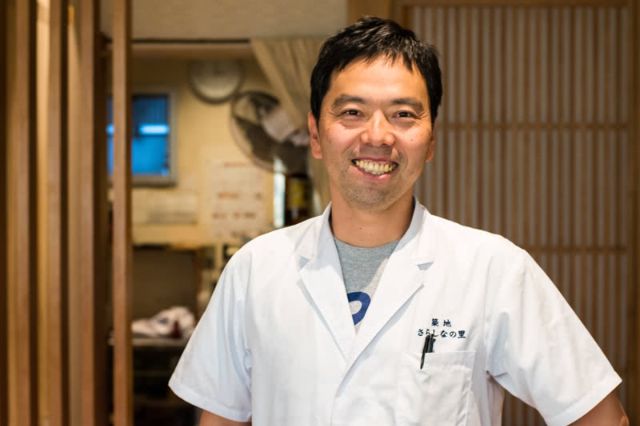 When I first came to Japan, soba was something I discovered by accident, and I'd only had an image of soba in Australia as a very generic food with limited variety. I only really started eating it as a quick and easy meal while exploring the city. I've lived in Japan for a few years now, and I've finally started to really discover the true delights of this dish, and I've had plenty of opportunities to enjoy soba throughout my travels thus far. After my visit to Tsukiji Sarashina no Sato, however, I'm pleased to say that this was one of the best soba restaurants I've been to in Tokyo!

This traditional soba restaurant is just a short walk from Tsukiji Station. It first opened its doors in 1899, and it is currently managed by Shigeyuki Akatsuka, a fourth-generation soba master. "I've been running this shop since 1998," Akatsuka told me. "It was my family's business beforehand, but I worked here as well. I practiced soba making at another restaurant for one year before coming and taking over this restaurant." Akatsuka is an interesting character; he's softly spoken and relaxed, but you can tell underneath that laid-back attitude is a man who is undeniably passionate about soba and his work.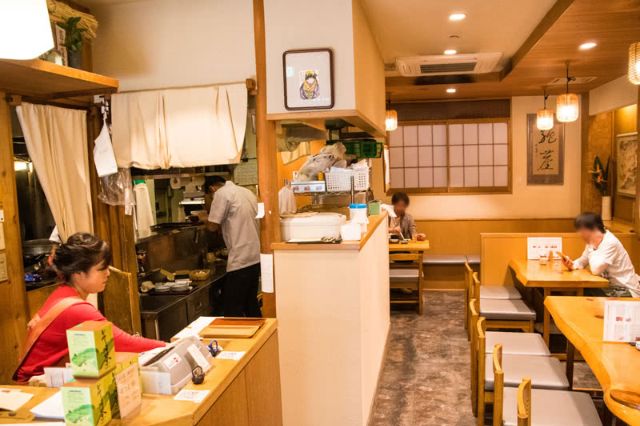 As soon as I step through the entrance, the first thing I see is the in-store flour grinder. It's a peek into the store's soba process; this is where the store's delicious soba begins its life cycle. The atmosphere of the shop is both traditional but incredibly welcoming to the foreign guests that pass through the store. There's also a comprehensive menu available in English. If you're feeling daunted about not knowing what to order, the menu also features pictures, so you can always just select what you think looks the most delicious. The hardest part of the ordering process is deciding what to get since it all looks great!

The Magic of Sarashina no Sato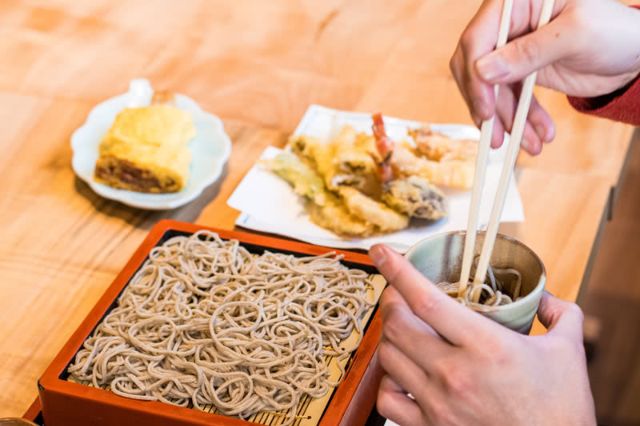 From the gracefully aging poster that hangs by the register to the classy Japanese design flourishes that furnish the store -  think sliding paper doors and wooden finishings - the ambiance of Sarashina no Sato is traditional, but not overly so. What makes Sarashina no Sato so special is that the atmosphere of the shop feels very warm and welcoming to just about anyone, including foreign guests and those just passing through the city. While another long-running store may be more dedicated to their regular customers, at Sarashina no Sato, you're treated like a local from the moment you pass through the front door. I can easily see myself coming here for a meal on my own with how friendly the staff and the restaurant felt.

The menu has something for all budgets and tastes, too. If you're looking for a nice cheap bite, you can order a simple soba meal for as little as 700 JPY for lunch! But if you're looking for something a little more luxurious, there's a hot pot course menu for dinner, which includes chicken, sashimi, duck, and soba noodles for 5,000 JPY per person. The menu is incredibly extensive, offering as many as 10 basic cold soba dishes and 11 hot dishes - and that's just the beginning! There are also desserts, a list of classic side dishes like the deliciously fluffy tamagoyaki (Japanese egg omelette), and if you're feeling brave, chicken sashimi.

On the alcohol front, the menu is just as impressive, with 9 different types of sake and 12 types of shochu. Many of both are available by the bottle or glass. If you'd like something else, there's also beer, umeshu (plum wine), and whisky. If you're new to the world of Japanese alcohol,  ask one of the friendly staff members for their recommendation on what type of drink would go best with your meal.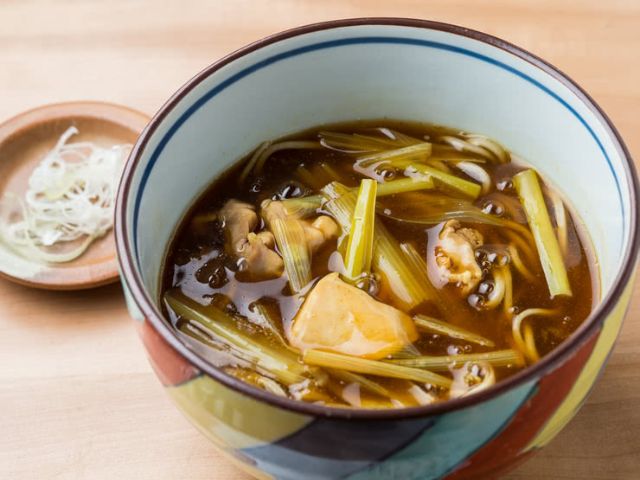 While the rich tradition of soba production is definitely one of the key elements of the restaurant, a particular dish on the menu that I've never had before caught my eye: the curry nanban (also known as curry soba)! I've never seen it at Japanese restaurants back home in Australia, but I can see why it's a hit here; it's a deliciously cozy combination of two Japanese favorites - curry and soba. It consists of noodles floating in a hearty curry-flavored broth - perfect for those frosty Tokyo winter days.

Top Recommendations at Tsukiji Sarashina no Sato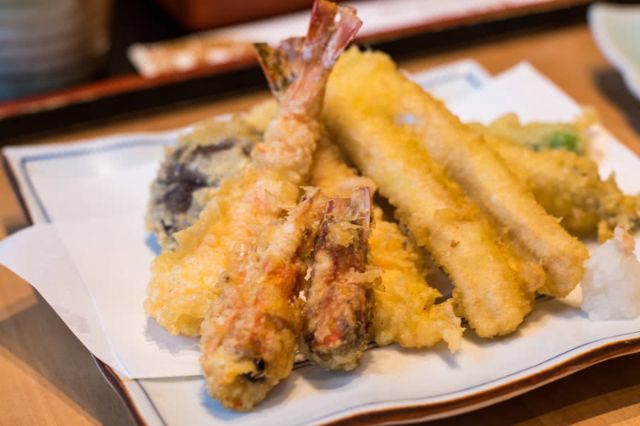 I asked Mr. Akatsuka what he recommends for first-timers trying soba, and he told me his recommendations greatly depend on the season. It's clear that working with the best produce offers the best outcome. Since the restaurant gets its produce directly from Toyosu Market, freshness plays a crucial role in making Sarashina no Sato's dishes so perfect. It's like the kitchen works in collaboration with mother nature to create unique seasonal cuisine. In winter, though, his top recommendation would have to be hot soba with duck, which is known in Japanese as kamo nanban. It's a deep, rich, and flavorful combination of soba served in a warm broth topped with slivers of perfectly cooked duck breast and green onions.

Tempura soba, also known as ten soba, is another highly recommended option. "Foreign guests really love shrimp tempura," he told me. He really hit the nail on the head with that one - I love shrimp tempura! I chose the tempura both because, yes, I love shrimp, but also, I thought it would be a great way to sample the fresh, seasonal vegetables fried to perfection. The combination of the tempura plate with chilled soba noodles is a perfectly harmonious balance of warm and crispy and cool and soft. The noodles were room temperature - the perfect accompaniment to the warm, almost glistening golden brown tempura that were just pulled out of the fryer.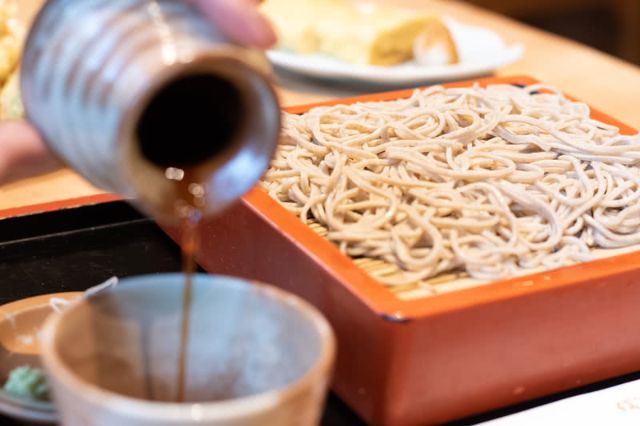 Biting into the noodles, they had just enough resistance and a smooth, but rustic texture. They were robust and satisfying, the Japanese equivalent of pasta cooked al dente. The meal was a fun, culinary exploration of just how much Japanese cuisine loves to focus on texture and the flavor balance.
I'd always thought it was all about the noodles, but the dipping sauce for the soba is actually where the secret of soba resides. Mr. Akatsuka stated that, "the ingredients of a regular and high-end soba shop stay the same. The defining factor (for an excellent dish of soba) is the dipping soup and broth; that's where you can taste the difference in quality." Knowing this, I can taste the rich umami (Japanese savory flavor) depth given to Sarashina no Sato's broth. It makes me think - different stores must all have their own combination, like a culinary fingerprint.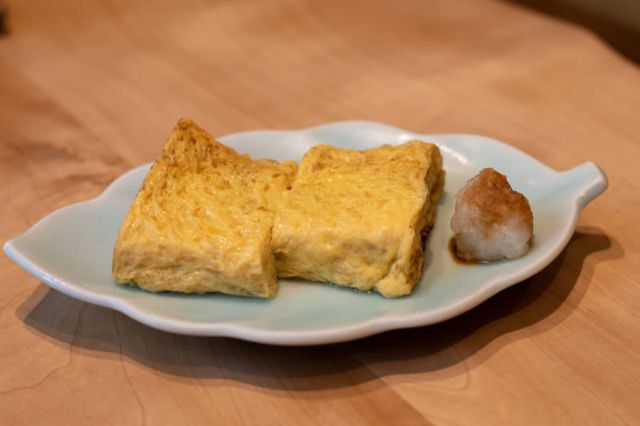 If you're feeling like you need a little extra something on the side, I'd suggest you try the tamagoyaki. For those uninitiated, it's a type of Japanese omelette that's light and fluffy and balances both sweet and umami flavors. He told me that in the old times, egg was considered a luxury item, so only the more luxury establishments would serve it. While eggs may be more accessible these days, the dish still tastes like a luxury item. It's gentle and soft on the palate, but biting into it is very satisfying and almost comforting. Back home in Australia, we most often eat eggs for breakfast poached, fried, or sometimes scrambled, but the eggs here almost taste like an entirely different food altogether. The sweetness of the first moment it hits the tongue is complemented perfectly with the egg's naturally slightly savory flavor.

Unparalleled Craftsmanship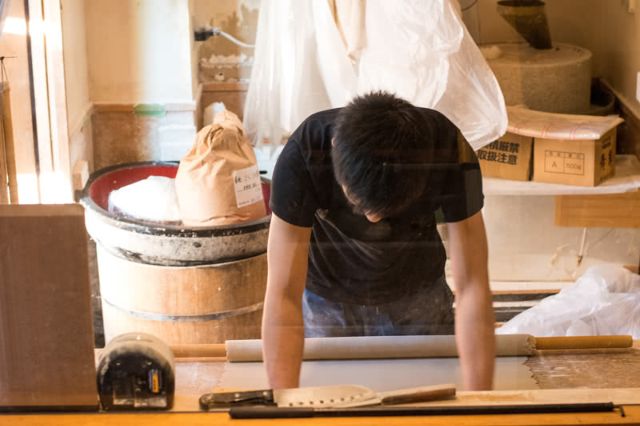 While the dishes are excellent and the store ambiance is well crafted, the most notable element of Sarashina no Sato is the hardworking staff. Led by Mr. Akatsuka, who sets the pace by example, the eye for detail and the passion for offering the best hospitality and best quality dishes is clearly evident with staff always in the background working hard to ensure they produce the best meal they possibly can.

"The chefs that work here have a two-hour break each day, but during this time, they still spend some of it practicing making soba so they can continue perfecting their noodles," he stated. After thoroughly enjoying my meal, I'm definitely not surprised at the amount of work involved in each dish as I could taste that they were all lovingly prepared.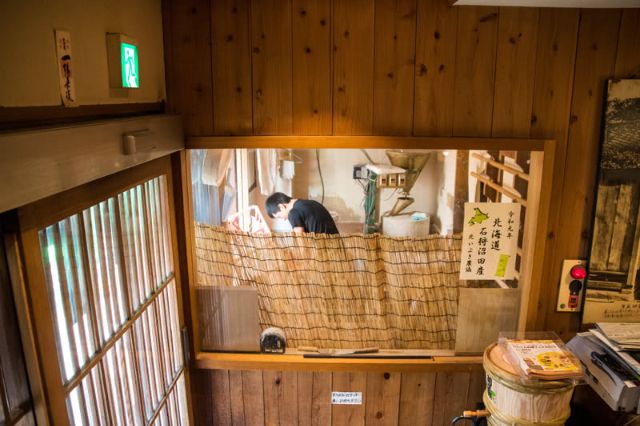 While soba making runs in his family and he's had over two decades of experience running this store, he still diligently practices his skills. "I wake up 7 am every day and practice for two hours before the store opens and the customers start coming in. The most difficult aspect of making soba is making the mix ratio between soba and flour perfect." That drive towards perfection and passion for becoming the best at your craft is an unquestionable Japanese mentality. You can see the restaurant's continuous strive for excellence as they even make over 20 kilograms of soba every single day! I would say that this diligence is Tsukiji Sarashina no Sato's touch.

Make Your Way Over to Tsukiji for a Bowl of Soba!
Soba has long been adored by the Japanese people for its delicious, delicate taste and numerous health benefits. It plays such a big role in Japanese culture and Japanese cuisine, you'd be remiss not to try a bite of these traditional noodles while in Japan. Be sure to head over to Tsukiji Sarashina no Sato to get a taste of authentic soba!

Tsukiji Sarashina no Sato
Open
: [Weekdays] 11:00 am - 9:45 pm
[Saturday] 11:00 am - 3:00 pm
Closed
: Sunday, National Holidays
Average price
: [Dinner] 6,000 JPY / [Lunch] 1,200 JPY
Address
: 3-3-9, Tsukiji, Chuo-ku, Tokyo
Map
More Details
 Reservation 
Disclaimer: All information is accurate at time of publication.