Publish-date: Dec 28 2018 Update-date: Aug 06 2019
Like and Share us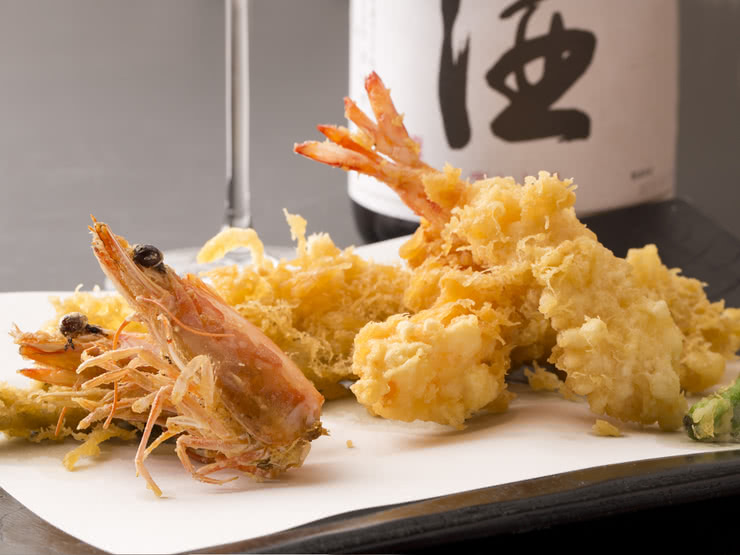 One of Japan's best-known foods is tempura – a deep-fried dish using fresh ingredients such as vegetables and fish. You'll want to try it if you're visiting Japan, so here's a list of 15 restaurants in Tokyo that serve delicious tempura!
1. Tempura Fukamachi (Kyobashi)
This restaurant inherited its traditional taste from a famous hotel. The interior is simple, consisting of a wooden counter and two tables. You can taste the history in their dishes, from the oil blend that includes unroasted sesame oil to the dipping sauce based on skipjack tuna and kombu dashi (broth). Only the freshest ingredients, brought in every morning from the market, are used. The oil temperature and batter mixture changes depending on the climate or ingredients. Their [Raw Uni] (sea urchin) is wrapped in perilla leaves, making for a crisp texture on the outside with a juicy inside. Try their incredibly sweet shrimp as well, which comes with its head still attached!
Tempura Fukamachi
2. Tempura Kurokawa (Tsukiji)
Tucked away within Tsukiji's outer market, this restaurant has a cozy and relaxed atmosphere. The owner has spent over 30 years preparing tempura. You can feast on tempura made with fresh seafood, which is picked out at the market by the owner himself every morning, and seasonal vegetables sent over directly from farms. Try the [Kakiage Tendon] (1,500 JPY), which uses luxurious ingredients like shrimp and scallops, as well as their original tempura dishes! Made with unusual ingredients like egg yolks and bell peppers, they were thought up of by the imaginative owner. Be sure to pair their tempura with some sake (Japanese alcohol)!
Tempura Kurokawa
3. Kuzushi Kappo Tempura Take No An Higashi Ginza Branch (Higashi-ginza)
A secret haven in Ginza frequented even by celebrities. The chefs are masters of their craft; they steam, simmer, and prepare the ingredients in various ways to bring out their full potential. The tempura is crisply fried in a special oil blend and can be dipped in a special sauce or sprinkled with seaweed salt. When you order shrimp, try the [Gasu Ebi], which is rarely seen in Tokyo! It has a richer flavor than the more common ama ebi (sweet shrimp). Drink hand-picked sake from all over Japan in a special sake cup along with some tempura!
Kuzushi Kappo Tempura Take No An Higashi Ginza Branch
4. Uohide (Kichijoji)
The chefs at Uohide like fish so much that they go net fishing themselves! Step through the restaurant's atmospheric entrance and you'll feel like you've discovered an old, hidden-away home. Their seafood is sourced directly from ports across Japan, or taken straight from the owner's own fishing net. There's a huge variety, with no compromise in freshness. Ginpo (tidepool gunnel), for example, is hard to find in fish markets, but Uohide serves [Noto Ginpo and Maitake Mushroom Tempura] (890 JPY), which has a mild and refined taste. Besides tempura, the restaurant serves a luxurious [Premium Sashimi Platter] (1,290 JPY) with 9 - 10 fresh and seasonal varieties of fish.
Uohide
5. Ginza Fujita (Shimbashi)
Ginza Fujita prides itself on the quality of its ingredients. It serves Japanese cuisine in a laid-back atmosphere. Sit at the counter to enjoy freshly-cooked tempura. Every ingredient was sourced and approved in person by the owner. When made into tempura, their smaller, specially-procured vegetables turn into concentrated flavor bombs that explode with sweetness and savoriness in a single bite. Recommended dishes include the [Seasonal Tempura] or the [Ebisen] (shrimp chips) if you're looking to enjoy the gentle flavors of shrimp and prefer something crispier.
Ginza Fujita
6. Ajiyushin Nakaya (Yotsuya-sanchome)
This soba (buckwheat noodles) restaurant was established way back in 1890. Its creative interior design features exposed brickwork and tables made using 200-year-old castor aralia wood. The pièce de résistance is the soba, made with their own special techniques and served with the same sauce that was used when the restaurant first opened. There's no better accompaniment to the aromatic soba than the [Tempura Platter] (2,250 JPY)!
Ajiyushin Nakaya
7. Yoyogi Uehara Yamasemi (Yoyogi-Uehara)
Step through the prestigious entrance of Yamasemi, handmade soba, and Japanese sake restaurant, and you'll find an interior with wood and bamboo design. The balance of buckwheat and wheat flour in their handmade soba is carefully altered according to the season and humidity. The indulgent choice is the [Rakuzen Set] (1,800 JPY plus tax), which comes with spicy daikon (radish) soba, grated yam soba, tempura, duck soup, and seiro soba (chilled soba eaten with a strongly flavored dipping sauce). Groups of 2 - 3 people should try the [Omakase Course] (4,800 JPY plus tax), featuring a selection of fish and vegetables brought in that day.
Yoyogi Uehara Yamasemi
8. Soba Sawamoka (Gaiemmae)
This spacious soba restaurant is a 2-minute walk from Gaiemmae Station and just reopened in August 2018 with Japanese decor. Their buckwheat, sourced from different places depending on the season, is ground carefully in a mortar every morning to make aromatic soba. Alongside the high-quality soba, try crispy sakura shrimp with mitsuba (Japanese parsley) in their [Kakiage] (850 JPY plus tax) or [Tempura Skewers], served with rice and sauce, salted and roasted mochi pieces, or dipping sauce. You can also enjoy seasonal brands of sake with your meal.
Soba Sawamoka
9. Tenshige (Akasaka)
Walking into Tenshige, you'll feel reminiscent of the past. With over 50 years in business, regulars flock to the restaurant in search of the chef's cooking, which continues on the flavors that the previous owner, a tempura master, created. Fresh seafood and seasonal vegetables procured straight from the market are turned into traditional tempura via being deep fried in a fragrant oil blend consisting of sesame oil and cottonseed oil. At night, the menu only offers the [Omakase Course] (7,350 JPY). Be sure to try some fancy choices like shrimp and anago (conger eel)!
Tenshige
10. Tempura Kondo (Ginza)
This tempura restaurant of the highest caliber, located in Tokyo, receives celebrities as well as guests from abroad. They have an unconventional style as they go against the traditional image of tempura being associated with seafood, and instead present seasonal vegetables as the focal point. By using two different pots, one with high heat and another on low heat, and a unique mix of oil, the chefs are able to expertly use their skills to monitor even the slightest change in the cooking process, producing the highest quality of tempura. This tempura has incredibly concentrated flavors from the ingredients, courtesy of the cooking method. The highlights of the menu are the [Sweet Potato], which is fried for over 30 minutes, and the thinly-cut [Carrot].
Tempura Kondo
11. Tempura Motoyoshi (Gaiemmae)
With only 8 counter seats, this place has a special atmosphere. It's located in a small corner of an alley that's decorated with blossoming seasonal flowers that the owner has planted himself. In the spring, you can enjoy the cherry blossoms, and in the fall, you'll have a beautiful view of the autumn leaves. The chef uses his skills to pull out the flavor of the ingredients by adjusting the temperature accordingly and frying with an exquisite light sesame oil mix. Make sure to try the [Kisu Tempura], which makes use of cured, umami-rich Japanese whiting, and the [Raw Uni on Perilla Leaves]!
Tempura Motoyoshi
12. Akimitsu (Asakusa)
This tempura restaurant, opened by an iconic person in the tempura world, has a stylish bar setting and is located in the Asakusa area. The Japanese-style Italian place was established in the spring of 2018 under the owner, a former fisherman, and the head chef, a native of Italy. Inside their charred cedar wood interior, they have two different types of seating available – a standing counter for quick visits and tatami room seating for a more relaxing time. The most popular item on the menu is the [Tempura Platter] (from 2,000 JPY), which consists of a variety of seafood and vegetables in season. The bar menu also lists reasonably-priced dishes aside from tempura.
Akimitsu
13. Mikawa Zezankyo (Monzen-nakacho)
Mikawa Zezankyo is the restaurant of a living tempura legend. The owner started learning how to make tempura at age 15 and has now honed his craft for 55 years. The relaxing decor is the work of 20 artists, and the tableware that sake and food are served in is also the work of a renowned artist. The [Kuruma Ebi] (Japanese tiger prawn) is both savory and sweet, the [Asparagus] has a delightful texture that differs from top to bottom, and the [Anago] has a fragrant outside and fluffy, tender inside. Their [Tempura Rice Bowl], served at the end of their course meals, is another delicacy worth savoring!
Mikawa Zezankyo
14. Cazilo Sakaba (Meguro)
A 3-minute walk from Meguro Station, this bar has a friendly atmosphere that makes it easy to talk to anyone. You can make your drink from the choices of mixed drinks lined up in front of you from your seat on the bench-style counter seats. From the staples to original recipes, a wide variety of tempura is available. The most popular item is the [Wagyu Tempura] (500 JPY plus tax), which uses high-quality loin cuts of Kuroge Wagyu beef. Perilla leaves are wrapped around the beef, giving it a boost in flavor, and the whole thing is covered in batter, resulting in the beef's umami concentrating in the batter - a fantastically combined dish!
Cazilo Sakaba
15. Tempura Yama-no-ue Ginza (Ginza)
This restaurant, located in Ginza, has been running for over 60 years and serves up the top-notch flavor of a famous hotel. The Japanese-style entrance of the restaurant leads to a refreshing space decorated with tables and chairs crafted by Japanese furniture makers. Try the [Seasonal Vegetables], prepared in quality sesame oil, and the luxurious [Raw Uni] from Hokkaido! To wrap up your course meal, you have a choice between 3 rice dishes that come accompanied with kakiage (fritters): ten-don (rice bowl dish topped with tempura), ten-cha (ten-don topped with tea or broth), or ten-bara (rice bowl dish topped with crumbled kakiage).
Tempura Yama-no-ue Ginza
That wraps up the list of restaurants where you can eat some delicious, crunchy tempura filled with the umami of seasonal seafood and vegetables. Be sure to try this traditional Japanese dish when you're in Japan!
Disclaimer: All information is accurate at time of publication.