Publish-date: Feb 08 2018 Update-date: Aug 06 2019
Like and Share us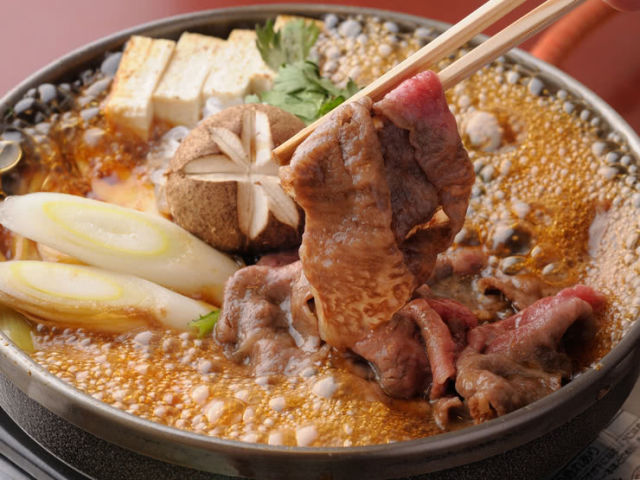 There are so many restaurants offering meat dishes in Tokyo, but a much-loved classic of Japanese cuisine is, without a doubt, sukiyaki (hot pot stew). It is a delicacy consisting of beef seasoned with shoyu (soy sauce), which gives it a sweet and salty flavor. Here is a selection of 15 extremely popular sukiyaki restaurants in Tokyo that you'll want to visit at least once!
1. Hyoki Kasuitei Roppongi Branch (Roppongi)
At a corner of Roppongi, one of Tokyo's most iconic shopping areas, stands this top-class Japanese restaurant that is just 1 minute on foot from the station. In its outstanding and stylish modern Japanese interior, you can have luxurious sukiyaki courses made with domestic first-rate brands of beef, such as Kobe beef and Omi beef. The famed [Shirosuki (Sukiyaki) Kaiseki] ("Kaiseki" refers to Japanese banquet cuisine with alcohol) is available in 5 versions, ranging from 6,500 JPY - 15,000 JPY. Enjoy the excellent combination of melt-in-the-mouth cuts of beef, such as sirloin or rib eye, dipped in their special Shirosuki sauce.
Hyoki Kasuitei Roppongi Branch
2. Kyoto Hyoki Ginza Main Branch (Ginza)
This is a famous restaurant that serves delicate and seasonal Kyoto cuisine. For their sukiyaki, they use world-renowned Japanese brands like Kobe beef and Omi beef. Fat marbles the lean meat, creating a webbed pattern that starts to melt once in contact with even just your natural body temperature, resulting in an odorless and flawless meat umami (Japanese savory taste) that will explode in your mouth. Satisfy your craving for meat with courses like the [Omi Beef Sukiyaki 6,500 JPY Course] or the [Kobe Beef Sukiyaki 8,000 JPY Course], that, while focusing on Kobe beef, also includes appetizers, sashimi, udon, and even dessert! You may also ask to change the type of meat and cut.
Kyoto Hyoki Ginza Main Branch
3. Zakuro Muromachi Branch (Nihonbashi)
This Japanese restaurant inside of Coredo Muromachi, a shopping district in Nihonbashi, has an excellent reputation for its meat-filled menu. Along with shabu-shabu (sliced meat parboiled with vegetables), the [Sukiyaki with Vegetables - A4 rank - (11,000 JPY)] is their flagship dish. As the name suggests, A4 rank beef is used, which is one of the highest-quality meats from among premium Japanese beef types. It's cooked in a spicy and sweet sauce, and as you take a bite, the deliciousness of the melty meat will spread in your mouth. If you prefer a higher grade of meat, order the [Sukiyaki with Vegetables - A5 rank - (14,000 JPY)].
Zakuro Muromachi Branch
4. Azuki (Ueno)
This restaurant has been a hot topic in magazines and newspapers as a top sukiyaki and shabu-shabu spot, so it's quite popular. Their specialty is Sanuki Olive beef, which is a beef brand from Kagawa Prefecture, Shikoku. Raised in an area with a warm climate that faces the Seto Inland Sea (Seto Nai-kai), this cattle is characterized by its strong umami, tender texture, and refreshing flavor. On top of that, it's also healthy! If you want to enjoy it to your heart's content, try ordering the [Olive Beef Golden Label (Rib Eye) Sukiyaki or Shabu-Shabu (1 serving costs 5,000 JPY plus tax)]. Revel in the flavor of this impeccable beef!
Azuki
5. Nikaku (Hachioji)
In Hachioji, which is a little far away from the city center, you'll find this sukiyaki and shabu-shabu restaurant that uses domestic beef. To be more specific, for their sukiyaki, they buy whole cows from a market in Shibaura, Tokyo, after a thorough examination. Take a bite and feel the rich umami and tenderness overflow in your mouth. With their [Premium Kuroge Wagyu Sukiyaki Meat 120g with Vegetables Assortment (4,200 JPY)] ("Kuroge Wagyu" is a type of high-quality beef), you'll get to enjoy the richness of premium beef selected and prepared by the skillful chef.
Nikaku
6. Hiyama (Ningyo-cho)
Established in 1912 as a butcher shop, this historical place started cooking sukiyaki in 1927, and it is is now one of Tokyo's most representative restaurants. This wooden 3-story building with only private rooms will figuratively throw you back in time. Each of the rooms have tables where the waitstaff will assist with cooking your sukiyaki and shabu-shabu, creating a lively atmosphere where you can entertain yourselves with chat and drinks while waiting for the meat to cook! Each day, they serve only the best Kuroge Wagyu available. The flavor of this melty, marbled meat matches divinely with their special Kanto-style soup (Kanto-fu Warishita, which is a typical flavoring for sukiyaki). You can choose from 3 different sukiyaki courses, such as the [Sukiyaki Course Ume (9,720 JPY)].
Hiyama
7. Ganryujima (Ginza)
Walk just 5 minutes from Ginza Station to get to this sukiyaki, shabu-shabu, and yakiniku (Japanese BBQ) restaurant. As expected from a restaurant at the heart of Ginza, the chic interior is done in a modern Japanese style, and the overall atmosphere is serene. There are also private rooms available for you to enjoy a relaxing meal. What you absolutely must try is the [Premium Kuroge Wagyu Sukiyaki All-You-Can-Eat (90-minute time limit; men need to pay 6,200 JPY, women need to pay 5,200 JPY)] course. As you may have already guessed, ordering this means getting to devour as much delicious and beautifully marbled Kuroge Wagyu beef as you could ever desire, over the course of a blissful 90 minutes! Meat lovers simply can't resist this delicacy.
Ganryujima
8. Irimoya Ginza Glasse Branch (Ginza)
At the shopping complex called "Ginza Grasset", among the various shops, beauty salons, and even a spa, you can find this restaurant that specializes in sukiyaki, shabu-shabu, and Kaiseki cuisine (Japanese banquet cuisine with alcohol). Their rich sukiyaki menu offers a large variety of options, such as the [Domestic Beef Tomato Sukiyaki (3,000 JPY)], the higher-rank [Kuroge Wagyu Sukiyaki (4,500 JPY)], and the melty and beautifully marbled [Sendai Beef Sukiyaki (6,000 JPY)]. You may order them separately or ask for a Kaiseki course (from 5,500 JPY) that not only includes sukiyaki as the main dish, but also has other delicacies like tempura, sashimi, and dessert.
Irimoya Ginza Glasse Branch
9. Moritaya Tokyo Marunouchi Branch (Tokyo)
This historical restaurant was founded in the Meiji era (1868 - 1912) in Kyoto, and this is their Kanto region branch. As they manage their own farm, and thus take full responsibility of their products - from the breeding, all the way up to preparation - the quality of the beef that they serve is incredibly high. There are 4 different sukiyaki courses, such as the [Take (7,000 JPY)] where A5 rank Kuroge Wagyu - mainly sourced from Kyoto and Kyushu, and carefully selected to make sure they're the best cuts of the day - is served Kansai-style. You're going to love this delicacy that can't easily be found in Tokyo: Kansai-style sukiyaki, where the meat is cooked with sugar and shoyu instead of warishita.
Moritaya Tokyo Marunouchi Branch
10. Gazan Garden (Azabu)
Raised in Yamagata Prefecture (Tohoku region), Yonezawa beef is a renowned first-class brand of Wagyu (a type of high-quality beef). Here, you can enjoy sukiyaki using this premium beef to your heart's content! Fed with apples, the meat has a sweet taste, while the fat content is just right as a consequence of the typical temperature variations of northern Japan. The result is a luxurious melt-in-your-mouth flavor. The dish that best brings out this sensational flavor is the [Special Shio Sukiyaki (9,500 JPY, minimum 2 people needed to order this)]. Enjoy this salty sukiyaki with fresh eggs, which is another delicacy from Yonezawa.
Gazan Garden
11. Mita Basara (Mita)
This is a popular restaurant where you can find innovative Japanese dishes made with Western-style ingredients. The sukiyaki on offer here is their original [Tomato Sukiyaki Kaiseki Wagyu (from 6,000 JPY)]. This well-known specialty, where the sourness of fresh tomatoes is paired with the mellow umami of the soup, can't be found anywhere else! As for the meat, they use premium Kuroge Wagyu that has a great balance between lean meat and fat. The chefs take careful consideration in preparing the food to bring out the deliciousness. For example, incisions are made in the onions, which are then set vertically, resulting in a crisp top and sweet bottom.
Mita Basara
12. Iidabashi Rokkon (Iidabashi)
Head here to enjoy Japanese dishes made with domestic Kuroge Wagyu beef, paired with sake (Japanese alcohol) that's been carefully selected by a sake sommelier. Their signature dish, the [Kuroge Wagyu Sukiyaki (2,480 JPY plus tax)], is made with the highest-quality Kuroge Wagyu out of the meat obtained that day, and carefully prepared by the staff with a special warishita. The umami overflowing from the marbling, along with the sweetness of the fat, make this a must-eat dish! Should you run low, you can add extra meat for 2,180 JPY (plus tax). Another recommended item is the [Domestic Kuroge Wagyu Tomato Sukiyaki (2,780 JPY plus tax)], where the tartness of the tomatoes makes the beef's flavor even more prominent.
Iidabashi Rokkon
13. Ishibashi (Soto Kanda)
It takes only a few minutes on foot from Suehirocho Station to get to this sukiyaki specialist restaurant with over 100 years of experience. The tiled-roof building follows the Japanese architectural style, and inside, diners relax in tatami rooms as the waitstaff prepare [Sukiyaki] from start to finish with love and care. Like any other butcher-managed restaurant, they pay particular attention to the quality and deliciousness of the beef, using carefully selected meat like sirloin and marbled meat. The same attention is paid to other ingredients, such as the eggs and vegetables. The chefs themselves go straight to the source to pick out the best ingredients! Come here to taste exquisitely authentic sukiyaki, which has been acclaimed by gourmands for over a century.
Ishibashi
14. Oki Tokyo Branch (Tokyo)
Oki Tokyo Branch, conveniently located at Kurobei Yokocho in Tokyo Station, is a well-known Yonezawa beef restaurant that is ideal for dropping by for a meal during a trip, thanks to its chic and relaxing atmosphere. Once there, be sure to try their many types of premium [Sukiyaki (from 3,800 JPY)] made with Yonezawa beef. Regular sukiyaki is seasoned with shoyu. However, this one has a miso-based sauce, made sweet by adding in shoyu and sugar. Their premium Yonezawa beef is best paired with tofu and vegetables!
Oki Tokyo Branch
15. Echikatsu (Yushima)
At Yushima, where the nostalgic atmosphere of Tokyo's classic downtown areas is still strong, this sukiyaki restaurant - established in 1872 - stands apart from the rest. While admiring the garden from one of their tatami rooms, you can truly experience the elegance of Japanese cuisine with their luxurious [Kuroge Wagyu Sukiyaki Course (from 6,480 JPY)]. Selected and prepared while taking into account the structure and quality of the fat, as well as the quality and thinness of the marbling, the Kuroge Wagyu used in this dish has an unforgettable umami and an incredibly tender texture! The warishita, carefully prepared the day before by the proprietress, enhances the flavor of the meat even more.
Echikatsu
Disclaimer: All information is accurate at time of publication.