Publish-date: Dec 28 2018 Update-date: Aug 06 2019
Like and Share us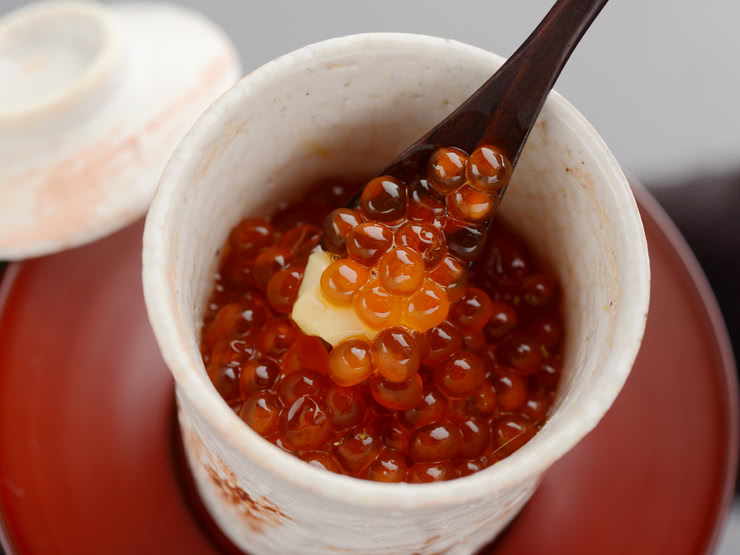 Omotesando and Harajuku are two of the hottest tourist spots in Tokyo. Although these areas are home to the latest trends, they're also known to have plenty of restaurants where you can try traditional Japanese cuisine. This article will introduce 15 recommended Japanese restaurants in these areas.
1. Japanese Restaurant Tagetsu
This restaurant offers authentic Japanese course meals using the finest seasonal ingredients. They take pride in their dishes made using dashi (stock) carefully extracted from kombu (kelp) and bonito. All their dishes are beautifully arranged, from the appetizers and simmered dishes to the sashimi. One of the restaurant's classic dishes is the [Ikura no Tama-jime], consisting of plentiful amounts of salmon eggs on top of steamed egg custard. The smooth texture of the egg custard and the popping sensation of the salmon eggs go amazingly together! Combined with the restaurant's specially selected range of sake (a type of Japanese alcohol), this is a wonderful chance to experience the unique charm of Japanese cuisine!
Japanese Restaurant Tagetsu
2. Sushi Masuda
Recently, this restaurant has been drawing a lot of attention for its young sushi chef who is making a name for himself in the industry. The menu is completely left up to the chef and consists of the [Nigiri Course] (from 18,000 JPY) and the [Tsumami Course] (from 23,000 JPY). They use a special blend of normal rice and dried rice, which is steamed at a higher temperature than normal to create uniquely textured sushi rice that is plump and soft. Their highlighted sushi toppings change with the seasons and include incredibly sweet, wild-caught Japanese tiger prawns, fatty kohada (dotted gizzard shad), and seaweed-infused kisu (Japanese whiting). For beverages, you can choose from sake, wine, or champagne.
Sushi Masuda
3. Tofu Sozai Dining Ao
This restaurant boasts healthy original dishes made with house-made tofu. This tofu that tastes strongly of soybeans is creatively arranged to make all their dishes, including fried foods, grilled foods, and pasta. The most popular dish out of the bunch is the [Tofu and Cheese Menchikatsu] (900 JPY). Seeing the cheese melting between slices of tofu will bring you satisfaction! The beverage selection includes beer, wine, sake, and shochu (another kind of Japanese alcohol), with cocktails using soy milk being a particular favorite among patrons with sophisticated tastes.
Tofu Sozai Dining Ao
4. Minami Aoyama Hifumi
A reasonably-priced restaurant, featuring authentic Japanese cuisine and sake in a space with a stylish Japanese ambiance. Their ingredients are high-quality and purchased directly from farmers and fishing ports, which is why they take care to cook them in simple ways to draw out their flavors. They also have an abundant selection of sake and shochu. They even offer courses with all-you-can-drink plans, which is perfect for those who want to try sake matching with various Japanese dishes. Their special menu item is the [Premium Bimei Pork Loin Steak] (1,500 JPY), made with brand name pork from Ibaraki Prefecture. This hefty dish is both rich and sweet, making use of pork shoulder loin that has refreshingly delicious fat.
Minami Aoyama Hifumi
5. Fukui Bouyourou
This is a restaurant serving local food from Fukui Prefecture. The fresh seafood delivered directly from Fukui is popular, but the most highly recommended dish is [Oroshi Soba] (1,040 JPY). The freshly-prepared noodles in this dish are chewy due to being made out of 100% buckwheat flour, and have exceptional flavor. It is highly recommended to eat it with the fatty [Yaki Saba Sushi] (1,020 JPY for 4 pieces). Since they have a vast sake selection, it is also recommended to try and compare various types of sake there. Located inside a refurbished old home, the restaurant's interior has an antique yet modern atmosphere where visitors can enjoy Japanese cuisine with all of their senses.
Fukui Bouyourou
6. KUROGE WAGYU RESTAURANT HACHI
This casual bistro is serving Kuroge Wagyu (a type of high-quality beef) steak and a range of other dishes. Since the variety of reasonably-priced wine is available that it is an excellent opportunity to try and compare many different types of wine. The most popular items on the menu include [Kuroge Wagyu Yukke] (1,800 JPY), made with top-quality cows, and the hefty portioned [Thickly-Cut A5 Kuroge Wagyu Sirloin Steak] (150g for 4,200 JPY / 300g for 8,400 JPY). To finish off the meal, try the [HACHI Special Wagyu Tail Meat Curry Udon] (1,000 JPY). The thick beef tail soup and curry flavor blend beautifully to create this must-try dish.
KUROGE WAGYU RESTAURANT HACHI
7. Aoyama Gato
A sophisticated restaurant serving authentic kaiseki (traditional Japanese course cuisine). This Japanese cuisine, which demonstrates the polished skill of a chef who has learned his craft at a well-established ryotei (high-class Japanese restaurant), is characterized by its vibrant yet delicate flavor. They offer an a-la-carte menu, but it is a fantastic opportunity to try kaiseki, so it is recommended to order from their course menu. The lunchtime kaiseki course [Irodori] (4,000 JPY) is a wonderful deal. You will definitely be impressed by the vibrant cuisine made with plenty of seasonal ingredients. The course consists of appetizers, sashimi, braised items, steamed items, deep-fried items, main dishes, and dessert.
Aoyama Gato
8. Yakitori Imai
This restaurant serves courses consisting of yakitori (grilled chicken skewers) and a variety of other items. Their dishes are made with a stunning lineup of ingredients, such as wild-caught eel from Lake Shinji; turtledoves from Scotland; Challandais duck from France; an old breed of pig, Basque, from Basque Country; and chicken breeds like shamo (gamefowl). Among the offerings, the specialty menu item is the [Oyako-don] (600 JPY), made by cooking eggs and chicken together and placing them on top of rice. The juicy chicken and Japanese-style soy sauce flavor go well together, resulting in an excellent dish to complete your meal with.
Yakitori Imai
9. Sakura Tei
This is a restaurant serving okonomiyaki (Japanese savory pancake) in a space decorated with works of art. Due to the recent increase in foreign customers, they also offer unique okonomiyaki inspired by international cuisine as well as vegetarian okonomiyaki. The signature dish is [Sakura-yaki] (1,400 JPY), which incorporates the restaurant's name. Here is the protocol of making [Sakura-yaki]. First, fry the ingredient mixture together including pork, squid, shrimp, leeks, shiitake mushrooms, and sakura shrimp. Secondly, place the pork belly slices on top of it.  Then, wrap the whole okonomiyaki with egg. You will get addicted to just how good it tastes together with the restaurant's original salty-sweet sauce!
Sakura Tei
10. Galali Sendagaya Branch
Dine on Japanese cuisine at this restaurant that evokes an old private home hidden away from the rest of the world. They are picky about their miso, carefully procuring various types from all over Japan to mix and stew with several ingredients, resulting in the popular homemade [Sea Bream Miso] (430 JPY) and [Chicken Miso] (430 JPY). The signature item is the [Grilled Miso Rice Ball and Miso Soup] (380 JPY), which exhibits the true charm of Japanese miso. You'll be able to choose from 13 kinds of miso for the onigiri (rice ball) and miso soup! They also have over 150 kinds of brown sugar shochu, popular for how refreshing they are, so why not take the opportunity to sample some while you're there?
Galali Sendagaya Branch
11. Mandarin
You can leisurely dine on authentic Japanese cuisine that you'd see at a ryotei (high-class Japanese restaurant) for reasonable prices in a place filled with homely warmth. Lunch is a simple set menu with side dishes, rice, and miso soup. In the evening, the restaurant serves family-style items and course meals. Popular menu items include the [Yuba Shumai] (800 JPY), which has a sophisticated taste, and the fatty [Seared Bonito] (1,300 JPY). There are also many kinds of sake and shochu, so it's an opportunity to try and compare them.
Mandarin
12. Ho-wa
This Japanese-style restaurant focuses on only using fresh ingredients directly procured from the productions. Tucked in a private home situated in an alley, it will make you forget about the hustle and bustle of the city. The seats on the spacious terrace area are popular, and since it is covered with a roof, you can dine without worrying about the weather. The signature menu item is the [Assortment of Premium Horse Meat Sashimi from Kumamoto] (1,390 JPY (excl. tax)). They procure the highest quality of raw horse meat and serve up the marbled, lean, and mane cuts of this meat as sashimi, which you eat with sweet soy sauce. The freshness and umami of this dish is popular with everyone.
Ho-wa
13. Musashino
This restaurant is well known for adding its own arrangement to traditional kaiseki. It specializes in dishes using unique ingredients such as wild game, eel, black truffle, and so on, of which the arrangement is left up to the chefs. One of the most classic items is the [Black Truffle and Eel on Rice], consisting of luxurious black truffle luxuriously on top of crispy eel that's soft and flaky on the inside. Once eaten, the strong aroma and taste is hard to forget. There are plenty of sake selections to match their dishes. This place is recommended to those who want to enjoy the utmost elegant Japanese cuisine experience.
Musashino
14. Aoyama Isshin
This is a restaurant serving hegi soba, a regional specialty of Niigata Prefecture. [Hegi Soba] (830 JPY), which is served on a wooden board called "hegi" and uses funori (glue plant) as a bonding agent, is characterized by its chewiness and strong taste. It perfectly complements sake. The perfect match for the refreshing flavor of hegi soba is another Niigata specialty, [Tochio Fried Tofu] (980 JPY). Its thickness and moist texture characterize this restaurant's fried tofu. You eat it with a dab of soy sauce. It is a great dish to taste the juicy umami of soybeans!
Aoyama Isshin
15. Nagomi
This restaurant serves Japanese cuisine that goes well with their long lineup of shochu. They serve shochu and beer into tin cups, which are great at thermal insulation, which results in deliciously smooth flavors. Snack on their [Handmade Hot Tofu Made with Kyoto Soy Milk] (850 JPY) while drinking. It is made in the restaurant daily and has a surprisingly sweet flavor!
Nagomi
Once you're done sightseeing and shopping at this trendy area, try eating some Japanese cuisine to get a thorough taste of Japan!
Disclaimer: All information is accurate at time of publication.