Publish-date: Dec 01 2017 Update-date: Aug 06 2019
Like and Share us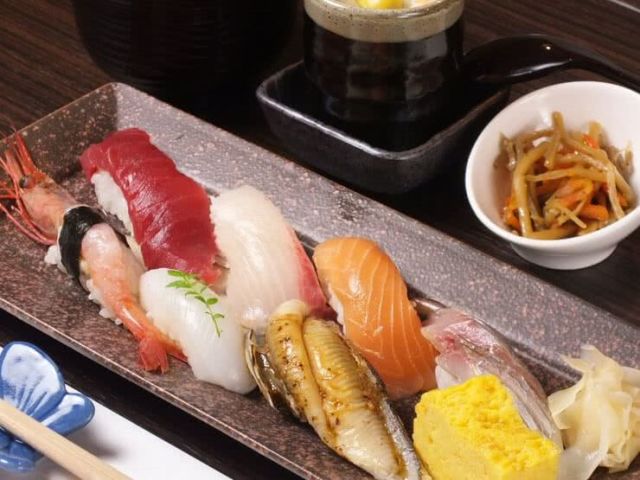 Always bustling with people and activity, Shibuya is home to a large number of shops and restaurants. Read on to discover some of Shibuya's best sushi restaurants!
1. Sushi Nobu
Located near Shibuya Station, Sushi Nobu is like a secret getaway at the center of the city with a very relaxing atmosphere. They take great care in preparing their dishes, including their highly recommended [Pacific Bluefin Tuna], which can be served raw so that you can enjoy its exceptional taste. They also serve rare parts like [Tuna Cheek] and  [Tuna Jaw]. They are seasoned with only salt and pepper, but you can taste the original flavor of each ingredient, as the umami taste is locked within each fibre of the grilled tuna meat. In addition, the restaurant has a variety of liquor brands in their menu, so you can also enjoy drinks that complement the current season and the food you order. Diners can definitely enjoy a luxurious time here. Sushi Nobu is recommended for business meetings, events, and even dates!
Sushi Nobu
In Shibuya, this is the place to go to if you wish to enjoy a platter of sushi while drinking. During a date or business meeting, enjoy their seafood appetizers made of fresh, carefully selected ingredients in a luxurious, laid-back dining environment! They also serve lunch, so why not visit the place for a quick break after a stroll?
Sushi Sakaba Omotenashi Aoyama Main Branch
3. Kurosaki
Kurosaki is a famous restaurant featuring a black fence on its exterior. It stands in a quiet location near Shibuya Station. They are known for their black interior and plain wooden counter, which looks just like a stage, as well as for their ability to provide a luxurious and relaxing atmosphere for their diners. The restaurant owner's skills were honed over many years of experience in sushi making. You can experience their skills through dishes like the Omakase (chef's picks), a combination of Edomae-style sushi. Kurosaki is truly a restaurant for those who want to enjoy authentic Japanese sushi. Perfect for diners who want to enjoy the taste of the finest sushi in a wonderful dining environment!
Kurosaki
4. Sushidokoro Tatsumoto
Tatsumoto is known for its Japanese interior design and peaceful, relaxing environment. Relax and have a wonderful time while enjoying the restaurant's dishes, which use exceptionally fresh ingredients. They have a lot of patrons despite being in such a hidden location. Diners can freely drop by for lunch, so try it and see for yourself. You will surely be able to enjoy the taste of the high-caliber dishes here!
Sushidokoro Tatsumoto
5. Wakazushi
Wakazushi is located in Sakuragaoka-cho, Shibuya. The restaurant has 3 entrances leading to its L-shaped counter, thus providing an open atmosphere. They specialize in Edomae-style sushi, which is seldom served in sushi restaurants nowadays, and use sushi rice seasoned with red vinegar. Their [Southern Bluefin Tuna] is a must-try! Each and every piece is well-marbled, so it tastes just like Ootoro (fatty tuna). Why not drop by and try it while enjoying a shot of sake (Japanese alcohol)?
Wakazushi
6. Shunkashuto Shibuya Branch
Managed by tuna wholesalers at Tsukiji Fish Market, Shunkashuto is well-known for serving exceptionally fresh tuna and other types of seafood. There is a large selection of seasonal ingredients in their menu, which is uncommon in other restaurants. This is the best place to go to for diners who need to satisfy their huge appetite, as each piece of sushi has a generous serving of sushi rice and seafood. They serve lunch and are open until late at night, so diners can take their time in coming here. If you are in Shibuya, why not make this restaurant a part of your itinerary?
Shunkashuto Shibuya Branch
7. Hidezushi Shibuya Dogenzaka Main Branch
Hidezushi Shibuya Dogenzaka may have been in Shibuya for 23 years, but their specialty remains the same. The restaurant has warm lighting and a very relaxing dining atmosphere. They mainly have counter seating, but they also have 2 tables at the back that can fit 4 people. As for the food, each piece of sushi is exceptionally fresh and delicious. They even have live seafood for those who wish to dine Odorigui-style (to dine on live, moving seafood)! It is highly recommended for those who wish to enjoy sushi or other seafood dishes while drinking.
Hidezushi Shibuya Dogenzaka Main Branch
8. Sushi Akashi
Known for serving fresh, delicious seafood, Sushi Akashi is also well-loved for their bento (lunch box). Their sweet-tasting, melt-in-your-mouth sea urchin and tender shrimps are must-trys! The restaurant prides itself on serving fresh seafood, so you can expect only the most exquisite taste. Not only can you conveniently order bento, but they also use seasonal ingredients every time! If you are wondering where to go to enjoy sushi in Shibuya, please do consider this restaurant!
Sushi Akashi
9. Gotoku
Gotoku prides itself on being a sushi restaurant that provides a modern dining atmosphere. They have both counters and private rooms - perfect for that lunch or dinner date, and even for gatherings, whether business or private. Also, they take great care in providing customers with great dining experiences. They use 2 types of rice for their sushi assortments - one seasoned with a blend of 2 types of red vinegar and rice vinegar, and another seasoned with just rice vinegar. As for their sea urchin sushi, the sea urchin is served separately to prevent it from making the nori (seaweed) soggy. It can be a truly enjoyable experience to see the [Shirako no Butter Shoyu-yaki] (grilled soft roe basted in butter and soy sauce) being served piping hot. Their fluffy  [Roasted Eggplant Mousse] can also be quite a pleasant surprise! If you want to taste these dishes yourself, include this as one of your dining destinations!
Gotoku
10. Sushi Ouchi
Sushi Ouchi is famed for serving delicious dishes made from fresh, organic ingredients. It is the perfect place to relax and just be yourself - all thanks to its softly lighted environment and the cozy warmth of trees. One of their must-try dish [Ni-ika] is sushi made from boiled squid. The sweetness of the squid boiled in water, the naturally brewed soy sauce, and the tanginess of sushi rice makes it exceptionally delicious. The restaurant has a counter for solo diners and tables for groups, so you can enjoy it in any occasion. Visit the restaurant to experience the flavors of nature through their dishes.
Sushi Ouchi
11. Umegaoka Sushi no Midori Sohonten Shibuya Branch
Known across generations of food lovers, Umegaoka Sushi no Midori Sohonten prides itself on serving sushi in generous portions. As a result of being featured multiple times, even on TV, the restaurant kept expanding and reached Shibuya. The restaurant has counters and tables to accommodate both solo diners and groups. Occasionally, they hold fairs where diners can enjoy a variety of seasonal food items. The restaurant is very popular with a lot of regular customers. Why don't you pay a visit and find out the reason firsthand?
Umegaoka Sushi no Midori Sohonten Shibuya Branch
12. Shibuya Niku Yokocho Nikuzushi
Featured in many magazines, Shibuya Niku Yokocho Nikuzushi is the world's first restaurant to serve the meat of mammals and poultry as sushi. Horse, beef, pork, chicken, duck, pork, beef horumon (offal) - you name it, they have it! They have a wide selection of meats that pair perfectly with rice to make that delicious sushi. You won't forget it once you've taken a bite. The meat just melts in your mouth! This place is highly recommended for those who want to enjoy a different kind of sushi.
Shibuya Niku Yokocho Nikuzushi
13. Uogashi Nihon-Ichi Shibuya Dogenzaka Branch
Uogashi Nihon-Ichi is located near Shibuya Station. The restaurant has a luxurious atmosphere. However, diners stand while they eat, as the restaurant has no chairs (only counters). Despite this, they have many regulars, and a lot of people are willing to wait in line just to enjoy a taste of their sushi. They have English menus, so tourists who don't know Japanese can dine without worries. They offer service from lunch until late at night in order to cater to the timing of diners. Do try a quick bite of sushi at this restaurant!
Uogashi Nihon-Ichi Shibuya Dogenzaka Branch
14. Maguro Donya Miura-misakiko Megumi Shibuya Hikarie Branch
Maguro Donya Miura-misakiko Megumi is located inside Shibuya Hikarie, a shopping and dining complex very close to Shibuya Station. Diners can enjoy watching the sushi being prepared while sitting at the plain wood counter. They also have the latest kaiten-zushi (sushi delivered to customers through a conveyor belt). Thanks to the touch panel at the back of the table, you can place orders quickly, enjoy your sushi, as well as eat and talk with your friends in a nice, relaxing environment. They have a wide variety of dishes that cater people of all genders and ages. Their tuna sushi, otherwise known as their flagship dish, tastes amazing! If you have a huge appetite and are craving for sushi with generous servings, this is the perfect place for you.
Maguro Donya Miura-misakiko Megumi Shibuya Hikarie Branch
15. Sushidokoro Beniike
Sushidokoro Beniike
Disclaimer: All information is accurate at time of publication.