Publish-date: Feb 08 2018 Update-date: Aug 06 2019
Like and Share us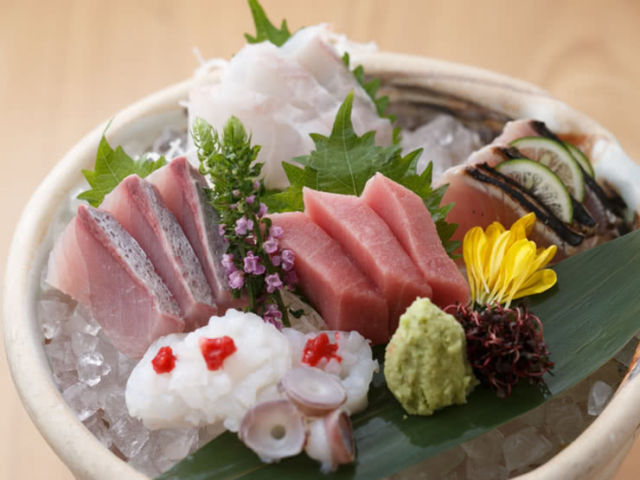 Ueno is a beautiful area that's rich in culture and beauty, thanks to its museums and the zoo. You'll definitely need several hours to visit it entirely, so here is a list of delicious restaurants to have lunch or dinner, recommended by the best chefs in Japan.

1. Torie
This restaurant specializes in charcoal-grilled yakitori (chicken skewers). It is a 3-minute walk from Okachimachi Station. Even Takashi Hosonaga - chef of the famous Yakitori-Taka, a restaurant in Fukuoka that made it to the "Fukuoka & Saga 2014 Special Edition" of a world-renowned gourmet guide, gave his seal of approval to their yakitori, all of which he found "delicious". They use 5 brands of chicken: [Daisen-dori] (Daisen Chicken), [Tankai Ji-dori] (Tankai Chicken), [Tosa Jiro] (chicken from Kochi Prefecture), [Nagoya Cochin] (chicken from Aichi Prefecture), and [Kyo-gamo] (duck from Kyoto). If you order the [Yakitori 7-kind Set (1,900 JPY)], you'll get to taste the most recommended chicken types of the day. Finish off your meal with their delicious [Oyako-don (with Soup) (850 JPY)] (rice bowl dish with chicken and eggs).
Torie
2. Nidaime Kei
This is a charcoal grill restaurant where you can enjoy fresh seafood cooked in a sunken fireplace. Hisashi Terasawa from Spain Club Ginza said: "I go there once a month when I want to eat some good seafood". The most recommended products this season are oysters, known as [Kaki] (market price). Here, you can taste different brands of oysters according to the season, like the Kaki-emon brand from Hokkaido, for a reasonable price. Enjoy them either raw or grilled. You can pair them with lots of sake (Japanese alcohol) brands that you can't easily find in the Kanto area, like the [Toyo Bijin] from Yamaguchi Prefecture and the [Ouroku] from Shimane Prefecture.
Nidaime Kei
3. Ueno Ichirin
Along with over 50 types of sake personally selected by the chef, this izakaya (Japanese pub) offers seasonal Japanese dishes characterized by their deep flavors. Their signature dish is the [Tappuri Yasai to Biton no Tsutsumi Hinabe (1,590 JPY)], a hot pot delicacy where umami-rich (Japanese savory flavor) pork belly wraps the vegetables in the shape of a dome. Inside of this pork dome, vegetables are steam-cooked so that the sweetness and taste aren't released into the soup, making this a delicious must-eat. If you're in the mood for seafood, have the [Aburi Salmon no Rare Steak (990 JPY)], which has lots of nice fats and an umami (Japanese savory taste) that matches perfectly with alcohol. Enjoy this lightly seared fresh salmon sashimi with a handmade lemon sauce or their Japanese-style sauce.
Ueno Ichirin
4. Sakanoue Ueno Branch
Come here to taste good sake and simple Japanese dishes that enhance the flavor of ingredients! Their specialty is the [Kujukuri-san! Hamaguri no Sakamushi (market price)] that is made with large clams harvested from Kujukuri beach (Kujukuri-hama) in Chiba Prefecture. The tender texture of the clams and their umami-rich soup boost the taste of alcohol even further. Another recommended delicacy is the [Aburi Liver (599 JPY)], an all-time favorite since the restaurant's opening! Seasoned with just sesame oil and salt, this liver has the right sort of umami to make for a perfect alcohol snack. Of course, they have a large selection of alcohol from all over Japan that you can have for at very convenient prices.
Sakanoue Ueno Branch
5. Tesshin Ueno Branch
Teppanyaki (ingredients grilled on an iron griddle) dishes made with premium Kuroge Wagyu (a type of high-quality beef) are this restaurant's specialty. Their original [Kuroge Wagyu Steak - with salt kombu and wasabi (1,380 JPY plus tax)] consists of a rich and nourishing Kuroge Wagyu steak grilled on the iron plate and seasoned with salt, kombu (seaweed, and wasabi to give it a typical Japanese flavor. It doesn't just taste amazing. the price is also quite affordable! After you enjoyed your food and drinks, their special [Meringue Fuwafuwa Tesshin no Okonomiyaki (780 JPY plus tax)] (Japanese savory pancake), which is crispy on the outside and fluffy on the inside, will be the icing on the cake. The [Toban Monjayaki (1,080 JPY plus tax)], typical of downtown Tokyo, comes highly recommended as well.
Tesshin Ueno Branch
6. Sakaeya
In a super easy-to-access spot, only 2 minutes away from Ueno Station on foot, you can find this creative Japanese restaurant with a quiet atmosphere, which is perfect for adults who want to relax. An often ordered item is the [Aburi Angus-gyu no Carpaccio - Wanpaku Ran'o to Truffle Shio (750 JPY)]. In this first-class dish, Angus beef - a black beef brand that's as juicy and tender as Wagyu (a type of high-quality beef) - is seasoned with luxurious truffle salt. Also, don't miss the [Higo Aka-dori no Sukiyaki (1,180 JPY for 1 person)], a chicken delicacy that's perfect for the cold winter thanks to its rich flavor!
Sakaeya
7. Kamadoya Ueno
Choose this authentic Japanese restaurant if you want to be served the best ingredients delivered directly from production areas. Their typical [Umi no Donabe Gohan (2 servings from 1,980 JPY)] is made with the rice brand [Akita Komachi] cooked in an earthenware pot, together with gifts from the sea like fish, shellfish, and octopus. The umami of fish penetrates the rice, making it a great option as a meal or as a snack with alcohol. Another unmissable dish is the [Honjitsu no Oke Mori Shungyo (from 1,480 JPY)], which consists of a whole in-season fish prepared in 2 different ways among the following: sashimi, grilled, boiled, fried, minced, or prepared nigiri zushi (hand-formed sushi) style.
Kamadoya Ueno
8. Issho Tokyo Ueno
In this popular Ueno restaurant, you'll get to enjoy the dynamic flavors of Kyushu, a southern region of Japan. You must definitely order the [Motsu Nabe (1,380 JPY for 1 person)], a classic from Hakata. It is a hot pot dish consisting of tender offals boiled in a delicious soup made with miso or shoyu (soy sauce) as a base. It's delightful either as a meal or just as a snack to pair with alcohol, especially thanks to its flavor that's boosted by garlic and chili pepper. Another typical dish is the [Hakata Goma Saba (1,280 JPY)]. It consists of fatty blue mackerel caught in the port of Fukuoka seasoned with a homemade sesame sauce.
Issho Tokyo Ueno
9. Sadogashima e Watare Ueno
Sadogashima (Sadoga Island) is an island of Niigata Prefecture, which is located in the northern area of Honshu (main region of Japan), facing the Sea of Japan. The reason why this restaurant has its name is because it actually uses a lot of fresh sea products delivered directly from this island. This season, you absolutely must try the [Magaki (380 JPY)] - a winter delicacy consisting of raw oysters directly delivered from ports that have an unbeatable freshness, umami, and tenderness. They're seasoned with Sadogashima's ponzu (citrus-seasoned soy sauce). Alternatively, you can enjoy the gifts from the sea prepared in many other ways, like karaage (deep-fried), tempura, or through the traditional [Ichiya-boshi], where sailfin sandfish, dottyback, or righteye flounder are dried overnight.
Sadogashima e Watare Ueno
10. Maguro Basara Ueno
Maguro (tuna) is one of the most loved types of seafood in Japan. As the restaurant's name suggests, here, you can enjoy it in many different ways - from sashimi to stew, and even the classic cutlet! If you can't make up your mind, order the [Kaisen Hosekibako (3,980 JPY plus tax)]. It's a wooden box stuffed with an abundant amount of sashimi made from premium seafood like uni (sea urchin), peony shrimps, ikura (salmon roe), abalone, and of course, maguro. If you're a true maguro addict, the [Maguro All-kind Assortment (2,280 JPY plus tax)] will allow you to taste it through many different cooking methods.
Maguro Basara Ueno
11. Ikka Ueno Branch
This place is popular for the quality and freshness of their seafood ingredients, which are carefully selected by the chef from Tsukiji Market according to the season. If you want to stuff your mouth with seasonal sashimi, start by ordering the [Otsukuri 5-kind Assortment (1,980 JPY plus tax)]. The ability of the chef at both cutting and arranging the different types of sashimi will allow you to truly savor not just the taste, but also the beauty of Japanese cuisine. In these cold days, warm your heart and body with the [Shizuoka Oden Assortment (750 JPY plus tax)]. Enjoy piping hot oden that's boiled in a surprisingly dark dashi (broth), eaten by dipping each ingredient in a special miso sauce before consumption.
Ikka Ueno Branch
12. Hyakumangoku
This is an Edo-style sushi restaurant whose chef has devoted himself to the craft for 35 years. Being a connoisseur of all sushi ingredients, he puts extreme care and attention into how to prepare and serve them, such as using ice to refrigerate them, which helps keep an optimal temperature that ensures that they don't dry up. If you prefer to try an assortment of the daily recommended sushi, you can have their [Taisho no Omakase Nigiri (8,400 JPY)]! It's a popular course that contains 14 nigiri zushi - such as maguro, squid, white flesh fish, and shellfish, 1 maki zushi (rolled sushi), and even soup and dessert!
Hyakumangoku
13. Suisha Main Branch
Inside Ueno Terminal Hotel, there is this old Japanese restaurant with a 40 year history. As one of the very few restaurants in Tokyo designated by the Iwate Maesawa Beef Association, they serve first-class meat dishes, including [Maesawa-gyu] (Maesawa Beef) - a premium brand of beef produced in the Tohoku area. Be sure to order the [Special Maesawa-gyu Shabu-Shabu (8,500 JPY plus tax)] (sliced meat parboiled with vegetables) to enjoy the simple yet sophisticated flavor of its tender lean meats and fine fats. Maesawa-gyu will melt in your mouth, making you wonder why you had never tasted it before! Also, don't miss the ["Senju" Course (6,500 JPY plus tax)] to enjoy delicious Japanese traditional dishes at an affordable price.
Suisha Main Branch
14. Ehigasa
This is a restaurant that's popular for its seasonal [Obanzai] (Kyoto's homemade food), made with organic, chemical-free vegetables and natural farm products. Their various types of obanzai, made with healthy and seasonal vegetables, have a standard comforting taste that contrasts with gourmet Japanese cuisine. Their simple and genuine taste is actually addicting. First, pick your favorites among the 5 - 6 types of obanzai lined up on the counter by ordering the [Obanzai 3-kind Assortment (950 JPY for 1 - 2 people)]. Obanzai is also popular for being cheap, as 1 item starts from 420 JPY.
Ehigasa
15. Harumaki
If you're looking for a place that serves offal, head here, and you'll find carefully prepared dishes. In this chic and quiet restaurant, you can enjoy lots of daily-stocked "hormone" (offal). Among these, the top dish is the [Gyu Hormone Wagyu Harami (diaphragm) (1,800 JPY)], which is a delicious lean meat with a moderate amount of fat. The quality of the meat is tried and true, and the muscles and membranes are carefully removed to allow the umami of the tender meat to entirely spread throughout your mouth. Another recommendation is the [Sashimi Shiro Senmai (600 JPY)], where the omasum of the beef is parboiled and seasoned with plain salt.
Harumaki
There are still a ton of restaurants with various tastes in Ueno, which has been prosperous since long ago as the gateway to northern Tokyo. Go around the area while eating and discover your favorite!
Disclaimer: All information is accurate at time of publication.