Publish-date: Dec 21 2017 Update-date: Aug 06 2019
Like and Share us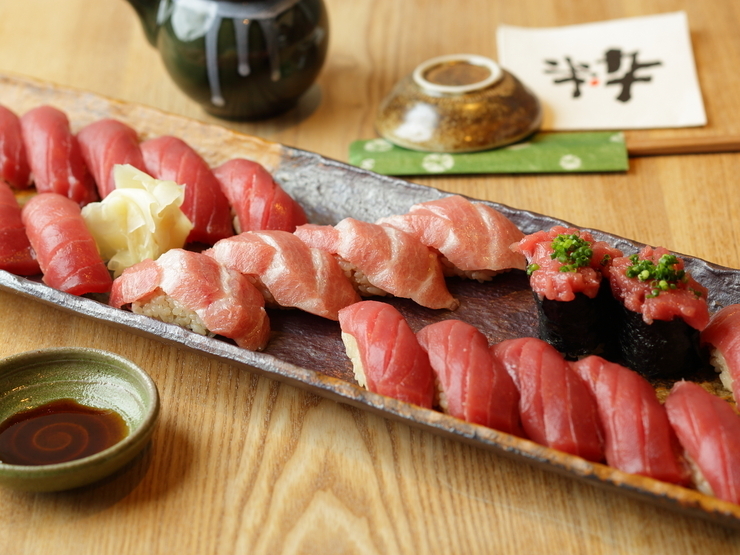 The surroundings of Tsukiji, known as the world's largest market, are filled with numerous famous sushi restaurants taking advantage of this privileged position to get the freshest products. Historical places, restaurants so popular that there's always a line outside, the hippest new hot spots: this list has 15 places that are absolute must-visits when you're in Tsukiji!
1. Sushi Dai
Of all the sushi restaurants lining the streets around Tsukiji, Sushi Dai is currently one of  the most popular. The inevitable 2-hour line you will find on weekdays turns into a 3-hour one during the weekend. After your long wait, you'll finally get to eat their amazing Edo-style nigiri sushi. Their signature dish is definitely the [Omakase] course, which you can have for 4,000 JPY. It consists of 10 nigiri, such as maguro (tuna) and uni (sea urchin), that are classic, yet premium. This is followed by maki (rolled) sushi, such as [Tekka-maki] and [Kappa-maki], as well as the chef's masterpiece, [Atsuyaki Tamago]. At the end, you can also add an extra nigiri with your favorite topping. There's no doubt that you'll be happy and fulfilled after eating the whole course!
Sushi Dai
2. Tsukiji Itadori Uni Tora Naka-dori Branch
Sushi is a combination of colorful seasonal seafood and delicious vinegared rice, and of all the premium products you can find in Tsukiji's sushi restaurants, uni (sea urchin) is one of the most popular. Tsukiji Itadori Uni Tora Naka-dori Branch is the best place to taste delicious uni. Every day, they select the best uni from among all the products delivered from various fishing areas of Japan, and serve it to customers for a reasonable price. A must-try that you won't find in any other restaurant is their [Miyabi Uni Tabekurabe-don Kokusan Go-shu]. This dish will allow you to taste 5 types of fresh uni delivered daily from different areas of Japan for just 5,980 JPY!
Tsukiji Itadori Uni Tora Naka-dori Branch
3. Tsukiji Itadori Bekkan
The chef of this famous restaurant is a true veteran with several decades of experience in this sushi mecca. They will serve you Edo-style sushi using seasonal products bought from Tsukiji every morning. Have a seat at their counter and try it yourself! As soon as you order, the chef will prepare it right in front of your eyes. The elegance of the chef's skilled movements will make it even more delicious. A lunch recommendation is their [Edomae Sushi "Hana" Hanayaka] - a 2,680 JPY set meal consisting of 9 seasonal nigiri recommended by the chef ("omakase" style), plus an Edo-style omelet, a mini ikura (salmon roe) rice bowl, and miso soup. For dinner, you can have seasonal nigiri sushi from 250 JPY each!
Tsukiji Itadori Bekkan
4. Tsukiji Tsunao
Tsukiji Tsunao is a sushi restaurant directly managed by a professional maguro wholesaler (a trader who purchases the maguro at the market), so you know that their sushi is made with the finest seafood products - especially their specialty, maguro! You can only find this kind of quality at this sort of restaurant. Be sure to order their [Tsunao Maguro Nigiri Set 20-kan] (4,500 JPY). It's the ultimate maguro dish with an assortment of 20 types of delicacies, including lean meats and fatty tuna, but also gunkan maki (battleship rolled sushi) made with nakaochi (leftover backbone meat). In addition to maguro, you shouldn't miss their [Toro Uni Ikura-don] (3,800 JPY), topped with some of the best uni and ikura!
Tsukiji Tsunao
5. Edomae Sushi Takewaka Annex
Edomae Sushi Takewaka Annex is a popular restaurant where you can enjoy not only sushi made with fresh seasonal seafood purchased daily from Tsukiji, but also lots of other Japanese dishes prepared by their skilled chef. For lunch, you should try their [Bara Chirashi] (1,620 JPY). Made in a different style from nigiri sushi, this is a sushi rice bowl topped with plenty of seafood. It's a traditional style of sushi whose origin dates back to way earlier than nigiri sushi. If you came here to stuff your cheeks with Edo-style nigiri, try their [Tokusen Nigiri] (3,240 JPY)! In addition to 13 nigiri pieces (including first-rate maguro), this convenient dish also has other delicacies like [Chawan-mushi] (Japanese steamed pudding) and soup.
Edomae Sushi Takewaka Annex
6. Daiwa Sushi
Often shown on TV and in magazines, Daiwa Sushi is one of those sushi restaurants that everyone knows. It is probably the most popular place among all of the restaurants in Tsukiji, with an everlasting queue. Every day, hordes of people wait in front of this simple counter-only restaurant to eat their sushi made with fresh ingredients from Tsukiji. Most of them order the [Osusume Set] (3,500 JPY). At this low price, you can have 7 nigiri sushi, 1 maki, an omelet, and miso soup! Their nigiri are quite big, so this meal is fulfilling enough for both men and women.
Daiwa Sushi
7. Tsukiji Kiyomura Sushi Zanmai Main Branch
Sushi Zanmai is a sushi restaurant chain that's well-known all over the country as a cheap place for enjoying delicious sushi made with fresh seafood. This is the main and first branch. Also known as the first sushi restaurant in Japan to offer a 24-hour, all-year-round service, it's been offering great sushi to customers for reasonable prices ever since its opening outside of Tsukiji Market. Nigiri start from 98 JPY each, but you can enjoy premium sushi like [Otoro] (made with top quality maguro), [Awabi], and [Uni] for 400 - 500 JPY each.
Tsukiji Kiyomura Sushi Zanmai Main Branch
8. Sushi Kuni
Uni is known as one of the finest products among all the sushi ingredients. A famous place to enjoy as much uni as you like is Sushi Kuni, which is located outside of Tsukiji Market. Their original [Kobore Uni-don] (3,800 JPY) has made it to TV and magazines multiple times, and consists of a luxurious rice bowl that's literally overflowing with delicious, premium, seasonal uni delivered from strictly chosen production areas. Dive your chopsticks into the pile and stuff your cheeks with this ultra-nutritious uni. You'll find the taste of the sea spread throughout your mouth! If you want to have ikura, another high-class product, their [Uni Ikura-don] is highly recommended!
Sushi Kuni
9. Sushi Zanmai Bekkan
Well-known by both locals and tourists, Sushi Zanmai Bekkan is a cheap option for those wishing to enjoy sushi with quality ingredients. The restaurant's top product is definitely northern bluefin tuna - the king of maguro! Here, you can enjoy sushi and other products made with bluefin tuna, which is delivered whole from various areas in the world, at convenient prices. Their signature dish is the [Tokusen Hon-maguro Don (Daimyo Wan-tsuki)] (2,800 JPY). It's a supreme and voluminous rice bowl topped with loads of fatty tuna, medium fatty tuna, and lean meat.
Sushi Zanmai Bekkan
10. Tsukiji Itadori Uogashi Senryo
If you're a sushi fan but you're kind of tired of the usual nigiri sushi, it's time you try Tsukiji Itadori Uogashi Senryo! This restaurant is famous for its [Ganso! Kaisen Hitsumabushi] (2,380 JPY), which is often covered by the media. The sushi rice - served in a typical Japanese wooden basket - is topped with over 12 types of assorted seasonal seafood. You can distribute the toppings on your rice bowl as you like. First, try making an ordinary kaisen-don (rice bowl with seafood). Once you're finished with that, for the second one, you can add uni to make it an [Uni-meshi] (rice and sea urchin). For the third bowl, you can add some dashi (broth) to enjoy it ochazuke-style (tea poured on top of rice). This way, you get to taste 3 different versions of the same dish all at once!
Tsukiji Itadori Uogashi Senryo
11. Tsukiji Sushicho Main Branch
Stop by this place to have a quick and delicious meal! This is a popular stand-up eating restaurant where you can have Edo-style sushi in a casual atmosphere. Only a minute's walk away from Tsukiji Station, it is visited by many tourists and locals who want to taste good Edo-style nigiri sushi. Part of its charm lies in the amazing quality to price ratio. For example, you can have their popular [Ushio] - an assortment of 8 nigiri sushi - for just 590 JPY! Not enough to satisfy your hunger? Order the [Michishio] (890 JPY) to have 11 nigiri, plus a delicious omelet!
Tsukiji Sushicho Main Branch
12. Tsukiji Itadori Ura Branch
Tsukiji Itadori Ura Branch is a sushi restaurant located in a back alley that feels like a secret hideout for grown-ups. It's one of the many Tsukiji Itadori branches, but the interior is unusually casual for a sushi restaurant. Their menu, while still reflecting the technique and expertise of a typical sushi restaurant, comprises of many unique ideas as well. Their signature dish is the [Kokusan Noko Uni-don] (3,980 JPY), which only has a limited number of servings available per day. With the ingredients arranged Western-style, it ranked first in a TV kaisen-don Grand Prix. If you prefer basic sushi, you may want to order Itadori's classic [Ganso Kaisen Hitsumabushi] (2,380 JPY).
Tsukiji Itadori Ura Branch
13. Tsukiji Kagura Sushi
Located on the main street of Tsukiji Outer Market, Tsukiji Kagura Sushi is a popular restaurant of Namiyoke-dori. The expert sushi chef personally buys the ingredients at Tsukiji Market, while the sushi rice is made with Yamagata's famous rice brand, Hitomebore. It is then seasoned with Kagura's original 5-year aged akazu (red vinegar) to obtain Edo-style sushi's traditional [Aka Shari]. If you go for lunch, a recommended option is their [Zeitaku Nigiri], which gives you a taste of Edo-style sushi for 2,500 JPY. It includes their famous scorched sushi, and even ikura and uni, so it's quite filling. For dinner, order the [Gensen Nigiri (Jo)] (3,780 JPY) and you'll get 8 premium nigiri, an omelet, and miso soup with nori (seaweed).
Tsukiji Kagura Sushi
14. Tsukiji Sushi Sen 6-chome Jogai Shijo Branch
This is a restaurant that's famous for its delicious maguro (known as the king of sushi toppings), and also for their periodic maguro filleting show. Inside, there are casual counter seats that are ideal for solo diners, as well as cozy sofas that are often occupied by ladies who just want to enjoy some sushi and relax. You can have their cheap nigiri sushi starting from 98 JPY each. All the nigiri made with maguro, the star of the restaurant, are reasonably priced as well: for example, the [Hon Maguro Akami] is 198 JPY, the [Chutoro] is 298 JPY, and the [Otoro] is 498 JPY! If you're more interested in enjoying an omakase by yourself, you can try the [Honjitsu Nakaoroshi Osusume 10-kan Nigiri] (2,780 JPY) or [Josen Hon Maguro-zukushi (8-kan)] (2,484 JPY).
Tsukiji Sushi Sen 6-chome Jogai Shijo Branch
15. Sushi Zanmai Honjin
"Honjin" means "headquarters" or "the place where high-ranked people stay". As its name suggests, Sushi Zanmai Honjin is the representative restaurant of the Sushi Zanmai group, which is established not only in Tsukiji, but also in several other parts of Japan. Extending from the 1st to the 5th basement floors, each floor has a different interior and furniture to suit all kinds of situations, from solo travellers to families or business parties. Plus, they serve Edo-style sushi at affordable prices! Nigiri sushi starts from 98 JPY each, and their popular [Otoro] and [Aburi Toro] are just 398 JPY each. If you're in the mood for a set meal, you can have their [Tokusen Sushi Zanmai] (3,000 JPY), which includes 13 nigiri and a bowl of soup!
Sushi Zanmai Honjin
Tsukiji offers a rich selection of delicious sushi restaurants that goes way beyond the 15 introduced in this article. However, there actually aren't many traditional Japanese restaurants that specialize in sushi dishes like nigiri and chirashi, so they're definitely worth checking out!
Disclaimer: All information is accurate at time of publication.