Publish-date: Dec 21 2017 Update-date: Aug 06 2019
Like and Share us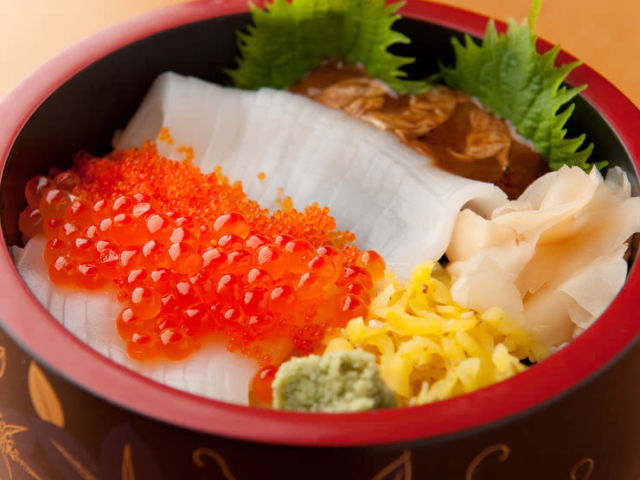 There are many restaurants in Tokyo that are highly rated by foreign tourists, and serve great lunches for 1,000 JPY or less. This time, 16 popular places that are great for those coming to Japan for the first time will be introduced.
1. Kaikaya By The Sea
"As if you're by the sea" is the motto of this restaurant. It is a place where you can enjoy fresh seafood like in a seaside restaurant, even though it is near Shibuya, one of Tokyo's busiest commercial districts. It is an izakaya (Japanese pub) where you can enjoy food and sake (Japanese alcohol), but they are also open for lunch, and serve creative Japanese dishes at reasonable prices. The recommended lunchtime dish is [Maguro Nakaochi Tenkasu Tamago Nokke Mori], priced at 930 JPY. It is a great way to enjoy sashimi made from high-grade maguro (tuna), such as Pacific Bluefin maguro, Bigeye maguro, and Southern Bluefin maguro, at reasonable prices.
Kaikaya By The Sea
2. Harajuku Gyoza-ro
The best place to have gyoza (dumplings) in Shibuya and Harajuku right now is Harajuku Gyoza-ro. It is a cozy gyoza eatery in the backstreets, about a 10-minute walk from Harajuku Station. The key to its popularity is its reasonable pricing. Its specialty dishes, fried and steamed gyoza, are just 290 JPY a plate! Both fried and steamed gyoza are available with or without garlic, which is appreciated by customers who are concerned with the smell. A bowl of rice and soup can be added for just 180 JPY.
Harajuku Gyoza-ro
3. Menya Musashi Shinjuku Main Branch
The favorite fast food of Japanese people is, of course, ramen! The Shinjuku Main Branch of Menya Musashi, which has been in operation for more than 20 years, is one of the most famous ramen shops among countless others in Tokyo. The restaurant is named after Miyamoto Musashi, a master swordsman who was famous for using 2 swords, because the "double soup" with a combination of stock made from chicken and pork bones, and another made from seafood - such as bonito flakes and dried sardines, is the key to its flavors. It's recommended to try their [Kakuni Ramen] or [Kakuni Tsukemen] with stewed cubed meat, both of which cost 900 JPY.
Menya Musashi Shinjuku Main Branch
4. Udon Maruka
This is a Sanuki udon restaurant in Jimbo-cho, a popular area with many stores that sell rare and old books​. "Udon" refers to thick noodles made with flour and salt. It is a traditional Japanese fast food. There are regional variations of udon, with Sanuki udon (created in the Sanuki region of Shikoku) distinguished by a soft surface texture, combined with a chewiness that is referred to as "koshi" in Japanese. Enjoy the basic [Kake Udon] (420 JPY) - the best way to taste the flavor of Sanuki udon - with additional toppings, such as chicken and vegetable tempura. Omusubi (rice balls) that are only available at lunchtime for 120 JPY are also popular.
Udon Maruka
5. Shinjuku Kappo Nakajima
Kitaoji Rosanjin was a famous Japanese artist and gourmand. This restaurant that serves authentic Japanese cuisine is owned by a grandson of the first head chef at Hoshigaoka-Saryo, a legendary restaurant that Rosanjin sponsored. From grandfather to grandson, their family has been filling the position of head chef at this restaurant for 3 successive generations. Lunchtime is the best time to visit, as you can enjoy real Japanese cuisine at reasonable prices. There is a wide selection of "teishoku," which are set menu items. Some examples include the [Ni-zakana Teishoku] and [Shio-yaki Teishoku] (800 JPY each) - made from simmered and grilled fish respectively - as well as the [Yanagawa Nabe Teishoku] (900 JPY), which is loach stew - a traditional Tokyo dish.
Shinjuku Kappo Nakajima
6. Beer & Cafe BERG
Beer & Cafe BERG is a restaurant in Shinjuku that you can casually drop by any time between 7:00 am - 11:00 pm. Its specialty, [BERG Dog] (304 JPY), is a recommended item offering a juicy sausage with aromatic and crunchy buns. [Wrap Sandwich (chicken or pastrami)] (367 JPY) with plenty of vegetables and chicken topped with sesame sauce is also recommended. [Hot Dog Lunch] that comes with a hot coffee or soup for 525 JPY is another good deal.
Beer & Cafe BERG
7. Bongo
Onigiri (rice balls) is one of the most popular fast food items in Japan, beloved by people of all ages. Bongo is a rare onigiri specialty restaurant that has been operating for 58 years. At this restaurant, you can sit at a counter like in a sushi bar and order from the 55 different types of onigiri available. They range from standard options like shake (salmon) and yaki-tarako (grilled cod roe) (250 JPY each), to luxury onigiri like sujiko (salmon roe) for 550 JPY. You can also ask for 2 ingredients to be put into 1 onigiri, or even for the amount of ingredients to be doubled!
Bongo
8. Buta Daigaku
Buta Daigaku is a restaurant that is particularly popular among businessmen in the Shimbashi area that targets reasonably priced restaurants. The menu consists just of the [Buta-don] (priced from 500 JPY), which is available in small, medium, large, and extra large sizes. This is a mouth-watering pork bowl with thick cuts of pork that are cooked in a special sauce before being served on top of steaming hot rice. The extra large option (1,020 JPY) has so much pork that you may find it hard to finish!
Buta Daigaku
9. Musashiya
Western cuisine that has been adjusted to suit Japanese tastes is commonly known as "Yoshoku". Musashiya is a popular yoshoku restaurant that was opened in 1885 (more than 130 years ago). Their signature menu item is [Napolitan] (650 JPY), which is a standard yoshoku dish of spaghetti fried with ketchup. It is a satisfying dish, with plenty of spaghetti and the sweet aroma of ketchup. [Omurice] (700 JPY), consisting of rice and eggs fried with butter and ketchup, is another must-try.
Musashiya
10. Teniwoha
This is a yakiniku (Japanese BBQ) restaurant that serves Japanese Black wagyu beef from Kyushu, which is one of the highest grade of beef in Japan. [Juicy Hambagu Lunch] (1,000 JPY) is a popular lunchtime dish. It is a voluminous plate of food consisting of a 200g juicy hamburger steak made from ingredients that were carefully selected by meat specialists. For those who want their fill of yakiniku at lunchtime, the [Teppan Kalbi Yakiniku Lunch] (1,000 JPY) is recommended. High-quality kalbi meat that's full of umami (Japanese savory taste) is grilled on an iron plate until it is piping hot.
Teniwoha
11. Sushimaru
This is a sushi restaurant in a fabulous location, at just a 2-minute walk from Central East Gate of JR Shinjuku Station. Everything about the interior, from the counter seats to the zashiki-style seating, has that traditional feel that you would expect of a sushi restaurant. However, it is not an expensive restaurant that is hard to get into. There are many reasonably priced items for lunch. The [Ika-don] with fantastically fresh squid sashimi (850 JPY) and [Chirashi] (1,000 JPY), which is a traditional style of sushi, are dishes that you'll definitely want to try.
Sushimaru
12. Sandaime Kaien Kanda Branch
This is a popular Japanese restaurant with the feel of a hideaway for adults. For lunch, it offers a wide selection of basic Japanese teishoku, and is popular as a place to casually enjoy them. [Osashimi Teishoku] is the recommended dish here, priced at 1,000 JPY. It is a set centering on fresh seasonal sashimi, prepared by skilled chefs, along with rice, miso soup, salad, and Japanese pickles. It is very reasonably priced, with free seconds of the rice and miso soup. Hojicha (roasted green tea) or coffee is served at the end of the meal.
Sandaime Kaien Kanda Branch
13. Bora bora Tachikawa Branch
The resort beach-style interior of this restaurant enhances the enjoyment of the meal. The most popular item at lunchtime is the [Classic Loco Moco] (1,000 JPY), which is a standard Hawaiian dish. It is a fantastic dish consisting of a handmade hamburger steak made with 100% beef covered in a special gravy, with a large fried egg on top. Enjoy its spiciness, as it may get you hooked! If you want a slightly unusual flavor, go for the [Spam Loco Moco] (900 JPY), which uses spam ham from the US.
Bora bora Tachikawa Branch
14. Kasetsu Akasaka Branch
This is a popular restaurant with private rooms that's located in Akasaka, in the center area of Tokyo. Here, you can enjoy Japanese cuisine and traditional regional cuisine made with seasonal seafood procured directly from producers. It is particularly popular at lunchtime among locals, who come to enjoy authentic Japanese teishoku at reasonable prices. The most recommended item on the menu is [Tori no Karaage Teishoku (with rice and miso soup)] (500 JPY) that offers juicy karaage (deep-fried chicken) in a crunchy deep-fried batter. The lemon piece that is served with it enhances its deliciousness even further!
Kasetsu Akasaka Branch
15. Shonan Shokudo
This is a stylish restaurant in a convenient location, as it's just 5 minutes by foot from Iriya Exit of JR Ueno Station. As its name suggests, it is popular for its wide selection of dishes made with fresh shirasu (young sardines) caught in Shonan, a coastal area in Kanagawa Prefecture. The dish that you don't want to miss here is the [Shonan Meibutsu Kama-age Shirasu-don] (800 JPY) - a rice bowl with [Kamakura Shirasu] that is truly a gift from the ocean.
Shonan Shokudo
16. GABURICO Akihabara Ekimae Branch
GABURICO is a place where you can get your fill of meat dishes in Akihabara, the holy ground of various otaku subcultures. At lunchtime, you can enjoy shabu-shabu (sliced meat parboiled with vegetables) at reasonable prices with the [Tokusengyu & Biton Shabu-Shabu Lunch (with buffet)] at 980 JPY or [Collagen Biton Shabu-Shabu Lunch (with buffet)] at 880 JPY. The [Awaji-shima Stout Pork Curry] (880 JPY), with slow-simmered curry that perfectly fits the umami of high-grade pork, is also highly recommended.
GABURICO Akihabara Ekimae Branch
16 carefully selected restaurants in Tokyo that will let you enjoy lunch for 1,000 JPY or less were introduced in this article. There are still many more wonderful restaurants in Tokyo! Restaurants that are a bit expensive at night may have reasonably priced lunch menus, so take a look around.
Disclaimer: All information is accurate at time of publication.