Publish-date: Jan 17 2018 Update-date: Aug 06 2019
Like and Share us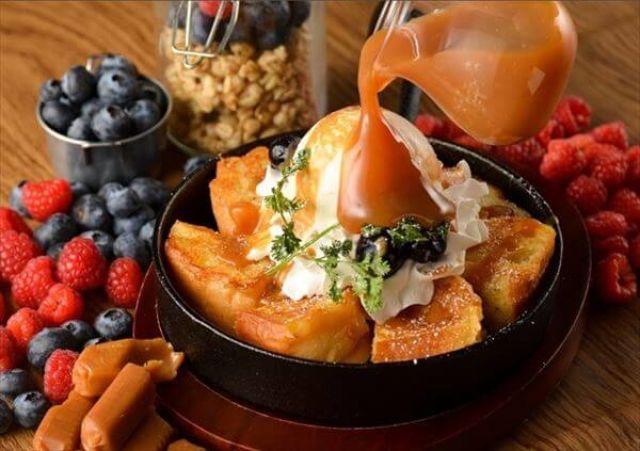 Yoyogi is close to Shinjuku and Harajaku, and is easily accessible from many different places. It's a perfect location for young people. With many preparatory schools, vocational schools, high schools, and universities around, it's an area that is frequented by many students. Check out these carefully selected cafes that are perfect for relaxing in the Yoyogi area. You'll definitely want to visit them when you go to Yoyogi!
1. Shinjuku Terrace East Gate Eki-mae Branch
Cheese Fondue and Italian Bar Shinjuku Terrace East Gate Eki-mae Branch is, as its name suggests, a bar that serves cheese fondue and Italian food. The ingredients are supervised by the Cheese Fondue Association and the chosen vegetables are delivered directly from contracted farms. With such great ingredients, you'll be able to savor the very best flavors. It's also a great cafe to hang out leisurely and enjoy sumptuous treats like [French Toast] with lots of caramel. The nearest train station is Shinjuku Station. It's just about a minute's walk from the station.
Shinjuku Terrace East Gate Eki-mae Branch
2. kawara CAFE & DINING Shinjuku Main Branch
This cafe offers a menu specializing in Japanese cuisine. It is a great choice for both lunch and dinner. The tables are made of wood, with sofa seating where you can take your time and relax. You'll be treated to traditional Japanese hospitality and attentiveness. There's also a sense of modernity with the designer art on display, giving the cafe a very trendy feel. It's just a minute's walk from the nearest station, Shinjuku 3-chome Station.
kawara CAFE & DINING Shinjuku Main Branch
3. HIKARI cafe & dining Shinjuku East Gate
This cafe is located 2 minutes from the nearest station, Shinjuku Station, by foot. It's on the 7th floor of Pandora. From this high spot, the cafe offers nice night views that you can enjoy leisurely. There are also couple seats, so it's the perfect last stop for when you're out on a date. The interior is trendy, with designer artwork adding to the atmosphere. Besides serving cafe fare, they also serve a dinner menu with creative European dishes.
HIKARI cafe & dining Shinjuku East Gate
4. Shinjuku Gyoen Romantei
Shinjuku Gyoen Romantei is nearest to Shinjuku-gyoemmae Station. Just 3 minutes from the station by foot, this cafe is filled with the romantic atmosphere from the Taisho era (1912 - 1926). The wooden furniture coupled with the oriental sofas bring to mind affluent households of that era. You'll be able to enjoy Western food in this environment, where time seems to have stopped. You can have desserts like [Shiratama Cream Anmitsu] (sweet rice flour dumplings with cream, agar jelly, and red bean paste) in this relaxing cafe.
Shinjuku Gyoen Romantei
5. VILLAZZA
This cafe is located 3 minutes from Shinjuku Station by foot, within Hotel Sunroute Plaza Shinjuku. It's a hotel restaurant, so they serve authentic Italian food. You can find premium steak that you'd expect to be served in any hotel, so this is a good place for those who're looking for something luxurious. You can chill and heal your senses here as you enjoy your drinks. If you've got the money, visit this place!
VILLAZZA
6. Paul Bassett Shinjuku
Paul Bassett Shinjuku is located 4 minutes from Nishi Shinjuku Station by foot. It's an espresso cafe produced by Paul Bassett, who won the World Barista Championships in the past. They pay special attention to the coffee, from the roasting of the beans to the brewing. They also serve a good variety of cafe foods, such as pancakes and panini, that you can enjoy. It's a cafe recommended for those who would love to kick back and relax while savoring authentic espresso!
Paul Bassett Shinjuku
7. La Maison ensoleille table Lumine Shinjuku Branch
La Maison ensoleille table Lumine Shinjuku is close to Shinjuku Station, at only a 1 minute walk. This is a cafe where you can try a good variety of cakes while having a relaxing time. They serve regular cafe fare, but also offer a good selection of Western foods from various countries. This makes it a good place for both lunch and dinner as well. Since it's located inside Shinjuku Lumine, it's a great choice for when you want a break from shopping there.
La Maison ensoleille table Lumine Shinjuku Branch
8. CONTAINER Cafe & Bar
This cafe is nearest to Shinjuku 3-chome Station, at just a minute's walk away. It is a place where you can find some peace and quiet within the lively Shinjuku area. The cafe is fitted with warm lighting and antique furniture, creating a nice, relaxing atmosphere where you can pass time leisurely. The menu includes cold pasta, pizza, quiche, and other Western foods. They also have a selection of wines from many different countries, so you'll be able to dine while "experiencing" the exotic. The cafe also serves coffee with adorable latte art, such as snowmen latte art!
CONTAINER Cafe & Bar
9. J.S. BURGERS CAFE Shinjuku
A 1 minute walk from Shinjuku Station, J.S. BURGERS CAFE Shinjuku is a burger cafe by the apparel brand, JOURNAL STANDARD. Inside, the American-style atmosphere surrounds you as you tuck into burgers that are different from the kind that you'd get at fast food chains. The generously sized burgers are juicy and uniquely delicious. They also serve avocado burgers that are a big hit with the ladies. It's a place that both men and women will find awesome.
J.S. BURGERS CAFE Shinjuku
10. Moana Kitchen Cafe Shinjuku Takashimaya Times Square Branch
Moana Kitchen Cafe is located within Shinjuku Takashimaya Times Square. Here, you can experience a Hawaiian dining atmosphere. The menu is full of Hawaiian favorites like [Loco Moco]. The top recommendation would be their pancakes, which are really popular with the ladies. During dinner service, they also serve alcohol, so it's a perfect place for a girl's night out or for mothers' gatherings!
Moana Kitchen Cafe Shinjuku Takashimaya Times Square Branch
11. CAFE AALIYA
CAFE AALIYA is a conveniently located cafe that's just a minute's walk from Exit A1 of Shinjuku 3-chome Station. It's a well-established cafe that's known for its French toast. Prices for the toast start from 570 JPY, which can be considered cheap for the city area. Crispy on the outside, and rich and mildy sticky on the inside, it creates an intoxicating contrast. The sweet and sour blueberry sauce is chunky with fruit bits, so you'll be able to savor the texture of the berries as well.
CAFE AALIYA
12. AVOCADO
"Eat happily and become happy". That's the concept for this cafe. The main ingredient used here is avocado, procured directly from farmers. The carefully selected fresh produce is used in salads, nachos, and even roast beef and cheese risotto! These daring combinations are irresistible for women who love healthy food. It's definitely a recommended cafe for those who want to enjoy avocado to their heart's content. Order the party course and share it with your friends.
AVOCADO
13. Caffice
Get a dose of freshly ground coffee here! The seats are well spaced apart, offering customers a comfortable environment. All the seats come with outlets for charging your smartphones, and there's also free Wi-Fi. You'll find that the menu is extensive, with light bites like fries or fish and chips, and heavier meals like pizzas and omelettes. They also have unique dishes like [Kanazawa Curry]. You can also opt for the weekly menu. All the food is high-quality and delicious. Go for the set menu that comes with a salad to increase your vegetable intake for a healthier meal.
Caffice
14. eat more SOUP&BREAD
This cafe is built on the concept of "dining cafe in a rural farm". It's popular for its hearty homemade soups made with seasonal ingredients, as well as for their freshly baked bread. The set menu with seasonal soup, bread, and salad is both healthy and great for beauty, so it's especially popular with female diners. Another popular item is the [Stew Omelette Rice], which consists of omelette rice covered in stew. For an additional 380 JPY, you can get unlimited refills of freshly baked bread. It's good value for money!
eat more SOUP&BREAD
15. latte chano-mama Isetan Shinjuku Branch
This cafe strives to be great for both mothers and children. To achieve this, they make it easy for them to nurse babies at their seats, allow the consumption of baby food in the cafe, and allow the use of baby strollers. From sweets to pasta, the food quality is as good as the service. The sweets are especially pretty, bringing to mind beautiful French sweets. You'll get a taste that's out of the ordinary. It's a really trendy cafe with delicious food, so it really grabs the attention of mothers. Men are definitely welcome, too!
latte chano-mama Isetan Shinjuku Branch
16. Maho no Kuni no Alice
Come to this cafe that's so fantastical that you'll wonder if Alice will pop up at any time. Step in, and you'll feel as if you've stepped into another universe. Anyone would get excited if served a special dish like the [Cheshire Cat's Dessert Plate] on their birthday or special anniversary! The charm of this cafe doesn't stop at just its uniqueness. There's a proper chef here, so you can sample specially prepared fresh pasta. Pick from a selection of pasta dishes, such as carbonara and cream spaghetti.
Maho no Kuni no Alice
17. BOWLS café
BOWLS café was created with the concept of creating a space that is as comfortable as your own dining room or living room. You should be able to bring your pet, and everyone should be able to have a filling meal. The coffee served here is their own original blend, and each cup is individually hand-dripped. They serve Higgins tea from England, and they use Akita Komachi rice from contracted Akita farmers. They pay great attention to their ingredients! The afternoon tea set comes with seasonal tarts, scones, ice cream, and flavored tea. It's a popular choice!
BOWLS café
18. CAFE By the Sea
This cafe has a feeling of openness that will remind you of cafes on the West Coast in America, especially in southern California. You'll find delicacies like the chower, seafood gratin, and salads with fresh vegetables. Their original French toast is also highly rated. For lunch, they serve a variety of dishes that pair well with wine. The desserts here are particularly large, so you'll definitely be able to eat till you're full! The lights are dimmed at night, giving the interior a bar-like atmosphere.
CAFE By the Sea
Disclaimer: All information is accurate at time of publication.