Publish-date: Jun 11 2018 Update-date: May 31 2019
Like and Share us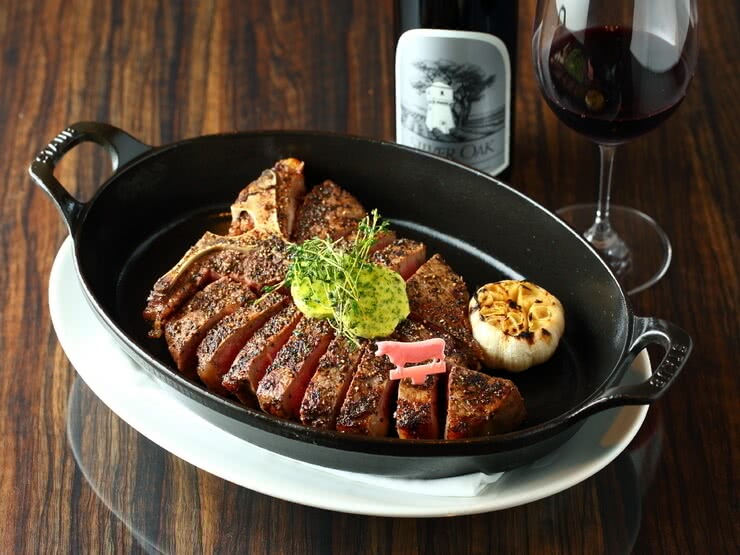 Roppongi is a stylish area that reminds one of a foreign country. Looking to partake in an extravagant lunch at an elegant restaurant? Check out this list of 18 spots where you can have a luxurious lunch that perfectly matches Roppongi! Focusing on meat cuisine that is sure to satisfy your hunger, it also introduces restaurants that serve a variety of dishes like sushi and seafood. Treat your lover or friends to a delicious lunch!
1. Bifteck Kawamura Roppongi Branch
Located right next to Roppongi Station, this restaurant specializes in Kobe beef, offering premium lunches. The classic and formal interior has counter seats, from which you can admire the chef preparing your dishes. For lunch, indulge in Kobe beef by ordering dishes like the [Special Choice Kobe Beef Rump Steak Lunch] or the [Kobe & Tajima Beef Hamburg Steak Lunch]. They're served as part of a course that is great value for money. It includes dishes like potage, salad, grilled vegetables, and dessert. Treat someone special or a business partner to an extravagant lunch in Roppongi at Bifteck!
Bifteck Kawamura Roppongi Branch
2. The Steak Roppongi
A 3-minute walk from Roppongi Station, this steakhouse serves delicious meat lunches at reasonable prices. Wood-themed with a modern design, it offers counter seats around an open kitchen, which are ideal for dates, as well as private rooms for up to 20 people. Available only at lunch, the [Teppan Beef Outside Skirt Steak 150g] and [Sirloin Steak 175g] are must-tries that you can have at a bargain price! The first one is a beef outside skirt steak grilled on an iron griddle. If you're particularly hungry, you can increase its weight for just 250 yen for every 50g! Alternatively, you can also try the [Steakhouse Beef Curry], which consists of curry made with plenty of beef steak.
The Steak Roppongi
3. Grill & Pasta Es
Sitting right next to Azabu-juban Station, this Italian restaurant boasts of a rich variety of chewy fresh pasta and generous amounts of grilled dishes. Its interior makes for a relaxing hideout, thanks to its design that was inspired by an underground factory in New York and indirect illumination. There are private rooms and a whole floor that can host up to 80 people. For lunch, you can find either the [Weekday Pasta Lunch] or the [Holiday Lunch Set]. As their names suggest, during weekdays, you can enjoy pasta as the main dish, while on weekends and national holidays, you can try other delicacies. Their fresh pasta is great, but their popular [U.S. Tender Rare Beef Skirt Steak] that's served during national holidays is so tender and tasty that it is an absolute must-try!
Grill & Pasta Es
4. Kyoto Hyoki Nishi Azabu Branch
Around an 8-minute walk from Roppongi Station, this restaurant, which only has seating in private rooms, specializes in Kyoto-style kaiseki (Japanese banquet cuisine with alcohol). They also serve meat that you can have in a variety of styles, such as sukiyaki (hot pot stew), shabu-shabu (sliced meat parboiled with vegetables), and steak. The tatami rooms are designed in a pure Japanese style and are all furnished with horigotatsu (sunken kotatsu table) for you to stretch your legs in. For lunch, try their shokado bento (square or rectangular lunch box), kaiseki, or their large selection of meat dishes like sukiyaki and shabu-shabu. They use two premium beef brands: Omi and Kobe. If you want to enjoy this meat with a bento, you can get a set with shokado bento and Omi beef steak. Their dashi (broth) shabu lunch meal with Joshu Mugi pork comes highly recommended as well. Note that lunch is available only on weekdays.
Kyoto Hyoki Nishi Azabu Branch
5. BLT Steak Roppongi
BLT Steak Roppongi offers steak of top-grade beef that's been certified by the US Department of Agriculture. Located on the basement floor of Roppongi-itchome Station, it is just around a 3-minute walk away. This stylish and relaxing steakhouse has high ceilings, creating a sense of freedom and space. For lunch, you can order steaks, hamburgers, and sandwiches - all of which come in generous portions! Their [Prime Steak] comes with their popular popovers. If you're hungry and up for trying different types of meat, try the [Prime Steak - Combination Set].
BLT Steak Roppongi
6. Museum Restaurant THE MOON
This authentic French restaurant is located on the 52nd floor of Roppongi Hills Mori Tower, which is one of the area's most famed landmarks. At night, it allows you to enjoy a spectacular view of the city, including Tokyo Tower, together with artistically arranged French dishes. Inside, you'll also find contemporary artworks that will enrich your dining experience. For lunch, you can choose from 3 lunch courses. The most luxurious one consists of both seafood and meat delicacies, while the other two have only meat as the main dish. Enjoy delicious and beautiful food made using seasonal ingredients on a date or a lunch with a good friend!
Museum Restaurant THE MOON
7. Ristorante Il Bambinaccio
This restaurant is around a 15-minute walk from Hiroo Station. It serves creative Italian food made with domestic ingredients. The off-white interior offers a warm and relaxing space to enjoy a nice meal. The lunch menu consists of course meals made with organic, chemical-free vegetables that were delivered directly from farms. A popular dish is the [Homemade Tagliolini with Creamy Sauce of Raw Sea Urchin and Scallops], wherein chewy, fresh tagliolini is mixed with a delicious sea urchin cream sauce. Another great option is the crispy [Specialita Crispy Charcoal-Grilled Kuroge Wagyu Cheeks (Miyazaki-raised)], where Kuroge Wagyu (a type of high-quality beef) cheeks are grilled on charcoal at just the right temperature!
Ristorante Il Bambinaccio
8. Terrace Club
Around a 4-minute walk from Roppongi Station, this Italian restaurant serves hamburger steaks and BBQ in the heart of Roppongi. Having a barbecue at their large open-air terrace will make you feel like you went glamping! You can have lunch from 11:30 am - 5:00 pm, which is plenty of time to sit back and relax. As for their lunch menu, there are 2 options available: [Lunch BBQ] and [Lunch Plate], but you can also order a la carte dishes. If you order the [BBQ Set of the Day] for lunch, it'll come with a soft drink. Also, don't miss their photogenic desserts! They're the icing on the cake after a nice lunch.
Terrace Club
9. Roppongi Suzuna
Roppongi Suzuna
10. #uni Seafood
#uni Seafood
11. Kushinobo
Kushinobo
12. Cedar The Chop House & Bar
Cedar The Chop House & Bar
13. Azabu Tansumachi Tenryoan
Azabu Tansumachi Tenryoan
14. Natural Kitchen Yoomi
This restaurant welcomes you to their stylish wood-themed space that's furnished with colorful sofas. As it is managed by a baby goods manufacturer, they offer private rooms that can host parents and their strollers, as well as kids' plates, making them a true paradise for parents who want to have lunch with their friends. The lunch menu consists of [Quick Lunch], [Lunch Course of the Day], and the [Kids' Plate]. The content of their lunch courses change on a daily basis. They mostly serve Western dishes that are based off French cuisine, prepared in a way that enhances the qualities of each ingredient. If you're going on a weekday, remember that it's closed on Mondays.
Natural Kitchen Yoomi
15. Toppin
With only 12 seats and a home-away-from-home atmosphere, Toppin is a teppanyaki restaurant that's often frequented by both meat lovers and health-conscious diners. Counter seats surround the large open kitchen, where the chef shows his skills in cutting and slicing food while you eat. Their lunch menu offers a range of dishes that will let you savor the authentic flavors of meat, such as their rice bowl with roast beef and steak set meal. Their hamburger steak comes with a sauce of your choice out of a selection of 3. It's especially recommended if you like meat, but want to eat healthy, and also if you're doing weight training and want to eat lean meat.
Toppin
16. Gostoso
Gostoso
17. Sushito
Sushito
18. The French Kitchen
Open every day, The French Kitchen sits on the 2nd floor of GRAND HYATT TOKYO. It is around 3 minutes on foot from Roppongi Station. This wide and elegant restaurant serve bistro cuisine with a traditional touch. On days with nice weather, sit on the terrace and feel the breeze while enjoying your lunch! There is a lunch buffet that differs on weekdays and weekends. On weekdays, you can also order a lunch course, while on weekends, you may partake in a free selection of drinks that includes champagne and a variety of wine, making for a more luxurious buffet lunch. Make your choice: weekdays for a reasonably-priced buffet or weekends if you want to treat yourself to alcohol, too!
The French Kitchen
Disclaimer: All information is accurate at time of publication.