Publish-date: May 28 2020 Update-date: May 29 2020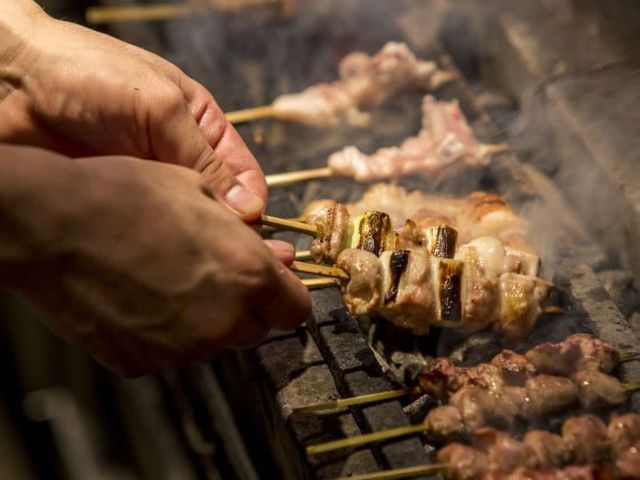 Whether at a summer festival, late night convenience store, or stylish wine bar, yakitori is a beloved staple all over Japan. But just what is this dish? Quintessential yakitori is made with bite-sized pieces of chicken that are cooked on a bamboo skewer over a charcoal grill. As humble as it is on its face, yakitori has a culture all of its own in Japan, with many restaurants dedicated to this seemingly simple dish. From the surprising variety available to just how to order yakitori, this article will cover all you need to know to really enjoy yakitori in Japan.

Yakitori's Place in Japan's Food Culture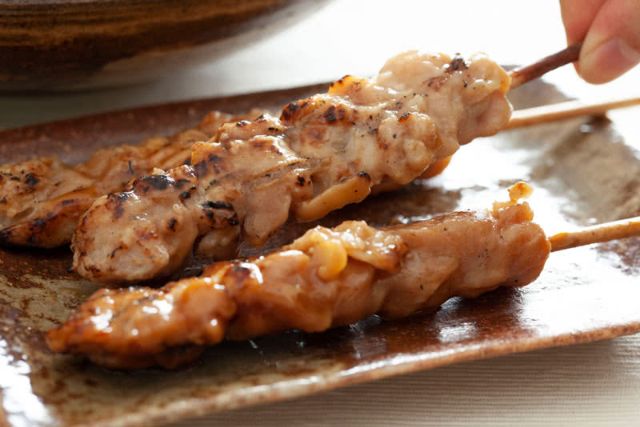 You won't have to look far to find yakitori in Japan, as there are many options to choose from that span a range of quality and prices. When you arrive in Japan, you'll quickly notice it available to buy pre-prepared at the counter of almost every convenience store. But while you might be surprised to find out just how delicious convenience store yakitori can be, it's not the ultimate expression of the dish!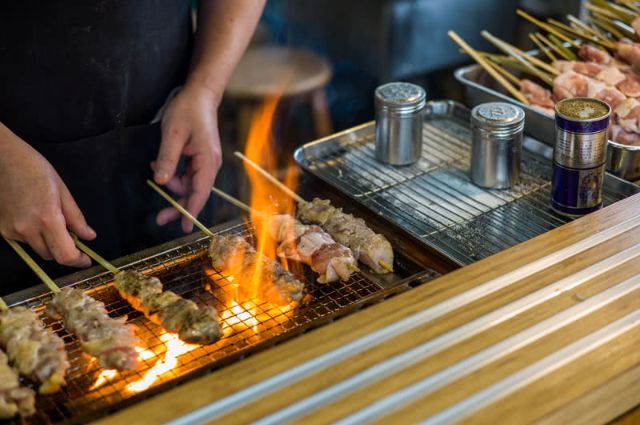 Likely the most atmospheric way to enjoy yakitori is on the streets. While you won't find that many vendors on the streets of Japanese cities today, this dish did originate as a street food during the Meiji Era (1868 - 1912). Today, you'll commonly find yakitori stalls during the festivals, or matsuri, that are held throughout Japan, particularly in the summer. Simple to prepare over a grill and easy to eat while walking, this is a perfect festival food that's popular all over Japan.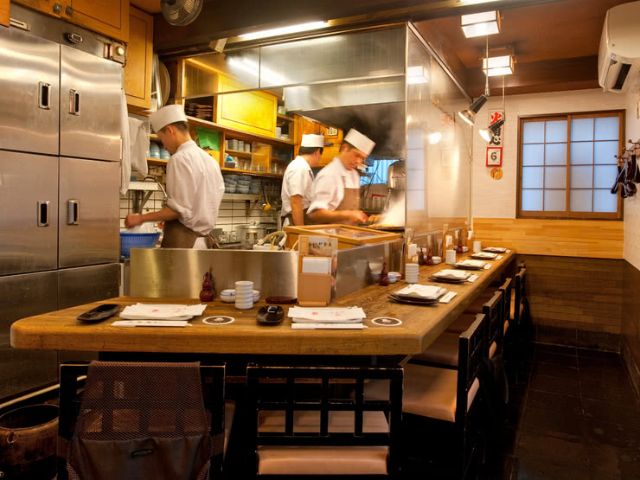 Another step up from festival food stalls are the yakitori bars and restaurants that are growing in popularity all over Japan. While yakitori can be a cheap and cheerful beer snack served at humble neighborhood izakaya (Japanese pubs), there are also plenty of stylish bars and restaurants that specialize in yakitori made from local brands of chicken. These specialty establishments are staffed by chefs who are dedicated to perfecting the art of yakitori. We'll introduce some of our picks among these below!

How Yakitori Is Made
Yakitori seems like a simple dish, but there are a number of elements that can go into its flavor and preparation.

Grilling Yakitori
One fundamental of yakitori cuisine is the grill. While electric grills are available, charcoal is what gives yakitori its traditional, delicious smoky flavor. A traditional Japanese charcoal made from oak called "binchotan" is considered the best for yakitori. This type of charcoal is preferred by many chefs because it burns cleanly, producing less smoke and preventing oils and gases from the wood adding unwanted flavors to the meat. You'll notice many yakitori bars and restaurants specifically advertising the fact that they use binchotan charcoal in their grills.

Yakitori Varieties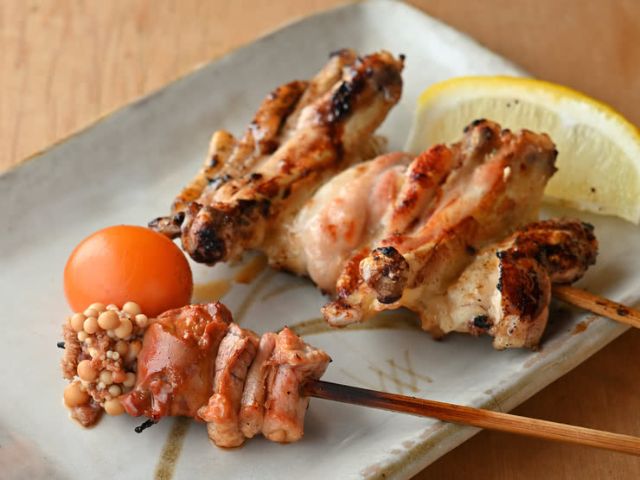 This one type of charcoal may be considered essential to quality yakitori, but you'll find a whole lot more variation when it comes to the cuts of chicken! Yakitori chefs are known for their beak to tail approach to using the chicken. So, if you're new to yakitori, you can start out with common cuts like momo (thigh), sasami (breast), or tebasaki (wing). If you're more adventurous, varieties like nankotsu (cartilage), sunagimo (gizzard), and the rare chochin (oviduct and immature egg yolk, pictured below) may be of interest.

If you're not a meat eater, you can typically order vegetarian skewers like asparagus, tofu, or mushroom, but be aware they'll likely be prepared on the same grill as the meat. Some yakitori bars will also have other types of meat on the menu, including beef tongue or bacon-wrapped vegetables. Another popular variant is tsukune, which are meatballs made from chicken mince, aromatics like green onion and perilla leaf, and sometimes vegetables.

Yakitori Seasonings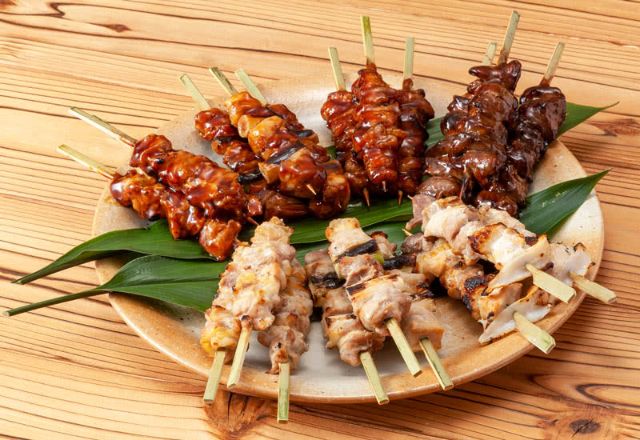 The standard yakitori flavorings are shio (salt) and tare. Tare is a sweetened soy sauce with a strong umami flavor. Many restaurants and food carts will ask your preference, while others will suggest which is best for each type of skewer. Below, you can see yakitori with tare (top half of the picture) and with shio (bottom half of the picture).

There are some cuts that come with their own traditional flavoring: sasami, for example, is typically topped with dabs of wasabi to complement its lighter texture. You'll also likely find some condiments like Japanese shichimi spice mix and green sansho pepper at hand to use at yakitori restaurants. While neither are overly spicy, they can add a little kick if you prefer it. Keep in mind, though, that in Japan it's typically considered good manners to try the food as served by the chef before adding your own seasonings to the mix.

How to Order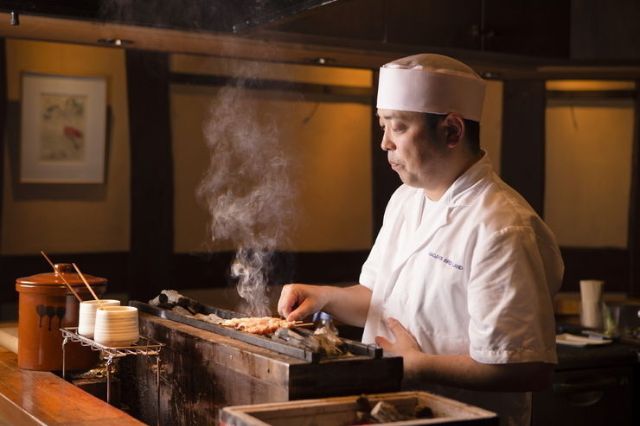 If you're like me, all the types of yakitori can feel a little bewildering at first, especially at a restaurant with as many as twenty different types on the menu! One thing to keep in mind is that many yakitori restaurants have counter seats where you communicate directly with the chef. These chefs are specialists not only in the art of yakitori, but often their variety of specialty chicken, too. So, if you're new, take advantage of the counter seats and ask the chef for their recommendation ("osusume" in Japanese). You'll likely be served something delicious!

If you know the name of what you want, ordering is easy, too: just tell the chef the name, your preferred flavoring (shio or tare), and how many of each you want. To count skewers, use the words "ippon" (one skewer), "nihon" (two skewers), or sanbon (three skewers). Of course, holding up fingers is also always an option that transcends language barriers!

At the higher end of specialty restaurants, you may also have the option of an omakase course. This is a great option for newbies and yakitori fans alike, because you can rest assured you're getting what the chef thinks is the best of the best. An omakase course will usually include a set amount of skewers and sides, but the details will be down to the chef's judgement based on the type of chicken they work with, the ingredients available, and your likes and dislikes, too.

What to Order With Yakitori?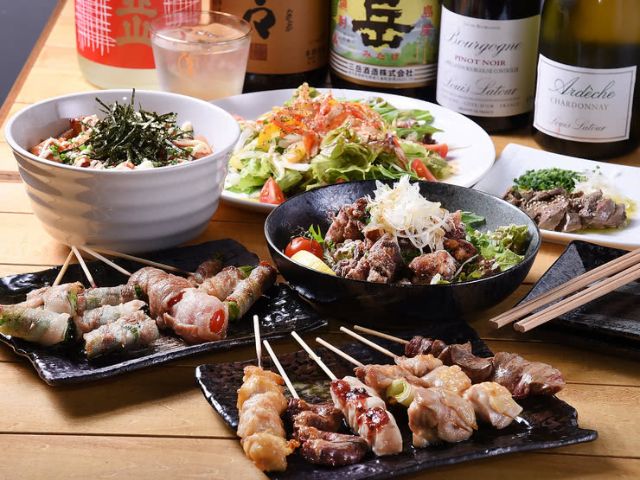 At izakaya, yakitori is commonly ordered as a snack with a beer. If you're planning a whole meal around yakitori, you might want to order some sides as well. At izakaya, you'll be able to find a wide range of dishes like edamame, sashimi, gyoza (dumplings), or karaage (fried chicken). At more specialty yakitori restaurants, the sides menu may be more limited, but the options will all be designed to complement the star of the meal! Common options at specialty yakitori restaurants include salads, pickled vegetables, or rice dishes like ochazuke (rice with a tea-based soup).

Manners and Etiquette When Eating Yakitori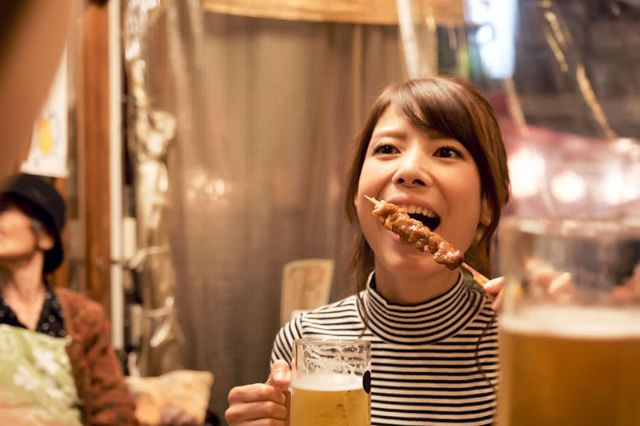 How to eat yakitori once it arrives? Coming from a country where the more cutlery around, the fancier you're being, I first assumed it was more polite to remove the meat from the skewer and eat each piece with chopsticks. While some people in Japan also prefer this, it's typically seen as a bit fussy, a bit like eating pizza with a knife and fork. Still, if it's more comfortable for you, it's fine to use chopsticks to slide any hard-to-reach pieces towards the end of the skewer for ease of access.

Since you eat directly off the skewers, don't leave them on the serving dish! It's unhygienic and makes collecting dishes awkward for the staff. Instead, you'll likely find a dedicated cup-like receptacle for you to dispose of your used sticks in at your table. When it comes to manners in general, like always, being observant about what the people around you are doing will take you a long way in Japan!

Recommended Yakitori Restaurants in Tokyo
While there are plenty of affordable and delicious places to eat yakitori in Japan, we recommend taking the chance to visit a specialty yakitori restaurant during your trip. These restaurants are set apart by their high-quality ingredients, experienced chefs, and stylish atmospheres. Here are our picks of the best yakitori restaurants in Tokyo.

1. Toriyoshi Naka-Meguro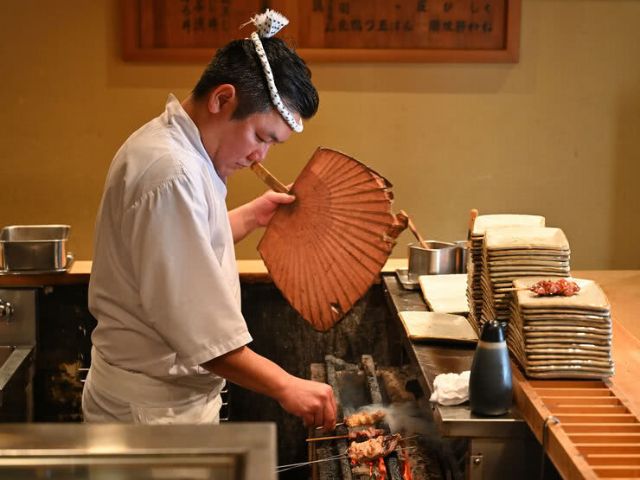 First founded in 1994, Toriyoshi Naka-Meguro specializes in Date chicken from Fukushima Prefecture. The tender meat from this breed of chicken has an addictive umami flavor, and because each bird is processed in-house, a visit here means the chance to try some rare cuts. Take a seat at the stylish bar and watch as the chefs expertly fan the grill to deliver yakitori that's cooked to perfection, right down to the second. Yakitori and vegetable skewers are available by the piece, and diners can choose between sake, shochu, or wine pairings to accompany their meal.

Toriyoshi Naka-Meguro
Open
: [Monday, Wednesday - Friday] 5:00 pm - 11:00 pm (L.O. 10:30 pm)
[Saturday, Sunday, National Holidays] 4:30 pm - 10:00 pm (L.O. 9:30 pm)
Closed
:
None
Average price
:
[Dinner] 6,000 JPY
Access
:
Go left from the South Ticket Gate of Naka-meguro Station on Tokyo Metro Hibiya Line / 3-minute walk from the East Exit 
Address
:
1F, Yajima Bldg., 2-8-6, Kami-meguro, Meguro-ku, Tokyo
Map
More Details
   Reservation   
2. Isehiro Hotel New Otani
Isehiro is committed to finding and using only the very best Japanese chicken. Rather than relying on brand names, the chefs use their seasoned eyes to judge the quality of the meat. If you're interested in trying a broad range of yakitori dishes, you can compare a total of twelve different skewers by ordering the [Full Course] (4,620 JPY) here. This restaurant is located in the prestigious Hotel New Otani, so if your Japanese could use a little work, you can also relax knowing that the staff are used to communicating with international visitors.

Isehiro Hotel New Otani branch
Open
:
Lunch 11:00 am - 2:00 pm (L.O. 1:30 pm), Dinner 5:00 pm - 9:30 pm (L.O. 9:00 pm)
Closed
:
None
Average price
:
[Dinner] 5,500 JPY / [Lunch] 1,600 JPY
Access
:
6-minute walk from Kojimachi Station on Tokyo Metro Yurakucho Line / 8-minute walk from JR Yotsuya Station. In the arcade of Hotel New Otani
Address
:
Arcade Floor, Hotel New Otani Main Bldg., 4, Kioi-cho, Chiyoda-ku, Tokyo 
Map
More Details
   Reservation   
3. Tori-no-Miyagawa Akasaka Intercity AIR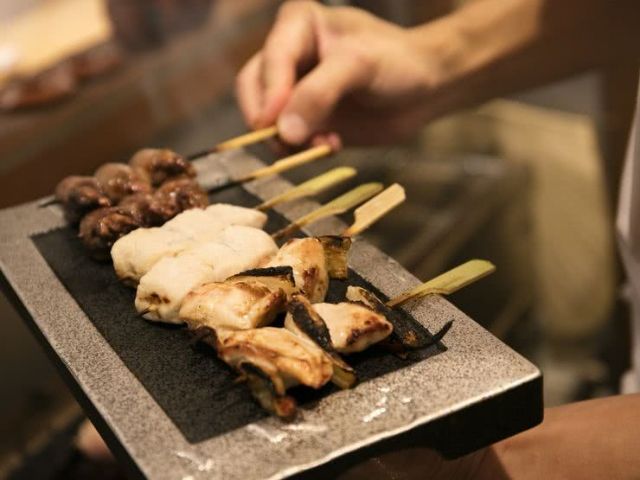 Tori-no-Miyagawa is a stylish izakaya located in the Akasaka Intercity AIR complex. One highlight of this izakaya is the availability of private rooms, which are ideal for parties. Tori-no-Miyagawa serves a range of chicken dishes, but for yakitori, try the [Five Assorted Yakitori] (1,436 JPY) grilled over specialty binchotan charcoal. The restaurant's specialty fried chicken dish, [White Deep-Fried Chicken] (1,058 JPY), also comes highly recommended. The chicken served here is a branded variety that's sourced farm-to-table from nearby Chiba Prefecture.

Tori-no-Miyagawa AKASAKA INTERCITY AIR
Open
:
[Weekdays] Lunch 11:30 am - 2:30 pm (L.O. 2:00 pm), Dinner 6:00 pm - 11:00 pm (L.O. 10:00 pm)
Closed
:
Saturday, Sunday, National Holidays
Average price
:
[Dinner] 5,000 JPY / [Lunch] 1,000 JPY
Access
:
2 minutes walk from Tameike Sanno Station on Tokyo Metro Ginza Line and Tokyo Metro Namboku Line
Address
:
B1F, AKASAKA INTERCITY AIR, 1-8-1 Akasaka, Minato-ku, Tokyo
Map
More Details
   Reservation   
4. Isehiro Kyobashi Main Branch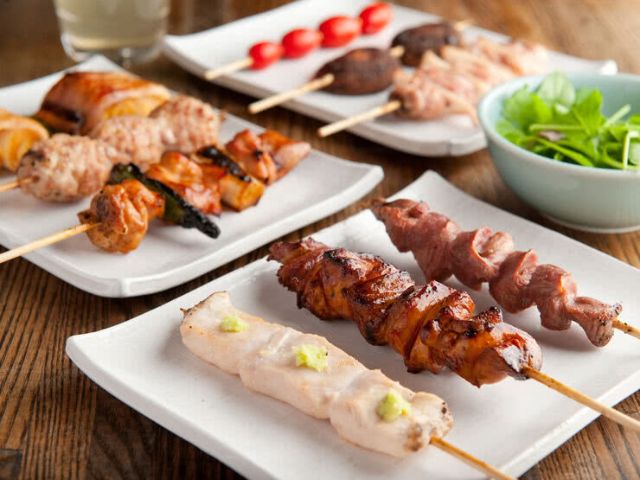 First founded in 1921, Isehiro Kyobashi is the parent restaurant of the Isehiro New Otani branch covered above. Located just a few minutes' walk from JR Kyobashi Station, this two-floor restaurant is full of historical charm. Guests can choose to watch the chefs at work on the first floor, or relax around tables on the second floor. The [Yakitori Full Course] (6,600 JPY) mentioned previously is also available here, but if yakitori's reputation as a beer snack puts you off a little, consider the lighter [Healthy Course] (5,950 JPY) instead. With leaner chicken cuts and organic vegetable sides, this healthy pick-me-up is sure to feel very welcome during your busy travels.

Isehiro Kyobashi Main branch
Open
: [Weekdays] Lunch 11:30 am - 2:00 pm, Dinner 4:30 pm - 9:00 pm
[Saturday] Lunch 11:30 am - 2:00 pm, Dinner 4:30 pm - 8:30 pm
Closed
:
Sunday, National Holidays
Average price
:
[Dinner] 6,000 JPY / [Lunch] 1,600 JPY
Access
:
3-minute walk from the Meijiya Exit of Kyobashi Station. Go towards the direction of Nihombashi, turn left in front of Mitsui Garden Hotel, then immediately on the left
Address
:
1-5-4, Kyobashi, Chuo-ku, Tokyo
Map
More Details
   Reservation   
5. Yakitori Abe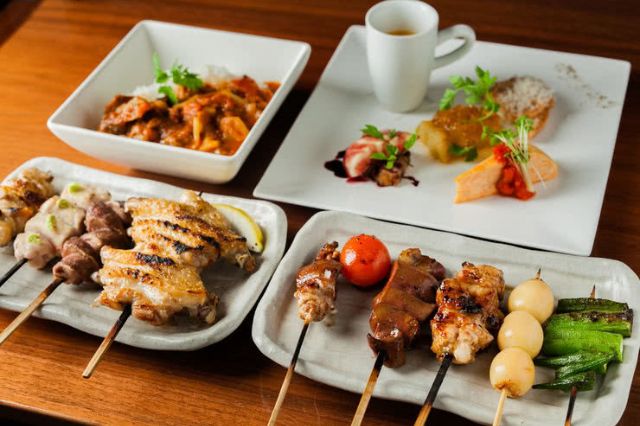 With a stylish, modern interior design and impressive wine list, Yakitori Abe is the perfect choice for anyone looking for a more sophisticated yakitori experience in Tokyo. Around twenty varieties of Date-dori brand yakitori are available by the piece, most of which fall affordably in the 250 JPY and 400 JPY range. If you can't choose, try the [Chef's Special Course (2,400 JPY)], which includes the chef's choice of the day's best cuts and an assortment of sides. While yakitori is a classic beer accompaniment, we also recommend browsing Yakitori Abe's wine list to learn why yakitori wine bars are gaining so much attention in Japan.

Yakitori Abe
Open
:
6:00 pm - 12:00 am (L.O. 11:00 pm)
Closed
:
Sundays
Average price
:
[Dinner] 6,000 JPY
Access
:
Exit from the east exit upon alighting at Meguro station on various lines, and proceed straight along Meguro Avenue in front of Resona Bank. We will be 3 buildings beside the 7-Eleven.
Address
:
1F, Miyuki House, 3-3-4, Kamiosaki, Shinagawa-ku, Tokyo
Map
More Details
   Reservation   
We hope this introduction to the world of yakitori inspires you to try out this dish while you're in Japan! While some of the rarer cuts might seem a little intimidating at first glance, if you give them a try you'll quickly learn why they're so popular. Pairing this unpretentious dish with a cold beer or crisp glass of wine is all you need for a great night out in Japan, so order a skewer or two or enjoy!

Disclaimer: All information is accurate at time of publication.