Publish-date: Mar 28 2019 Update-date: Jun 05 2020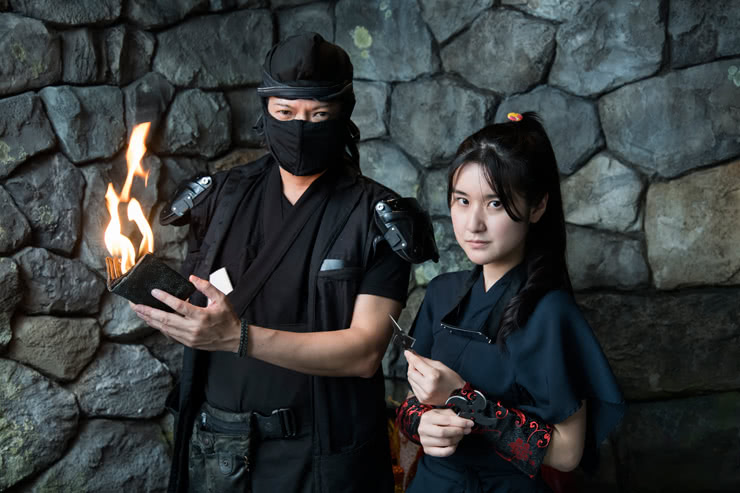 We all look forward to enjoying delicious gourmet food when we visit Japan! So, why not spend some quality time at a restaurant that offers a unique atmosphere you can only find in Japan? One particularly recommended restaurant with this kind of atmosphere is NINJA SHINJUKU, an entertainment restaurant that immerses its diners in the world of the ancient Japanese ninja*.
At the NINJA SHINJUKU's calm and quiet private room, you can savor remarkable specialties made with carefully selected ingredients, such as premium Omi beef. The entire course menu is ingenious not only in taste but in presentation, as well. After you enjoy your meal, you can enjoy a magic show right at your table! Our staff visited NINJA SHINJUKU to thoroughly research this restaurant's unique charms. We hope this may give you a tip as a guide when you plan your next visit to Tokyo!
*Spy who made use of special tricks and techniques known as "ninjutsu."

What is NINJA SHINJUKU?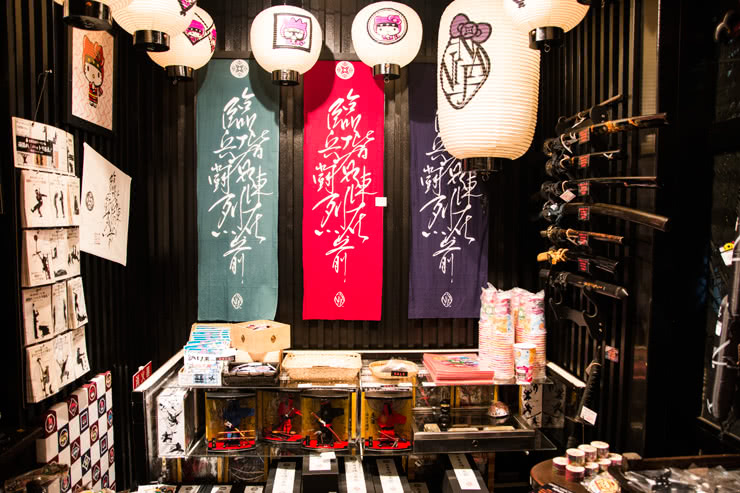 NINJA SHINJUKU is located a 5-minute walk from Shinjuku Station's West Gate. Quietly nestled in Japan's leading shopping area, it is a restaurant with private rooms styled as a hidden estate run by ninjas. We found the entrance by heading around the Yodobashi Camera by the West Gate. After timidly entering, we found ourselves in a whole new world. Once we give our name to the front-of-house ninja, they seemed to start preparing to welcome us in. So while we waited, we made sure to check out the range of souvenirs available. Soon enough, the friendly robot ninja, Hanzou-kun, gave us the magic spelling word to open the door, and we were in!

A Thorough Breakdown of the Popular "Ninja Course"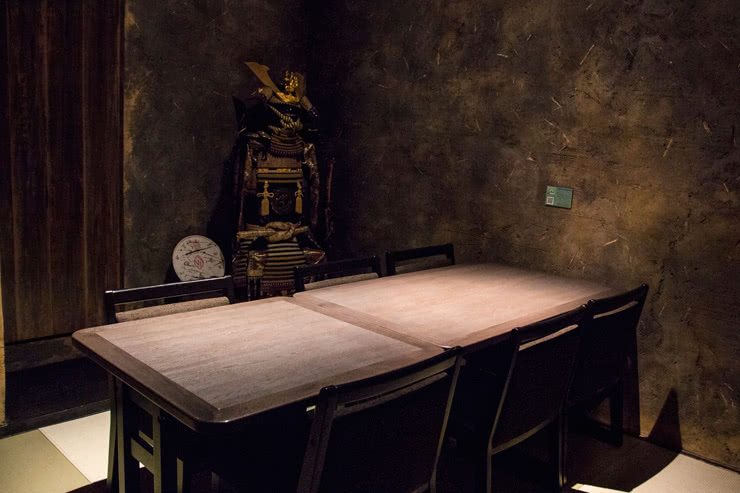 A large armor suit of ancient Japanese warrior greeted us as we entered the room. As imposing as it was, we all felt an urge to take photos. After a while, the ninja serving staff came in with hot towels, and then explained the ingredients for the main course. After taking our drink orders, our course meal began. This time, we enjoyed the popular [Ninja Course] (7,000 JPY)!

1. Edo Bay Landing Welcome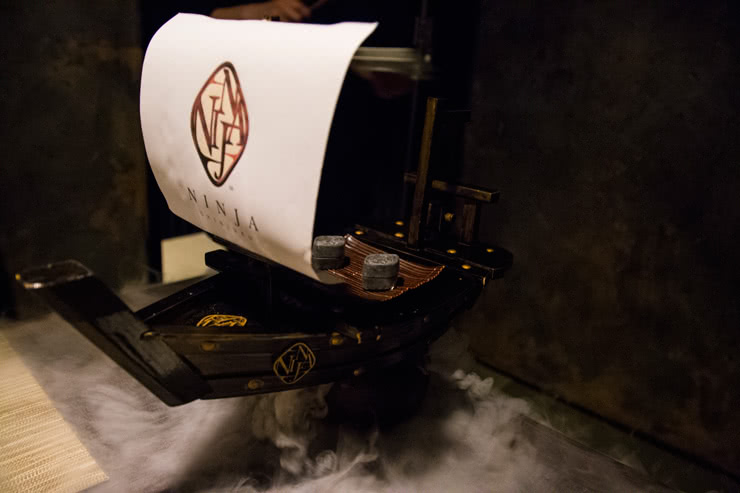 The first dish to arrive was monaka (sweet of filling sandwiched between wafers) imprinted with a family crest. Its arrival was very bold - monaka was brought to the table in a large boat! They were filled with cream cheese and smoked pickled radish. The crunchy texture of the monaka was irresistible.

2. Sushi Appetizer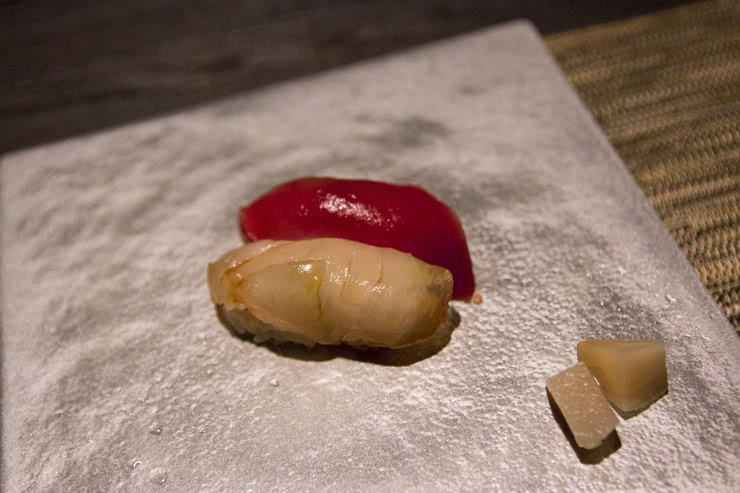 The next course was brought out covered with a semi-transparent cup. Slowly lifting the cover revealed a puff of white smoke and our sushi appetizers. The sushi was already seasoned, so we could eat them as is.

3. Ninja Fire Art: Salt-Grilled Hime Sazae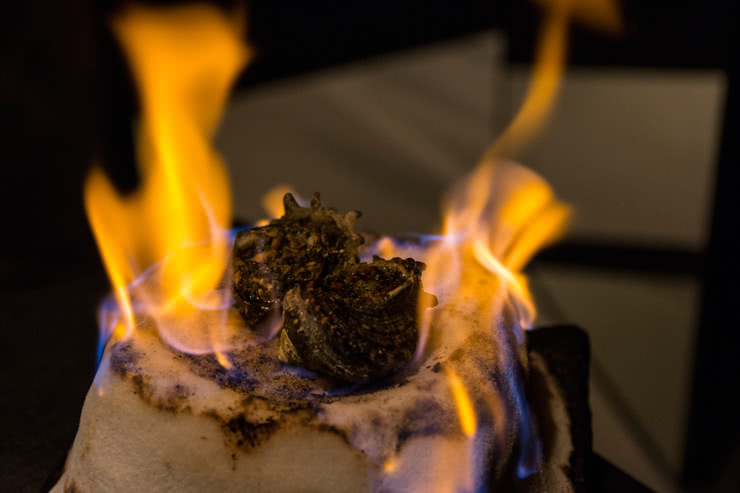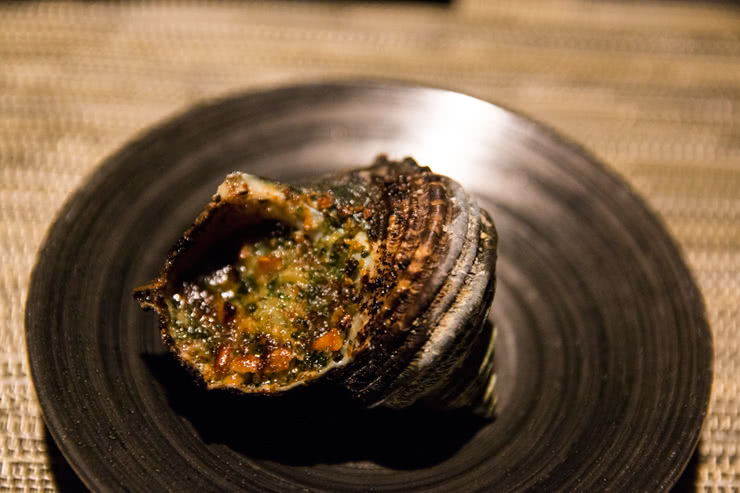 The next dish to arrive was [Grilled Garlic Butter Sazae(turban shell)]. The flames rose to the ninja's calls and caught our attention, and in a flash, the sazae were ready to be eaten! You'll relish the piping hot sazae garnished with garlic butter, and they taste even better when eaten with the accompanying toast! Make sure to be careful when you pick up the hot shell, though.

4.  Scorching Brazier Transformation: Sablefish and Vegetables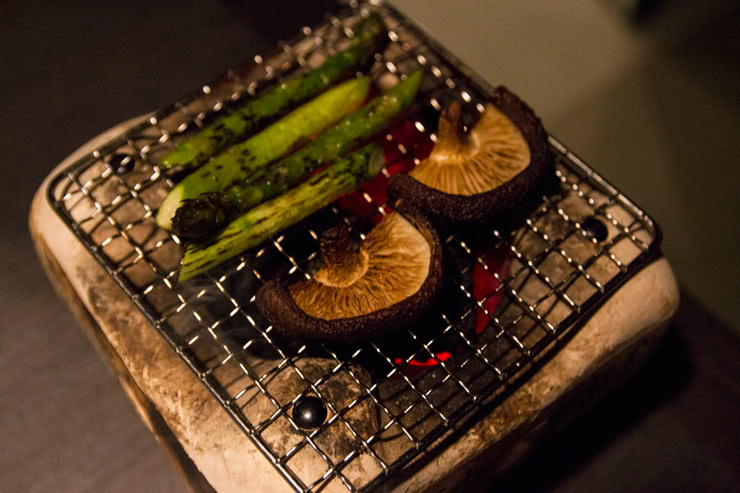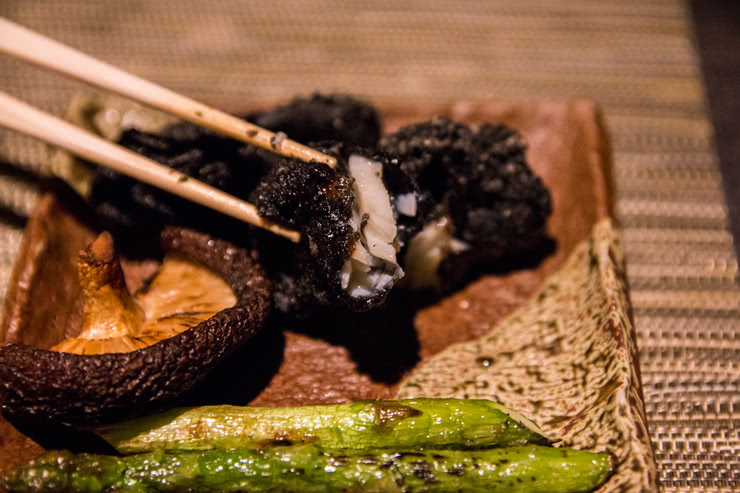 This dish consisted of seasonal vegetables cooked on a brazier. We took the seasoned shiitake mushrooms and asparagus on our plates and were just about to start eating when we realized that was not all that was waiting for us! Under the griddle in the charcoal that was fuelling the brazier was a tender white-fleshed sablefish! This sablefish was simply seasoned and covered with a black glaze, which added a crispy contrast to the soft fish. We could have kept eating forever!

5. Secret Ninja Treasure Chest: Ninja-style Sashimi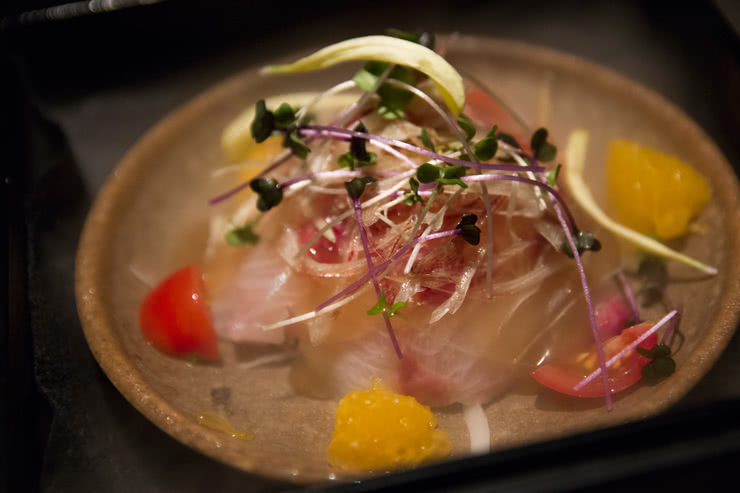 Carefully loosen the cord on the ninja-style treasure box and opening the lid revealed a cloud of white smoke. As the smoke gradually cleared, we could make out a beautiful set of three sashimi pieces made from white fish. Light dressings like orange, tomato, and citrus decorated the edges of the plate. Fresh ginger added a delicious accent that had us eating this dish right up. Enjoy with crisp radish and carrot!

6. Lean Omi Beef and Stone-Oven Baked Mountain Vegetables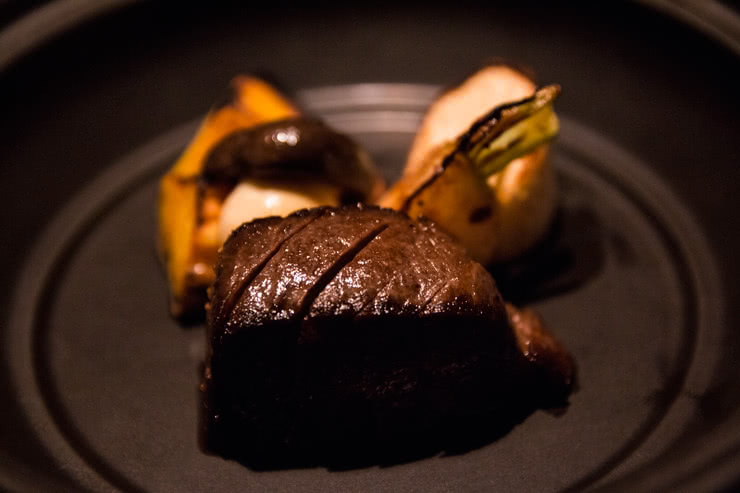 The main dish was Omi beef, one of the three main types of wagyu beef. Omi beef is famous for being Japan's oldest and greatest brand of wagyu and is characterized by its full-bodied flavor. Served alongside the Omi beef were seasonal vegetables which were also carefully cooked in the restaurant's stone oven. The thick sliced steak was highly satisfying. On top of that, what charmed us is the variety of condiments! The meat was delicious simply on its own, but we recommend adjusting the flavors with the four different seasonings presented in small dishes, including basil-infused wholegrain mustard, wasabi, yuzu (a kind of Japanese citrus fruit) and pepper, and charcoal salt! The charcoal salt, in particular, brings out the flavors of the ingredients and is a must-try. Try comparing the different tastes!

7. Seasonal Earthenware Pot Rice and Pickled Vegetables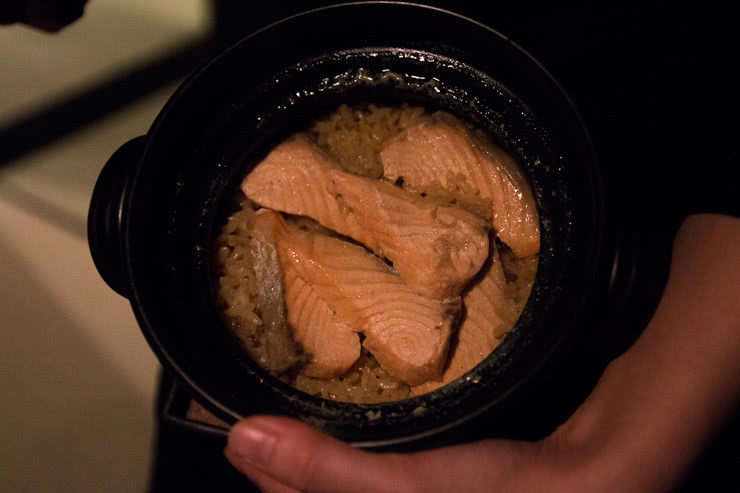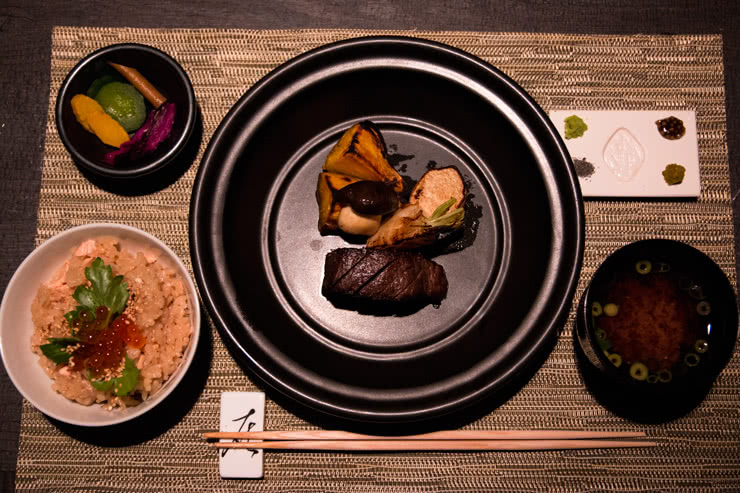 Served alongside the main course was a seasonal variation of earthenware pot rice, made from top-quality domestic rice carefully sourced. A delicious scent of soy sauce rises as you lift the lid, and the lingering aroma from the earthenware pot gets your appetite going. Adding sesame, salmon roe, and honeywort makes this dish exceptional! We recommend waiting a little while until the rice goes crispy at the edges. Don't worry if you can't eat it all! The restaurant will pack anything left over in the pot to go for you, so take it home and enjoy it the next day.

8. A Heirloom Bonsai's Sweet Transformation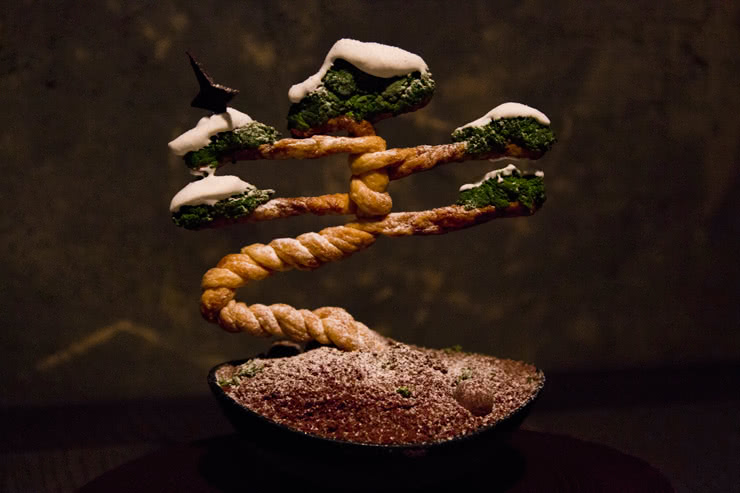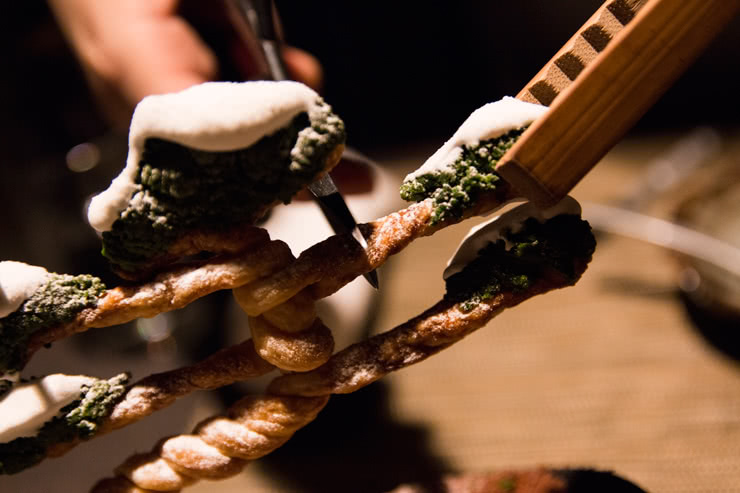 For dessert, there was an ice cream cake shaped like a bonsai tree. Use the bonsai scissors to clip off the parts you want to eat - it feels just like tending to a real bonsai tree! You'll find yourself absorbed, clipping away. The soil and leaves are made from sponge cake, while the base is vanilla and matcha ice cream, and whipped cream adorns the leaves. The trunk of the tree is formed by pie crust and adds a crunchy texture that goes perfectly with the ice cream. This dessert gets full points for volume, but you might need an extra stomach to eat it after so many courses! Try the different parts and enjoy how the flavor changes.

9. Before You Depart: A Thank You Monaka
Last but not least, we received with one more monaka placed on a Japanese sword as a gift. This monaka was filled with large red beans embedded in creamy chocolate. Please make sure you take a bite of this monaka to enjoy its crunchy outer shell!

A Fun Magic Show by Advanced Ninjas
Once you've enjoyed the course meal, ninjas that work around the world as professional magicians will perform a show for you. You'll be held in rapt attention by the magic displayed right at your table. Unfortunately, we can't reveal the details of the magic tricks, so visit the Shinjuku store to find out for yourself! Create an unforgettable memory of your private, one-night-only magic show while you're in Japan.

A Word from the Ninjas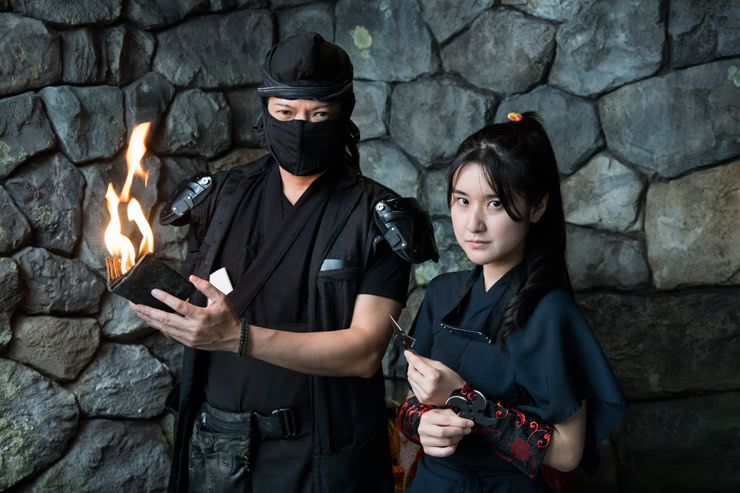 A ninja transformation plan is also available! Children and adults alike can dress up in original ninja costumes that will transform them into a ninja as they enjoy their meal. After your ninja transformation, you can take your costume home with you. Become a ninja and make this fun experience a holiday memory! The restaurant hosts many vegetarian and international guests, so they can also cater to all types of dietary requests. (Due to the seasonings used, they can't cater to gluten-free diets.)

NINJA SHINJUKU (Shinjuku / Japanese Cuisine, Kaiseki)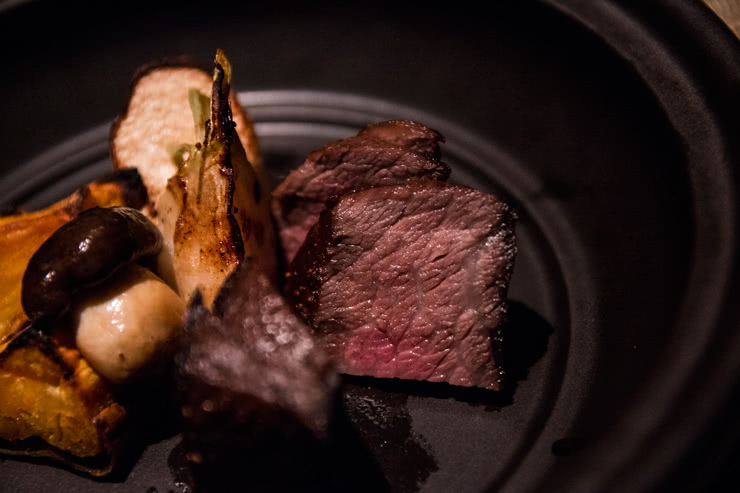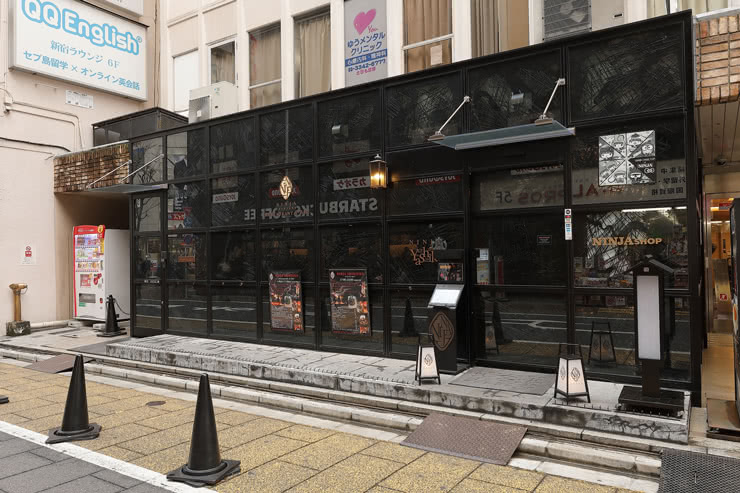 NINJA SHINJUKU
Open: Lunch 11:30 am - 3:00 pm, Dinner 5:00 pm - 11:00 pm
Closed: January 1st to January 3rd
Average price: [Dinner] 7,000 JPY / [Lunch] 3,000 JPY
Address: 1F, Kono Bldg., 1-11-11, Nishi Shinjuku, Shinjuku-ku, Tokyo, Japan

In addition to the ninja course introduced in this article, NINJA SHINJUKU also offers a range of other options, including a [Shogun Course] (10,000 JPY) and a shabu-shabu (sliced meat parboiled with vegetables) [Daishogun Course] (15,000 JPY), so make sure to check them out!
Disclaimer: All information is accurate at time of publication.