Publish-date: Jul 28 2020 Update-date: Jul 29 2020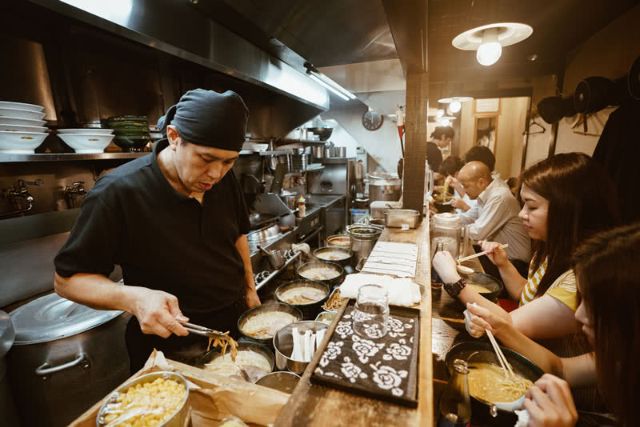 While Japan may offer an unparalleled experience in haute cuisine, it also has the art of fast food perfected. Not only can you find similar burger-and-sandwich chains as in other countries, but there are also fast food restaurants offering traditional Japanese cuisine. Read on for a complete overview of fast food in Japan, including sushi, curry, and more!

Fast Food in Japan: Then and Now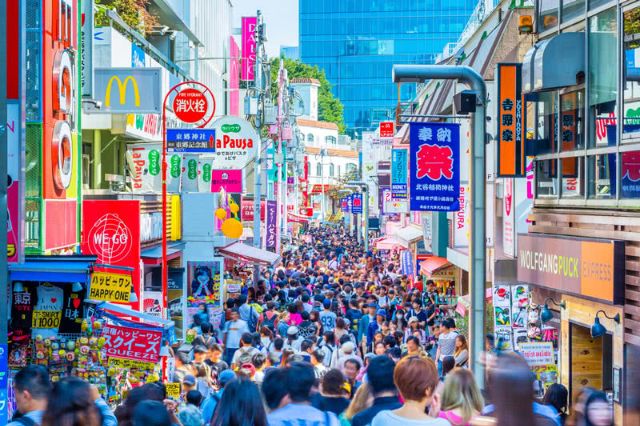 Given how busy the typical Japanese workday tends to be, it's not surprising that fast food should be so ubiquitous. Workers want a quick bite to chow down during their lunch break, and they want variety while doing so. Japan's urban geography helps: a relatively heavy population density and train-centered commuting patterns mean that the train station is an important center of commerce. This allows chain restaurants to gain a wide customer base by setting up locations near commuter stations.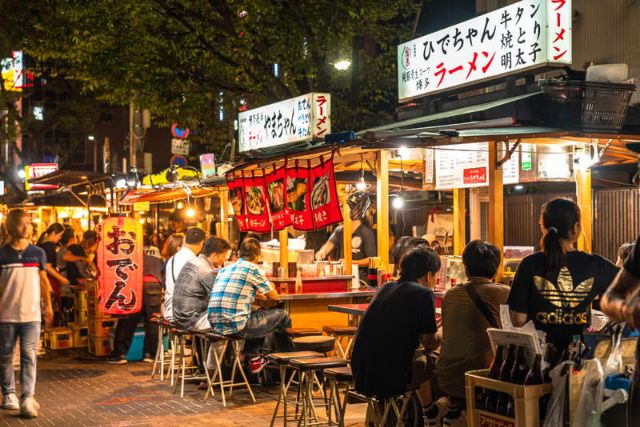 The idea of casual, speedy dining existed in the Edo Period (1603-1868), when there were stalls serving warm noodles and tempura to day laborers. But fast food as we would recognize it today arrived in the postwar period of economic growth, with the arrival of international giants KFC (in 1970) and McDonald's (in 1971). Local businessmen joined in on the action and founded Lotteria and Mos Burger in 1972. Burgers caught on, both for the practical reason of a reliable and filling meal for a low price, as well as the postwar cultural fascination with everything American. It was also in the 1970s that conveyor-belt sushi gained nationwide popularity.

Popular Types of Fast Food in Japan
For most of the Japanese foods you've heard of, there are likely to be fast food restaurants that offer it quickly and inexpensively. Here is an introduction to Japan's various fast food cultures!

American-Style Fast Food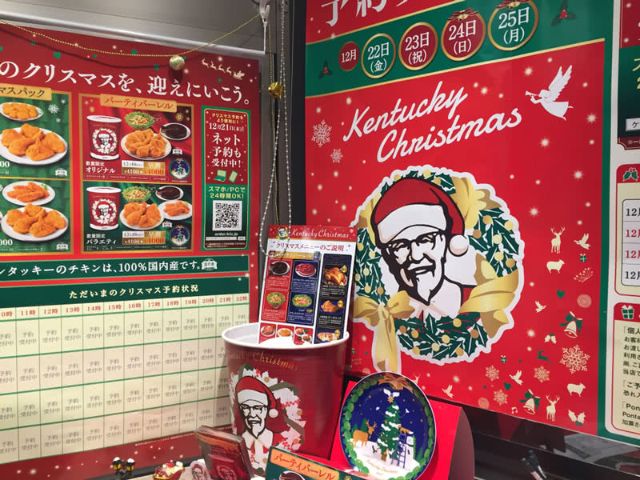 In English, "fast food" tends to be synonymous with burger chains like McDonald's and Burger King. Indeed, these burger chains have found a home in Japan's fast food scene as well. McDonald's is one such example, and it holds immense popularity in Japan.

Of course, there's far more than just burger chains. Kentucky Fried Chicken is the other main international import that's so popular, the Japanese eat it on Christmas Eve instead of turkey or ham. You can even find international pizza chains like Domino's Pizza and Pizza Hut in Japan! These international fast food chains will often carry menu selections that you can only find in Japan or that use local ingredients.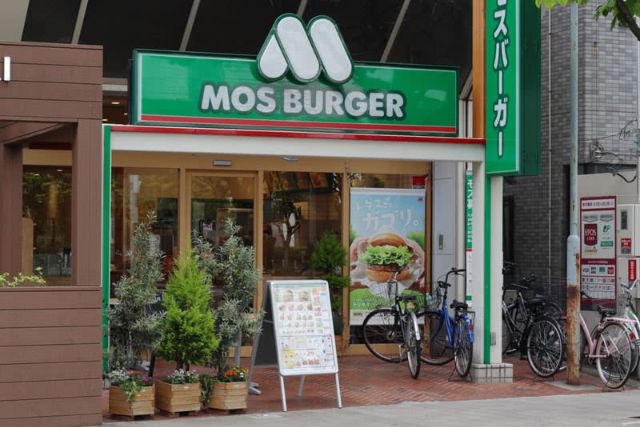 There are also Japanese burger brands that you're likely to encounter here. Lotteria, Mos Burger, and Freshness Burger are the three with the most locations, and they have all developed their own unique menus in order to stand out from not just the other Japanese fast food chains, but international ones, too. Again, there are far more than just burger places; you will find a whole host of other American-style fast food chains that don't serve burgers and are actually Japanese in origin!

Donburi Chains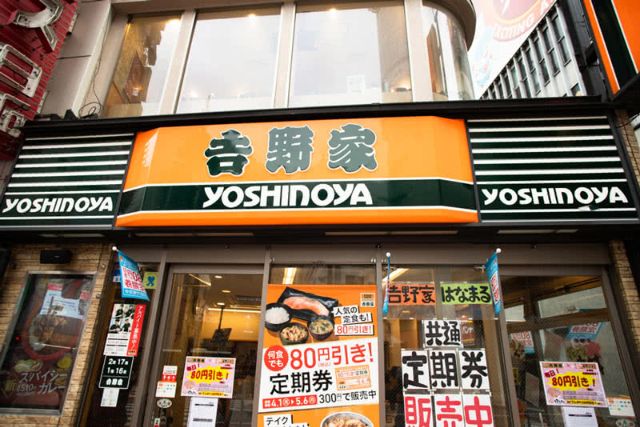 You don't have to walk very far in a Japanese city before coming across a Yoshinoya, Matsuya, or Sukiya. These are the three big beef-bowl chains in Japan, and they all offer filling donburi (rice bowl dishes with toppings) at very low prices, with rapid service. Some are even open 24 hours a day!
Donburi is not exclusive to beef bowls
, so it makes sense that there are more donburi chains out there with an equal amount of fame. Tenya is a famous tempura-bowl chain, and Katsuya is renowned for their rice bowls topped with giant chunks of delicious, crispy pork cutlets. There's also Nakau, a Japanese fast food chain known for their oyako-don, a dish that consists of rice topped with chicken and eggs. If you walk around a big city in Japan, you're bound to find at least one donburi chain restaurant in every neighborhood you visit, so pay them a visit to try some Japanese-style fast food!
Noodles (Ramen, Udon, and Soba)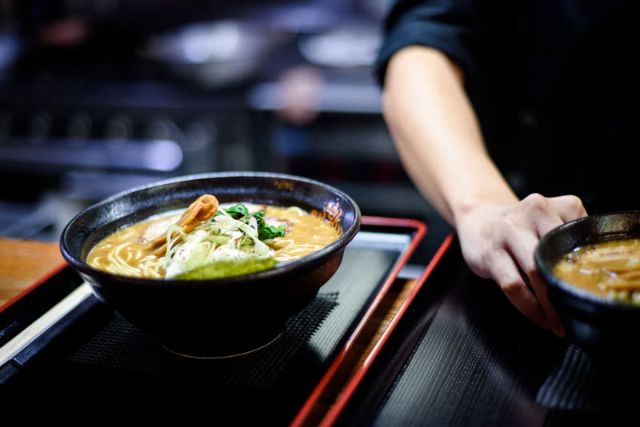 Ramen
hardly needs introduction. It has become famous worldwide, both as a gourmet item and also as an inexpensive lifeline for college students on a tight budget. In Japan, you can find both trendy, high-quality, independent outlets as well as less expensive chain restaurants. However, ramen tends to straddle the boundary of fast food. Sure, it's surprisingly quick to arrive at your table, but given the complexity of assembling a proper bowl of ramen, chain restaurants don't have a significant time or cost advantage over their pricier counterparts.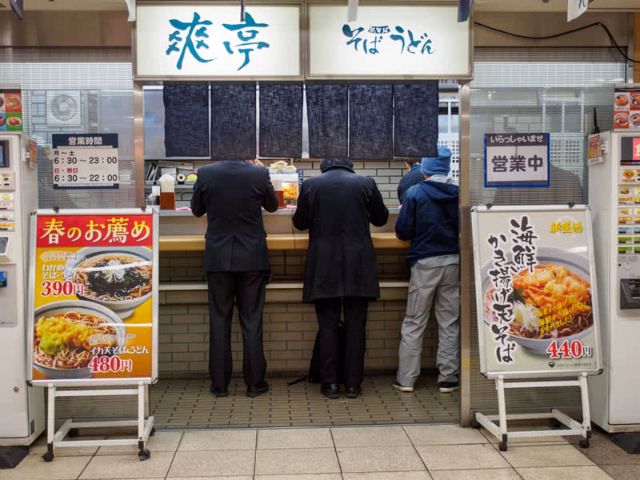 Soba
(thin buckwheat noodles) and udon (thicker wheat-flour noodles) are a different story. They are significantly simpler, typically consisting of the noodles, broth, some scallions, and a topping of your choice. As such, they are significantly faster to put together and usually under 500 JPY. Their affordability, tastiness, and versatility—they are excellent both hot and cold—are why they are the staple fast food in Japan, and the most common type of eatery to be found within train stations.
Conveyor-Belt Sushi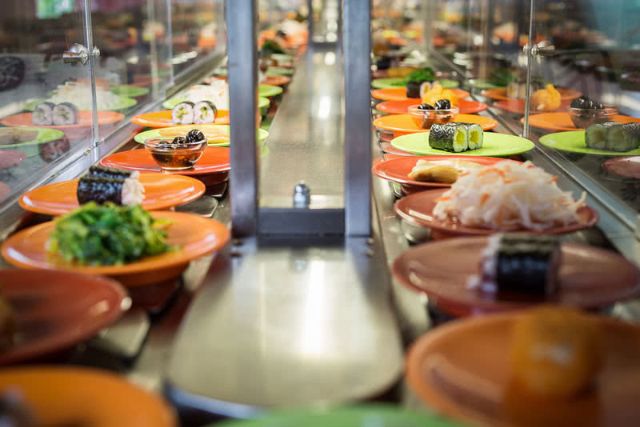 Conveyor-belt sushi, an invention of the 1950s, allows chefs to offer sushi items to a much larger crowd of people while greatly cutting down on waiting time. Conveyor-belt chains such as Sushiro have led to its proliferation across Japan, resulting in what was once a fancy food eaten during special occasions taking on the role of a more casual and common food.

And Even More!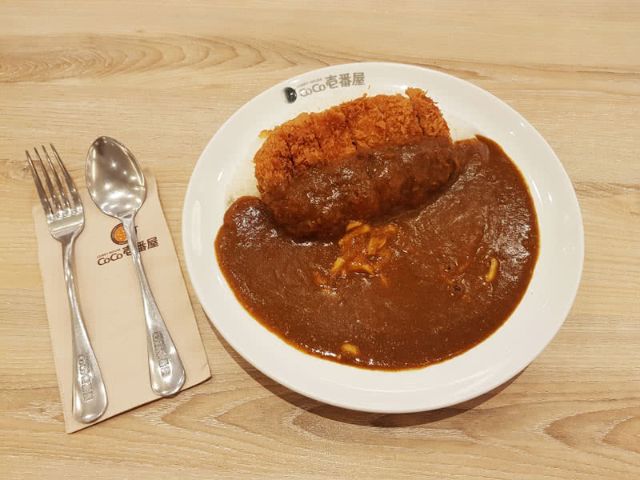 Curry is another dearly beloved comfort food in Japan, having been brought to Japan from India by way of the British Navy. Indian curries come in a dizzying array of ingredients and flavors and colors, but
Japan's curry
culture has broadly standardized around what is essentially a thick, velvety stew that isn't excessively spicy and is always served over rice, although restaurants offer spicier variants for more daring customers. One popular fast food chain in Japan for curry is CURRY HOUSE CoCo ICHIBANYA, beloved by locals and tourists alike.
Yakitori
and
kushikatsu
, two types of Japanese foods consisting of grilled or fried ingredients on skewers, are also considered a type of fast food when eaten at chain restaurants such as Torikizoku. Then there's gyoza, or dumplings in English. Though they are not commonly thought of as a fast food overseas, in Japan, there are plenty of brands that focus on serving them by the platter as fast as possible, such as OHSHO. The list goes on and on, but to put it succinctly, in Japan, there's a surprisingly wide variety of foods that are considered fast foods, and it's worth your while to try them!
The Most Popular Fast Food Chains in Japan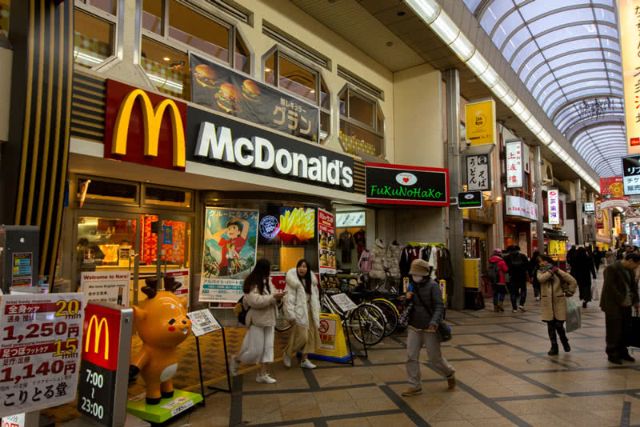 By any measure, McDonald's is the king of Japanese fast food, with a whopping 2,900 branches nationwide. Far behind in second place is Sukiya, with over 1,900 locations in Japan. Also in the 1,000-location club are Mos Burger and KFC, the beef-bowl chain Yoshinoya, noodle brand Marugame, and Coco Ichibanya. Missing from this list of giants are sushi and ramen locations: you'll have to go further down the list to find sushi chains Sushiro, Hama-Sushi, and Kura-Sushi or ramen/gyoza chains OHSHO and Ringer Hut.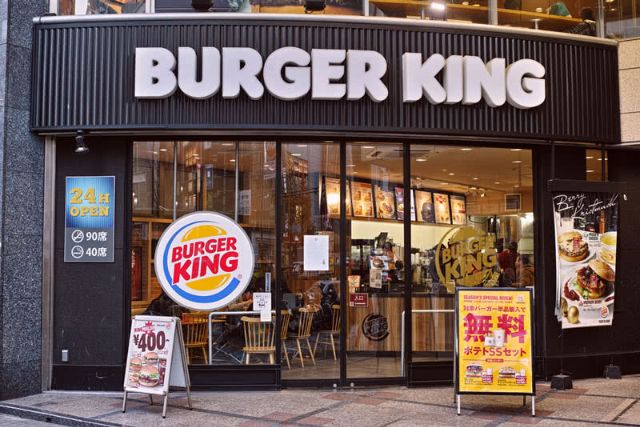 Notably absent from this article so far is Subway, which by some accounts rivals McDonald's for the largest number of stores in the whole world, but which has struggled to gain a foothold in Japan since first arriving in 1992. Burger King, a worthy rival to McDonald's in North America, is a niche phenomenon in Japan, marketing itself as an upscale alternative.

Recommended Restaurants for Japanese-Style Fast Food
Fast food is often associated with large chain stores, but this isn't always the case. Plenty of independent eateries offer excellent meals quickly and cheaply. Try Japanese fast food at these four restaurants!

Nagoya Kochin Oyakodon Tori Shimizu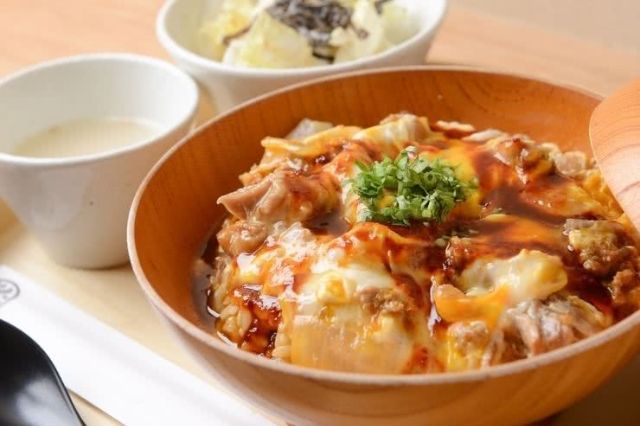 Nagoya Kochin Oyakodon Tori Shimizu is obsessed with achieving the perfect version of the oyako-don. Originally a menu item from the Mizutaki Shimizu restaurant in Tokyo, their oyako-don received such acclaim that they set up a whole new restaurant to specialize in that dish! They insist that both chicken and egg come from Nagoya Cochin chickens, and an excellent way to taste the difference is with the Nagoya Cochin Oyako-don (1,430 JPY). Notice the umami (Japanese savory taste) of the chicken's miso flavoring, as well as how well the egg pairs with the rice.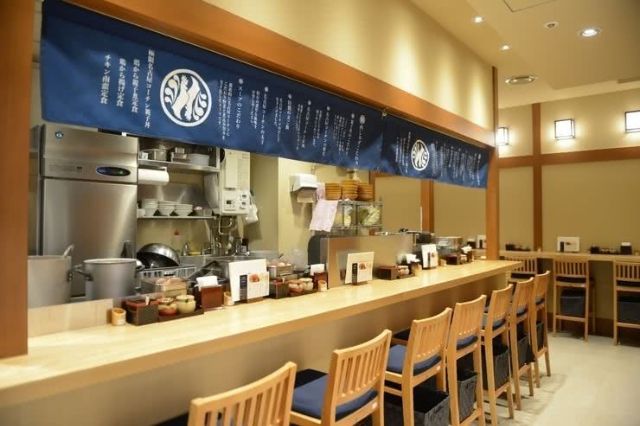 Tori Shimizu is conveniently located just across the street from Nagoya Station. The restaurant has a warm, wood-based design and only has counter seats, so feel free to stop by even if you're by yourself!

Nagoya Kochin Oyakodon Tori Shimizu
Open
:
11:00 am - 11:00 pm (L.O. 10:00 pm)
Closed
:
None
Average price
:
[Dinner] 1,000 JPY / [Lunch] 1,000 JPY
Access
:
1- 5 minutes walk from Nagoya Station on any line
Address
:
B1, 3-28-12 Meieki, Nakamura-ku, Nagoya, Aichi
Map
More Details
   Reservation   
Daiki-Suisan Kaiten-Zushi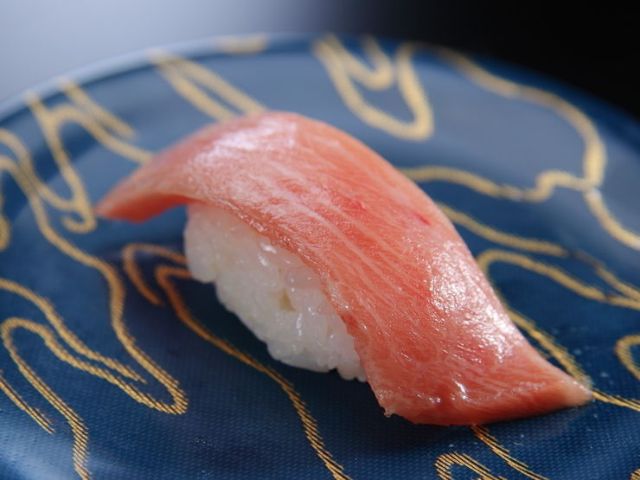 If you're in Kyoto and looking for a high-quality sushi restaurant that doesn't break the bank, look no further than Daiki-Suisan Kaiten-Zushi. Not only does this restaurant pick out only the best ingredients, but it has its own distribution system so that it gets fresh fish selections from across the country. Despite this, items are affordable, starting at 100 JPY. One choice worth splurging for, however, is the Fatty Pacific Bluefin Tuna (500 JPY (plus tax)), which will melt deliciously in your mouth with just one bite.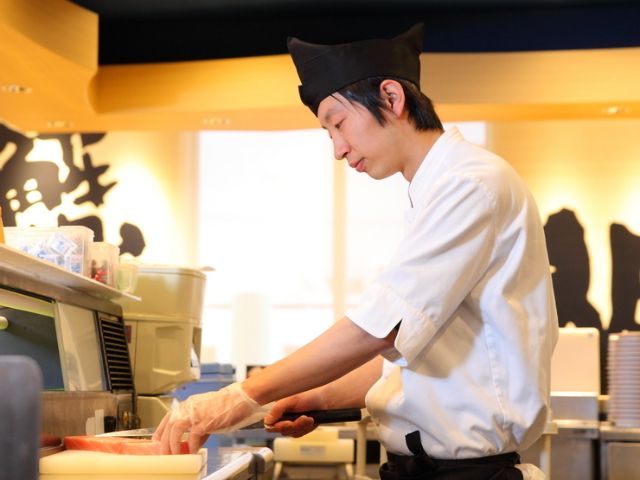 It's hard to believe that a dining experience of such refinement could be considered fast food—but service is fast, and the average bill is only 1,400 JPY per person. It is located in Kyoto Tower, right next to Kyoto Station, so you can stop by just before heading out for sightseeing or after you're done.

Daiki-Suisan Kaiten-Zushi
Open
:
11:00 am - 11:00 pm
Closed
:
-
Average price
:
1,400 JPY
Access
:
2 minutes walk from the central exit of JR Kyoto Station, in Kyoto Tower
Address
:
721-1, Higashishio-Koji Cho, Karasuma Dori Shichijo Sagaru, Shimogyo-ku, Kyoto-shi, Kyoto 
Map
More Details
   Reservation   
Souan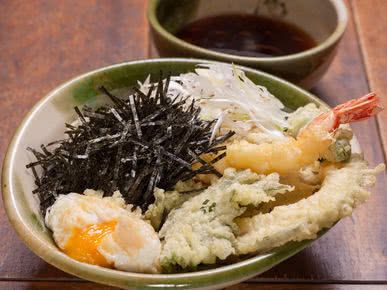 Souan is a much more upscale version of the typical Japanese soba joint, although still offering low prices. Using its in-house millstone, Souan prepares "juwari soba", which is made purely from buckwheat (whereas most soba includes a small proportion of wheat flour). The buckwheat, in turn, is sourced from the leading prefectures for buckwheat production. Try to combine their soba noodles with their excellent tempura, prepared on the spot, by ordering the Ten Seiro Soba.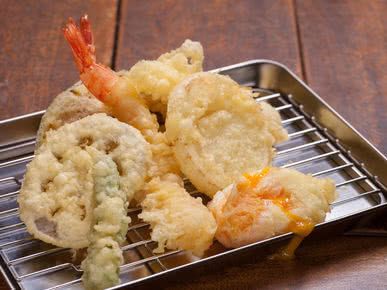 Souan is located in Kyoto Tower, just next to Kyoto Station. The restaurant also has an excellent selection of sake (Japanese alcohol), which is something to look forward to if you visit for dinner!

Souan
Open
:
11:00 am - 11:00 pm
Closed
:
-
Average price
:
-
Access
:
2 minutes walk from the central exit of JR Kyoto Station, in Kyoto Tower
Address
:
721-1, Higashishio-Koji Cho, Karasuma Dori Shichijo Sagaru, Shimogyo-ku, Kyoto-shi, Kyoto 
Map
More Details
   Reservation   
Gyoza-Dokoro Sukemasa Kyoto Tower Sando Branch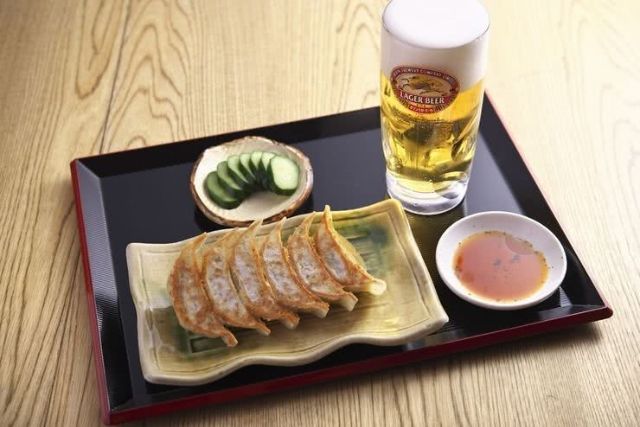 While gyoza is often seen as an accompaniment to ramen, when made by the right chefs, it can be a delicious treat on its own. Gyoza-Dokoro Sukemasa Kyoto Tower Sando Branch is one such restaurant which offers Japanese-style gyoza seasoned with bonito broth and a gentle miso. Try it the classic way—pan fried—by opting for the popular Beer Set (850 JPY)! Those looking for a less common experience should try the Boiled Gyoza (680 JPY), which provides an entirely different texture and taste.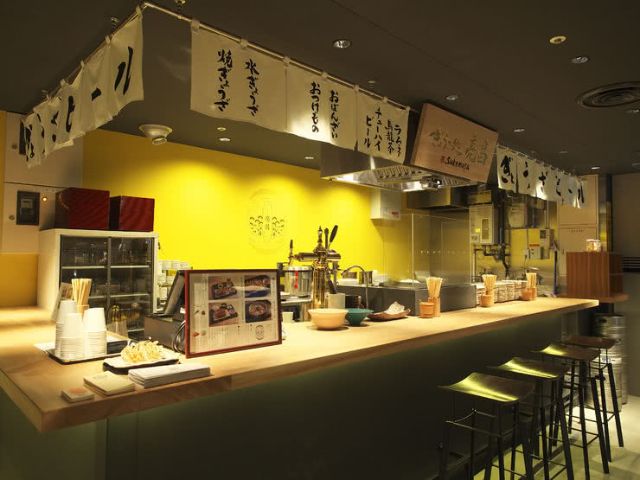 The restaurant offers counter seating, while its decor balances a traditional wood design with a sleek, clean finish. If you're near the Kyoto Tower but not looking for a full, hefty meal, this restaurant is the way to go!

Gyoza-Dokoro Sukemasa Kyoto Tower Sando branch
Open
:
11:00 am - 11:00 pm
Closed
:
None
Average price
:
[Dinner] 1,000 JPY / [Lunch] 800 JPY
Access
:
2 minutes walk from the central exit of JR Kyoto Station, in Kyoto Tower
Address
:
721-1, Higashishio-Koji Cho, Karasuma Dori Shichijo Sagaru, Shimogyo-Ku, Kyoto 
Map
More Details
   Reservation   
Not only is it impractical to eat primarily at formal, sit-down restaurants, but they don't necessarily reflect how the local population eat. If you want to eat like a Japanese during your stay, look through our fast food suggestions above!

Disclaimer: All information is accurate at time of publication.