Publish-date: Dec 28 2018 Update-date: Jun 04 2020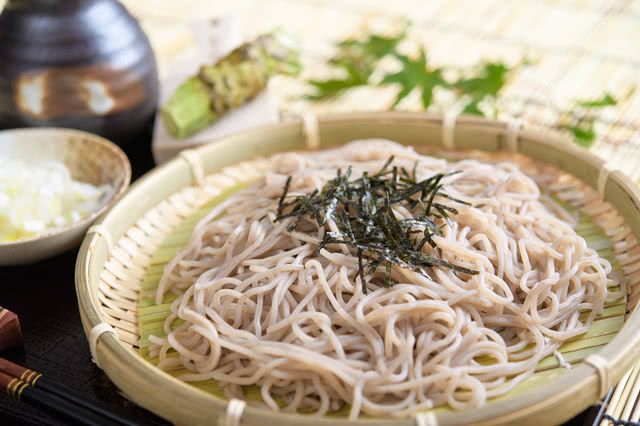 If you're looking for a quick and easy meal in Japan, have soba (buckwheat noodles), one of Japan's first "fast foods." Here are some tips on how and where to eat this noodle dish with that all Japanese are familiar.

What Is Soba?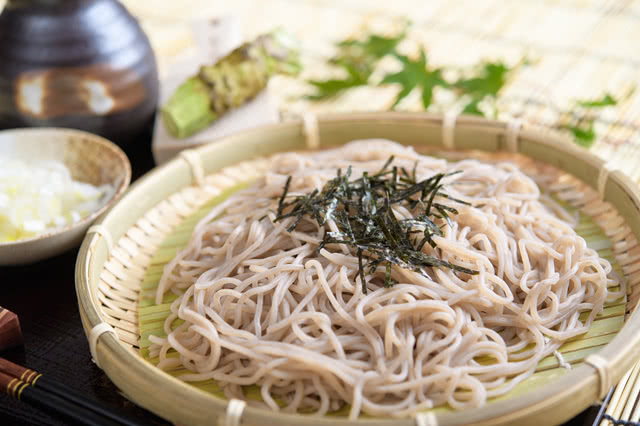 You can't leave soba off any discussion about Japanese food culture. Soba refers to thin noodles made from a dough of water and buckwheat flour, milled from buckwheat seeds. Once boiled and drained to firm them up, they can be consumed with a cold tsuyu (sauce) and condiments, or in a hot soup. They're quick and easy to eat, so they're considered to be one of the first fast foods of Japan.

- Nagano Prefecture, the Soba Mecca
You can have soba anywhere in Japan, but Nagano Prefecture is particularly famous as the soba mecca of Japan. Since long ago, it has been flourishing thanks to buckwheat cultivation, and most areas of this prefecture have their own unique version of soba. Nagano's Togakushi soba is among Japan's top 3 soba varieties, together with Shimane Prefecture's Izumo soba and Iwate Prefecture's Wanko soba.

- Soba Tastes Different in Kanto and Kansai?!
Kanto and Kansai use different types of dashi (broth): dashi with deep color and flavor that's based off katsuobushi (dried tuna flakes) is the most common in Kanto, while in Kansai, the flavor is given by kombu (kelp), resulting in more light and clear broth. Try them both to compare them and pick your favorite!

Types of Soba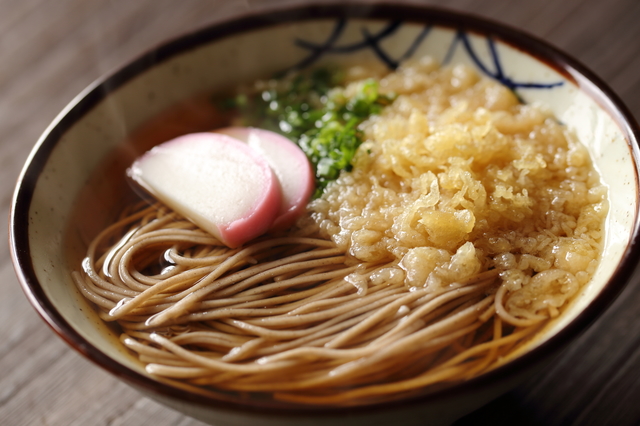 There are countless varieties of soba that vary regarding ingredients and eating styles. Here is a list of the most common types you can find on the menu of a soba restaurant.
- Kake Soba
This kind of soba is simply served with just hot dashi. Sometimes you may add tenkasu (tempura bits), scallions, or other condiments.
- Zaru Soba
You eat this type of soba cold with tsuyu (dipping sauce), and the noodles are served on a zaru (bamboo basket). Most restaurants top this dish with shredded nori (seaweed). The name changes according to the ingredients and what tableware it's served in, so you will sometimes see this called "Mori soba" or "Seiro soba."
- Tanuki Soba
Usually, this dish consists of kake soba topped with tenkasu. However, you'll find different ingredients being used depending on the region: in Osaka, the word "tanuki" refers to a sweet boiled abura-age (thinly sliced and fried tofu), while in Kyoto, the noodles are topped with shredded abura-age and dressed with ankake (a thick starchy sauce).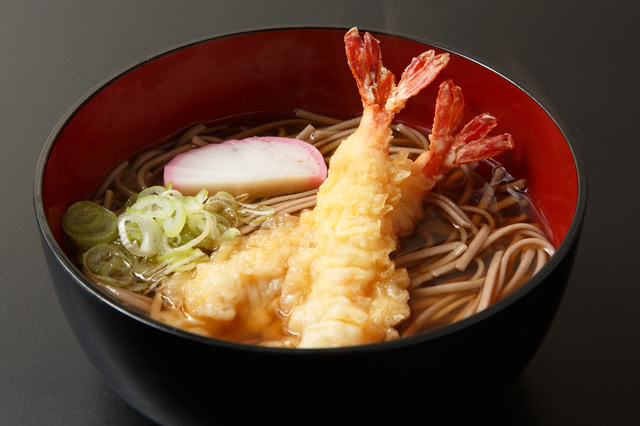 - Tempura Soba
As simple as it sounds, this type of soba refers to kake soba topped with tempura. Usually, it's shrimp tempura.

- Kakiage Soba
Kake soba (simple soba with hot dashi) with kakiage (tempura fritter made by mixing batter with finely-cut seafood and vegetables) on top is called Kakiage Soba.

- Tororo Soba
Tororo is grated yam, and it's used to enrich the tsuyu you dip this variety of cold soba into. A different version consists of kake soba topped with grated yam or soaked in a tororo-based dashi (also called "Yamakake soba"). Sometimes, this soba comes topped with egg yolk or a raw quail egg.

- Okame Soba
On kake soba, you'll get kamaboko (fish paste cake), nori, greens, shiitake mushrooms, and other ingredients arranged in the shape of an okame mask (used in Kagura, a ritual dance dedicated to the Shinto deities).

- Kamo Nanban Soba
Here, kake soba is topped with scallions and duck (kamo) meat boiled in tsuyu. This dish is also called by the abbreviation "Kamonan."

How to Eat Zaru Soba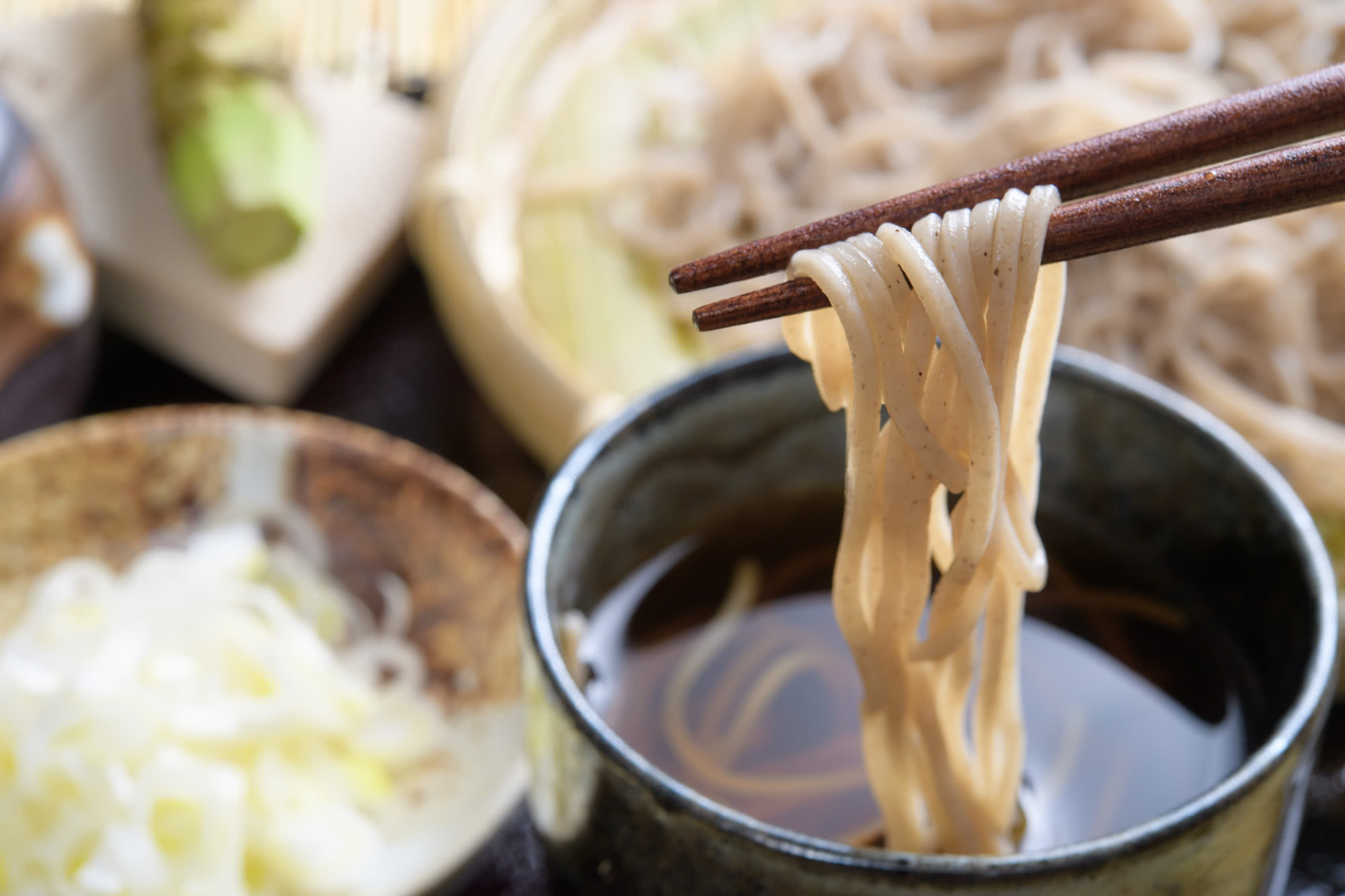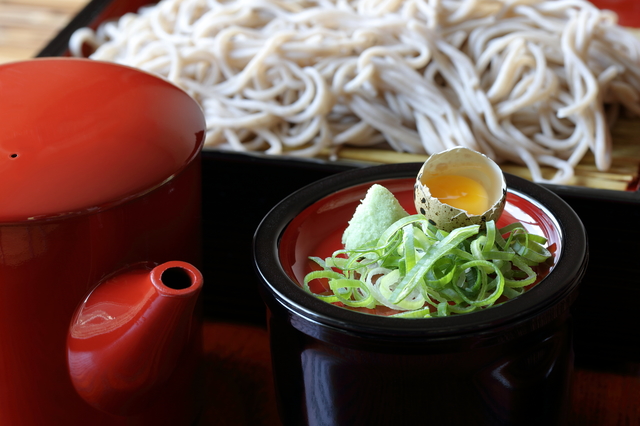 If you order zaru soba, you'll be served soba and tsuyu separately, so it may be bit confusing for first-timers. However, there's no need to worry if you read this explanation on how to properly eat this dish! The instructions include several tips on how to best relish the flavor of soba, like adding condiments in the middle of the meal and not dipping too much of the noodles into the tsuyu.

1. Don't add condiments when taking the first bite
Zaru soba usually come with condiments, but in the beginning, simply dipping the noodles in tsuyu will allow you to taste their original flavor.

2. Be careful not to use too much tsuyu!
Pick a bite-sized amount of soba with your chopsticks and dip only the lower half of the noodles in the tsuyu. When dipped in tsuyu, the noodles will stretch out and break apart in no time, so once you put them in your mouth, suck in all the noodles instead of biting them off. If you want, you can hold the cup of tsuyu under your chin while doing so.

3. Try to add condiments
Now that you've experienced the authentic flavor of soba, find out how the noodles taste with condiments like scallions or wasabi. You can add them to the tsuyu, but the ideal way to enjoy the combination of flavors is to top them on the noodles.

4. Drink the soba soup
Depending on the restaurant, when you're finished eating your noodles, you may be served "soba-yu". This is the broth that the noodles were boiled in, and it's full of precious nutrients. You may either drink it as is, or mix it with the remaining tsuyu.

- If it's served with tempura on the side...
When you order zaru soba with tempura, you can dip tempura in the tsuyu as well. Alternatively, some restaurants provide a special tsuyu for tempura or salt as extra seasoning.

Are There Rules on Eating Soba?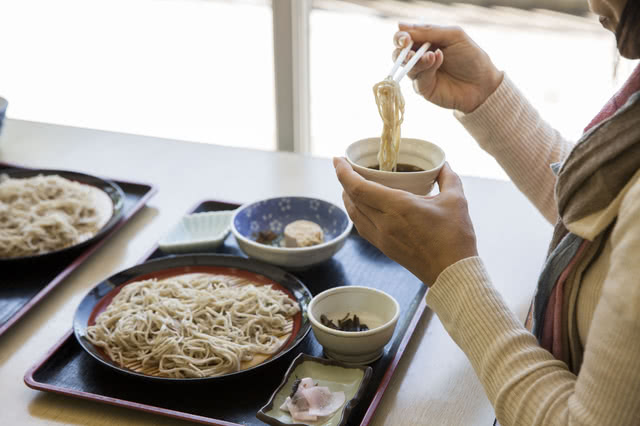 There are no strict rules about eating soba, but as a matter of principle, you shouldn't stay too long in a soba restaurant. Eat your noodles before they grow soggy and leave when you're done. 
Also, they taste better if you suck them all in instead of cutting them off with your teeth. Don't worry if you make a slurpy sound - it's totally acceptable. Slurping allows the aroma of the soba to move from your throat to your nostrils, making the noodles taste even more delicious.

How to Enjoy Soba Restaurants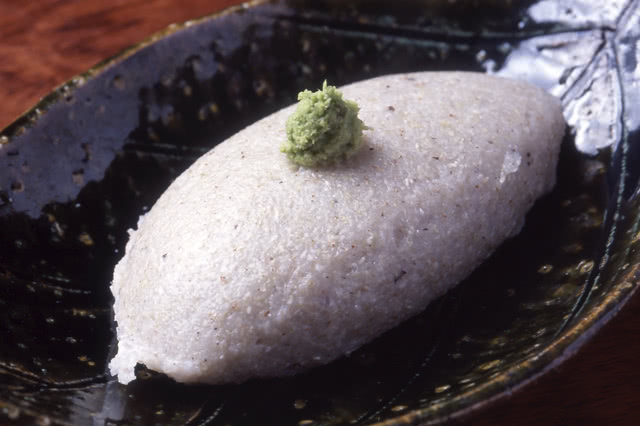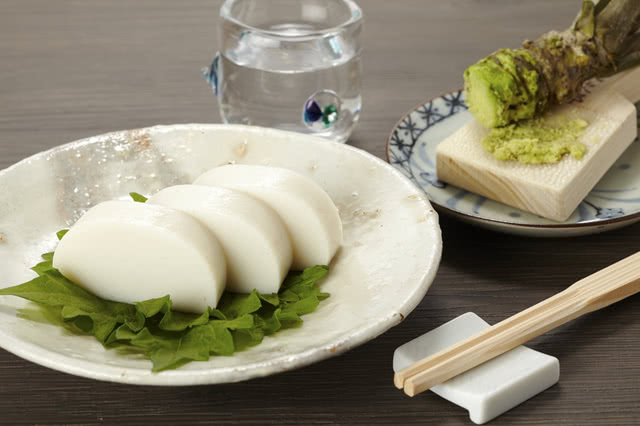 Many soba restaurants also serve a-la-carte-dishes that go very well with sake, so you can order some together with a cup of sake before you eat your soba. 
For example, sobagaki is a dough made from buckwheat flour and hot water that you eat by dipping it into soy sauce or tsuyu. It allows you to genuinely enjoy the flavor and aroma of buckwheat. Other classics are ita-wasa, which is thinly-sliced kamaboko dressed with wasabi and soy sauce; tamagoyaki (Japanese omelet) made with the same dashi or tsuyu for the soba; grilled duck, tempura, and so on.

Unmissable Soba Spots You Have to Try at Least Once
1. The 150-Year-Old Soba Restaurant "Edo Soba Teuchidokoro Asada" (Asakusabashi)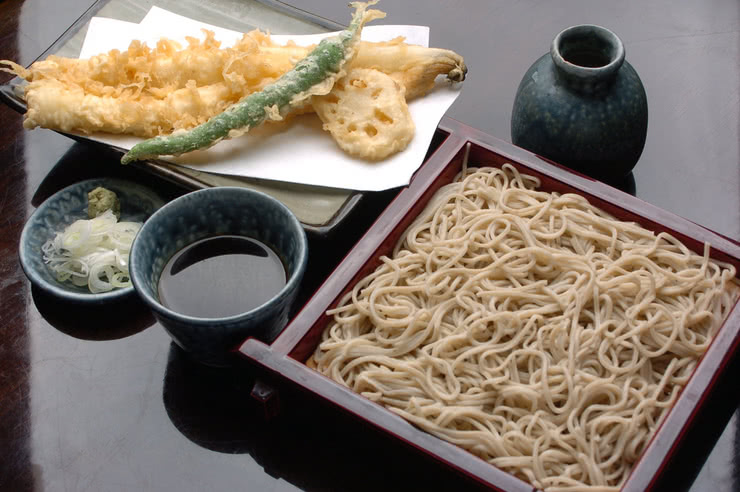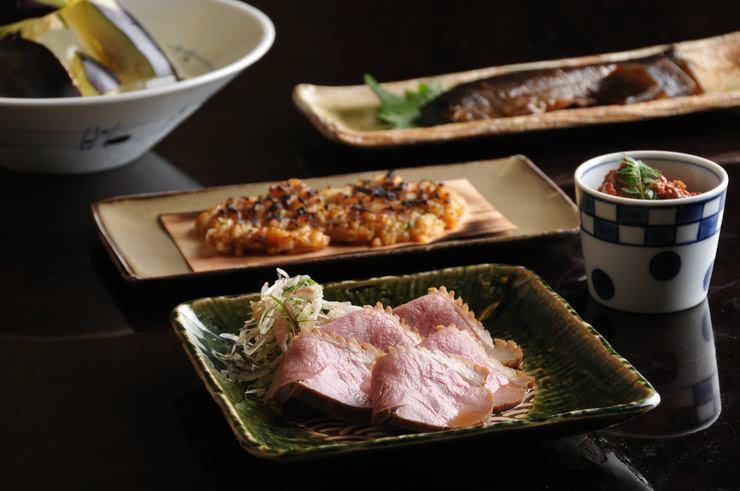 Edo Soba Teuchidokoro Asada was established in Asakusabashi, Tokyo, in 1854. They use a homemade flour to make their juwari soba (soba made with 100% buckwheat flour). If you need a recommendation, try the [Seiro Soba], the restaurant's signature dish ever since its opening. You'll love the texture and smoothness of their soba, together with their secret tsuyu. Another popular one is the [Anago Ten Seiro], which includes eel tempura with a crispy batter and fluffy meat. There are also several snacks like the fragrant [Asada Miso Sugiita-yaki]. Made by grilling a combination of seasonal potherbs, buckwheat seeds, and special miso, it matches divinely with alcoholic drinks!

The 150-Year-Old Soba Restaurant "Edo Soba Teuchidokoro Asada"
Open
: [Weekdays] Lunch 11:30 am - 2:30 pm, Dinner 5:30 pm - 10:00 pm (L.O. 9:00 pm)
[Saturday] Lunch 11:30 am - 2:30 pm, Dinner 5:30 pm - 9:00 pm (L.O. 8:00 pm)
Closed
: Sunday, National Holidays
Average price
: [Dinner] 6,000 JPY / [Lunch] 1,300 JPY
Address
: 2-29-11, Asakusabashi, Taito-ku, Tokyo
Map
More Details
 Reservation 
2. Enjoy Soba and Sake at Ishiusubiki Soba Ishizuki (Nagoya)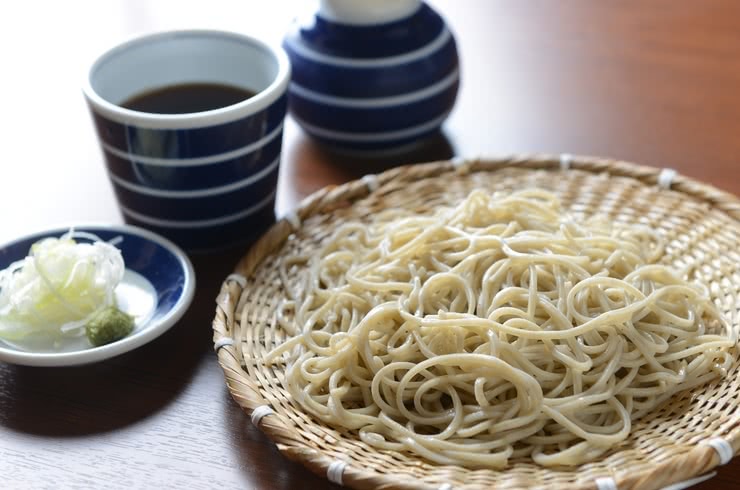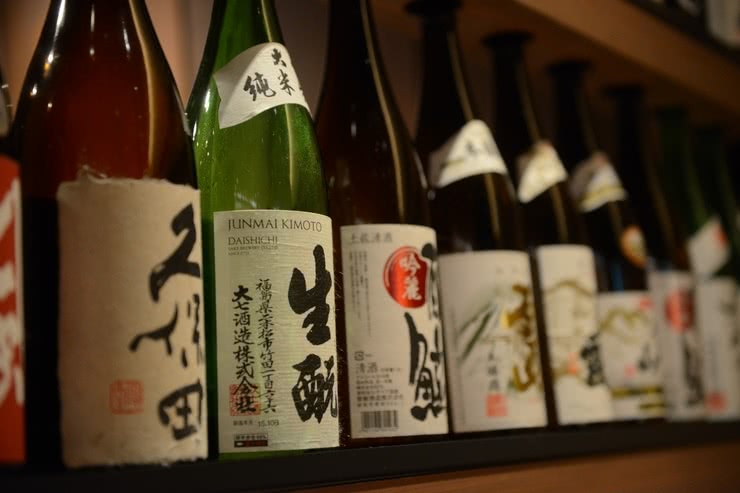 This is the Nagoya branch of Ishizuki, a popular restaurant in Marunouchi, Tokyo. Just a 3-minute walk from Nagoya Station, it offers delicious soba that has been freshly kneaded, pulled, and boiled. They use homemade buckwheat flour that they stone-mill on site every morning using the best buckwheat seeds available in the current season, stocked from contract farmers in Fukui, Ibaraki, and other parts of Japan. Their tsuyu truly brings out the aroma of buckwheat thanks to its light and not-too-sweet flavor. Starting from dashi-flavored [Tamagoyaki], the menu also includes lots of a-la-carte options and snacks to enjoy with alcohol. Plus, there's a varied lineup of sake, with a focus on brands from buckwheat cultivation areas.

Enjoy Soba and Sake at Ishiusubiki Soba Ishizuki
Open
: 11:00 am - 11:00 pm (L.O. 10:00 pm)
Closed
: None
*Except for New Year's Day and any of the facility's closing days
Average price
: [Dinner] 3,000 JPY / [Lunch] 1,000 JPY
More Details
3. Soak in the Downtown Atmosphere of Kanda Matsuya (Awajicho)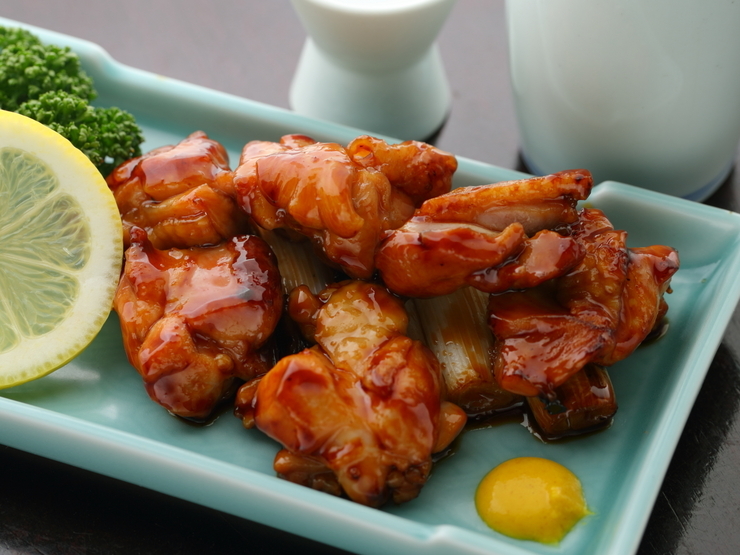 Founded in 1884, this is a lively and well-established restaurant located in Kanda, one of the most atmospheric downtown areas of Tokyo. In its interiors that show vestiges of when it was first built, you'll be offered incredibly smooth hand-pulled soba made from stone-milled buckwheat flour. They have a working space in the back of the restaurant with a glass window from which you can get a peek of the staff pulling the noodles. The most highly recommended menu item is the [Mori or Kake], which is prepared with a different amount of moisture according to the time of the day and the weather. The wooden bowl the dough is kneaded in gives the noodles an exceptional elasticity. Make sure you also try appetizers like [Sobagaki] or yakitori served with a sweet tsuyu-based sauce.

Soak in the Downtown Atmosphere of Kanda Matsuya
Open
: [Weekdays] 11:00 am - 8:00 pm (L.O. 7:45 pm)
[Saturday, National Holidays] 11:00 am - 7:00 pm (L.O. 6:45 pm)
Closed
: Sunday
Average price
: [Dinner] 2,000 JPY / [Lunch] 1,000 JPY
Address
: 1-13, Kanda Suda-cho, Chiyoda-ku, Tokyo
Map
More Details
4. Taste the Superb Soba of Teuchi-soba Taku (Hanakuma, Kobe)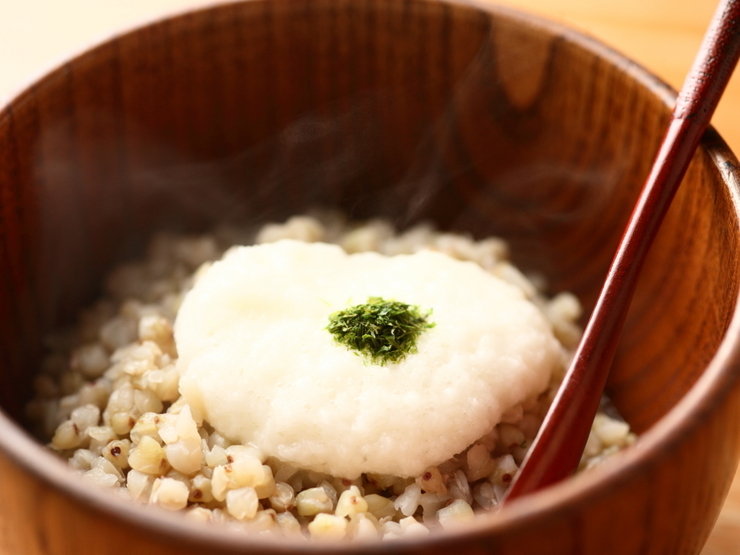 If you're in Kobe and in the mood for soba, head to Teuchi-Soba Taku in the Motomachi area. They have 2 types of soba: the [Black] is juwari soba milled from whole buckwheat seeds, while the [White] is made with peeled seeds. Apart from [Sobagaki] and [Tamagoyaki], they boast a large variety of a-la-carte dishes to pair with alcoholic drinks, like the [Sobagome Tororo-gake] wherein sobagome (dried skin peeled off of boiled buckwheat seeds) is cooked in their special dashi and topped with tororo.

Taste the Superb Soba of Teuchi-soba Taku
Open: [Monday, Tuesday, Thursday - Sunday, National Holidays, Day before National Holidays] Lunch 11:30 am - 2:30 pm, Dinner 5:30 pm - 9:00 pm
Closed: Wednesday
Average price: [Dinner] 2,500 JPY / [Lunch] 1,200 JPY
Address: 1F, No. 2 Nakano Bldg., 4-5-6, Motomachi-dori, Chuo-ku, Kobe-shi, Hyogo

If you're visiting Japan, use this article as a reference and try eating some delicious soba!

Disclaimer: All information is accurate at time of publication.