Publish-date: Aug 30 2023 Update-date: Aug 31 2023
One classic autumn sight in Japan is fields of colorful cosmos flowers swaying in the wind under a clear blue sky. In this article, we will feature some of the most picturesque cosmos fields in the country, as well as restaurants where you can savor delicious dishes after a quiet saunter through those cosmos fields.
Cosmos - One of the Highlights of Autumn in Japan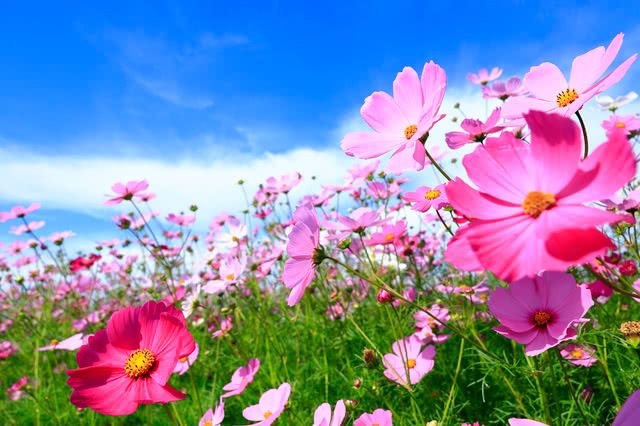 Cosmos flowers may be beloved by Japanese people as one of the staple autumn flowers in Japan, but did you know that they actually originated from Mexico and only came to Japan in the latter half of the 19th century?

The blooming period for these flowers varies depending on the region, but it is usually from June to November. They are grown all over Japan, so you can enjoy gorgeous cosmos fields across the country.
Cosmos Varieties in Japan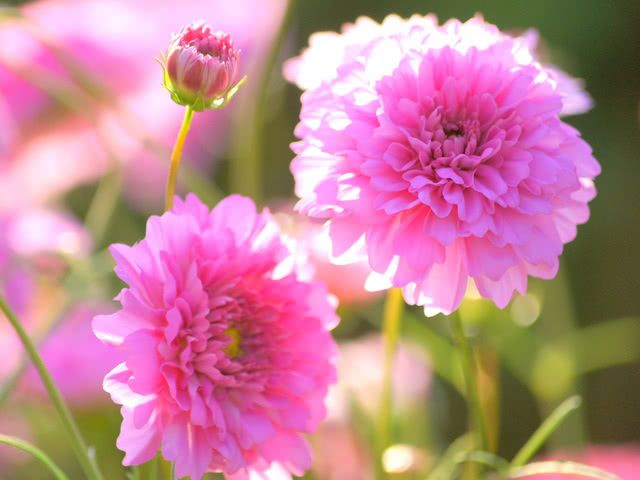 There are many varieties of cosmos, but the two main varieties that are grown in Japan for horticultural use are Cosmos bipinnatus and Kibana cosmos. The following cosmos flowers are some of the most common in Japan.

・Sensation
Sensation cosmos is the most popular variety among the common cosmos flowers. Sensation cosmos plants bloom around 70 days after their seeds are sown. They are known for their large flowers that measure about 10 cm in diameter and come in a variety of colors, such as dark red, white, and pink.

・Double Click
The Double Click is a rare double-blossom variety of cosmos with many petals that overlap each other. Their flowers are characterized by their voluminous and gorgeous appearance, and they bloom in various colors such as pink, white, and bright purplish red.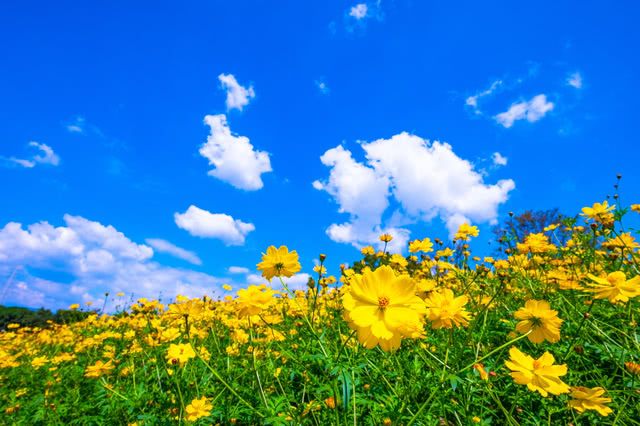 ・Kibana
Kibana cosmos are yellow and orange-colored cosmos flowers that are native to Mexico and were introduced to Japan in the early 20th century. Compared to the common cosmos, Kibana cosmos plants are shorter in height, and their flowers are slightly smaller. Their flowering period is also longer, lasting from June to January. You'd be happy to know that this particular cosmos variety is quite tolerant of heat, so you will be able to see beautiful Kibana cosmos flowers even during the summer!

The Best Cosmos-Viewing Spots in Japan
Here are some recommended spots where you can see beautiful cosmos fields in Japan.
[Yamanashi Prefecture] Hana no Miyako Park
Hana no Miyako Park is located on the banks of Lake Yamanakako, which is the closest lake to Mt. Fuji. Here, visitors can marvel at beautiful seasonal flowers blooming against the backdrop of the majestic Mt. Fuji.
At this park, the Kibana cosmos flowers come into full bloom starting around late August, while the common cosmos flowers reach their peak around mid-September, and you can enjoy both flowers until mid-October. The view of the cosmos fields, with more than 6 million cosmos plants carpeting the foot of Mt. Fuji, is truly stunning!
[Nagano Prefecture] Kurohime Green Garden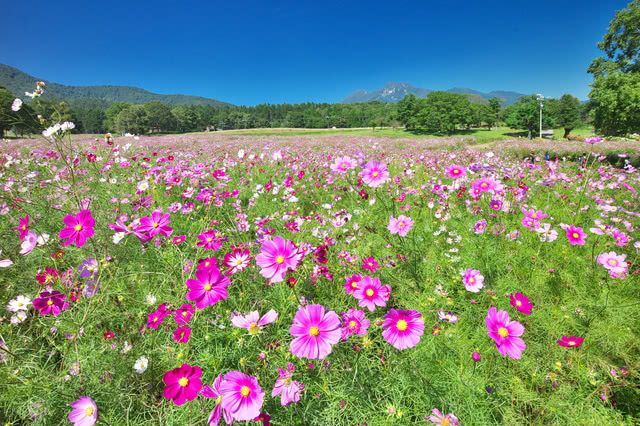 Kurohime Green Garden has cosmos fields stretching across the alluvial fan at the foot of Mt. Kurohime in northern Nagano. It is located on the eastern slope of the mountain, so the cosmos flowers at this garden bloom earlier than the common cosmos because the area gets fewer hours of sunlight as it does not get afternoon sun. Here, the best time to view the cosmos flowers is from late July to mid-September, when about 1 million cosmos of various varieties come into full bloom, including Sensation and Double Click cosmos flowers.
 
You can also get on the Panorama Lift and feel like you're walking on clouds while looking down on the cosmos fields below.

[Tokyo] Showa Kinen Park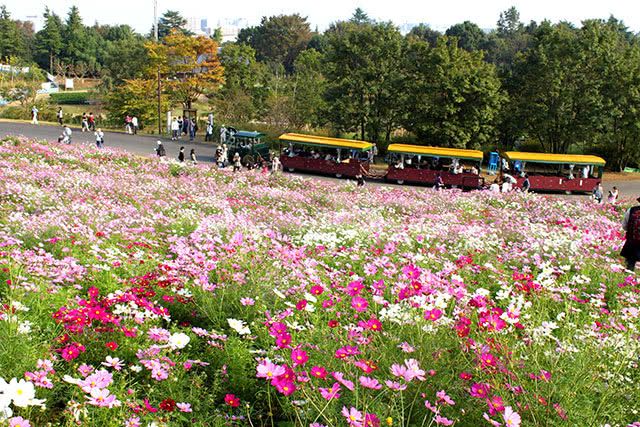 Located in the suburbs of Tokyo, Showa Kinen Park is a national park boasting beautiful seasonal flowers and various facilities throughout its vast grounds that people of all ages can enjoy.

This park is also famous for its cosmos plants, and every fall, visitors get to see the beautiful cosmos flowers that bloom at several locations within its premises, including the approximately 15,000 m2 Flower Hill and the Open Field. Here, you can enjoy Kibana cosmos flowers that start to bloom during the hot season and the large and gorgeous Sensation cosmos flowers.

One of the great things about this park is that the cosmos flowers here can be viewed from early September to early November, which is a relatively long period of time! The park usually holds the Cosmos Festival from September to October to coincide with the cosmos blooming season.

Recommended Restaurants Near Cosmos Fields!
Here are some restaurants near cosmos fields that you should definitely try if you want to relish delicious dishes before or after a stroll through breathtaking cosmos fields.
Izakaya Hokkai (Lake Yamanakako, Yamanashi / Izakaya)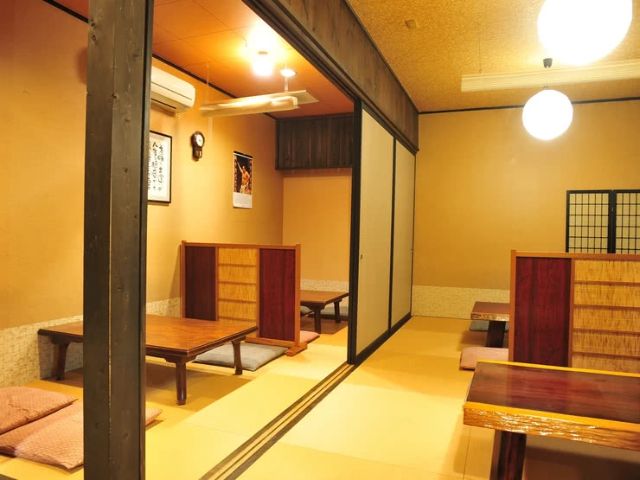 Izakaya Hokkai, located at the bank of Lake Yamanakako, is an izakaya pub where you can enjoy carefully selected alcoholic drinks and delicious food in a relaxed atmosphere. As it is situated along Lake Yamanakako, you can easily drop by after exploring the cosmos fields at Hana no Miyako Park.

This izakaya has both table and counter seating, as well as cozy Japanese-style floor seating, so you can enjoy your meal while resting your tired body after a long day of walking.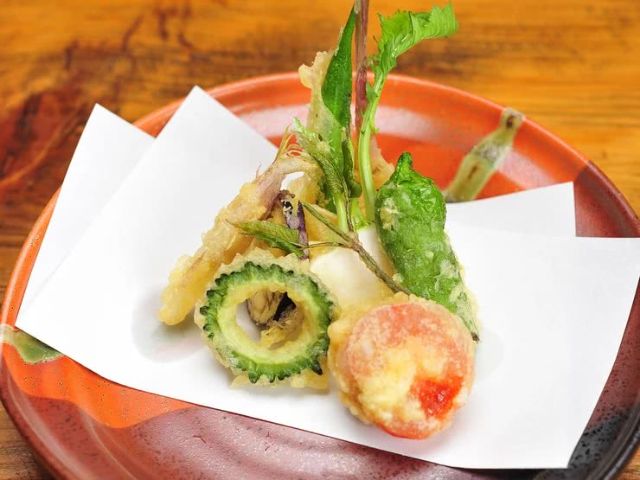 If you visit this izakaya, you must try the Summer Vegetable Tempura (700 JPY), which features deep-fried locally grown vegetables, and the Assorted Sashimi, which uses only the freshest seafood that is brought in daily. The savory, deep-fried tempura is especially exquisite!
A wide variety of grilled skewers is also recommended. You choose what you want to eat from the skewer case on the opposite side of the counter, and the chef will then grill your selection for you, so you can enjoy your skewers while they are piping hot.

Izakaya Hokkai
Open
:
[Monday, Wednesday - Sunday, National Holidays, Day before Holidays] 5:30 pm - 11:00 pm
Closed
:
Tuesday
Average price
:
[Dinner] 3,000 JPY
Access
:
Driving from Lake Kawaguchiko to Lake Yamanakako on National Route 138, it is on the right side. Driving from Shizuoka side to the direction of Lake Kawaguchiko on National Route 138, it is on the left side.
Address
:
226 Yamanaka, Yamanakako-mura, Minamitsuru-gun, Yamanashi
Map
More Details
   Reservation   
Japanese Cuisine Shunka (Nagano / Japanese)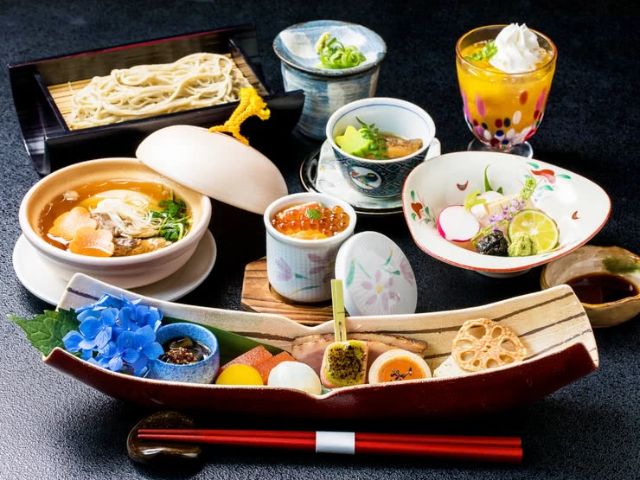 Located in front of the gates of Zenkoji Temple, one of Nagano Prefecture's most popular tourist spots, Japanese Cuisine Shunka serves Japanese kaiseki course cuisine that incorporates traditional local vegetables and branded meats from Nagano.

This restaurant is housed in a restored multistory building that was used as a guest house at the end of the 19th century, so guests can enjoy their meals in a relaxing atmosphere with an elegant vibe.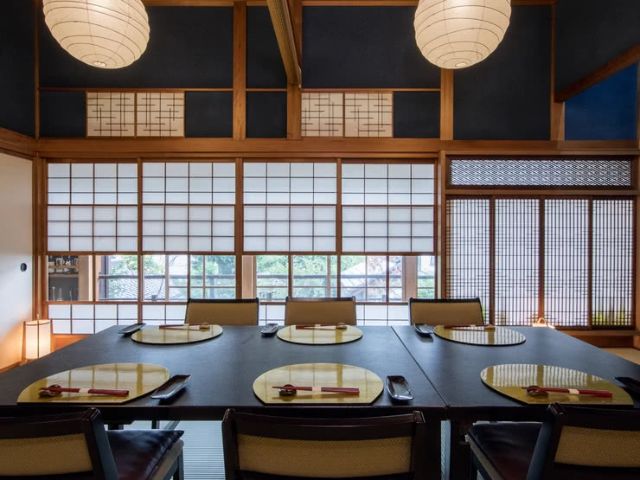 Japanese Cuisine Shunka only serves course meals. The kaiseki courses it offers are quite different from conventional kaiseki, in which numerous dishes are served in small portions, as it limits the number of dishes so that guests can better enjoy the dishes that are made with seasonal and local ingredients of the Shinshu region. Here, the chef wants to serve guests "an abundance of savory dishes," so every dish is bound to fill your heart and stomach!

Order the Kaiseki Omakase Course (starts at 12,000 JPY (incl. service charge)) and enjoy an alcoholic drink with your meal.

Note that the number of dishes, ingredients, and cooking methods vary depending on the course, so you can order according to your budget and appetite.
Enjoy a moment of luxury in this refined space surrounded by green trees!
Japanese Cuisine Shunka
Open
:
Lunch 11:30 am - 3:00 pm *Reservations are always required / Dinner 5:30 pm - 10:30 pm *Reservations are always required
Closed
:
Irregular
Average price
:
[Dinner] 10,000 JPY / [Lunch] 8,000 JPY
Access
:
5 minutes by car from JR [Nagano Station]
Address
:
Patio Daimon, 125 Higashi-machi, Nagano city, Nagano 
Map
More Details
   Reservation   
Steak&Lounge JB Tachikawa Main Branch (Tachikawa / Restaurant and Bar)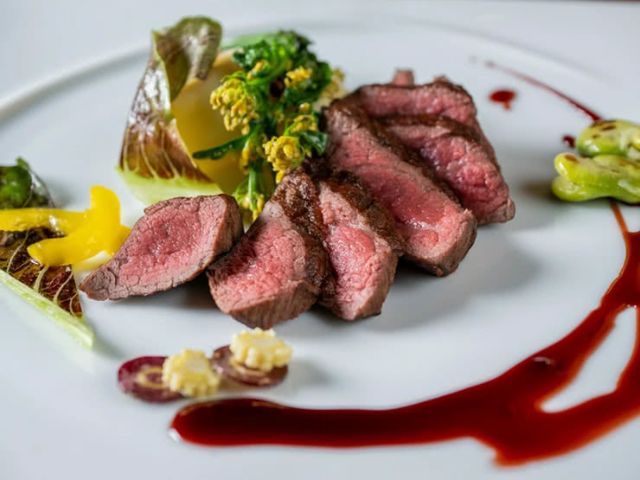 Steak&Lounge JB is a restaurant and bar that was designed to be a space where adults can unwind. Enveloped in a relaxing ambiance, this spot features tables that are spread apart, so you can leisurely savor your meal in a cozy atmosphere.

Here, you can enjoy dishes featuring rare wagyu beef, such as Miyazaki beef from Miyazaki Prefecture and Tankaku beef from Iwate Prefecture. It uses organic, low-pesticide, and natural ingredients such as vegetables and fish to add vibrancy to the meats that are the stars of the dishes. This restaurant and bar's wide array of dishes stand out not only for the delicious flavors of their ingredients but also for their beautiful colors and presentation, so they are also perfect for celebrating anniversaries.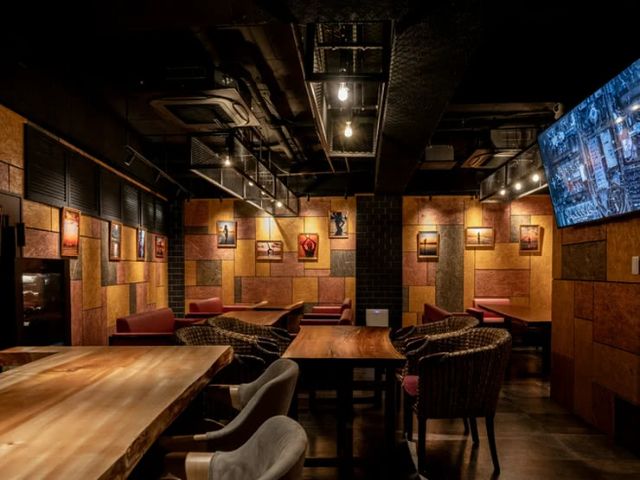 A must-try here is the Miyazakigyu Chateaubriand (starting at 6,800 JPY for 100g). This masterpiece is a rare kind of steak using the best-quality filet meat, and it is cooked slowly and carefully to keep it tender and bring out its original flavors.
There is an extensive selection of alcoholic beverages, including wine and whiskey, so you can enjoy your food with your favorite drink.
Steak&Lounge JB Tachikawa Main Branch
Open
:
[Tuesday-Saturday, National Holidays, Day Before National Holidays] Lunch 11:30 am - 3:00 pm (L.O. 2:30 pm) / Dinner 6:00 pm - 10:00 pm / Bar Time 10:00 pm - 3:00 am (L.O. 2:30 am)
Closed
:
Monday, Sunday
Average price
:
[Dinner] 7,000 JPY / [Lunch] 2,000 JPY
Access
:
From the North Exit of the Station, turn right at the intersection that connects National Route 16 and National Route 153, and then turn diagonally onto the road. After turning right at the first intersection, it will be on your left side
Address
:
B1F, Forte Bldg., 2-21-5, Akebono-cho, Tachikawa-shi, Tokyo
Map
More Details
   Reservation   
Simply looking at cosmos flowers as they dance in the refreshing autumn breeze will invigorate you. Feel the coming of autumn in Japan by visiting a beautiful cosmos field!
Disclaimer: All information is accurate at time of publication.