Publish-date: Oct 31 2018 Update-date: Mar 19 2020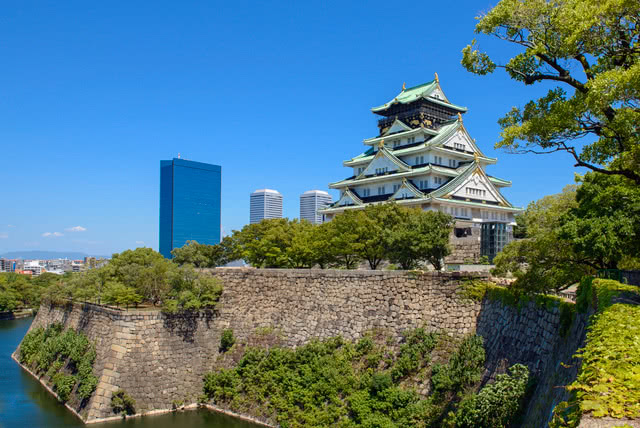 Osaka is known as a gourmet town. Also, with its many scenic attractions and shopping spots, the city is a popular destination for travelers. If you're planning to have a one-day sightseeing and food tour in Osaka, let this list of activities and places guide you.
1. Have Breakfast at a 24-Hour Cafe in Hommachi (Time Required: Approx. 45 Minutes)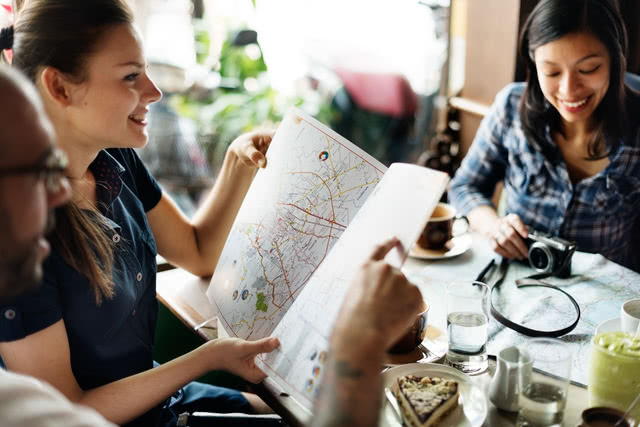 To start off the day, one shouldn't miss out on breakfast. Osaka has lots of cafes and restaurants that will lead up to a beautiful morning with their delicious meals. Just take a 6-minute walk from Sakaisuji Hommachi Station, and you'll find one named "MOXY Cafe & Bar Moxy Osaka Honmachi".
2. MOXY Cafe & Bar Moxy Osaka Honmachi (Sakaisuji Hommachi / Izakaya)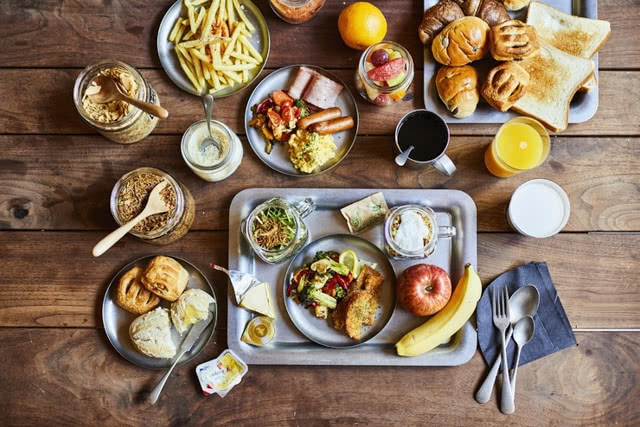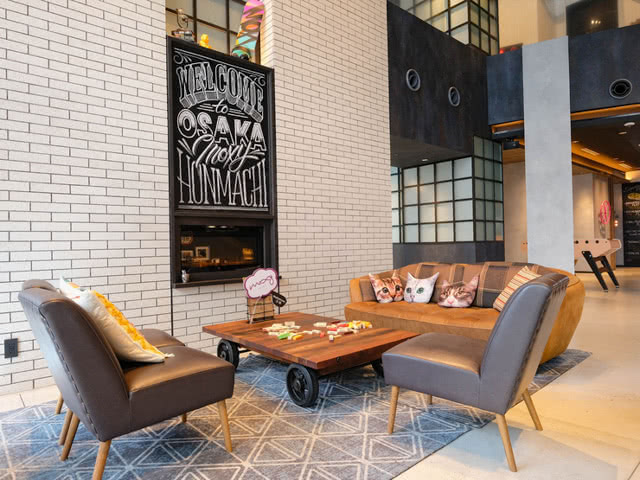 This gastropub is located inside the chic, trendy, and playful MOXY Hotel established by the world's largest hotel chain, Mariott International. Non-hotel guests are welcome here. MOXY Cafe & Bar serves as a great breakfast place since it operates 24 hours a day. Included in their breakfast buffet are salads, scrambled eggs, and yogurt, as well as Japanese dishes like grilled fish. They can also cater to vegetarians and vegans. Another good feature of this spot is that it offers Wi-Fi and allows customers to use power outlets.
MOXY Cafe & Bar Moxy Osaka Honmachi
Open
:
0:00 am - 0:00 am (open 24 hours)
Closed
:
None
Average price
:
[Dinner] 2,000 JPY / [Lunch] 900 JPY
Access
:
6 minutes walk from [Sakaisuji Honmachi Station] on Osaka Municipal Subway
Address
:
2-2-9, Kawara-machi, Chuo-ku, Osaka, Osaka
3. Visit Osaka Castle (Time Required: Approx. 2 Hours)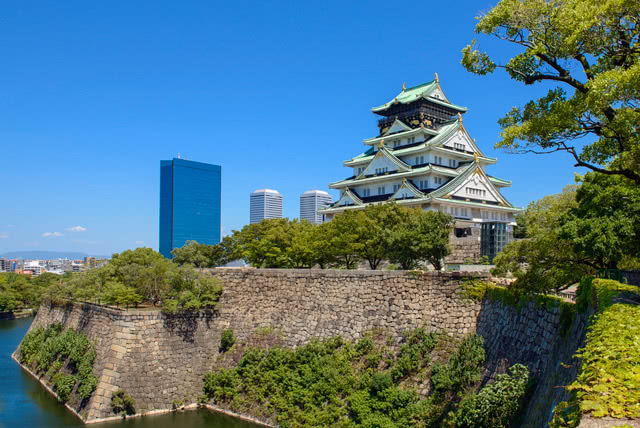 After filling your stomach, head first to one of Osaka's classic sightseeing spots, Osaka Castle. This attraction is surrounded by a park and has other castle structures you can find within its grounds. For example, you can find a large castle gate and tower at the front entrance, as well as inner moats, all of which are from the time when the castle was first built. The beauty of its stone walls, which are said to be the largest in the country, are worth your attention. The main highlight, however, is the castle tower, which is a five-tiered, 55m tall structure with 8 floors. It displays important historical materials and artworks. On the top floor is an observation deck where you can have a stunning view of the city.
Osaka Castle
Open
: 9:00 am - 5:00 pm (last entry at 4:30 pm)
Closed
: December 28 - January 1
Average price
: (Adults) 600 JPY
Address
: 1-1, Osaka-jo, Chuo-ku, Osaka-shi, Osaka (
Map
)
Source
:
Official Website
4. Head to Dotonbori and Take Pictures in Front of the Glico Signboard (Time Required: Approx. 30 Minutes)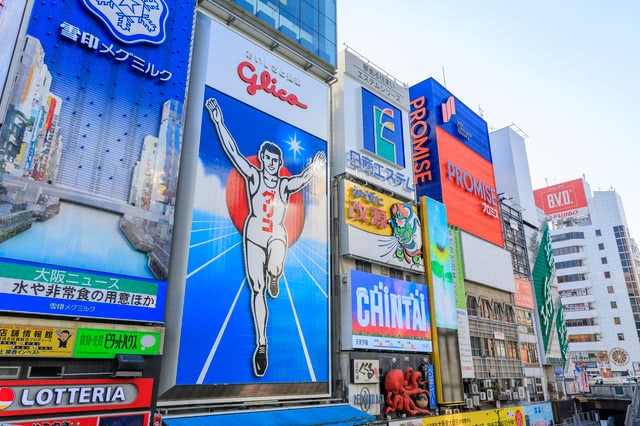 After appreciating Osaka Castle, pick Dotonbori as your next destination. This is the center of the Minami area, one of Osaka's two biggest commercial districts. One particularly famous spot that bustles with tourists every day is the area around Ebisu Bridge, which extends over Dotonbori River. While there, don't forget to take a commemorative photo in front of the Glico sign, recognized for the running man with both hands raised and one foot in the air. You can also go for a gentle stroll, as the paths along the river are well-maintained. There are also great shopping places, such as Shinsaibashi-Suji Shopping Street, which is lined with numerous shops selling a wide variety of goods like clothing, cosmetics, and other interesting stuff.
Dotonbori Store Association
5. Try Osaka's Specialty, Kushikatsu (Time Required: Approx. 1 Hour)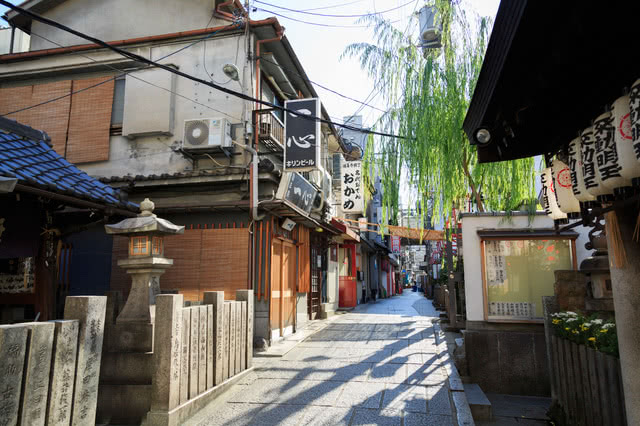 For lunchtime, go to Hozenji Yokocho, which is just a short walk from Dotonbori. Despite being a downtown area, it has a quiet atmosphere. Roughly 60 stores occupy the 3m wide alleys stretching from east to west that make up the area, from long-standing restaurants and okonomiyaki (a batter of wheat flour and ingredients like cabbage, pork, and seafood that is cooked in a circle shape) eateries to bars. This article touches on a restaurant in the area that specializes in the Osaka specialty, kushikatsu*.
*Kushikatsu consists of ingredients that have been cut into bite-sized portions, put onto skewers, and then deep-fried. It is eaten with a sauce.
Hozenji Yokocho
6. Kushinobo Osaka Hozenji Main Branch (Namba / Japanese Cuisine)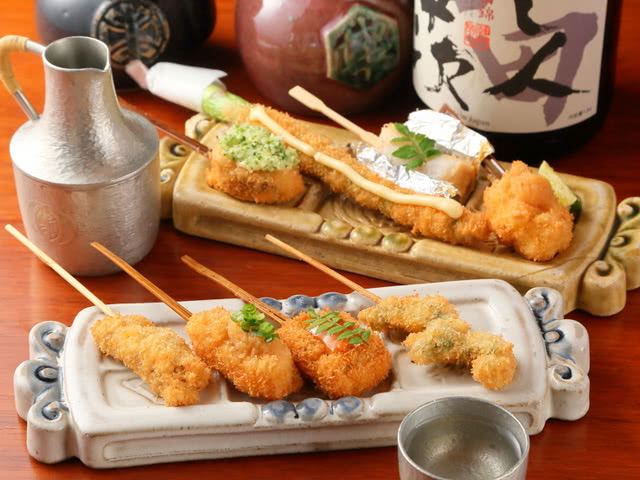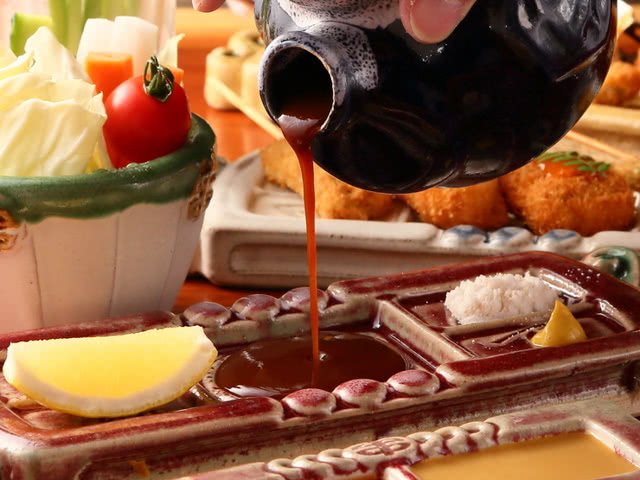 With its red
noren
(curtains traditionally hanged at the entrance of Japanese shops) and decor, customers will get the historic feel of this restaurant that was established in 1950. Enjoy their kushikatsu, made with seasonal ingredients, in a relaxing, traditional Japanese-themed space. The secret to their delicious food lies in their original sauce, which is made by stewing ingredients like vegetables, chicken bones, sea bream heads, and shrimp for over four days to draw out the extracts. Their kushikatsu are served at your eating pace, so you can always enjoy them while they're piping hot. For lunch, they offer a lineup of set meals featuring 7 - 9 kinds of kushikatsu with soup or salad, as well as rice and other side dishes.
Kushinobo Osaka Hozenji Main branch
Open
:
11:30 am - 10:00 pm
Closed
:
None
Average price
:
[Dinner] 6,000 JPY
Access
:
4 minutes walk from Namba Station on Osaka Municipal Subway. Exit to the Dotonbori side, then in the west of [Round One Sennicchimae branch]
Address
:
1-5-6, Namba, Chuo-ku, Osaka city, Osaka
(
Map
)
More Details
 Reservation 
7. Experience the Lively Atmosphere of Kuromon Market (Time Required: Approx. 45 Minutes)
Boasting around 200 years of history, Kuromon Market has served as a venue both for wholesale and retail trading. Within an area of 580 meters, it houses around 180 stores selling fresh seafood and fruits, clothing, and other goods. Considering that not only ordinary customers but also professional chefs come here to shop, the items here are known to be of good quality. Just wander around, and you'll feel the lively atmosphere, which makes this place a popular site for tourists. The market is thriving with around 18,000 visitors on weekdays, reaching 150,000 people by the end of the year.
Kuromon Market
8. Enjoy the View From Tsutenkaku (Time Required: Approx. 30 Minutes)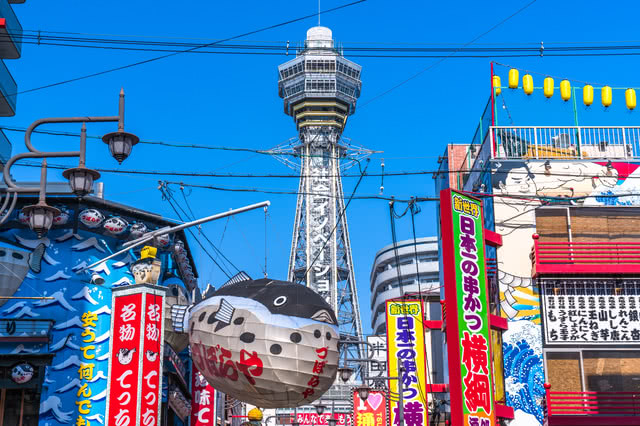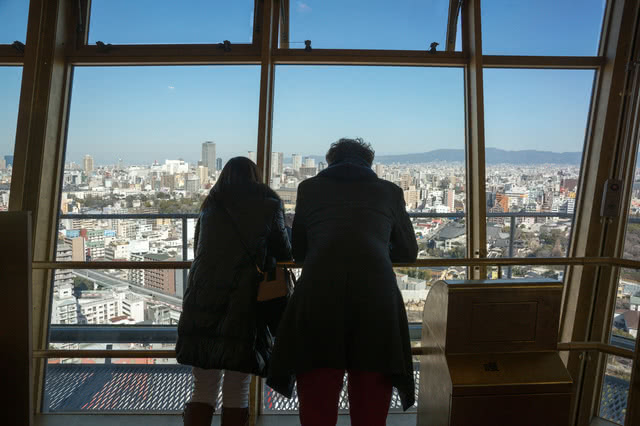 Regarded as a symbol of Osaka, Tsutenkaku is a 103m tall observation tower that receives over a million visitors every year. It was first constructed in 1912 but was destroyed by fire. The current tower is the one rebuilt in 1956. Inside, you will find a souvenir shop, theater that holds shows like rakugo (traditional form of storytelling) and manzai (traditional form of stand-up comedy) performances, and a well-known observation deck on the 5th floor. From there, you can get overlooking views of Osaka. Travelers also visit Tsutenkaku for its Billiken statue that is said to give you luck when you rub its soles.
Fees: (Adults) 700 JPY, (University Students) 500 JPY, (Junior High and High School Students) 400 JPY, (Children) 300 JPY
Tsutenkaku
9. Have a Luxurious Dinner at Umeda (Time Required: Approx. 1 Hour and 30 Minutes)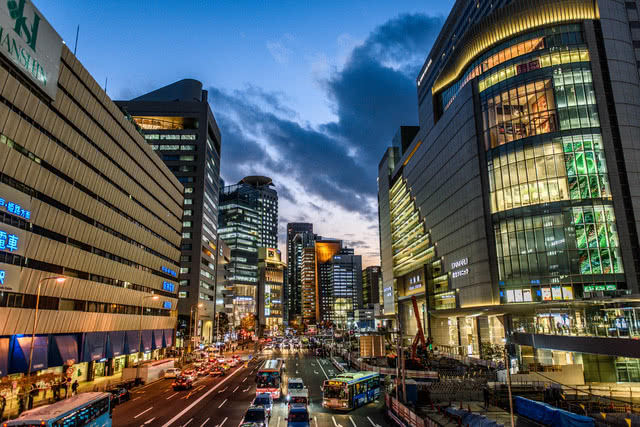 As the area with the largest train station in western Japan, Umeda serves as the face of Osaka and is always bustling with lots of people. It is a place with different landscapes, offering a range of places to visit, from huge shopping districts to historical buildings. While Umeda also offers diversity in available cuisines, this article covers a restaurant in one of its landmarks, the Umeda Sky Building. This commercial center is popular both among locals and foreigners for its gourmet spots where you can delight in an extensive selection of foods and drinks. Particularly recommended is the dining street, Takimi Koji, which is located on basement floor 1 of the Umeda Sky Building and recreates an old-fashioned, retro townscape with cobblestone streets reminiscent of the 1920s. 
Click the following link to find out more about Takimi Koji!
Takimi Koji
Umeda Sky Building
10. Teppanyaki En Sky Bldg. branch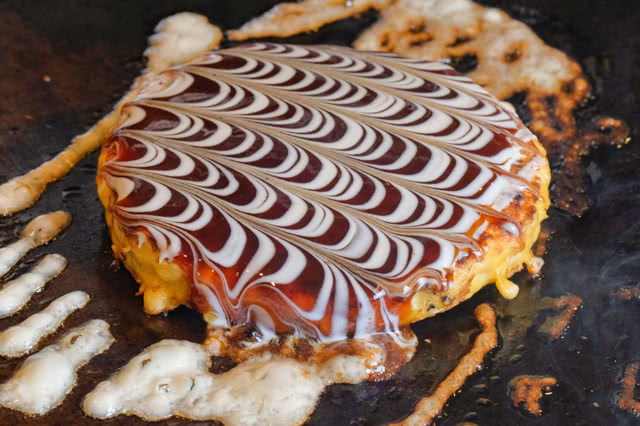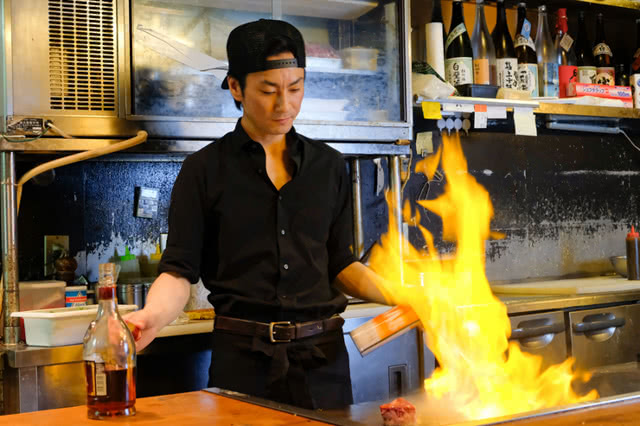 Located on the first basement floor is Takimi Koji, a unique dining complex that resembles an old Japanese streetscape. Among the restaurants here is Teppanyaki En Sky Bldg. branch, which is highly popular among foreign tourists. At this teppanyaki (ingredients grilled on an iron plate) restaurant, you can enjoy a varied menu that uses the freshest ingredients like seafood and Kuroge Wagyu (a type of high-quality beef) steak. A dish you must try is the Osaka specialty, okonomiyaki. The flavors of the fragrant sauce and the mild mayonnaise of this signature dish match perfectly! Its fluffy and thick texture will leave you wanting more.
Teppanyaki En Sky Bldg. branch
Open
:
[Weekdays, Saturday, Sunday] 11:30 am - 2:00 pm (L.O. 2:00 pm)
[Weekdays, Saturday] 5:30 pm - 10:30 pm (L.O. 9:30 pm)
[Sunday, National Holidays] 5:30 pm - 10:00 pm
Closed
:
Irregular
Average price
:
[Dinner] 3,000 JPY / [Lunch] 850 JPY
Access
:
10 minutes walk from Umeda Station on each line
Address
:
B1F, Umeda Sky Bldg., 1-1-90, Oyodonaka, Kita-ku, Osaka, Osaka
(
Map
)
More Details
 Reservation 
11. After-Dinner Dessert (Time Required: Approx. 45 Minutes)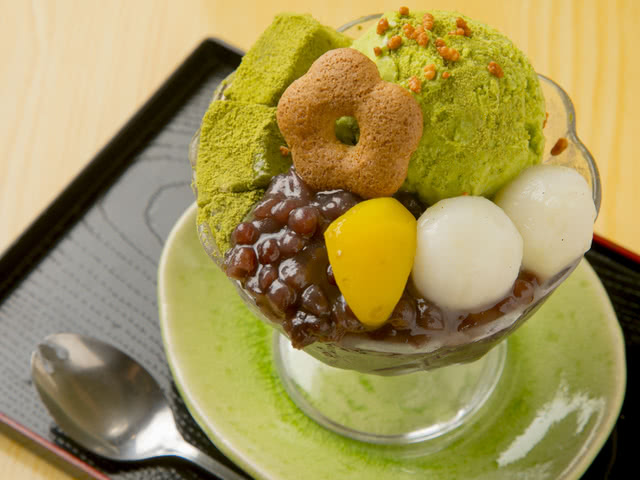 You may have had a sumptuous meal, but don't you want to end things on a sweet note? Before heading back to your hotel, check out the many shops in Takimi Koji that serve delicious desserts. The large number of cafes with a stylish ambience that you can choose from may be tempting, but since you've traveled all the way to Japan, why not end your Osaka trip with some elegant Japanese sweets?
12. Creative Japanese Confectionery Studio BASHOAN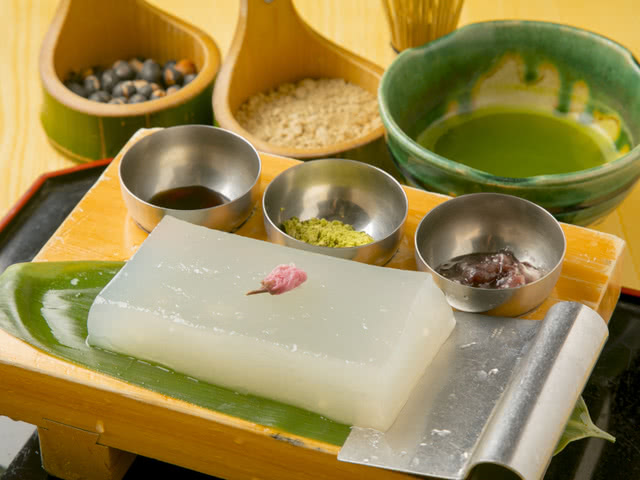 At this popular confectionery, you can take pleasure in sweets that highlight traditional Japanese ingredients like matcha (powdered green tea) and azuki-an (sweet red bean paste). It is recommended to try their [
Warabi Mochi
] (*1), which has a subtle sweetness and jelly-like texture, and can be enjoyed with various toppings. By ordering this dessert, you get to experience a unique and popular feature of this restaurant: Preparing your own
kinako
(*2) topping by grinding high-quality Tamba black beans in a stone mill! You'll discover how the rich flavor of freshly ground kinako greatly complements the warabi mochi. Give it a try! 
(*1) A rice cake made with kudzu starch​ or bracken flour
(*2) Roasted soybean powder
Creative Japanese Confectionery Studio BASHOAN
Open
:
11:00 am - 9:00 pm (L.O. 8:30 pm)
Closed
:
None
Average price
:
[Dinner] 1,000 JPY / [Lunch] 600 JPY
Access
:
10 minutes walk from JR [Osaka] Station / 10 minutes walk from [Umeda] Station on Subway Midosuji Line or Hankyu Main Line
Address
:
Takimi-koji, B1F, Umeda Sky Bldg., 1-1-90, Oyodonaka, Kita-ku, Osaka city, Osaka
(
Map
)
More Details
 Reservation
Osaka definitely has a number of attractive spots and restaurants to offer aside from those mentioned in this article. Make sure to use this article as a guide when planning your next trip to Japan!
Disclaimer: All information is accurate at time of publication.