Publish-date: Jan 29 2020 Update-date: Jun 12 2020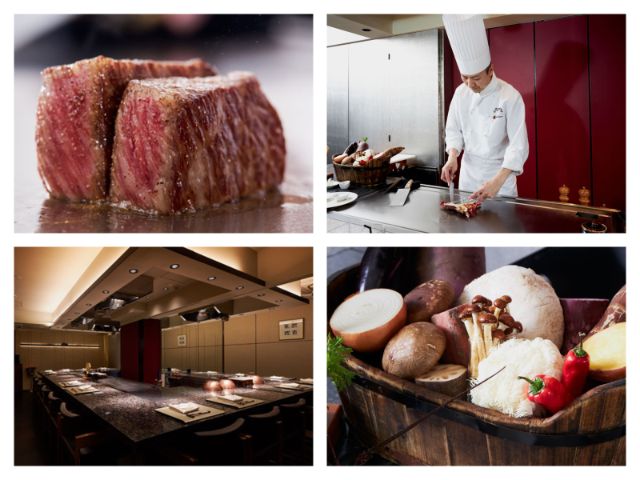 [Notice of Closure] *As of June 12, 2020
Teppanyaki Ginza Onodera closed on Sunday, May 31st, 2020. All the information in this article was obtained on December 2019, and was accurate then.
 For more details, including the latest updates on the situation, please check the restaurant's official website. 
https://onodera-group.com/ 
The streets of Ginza are lined with centenary department stores and luxury brand shops. There are also lots of popular restaurants frequently visited by gourmets. One of them is an iron grill spot called Teppanyaki Ginza Onodera, and it's located 1 minute on foot from Tokyo Metro Ginza Station. This article will guide you through all the delicious teppanyaki must-eats they make with Kobe Beef and other high-value ingredients.
1. What is "Teppanyaki"?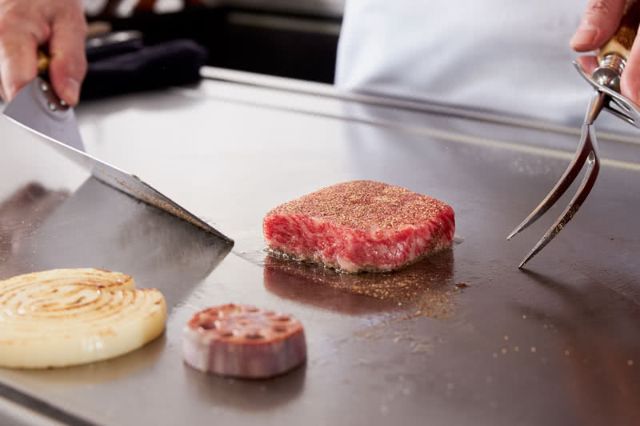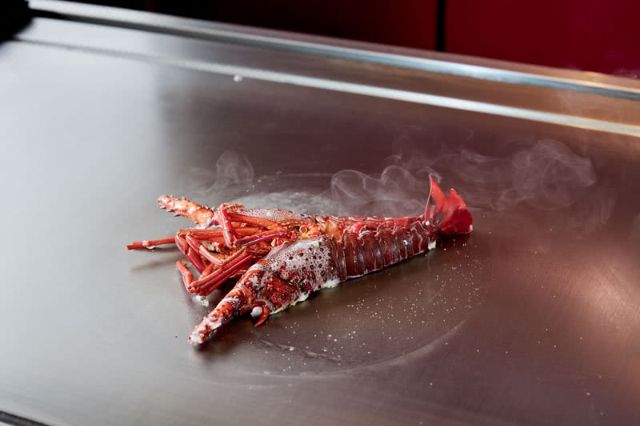 The word "teppanyaki" stands for meat, fish or vegetables cooked on an iron grill (teppan in Japanese). Today it's a bit different, but this is one of the most ancient Japanese cooking styles. In the last years, thanks to the sudden growth of Japanese cuisine abroad, along with sushi and wagyu, teppanyaki has become popular all over the world as well.

2. The charms of Kobe Beef
Kobe Beef refers to the meat obtained from Tajima cattle raised in Hyogo Prefecture. However, "Tajima Beef" and "Kobe Beef" are not synonyms. In order to be certified as Kobe Beef, the weight, the marbling degree and the quality of the fats of Tajima Beef meat need to meet extremely strict standards. Its appeal is due to the sweetness of the fats that invade your mouth as soon as you bite in, as well as its incredibly tender texture.

3. What you need to know before eating teppanyaki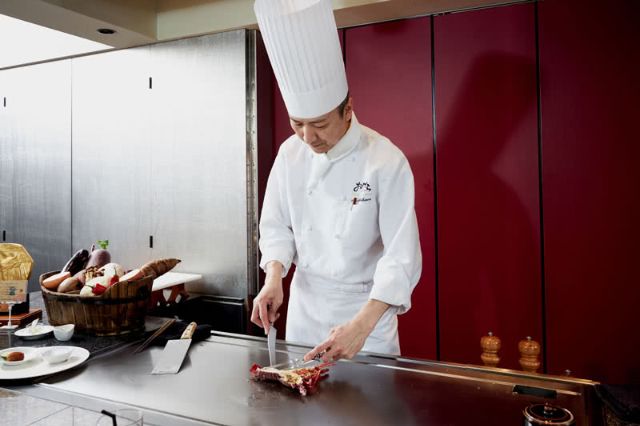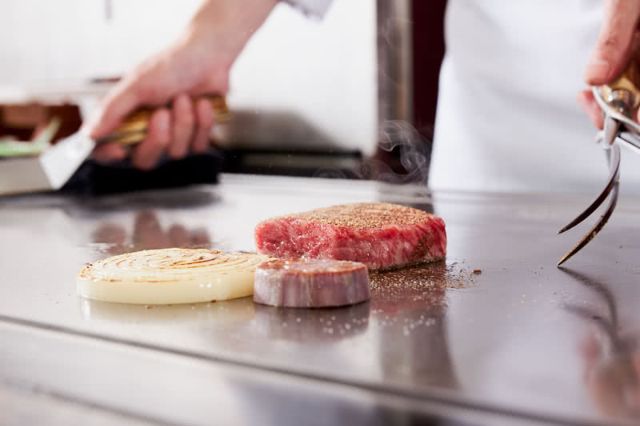 When you go to a teppanyaki restaurant, you get to decide which meat parts to have, starting from low-fat fillet, to the moderately fatty rib eye or the high in fats sirloin. Plus, you can also choose the cooking degree of your meat, among rare, medium and well-done. If you're undecided about that, ask the chef to recommend the best way to enjoy your meat cut. 
Another key feature of any Japanese teppanyaki spot is that the chef cooks your food right before your eyes. This way, you enjoy it not just with your tastebuds, but also with your eyes, ears, and nostrils, so it is fair to say that you can savor teppanyaki dishes "with all your 5 senses". Have fun enjoying this unique spectacle and smell. Also, avoid wearing to much perfume as it may ruin the delicious aroma of your food.

4. About Teppanyaki Ginza Onodera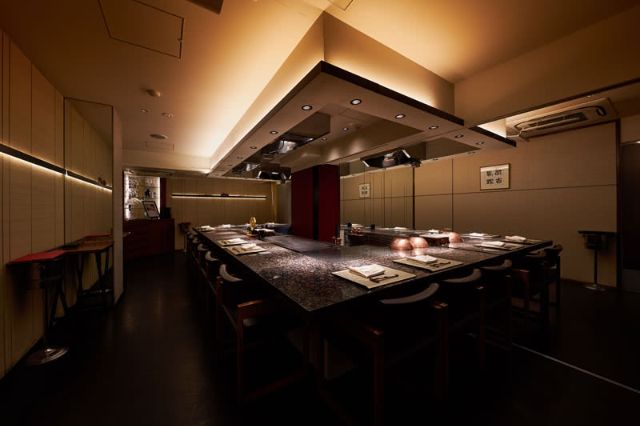 [Teppanyaki Ginza Onodera] is a famed teppanyaki restaurant where you can have premium Kobe Beef. Other than the main branch in Ginza, they've also opened restaurants in Hawaii, Shanghai, and even Paris. What makes this place so special that it's also popular abroad? You'll understand the reasons for its huge success if you pay it a visit. Meanwhile, read about all the charms of [Teppanyaki Ginza Onodera], as revealed through thorough research.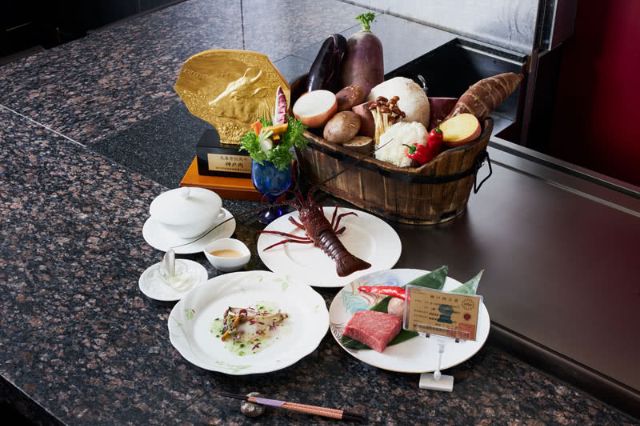 First of all, here you can have [Kobe Beef], and this is already a plus point. They've received a bronze statue (see picture on the upper left) from the Kobe Beef Marketing Distribution and Promotion Association, which is proof that they serve authentic Kobe Beef. In the whole Tokyo metropolitan area, there are only 22 restaurants with this statue.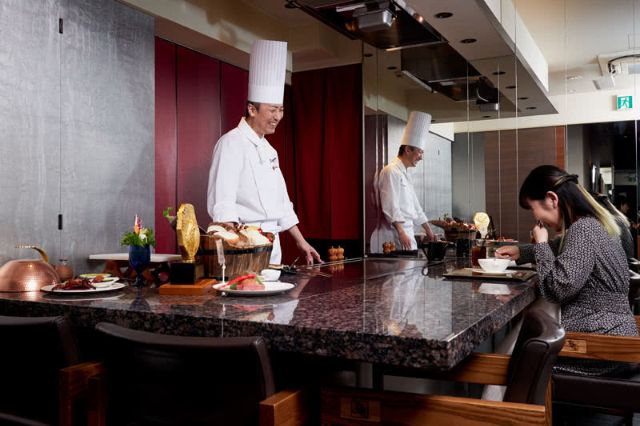 Moreover, foreign customers seem to really appreciate the hospitality of both the chef and the staff. Should this be your first time trying teppanyaki dishes, they will be incredibly kind and teach you everything about how to enjoy it, so you'll feel very welcome and cared for. Apparently, more than half of their customers are foreigners. It's no wonder they're all charmed by the kindness and warmth they're treated with.

5. About the chef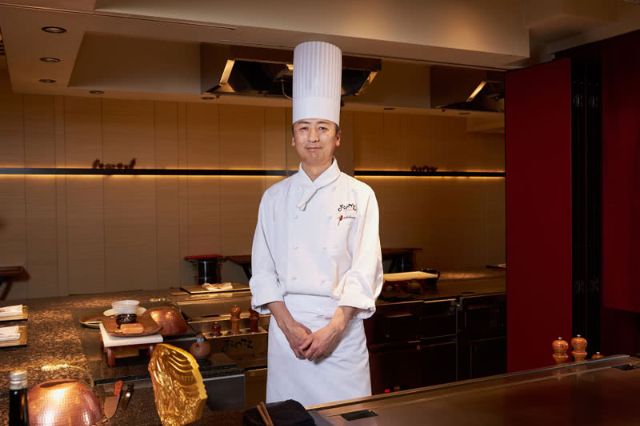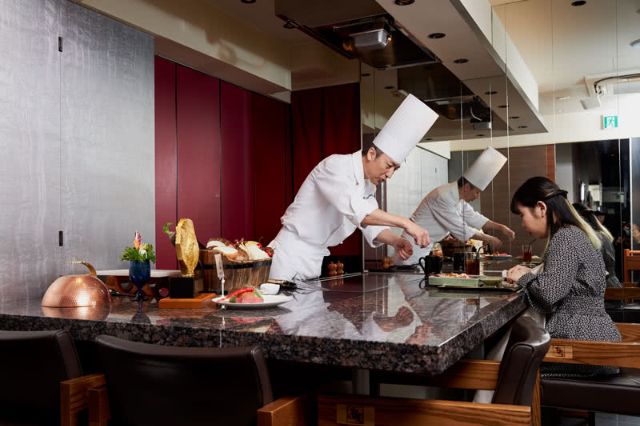 This superb meal is prepared by the Headchef Ichikawa. You'll be fascinated the whole time with his amazing knife and grilling skills. Apparently, Headchef Ichikawa used to be head chef of the Paris branch, so he constantly puts himself in his foreign customers' shoes, and he knows how important communication is, even when you can't speak the language of the other person. It might be stressful to be in a country you're not used to, eating food you're not used to eating, but at [Teppanyaki Ginza Onodera], you definitely won't have to worry about that.

6. Top-grade wagyu! The [The Classic Menu] featuring Kobe Beef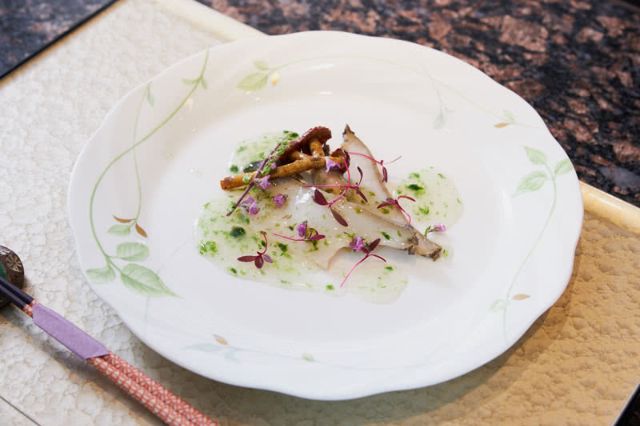 Their most popular item is the [The Classic Menu] (30,000 JPY plus tax). It's comprised of 9 courses, with [Specially Selected Kobe Beef Sirloin] as the main dish.
**Please be aware that the course menu introduced below is undergoing a renewal process, and as such it will no longer be available starting from May 2020. 

Appetizer <Japanese Sake Steamed Abalone>
It's super meaty yet extremely tender, and the shellfish broth and green laver used to make the sauce creates a gental aroma that brings the smell of the beach to mind. Plus, the flowers used to decorate the plate accent it with a pleasant sourness that offers a whole different flavor when you eat them together.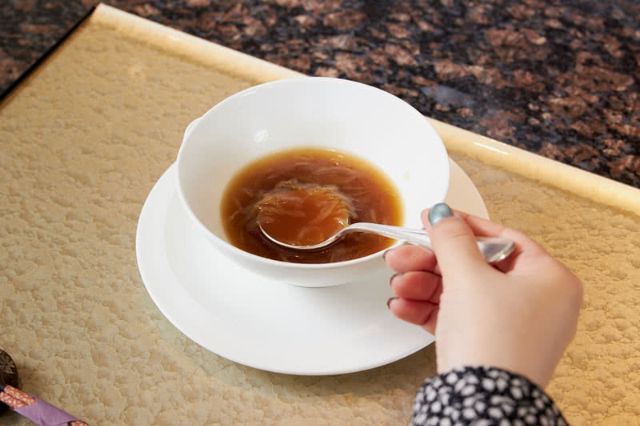 Soup <Homemade Onion Soup>
This onion soup looks so simple yet boasts an unexpectedly rich taste. It's made with a consommé slow-cooked for 3 days, while the onions are stewed in it for another half-day. It's got a deep flavor that makes it a very classy dish.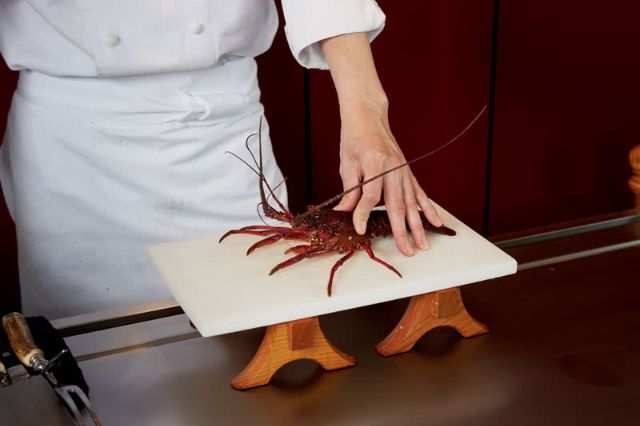 Seafood <Grilled Japanese Spiny Lobster with Ise Shrine Ponzu and Anchovy Sauce>
What shows up next in front of your eyes is a frantically moving spiny lobster. The chef shows off his excellent skills as he fillets the fresh lobster, so you may want to take a picture of this marvelous scene!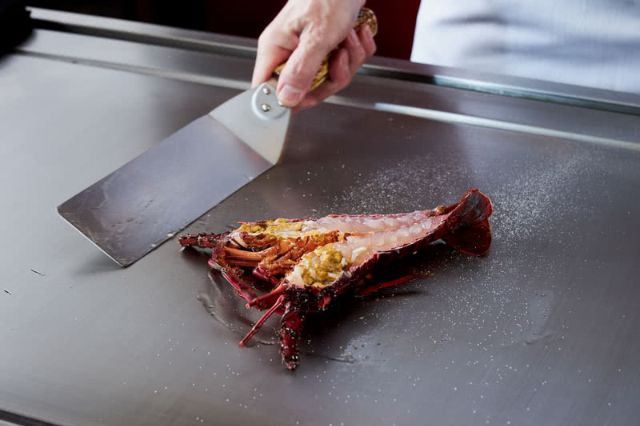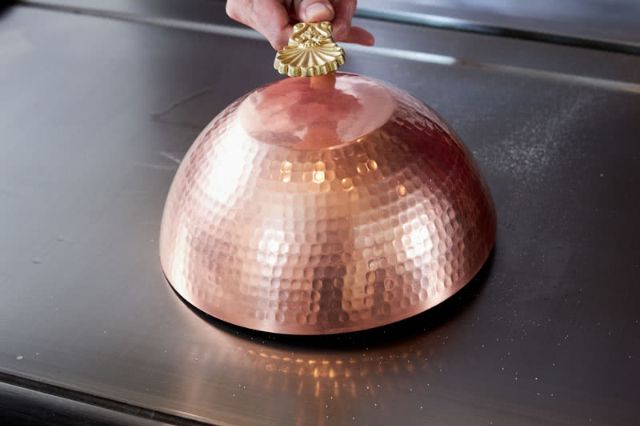 Now onto the iron grill. The meat looks so beautiful and transparent you probably can't wait to eat it. The chef proceeds to add some ice and covers it with a lid so that it starts cooking with the mushiyaki technique. At this point, the ice melts and creates water vapor that steams the lobster while maintaining a constant temperature.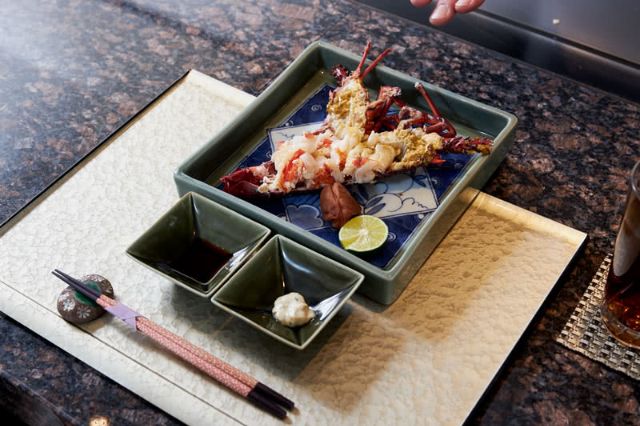 Add Ise ponzu (citrus-seasoned soy sauce) or tartare sauce, or squeeze a sudachi (Japanese citrus) on top and enjoy. If you want advice, it tastes amazing with the tartare sauce. Usually, tartare sauces are made with eggs, but in this one, they add anchovies instead. Take a moment to smell the fragrance of anchovies, and be sure to try mixing it with the innards paste.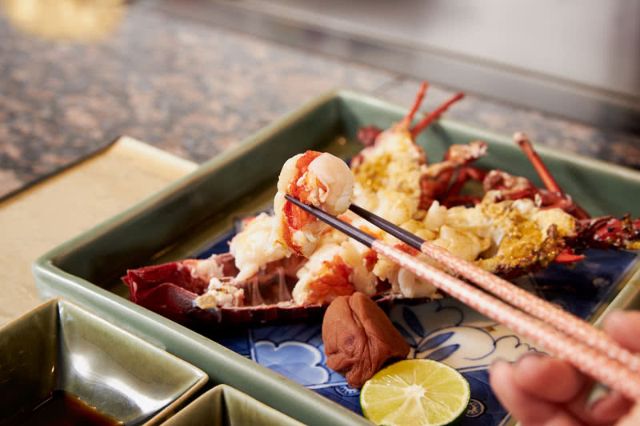 The thing that will surprise you the most after your first bite is that although it's supposed to be cooked by both the steam and the iron grill, the lobster meat is still actually pretty rare and it tastes delicious. It's got a truly addicting texture. Plus, the chef doesn't even time himself, he just knows when it's ready to serve.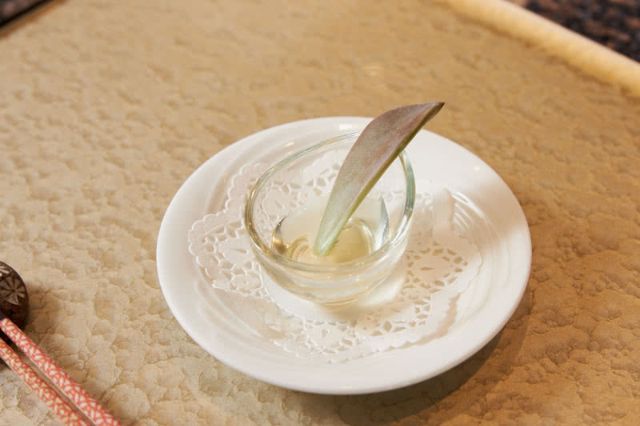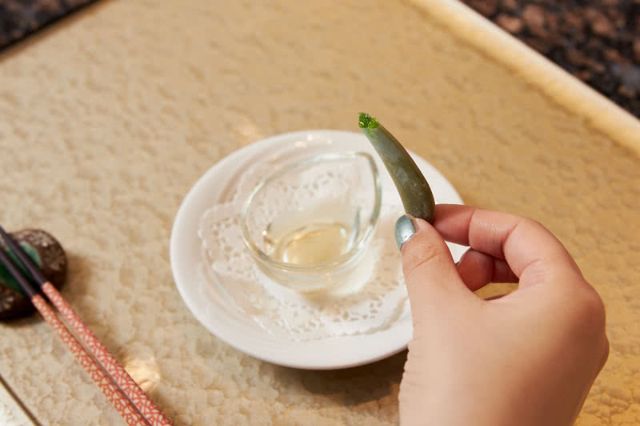 Entremets <Ghost Plant>
[Ghost Plant] is a succulent plant and an extremely rare ingredient. Here, they serve a grapara leaf dipped in honey. The crunchy texture and the juiciness you get after biting in creates a very refreshing feeling.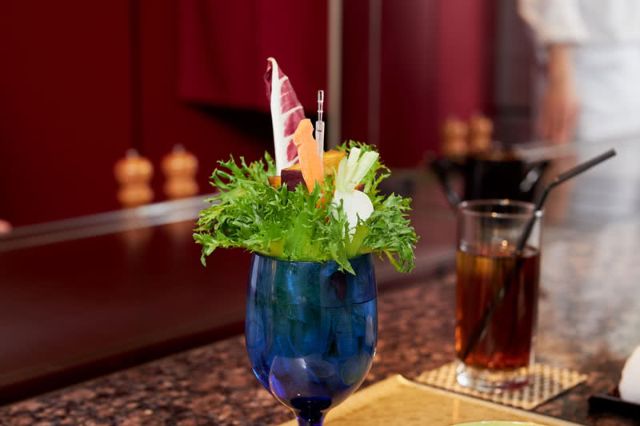 Salad <ONODERA ORIGINAL Freshly Picked Organic Salad>
Next, it's the time for some frill lettuce grown in a hydroponic farm (it means it's not cultivated in soil, but indoors, using water). The advantage of hydroponic farming is the systematic cultivation that allows maximizing the size, nutrients and the thickness of the vegetables to the utmost limits.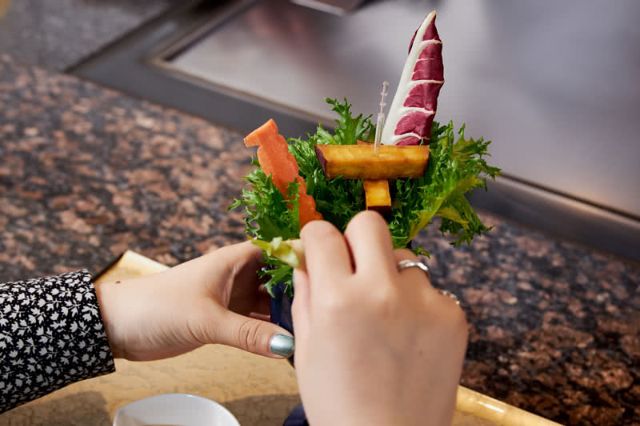 The lettuce heads are grown one by one and arranged in a glass as-is. This unique presentation is called "mogitori" in Japanese. It feels like eating lettuce right after you harvested it yourself, and it's amazing. Peel each leaf off and enjoy it together with other the organic fresh vegetables.

These delicious vegetables don't smell like grass at all, and their texture, sweetness, and juiciness are beyond exceptional. You can dip them in the rich Onodera's special [Sesame Dressing] to enhance their umami (Japanese savory taste) even more. This sauce is only on sale in the Ginza and Paris branches. Buy it if you get the chance, and enjoy the flavors from Onodera at home.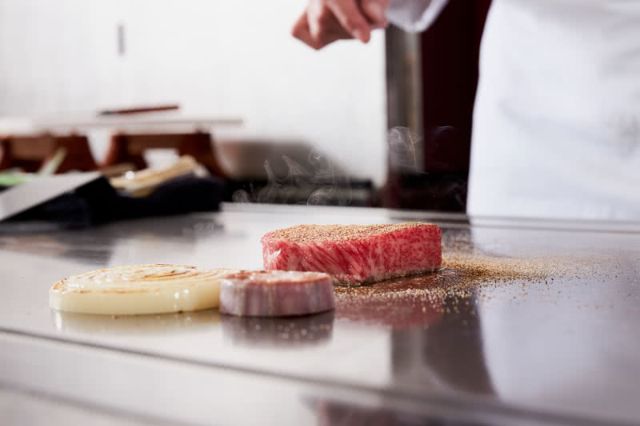 Steak <Kobe Beef Sirloin>
Now, it's finally time for the main dish. But first, you must be curious to learn more about the "Living body aging" technique used at Onodera. Living body aging is an aging method that starts when the meat is still alive. At Onodera, they perform an over 30-month long-term fattening procedure which allows the umami of the meat to stay locked inside while the cow is still alive.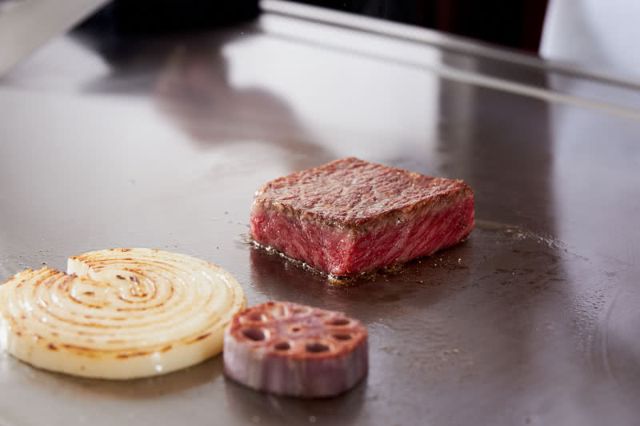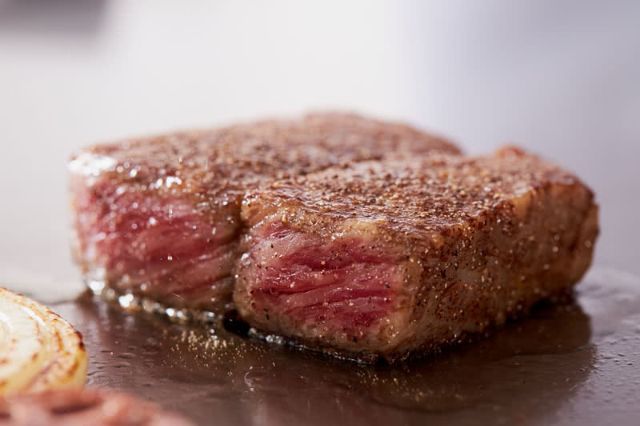 If you order [The Classic Menu], you'll get the opportunity to savor the sirloin of living body aged Kobe Beef. The chef cooks it for just the perfect amount of time, during which the fats melt down making a lovely grilling sound. You can choose your desired cooking degree, but the chef recommends to have it "medium well-done".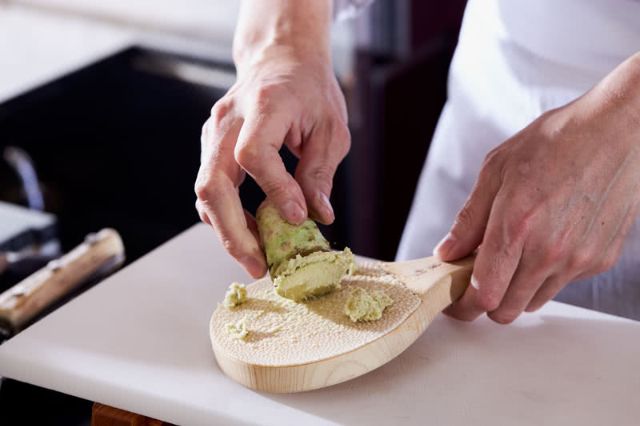 It's served with many different condiments: raw wasabi, garlic, Kamebishi soy sauce from Kagawa Prefecture (aged for 3 years), onion sauce and rock salt. Raw wasabi is grated right before your eyes. This is definitely something you don't get to see every day, so remember to capture this precious moment with a photo!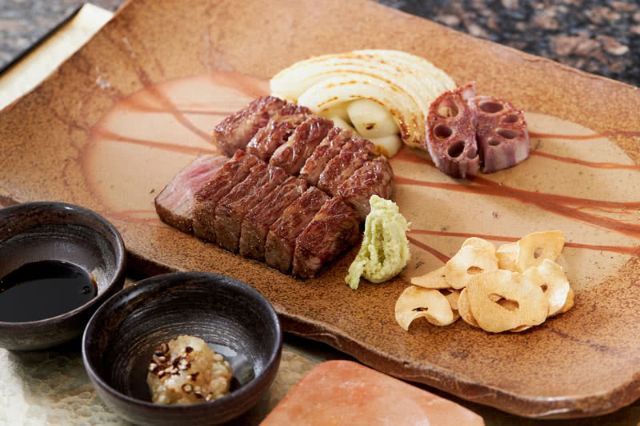 When it's time to finally taste it, there are so many condiments available that picking one might be a tough call... Don't worry, just ask the chef what he recommends!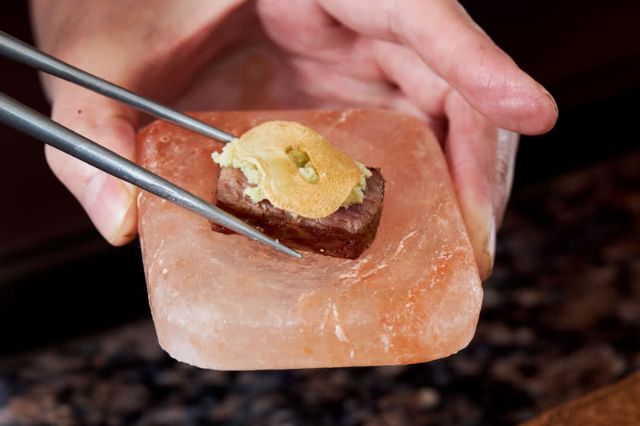 First of all, you may top the meat with a generous amount of raw wasabi. Don't hesitate, go ahead and cover it in wasabi. On top of that, place some garlic, and in the end, rub the whole piece of meat on the rock salt bar, 2 or 3 times.
Now, for the first bite. First, the delicious fats of the meat spread inside the mouth. Next comes the raw wasabi, lightening the overall flavor. You'll also get to savor the faint saltiness given by the rock salt and the crispy texture of the garlic. Try it with as many combinations as possible.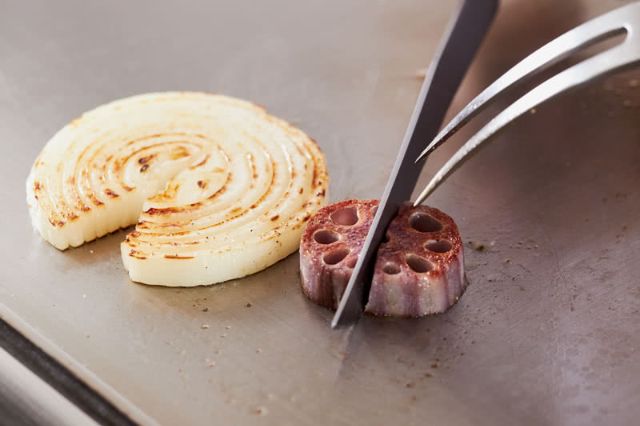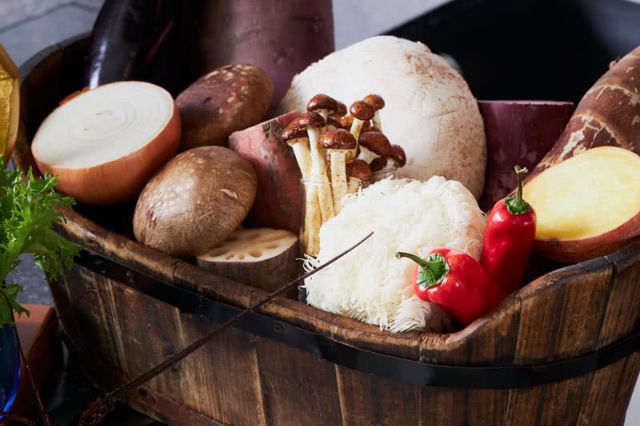 Grilled vegetables <Grilled Vegetables>
Even the vegetables served on the side are thoroughly selected and prepared. It's possible to pick 2 items among many seasonal vegetables stocked from various areas, including rare-to-find products. They're so tasty and juicy you won't believe they've been grilled!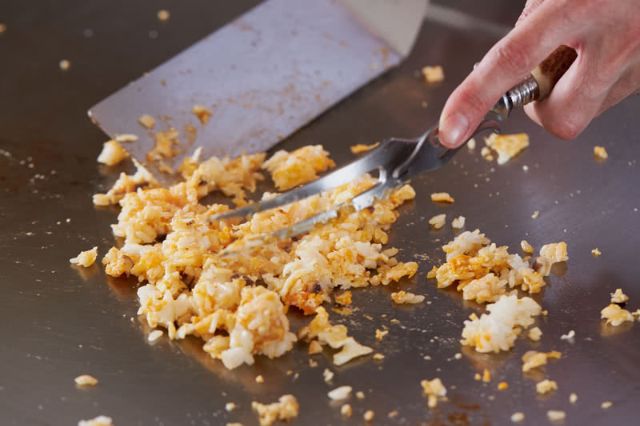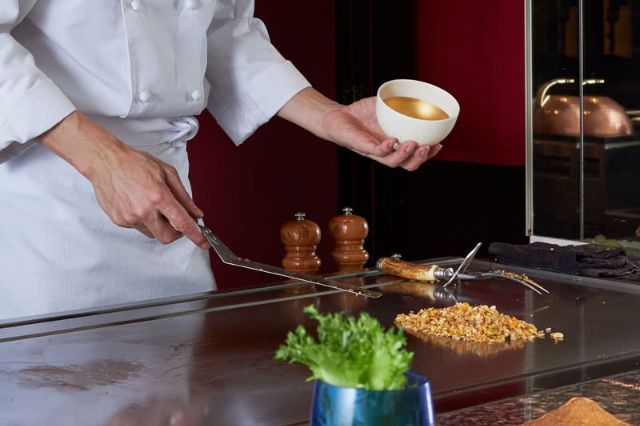 Meal <Special Garlic Rice Japanese Pickles Miso Soup>
For this dish, they use an egg brand called "Araucana", originally from Chile, but produced in Japan. Its rich egg yolk is thoroughly mixed with white rice, while the fluffy whites are stir-fried. Then, the chef throws in some steamed shiitake mushrooms to add more flavor and texture. You'll love it's lovely garlic aroma and fluffy texture.

Dessert <Seasonal Dessert>
At the end of the meal, you need to transfer to another room for dessert. Here you can enjoy freshly brewed coffee with their seasonal dessert.

7. Experience [Kobe Beef] teppanyaki prepared before your eyes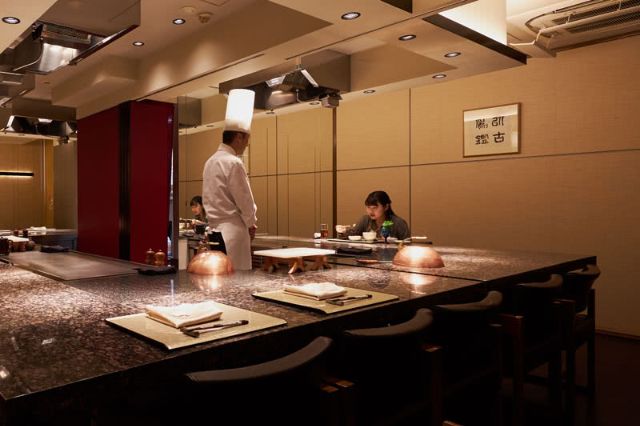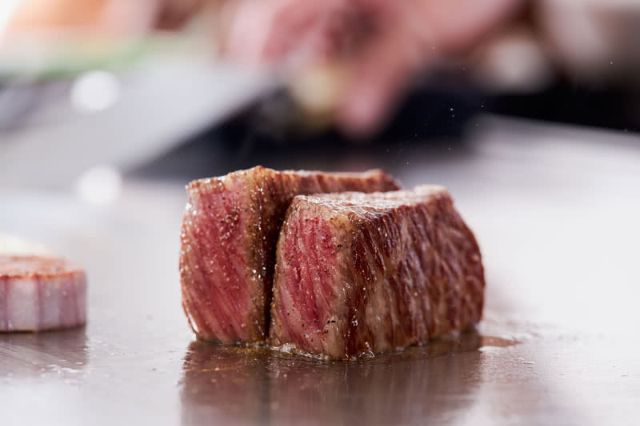 From the seats surrounding the chef, you'll get to enjoy at a close distance his refined yet intense grilling performance. The delicious smells and sounds that go directly from your food to your face are a true treat for the heart! The table seats can be separated from the others to create a private space, so this restaurant is also suitable for group meals and people who prefer more privacy.

8. Pair your Teppanyaki with Sake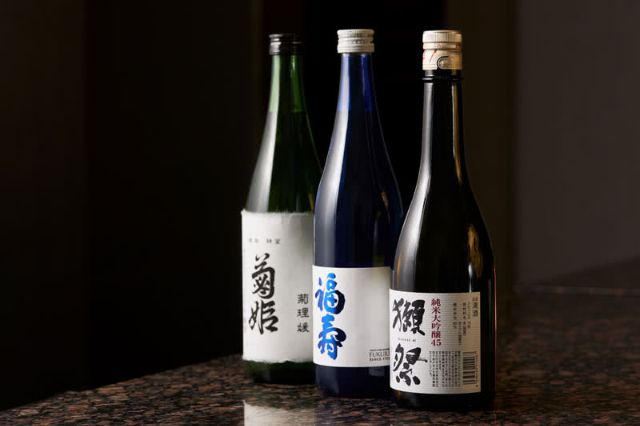 Do order sake with your food. They offer a wide assortment including the king of Japanese sake [Dassai], the fruity [Fukuju], and the sweet and fragrant [Kikuhime (Kukurihime)], which takes many years to make.

9. Tonight, enjoy high-end teppanyaki at [Teppanyaki Ginza Onodera]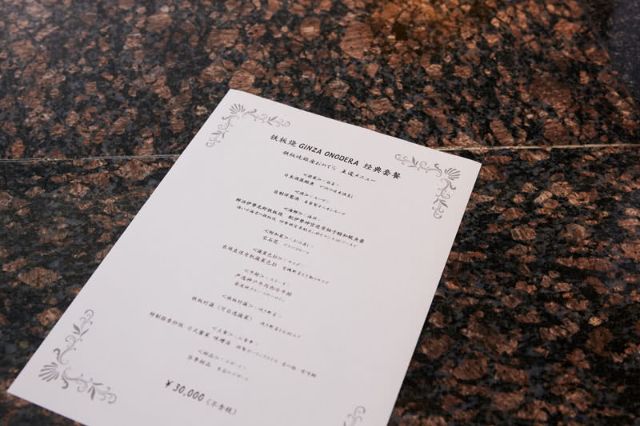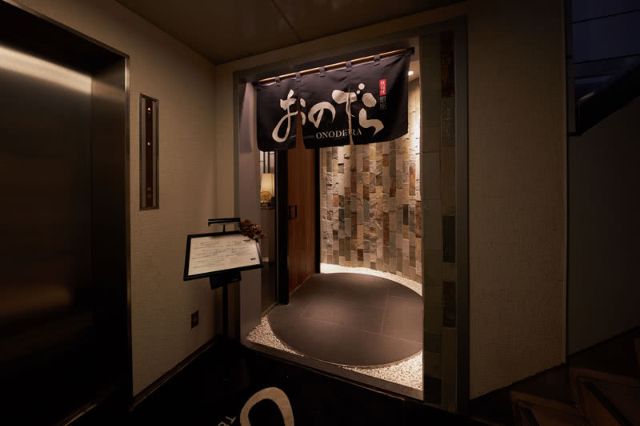 It's easier if you make a reservation through Savor Japan! Inside the restaurant, you'll be able to ask for an English or Chinese menu, so you can enjoy your meal completely stress-free. You may order the previously described [The Classic Menu] (30,000 JPY plus tax), as well as many other courses ranging from 15,000 to 80,000 JPY (plus tax). If you're on a budget, their lunches come highly recommended (from 6,500 JPY plus tax). Your stomach will be filled with delicious food and your heart with warm hospitality, so you'll definitely want to go back to this lovely restaurant.

[Closed] Teppanyaki Ginza Onodera
Open
:
Lunch 11:30 am - 3:00 pm (L.O. 2:00 pm) / Dinner 5:30 pm - 11:00 pm (L.O. 9:30 pm, L.O. for courses is 9:00 pm)
Closed
:
None
Average price
:
[Dinner] 20,000 JPY / [Lunch] 5,000 JPY
Access
:
1 minute walk from Exit A8 of [Ginza Station]
Address
:
7F, Ginza Act Bldg., 4-6-18 Ginza, Chuo-ku, Tokyo
(
Map
)
The entire menu is undergoing a complete renewal in May 2020.
Please check
the official homepage
or the SAVOR JAPAN restaurant information page for the latest updates, such as the operating hours and the new menu.
Disclaimer: All information is accurate at time of publication.